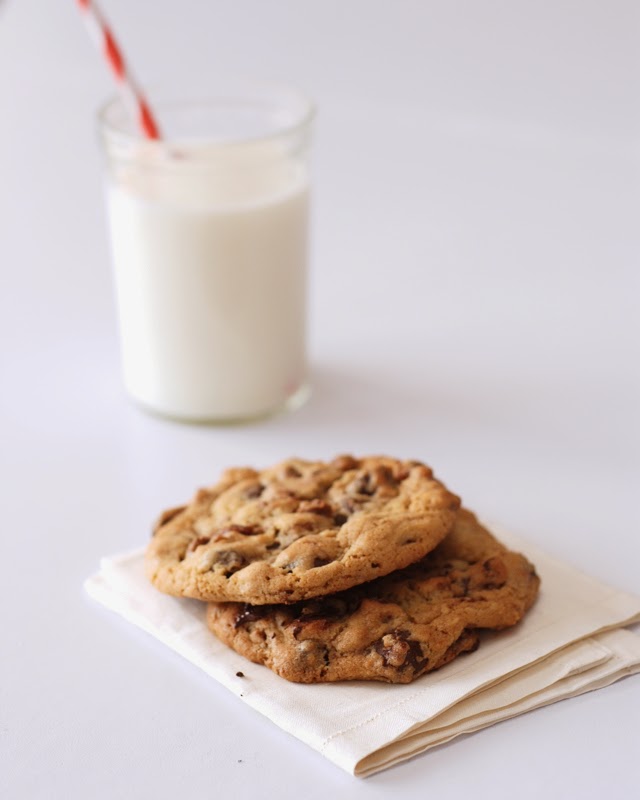 This post, entitled Perfect Chocolate Chip Cookies, was originally posted on March 14, 2011 on Cooking for Seven. I still think this is an awesome recipe, so I'm re-posting here. Enjoy!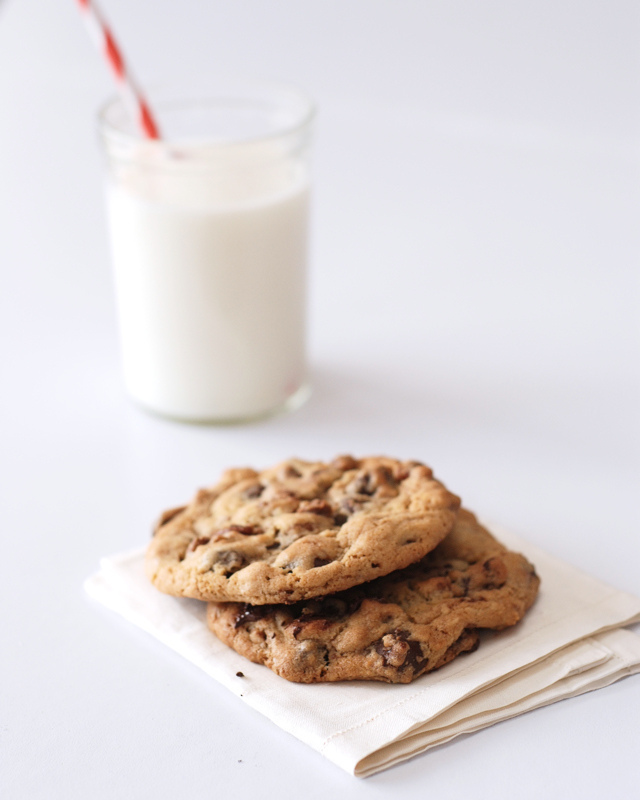 Why is that something as ordinary as chocolate chip cookies is one of the most delicious, perfect treats? Perhaps its very familiarity is what makes it so scrumptious. They bring back days spent at Grandma's as a child; afternoons spent mixing up cookies with my sisters; sneaking spoonfuls of dough.
Here's the recipe that we have used for years. Just within the past months my sister & I have modified the recipe to our tastes: reducing the sugar and adding some toasty pecans. They were a splendid hit, even with our critical Dad. He informed us that they were the best cookies he ever ate. He freaks out if we suggest changing the recipe even slightly.
How to Make Perfect Chocolate Chip Cookies:

Equipment:
If you have a stand mixer, definitely use it here. But you can also use a large bowl and a hand mixer. You'll also want a separate bowl to whisk the dry ingredients in. You can get by with just one cookie sheet, but that means that you'll have to cook multiple batches. So if you have two cookie sheets on hand, use them!
Ingredients:
It should come as no surprise to you that I use all butter for these chocolate chip cookies. Also, I like to use organic cane sugar and brown sugar, but regular versions of these will work just as well. As I mentioned before, I cut back on the sugar to fit my preferences. If you've never tried adding toasted pecans to your chocolate chip cookies, I encourage you to give it a try! You might never go back.
More Cookie and Bar Recipes: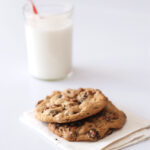 Perfect Chocolate Chip Cookies
Ingredients
1

cup

2 sticks butter, softened

1/2

cup

granulated sugar

1

cup

packed brown sugar

2

large eggs

2 1/2

teaspoons

vanilla extract

2 1/2

cups

all-purpose flour

3/4

teaspoon

salt

1

teaspoon

baking powder

1

teaspoon

baking soda

1 1/2

twelve-ounce bags bittersweet chocolate chips

1

cup

toasted pecans

chopped coarse
Instructions
1) Preheat oven to 350° F.

2) Cream the butter and sugar in a stand mixer set to medium-high. Mix in the eggs and vanilla.

3) In a separate bowl, mix together the flour, salt, baking powder, and baking soda. Slowly add the dry ingredients to the wet ingredients. Stir in the chocolate chips & nuts.

4) Place golf ball sized pieces of dough 2 inches apart on ungreased cookie sheets. Bake in preheated oven for 8-12 minutes, or just until the edges and bottoms begin to brown.

5) Allow to cool on the cookie sheets a few minutes before removing to a wire rack to cool completely.
Recipe Notes
Adapted from Mrs. Fields' recipe