In this post I'll show the super simple process I use for how to bake boneless skinless chicken breasts in the oven! This is a really easy recipe that anyone can pull off!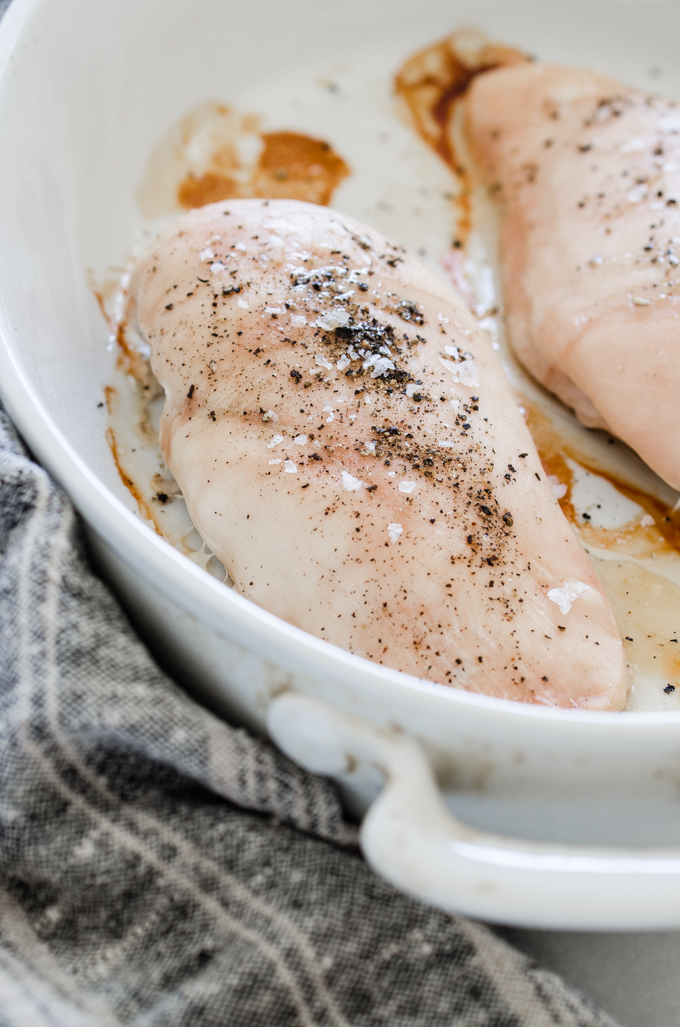 Confession: Cooking meat well has been something that I've struggled with in the past. But especially when it comes to chicken. I'm a bit paranoid about giving people food poising by under-cooking chicken.
So for years I would serve dry, chalky chicken breasts. At least we weren't being killed by under-cooked chicken, I thought!
Then I figured out a method for baking chicken breasts that consistently resulted in juicy, perfectly done meat!
I discovered how to bake boneless skinless chicken breasts perfectly while cooking a recipe from The Pioneer Woman. To my surprise, the chicken turned out really well.
It was a surprise because of my previous track record. Ha!
But then I realized that I could use the same method whenever I made chicken!
Today I'd like to share that method with you so you no longer have to break out in a cold sweat at the thought of cooking boneless, skinless chicken breasts.
I'll go over the ingredients you'll need, and then dive into some tips and tricks and share my easy recipe at the end!
Ingredients:
Here's everything you'll need for success:
Skinless, Boneless Chicken Breasts: More on that below!
Salt and Black Pepper: I use unrefined sea salt, but you could totally substitute kosher salt if that's what you have on hand.
That's really it!
Now, you could definitely add different spices and seasoning to fit your specific recipe needs. Or you could drizzle the chicken breasts with olive oil, avocado oil, or ghee.
If you opt for fresh garlic or fresh herbs, it would be best to only add them during the last 10-15 minutes of baking so they don't get singed.
However, those ingredients and steps are optional.
Okay, let's move into the tips and tutorial!
How to Bake Boneless Skinless Chicken Breasts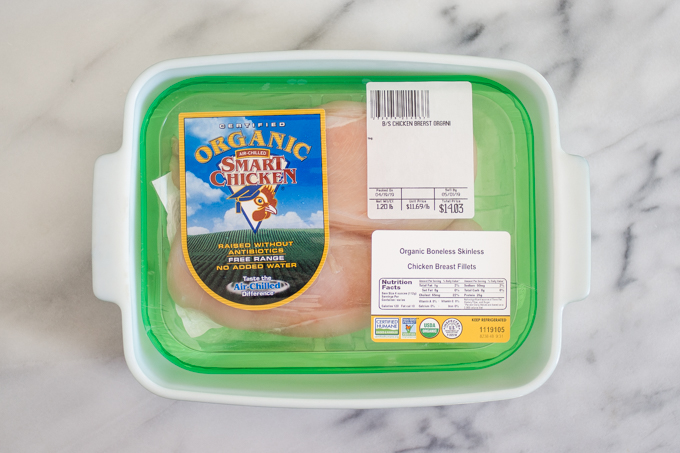 My first tip starts with the chicken itself: buy the highest quality chicken that you can afford.
I would love it if our local grocery stores sold pastured chicken. But the best I can find is organic. It's really high quality, and I almost never have to trim the meat before cooking.
Look for hand trimmed if you can find it!
If your chicken breasts are really thick on one ends and really thin on the other, you can cover them with plastic wrap and pound them with a meat mallet or rolling pin to get them a more uniform thickness.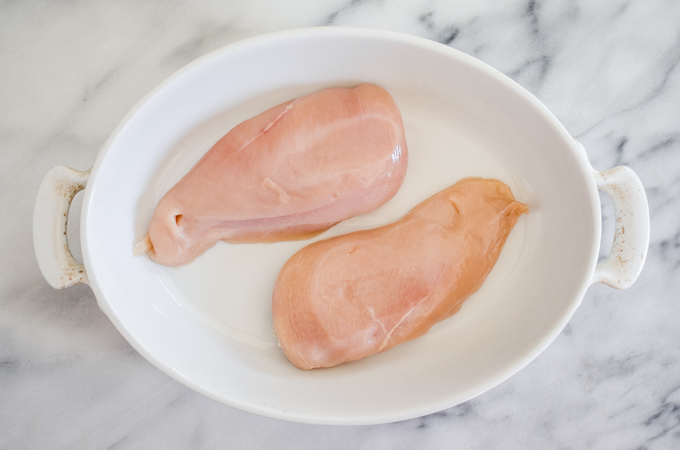 Set your oven temperature to 425° Fahrenheit (218° Celsius). Yes, you're going to be using high heat here.
Place chicken breasts in an appropriately sized baking dish or rimmed baking sheet. You want it to be big enough so that the chicken pieces don't touch each other.
You can also line the pan with parchment paper or aluminum foil to make cleanup easy. Just keep in mind that aluminum foil can affect the baking time.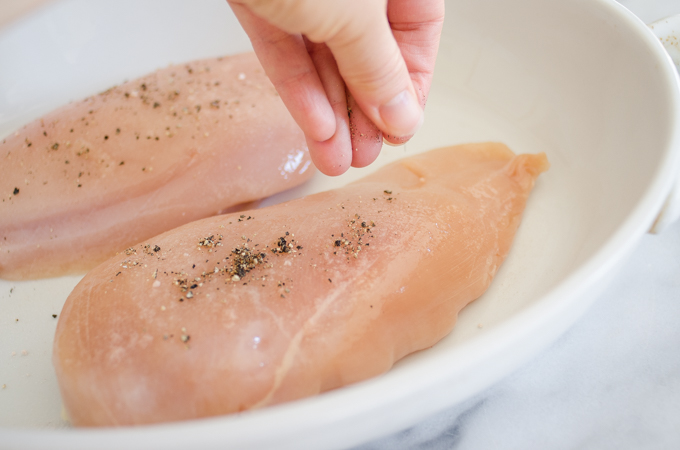 Season generously with salt and pepper.
Like I mentioned, you can also add other herbs and spices according to the type of recipe you'll be using.
For example, add Italian seasoning and garlic powder if the chicken will be going in a pasta dish. Sprinkle on some cumin, onion powder, or chili powder if it's for a Mexican-themed dish. You get the idea.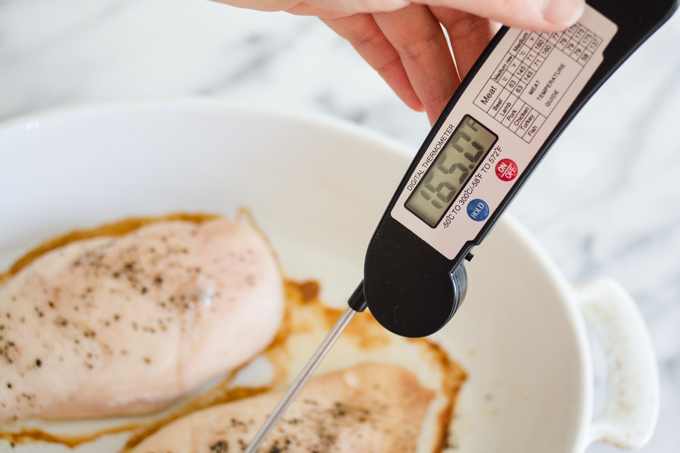 How Long to Bake Chicken Breast at 425?
Bake in your preheated oven for 23-30 minutes. The cooking time will vary depending on the size of the chicken breast. Obviously thinner breasts will take la shorter amount of time to cook.
Here's the important part: cook the chicken JUST until the internal temperature reaches 165° degrees Fahrenheit (74° C). It's okay if you go a few degrees over, but 165 Fahrenheit is the best temperature to hit. The goal is to bring the chicken just up to a safe cooking temperature.
If you go too much over that amount, your chicken will be dry. Not what we're going for.
To make sure you don't over cook boneless skinless chicken breasts, you have to start checking them with a thermometer early. Start by doing a test and 23 minutes, and go from there. After you do it a few times, you'll get a feel for how much longer you need to bake them to reach the proper temp.
And make sure to insert the thermometer in the thickest part of the breast for the most accurate reading. Also, if you have a thin chicken breast and a thicker breast, make sure to start checking the smaller one first.
You can use a meat thermometer, instant read thermometer, or (my favorite) a probe thermometer with a timer.
I like to use a higher temperature when I bake chicken breasts because of course it will take less time to cook. And it can help to get some color on the outside of the chicken breast as well.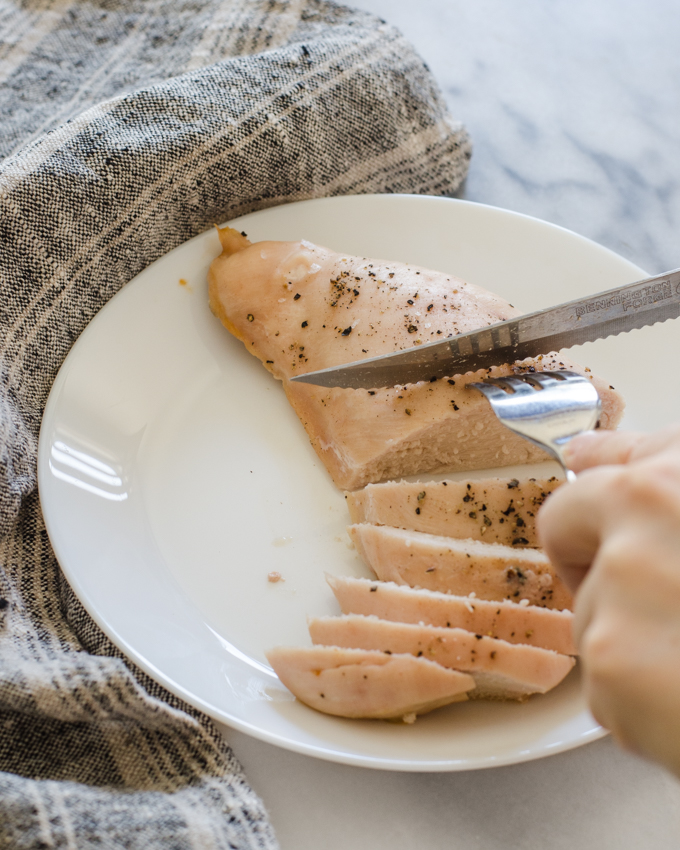 Then, let the chicken rest for 5-10 minutes before slicing into it. This helps to retain the moisture of the chicken breasts.
Store any leftovers (cooled to room temperature) in an airtight container in the refrigerator for up to 5 days.
You could bake up a few chicken breasts for meal prep throughout the week!
And if you cut up and wash a few vegetables, you could have chicken salads ready to go for your lunches.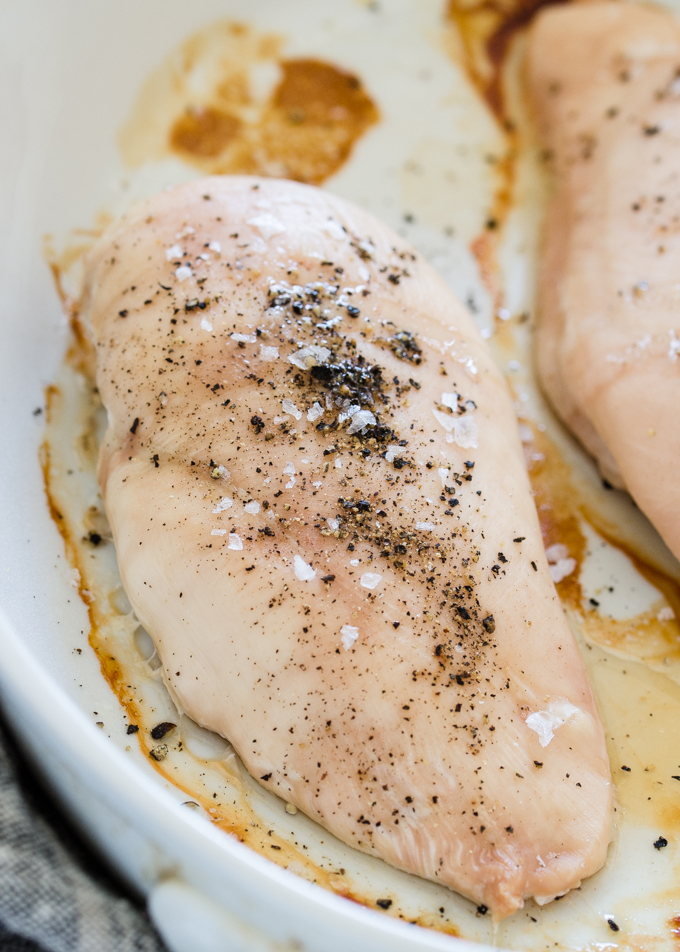 So there you have it: a super simple guide for how to bake a juicy chicken breast. It really is that easy.
I'll be using this method in an upcoming chicken recipe, so make sure to give this a try to prepare yourself!
Even though this is a really simple process, I've included a printable recipe below.
More chicken recipes:
Side Dish Recipes to Go with Baked Chicken Breast: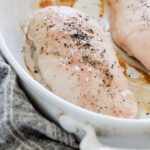 How to Bake Boneless Skinless Chicken Breasts in the Oven
This super simple method will help you to make perfectly cooked chicken every time.
Ingredients
2

boneless, skinless chicken breasts

salt and pepper,

to taste
Instructions
Preheat oven to 425 degrees F (218 C).

Place the chicken breasts in a pan, making sure they don't touch. Sprinkle generously with salt and pepper.

Bake in preheated oven for 23-30 minutes JUST until the chicken registers 165 degrees F (74 C) in the largest part of the chicken piece on an instant read thermometer. Make sure to start checking for doneness at 23 minutes.

Remove from oven and transfer to a plate. Allow to rest for 5-10 minutes before slicing.