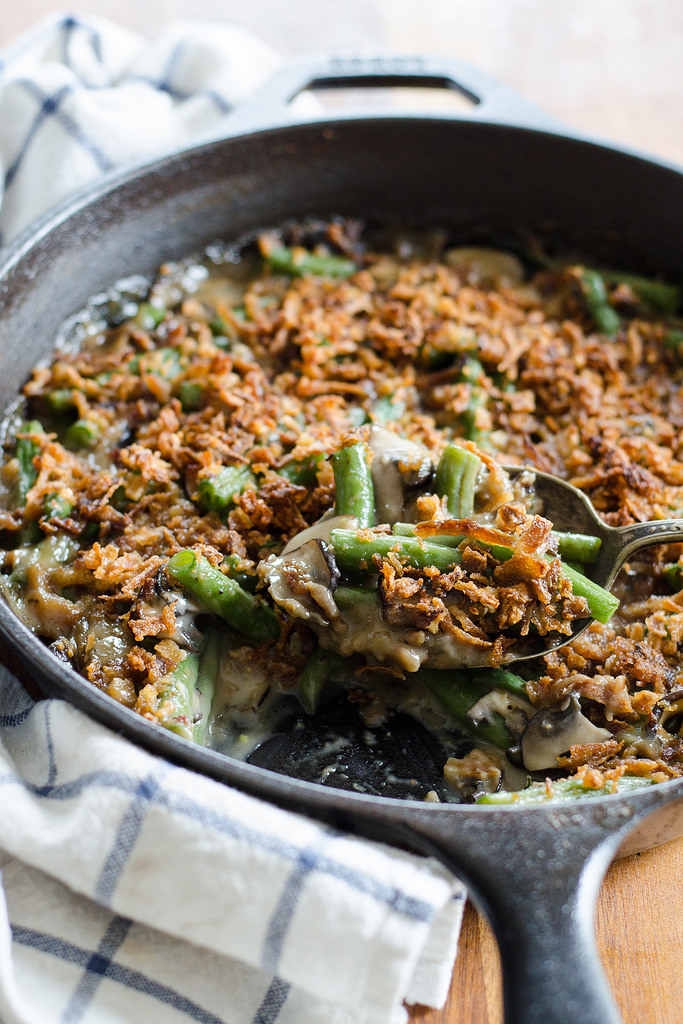 Green Bean Casserole has actually never played a huge part in my family's Thanksgiving meal. Which is a shame, because it's delicious.
But until last week, I had never attempted making it. It seemed like one of the those dishes that was hopelessly processed. I mean, store-bought French fried onions are the epitome of processed, right? And most recipes I knew of called for canned soup as well. Not exactly the most nutritious side dish.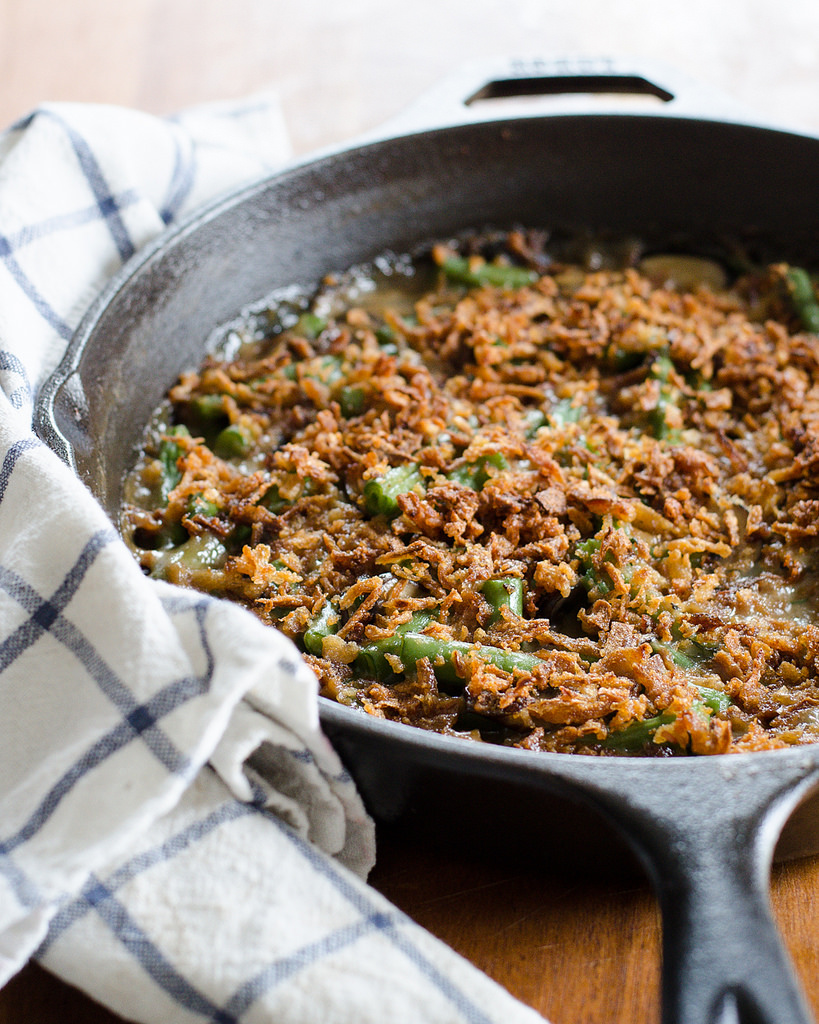 This year I was on a mission to tackle this Thanksgiving staple and make something less processed. I was going to fry my own French onions if I had to.
After looking over
The Faux Martha's
recipe, I noticed that she mentioned that she got her French fried onions from Trader Joe's. So when my sisters and I
took a trip to the cities
, I kept my eye out for them. I actually found some at IKEA, and the list of ingredients was quite short: onion bits, palm oil, wheat flour, water, and salt. Certainly not a health food, but it wasn't going to kill me if I so much as looked at it. So I snatched up a can.
I must admit that even as I was making this casserole, I wasn't so sure that it was going to be fabulous. But one bite put my fears to rest. The creamy, hearty sauce is amazing, the onions on top are so so yummy, and the green beans make you not feel so bad for eating this dish. Heh heh.
Notes:
This recipe is pretty heavy on the mushrooms and fried onions (mua-ha-ha-ha). If you want a higher ratio of green beans to mushrooms or onions, simply double the rest of the ingredients and leave the amounts of mushrooms or onions the same.
If you'd like to make this recipe completely from scratch, you can make the fried onions yourself: HERE and HERE are some recipes. And HERE is a gluten-free option.
DO AHEAD: You can make the green bean cream sauce and keep it in the refrigerator for about 3-5 days. Bake in preheated oven for 25-30 minutes. Sprinkle the fried onions on top in the last 10 minutes or so of baking time.
Green Bean Casserole From Scratch
Ingredients:
3/4 pound fresh green beans, trimmed and cut into 2-inch sections.
2 tablespoons butter
1/4 cup onions, finely diced
5 ounces cremini (aka baby bella) mushrooms, thinly sliced
1 clove garlic, minced
salt and pepper, to taste
a few leaves of fresh thyme
2 tablespoons organic all-purpose flour
1 cup turkey or chicken stock
1/4 cup heavy cream
2/3 cup fried onions
Directions:
In a medium saucepan, bring 1 cup of water to a boil. Add the green beans and some salt. Cover and simmer until tender, about 8 minutes. Drain.
Meanwhile, melt the butter in a 10-inch cast iron skillet. Add the onions and mushrooms and saute until tender, about 8-10 minutes. Add the garlic and cook for 2 minutes. Add the flour, thyme, and salt and pepper to taste and cook for 2 more minutes.
Preheat your oven to 375 degrees F.
Whisk in the stock and cream. Bring to a boil and boil until thickened, about 5-10 minutes. Remove from heat and stir in the green beans. Taste and adjust seasonings if necessary. Sprinkle the fried onions on top.
Bake in preheated oven for 15 minutes. Serve immediately.