Learn how to make my super easy organic cranberry sauce recipe! This healthier version of a classic is the perfect side dish for all of your holiday meals, whether that's your Thanksgiving feast or Christmas dinner!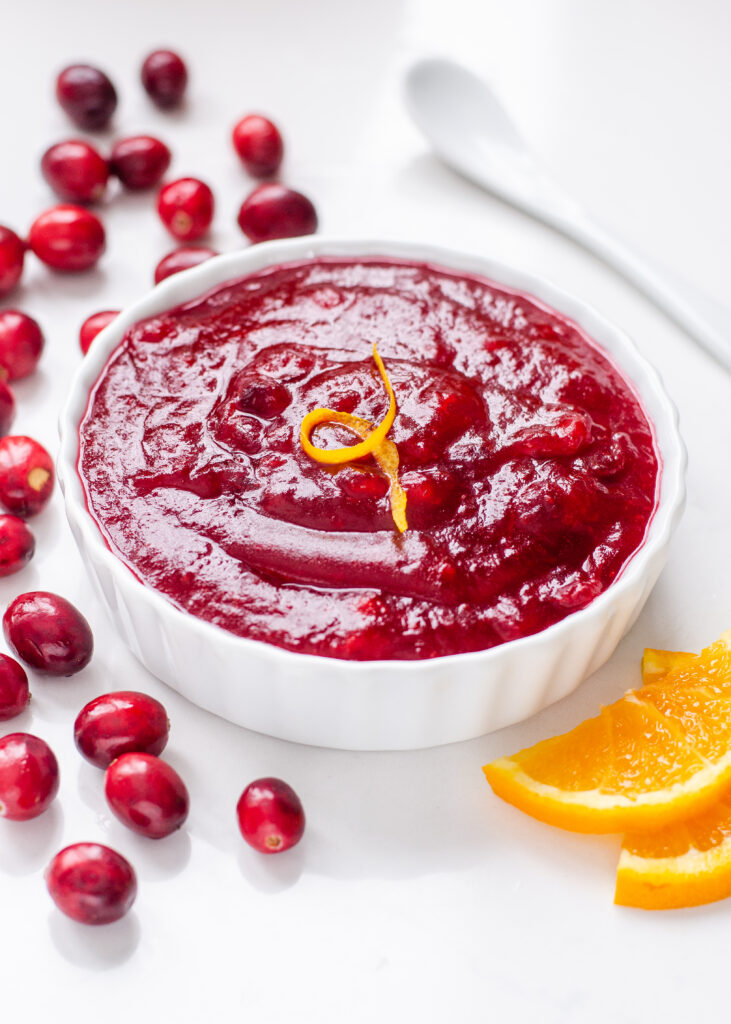 I have always been skeptical of processed foods. Margarine was the bane of my existence at 5 years old. I detested Little Debbie snacks.
And I turned up my nose at canned cranberry sauce.
I saw the dish of perfectly round, sliced, jellied cranberry sauce sitting at the Thanksgiving table, and it gave me the heebie-jeebies. I simply wouldn't touch the canned stuff.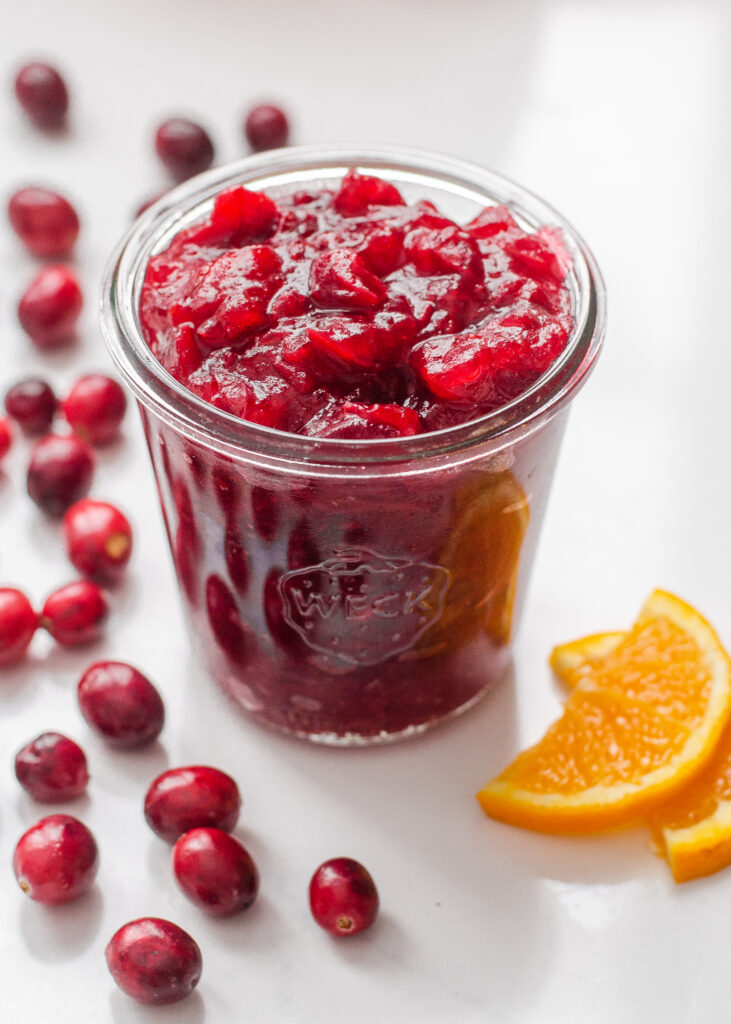 Then I was introduced to whole-cranberry sauce. It was more like cranberry preserves, so I gave it a shot.
And I loved it.
But the store-bought stuff was made with high fructose corn syrup, which I personally try to avoid. So I decided to make my own fresh cranberry sauce. It was way easier than I ever imagined.
I've been making it ever since. And so should you! I'll show you how with my super easy recipe!
Here's a video tutorial in case you learn better that way. The written tutorial is below!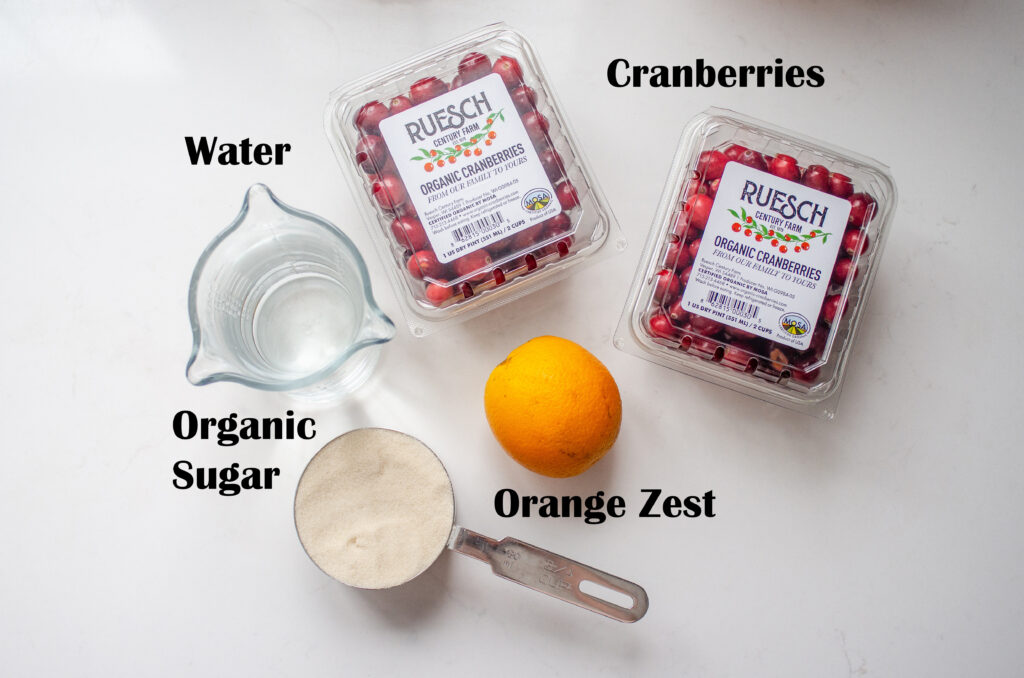 NOTE: Some links are affiliate. All opinions are 100% my own. If you click a link and make a purchase, I will earn a small commission. This has zero impact on the price you pay, and it helps Buttered Side Up out! Thank you!
Ingredients:
Here are the simple ingredients you'll need for this easy healthy cranberry sauce recipe:
1 cup water: This is needed to help with the cooking process. Don't worry, the final cranberry sauce isn't watery! If your tap water is chlorinated, it's best to opt for filtered water instead.
3/4 cup organic cane sugar: Feel free to substitute coconut sugar (for a paleo cranberry sauce recipe), sucanat, organic brown sugar, or your personal favorite sweetener. Just be wary of low-calorie sugar substitutes here. The organic raw cane sugar makes for a more brightly colored cranberry sauce, and of course white sugar will produce the brightest color. You can use honey or pure maple syrup for a refined sugar-free version, but make sure to reduce the water by about 2 tablespoons to 1/4 cup to accommodate for the liquid in the sweetener.
3 1/2 cups fresh organic cranberries: This is about a 12-ounce package. You can purchase these ahead of time, wash and dry them, and freeze them for later use. Yep, you can use frozen cranberries instead of fresh ones in this recipe!
Orange Zest: You can add a bit of zest to make this into a cranberry orange sauce! This is optional, but it does add an extra, fresh flavor element to the sauce.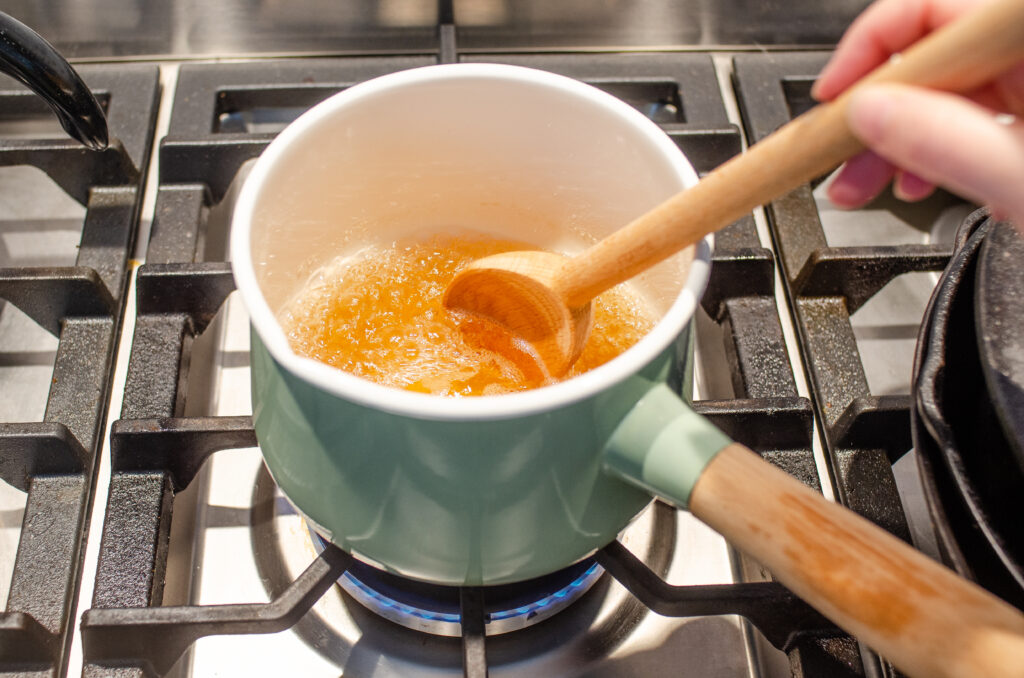 How to Make Organic Cranberry Sauce:
You're going to be shocked by how easy this is.
Simply bring the water and sugar to a boil in a medium saucepan over medium-high heat, stirring occasionally with a wooden spoon until the sugar dissolves.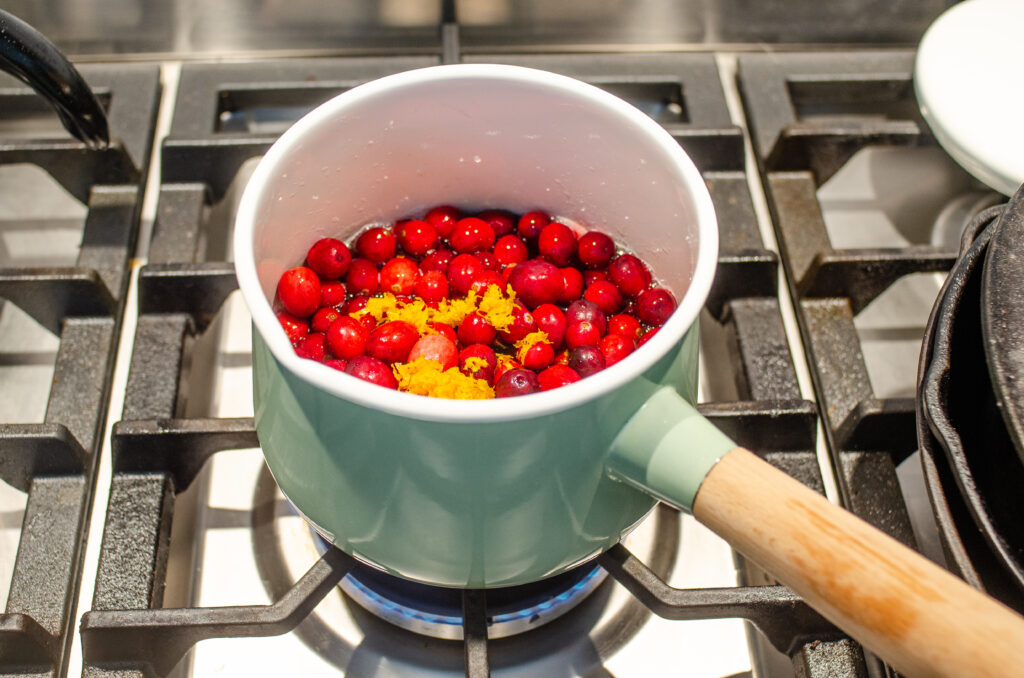 Add the cranberries and zest and return to a boil.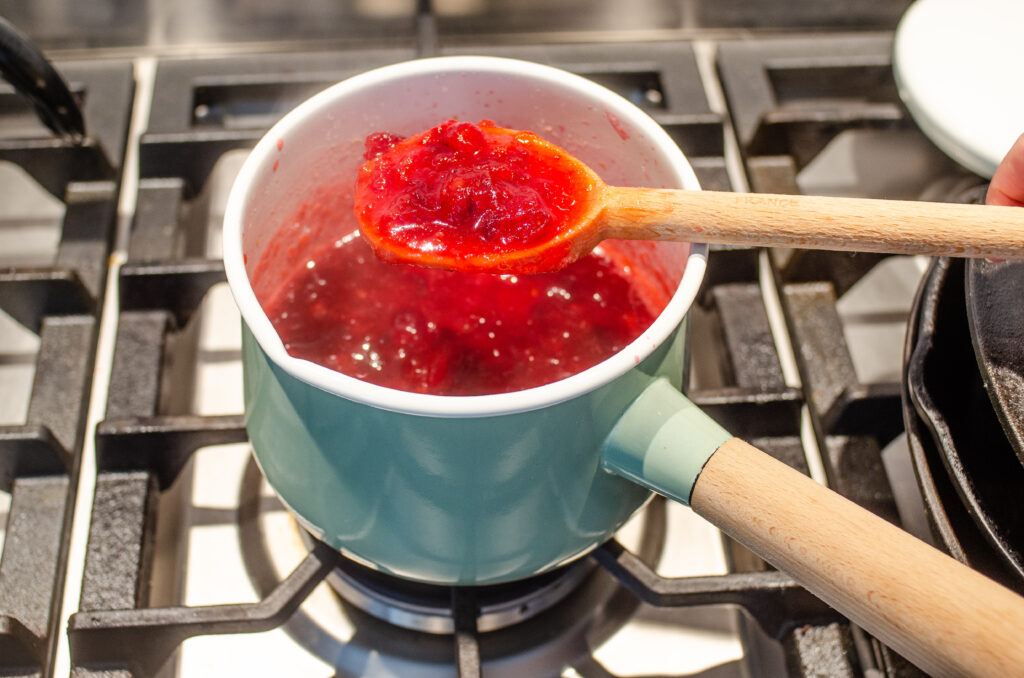 Next, simmer for about 10 minutes over medium heat, until the sauce thickens. Cranberries contain natural pectin, so they actually thicken up nicely when cooked.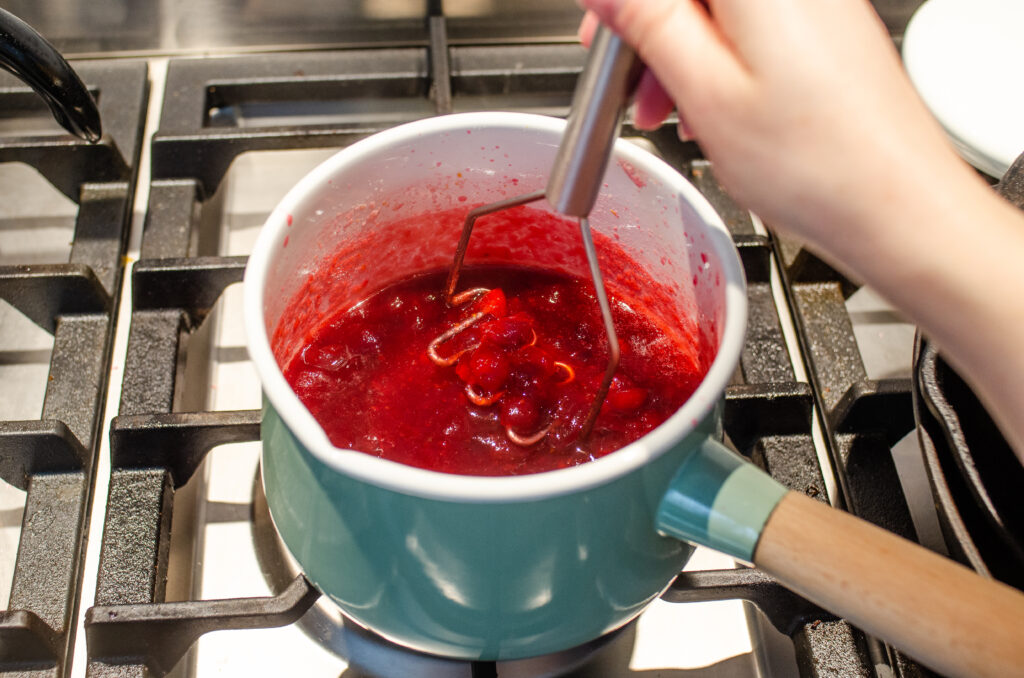 Mash the cranberries if necessary to break apart any whole berries. My favorite way to do this is with a potato masher. I like to use my mini potato masher to get the job done!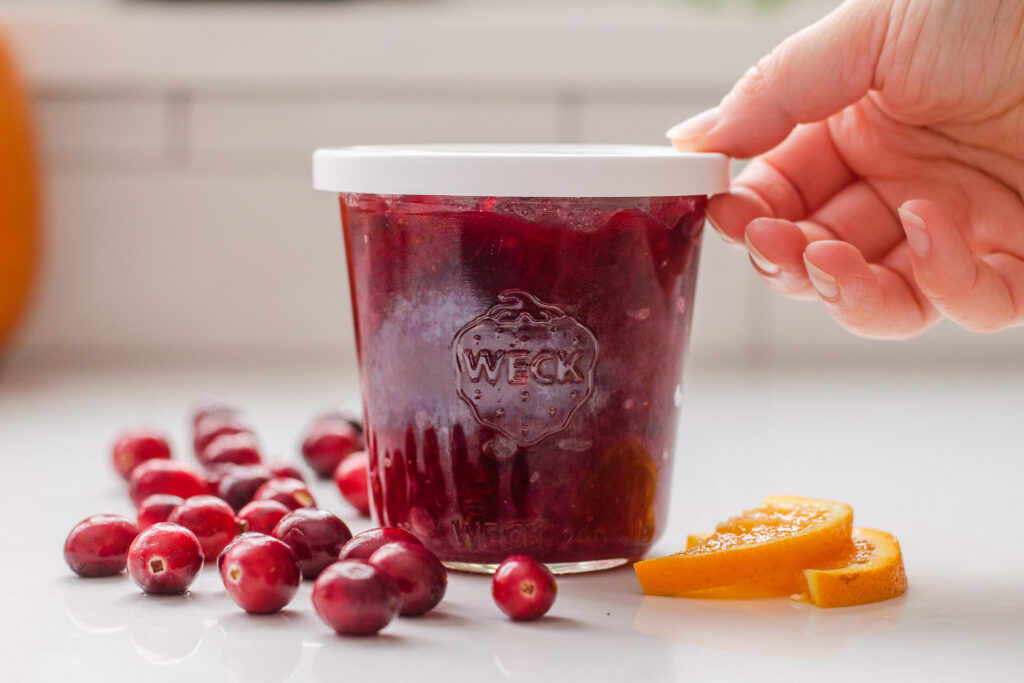 Storing:
Transfer to a jar and allow to cool to room temperature before storing.
Store in the refrigerator in an airtight container for about a week, or in the freezer for about 3 months.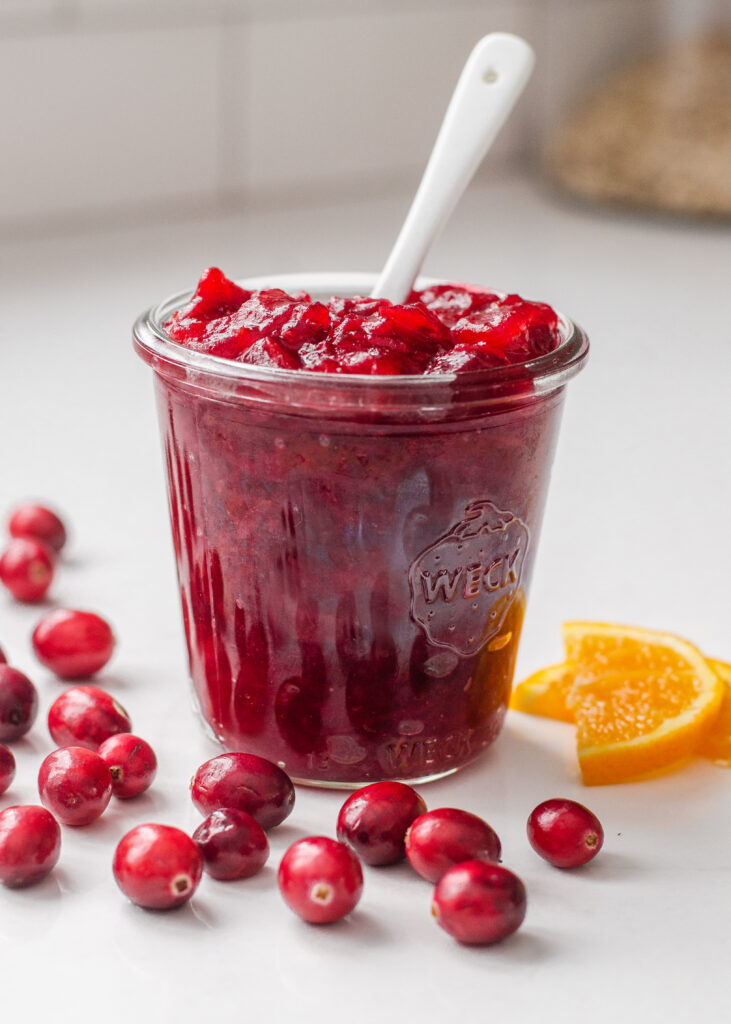 Variations:
You could add a cinnamon stick to the sauce while it's simmering to give it more of a spicy flavor.
If you prefer a sweeter cranberry sauce, you can increase the sweetener to 1 cup of sugar.
You could add a little bit of vanilla extract if you want more of sweet flavor, less of a condiment flavor.
Instead of water, you could squeeze fresh oranges and use the fresh orange juice for part of the cooking liquid.
Or you could use organic apple cider for part of the liquid.
If you like a really spicy cranberry sauce, you could add some more warm spices such as cloves, nutmeg, and ginger.
What to Do with Leftover Cranberry Sauce:
One of the best parts of making a healthier version of cranberry sauce is that you'll actually be glad to have leftovers!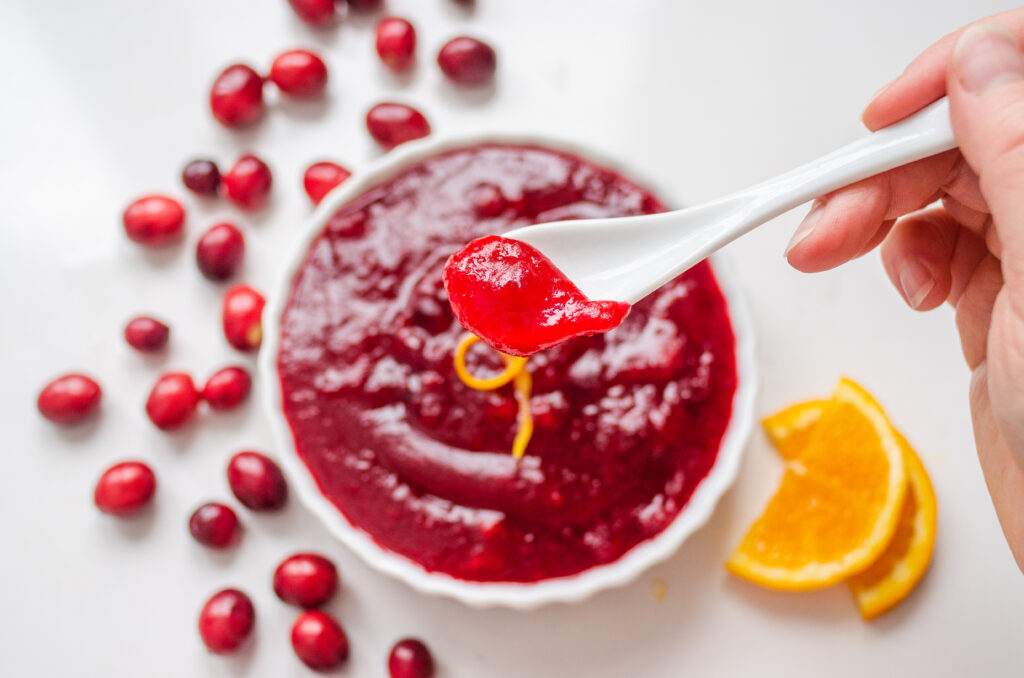 What's the Difference Between Cranberry Sauce and Cranberry Jelly?
Technically people refer to both cranberry jelly and the whole berry variety as cranberry sauce.
But cranberry jelly in particular is made without the whole berries, and is more solid.
Also, funny story: Helen has been going through a phase where she thinks she knows everything. She wanted to sample a cranberry, and I tried to warn her that they were very sour.
She insisted that they weren't, even before she tried one. When I gave her one, she spit it out. But she liked the sauce!
So that's my homemade cranberry sauce recipe! BTW, this is also a naturally gluten free cranberry sauce recipe, so there's no need to worry if you're avoiding gluten!
Is there any Thanksgiving food that you used to dislike but now love?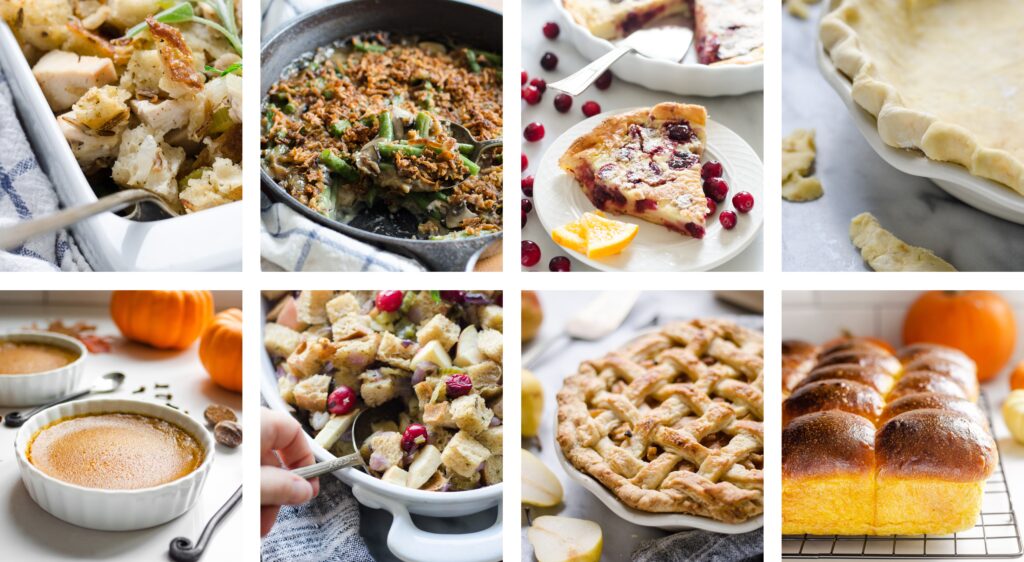 More Thanksgiving Dinner Recipes:
Here are some more great recipes for a healthy Thanksgiving meal:
Recipe Card:
Yield: 2 cups
Organic Cranberry Sauce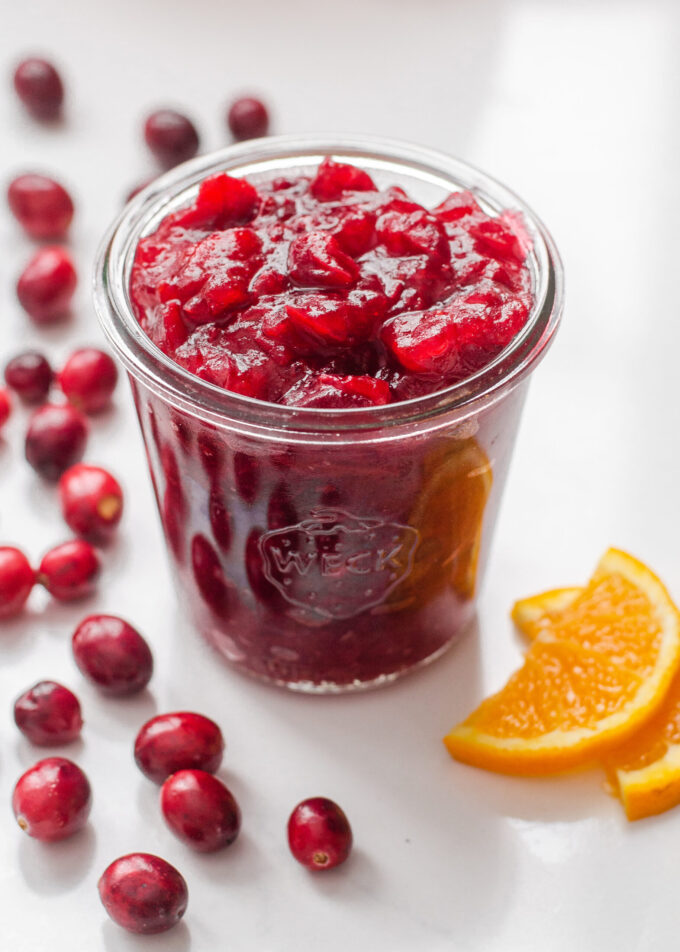 Ingredients
1 cup water
3/4 cup organic cane sugar
12-ounce package (about 3 1/2 cups) fresh organic cranberries (you can also use frozen)
zest of 1 organic orange (optional)
Instructions
Bring the water and sugar to a boil, stirring occasionally until the sugar dissolves. Add the cranberries and zest and return to a boil.
Simmer for about 10 minutes, until the sauce thickens. Mash the cranberries with a potato masher if necessary to break apart any whole berries.
Transfer to a jar and allow to cool before storing.
Store in the refrigerator for about a week, or in the freezer for about 3 months.
Notes
Adapted from Simply Recipes
Recommended Products
As an Amazon Associate and member of other affiliate programs, I earn from qualifying purchases.
Nutrition Information:
Yield:
24
Serving Size:
1
Amount Per Serving:
Calories:

34
Total Fat:

0g
Saturated Fat:

0g
Trans Fat:

0g
Unsaturated Fat:

0g
Cholesterol:

0mg
Sodium:

1mg
Carbohydrates:

9g
Fiber:

1g
Sugar:

7g
Protein:

0g
Originally Published on Nov 16, 2015 at 09:00. Updated on November 15, 2022