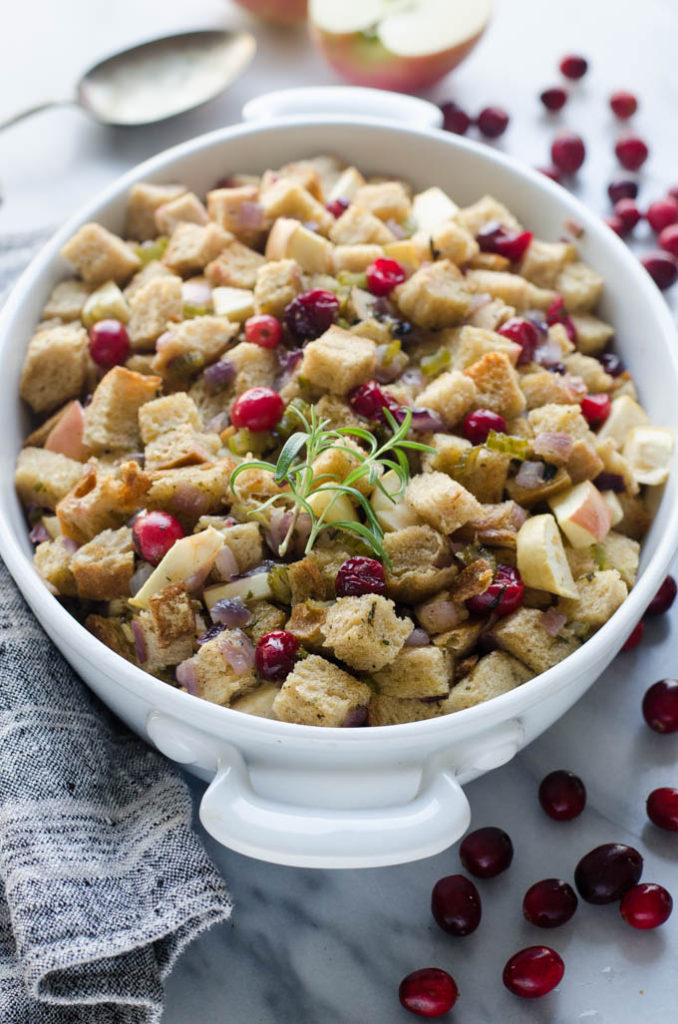 On Monday, my stove quit. This Cranberry Sourdough Stuffing was the last thing I cooked on it before it shut down.
Okay, first of all, some background.
My stove is an oven and range all-in-one unit. It has been giving me grief for 6 years. I can go about 5 baking sessions before the oven beeps incessantly while it flashes an error code. A little part of me dies every time it does this. Also, our house is heated by electricity, so there's no central gas line that we can connect to. Instead we have gas tanks hooked up to the outside of our house (specifically to power my stove) that we have to take to the gas station and refill every 6 months or so.
On Monday, the gas ran out. I could tell because the oven always smells a little gassy when the tanks are low, and the burners either have a very weak flame or won't turn on at all. This time they didn't turn on at all. So I texted Reuben and he hauled the tanks to the gas station once he got home from work. But when he was hefting the tanks back out of his truck, he accidentally set one of the gas-heavy tanks on the gas line. And of course it snapped.
I had supper all prepped and ready to cook, but we were forced to head into town and buy a new part for the gas line. Then we headed home, fixed the line, and I was finally able to cook again. We didn't eat supper until about 8:30. We were all very hungry by that time, and kind of cranky. It wasn't the best night in history. At least my stove was fixed.
But about this cranberry sourdough stuffing…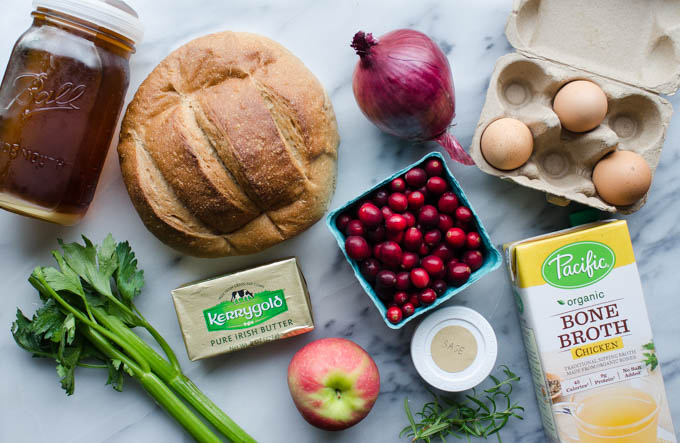 Thankfully, I had already photographed it for you guys earlier in the day. I really wanted to share this recipe with you in time for Thanksgiving!
Basically, this is the perfect thing if you're assigned to bring the stuffing to the family Thanksgiving dinner. Put down that box of Stovetop Dressing: You need to impress the relatives! Now, if you're doing the entire meal all by your lonesome, I understand if you don't want a recipe this complicated. In that case, you can make my Simple Sage Dressing instead. It's still really good, just not as fancy. 🙂
Let me walk you through the process of making this stuffing: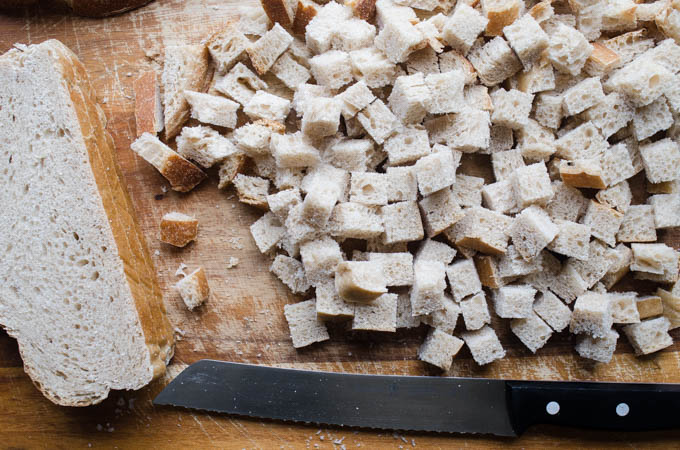 To start off, you want dry bread cubes. Because you're going to pour chicken broth over them, you want your bread cubes dry otherwise your stuffing will be soggy. You can achieve this either by drying them out quickly in the oven, using already stale bread, or leaving them out to dry on the counter for a day.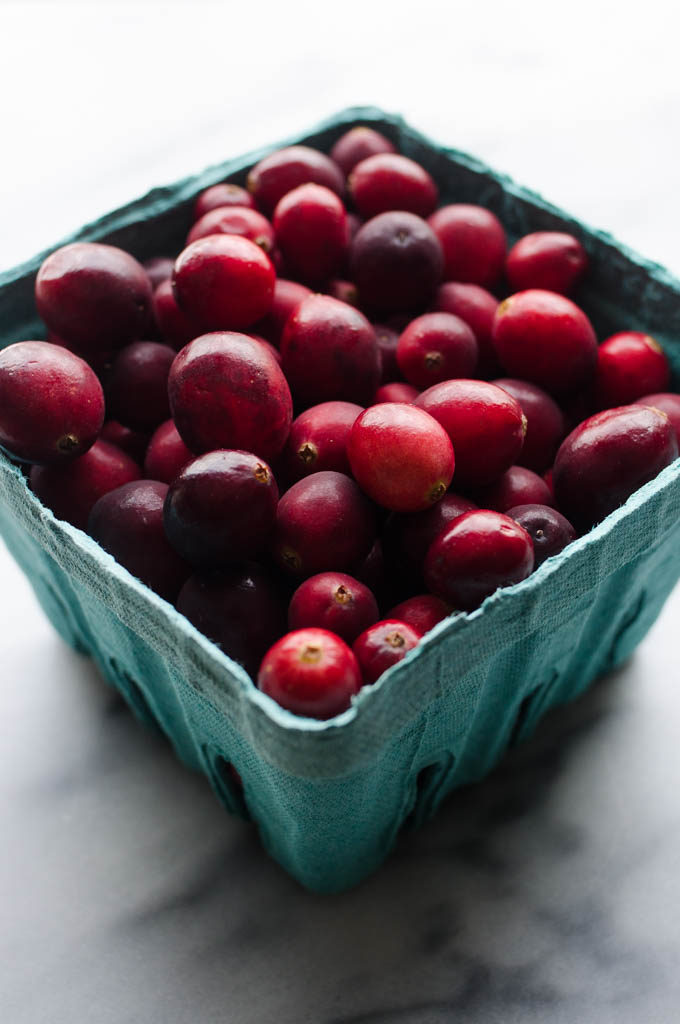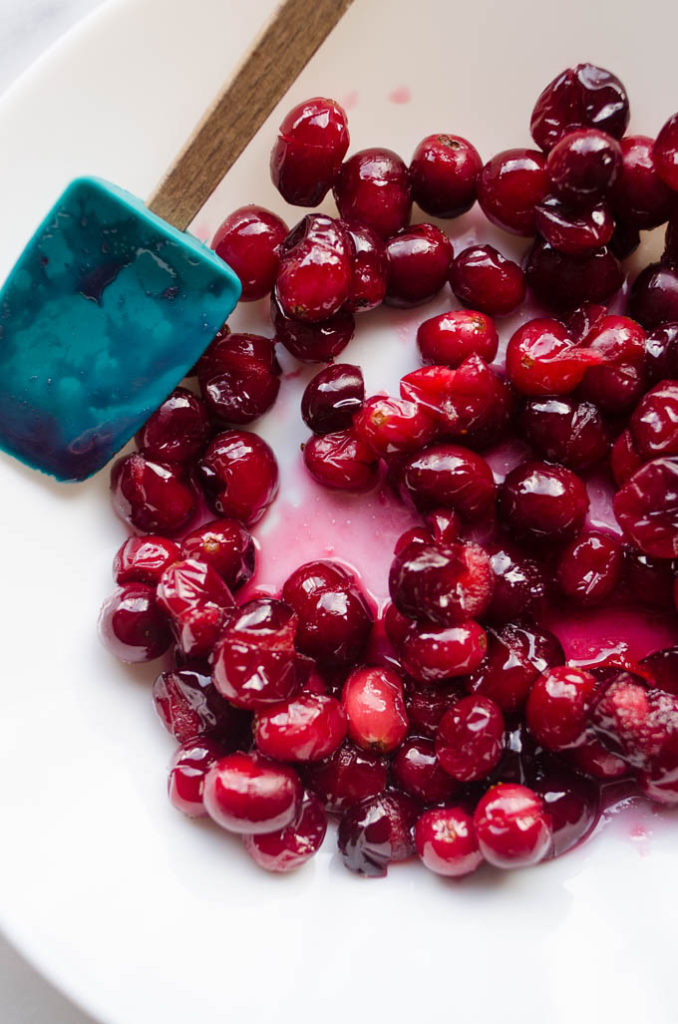 The first time I made this recipe, I just used raw cranberries with nothing added. Reuben thought they were perfectly fine, but I thought it was a bit sour since I was already using sourdough bread. So the next time I cooked them with a little water and maple syrup to mellow them out a bit. That was just the ticket!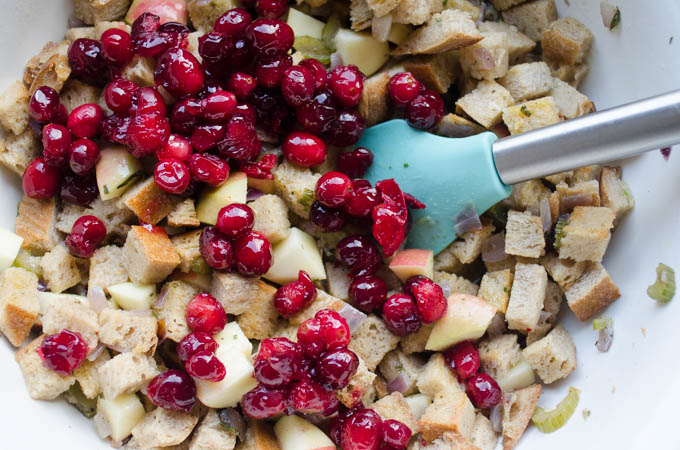 Then you just saute some onions and celery, mix everything together, pop it into the oven, and bake! I couldn't help but say that in the voice of the announcers on The Great British Baking Show. Now you know what I've been watching on Netflix…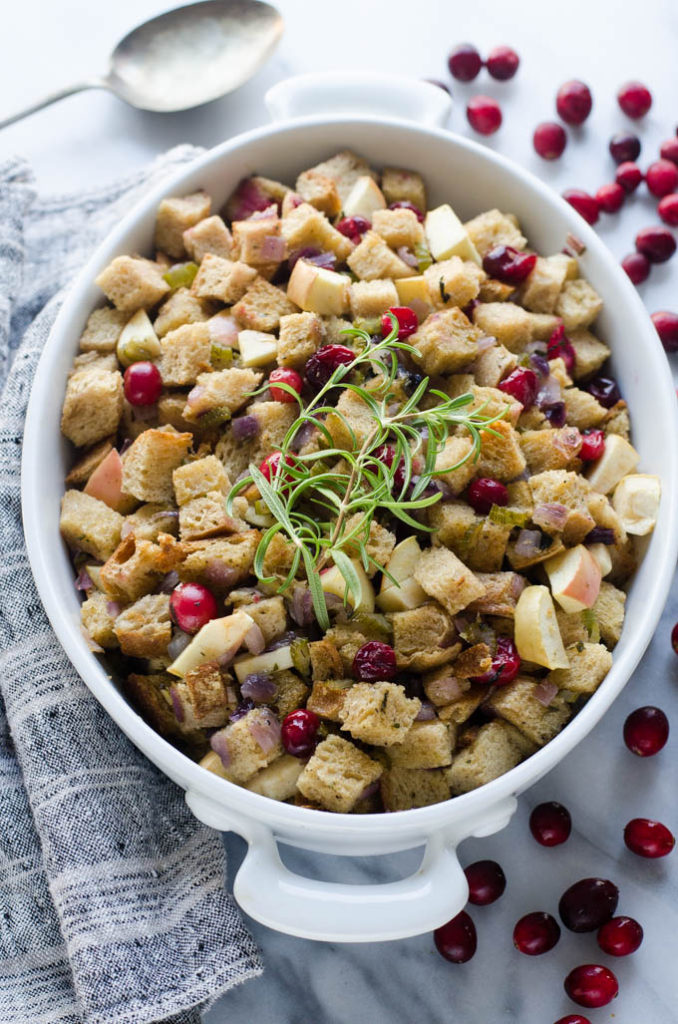 I love this Cranberry Sourdough Stuffing because it has all of the classic stuffing flavors, but with an added punch from the cranberries and apples.
The cranberries and sourdough are tart, but the apples bring a bit of sweetness back into the dish. And they almost take on a wine flavor. Strange, I know!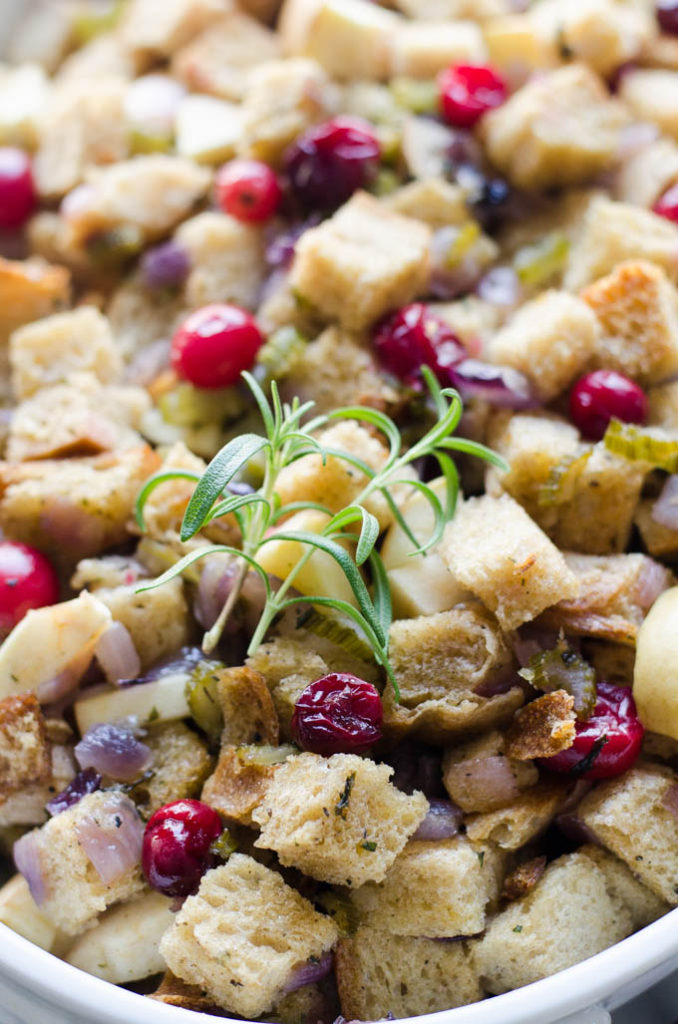 If you can get it, I highly recommend using fresh rosemary. It echos the flavor of the sage in a way that dried rosemary doesn't quite equal. But if dried is all you have on hand, it's still perfectly fine!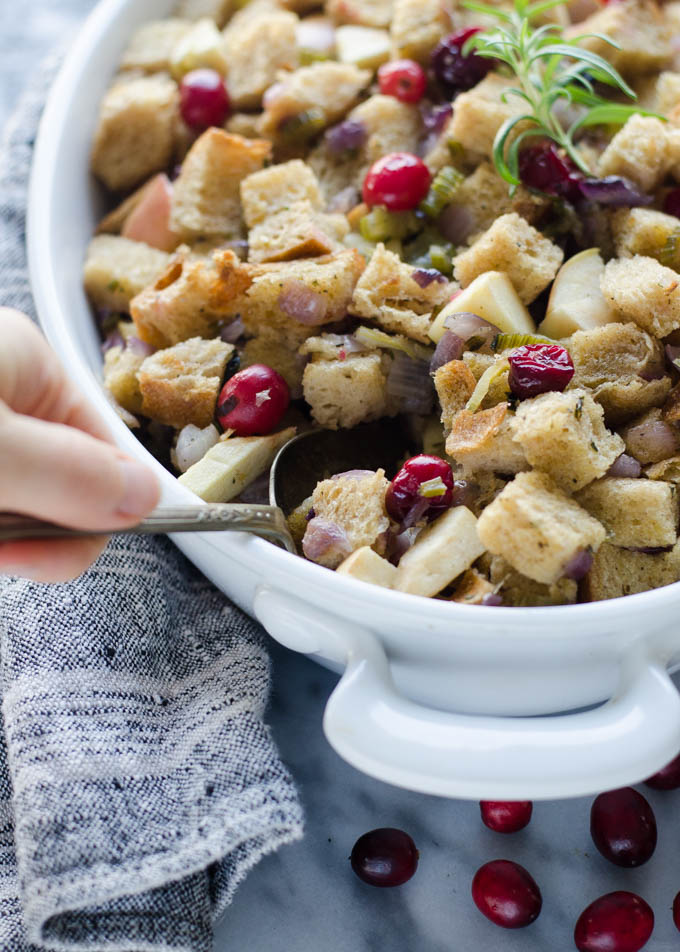 If you're intimidated by the thought of making a fancy stuffing for Thanksgiving, don't be! Once you break it down, it's actually really easy. And you can do several of the step beforehand (like drying the bread cubes, cooking the cranberries, onions, and celery, etc.) so all you have to do is mix and bake on the big day!
Oh, and BTW – you can now rate my recipes! So if you make this or any of my other recipes, would you please be so kind as to leave a rating? Thanks so much!
Also, if you'd like more Thanksgiving recipes, make sure to check out my How to Host a Real Food Thanksgiving post!
Hope you have a wonderful Thanksgiving!
xoxo
Erica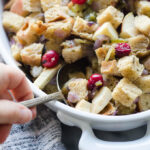 Cranberry Sourdough Stuffing
All of the classic stuffing flavors, with the added punch of cranberries, apples, and sourdough!
Ingredients
9

cups

cubed sourdough bread

about 3/4 of a rustic loaf

1 1/2

cups

fresh cranberries

2

tbsp

water

2

tbsp

pure maple syrup

8

tbsp

grass-fed butter

1

whole

red onion

finely chopped

2

stalks

celery

thinly sliced

2

tsp

dried sage

1

tsp

chopped fresh rosemary

(you can also used dried)

1

whole

pink lady apple

roughly chopped

2

cups

chicken or turkey broth

2

large

eggs

salt and pepper

to taste
Instructions
Preheat oven to 350 degrees F. Place the bread cubes on 2 baking sheets and bake until nice and dry, about 15 minutes, stirring once. Remove allow to cool.

Meanwhile, place the cranberries, water, and maple syrup in a saute pan. Bring to a simmer over medium heat, and simmer until most of the water has evaporated, about 3-5 minutes. Remove to a plate. Wipe out the pan.

In the now-clean pan, melt the butter over medium heat. Add the onion and celery. Cover and cook, stirring now and then, until the onion and celery are tender, about 15 minutes. Add the sage and rosemary and cook 2 more minutes.

Place the bread cubes. apples, onions and celery (along with all the butter) in a large mixing bowl. Whisk together the chicken broth and eggs. Pour over the bread cubes and mix well. Fold in the cranberries.

Pour into a 13x9-inch baking dish. Bake in preheated oven for 25-35 minutes, or until the bread cubes have absorbed the broth.

Remove from heat and allow to sit for 10 minutes before serving. Store any leftovers in the refrigerator for up to 5 days.
Recipe Notes
DO AHEAD: You can make the bread cubes up to a week in advance. Make sure to store in an air-tight container!
You can cook up the cranberries and onion and celery up to 5 days in advance.
When I first made this recipe, I only used half of an onion. I prefer it with the whole onion, and Reuben likes it better with only half (he's an onion hater). So if you're not an onion fan, you can use the smaller amount!
Recipe adapted from my Simple Sage Dressing and Aberdeen's Kitchen