These Sour Cream and Dill Mashed Potatoes are a delicious and easy way to switch up your mashed potato game!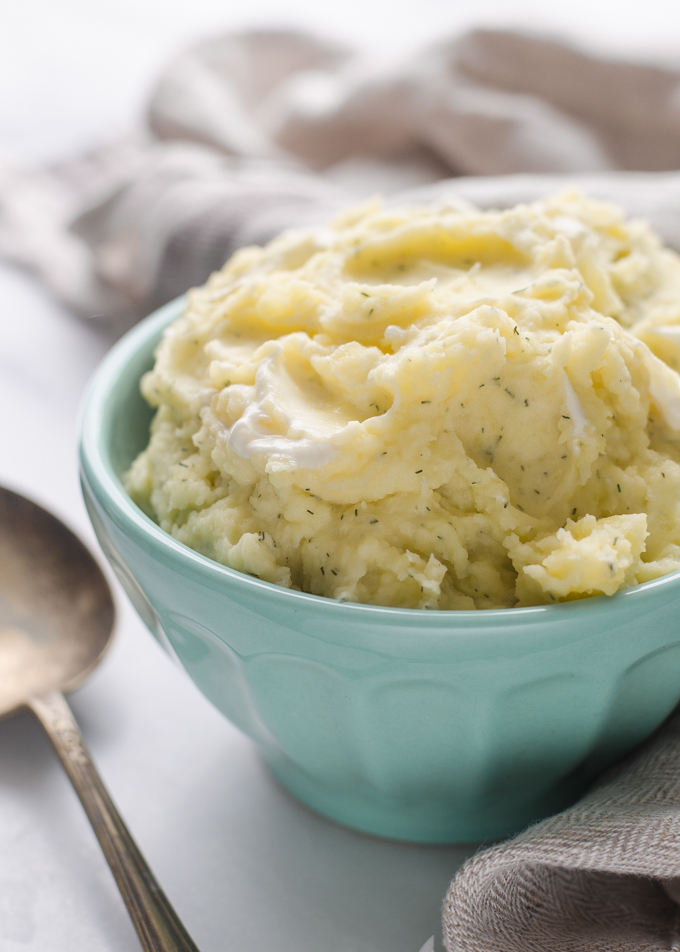 I'll be the first to admit that I enjoy mashed potatoes with a pool of gravy in the middle (and grass-fed butter on top). However, sometimes I want mashed potatoes to stand on their own. Sometimes I don't feel like making a gravy.
ENTER: Flavored Mashed Potatoes! These Sour Cream and Dill Mashed Potatoes are so yummy on their own, you won't even miss the gravy!
Let's dive in and make them…
Sour Cream and Dill Mashed Potato Ingredients: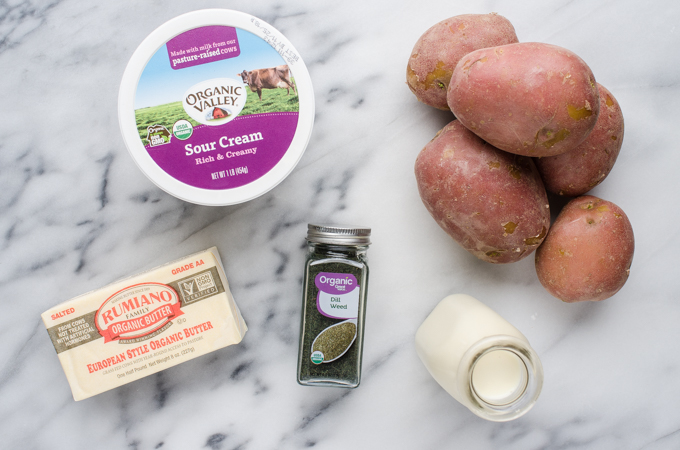 You only need 5 ingredients (plus salt) to make this dish: Potatoes (duh!), milk, dill weed, butter, and sour cream.
I like using red potatoes because I love the flavor, but you could use Yukon Gold or russet potatoes instead.
How to Make Sour Cream and Dill Mashed Potatoes: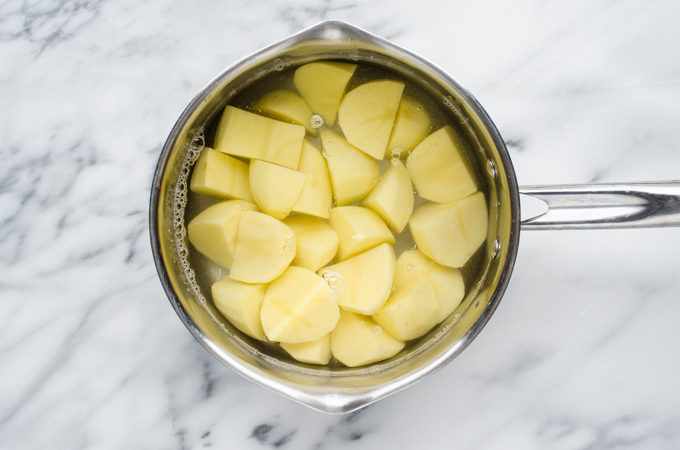 To make these mashed 'taters, begin by peeling your potatoes. Or don't if you prefer the skins on! Cut them into quarter, cover with water, salt the water generously, and bring to a boil. Turn the heat down to a simmer, cover, and cook for 20 minutes. Or until the potatoes are fork tender.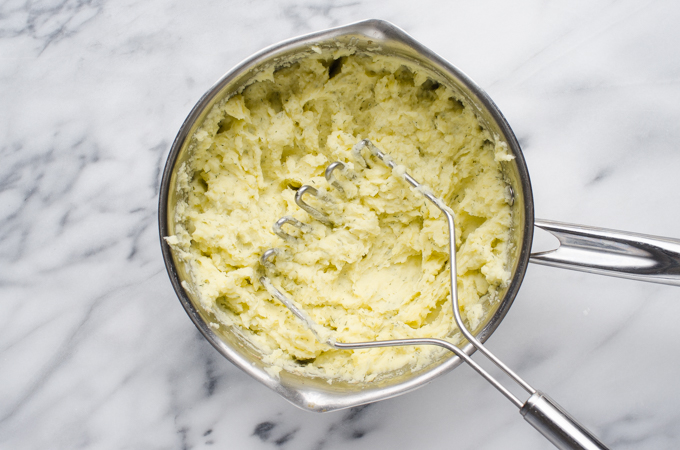 Now add the remaining ingredients, and mash! If you opt for red potatoes, be careful not to overdo it on the mashing. Otherwise your mashed potatoes might turn into glue. ?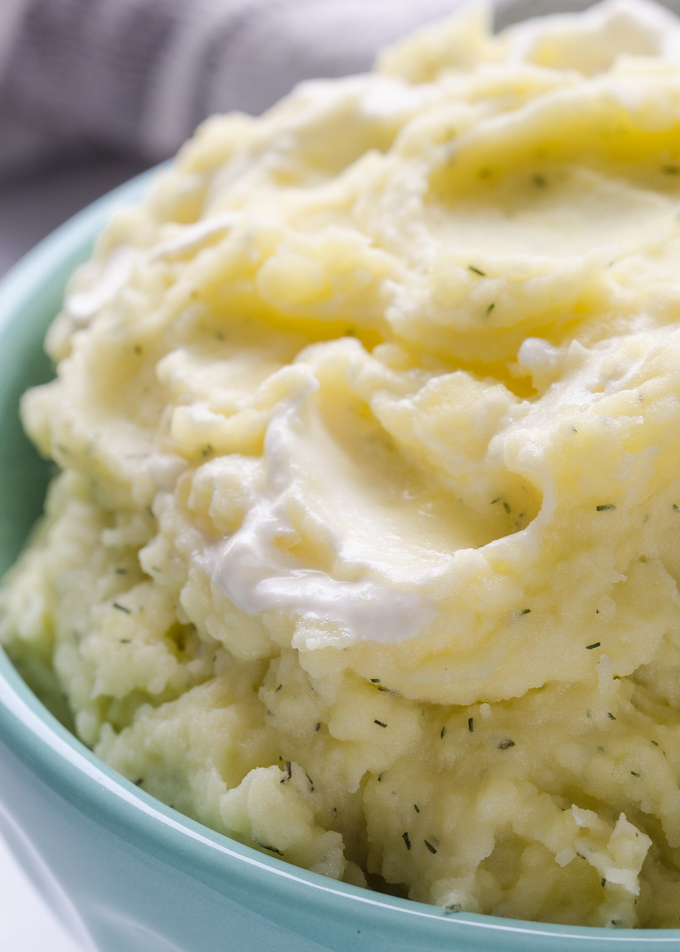 You know me: I like to serve these sour cream and dill mashed potatoes with extra grass-fed butter on top. I mean, why not?
Ingredient Swap Ideas:
Use chives instead of dill. This is so good! I make it when I still have chives in my herb garden.
Replace the sour cream with cream cheese. Yum!
Brown the butter before adding it to the potatoes.
Do you prefer your potatoes with or without gravy?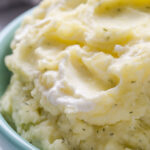 Sour Cream and Dill Mashed Potatoes
Give mashed potatoes a boost with the addition of sour cream and dill. No gravy required!
Ingredients
4-6

whole

medium red potatoes (about 2 pounds),

peeled

1/4

cup

grass-fed butter

1/2

cup

grass-fed milk

3/4

cup

organic sour cream

1

tsp

dried dill weed

salt to taste
Instructions
Peel potatoes and cut into quarters. Place in a medium pot and cover with water. Salt the water generously. Place over high heat and bring to a simmer. Turn heat down to low, cover, and allow to simmer until fork tender, about 20 minutes.

Drain water from potatoes. Add butter, milk, sour cream, and dill weed. Cover and wait for the butter to melt. Mash with a potato masher until completely smooth. Taste and add salt if needed.

Serve immediately with extra butter.
Recipe Notes
If you use red potatoes, make sure to not over-mash or they will turn to glue.
You don't have to peel your potatoes if you don't like.
For sour cream and chive potatoes, replace dill with about 2-3 tablespoons of fresh chopped chives. Delicious!