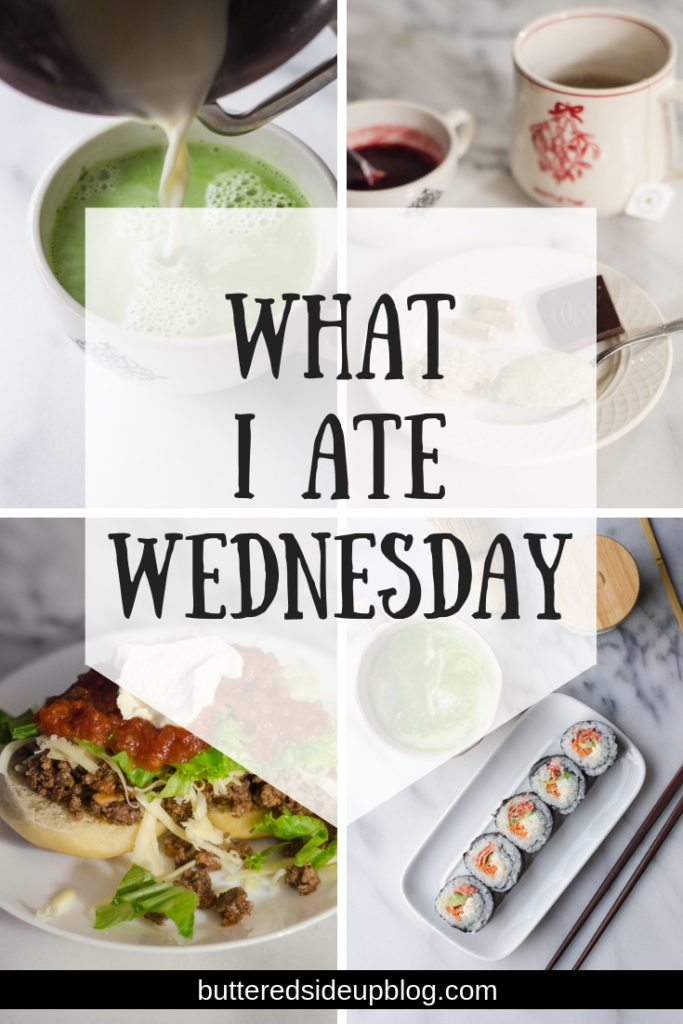 Hey, friends! It's time for another installment of What I Ate Wednesday!
Thankfully nearly all of my pregnancy nausea has subsided, so it doesn't really interfere with my appetite. But I have had to implement a few foods because of my iron anemia, which I'll get to in a bit…
Anyway, here's what I ate on Monday: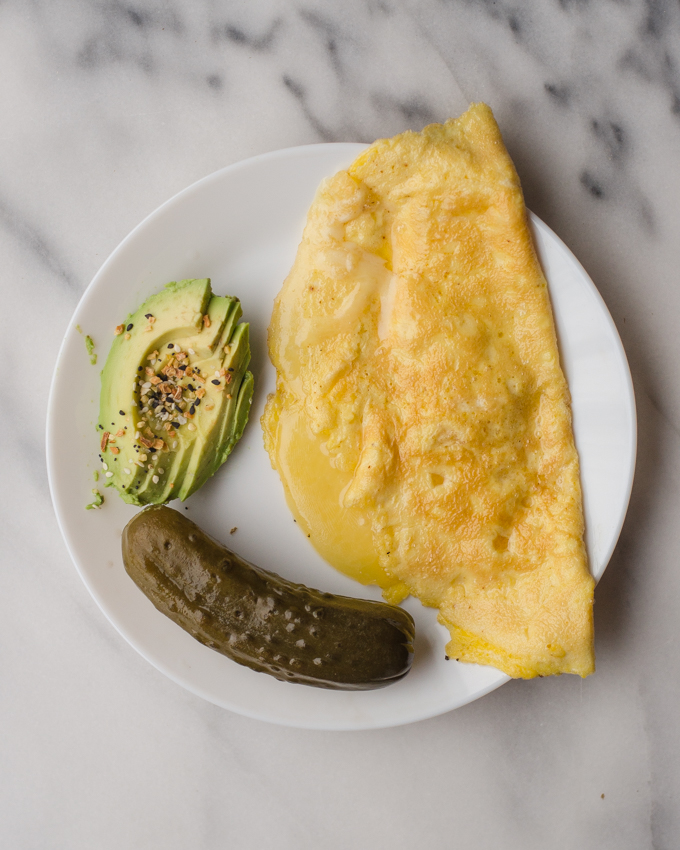 Breakfast:
I was feeling rather uninspired, so I made myself a cheese omelette, 1/3 of an avocado (James ate part of my half) sprinkled with Everything But the Bagel Seasoning, and a Bubbie's pickle.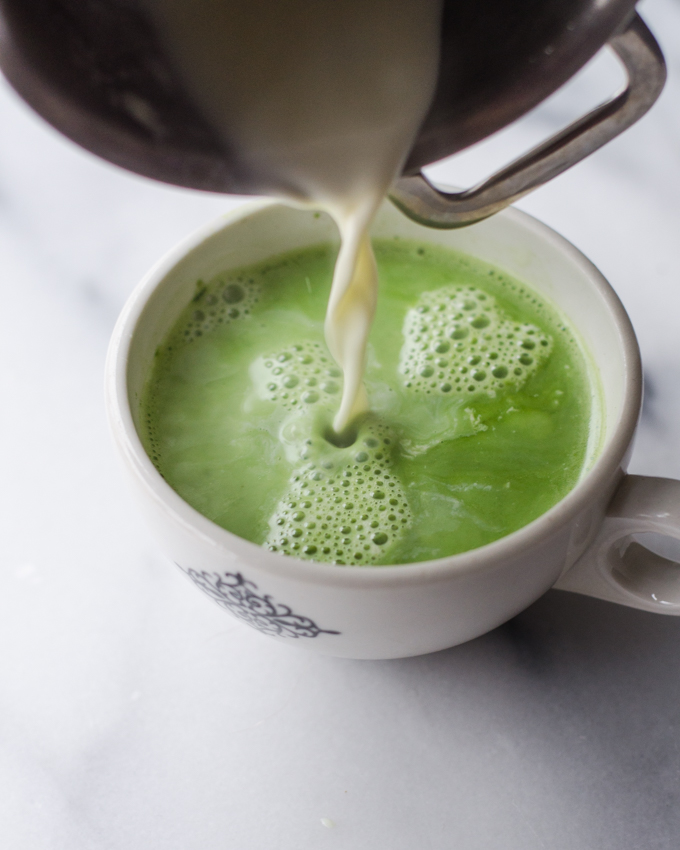 I also had some matcha with maple syrup, vanilla extract, and warmed cream. So good!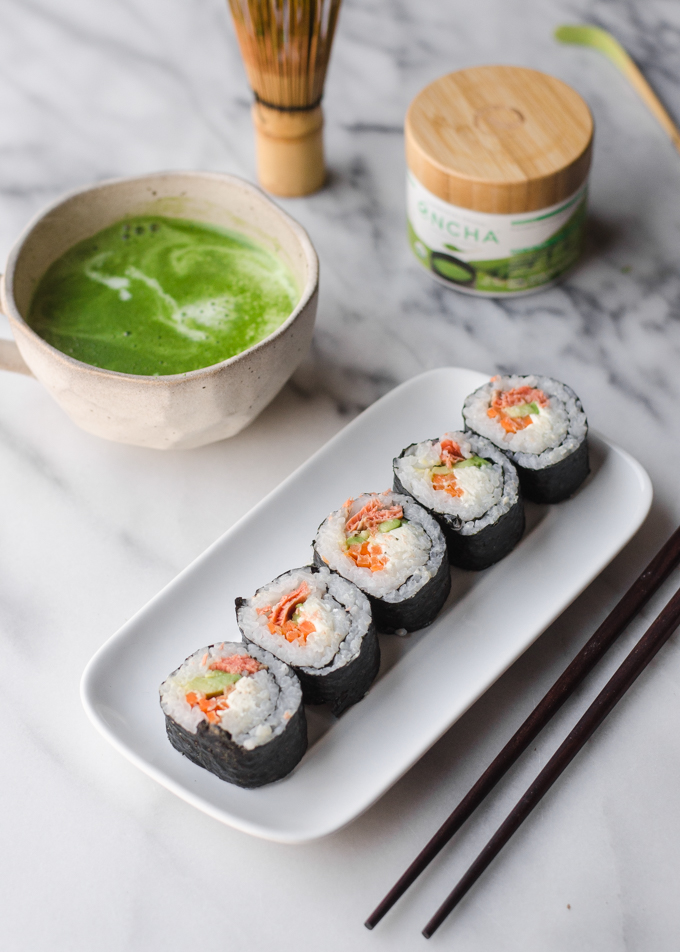 Lunch:
I was craving some sushi, and I had most of the ingredients for it, so I decided to have that for lunch. I also had a few bites of the sushi fillings, and a couple of end pieces which I didn't include in this photo (not as pretty). And I had more matcha because: why not? I made it the same as at breakfast, but I used ceremonial grade matcha instead of latte grade. Yum!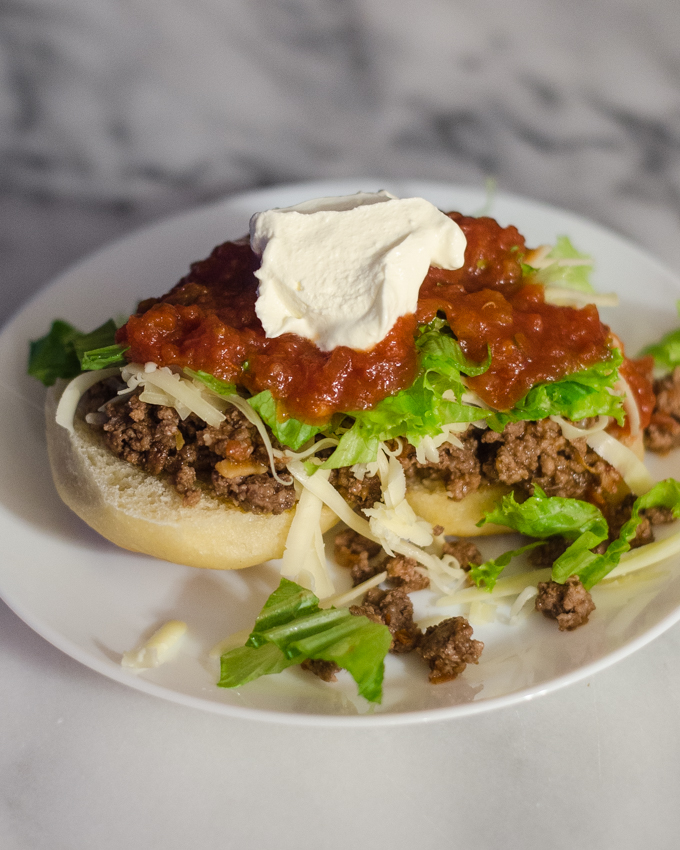 Supper:
Definitely not one of my more glamorous meals, but it was easy and filling. I made "taco burgers" — leftover dinner rolls from Thanksgiving topped with seasoned ground beef, cheese, lettuce, salsa, and sour cream.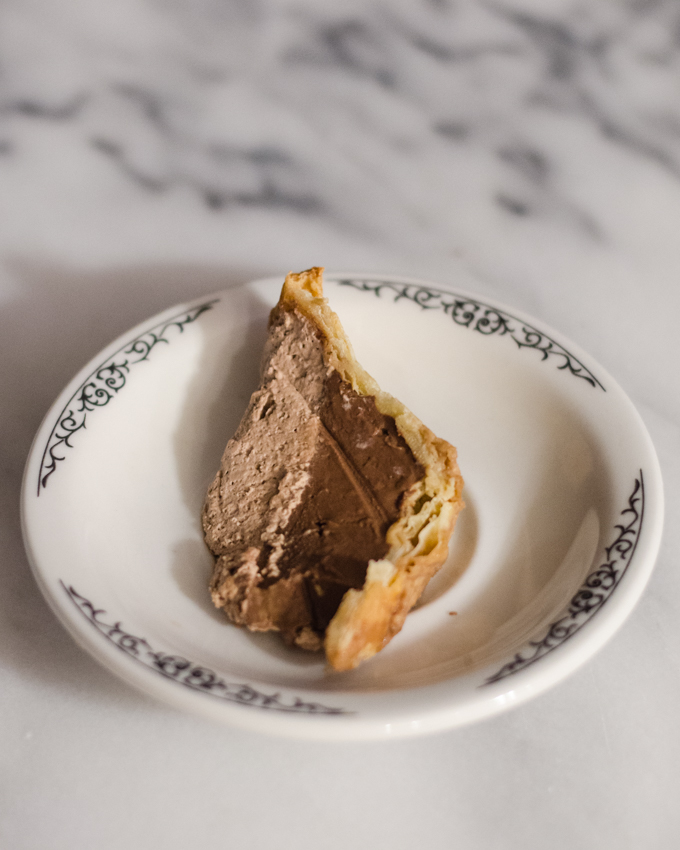 Dessert:
I was trying to eat up the last of the mocha pudding pie that I made for Thanksgiving, so I had a small slice and Reuben ate the rest. So yummy, but I didn't eat the crust since it was going kind of soggy.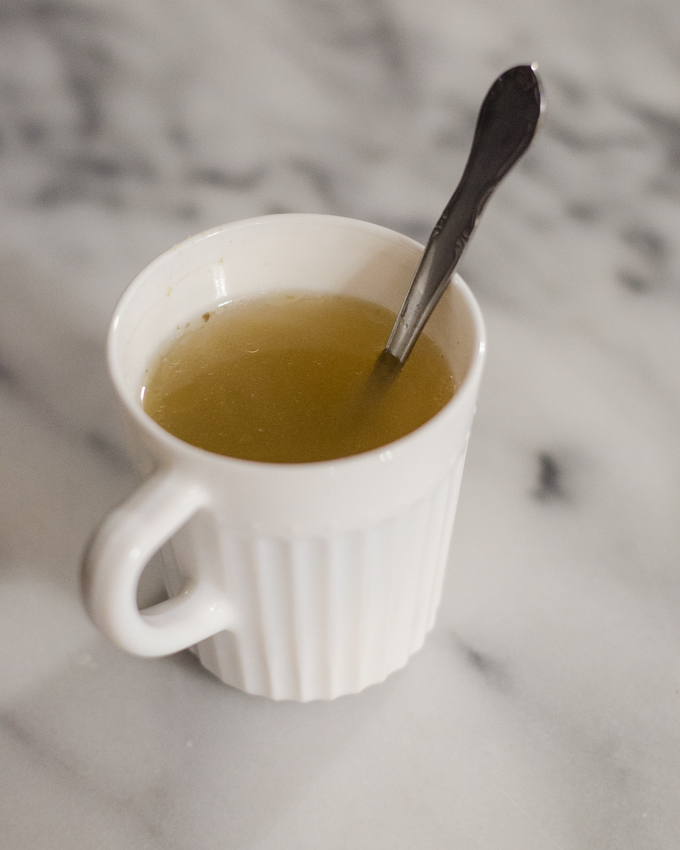 Snack Part 1:
I've been fighting off a cold the past few days, so I had a mug of chicken bone broth with some ginger grated in.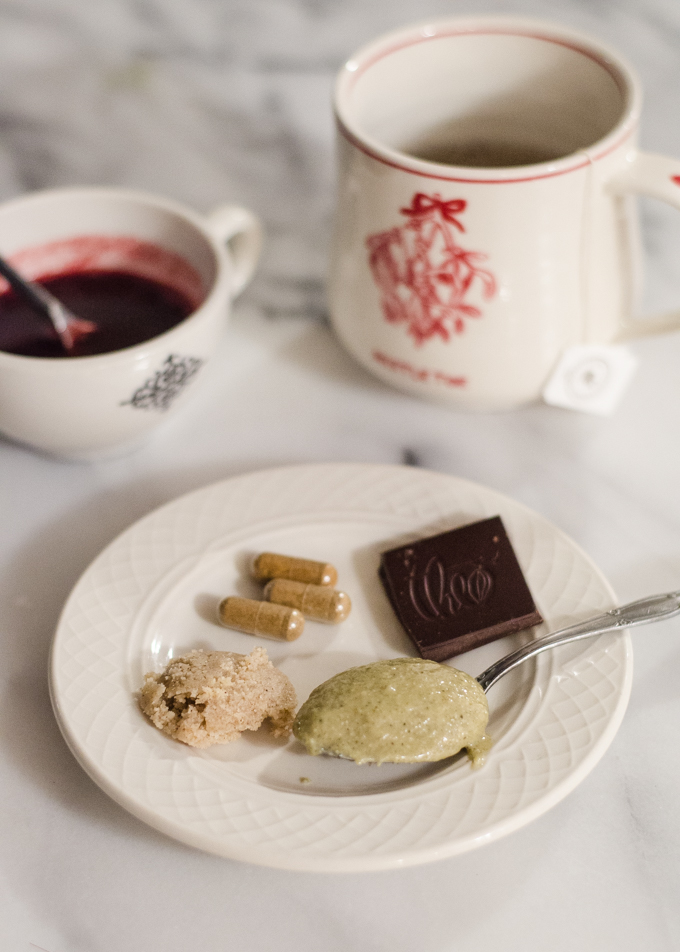 Snack Part 2:
I also had my "high iron" snack, as I like to call it: dark chocolate, desiccated beef liver, pumpkin seed butter, and Brazil nut butter (which is actually higher in selenium, which I eat for my thyroid).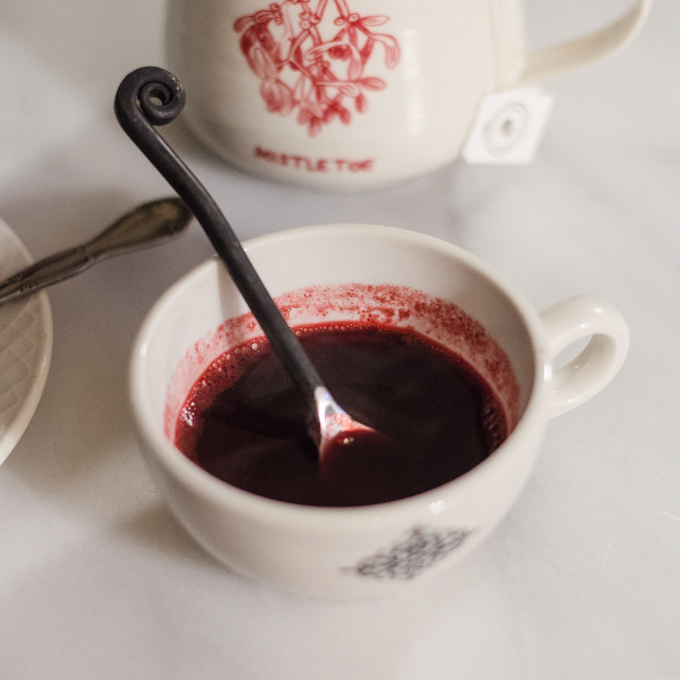 And some beet juice powder (re-hydrated with hot water), which is supposed to help with iron levels as well. It tastes like drinking sweet dirt, but hopefully it will do something!
My midwives are going to test my iron levels tonight to see if all these high-iron foods are working, or if I need to supplement with something heftier.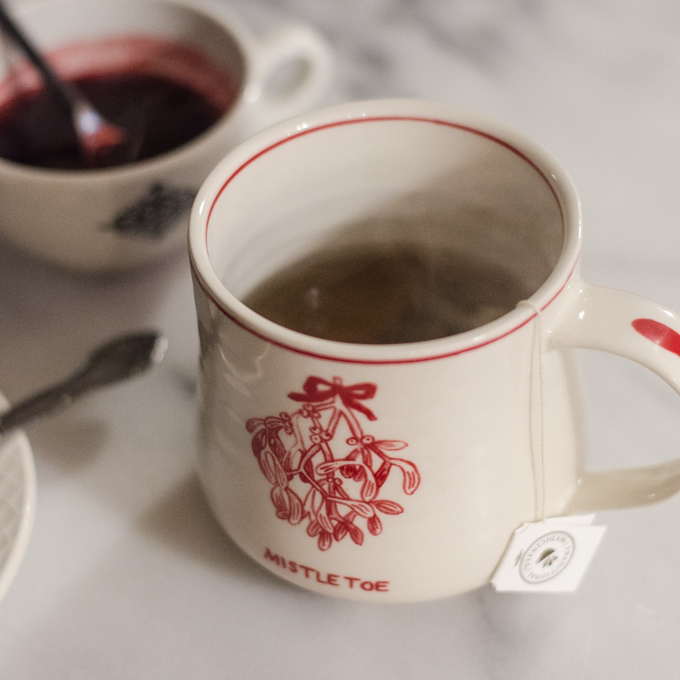 I also had my pregnancy tea – my Molly Hatch mistletoe mug made it slightly more enjoyable. It doesn't taste BAD, it's just not super interesting.
So that's everything I ate in a day! Until next time…
xoxo
Erica