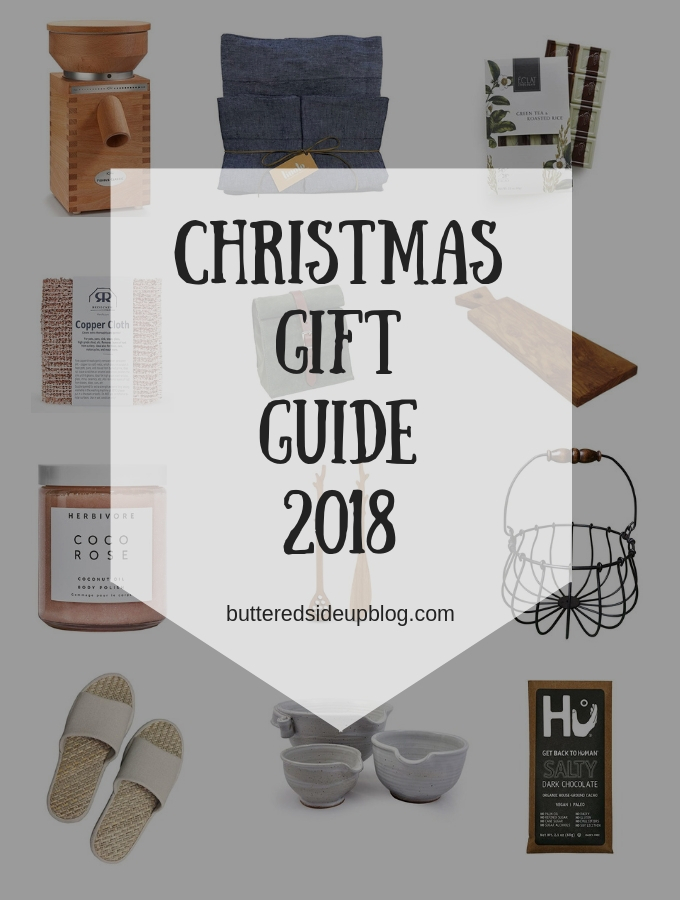 It's that time of year again: the hunt for the perfect gift for that special someone is on!
I've got loads of ideas for you this year, for the health nut, baker, hostess, guys, stocking stuffers, and more!
I tried my best to find gift ideas that are either fair trade or made in America/Japan/Europe. They're also all from Amazon and Thrive for your shopping convenience!
Let's hop into the gift guides:
Gift Ideas For the Health Nut: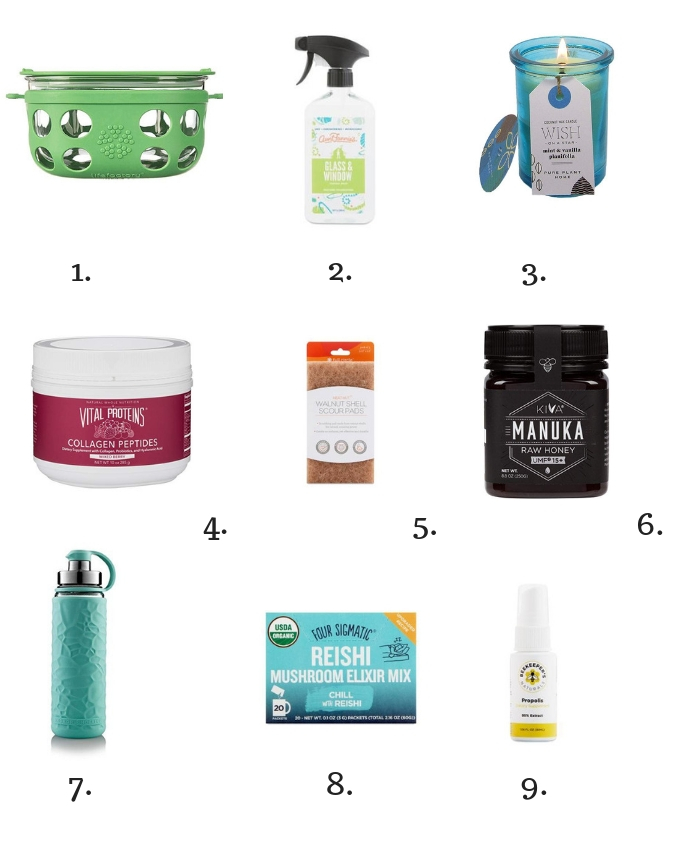 1 Lifefactory Glass Storage Container with Silicone Sleeve – health-conscious homemakers prefer glass containers for storage! This one comes with a silicone sleeve to prevent breakage.
2 Non-Toxic Window Cleaner – this one looks like it's actually non-toxic!
3 Coconut Wax Wish On a Star Candle – candles can be loaded with toxic ingredients, like paraffin wax, lead wicks, and artificial fragrances. This one is made with coconut wax and scented with essential oils!
4 Mixed Berry Collagen Peptides – I got a jar of this, and it didn't last long in our house! Delicious.
6 Raw Manuka Honey – I haven't done a lot of research on Manuka honey, but supposedly its a wonderful superfood!
7 Anchor Hocking Glass Water Bottle – I own this bottle (sent to me by Anchor Hocking) and I love it! It's completely plastic free!
8. Four Sigmatic Reishi Mushroom Elixir Mix – reishi mushrooms are supposed to be relaxing by lowering cortisol levels. So cool!
9. Propolis Spray – anti-inflammatory and supposed to help prevent colds, flus, and sore throats!
Gift Ideas for the Baker: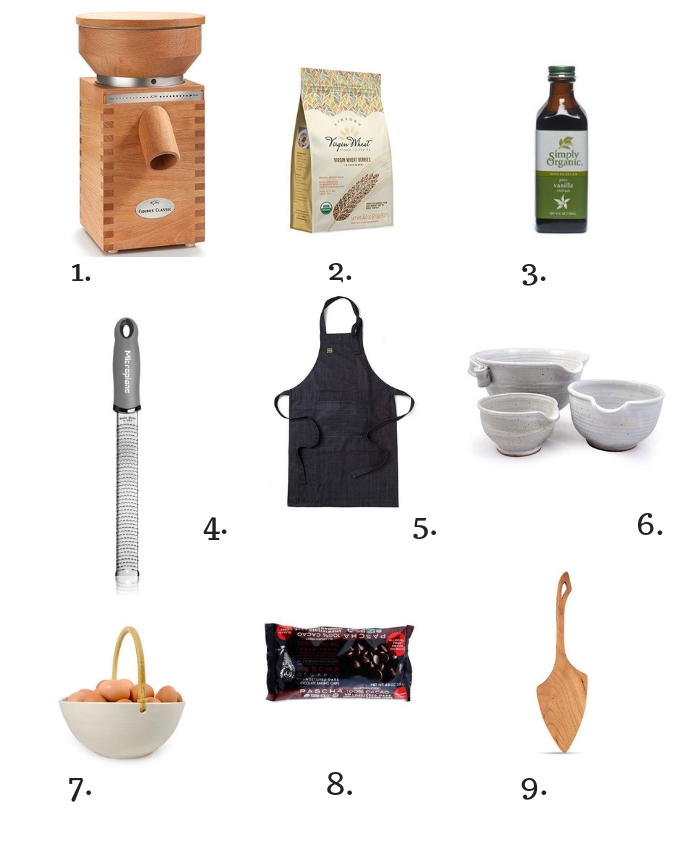 1 Komo Grain Mill – I own this mill, and love it! This would be a showstopper gift for sure. Any hard-core baker would love to own their own grain mill!
2 Einkorn Wheat Berries – something to grind in the mill would be a nice touch.
3 Organic Vanilla Extract – with vanilla prices so high these days, a bottle of extract feels like a luxury!
4 Microplane Zester – this is hands down the best tool for zesting citrus, ginger, nutmeg, etc. Made in the USA!
5 Jane Domestic Denim Apron – for the messy baker! Or for anyone that likes to protect their clothing from cooking accidents.
6 Stoneware Batter Bowls – Made in the USA and GORGEOUS.
7 Store your baking supplies in style in this Pottery Basket!
8 Pascha Organic 100% Cacao Chocolate Baking Chips
Gift Ideas for the Hostess: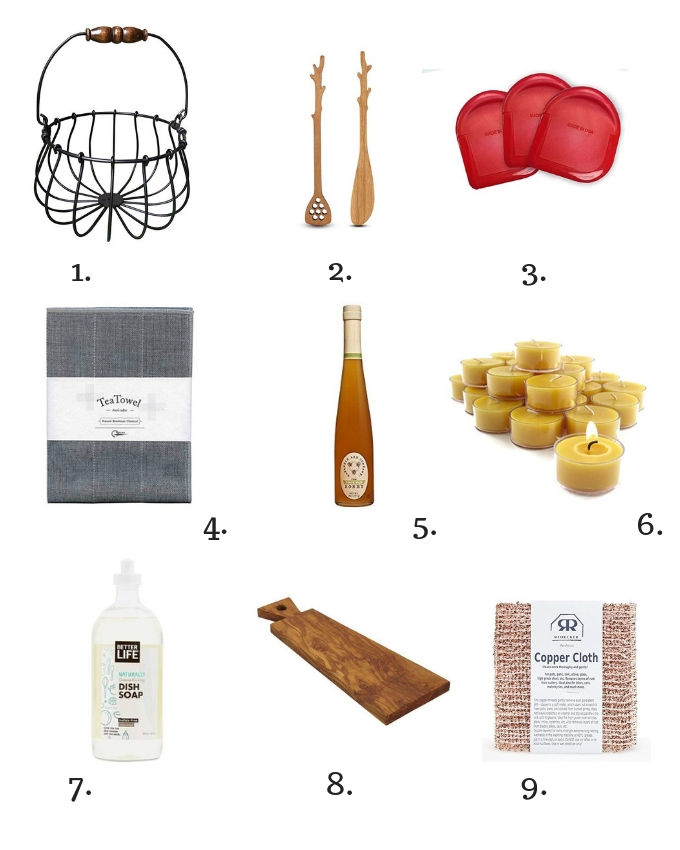 I think it would make an awesome hostess gift to put several of these items in the wire basket!
2 Twig Honey Stick and Spreader – how cute are these?!
3 Pan Scrapers – I've received these as a gift in the past, and they are SO handy for washing dishes!
4 Charcoal Tea Towel – this tea towel has charcoal infused into its fibers! So it's naturally antibacterial. Very cool.
5 Black Sage Honey – I think this bottle is so cute!
8 Olive Wood Cutting Board – perfect for serving cheese or small appetizers!
9 Copper Dish Scrubber – I love that this is machine washable!
Gift Ideas for the Coffee/Tea Lover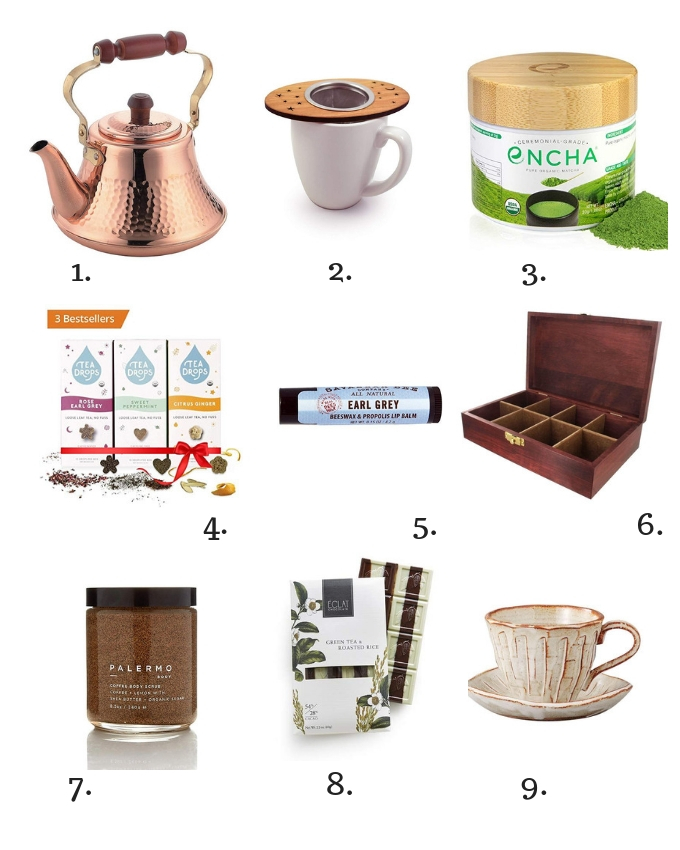 1 Copper Tea Kettle – Made in Japan!
2 Wooden tea strainer – this is made in the USA, and lovely!
3 Encha Ceremonial Grade Organic Matcha Powder – this is, hands down, my favorite matcha. Beautiful flavor! If you know someone who's a matcha fan, this would make them very happy!
4 Tea Drops – I think this is such a neat concept! They're little balls of tea mixed with sweetener that you pop in a mug and top with hot water.
5 Earl Grey Lip Balm – wouldn't you want your lips to taste like Earl Grey Tea?
6 Wooden Tea Chest – Any tea addict tends to have a collection of various teas. A tea chest is a handy way to keep them all in one spot!
8 Eclat Green Tea and Toasted Rice Chocolate Bar – I really want to taste this!
9 Handmade Teacup and Saucer – Made in Japan
Gift Ideas for the Beauty Lover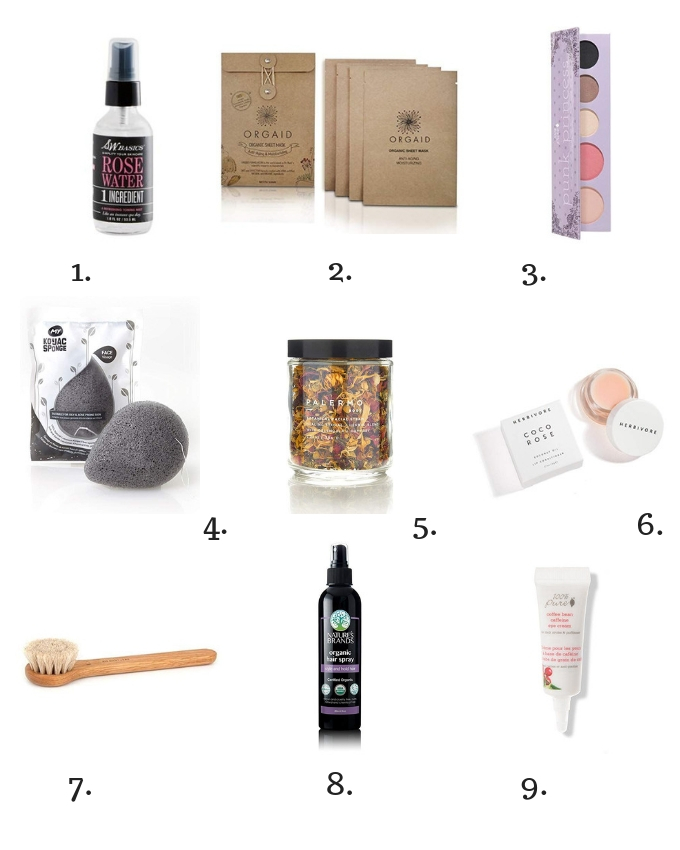 1 Rose Water Facial Spray – I use this as my facial toner.
2 Organic Sheet Mask – this has a rating of 1 on EWG Skin Deep, which is amazing!
3 100% Pure Punk Princess Eye and Face Palette – I own this palette and love it!
4 Charcoal Konjac Sponge – this is a gentle way to exfoliate your face.
5 Organic Botanical Facial Steam – I think this is a neat concept – steep the botanicals in hot water for a facial steam!
6 Herbivore Coco Rose Lip Conditioner
7 Horsehair Oak Face Brush – to exfoliate your face in style. 😀
8 Organic Hair Spray – I purchased this recently, and I think it's my favorite natural hairspray that I've tried so far!
9 100% Pure Coffee Bean Caffeine Eye Cream – this stuff smells AMAZING.
Gift Ideas for the Luxury Lover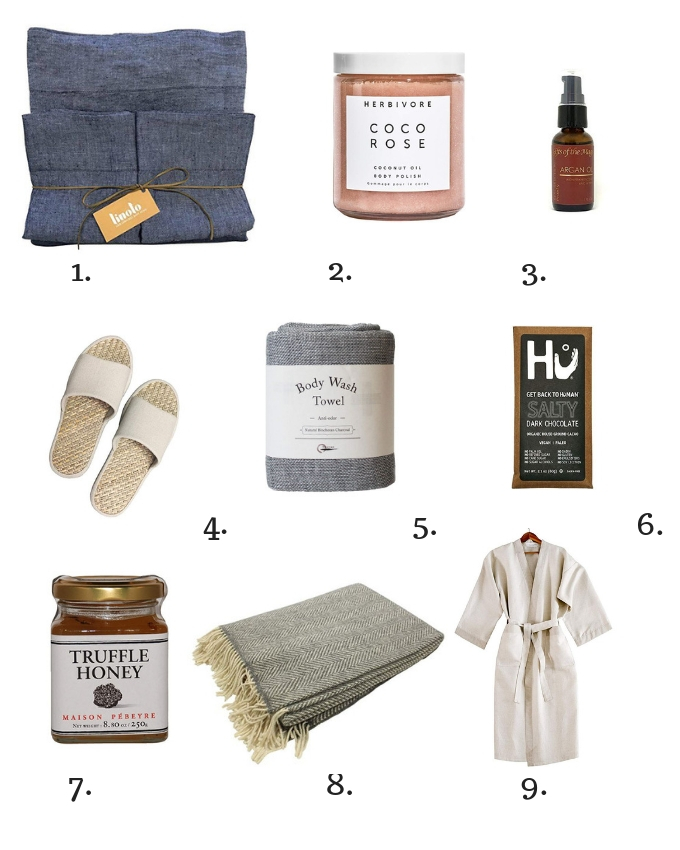 1 Linen Sheets – I think linen sheets are gorgeous! These are made in New York with flax from France and Belgium.
2 Herbivore Coconut Oil and Rose Clay Body Polish – such a pretty sugar scrub!
3 Frankincense and Myrrh Argan Oil – for hair, skin, and nails!
4 Japanese Tatami Rush Grass Slippers – these are anti-bacterial, anti-fungal, and anti-odor!
5 Charcoal-Infused Body Wash Towel
6 Hu Salty Dark Chocolate Bar – this is one of the yummiest chocolate bars I've tried. It's on the expensive side, but it feels so luxurious! Even the packaging is cute.
8 Wool & Cashmere Blanket – so cozy!
9 Cotton Bath Robe Made in France – there's just something fancy about a new bathrobe.
Gift Ideas for Him: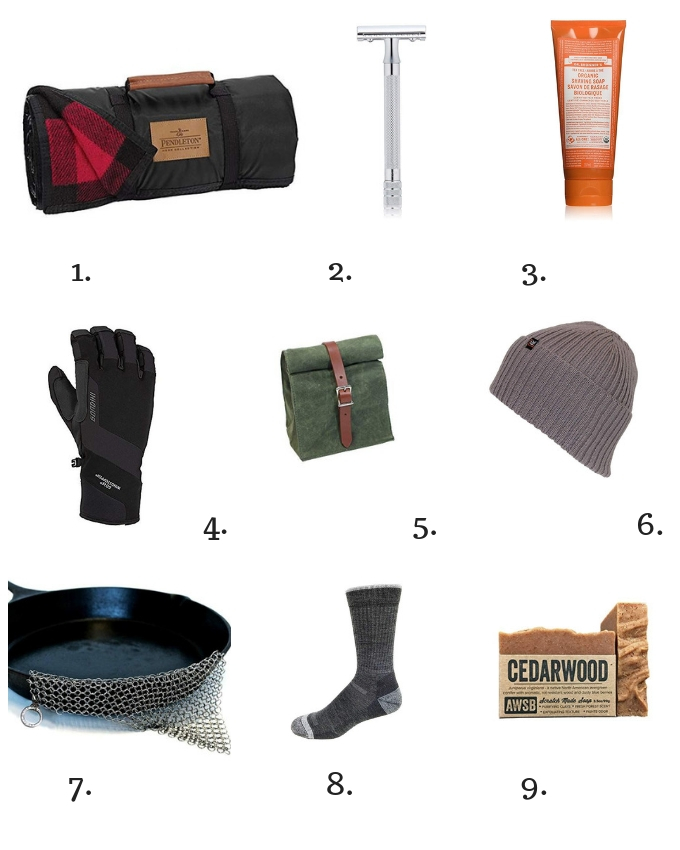 1 Roll Up Wool Blanket – great for having in the back of the car for emergencies!
2 Double Edge Safety Razor – made in Germany!
3 Dr. Bronner's Organic Shave Gel – to go along with the razor!
4 Warm Gloves – always appreciated by guys that live/work in a cold climate!
5 Waxed Canvas Olive Lunch Tote
6 Rib Knit Beanie – 100% wool and made in the USA
7 Chainmail Cast Iron Cleaner – for the guy that's serious about cooking.
8 Merino Wool Hiking Socks – made in USA.
Stocking Stuffer Gift Ideas: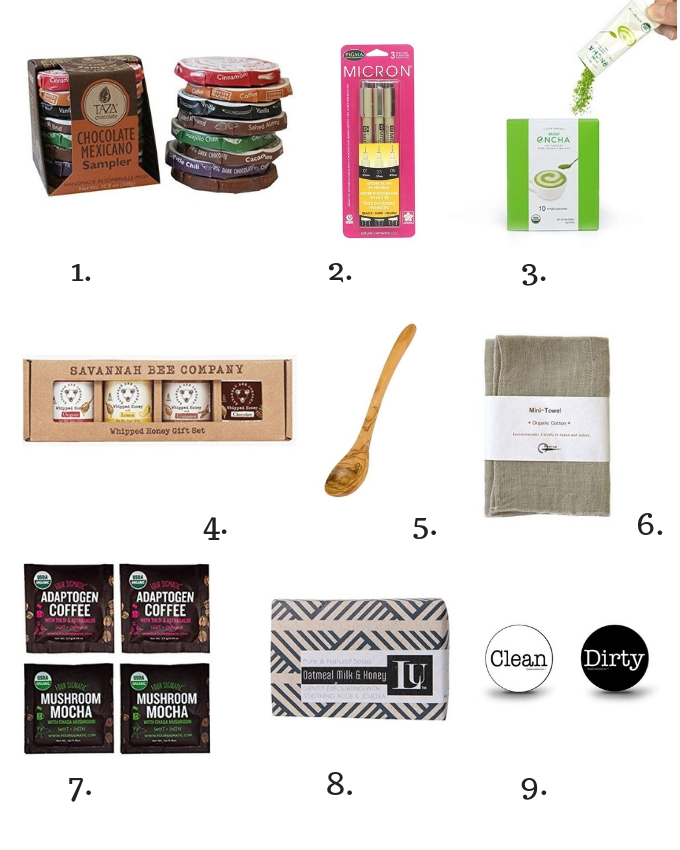 1 Taza Chocolate Disc Variety Pack – great for splitting to give to multiple people!
2 Sakura Micron Pens – I have these in sepia and love them!
3 Organic Latte Grade Matcha Individual Packets – another great one to split up.
4 Whipped Honey Gift Set – each jar is only $8
7 Four Sigmatic Mushroom Coffee Sampler
9 Double Sided Clean/Dirty Dishwasher Magnet
Bonus: Rifle Paper Co Pocket Notebook Set – I have this set and it's so pretty!
So there's my 2018 Christmas gift guide!
What is your go-to gift idea for those hard-to-buy-for people on your list?
xoxo
Erica