Skip the stress of cooking a turkey with this easy Thanksgiving Chicken Breast recipe! This oven baked chicken breast is tender, juicy, and flavorful!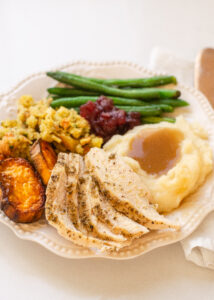 Whether you're looking for an alternative to roasting a huge bird for a small gathering, or you simply prefer chicken to turkey, this Thanksgiving chicken breast recipe is for you!
In this post I'm sharing my best tips for achieving the juiciest chicken breasts.
This cooking method is so simple, but it results in some seriously tender chicken.
Okay, let's dive in!
Here's a video tutorial in case you prefer to learn that way. As always, the written tutorial and printable recipe card are below!
Ingredients: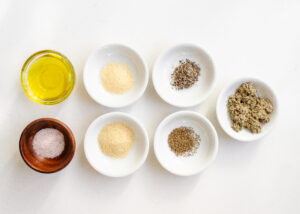 Note: Some links are affiliate. All opinions are 100% my own. If you click on a link and make a purchase, I will earn a small commission. This has zero impact on the price you pay, and it helps Buttered Side Up out! Thank you!
You'll only need a handful of ingredients for this simple homemade spice rub:
1 tablespoon olive oil: You could also use avocado oil, refined coconut oil, ghee, or any higher smoke point oil.
1 teaspoon salt: I use unrefined sea salt, but Kosher salt should work as well. If you use table salt instead, you'll probably want to reduce this amount a bit.
1 teaspoon onion powder: Onion powder is one of my favorite bases for spice rubs. Something just feels missing without it!
1/2 teaspoon garlic powder: For an extra kick of flavor, I like to add a bit of garlic powder.
1/2 teaspoon pepper: Freshly ground black pepper is my favorite, but use what you have on hand!
2 teaspoons rubbed sage: Mmmm…I love sage! This is what gives this spice rub that classic Thanksgiving flavor.
1/4 teaspoon celery seed: This is optional if you don't already have celery seed on hand, but it adds a nice boost of flavor.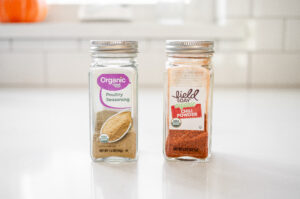 Now if you don't want to go to the trouble of mixing together a spice blend, you can always use a pre-made spice mix.
You could experiment with poultry seasoning, chili powder, Italian seasoning, taco seasoning, Cajun seasoning etc. It might not have the signature spices and flavors of Thanksgiving, but it will still be delicious!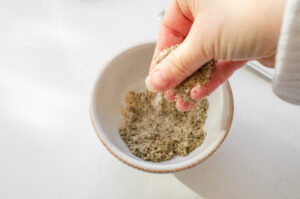 Okay, if you're going the homemade route, you'll want to mix together the spices really well in a small bowl.
I like to use my fingers for this since the sage can be resistant to mixing with the salt and the rest of the spices.
Alternatively, you could leave the salt out and sprinkle it directly on the chicken. That way you don't have to worry as much about getting the chicken evenly salted.
This spice mix makes enough for 4 large chicken breasts.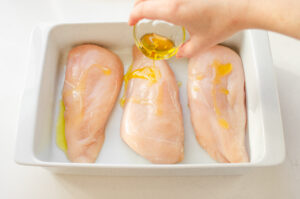 Let's chat chicken for a second.
My favorite chicken to cook is boneless skinless chicken breasts. Yes, they don't have the flavor of the skin, but they're very easy to cook. And if you do it right, they're tender and juicy!
But keep in mind that the quality of the chicken that you purchase will greatly affect the final results.
My personal favorite chicken is the Organic Smart Chicken. It's hand trimmed and ready to cook.
If your chicken isn't hand trimmed, you may need to do a little prep work first.
I have also tested this recipe with chicken thighs (bone-in skin-on), and I'm sure it would work with bone-in skin on chicken breasts as well.
You'll obviously need to adjust the cooking time for different cuts of chicken.
How to Make Thanksgiving Chicken Breasts:
Okay, back to the recipe!
Preheat your oven to 425 degrees Fahrenheit (218 Celsius). I'm partial to a high temperature bake, but this would still work at a lower temperature.
Place the chicken breasts in a single layer in a baking dish or rimmed baking sheet.
If you're using skin-on chicken, or your chicken is pretty wet, pat the excess moisture with paper towels.
Drizzle the chicken breasts with the olive oil.
Either brush them with a pastry brush to evenly coat with oil, or just use your hands (my favorite method).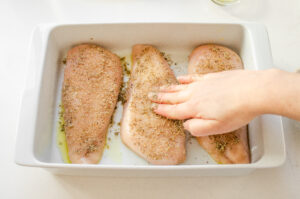 Sprinkle the oiled chicken with the seasoning blend, and rub to evenly coat.
Let the chicken "marinate" in the spices while the oven preheats.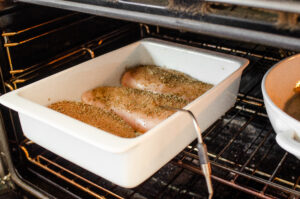 Bake chicken breasts in the preheated oven for 22-30 minutes, or until they reach at least 165 degrees Fahrenheit.
Obviously the thickness of the chicken breast will affect the cook time. And if you used bone-in chicken breasts, they'll probably take longer to cook.
Okay, here's my best tip for perfectly cooked chicken breasts:
Use either an instant read thermometer, meat thermometer, or probe thermometer!
For the best baked chicken breast, cook it to *just* the recommended safe cooking temperature. You'll be amazed by how juicy and tender it is.
You can achieve this with an instant-read thermometer by starting to check the chicken before the recommended cook time.
Or you can invest in a probe thermometer with an alarm. I picked one up a few years ago, and it's seriously one of my favorite kitchen tools.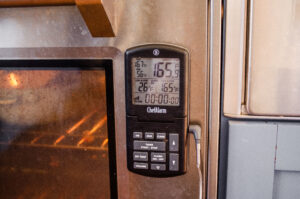 You can also get cordless meat thermometers that hook up to your phone, but I've been pretty happy with my ChefAlarm!
Keep in mind that instant read thermometers can be more accurate than the ChefAlarm. So if you want the most accurate reading you'll use both the ChefAlarm and an instant read thermometer.
Make sure to insert the probe of the thermometer into the middle of the thickest part of the chicken.
If you opted for boneless chicken breasts (AKA white meat), you'll want to cook them to an internal temperature of 165 degrees F (74 C).
Now if you opted for chicken thighs, you may wish to cook them to a higher temperature such as 175 or even 190. It's all up to your personal preferences, but some say that the dark meat chicken will actually be more tender if you cook it longer!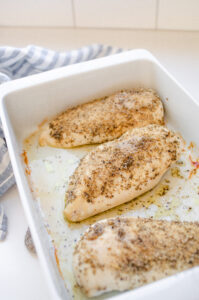 For best results, after it's done baking, let the chicken rest in the pan for 5-10 minutes before slicing.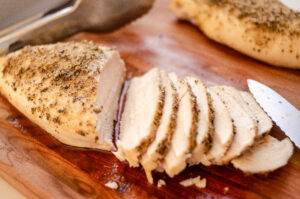 Then you can slice it however you like.
Just look at that juicy baked chicken breast!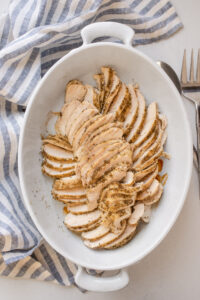 I'm partial to a thin slice, but you could also leave it whole and allow everyone to cut their chicken at the table.
Or you could cut it into bite-sized pieces.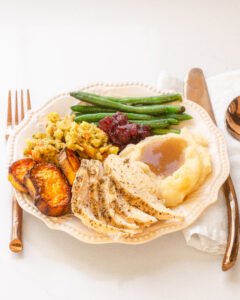 Serve with your favorite side dishes to make a delicious Thanksgiving feast!
What are your must-have Thanksgiving side dishes? It's gotta be stuffing and mashed potatoes for me! And cranberry sauce – it's just not Thanksgiving without cranberry sauce!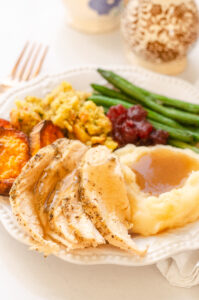 Storing:
Store any leftover chicken in an airtight container in the refrigerator for up to 5 days.
Reheating:
To reheat, place the chicken in a baking dish, cover with aluminum foil, and bake at 350 degrees Fahrenheit for around 25-30 minutes, or until heated through.
I also had success reheating it by thinly slicing it and frying it in a bit of oil in a cast iron skillet.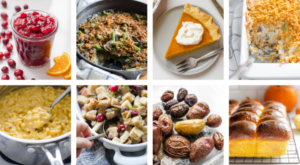 So that's my baked Thanksgiving chicken breasts recipe! Make sure to check out my other Thanksgiving recipes below:
What to Serve with Thanksgiving Chicken Breast:
More Thanksgiving Recipes:
Yield: 4-8 Servings
Thanksgiving Chicken Breast Recipe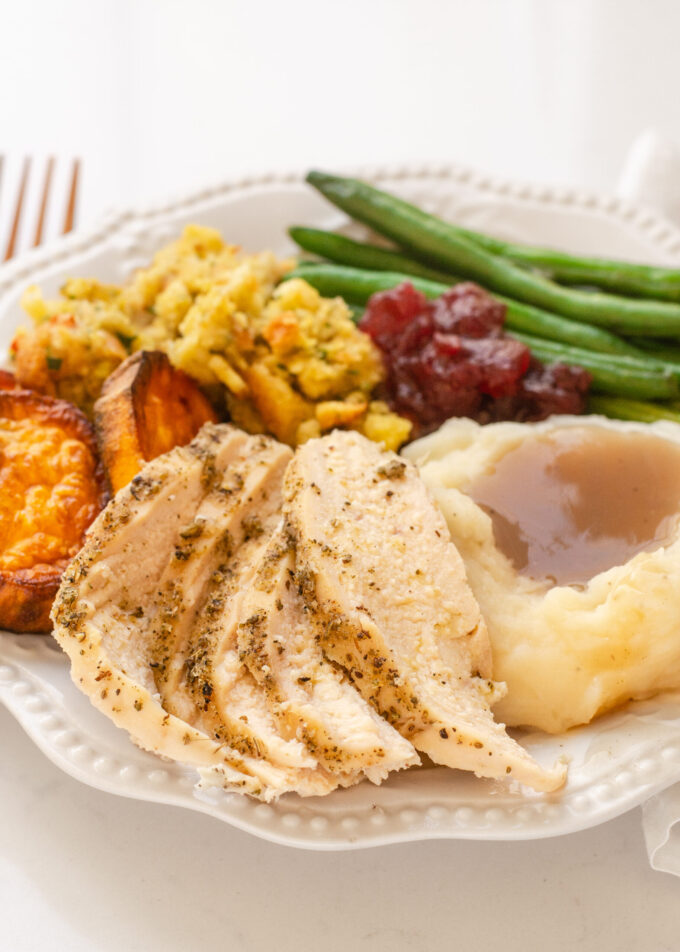 This Thanksgiving chicken breast recipe results in juicy, tender chicken!
Ingredients
4 large boneless skinless chicken breasts (see note)
1 tablespoon extra virgin olive oil or avocado oil
1 teaspoon unrefined sea salt
2 teaspoon rubbed sage
1 teaspoon onion powder
1/2 teaspoon garlic powder
1/2 teaspoon ground black pepper
1/4 teaspoon celery seed
Instructions
Preheat oven to 425 degrees Fahrenheit (218 degrees Celsius).
Place chicken in a baking dish. If the chicken is particularly wet, pat it dry with paper towels.
Drizzle with olive oil and either brush or rub it to evenly coat the chicken.
In a small bowl, mix together the sea salt, sage, onion powder, garlic powder, black pepper, and celery seed. Make sure the salt is evenly mixed.
Sprinkle the chicken with the seasoning blend and rub in.
Bake in preheated oven for 22-30 minutes, or until the chicken reaches an internal temperature of 165 degrees Fahrenheit (74 degrees Celsius).
Allow the chicken to rest for 5-10 minutes before slicing.
Notes
You can also use chicken thighs or bone-in skin-on chicken breasts. You will need to adjust the cook time as needed.
If you use chicken thighs or another dark meat chicken, you may want to increase the internal temperature of the chicken to 175 degrees F (79 degrees C).
If you're serving the chicken with loads of side dishes, you can probably get away with 1/2 chicken breast per serving.
Calories calculated from 1/2 chicken breast per serving.
Recommended Products
As an Amazon Associate and member of other affiliate programs, I earn from qualifying purchases.
Nutrition Information:
Yield:
8
Amount Per Serving:
Calories:

157