This roasted garlic cauliflower soup is a wonderful, warming fall supper idea!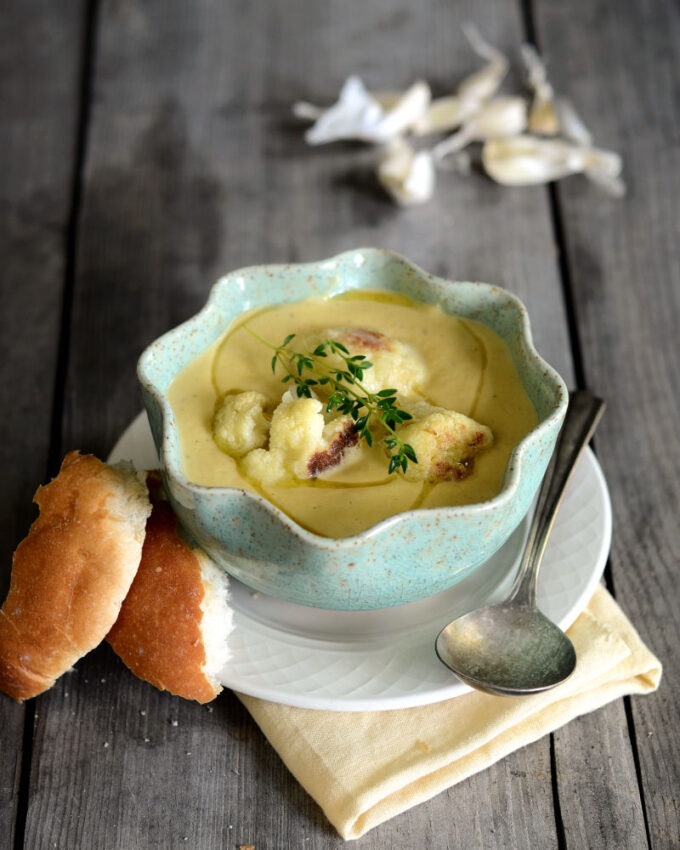 My favorite fall/winter supper is soup. Once you know the basic steps for most soups, it's so easy to customize and create to your preferences.
And there's just something cozy about a bowl of steaming soup in your hands.
But on to the soup at hand.
Cauliflower has never been my favorite veggie. On a scale of 1 to beets, it's about an eight.
Then one day, my grandma taught us how to make steamed cauliflower with buttered breadcrumbs. I softened. A little. Then I saw Katie's recipe for Roasted Garlic & Cauliflower Soup. I caved.
I'm so glad I did. Once roasted, the cauliflower develops a lovely flavor. The hints of celery, thyme and roasted garlic are amazing.
You should definitely try this soup, even if you are a cauliflower hater. It just might change your mind!
Okay, let's make it!
Ingredients:
First of all, here's what you'll need:
A whole head of cauliflower: Cauliflower is actually number 9 on the clean fifteen list, JSYK.
A whole head of garlic: That may sound like a lot, but garlic really mellows out when you roast it (which we'll be doing).
Olive oil & butter: For roasting and sautéing!
Extra veggies: You'll want to throw in some celery, onion, and carrot for more flavor!
Salt & pepper: For seasoning, duh! We don't want a bland soup.
Paprika, thyme, and parsley: Add in some herbs to ramp up the flavor even more!
Flour: The flour helps to keep the soup from being too thin.
Chicken broth: Homemade chicken broth is awesome!
Half & half: This is what really boosts the creaminess of this soup.
How to Make Roasted Cauliflower Soup: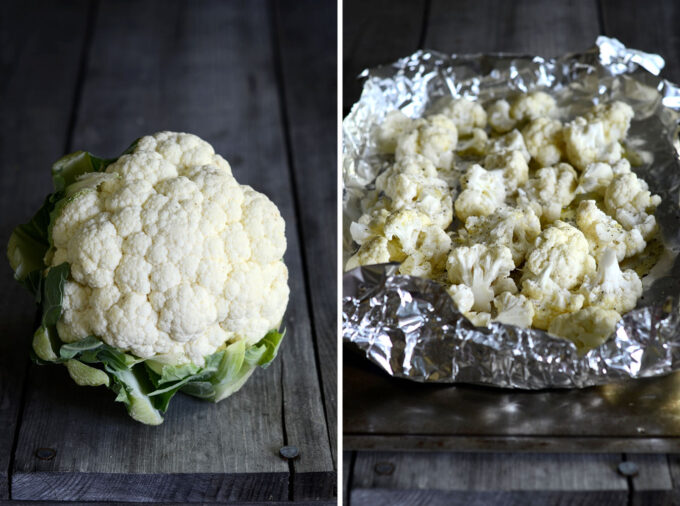 To begin, chop up your head of cauliflower into individual florets.
Place on a baking sheet. You can line the baking sheet with parchment paper or foil for easier cleanup.
Season lightly with salt and pepper.
Prep your garlic at the same time. You can simply slice off the top, drizzle with oil, and wrap with foil. OR you can use my foil-free method of roasting garlic.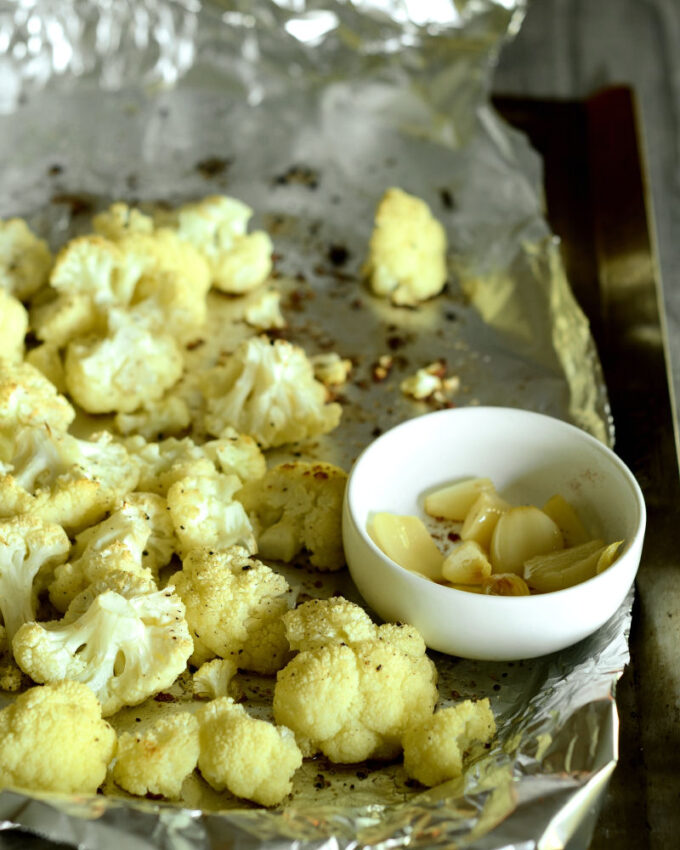 The cauliflower should only take about 20 minutes to roast, but the garlic will need more like 25-30 minutes.
The cauliflower is done roasting when it's tender and golden brown.
Finishing the Soup: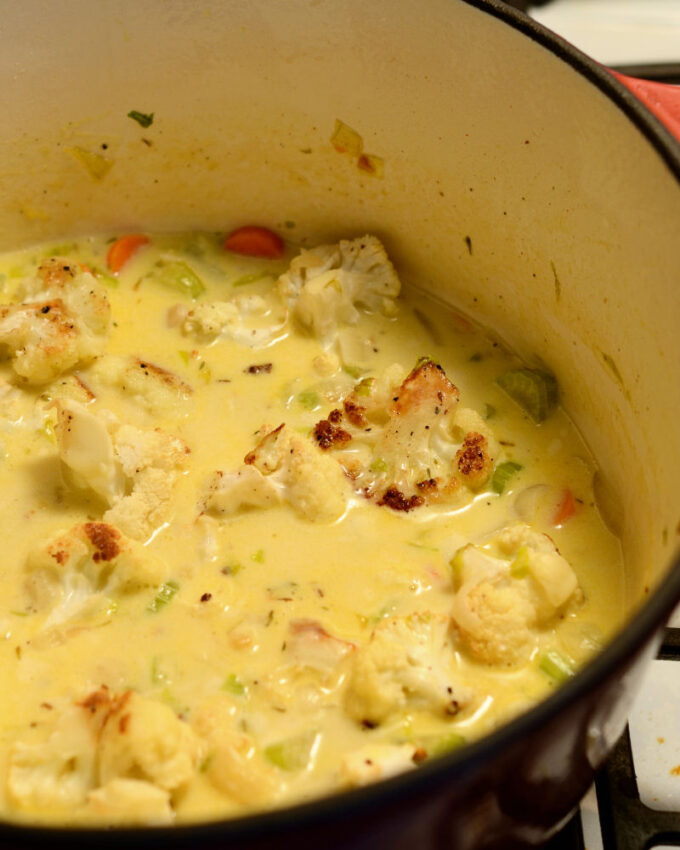 While the cauliflower and garlic are roasting, you can work on the rest of the soup.
Sauté the celery, onion, and carrots until tender. Add the seasonings and flour, then whisk in the water and chicken broth.
Bring to a boil, then simmer for 10 minutes. Add the cauliflower and simmer for 5 more minutes.
Now, there are a couple of ways you can puree this roasted garlic cauliflower soup:
You can use a stick blender – that way you can just leave the soup in the pot!
Or you can let it cool and then puree it in a blender or food processor.
The stick blender is more convenient, but the blender or food processor may result in a smoother soup.
Finally, stir in the half and half and fresh parsley, season to taste, and you're done!
How to Serve Roasted Garlic Cauliflower Soup: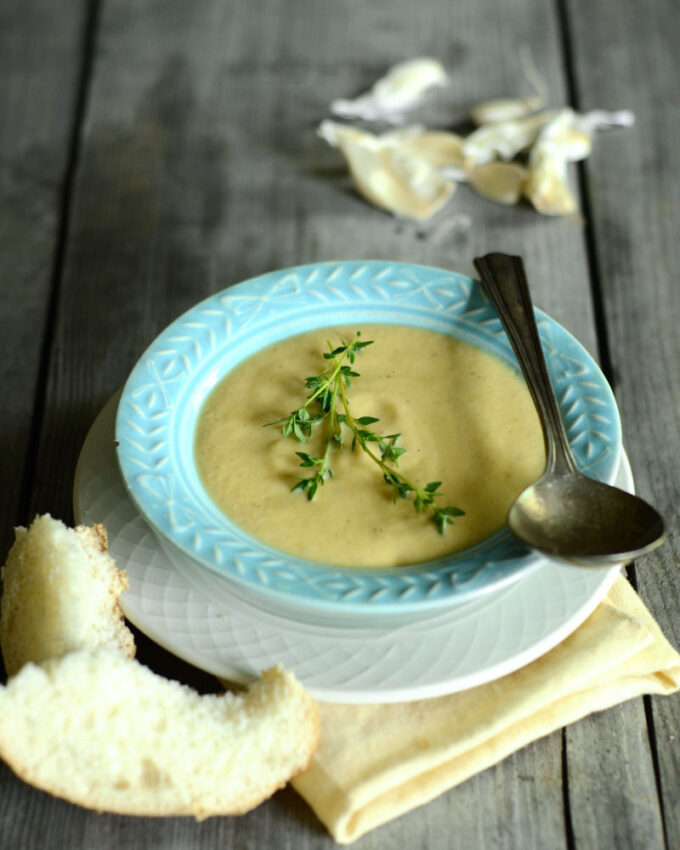 Of course you can just eat the soup straight from the pot.
Or can fancy it up!
Here are some serving ideas:
Drizzle some really good olive oil on top.
Add a sprinkle of crispy bacon.
Serve with a side of bread for dipping into the soup!
Recipe Notes:
The ingredient list might look long and complicated. Do not fear! It comes together quite easily.
Also, this recipe is very forgiving. I didn't have any white wine on hand, so I replaced it with more chicken broth. We're not huge on bay leaves, so I left that out as well. The bacon suggested sounds yummy, but I think it's completely optional.
More Soup Recipes:
This post was originally published on September 4, 2012 on Cooking for Seven.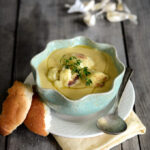 Roasted Garlic Cauliflower Soup
Cook Time
1
hour
5
minutes
Total Time
1
hour
25
minutes
Ingredients
1

whole head cauliflower

1

large whole head garlic

1/2

tablespoon

olive oil

1

tablespoon

butter

1 1/2

stalks celery

diced

1

yellow onion

diced

1

carrot

diced

1/2

teaspoon

salt

1/4

teaspoon

pepper

1/8

teaspoon

paprika

1/4

teaspoon

dried thyme leaves

1

tablespoon

flour

1/3

cup

dry white wine

1/2

cup

water

2

cups

chicken or vegetable broth

plus up to 2 more as needed for desired consistency

1

dried bay leaf

2

teaspoons

fresh minced parsley

1/3

cup

half and half

3

ounces

cooked and crumbled bacon

additional oil for serving – olive oil or truffle oil
Instructions
1.) Preheat oven to 400 degrees F.

2.) Cut cauliflower into individual florets. Toss with 1 tablespoon olive oil. Transfer to a foil lined baking sheet. Sprinkle lightly with salt and pepper.

3.) Cut the top off of the head of garlic. Drizzle with olive oil and wrap with foil. Place wrapped garlic on the baking sheet. Roast the cauliflower and garlic at 400 degrees F for 15-20 minutes. When the cauliflower is tender and golden remove from the oven.

4.) The garlic will need to roast for a total of about 25-30 minutes. You can remove it to check it's progress as needed – it should smell fragrant but not raw, be golden and tender.

5.) Meanwhile, heat the butter in a cast iron Dutch oven or medium-large stock pot. Add the onion, celery, and carrot. Sauté over medium heat for about 10 minutes. Whisk in the salt, pepper, paprika, thyme, and flour and continue to cook for 2 more minutes.

6.) Add the wine and water, whisking to combine with the flour mixture. Then, slowly add in the 2 cups broth. Add the bay leave and roasted garlic cloves. Bring mixture to a boil, then reduce heat to medium-low and simmer for 10 minutes. Add the cauliflower and simmer an additional 5 minutes.

7.) Remove the bay leaf. Working in batches, add the soup to a blender or food processor and blend until pureed and smooth. Add additional broth during or after blending to achieve desired consistency. After all the batches have been completed, return to the pot. Stir in the half and half and parsley. Cook until just heated through. Adjust salt and pepper for tastes.

8.) Serve immediately, topped with bacon and a drizzle of olive or truffle oil and a side of bread for dipping.