Learn how to make a classic strawberry milkshake without ice cream with my super simple recipe!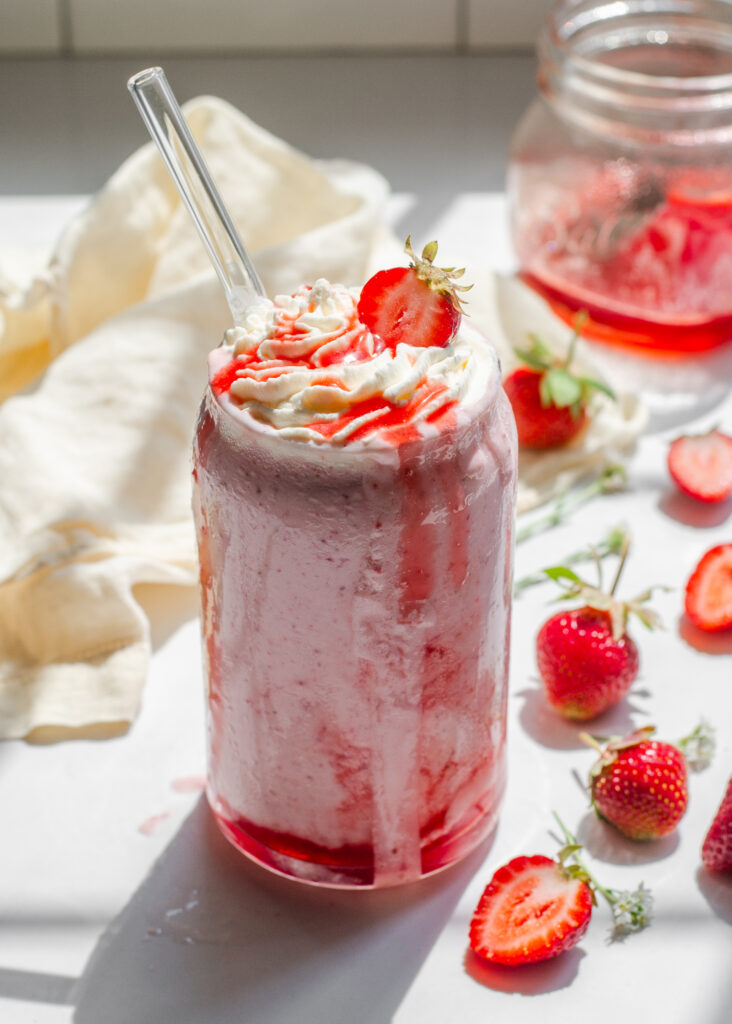 Nothing says summer quite like a creamy, delicious, homemade strawberry milkshake.
But what if you don't have any ice cream on hand?! Don't worry, you can still enjoy a tasty strawberry milkshake with just a few simple ingredients.
In this post, you'll learn an easy and foolproof way to make a homemade strawberry milkshake without any ice cream in just five minutes. You'll find out the secret to a creamy texture, and get ideas for adding extra flavor and sweetness to your milkshake.
So let's get blending!
Here's a video tutorial in case you learn better that way. The written tutorial and printable recipe are below!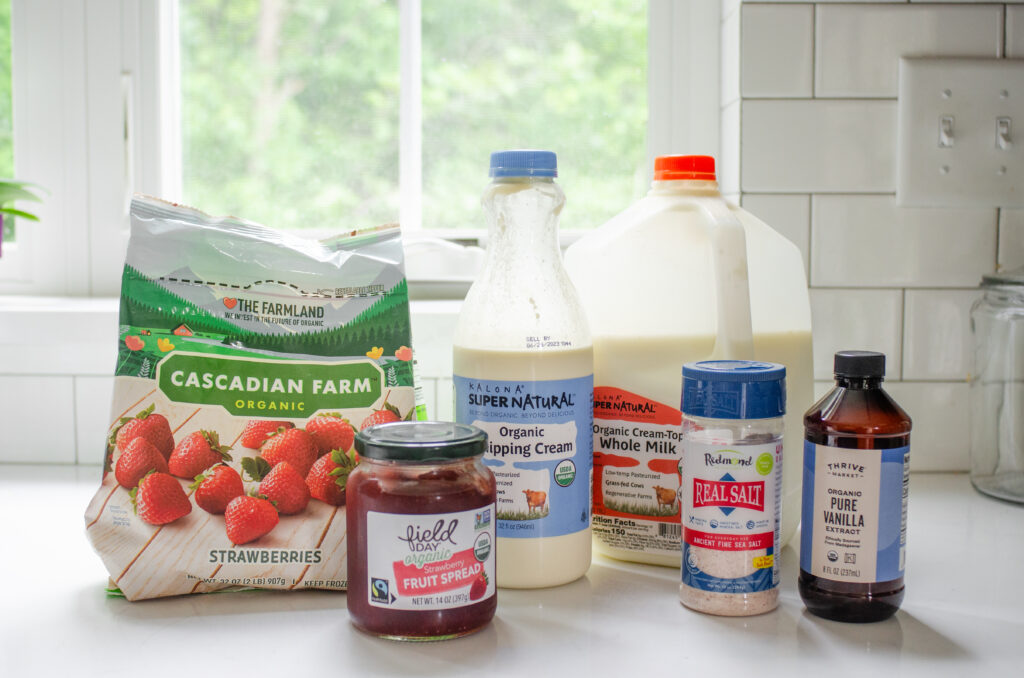 Ingredients:
Okay, this only requires a few basic ingredients, but let's go over them quickly!
Frozen Strawberries: Frozen strawberries are the secret to making a homemade milkshake thick without ice cream. You can either purchase frozen strawberries, or freeze your own during strawberry season! If you go for a fresh strawberry milkshake, you have to use ice cubes, which waters the drink down.
Heavy Cream: This, of course, is the secret to a creamy milkshake. Without the creaminess of the ice cream, you need to add some extra richness!
Milk: However, I find that if you use ALL cream, it can get TOO rich. The solution is to use half milk! I opt for whole milk, but low fat milk should work as well if that's all you have. Feel free to experiment with oat milk, almond milk, coconut milk, or another non-dairy milk if you prefer. The type of milk you use will definitely affect the final flavor and texture, so keep that in mind!
Salt: This may seem weird, but adding just a tiny pinch of salt to your strawberry milkshake will help to bring out all of the flavors! Remember though, just a tiny pinch!
Vanilla Extract: Ice cream typically is flavored with vanilla, so adding a bit of vanilla extract can help to mimic those flavors. Please use pure vanilla extract, not imitation vanilla flavoring!
Sweetener (Optional): Now, there's no need to add extra sweetness since strawberries are naturally sweet. However, you can enhance the strawberry flavor by adding a tablespoon or two of strawberry jam or homemade strawberry syrup. This secret ingredient will take your milkshake to the next level! But if you don't have that on hand, you could always opt for maple syrup, cane sugar, simple syrup, or a sweetener of choice.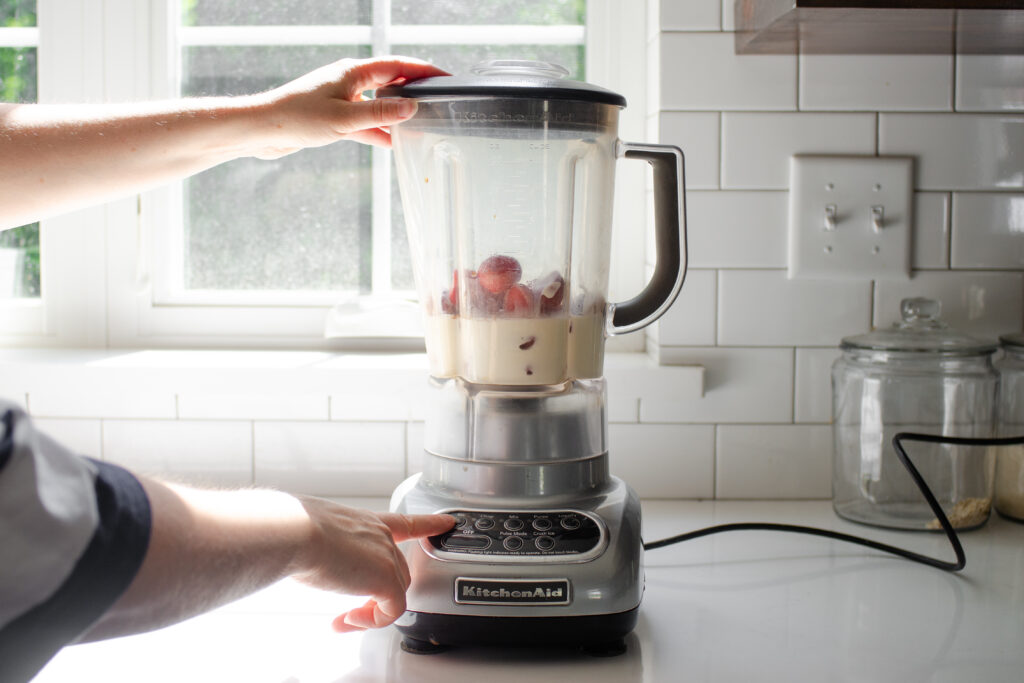 Making the Milkshake:
Okay, let's quickly go over the super simple steps.
Begin by placing all of the ingredients into a blender pitcher.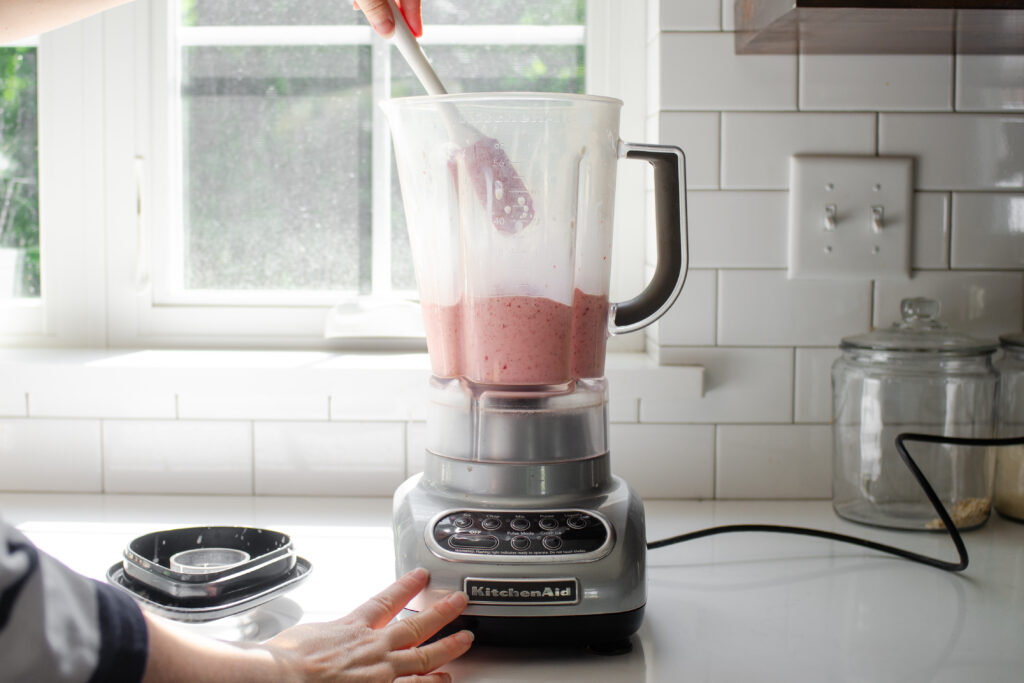 Blend on the lowest setting until everything is completely smooth.
Since this is such a thick milkshake, you may find that you need to stop the blender and give it a stir to get it to properly blend.
If you have a powerful blender this probably won't be an issue. But weaker blenders tend to develop an air bubble that needs to be stirred out.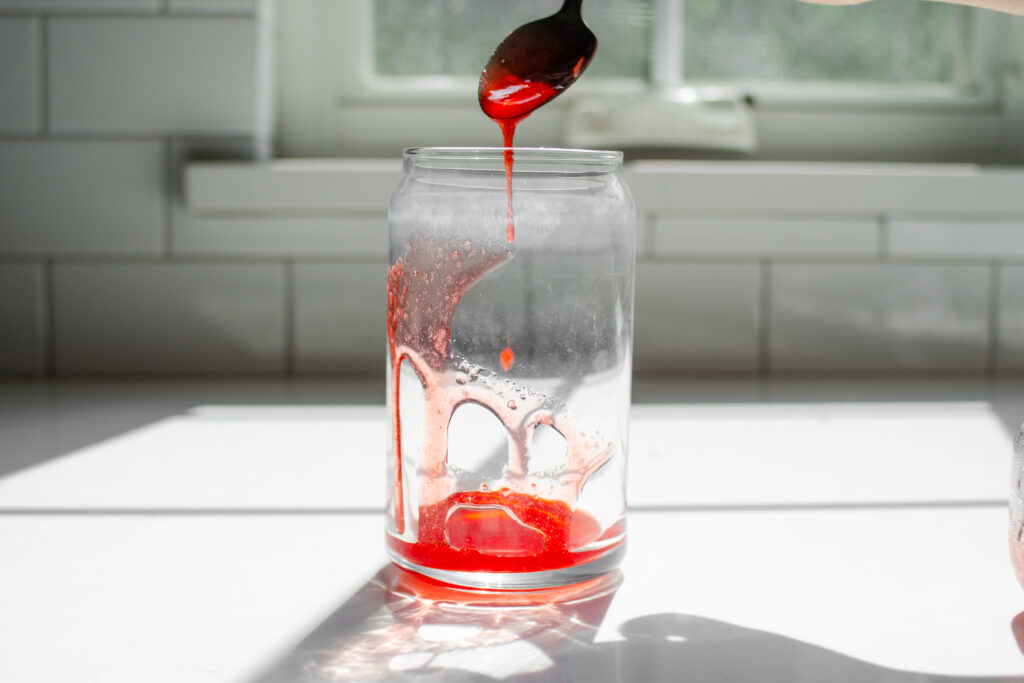 Serving:
If you opted for using strawberry syrup to sweeten your milkshake, you can spoon it into your serving glass. It's totally optional, but it makes for such a lovely presentation!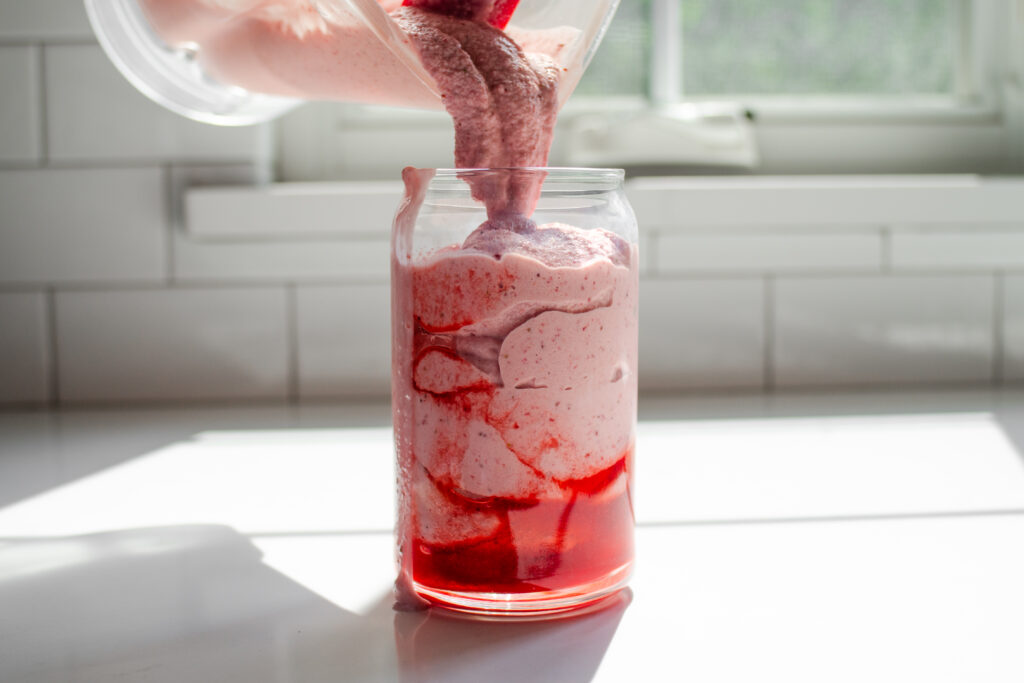 Pour the strawberry milkshake on top.
Look how thick that is! And you didn't even need to add a scoop of ice cream!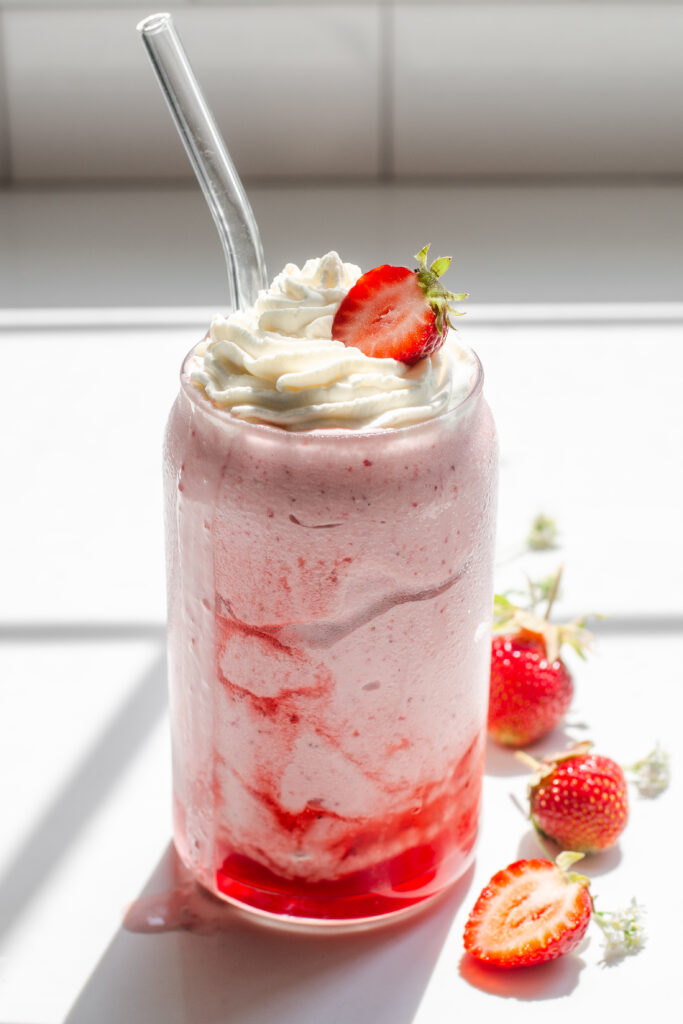 A good milkshake needs a dollop of homemade whipped cream!
You could also use canned whipped cream to keep things super easy.
A cold milkshake is the perfect drink for hot summer days. But you can definitely enjoy this any time of the year since my recipe calls for frozen berries!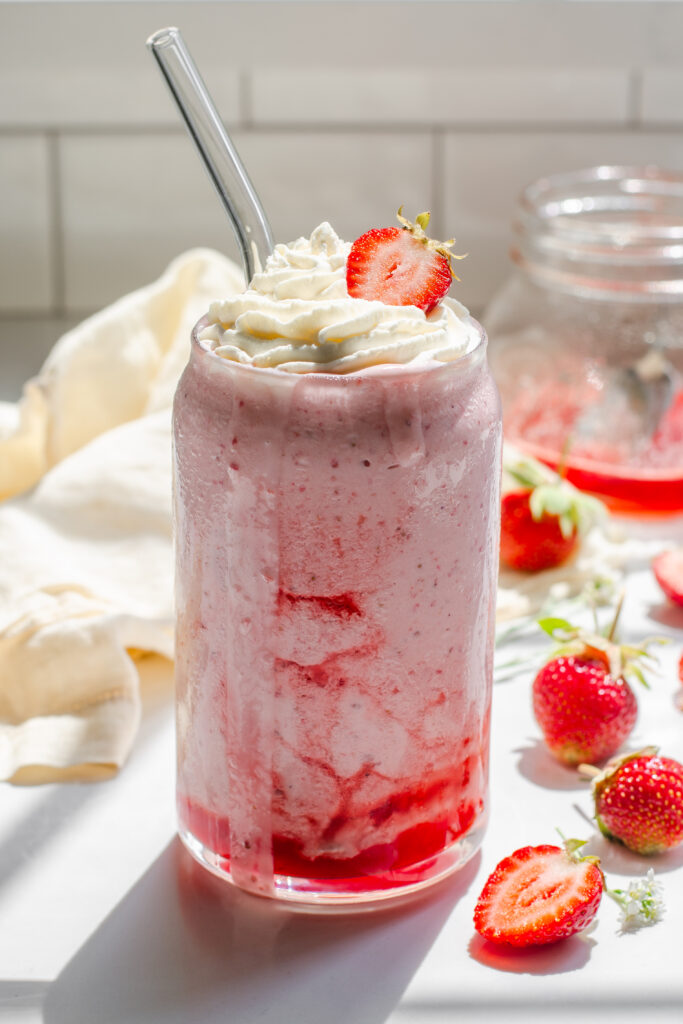 Variations:
So that's my super simple strawberry milkshake recipe! Here are some ideas if you want to play with different flavors:
You could drizzle a bit of chocolate syrup either in the glass or on top of the whipped cream (or both!).
Another way to add the chocolate flavor is to sprinkle chocolate shavings on top.
You could also layer peanut butter or almond butter throughout the milkshake for a "peanut butter and jelly" vibe.
For a strawberry banana milkshake, you can substitute 1/2 cup of strawberries for the same amount of frozen bananas. Bonus: if you use ripe bananas, you may not need to add any extra sweetener!
If you like a bit of crunch, you could sprinkle some chia seeds or toasted coconut on top.
Add a scoop or two of malted milk powder to make a strawberry malt!
More Frozen Drink Recipes:
More Strawberry Recipes:
Recipe Card:
Yield: 1 milkshake (about 20 ounces)
Strawberry Milkshake without Ice Cream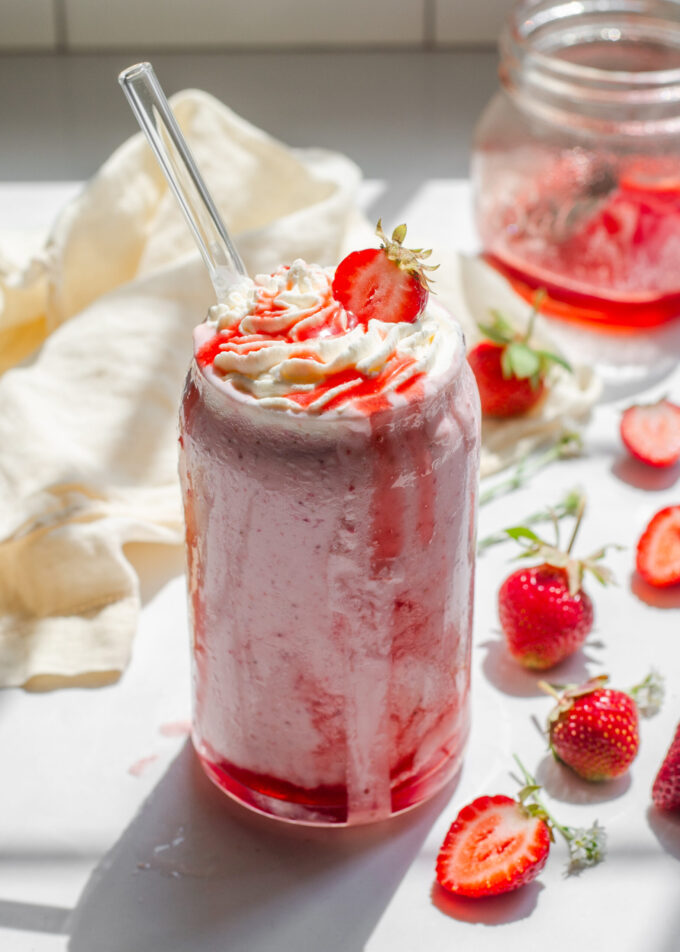 Learn how to make a delicious strawberry milkshake without ice cream!
Ingredients
1 3/4 cup frozen strawberries
1/2 cup heavy cream
1/2 cup whole milk
1/4 teaspoon vanilla extract
tiny pinch of salt
1-2 tablespoons strawberry jam or strawberry syrup (see note)
Instructions
Place all of the ingredients into a blender pitcher. Blend until completely smooth.
Pour into a tall glass that holds about 18-20 ounces.
Notes
To enhance the strawberry flavor, you can add 1 to 2 tablespoons of strawberry jam or strawberry syrup. Or you can simply use maple syrup, cane sugar, or a sweetener of choice. Or you can leave the sweetener out completely if you prefer.
You can also put the strawberry syrup in the bottom of your glass for a different way to present this.
To make a small amount of whipped cream, place ¼ cup of whipping cream, ⅛ teaspoon of vanilla, and 2 teaspoons of sugar or maple syrup in a small glass or measuring cup. Then just whip with a handheld milk frother until stiff peaks form.
Recommended Products
As an Amazon Associate and member of other affiliate programs, I earn from qualifying purchases.
Nutrition Information:
Yield:
1
Amount Per Serving:
Calories:

442
Total Fat:

26.7g
Saturated Fat:

16.1g
Cholesterol:

94mg
Sodium:

84mg
Sugar:

31g
Protein:

7g