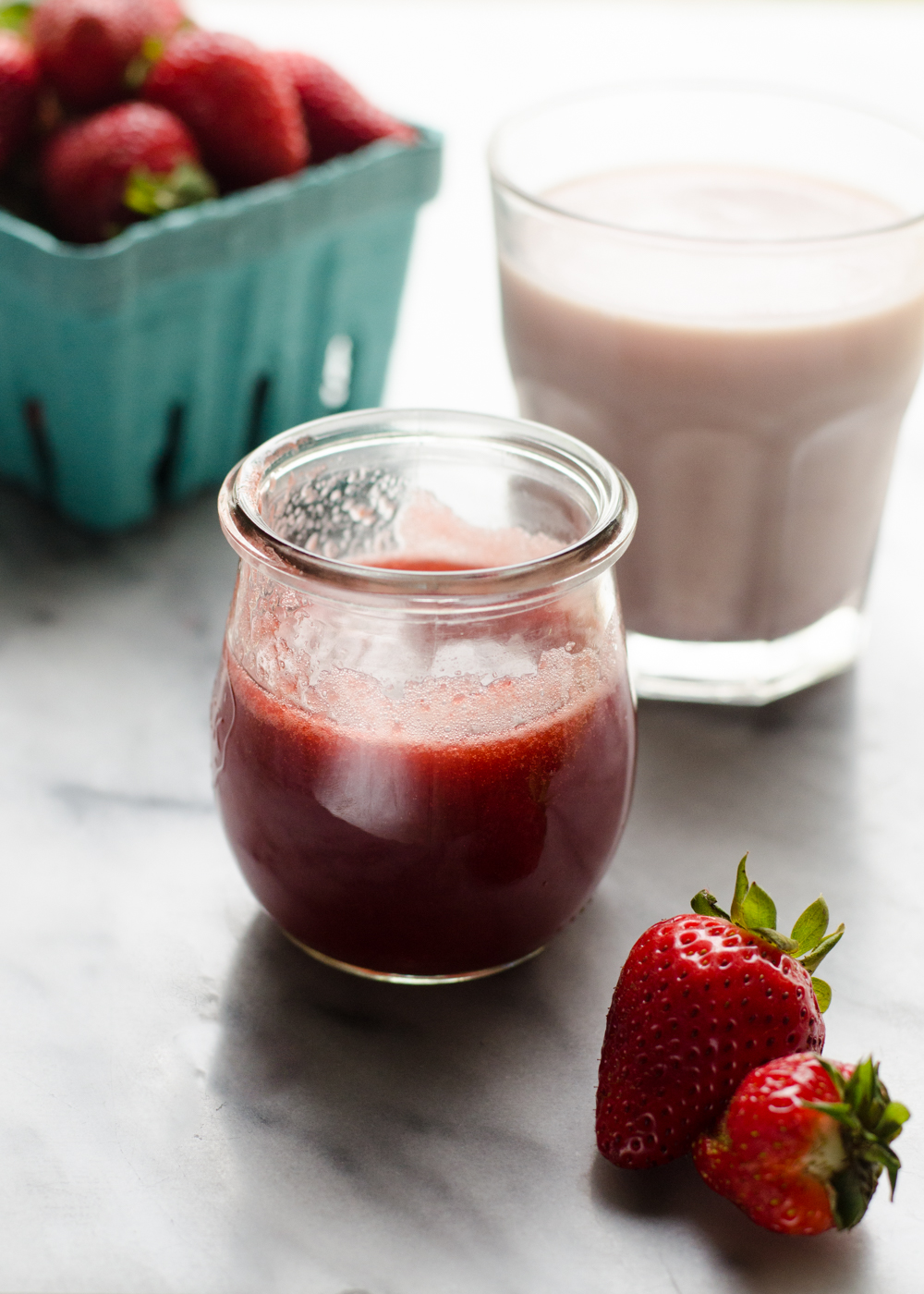 Last week was intense (as you know if you follow me on Instagram).
On Sunday evening I started not feeling well. I was generally tired and had a sore throat. I told Reuben to promise that he would stay home the next day, though I was only kidding. Surely I would be better by morning. Ha.
The next day I had a fever/aches/horrible sore throat. I hurt to swallow water. And I had a random pain in my foot that gave me a limp. I mean…???
I am so thankful that Reuben is able to get off of work easily. He was awesome, keeping us all fed and taking care of the kids. He even cooked us Stuffed Pepper Casserole for supper. What a guy.

It was really frustrating to be out of commission for a couple of days. I had several shoots planned, along with writing/editing/recipe testing. BUT it forced me to slow down. On the days I was still recovering I did things that I usually don't have time for but love. And, as being sick always does, it made me grateful for good health. I don't know how moms with chronic pain/sickness deal!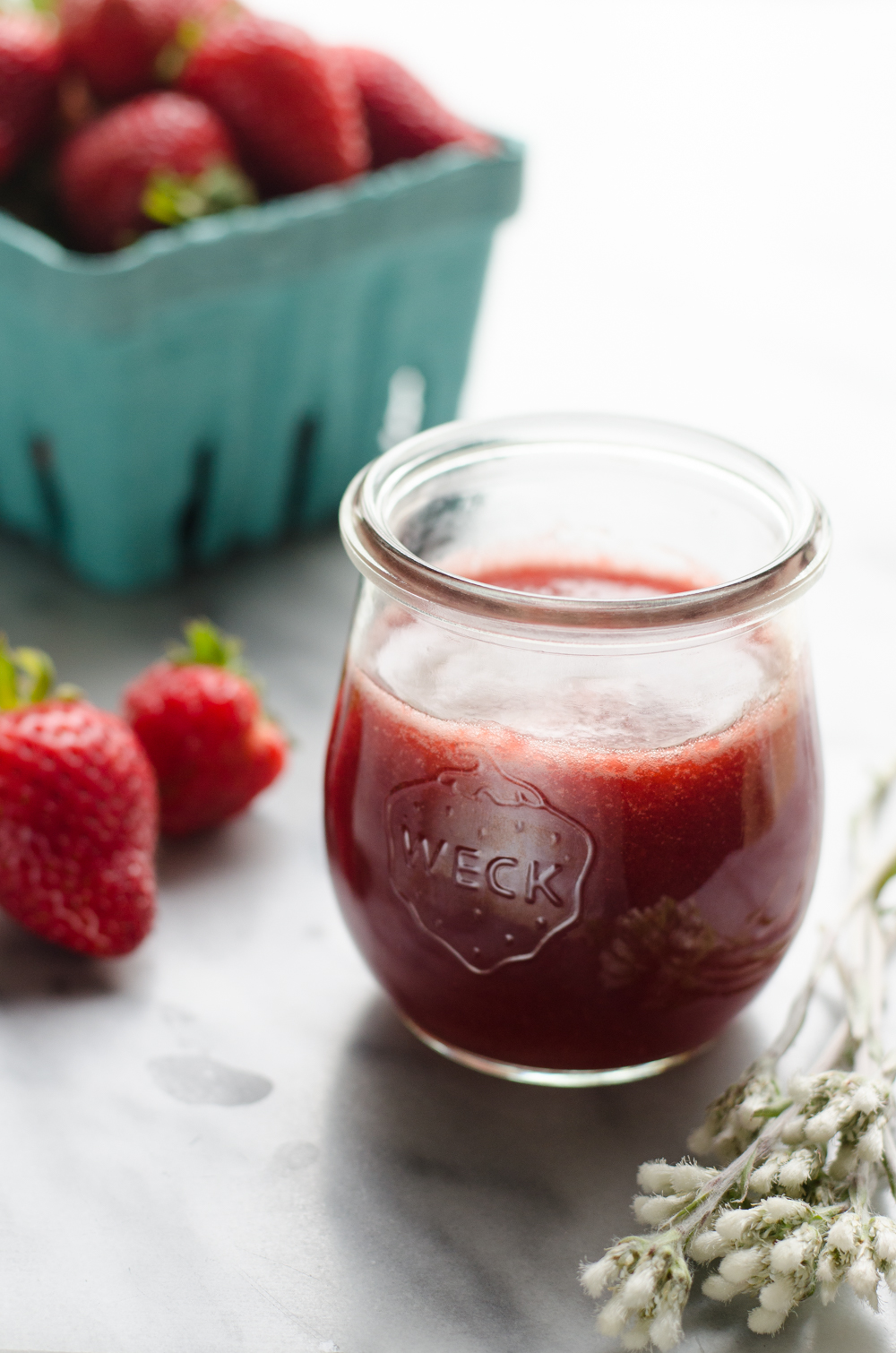 Anyway. About this strawberry syrup.
I feel like growing up I drank strawberry milk. I can't recall a specific instance, but somehow I can almost taste it. It's a fun treat for kids.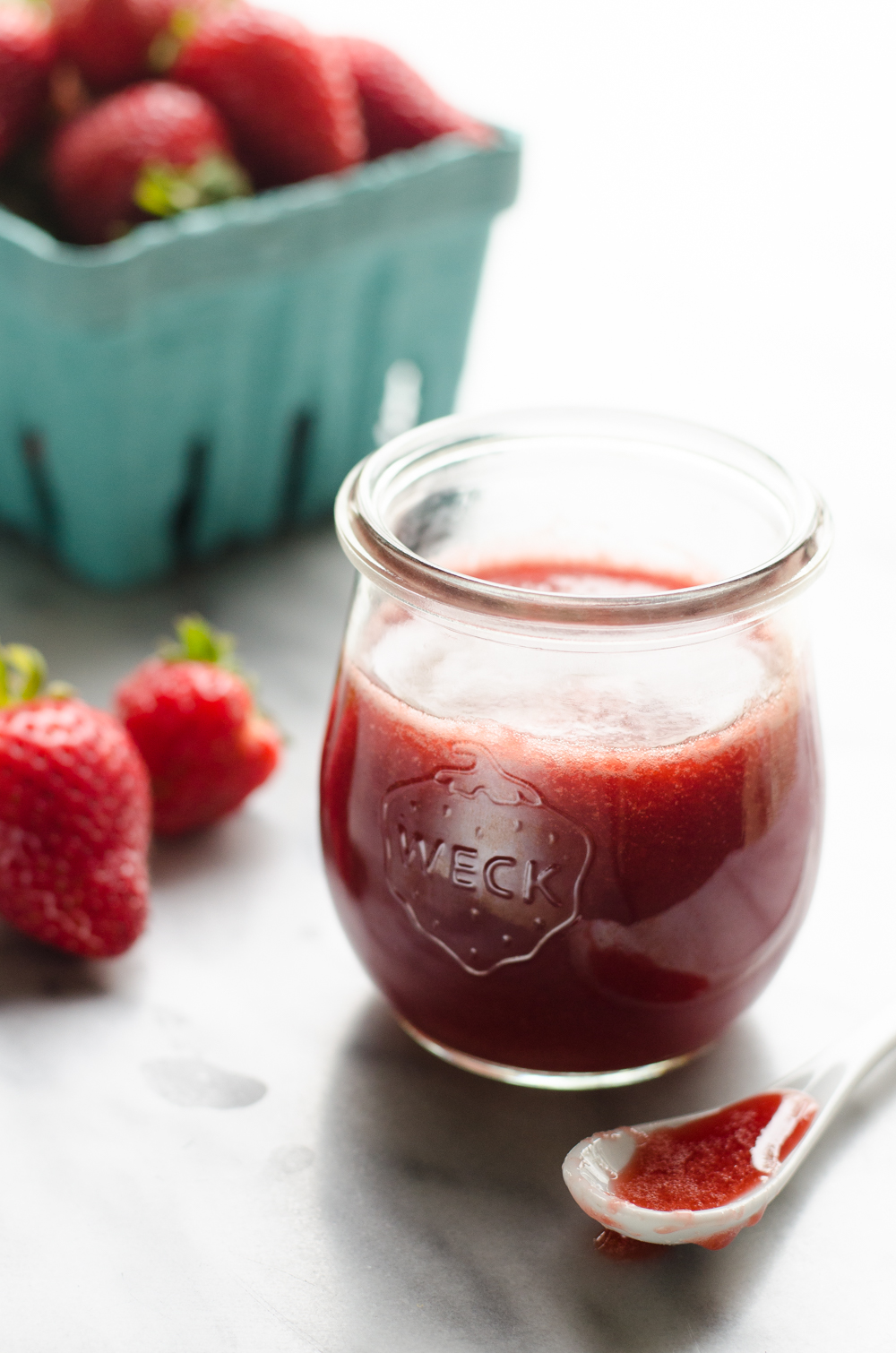 What's NOT so fun is the ingredients in commercial strawberry syrup: high fructose corn syrup, artificial flavor, preservatives, Red 40…YIKES! That's really not something I want to be giving my kids, especially when they're young and developing.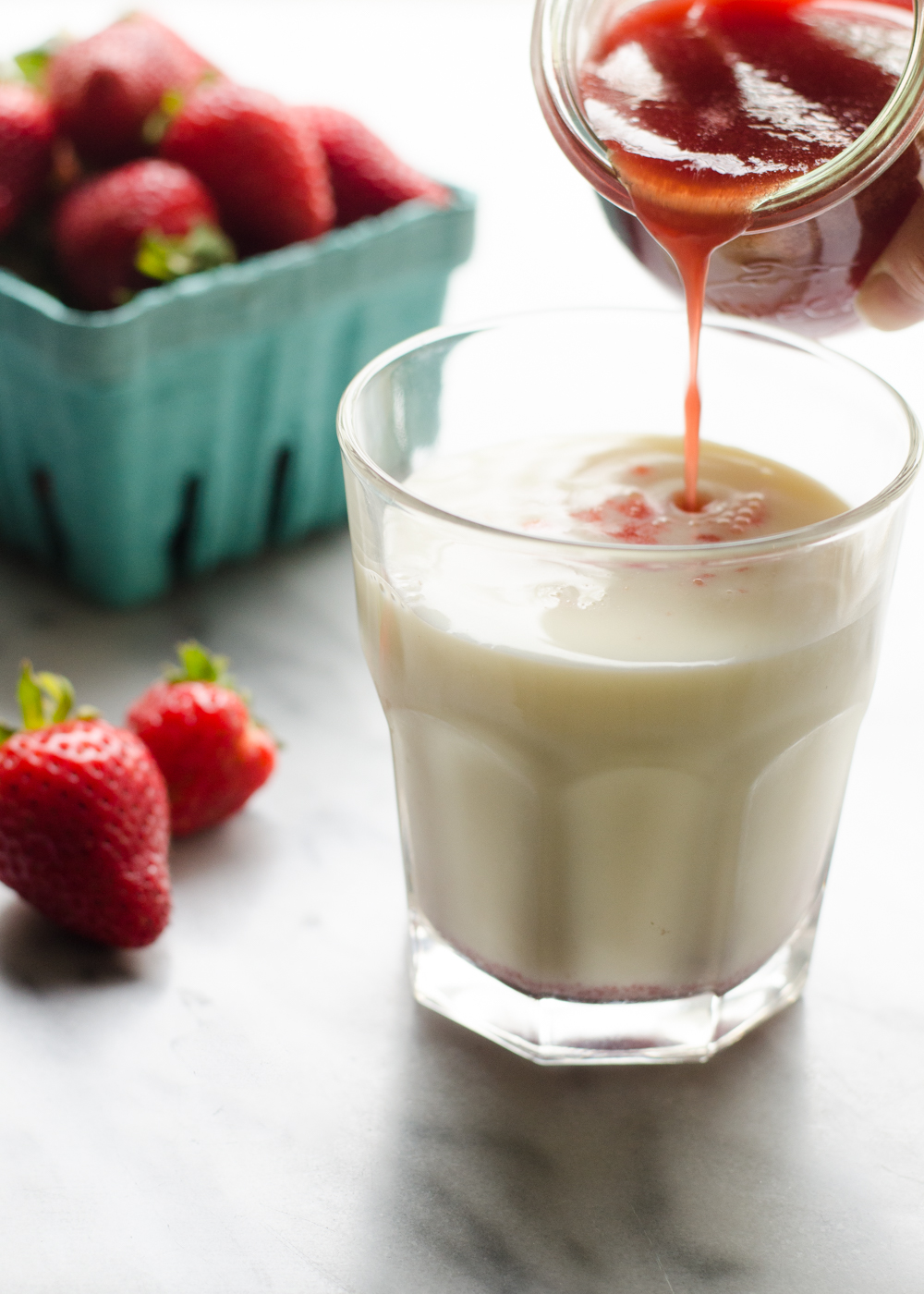 Thankfully it's super easy to make at home. All it takes is 3 ingredients, a pot, and a strainer. There's really no reason to buy that fake stuff!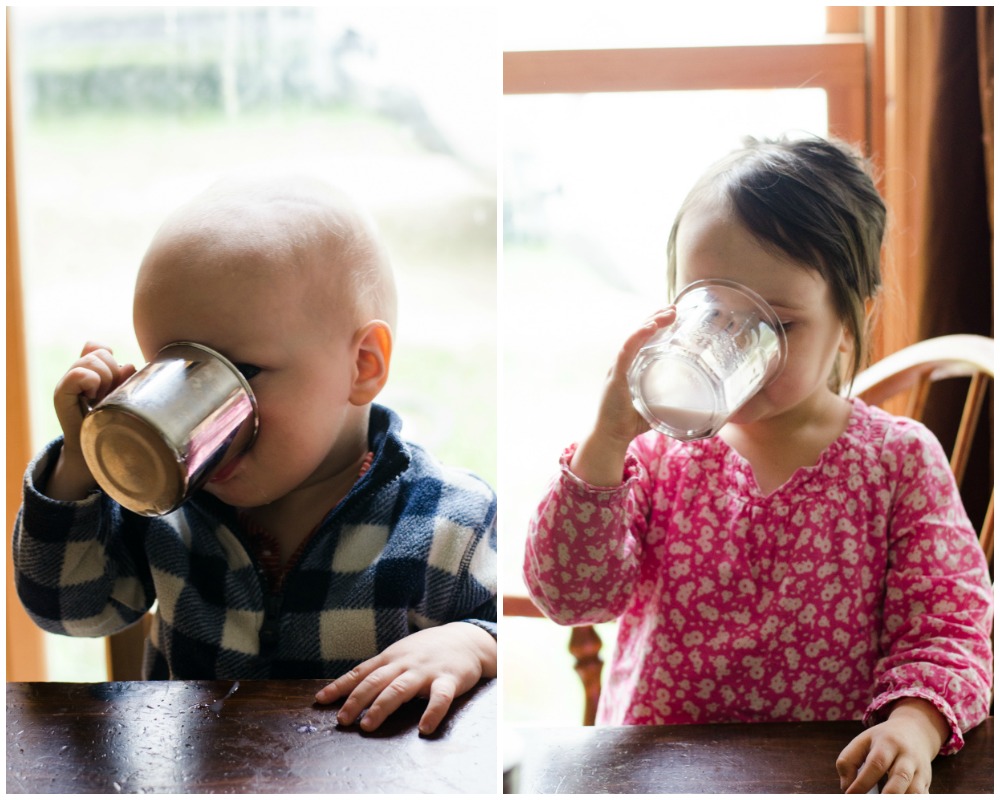 Of course it doesn't taste exactly like the store-bought stuff. And why would it unless it contained artificial flavors? But it is delicious. The kids kept asking for more.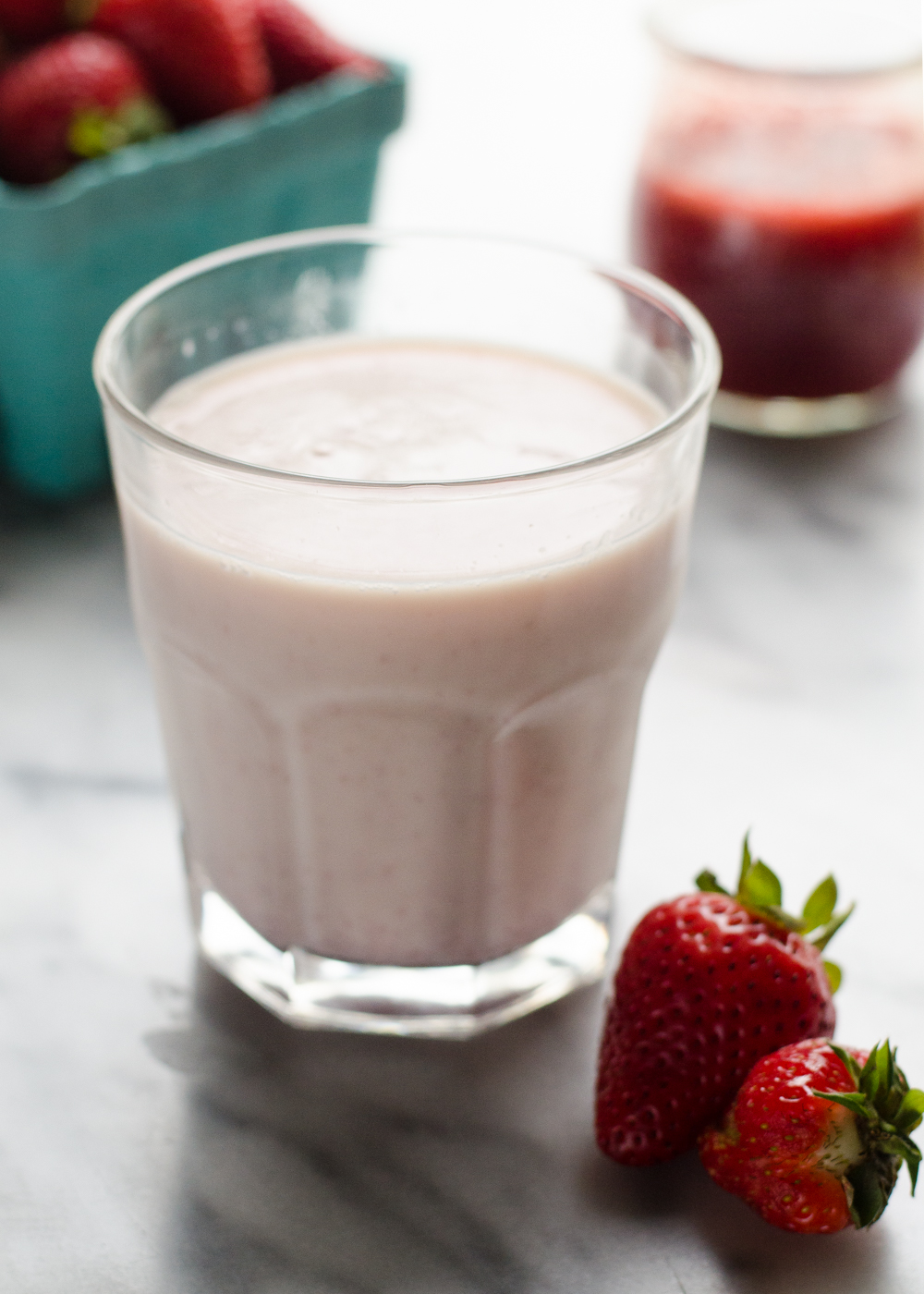 NOTES:
Strawberries are right on the top of the dirty dozen list, so they're definitely a fruit that you want to buy organic when possible.
It's super convenient if you use organic frozen strawberries: just dump in the pan! You can use fresh if that's what you have on hand – I'm sure if you used local, in-season strawberries the flavor would be more intense.
I used maple syrup for the sweetener, but you can use whatever you have. Honey would be great, but it might have a stronger flavor. Also, keep in mind that honey tends to be sweeter than maple syrup.
You can definitely use the strawberry pulp that's left over in smoothies. I put the leftovers in my strawberry smoothie the other day and it was fantastic!
You don't have to use this syrup just for milk. You could pour it over homemade vanilla ice cream, or use it to make strawberry milkshakes. Mmmm…perfect with a homemade burger!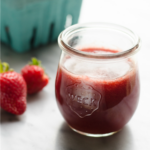 Homemade Strawberry Syrup for Milk
Homemade strawberry syrup is easy to make, and so much healthier that store-bought!
Ingredients
2

cups

organic strawberries

fresh or frozen,

1

cup

water

1/3

cup

pure maple syrup
Instructions
Place all ingredients in a sauce pan. Simmer for 15 minutes.

Strain the syrup through a fine-mesh sieve into a jar, pressing on the back of the strawberries to squeeze all of the juice of of them. Save the strawberry pulp for later use.

Use about 3 tablespoons or so of the syrup for a cup of milk.

Store the syrup in the refrigerator for a couple of weeks.