This sourdough donut recipe produces light yet chewy donuts with an incredible browned butter frosting! It's made using a long fermentation method without commercial yeast!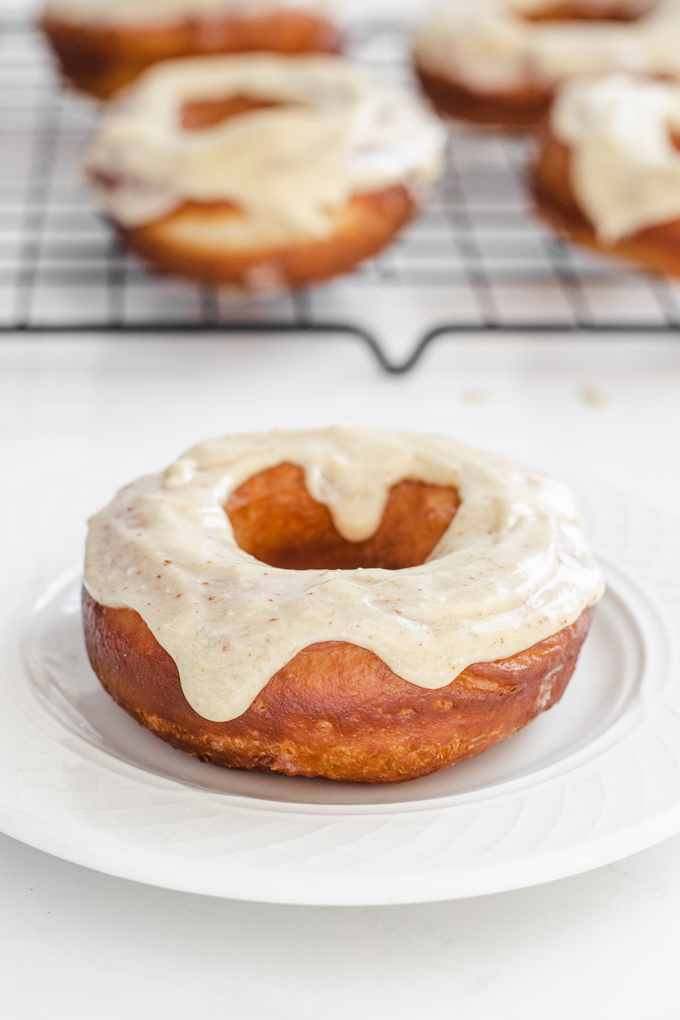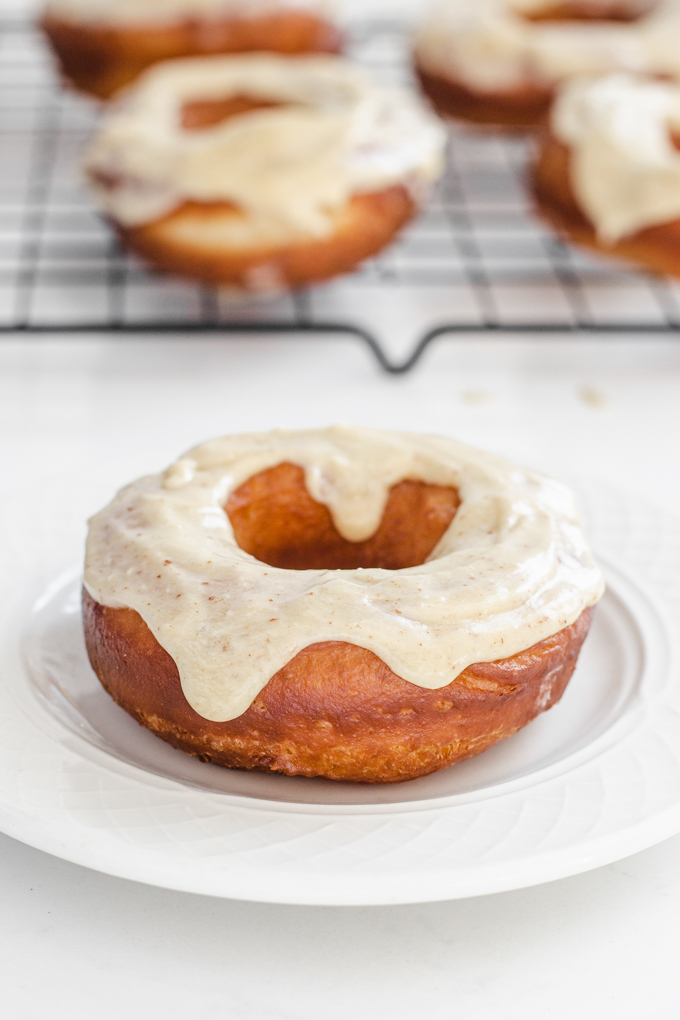 Last fall, when my sisters and I did a food tour of Minneapolis, I had some of the best donuts of my life at Bogart's Doughnut Co.
They're famous for their vanilla buttercream filled donuts, but their browned butter flavor actually stole the show for me. It's one of my favorite things that I've ordered at a restaurant.
And now I finally got around the recreating them for y'all!
You're going to die of happiness when you taste them.
Confession: I'm not the world's biggest donut fan, but homemade donuts are a distinct exception to that rule. They really are in a different class than the ones you get at the grocery store.
Quick note: I switch between spelling it "donut" and "doughnut" in this post.
Leave me a comment letting me know how YOU spell it!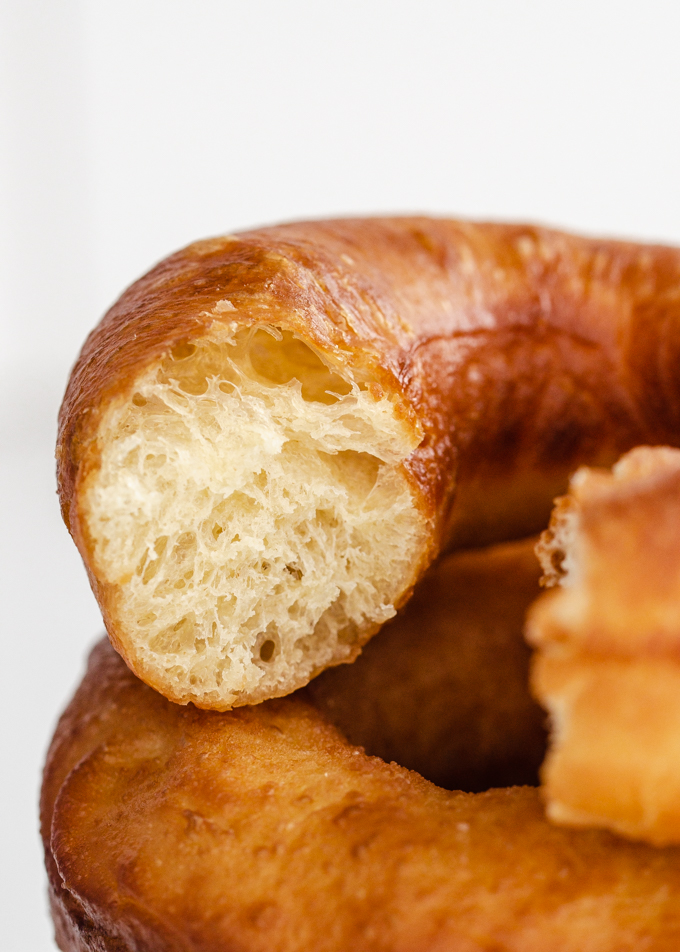 Note: some links are affiliate. All opinions are 100% my own. If you click a link and make a purchase, I will earn a small commission. This has zero impact on the price you pay, and it helps Buttered Side Up out!
Ingredients:
Okay, let's chat ingredients for a second.
There aren't a ton of ingredients in this sourdough donut recipe, so it's important to choose high quality ones!
Sourdough starter:
The first thing you need to do when making anything with sourdough is feed your starter.
It's critical that you use an active sourdough starter (sometimes called a mature or ripe sourdough starter). This means that it's been fed 8-12 hours previously and has doubled in volume and is active and bubbly and passes the float test.
I keep my starter at 100% hydration, which means I feed it equal weights, not volumes, of flour and water.
So for this recipe, place 45 grams of unfed sourdough starter in a jar. Feed it 45 grams each of flour and water. This will give you a little more than the 120 grams of starter you need.
Make sure to read my How to Make a Sourdough Starter From Scratch post if you don't have your own sourdough starter yet! And if you need help getting your starter to behave, make sure to check out my Sourdough Starter Troubleshooting post.
Milk:
Please use whole milk here, not reduced fat or skim milk!
Butter:
I use salted grass-fed butter.
Instead of making you soften your butter, I went ahead and used melted. You can go ahead and thank me.
Sugar:
Since we're making donuts, the dough has more sugar than your typical bread dough.
The final donuts aren't super sweet since the sourdough tends to counteract that.
But the frosting more than covers the sweet department, no fear.
Salt:
Of course to bring out the sweet and sour flavors you have to include salt.
I use Redmond Real Salt.
Eggs:
The dough includes one whole egg plus one egg yolk. Egg yolks add extra richness.
Vanilla Extract:
This lightly perfumes the dough with vanilla, which I think is lovely.
All Purpose Flour:
I highly encourage you to use organic all purpose flour since it doesn't contain harsh bleaches or pesticides which might not play nicely with your sourdough starter.
How to Make Sourdough Donuts: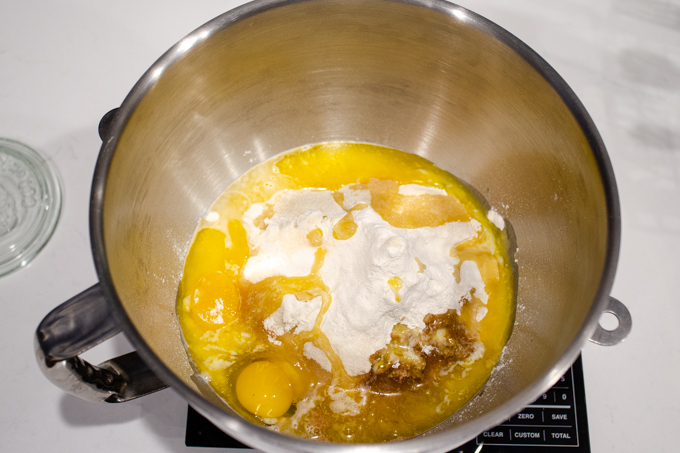 Okay, let's make them!
Mixing the Dough:
Place all of the dough ingredients into the bowl of a stand mixer.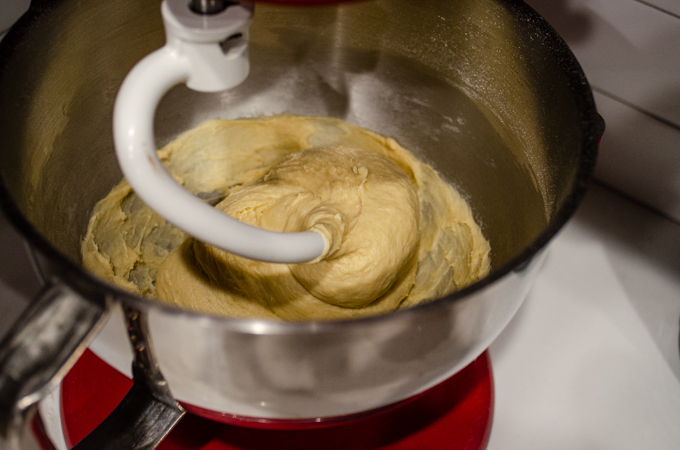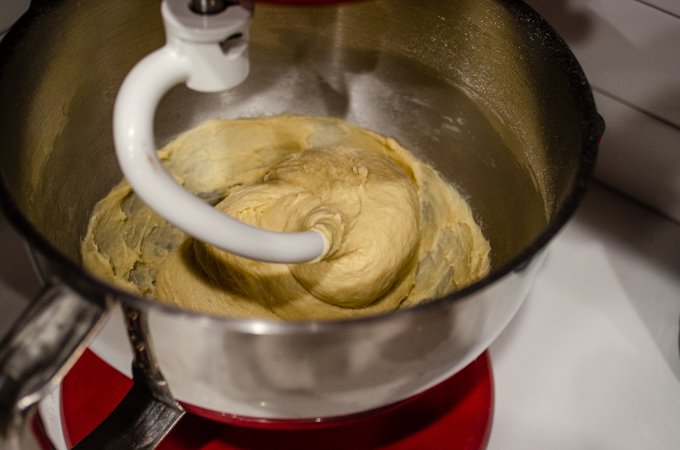 Knead on medium low speed (a 3 out of 10 on my mixer) using the dough hook attachment for 10 minutes.
The dough is fairly sticky, but it should somewhat clean the sides of the bowl, but not necessarily the bottom.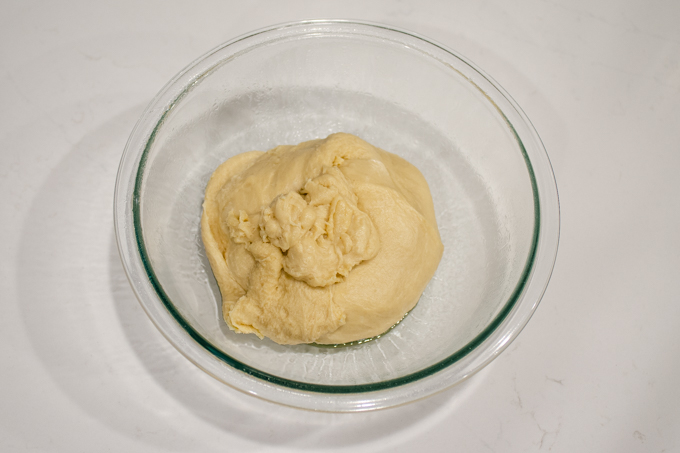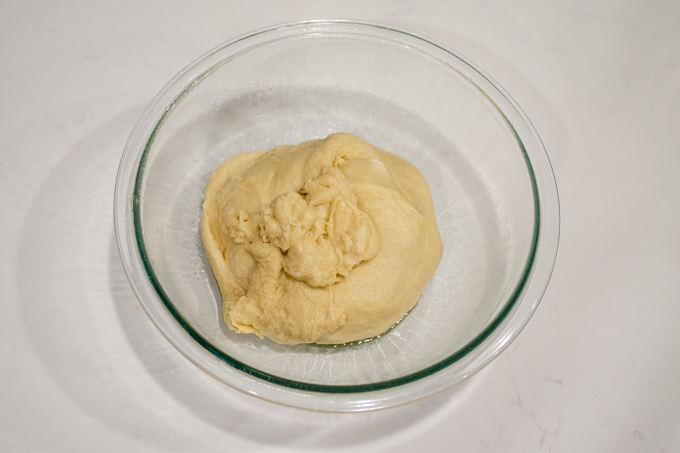 First Rise:
This is also known of the bulk fermentation.
Remove the kneaded dough from your stand mixer and place into a greased large bowl. Cover with a lid and allow to ferment for 8-12 hours, or until it doubles.
If you have a really warm kitchen, the dough might double in as little as 4 hours. But if your kitchen is average to cool, you can get away with letting this rise overnight.
You could place in the refrigerator overnight, then take it out the next day to warm for an hour or so until you're ready to form the sourdough donuts.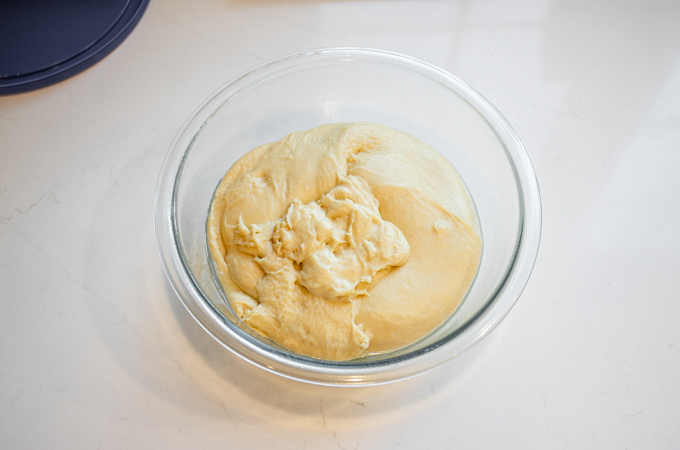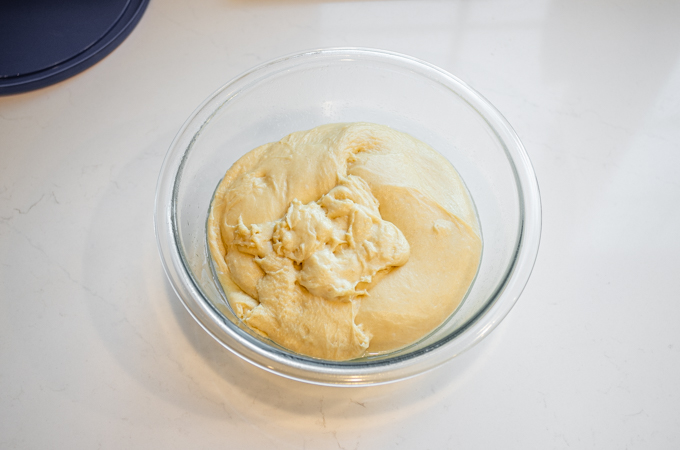 Here's how much my dough puffed up overnight.
Turn your oven to its lowest setting. Once it's preheated, turn it off and keep the door shut. This will be your proofing station.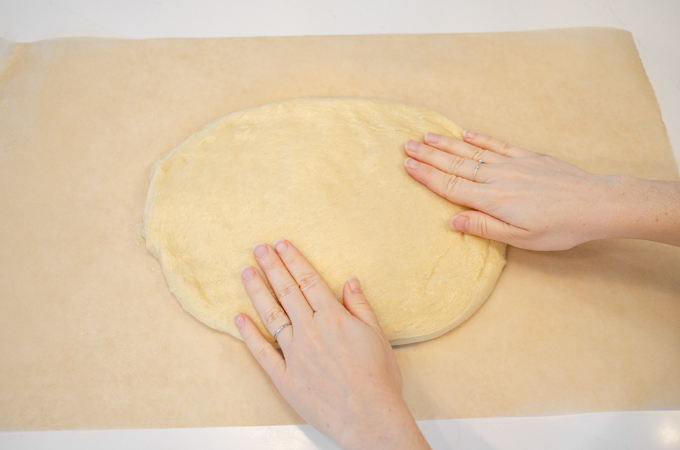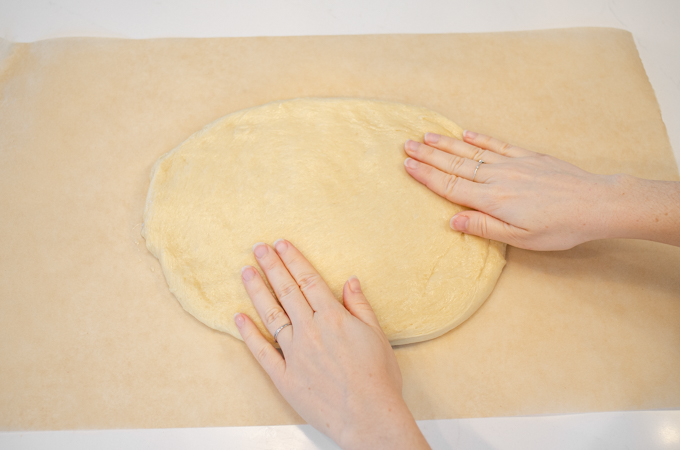 Shaping:
Pat the dough ball out to about 1/2 inch thick on a piece of parchment paper on your work surface.
The parchment paper will make your life SO much easier, trust me.
If you have a lot of trouble with sticking, you could always use a little flour, but don't go overboard! And if you use the parchment paper, it shouldn't be necessary.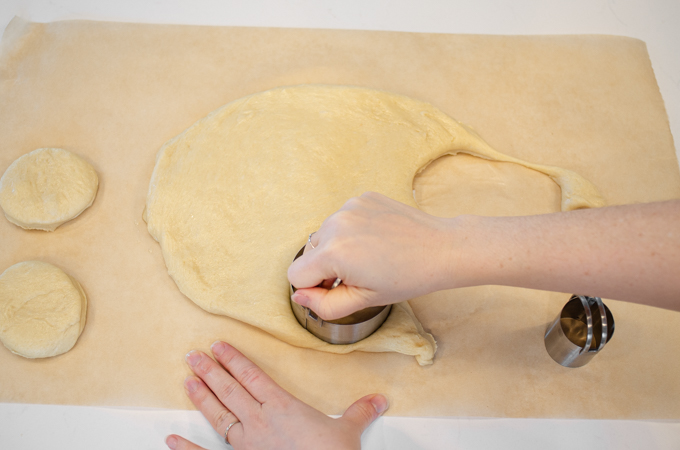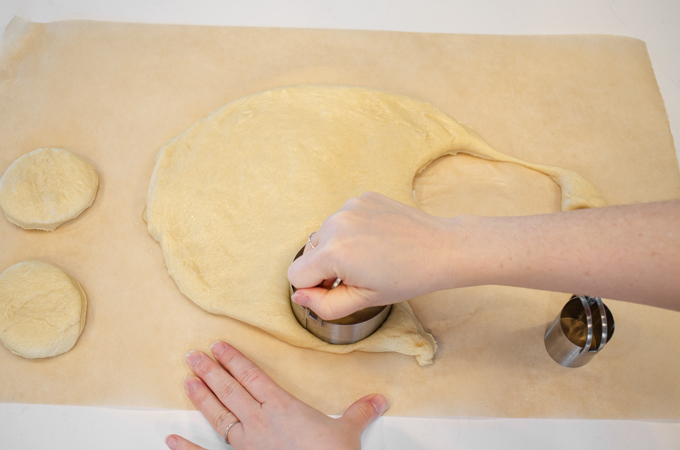 Stamp out circles of dough using a 2¾-inch biscuit cutter or cookie cutter.
You can also use a special doughnut cutter, or a mason jar or cup turned upside down.
I like to make cut-out donuts, but you could also roll the dough into small balls, flatten them, and then stamp out the holes.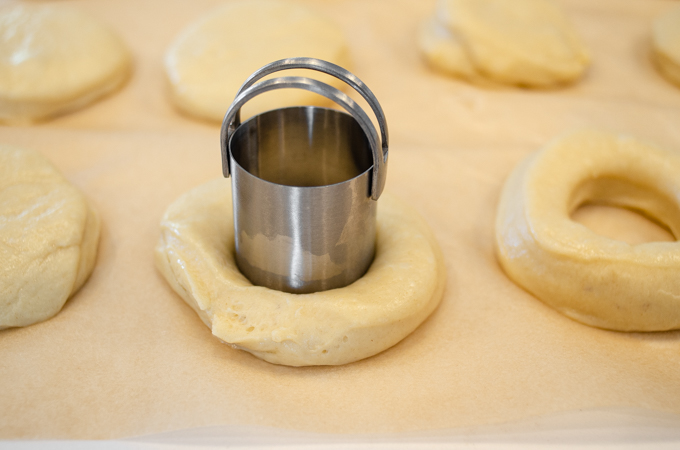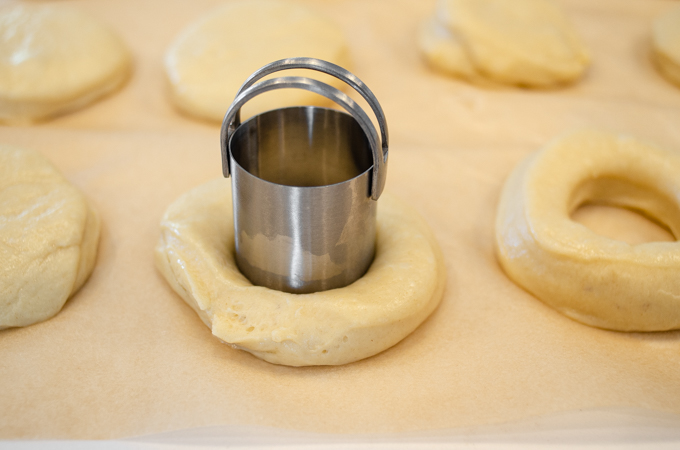 Use the smallest biscuit cutter in your set to cut out donut holes.
Or you could use a narrow bottle turned upside down.
Of course if you used a specialized donut cutter you can skip this step.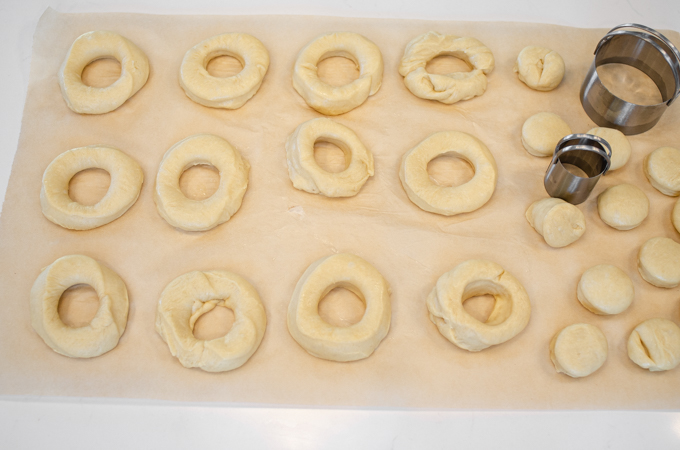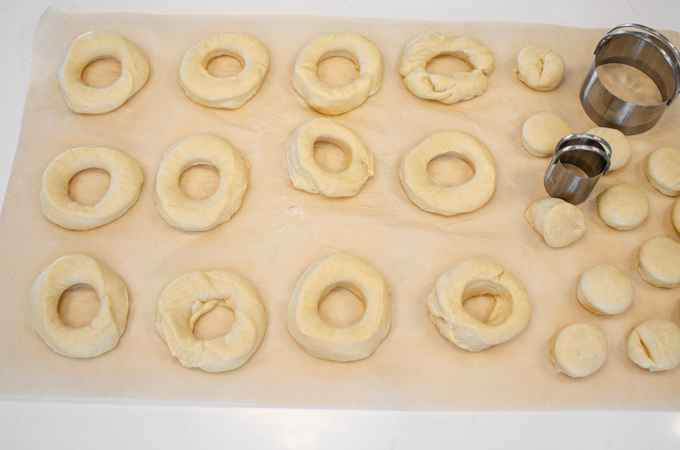 Second Rise:
Here's what they look like all cut out!
Skooch the cut doughnuts, parchment paper and all, onto a flat cookie sheet.
Cover with a tea towel or greased plastic wrap.
Place the sheet pan in the warm oven to rise.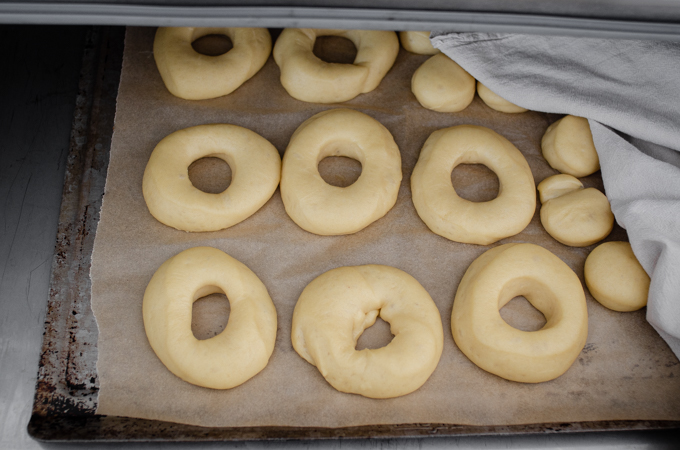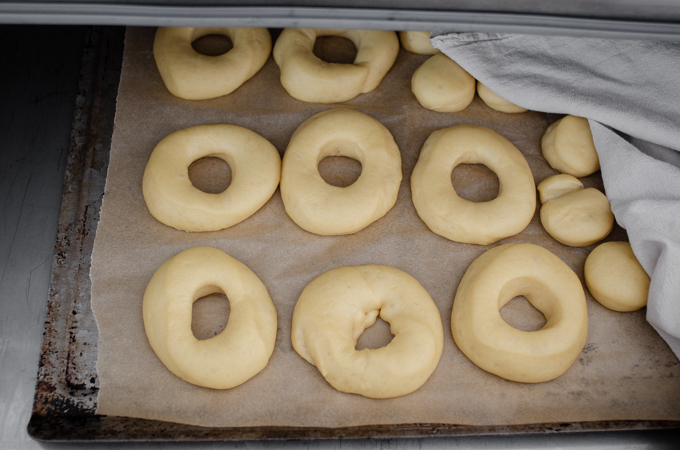 I'm lucky enough to have a warming drawer (it came with our Craigslist kitchen), so I let my sourdough doughnuts rise there.
But the oven proofing trick works really well!
Let the sourdough starter donuts rise until they're quite puffy, about 2-4 hours.
If you let them rise at room temperature, it may take longer than that.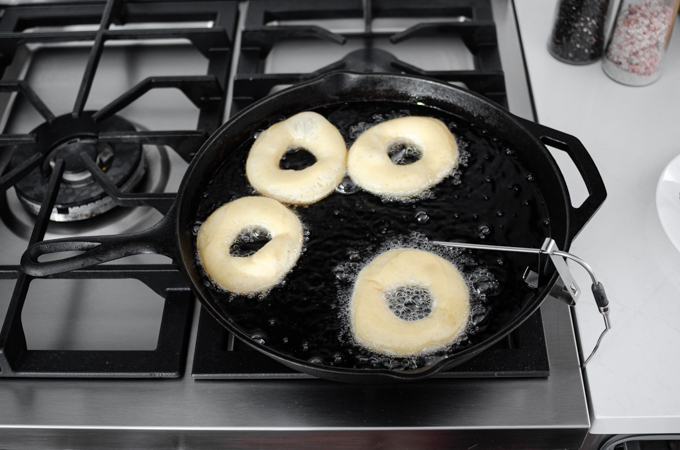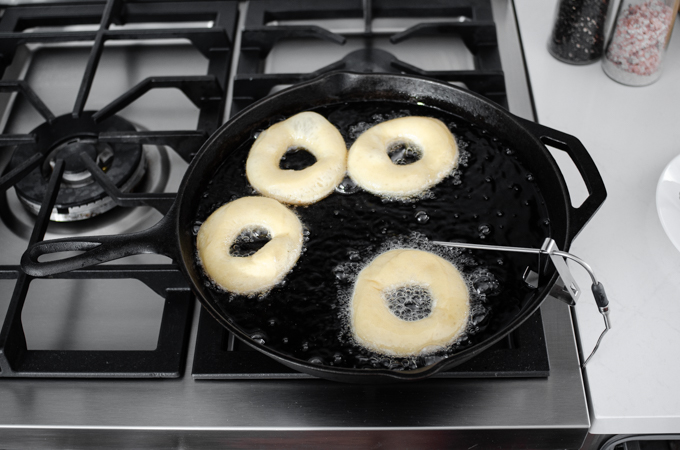 Frying:
Heat a couple of inches of avocado oil or expeller pressed, refined coconut oil over medium heat in a 12-inch cast iron skillet. I like to use a shallow pan like a frying pan or skillet instead of a Dutch oven because it's easier to remove the donuts, and you also don't need to use as much oil.
I don't really recommend using vegetable oil as your frying oil for health reasons, but you can use that if that's all you have on hand.
You can either use an instant read thermometer or a candy thermometer to keep an eye on the oil temperature. I use a probe thermometer since that's what I own and it works well.
When the oil reaches about 365°F, carefully drop in a few of the puffy sourdough donuts.
Keep an eye on the temperature of the oil. When you drop in the donuts it will drop several degrees.
Make sure to adjust the flame on the stove so the temperature doesn't drop below 350° or rise above 375°.
Also, if you have an electric deep fryer, feel free to use that instead!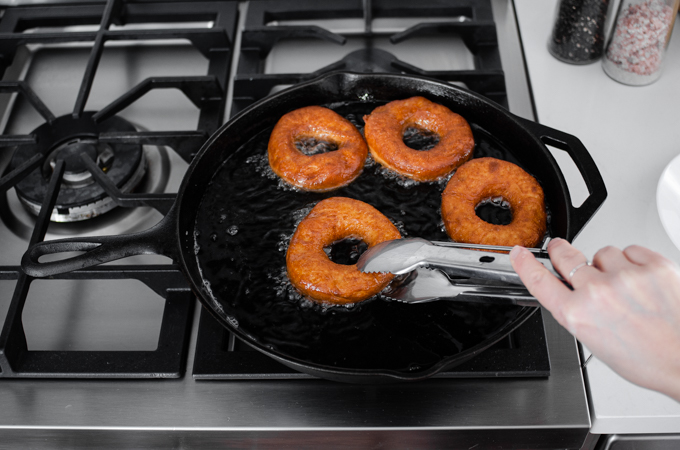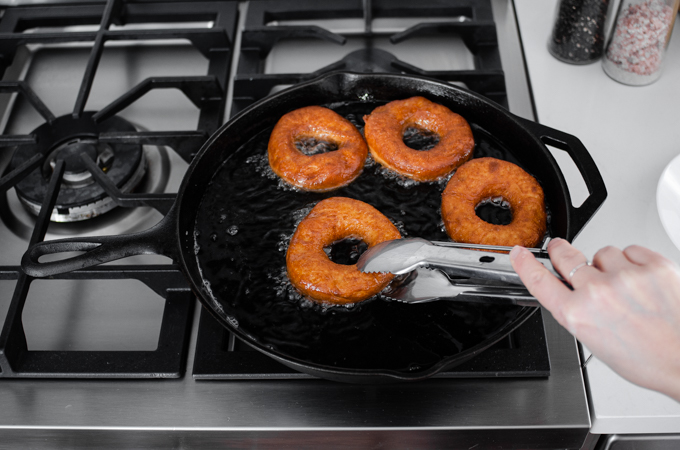 Cook for 1 minute, then flip them over.
You want them to be browned on the bottom, but not super dark.
If your oil is hotter or cooler than 365° you might need to cook them a few seconds more or less.
Cook for another minute on the second side.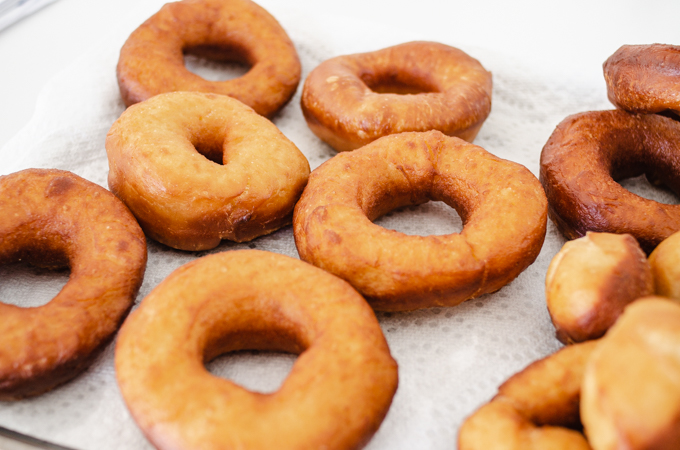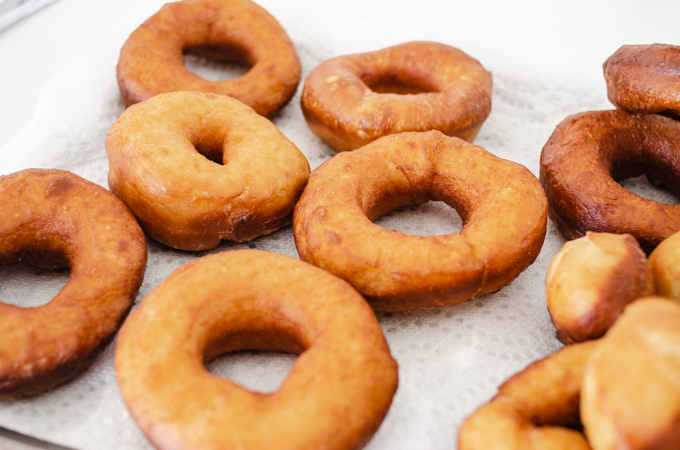 Remove the fried doughnuts to a paper towel lined baking sheet to drain and cool.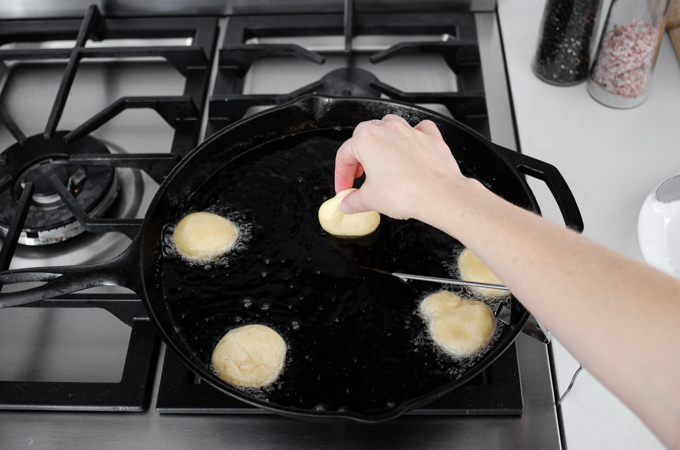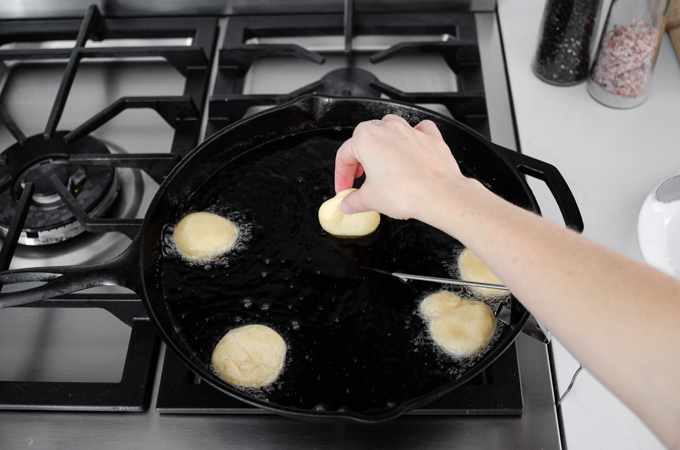 Once the regular-sized donuts are done frying, it's time to fry the sourdough donut holes!
Carefully drop several into the hot oil.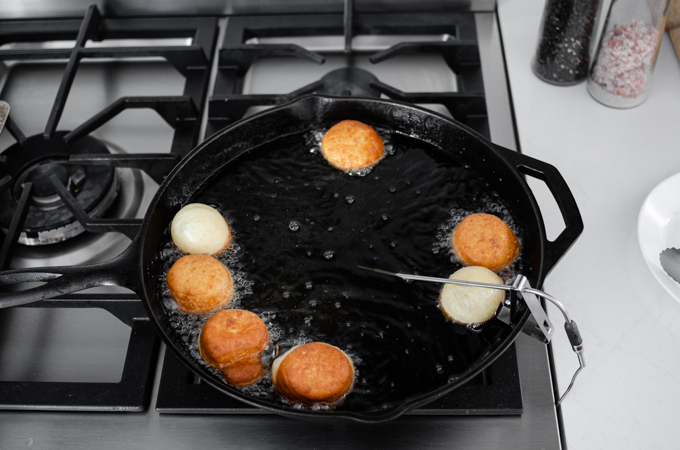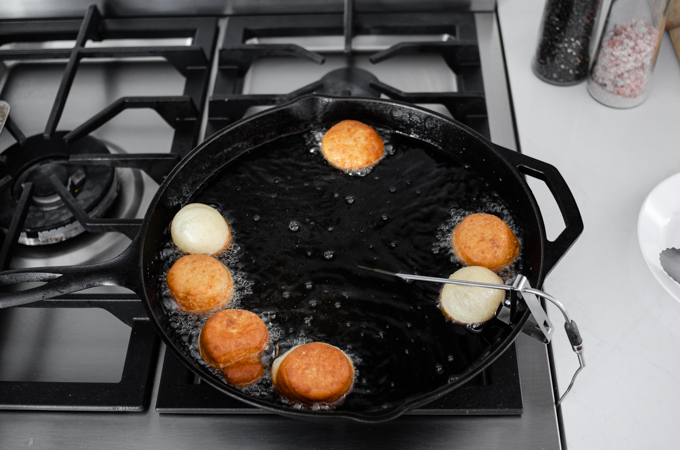 Fry for 1 minute on each side.
Sometimes a few of them will refuse to flip over.
That's okay – they'll still get cooked. They just won't look as pretty.
You may find that a slotted spoon is easier for removal of the donut holes.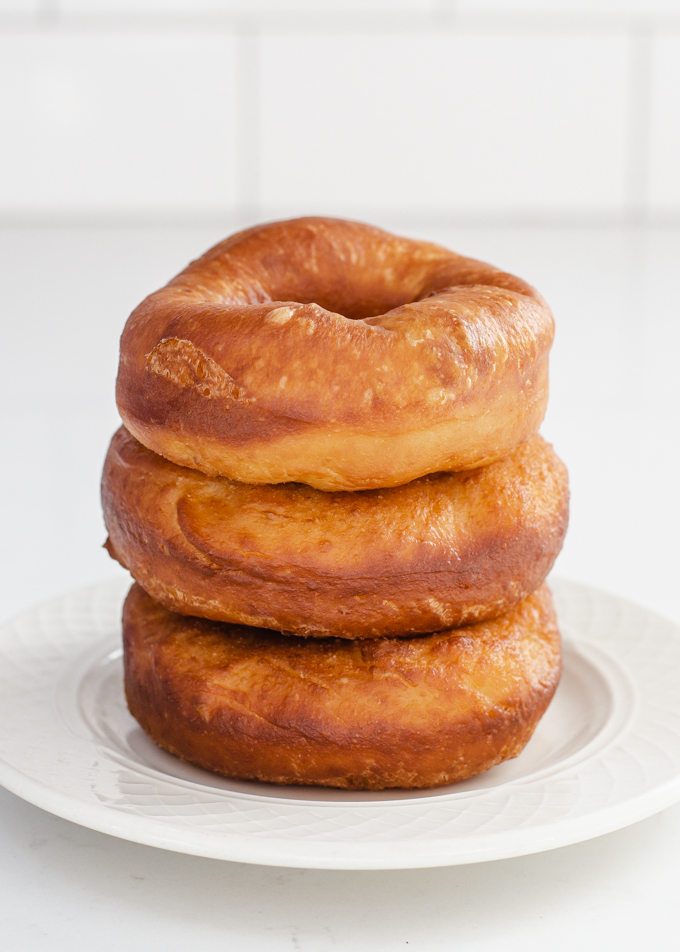 I mean, these are delicious as-is.
You could dip them in cinnamon sugar when they're still warm. This is a great way to make a super easy donut topping.
But to take them to the next level, you have GOT to make my browned butter frosting!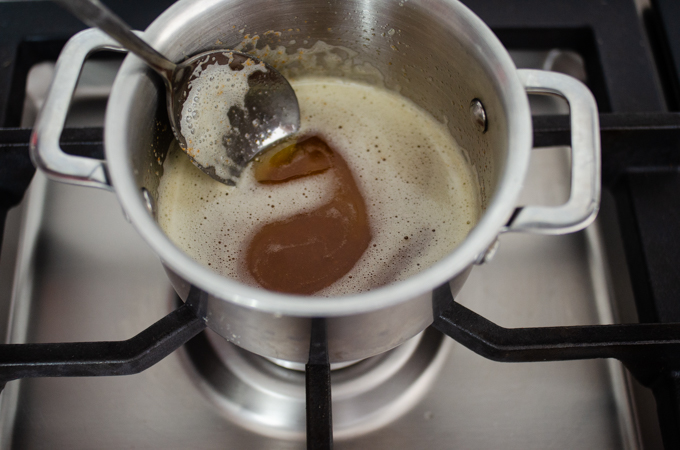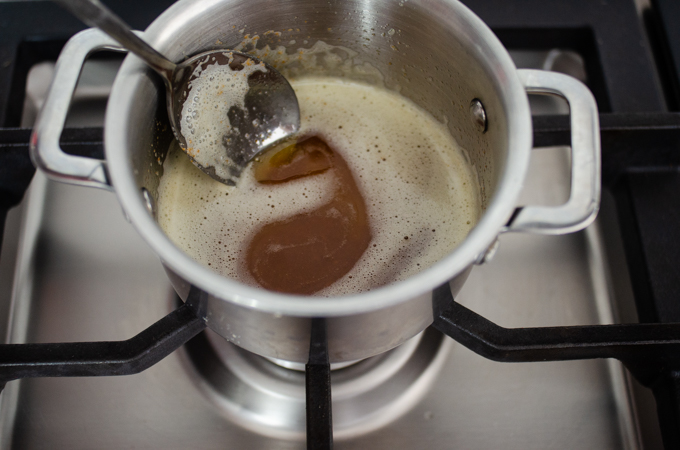 Making the Browned Butter Frosting:
While the donuts are cooling, start making the browned butter frosting.
Brown 2 tablespoons of butter.
This is where the magic is.
You can check out my How to Brown Butter tutorial if you've never done it before!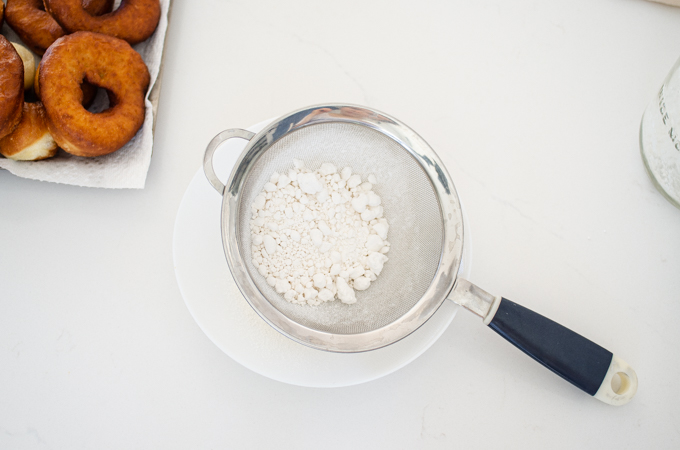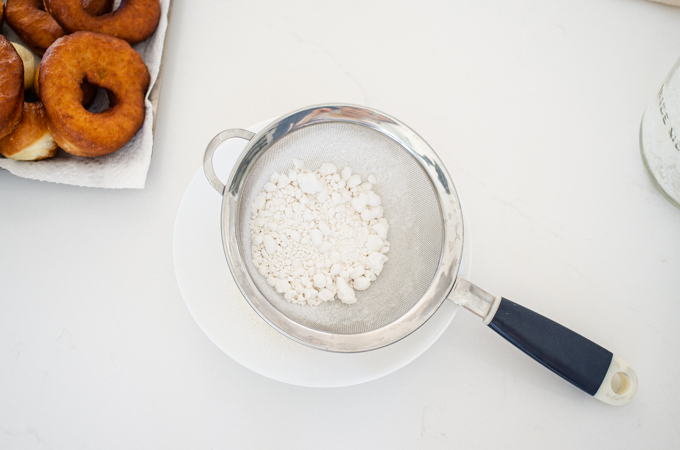 Sift 3/4 cup powdered sugar into a medium bowl.
Holy moly, my powdered sugar was lumpy!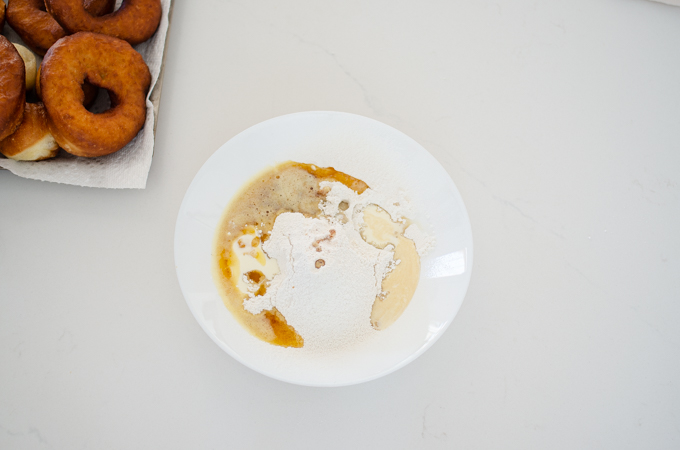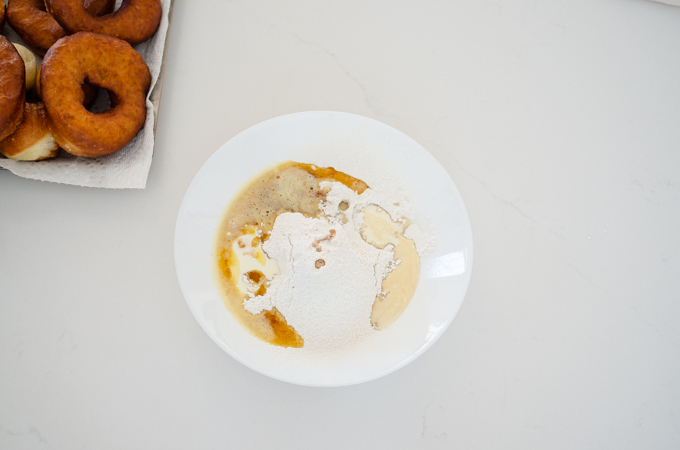 Add the browned butter, 2 tablespoons of cream, 1/4 teaspoon pure vanilla extract, and a pinch of salt to the bowl.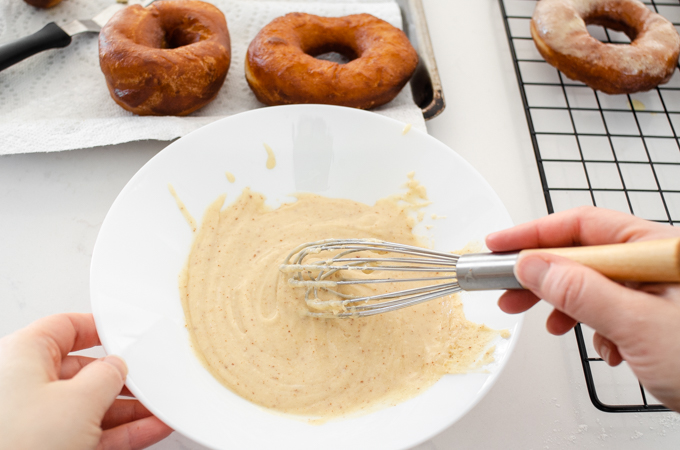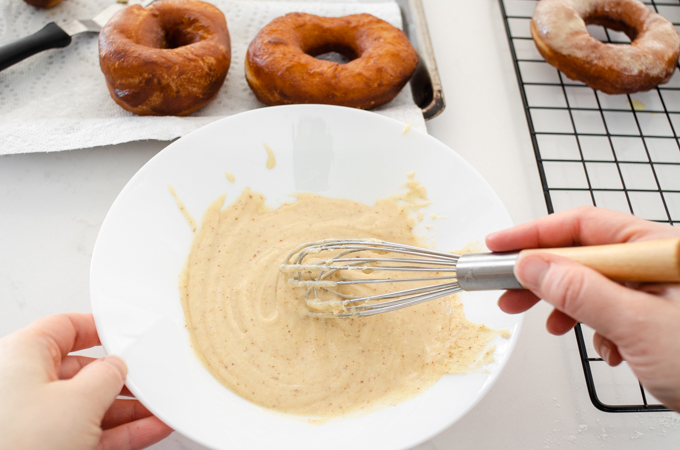 Whisk until smooth.
You may need to add more cream in order get the proper consistency.
You don't want it super thin, or crazy thick. Just nice and medium.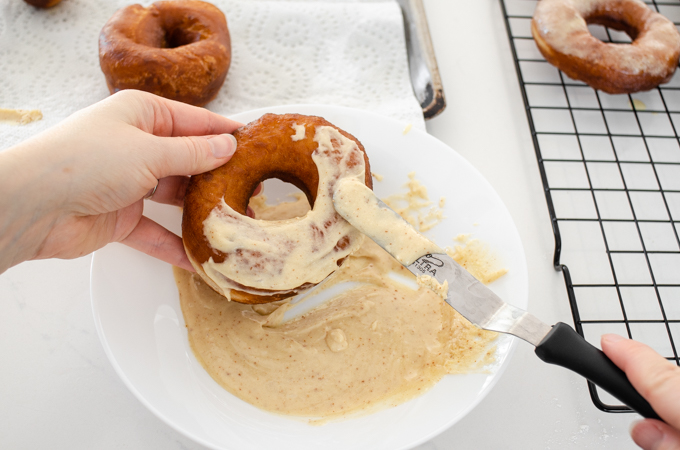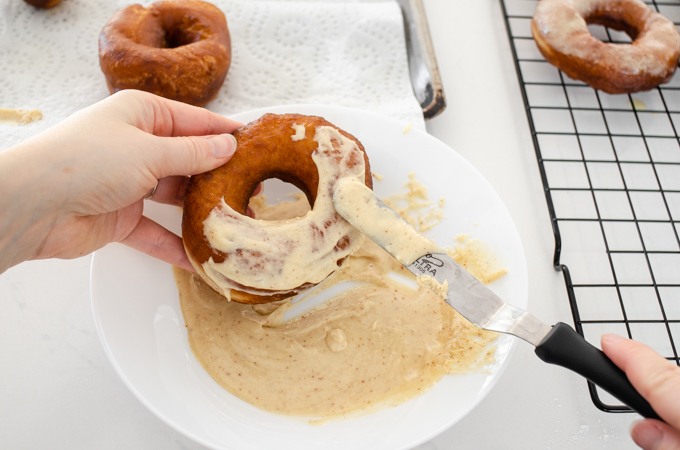 There are a couple of options for how to get the frosting onto these sourdough doughnuts.
First, you could use a knife or offset spatula to spread in onto the cooled donuts.
Or you could pour it on top.
Finally, you could dunk them.
Experiment and see which method works best for you!
Place the frosted donuts on a wire rack to cool.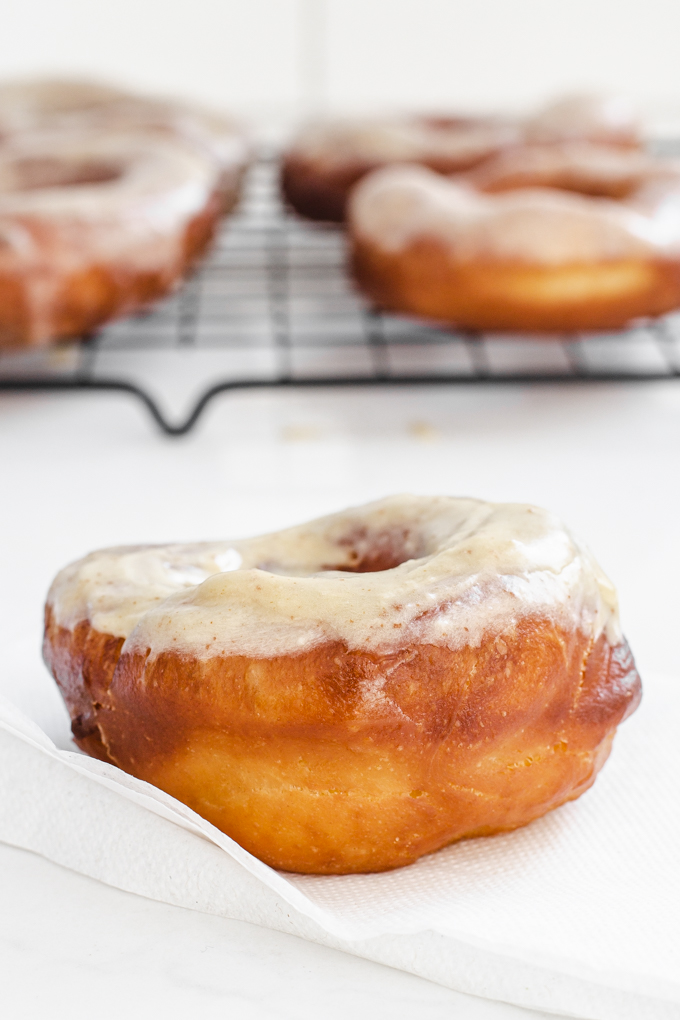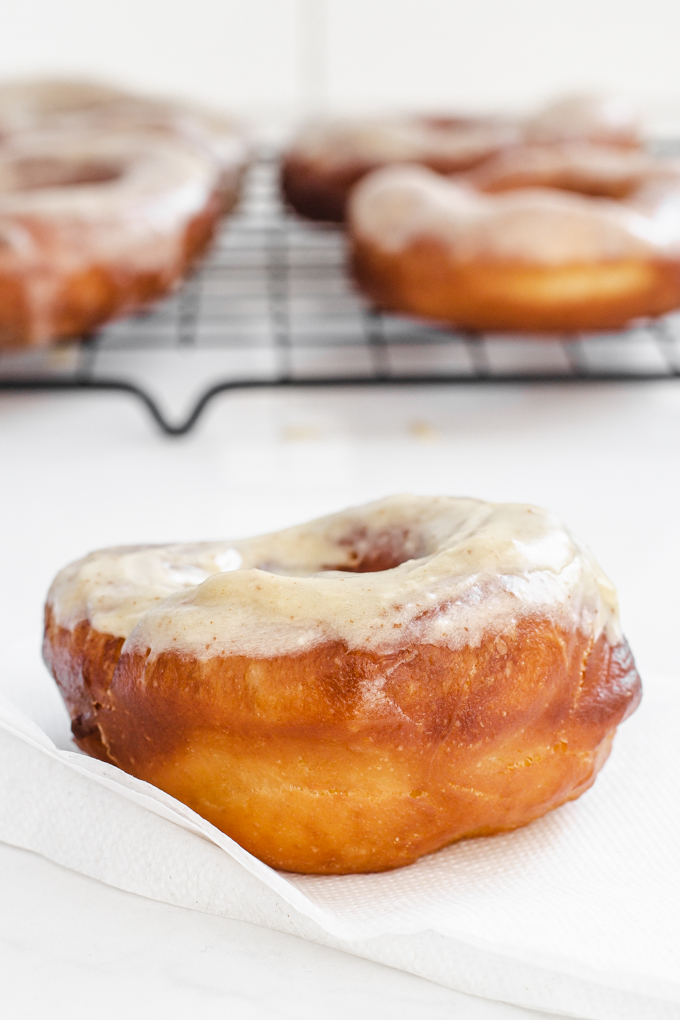 I mean…how could you say no to that?!
Storing:
Store the unfrosted donuts in an airtight container at room temperature for up to a day. These are really best eaten fresh, but they will still be good for a day afterwards.
You can store them longer in the refrigerator, but of course you'll want to warm them up before eating them.
Video Tutorial:
Here's a video tutorial in case you learn better that way: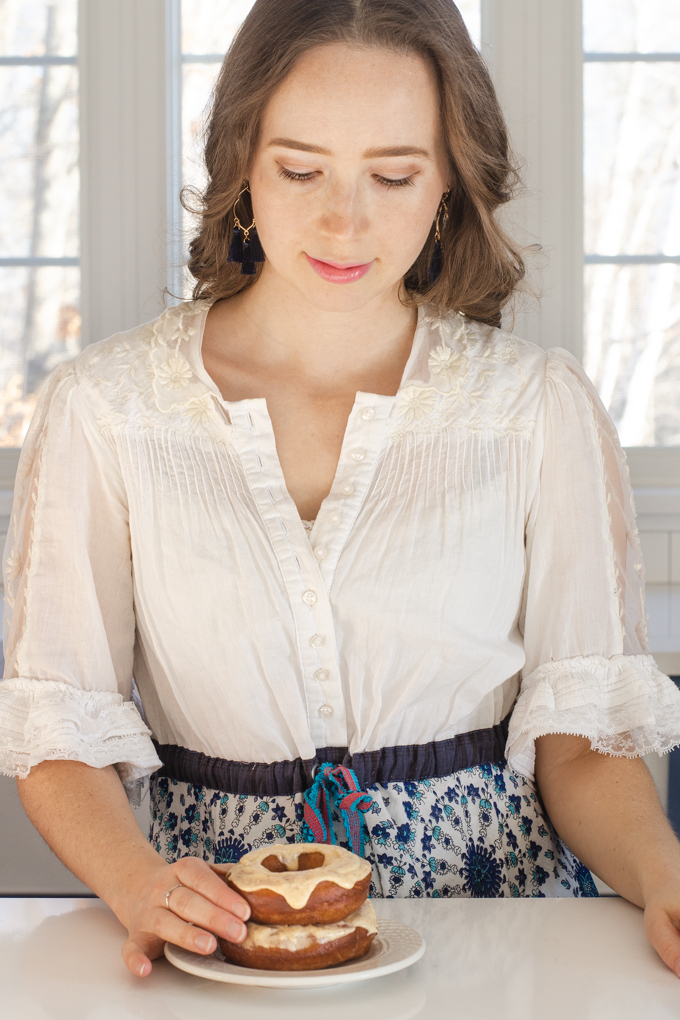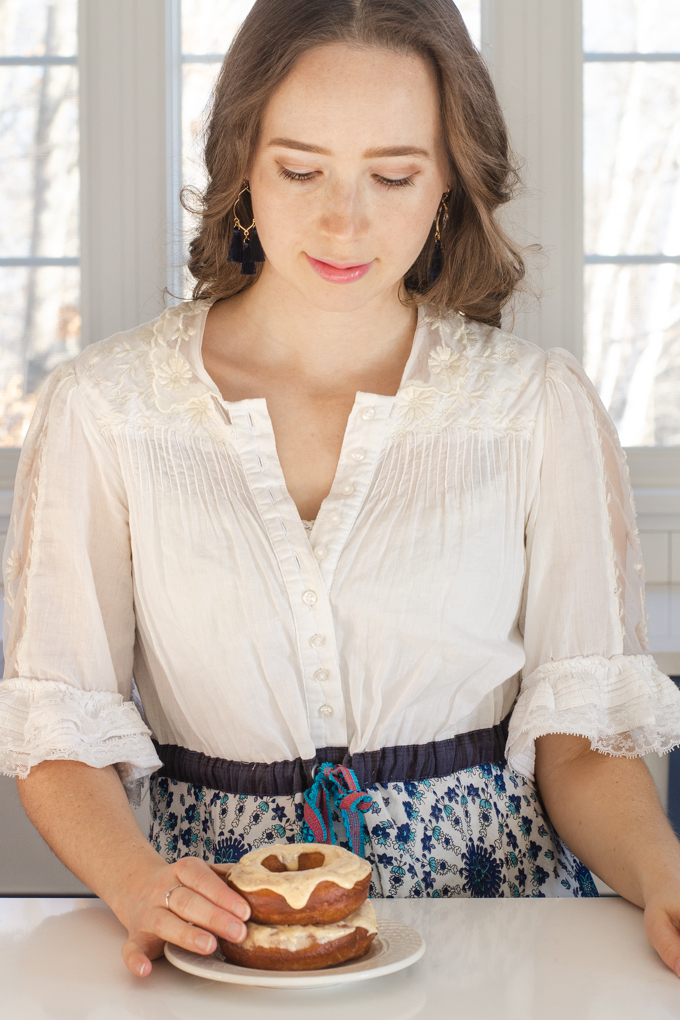 So that's my sourdough doughnut recipe! Make sure to check out the tips and links below for more ideas!
More Sourdough Donut Topping Ideas:
I'd love to experiment with different toppings!
Here are a few flavor ideas I had:
Chocolate with sprinkles
Matcha
Strawberry
Eggnog
Maple pecan
I'd also like to experiment with filled donuts!
Ugh…a Boston Cream Pie inspired doughnut would be SO good!
All right, I'd better leave you with the recipe before I get too carried away. 🙃
More Sourdough Recipes: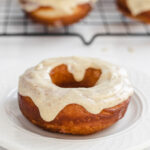 Sourdough Donut Recipe
These sourdough donuts use a risen dough and are topped with an amazing browned butter frosting!
Prep Time
12
hours
5
minutes
Ingredients
For the Donuts:
1/2

cup

whole milk

(122 grams)

1/2

cup

active sourdough starter

(120 grams) - see note

1/4

cup

butter,

melted and cooled

1/3

cup

can sugar

(72 grams)

1/2

tsp

unrefined sea salt

1

whole

egg

1

egg yolk

2

tsp

pure vanilla extract

2 1/4

cups

organic all-purpose flour

(330 grams)

avocado oil,

for frying
For the Frosting:
2

tbsp

butter,

browned (see note)

3/4

cup

powdered sugar,

sifted

2

tbsp

heavy cream,

plus extra to achieve correct consistency

1/4

tsp

pure vanilla extract

1

pinch

unrefined sea salt
Instructions
For the Donuts:
Place all of the ingredients for the dough in the bowl of a stand mixer.

Using the dough hook, knead for 10 minutes on medium-low (3 out of 10 on my mixer).

Transfer the dough to a greased large bowl. Cover and allow to ferment at room temperature until doubled, about 8-12 hours, depending on how warm your kitchen is.

Turn your oven on to its lowest setting, and once it's preheated, turn it off and leave the door closed.

Place the dough on a large piece of parchment paper. Using your hands (grease if necessary) pat the dough out into a rectangle until it's about ½ inch thick.

Using a biscuit cutter, mason jar, glass, or donut cutter, stamp out rounds of dough. Using the smallest biscuit cutter in your set or a small bottle, stamp out donut holes.

Arrange the donuts and holes on the parchment paper about and inch apart and transfer them, parchment paper and all, onto a flat baking sheet. Place in the warm oven and allow to raise until quite puffy, about 2-4 hours.

Line a rimmed baking sheet with paper towels.

Heat a couple of inches of avocado oil in a 12 inch cast iron skillet to 365°F - 375°F. Drop 4-5 of the doughnuts carefully into the hot oil. Cook for 1 minute on each side. You don't want them to be super pale or really dark. A nice golden brown is perfect.

Keep and eye on the temperature and make sure the oil doesn't drop below 350°F or rise above 375°F.

Remove the cooked doughnuts to the paper towel lined baking sheet.

Repeat the cooking process with the remaining donuts, then the donut holes. Some of the holes may refuse to flip over - that's okay!

Allow the donuts to cool until just barely warm before frosting.
For the Frosting:
Place the powdered sugar, browned butter, cream, vanilla, and salt in a medium bowl. Whisk until smooth. Add more cream to achieve a consistency that's between a spreading and pouring consistency.

You can either spread the frosting on the donuts with an offset spatula, pour the glaze on top of them, or dunk them. I personally find that dunking is the least effective.

These donuts are best served immediately, but you can store them in an airtight container in the fridge if needed. Best if reheated, of course!
Recipe Notes
An active starter is one that's been fed 8-12 hours previously, has doubled and is bubbly and passes the float test.
If you've never browned butter before, make sure to check out my How to Brown Butter post!
Updated on June 6, 2022