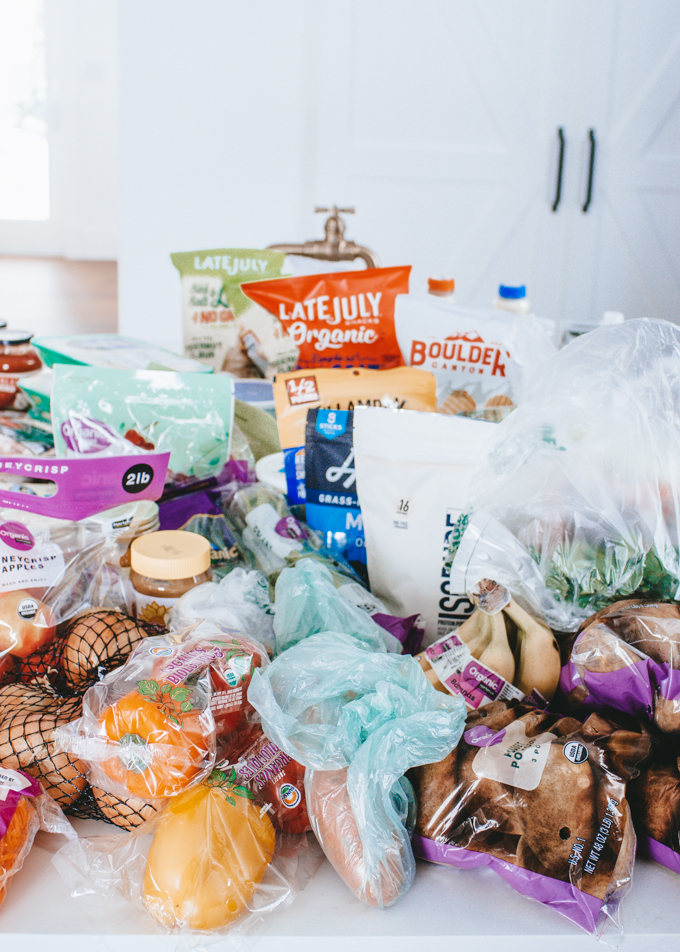 Hey, friends! It's time for another (mostly) healthy grocery haul!
I don't know about you, but I find it super fascinating to see what food other people buy.
You can get stuck in a rut with buying the same types of food over and over, and seeing what someone else buys can be inspiration to try something new!
Today I'm sharing all the groceries we bought for a week's worth of meals.
Plus I'll let you know at the end of the post what meals we're making with all this food!
And if you prefer to watch, here's a video for you:
Okay, let's dive in:
Healthy Grocery Haul:
I'll divide the food into categories so it's easier to see what we got: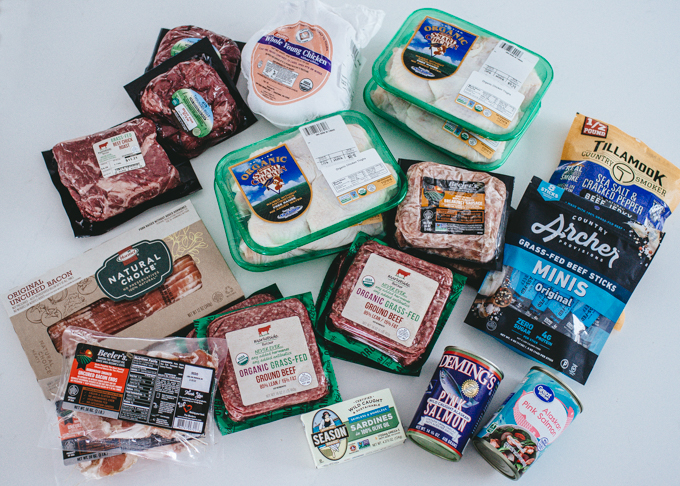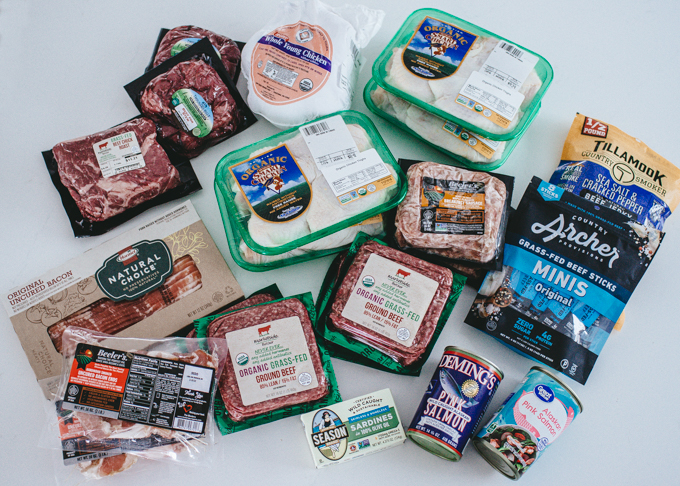 Meat/Seafood:
4 pounds grass-fed beef (Walmart brand)
3 packages of bacon (2 packages of Beeler's ends and pieces, 1 package of Hormel Natural Choice bacon)
1 grass-fed beef chuck roast (Walmart brand)
2 pounds beef stew meat (Thousand Hills Grass Fed Beef)
1 whole organic chicken (Larry Schultz)
4 packages organic chicken thighs (Smart Chicken)
2 pounds Beeler's maple pork sausage
1 package Tillamook sea salt and cracked pepper jerky (the beef isn't grass-fed, but the ingredients are fairly natural)
1 package grass-fed mini beef sticks (Archer)
2 cans wild caught salmon (1 Deming's brand, 1 Walmart brand)
1 tin sardines (season brand)
This is more meat than we usually buy. Since we are on a special diet in January, I've been doubling the amount of food I cook for supper so we can eat it for lunch.
I think that overall we've been eating healthier since we have to be more intentional about our food, but it has been more expensive.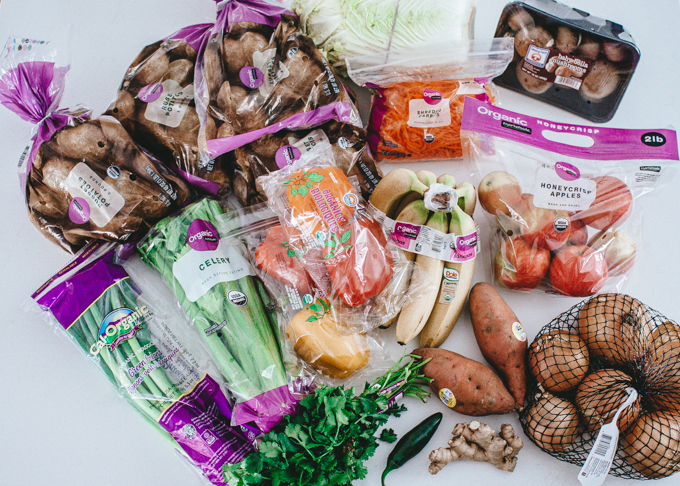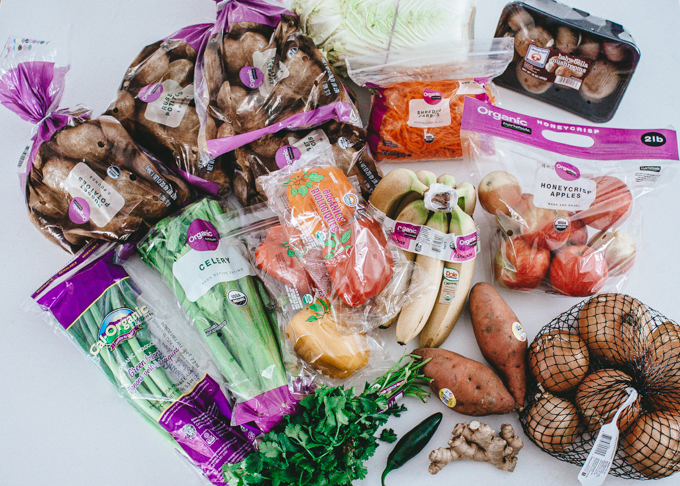 Fresh Fruits and Vegetables:
1 organic Napa cabbage
1 bag organic shredded carrots (Walmart brand)
1 large box baby bella mushrooms (conventional, but mushrooms are on the Clean 15 list.)
4 bags organic russet potatoes (Walmart brand)
1 bag organic honeycrisp apples (Walmart brand)
1 bunch organic bananas (Walmart brand)
4 organic sweet bell peppers (Walmart brand)
1 package organic celery
1 package organic green onions
1 bunch organic cilantro
2 organic sweet potatoes
1 organic jalapeno pepper
1 knob organic ginger
1 bag organic onions (Walmart brand)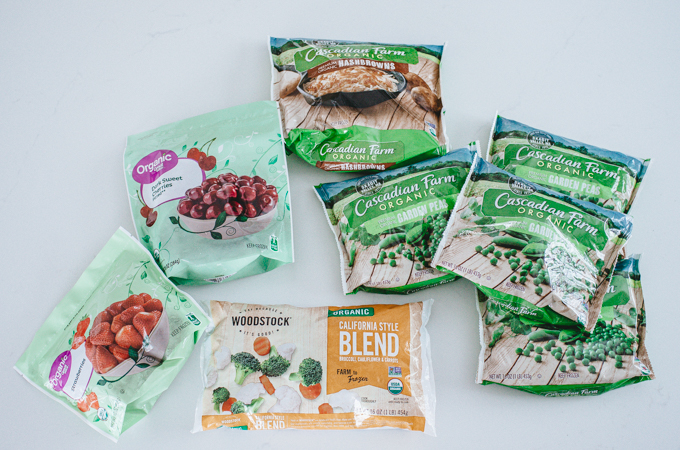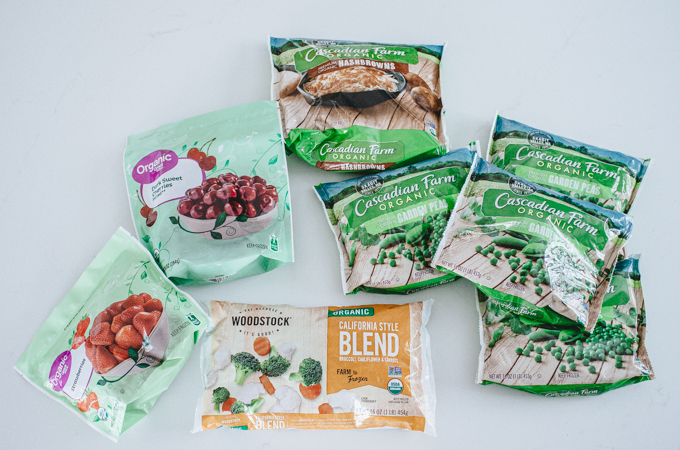 Frozen Fruits and Vegetables:
1 bag organic Woodstock California Blend frozen vegetables
1 bag organic frozen strawberries (Walmart brand)
4 bags organic frozen sweet peas (Cascadian Farm makes the best frozen green peas)
1 bag organic frozen sweet cherries (Walmart brand)
1 bag organic frozen hash browns (Cascadian Farm)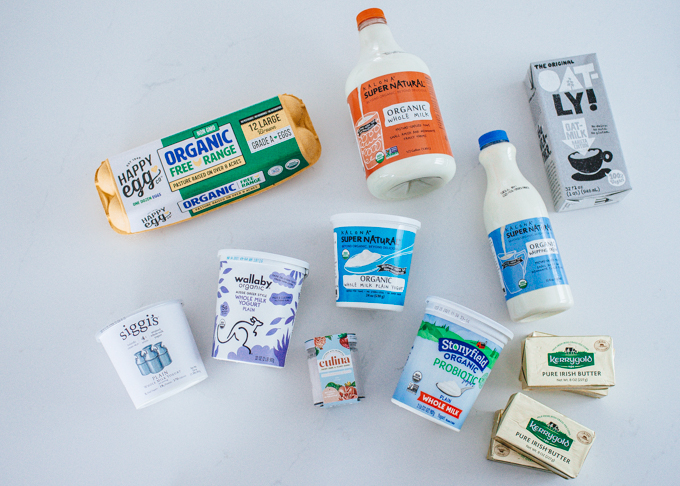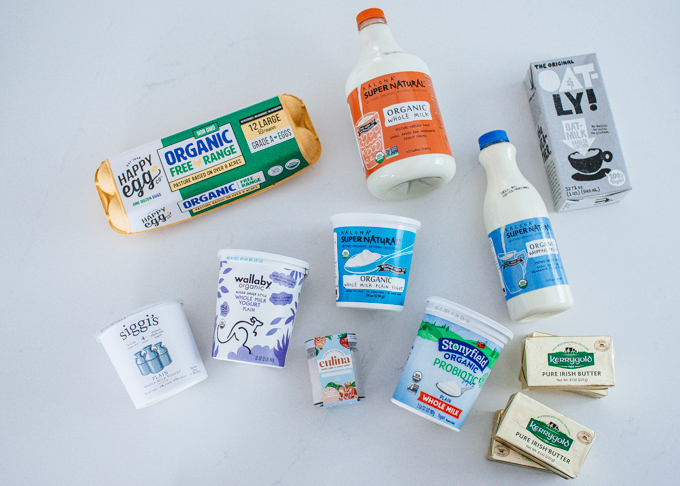 Dairy/Eggs:
We're not eating dairy or eggs, but we're still buying it for the kids:
1/2 gallon organic grass-fed whole milk (Kalona SuperNatural)
1 quart organic grass-fed heavy cream (Kalona SuperNatural)
4 tubs plain yogurt (Siggi's, Wallaby, Kalona SuperNatural, and Stonyfield)
4 blocks grass-fed butter (Kerrygold, from Walmart)
1 dozen eggs (Happy Egg Co. from Walmart)
We also got some dairy alternatives:
Oatly barista blend oat milk
Culina Strawberry Rose coconut milk yogurt
The Culina coconut yogurts are amazing, BTW. Best dairy free yogurt I've ever tried.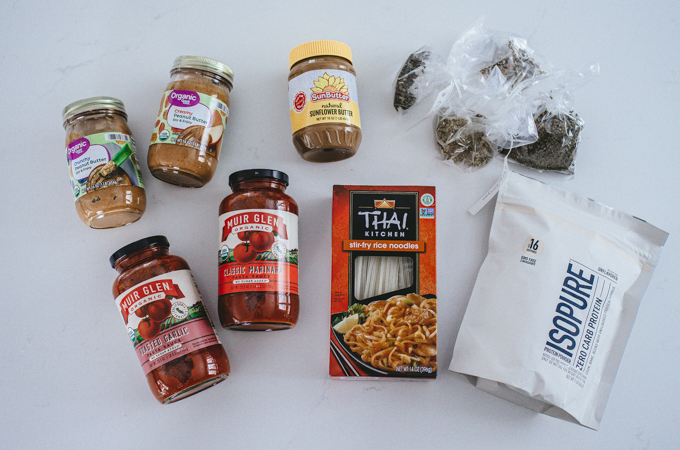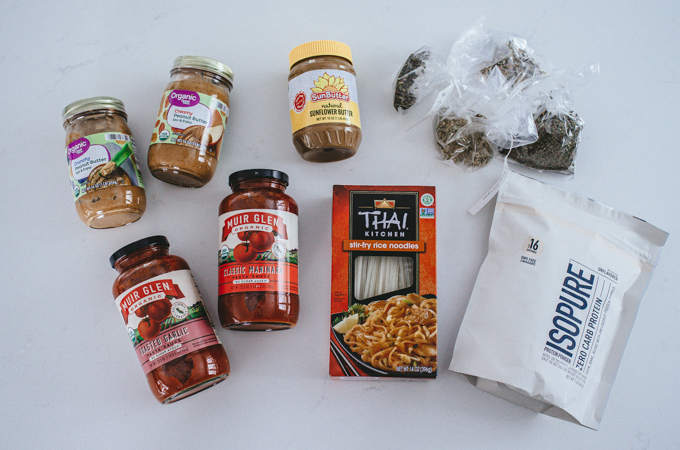 Pantry Staples:
Reuben grabbed some peanut butter and whey protein in anticipation of February – those are top 8 allergens, so we have to wait until February to eat them.
2 jars organic peanut butter (1 cream, 1 crunchy, Walmart brand)
1 jar sunflower seed butter (Reuben can have that but I can't – it contains sugar)
Organic herbs for making an herbal tea (oregano, peppermint, echinacea, and comfrey)
Why protein isolate (Isopure brand from Walmart)
1 box stir-fry rice noodles (Thai Kitchen brand)
2 jars organic pasta sauce (Muir Glen brand – one was roasted garlic, the other was marinara)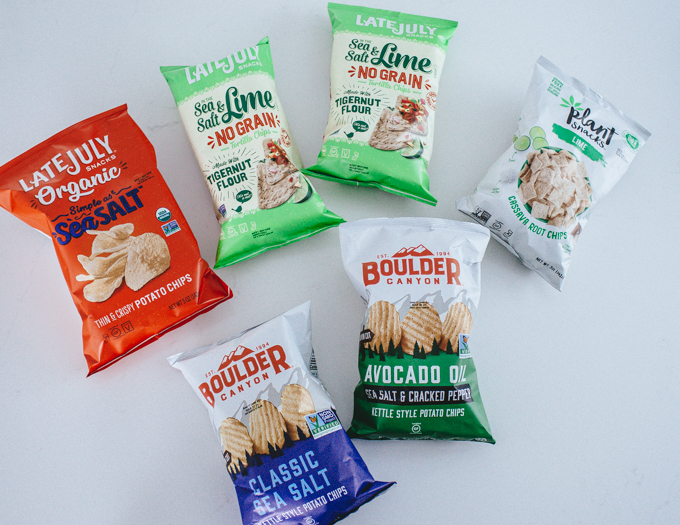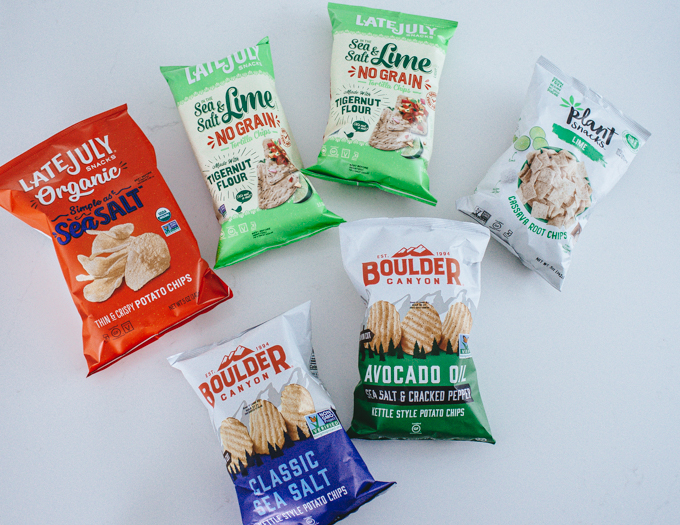 Snacks:
Finally, we have the snacks!
Organic potato chips (Late July brand – these are the best!)
Non-organic potato chips (classic sea salt and sea salt & cracked pepper – I can't have the cracked pepper flavor because it contains sugar)
Lime Cassava Root Chips
Lime Tigernut Flour Chips (these are the best grain free tortilla chips I've tried)
I think that it's SO important to have snacks on hand when you're on a special diet. Otherwise you can start to feel deprived.
Meal Plan:
Now I'll share my meal plan for the week so you can get an idea of what I cook with all this food.
Spaghetti Bolognese
Roast Chicken with Potatoes and Veggies
Noodle Stir-Fry
Instant Pot Beef Stew
Chicken Curry Soup
Shepherd's Pie
So that's the groceries we bought for about a week's worth of food!
You can catch up on my other healthy grocery haul posts here:
Other Grocery Hauls: