I'm sharing what we got on our first ever shopping trip to Costco in the hopes it will give you some ideas for things to buy at Costco!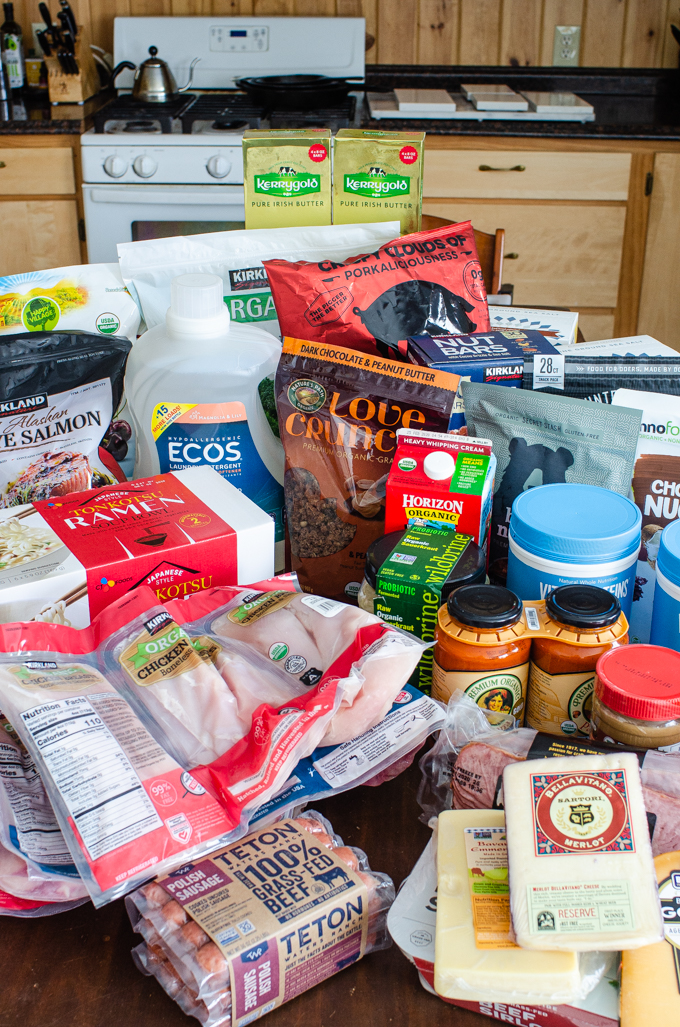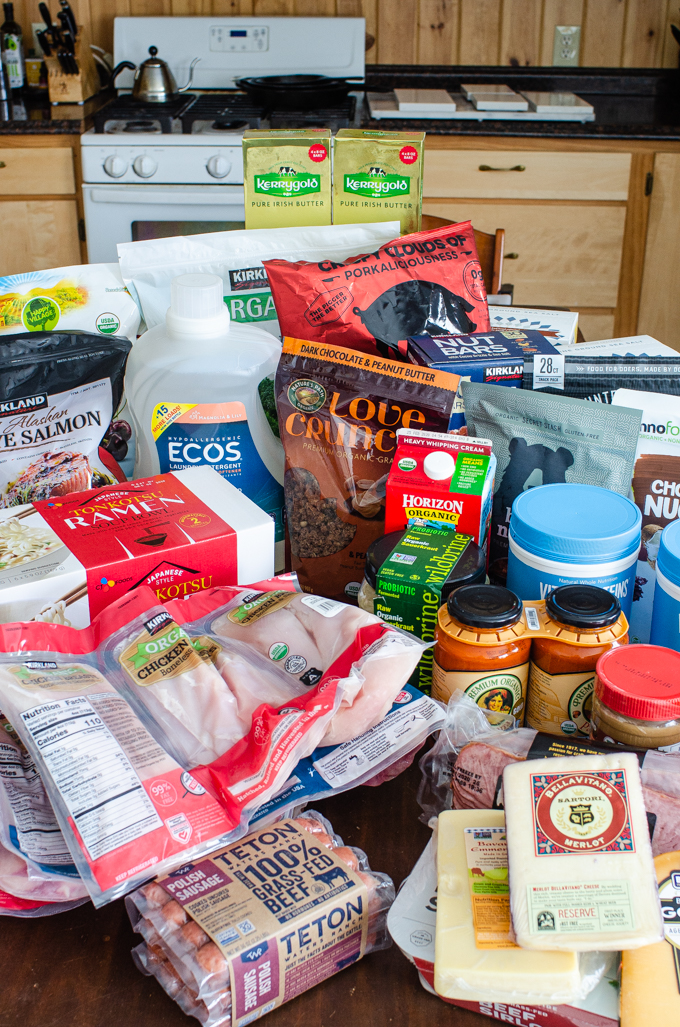 Sooo…the other day Reuben and I went to Costco for the first time…and we may have gone a little crazy. ?
We were on a trip to a bigger city to view countertops for the new house (can you spy the samples on my counter in the photo?) and there happened to be a Costco in the area. So we decided to give it a try! It was a bit overwhelming as it usually is when I go to new store. If I went again I would have a better feel for where everything is.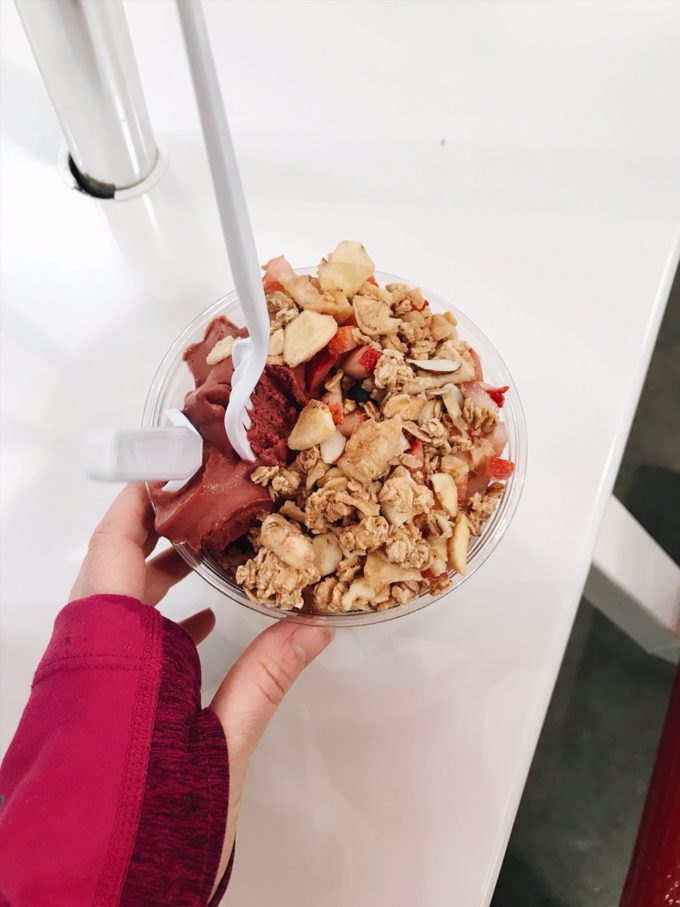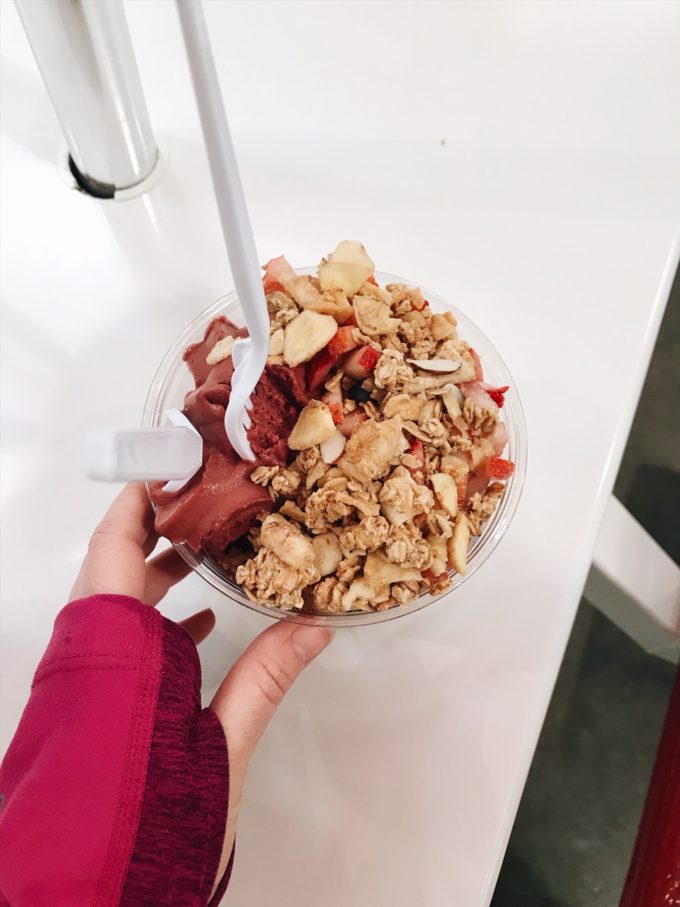 We decided to have lunch there: partly through the sample stations, and partly through the food court. We got a slice of pizza, a hotdog, and an acai bowl. The acai bowl was really sweet and a lot larger than I thought…we had a difficult time eating all of the food! ?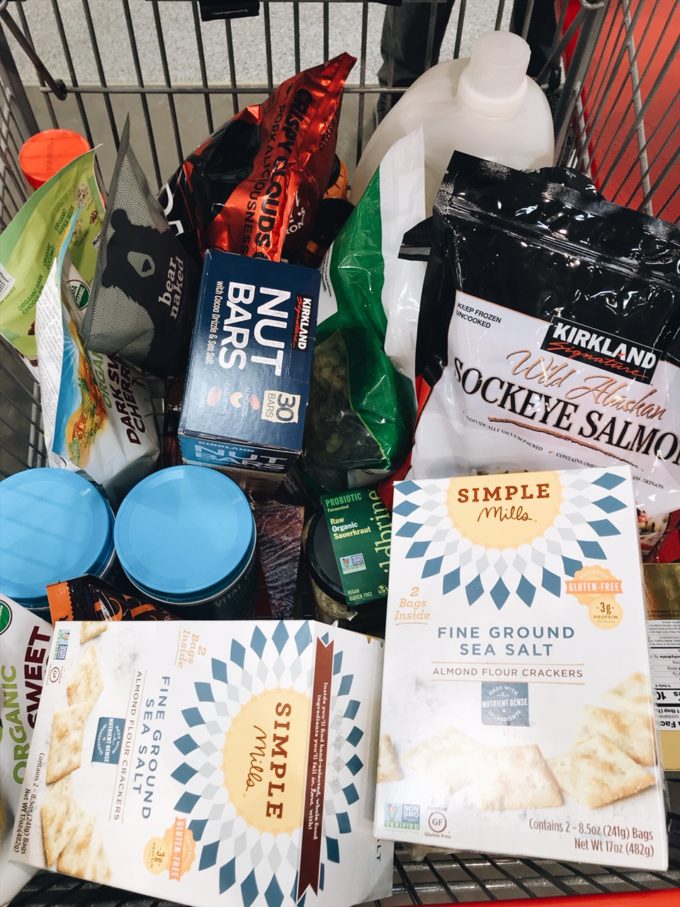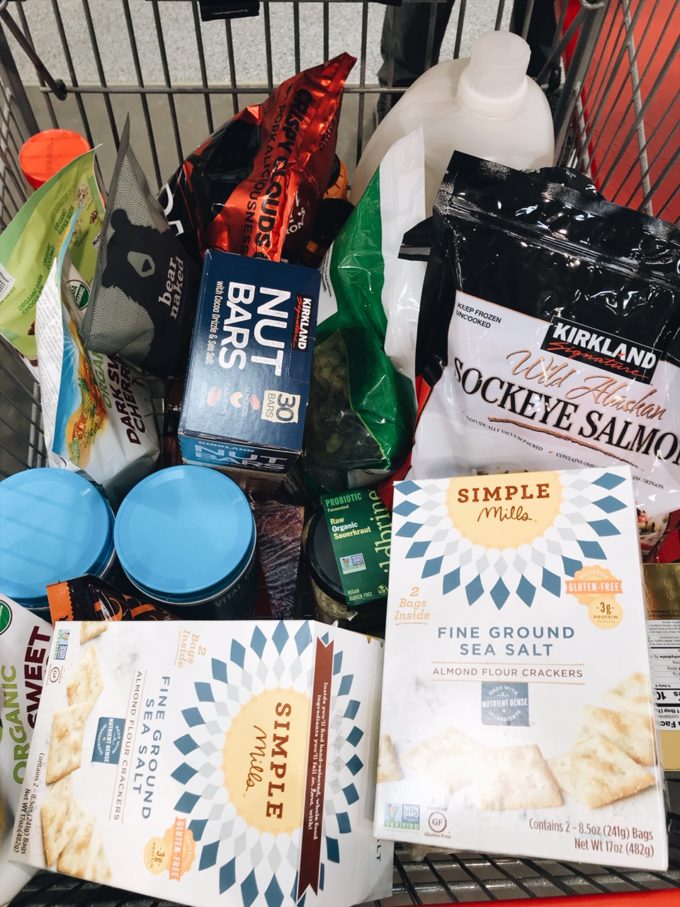 A cart full of food: such a happy sight!
Okay, now I'm going to share everything we got and my thoughts on if it was ?? or ??
Things to Buy at Costco: Meat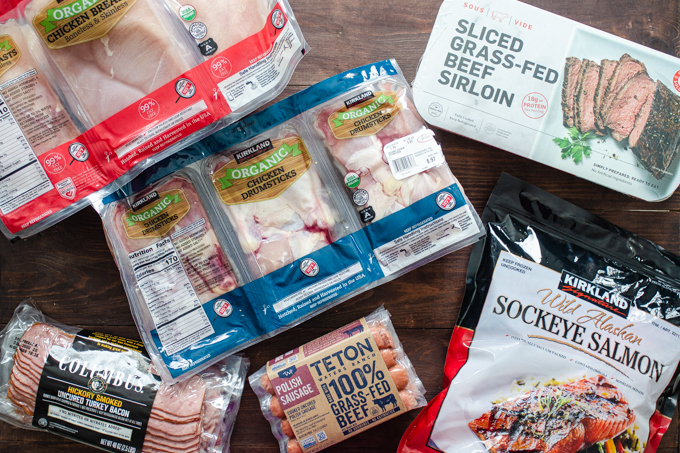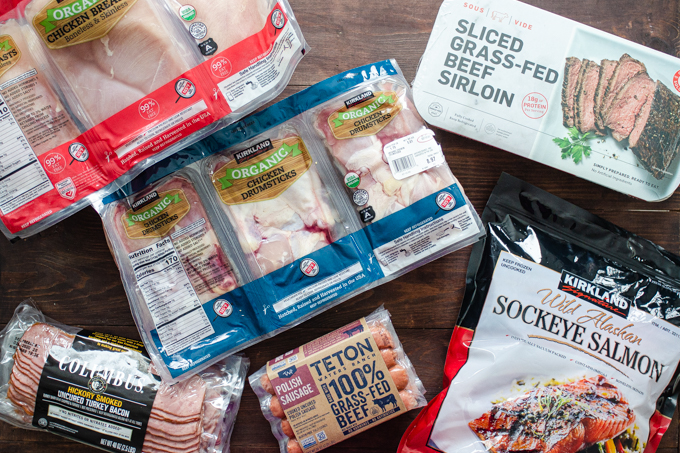 First up, the meat!
The organic chicken at Costco is a muuuch better price than what we can find at our local health food store. I haven't tried the drumsticks yet, but the boneless skinless chicken breasts seem like pretty good quality. Perhaps not quite as high quality as the chicken I usually buy, but you get what you pay for!
I saw the sous vide sliced grass-fed beef and had to try it. It was pretty good, but not out-of-this-world. It's handy for a quick meal. One box fed us for two meals. I probably would pass on it next time.
We got sucked in by the samples and got some hickory smoked uncured turkey bacon. I'm not a huge fan of it because it tastes more like ham than bacon to me, but it doesn't taste bad! Reuben and the kids like it.
We also got some 100% grass-fed beef polish sausages. We haven't tried them yet. I'll update when we do!
The wild Alaskan sockeye salmon was about $10/pound vs the $16-$17/pound I usually pay. It seems like pretty good quality, but there are maybe a few more bones than usual?
Dairy Products: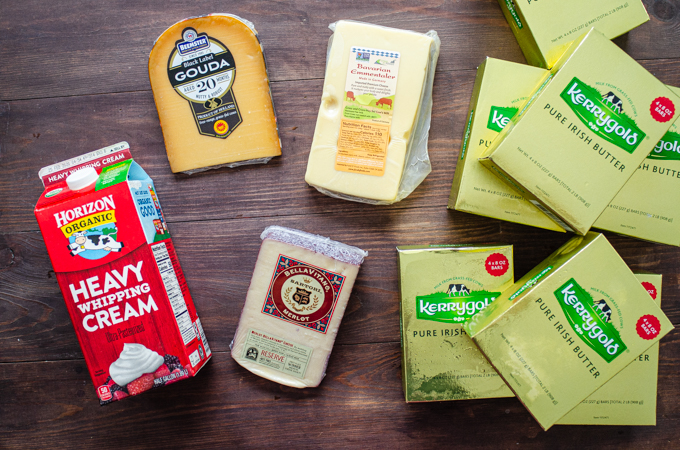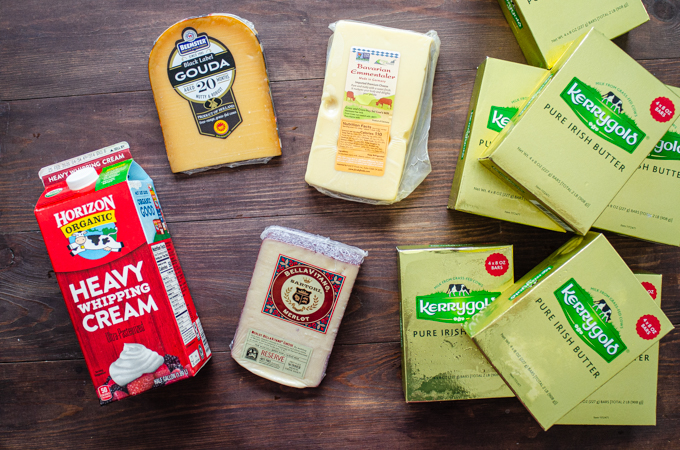 We got a half gallon of Horizon organic cream…it's kind of crazy how fast we went through it. But it made Reuben and I realize that we much prefer Kalona SuperNatural cream. Since the Horizon cream contains thickeners, it has an almost gloopy texture that I'm not a super fan of. But it is cheap!
We got a big block of grass-fed Gouda cheese…that stuff was delicious! We've already eaten it up.
I also grabbed some grass-fed Emmental cheese. It has kind of a Swiss cheese flavor, which isn't my favorite for eating plain.
I also got a block of BellaVitano Merlo cheese for my mom and dad.
Aaaand of course we stocked up on Kerrygold butter. I told Reuben to get 10 packages, but he thought I said 10 pounds. So we're already running low! ?
Things to Buy at Costco: Frozen Fruit and Veggies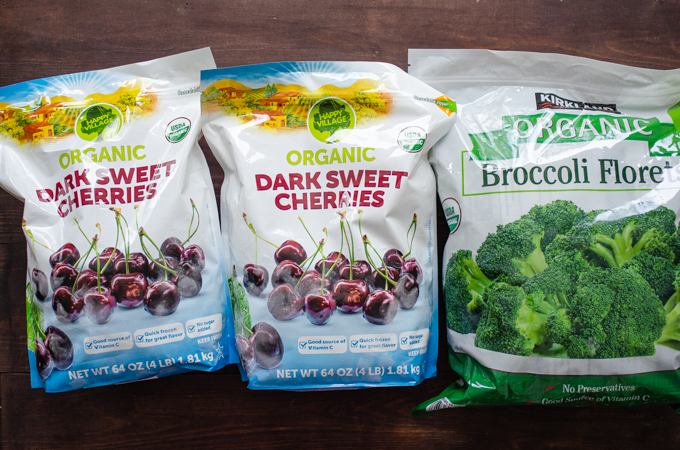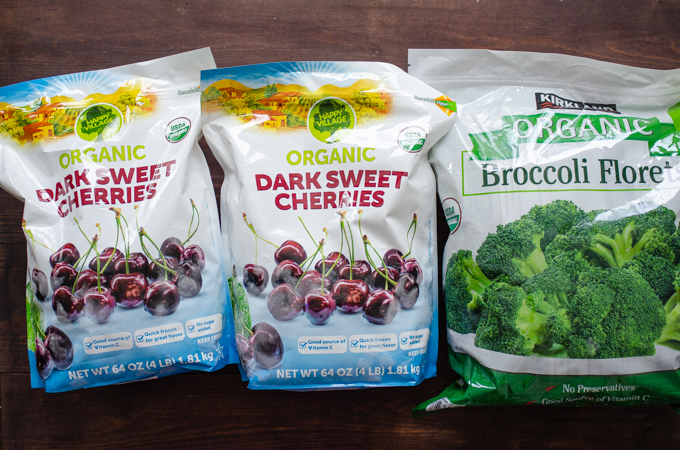 We've been loving making smoothies with frozen cherries lately, so we grabbed two big bags. We also got a big bag of frozen organic broccoli florets. Both the cherries and the broccoli seem like they're good quality! The florets are a bit bigger than the Cascadian Farms ones I usually buy, FYI.
Side note: I think it's totally worth it to pay a little more and buy broccoli florets vs broccoli pieces. Just a personal preference.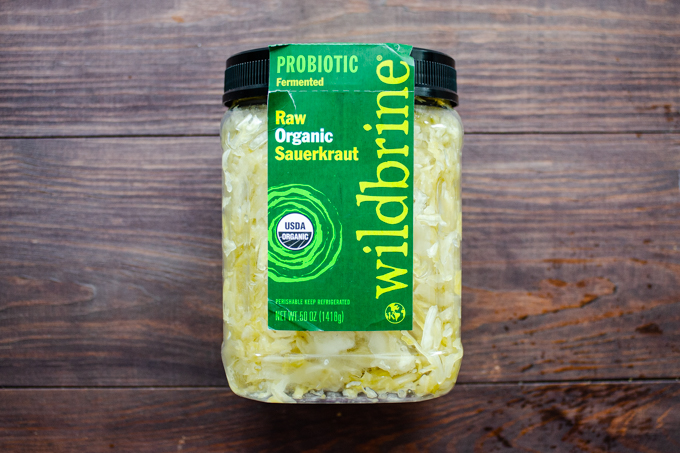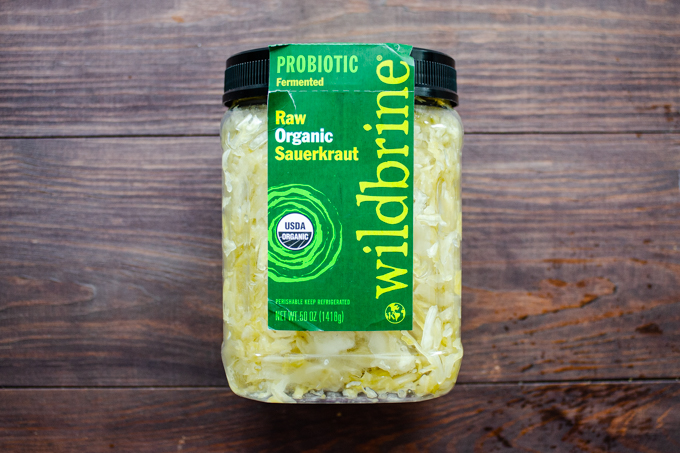 I also got a big jar of Wildbrine organic sauerkraut. Reuben, AKA the sauerkraut critic, prefers Bubbie's sauerkraut. I like both!
Pantry Staples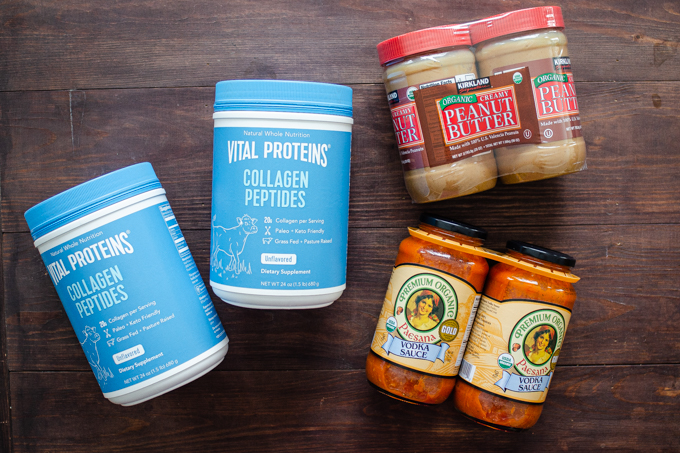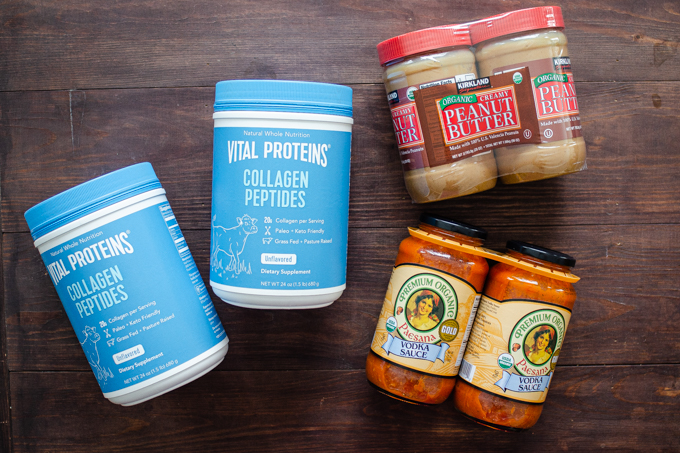 Vital Proteins collagen peptides was on sale for $23.99, so I got two!
My sister has purchased the organic Kirkland peanut butter for us in the past, so I knew I liked it. It's a bit runnier than some other brands of natural peanut butter, but I don't hate it!
I saw the jars of organic vodka pasta sauce…I looked at the ingredients and saw it contains cream and directly put it in the cart. ? We had it for supper the other night, and I thought it tasted like my grandma's spaghetti sauce!
Things to Buy at Costco: Snack Food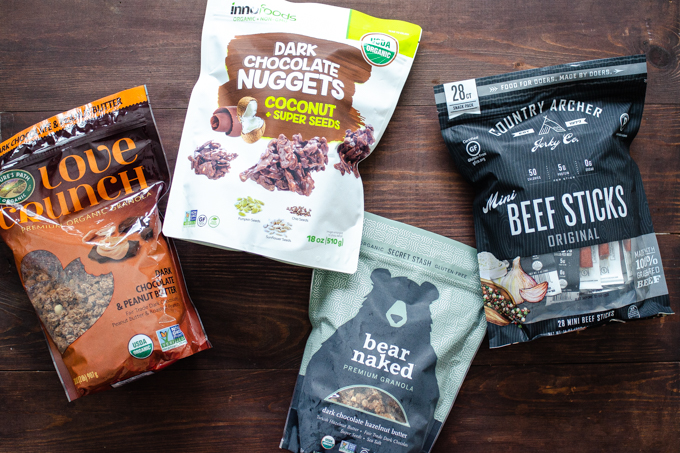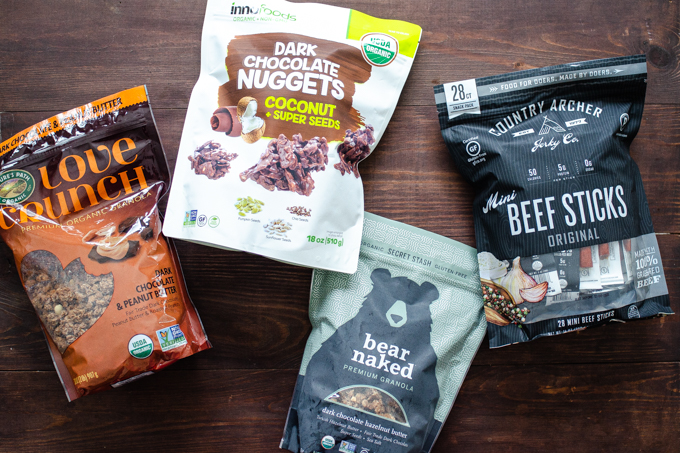 We have been obsessing over the Love Crunch Dark Chocolate and Peanut Butter granola lately. So when we saw a big bag of it, of course we had to get it.
On a whim we decided to try the innofoods Dark Chocolate Nuggets. We're so glad we did! We loved them, and Reuben has been recreating them. I'll have to try to convince him to do a guest post with the recipe. ?
We also tried the Bear Naked Dark Chocolate Hazelnut Butter granola. It was yummy, but a bit sweet for my taste.
They were sampling the Country Archer grass-fed mini beef sticks. I thought the smaller size would be perfect for the kids. They love them!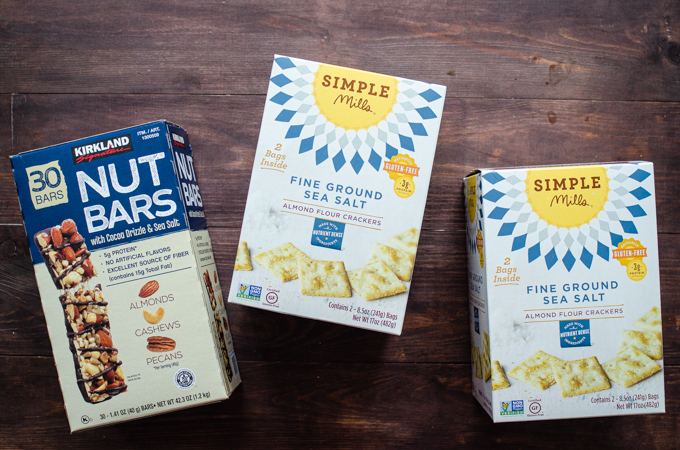 We also got a box of the Kirkland Nut Bars and two boxes of the Simple Mills almond flour crackers. The nut bars are a bit sweet but yummy. I would prefer if Simple Mills were organic, but I like the simple (ha!) ingredients and higher protein content of the crackers.
Miscellaneous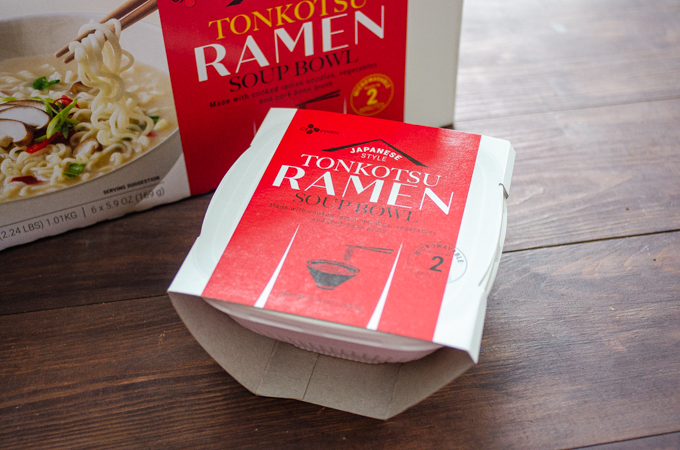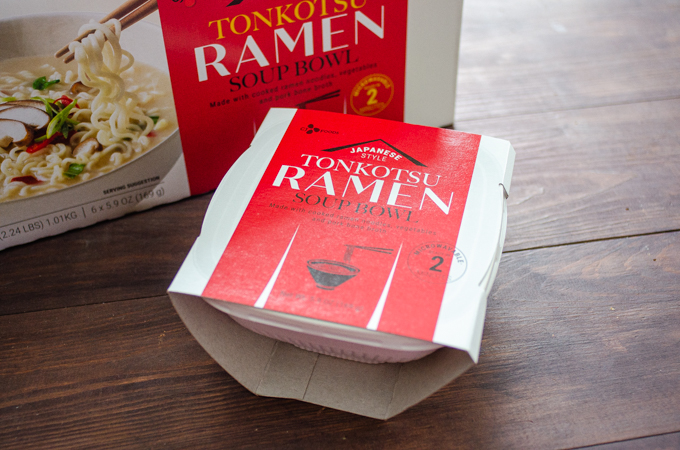 Something that jumped out at me were these Tonkotsu ramen soup bowls. Not organic, but they actually contain pork instead of artificial flavors. They also have freeze-dried veggies which is a nice bonus. I would get them again!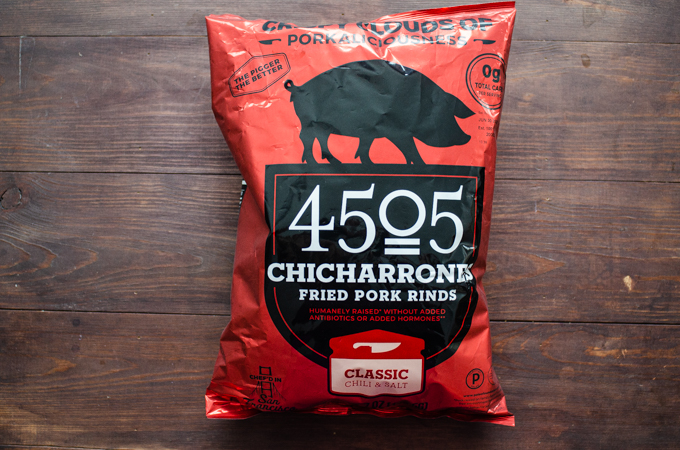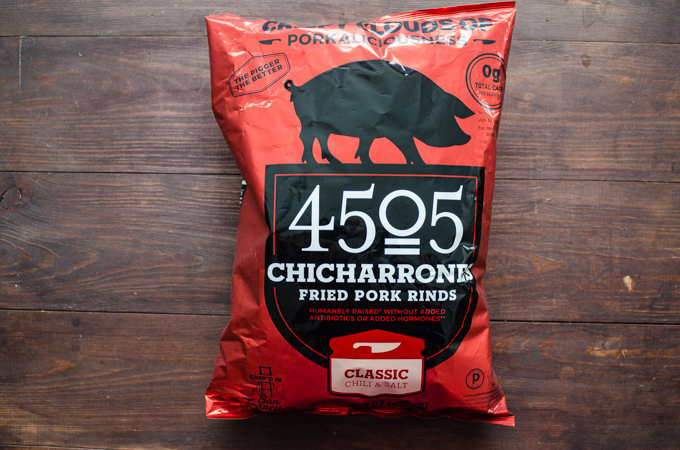 These 4505 chicharrones are yummy! Again, not organic, but they're a fun low-carb snack.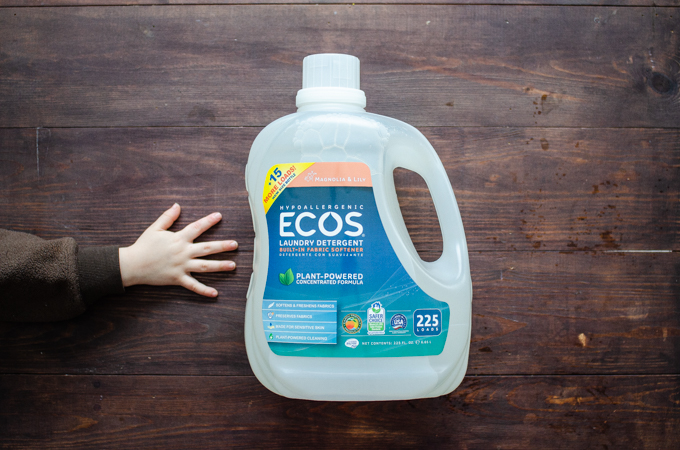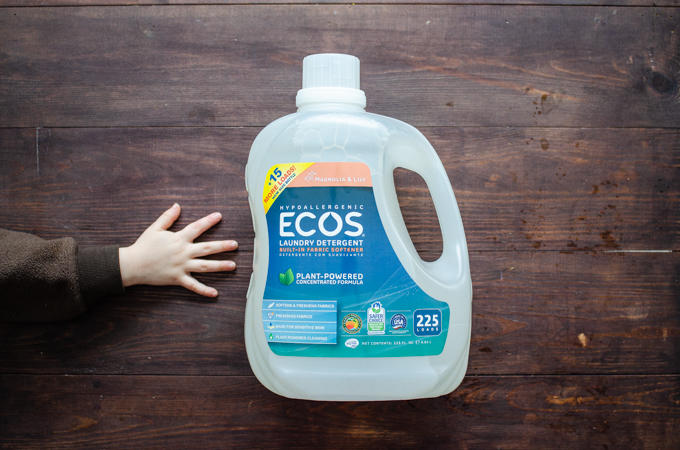 I usually get the Ecos laundry detergent at Walmart, but they had a giant bottle at Costco, so I decided to give it a try. I had Jim put his hand in the photo for size reference, but it still doesn't do it justice. ? It's scented unlike the one I usually get. So we'll see if it's overpowering or irritates our skin.
So those are some ideas for things to buy at Costco. I hope that will help you narrow down your search if you ever make a trip. It really can get so overwhelming!
Now I'm curious: what do you like to buy at Costco? What do I need to pick up next time we go?
More Grocery Hauls: