Skip the store-bought teriyaki sauce and learn how to make your own homemade teriyaki sauce with mirin! This is one of my favorite cooking sauces!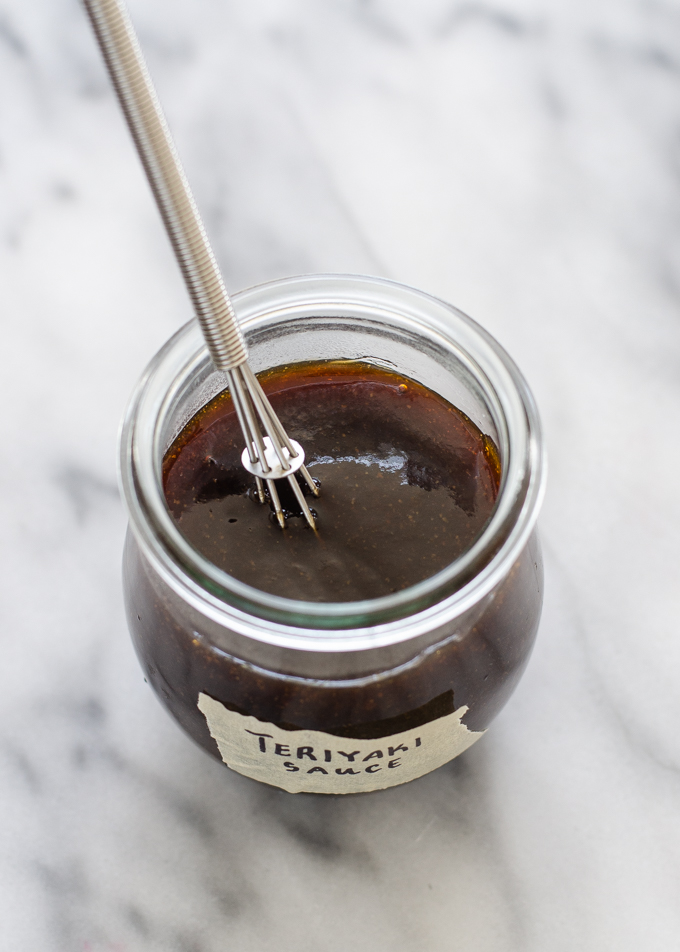 Teriyaki sauce is a popular element of Japanese cuisine. It's a sweet, sour, and savory sauce.
The main ingredients are a combination of soy sauce, vinegar, and mirin, and it's thickened with a bit of cornstarch.
I'm going to admit right from the start that this is NOT authentic teriyaki sauce. From my research, the authentic kind is made without seasonings like garlic and ginger.
But, being a full blooded American, I like my teriyaki sauce with punchy flavors. So that's the type I'll be sharing with you!
You'll be able to pull it off in about ten minutes with only 8 basic ingredients!
Okay, let me show you how to make this simple and easy teriyaki sauce recipe!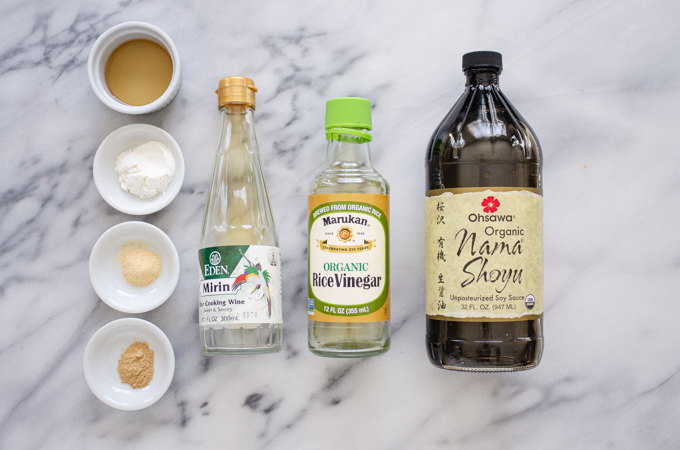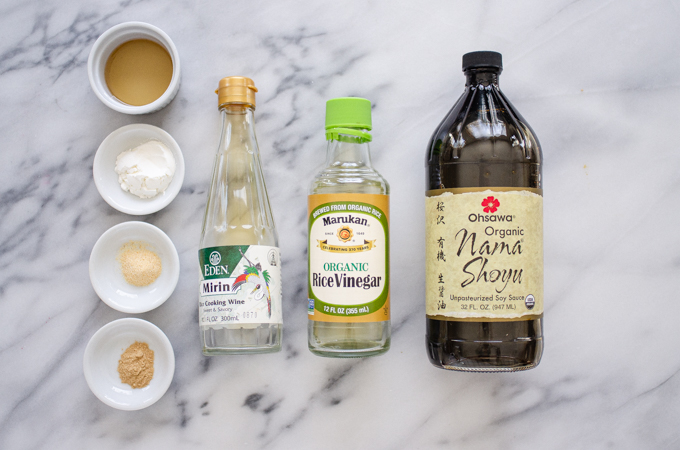 Ingredients:
You'll only need a few pantry staples to make this teriyaki sauce:
Maple Syrup: I like to use maple syrup to sweeten this teriyaki sauce, but feel free to substitute honey, dark brown sugar, or regular sugar. Feel free to reduce the sugar content even more if you prefer.
Cornstarch: This is needed to thicken and emulsify the teriyaki sauce. You could also experiment with arrowroot powder or tapioca flour, but just know that the texture will be a bit different.
Garlic Powder: This is optional, but I really like the flavor that a bit of garlic lends to this sauce.
Ginger: Again, this is optional, but I just adore ginger. You could even try fresh ginger, but I haven't personally tested that. For my tastes, I seasoned with equal parts garlic and ginger. But feel free to increase or decrease either if you wish!
Mirin: Mirin is basically rice cooking wine. You may be able to find it at your local grocery store, or you can always purchase it online.
Rice vinegar (AKA Rice Wine Vinegar): This is what lends that lovely tang! While a rice vinegar is strictly necessary (you could substitute white vinegar or white wine vinegar), it really is a nice flavor. You could get away with apple cider vinegar, but it will impart a stronger flavor. This is the rice vinegar I like best.
Soy Sauce: I like to buy this Ohsawa organic Nama Shoyu because it's unpasteurized so its enzymes and beneficial organisms aren't killed off.
Water (not shown): To ensure that the sauce isn't too thick, you'll need to add some water as well.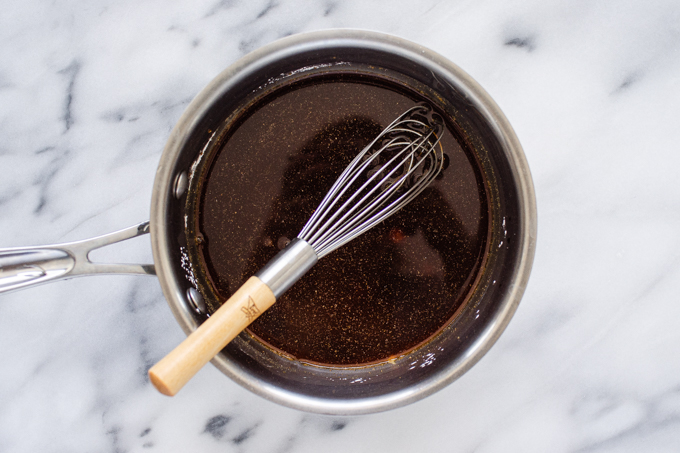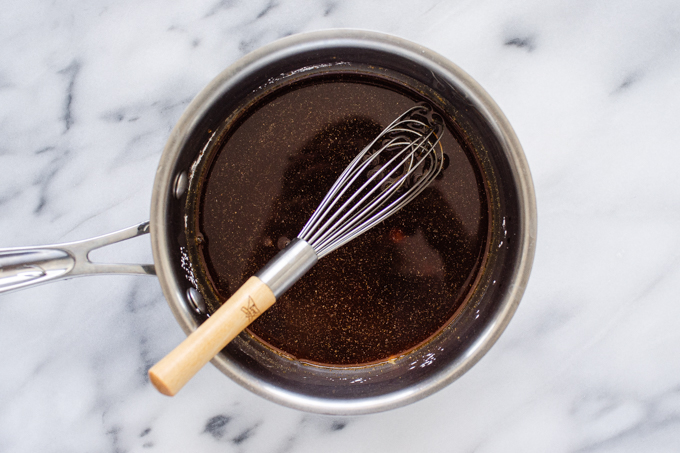 How to Make Teriyaki Sauce with Mirin:
The cooking process is sooooo easy.
It almost feels like cheating, but all you do is dump everything into a small saucepan and bring it to a boil over medium heat, whisking now and then. Boom. That's it.
If you choose regular sugar instead of maple syrup, you'll want to whisk until the sugar dissolves.
You could make a cornstarch slurry with the cornstarch and water, but I personally don't find that necessary.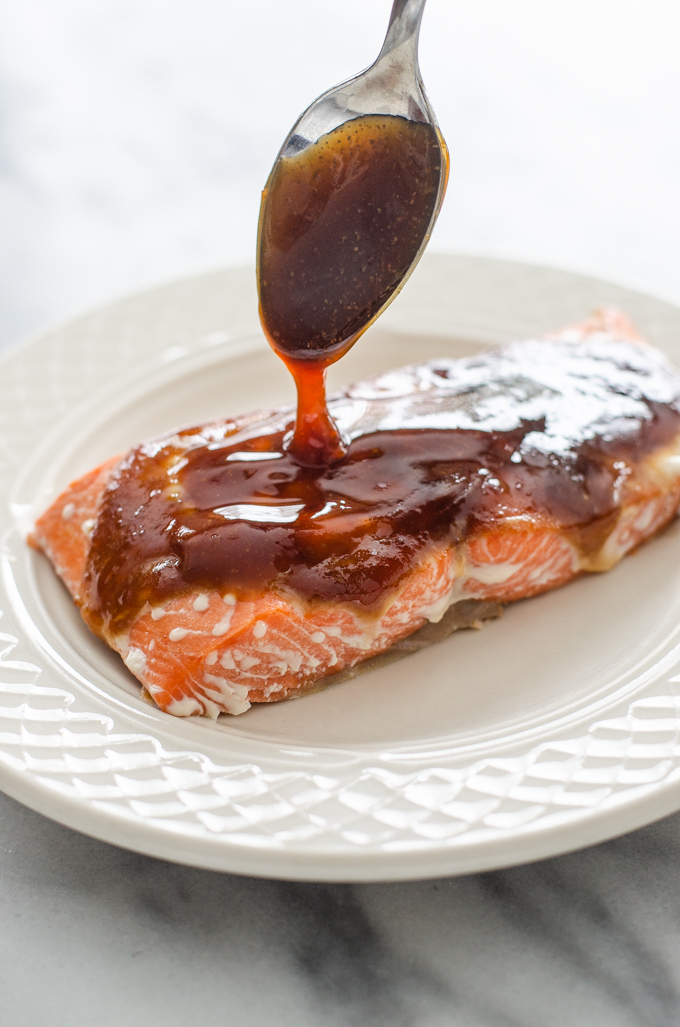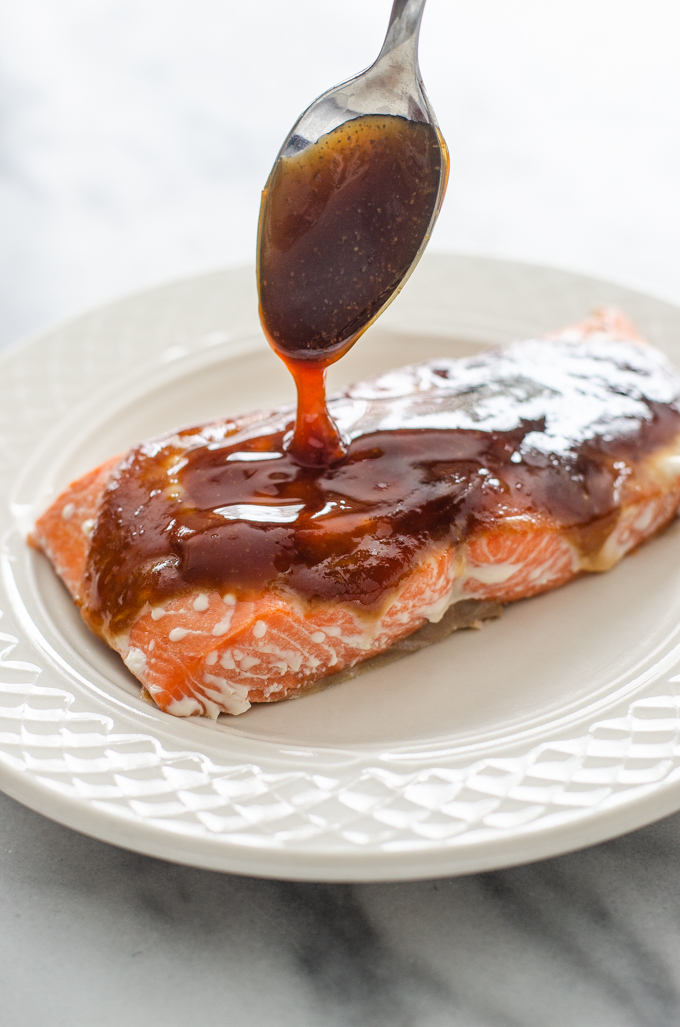 Ways to Serve:
You can use this Japanese sauce in many different ways:
It's lovely drizzled on top of salmon fillets to make teriyaki salmon.
Or you could toss it with chicken for easy teriyaki chicken.
You could also use it in stir fries as the sauce.
We like it with rice bowls (check out this post to learn why I eat white rice) or fried rice.
You could use it like a BBQ sauce to make teriyaki burgers. Yum!
It could lend such a great flavor as a dipping sauce for dumplings, fried chicken, etc.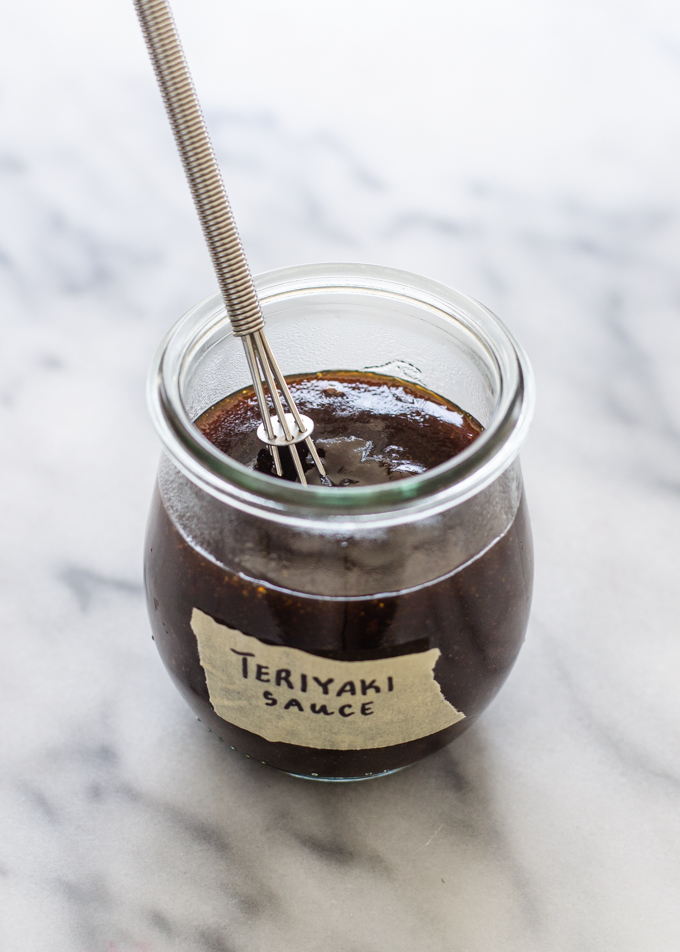 Storing:
Store the teriyaki sauce in an airtight container in the refrigerator.
A pint mason jar would work great here.
Notes:
You can adjust the thickness of this homemade teriyaki sauce by adding or subtracting tablespoons of water. If you'd like a thicker sauce for glazing salmon, use only 1 tablespoon of water. Or, if you'd like to thin it out so it's more of a drizzling consistency, up it to 3-4 tablespoons. You'll want to make a thinner consistency if you'll planning on using this as a teriyaki marinade.
I used maple syrup, but you could substitute honey or cane sugar.
If you want to avoid alcohol, substitute 1 tablespoon rice vinegar and 1 tablespoon water for the 2 tablespoons of mirin.
So that's how to make my easy homemade teriyaki sauce! Make sure to check out my other homemade condiment recipes below:
More Homemade Condiment Recipes:
Recipe Card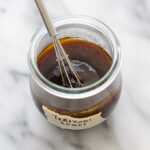 Homemade Teriyaki Sauce
An easy, American-style teriyaki sauce recipe.
Ingredients
1/4

cup

organic soy sauce

2

tbsp

pure maple syrup

1

tbsp

organic rice vinegar

2

tbsp

mirin

(rice cooking wine - see note)

1/2

tsp

organic ground ginger

1/2

tsp

organic garlic powder

2

tbsp

water

(see note)

1

tbsp

organic cornstarch
Instructions
Place all ingredients in a small saucepan. Bring to a boil, whisking often. Remove from heat and serve.
Recipe Notes
If you can't find mirin or you want to avoid alcohol, substitute 1 tablespoon of rice vinegar and 1 tablespoon of water for the mirin.
You can adjust the thickness of the sauce by increasing or decreasing the amount of water. 1-2 tablespoons is nice for glazing. You may wish to thin it out for drizzling.
Updated on April 14, 2023