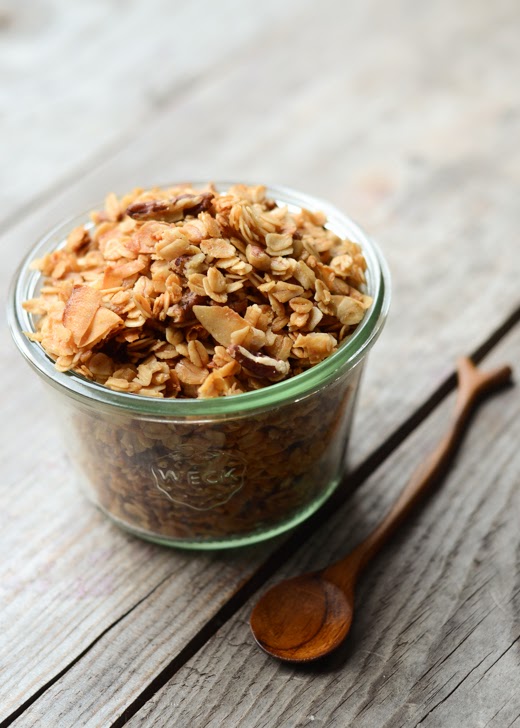 This is the best granola recipe that I've ever made. The ingredients seem basic, but the flavor is spot on.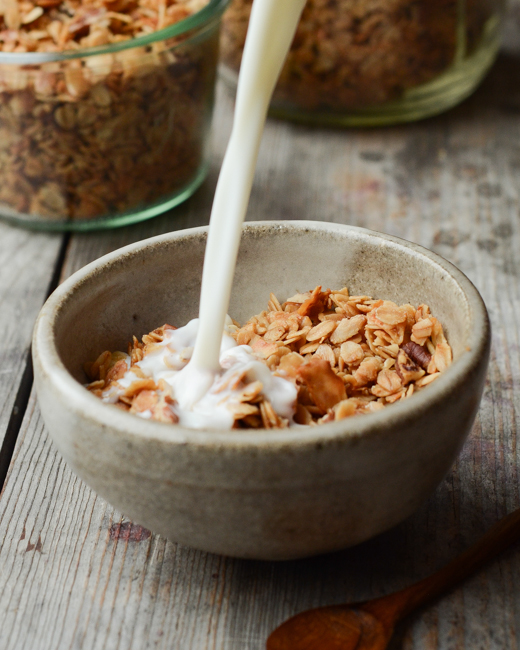 I have been making this granola recipe for over five years. You know a recipe is gold when you keep going back to it after trying many others.
Sure, it's fun to try new recipes and flavors. But somehow I always return to this tried and true granola. It really can't be beat for its simple, hearty, wonderful flavor.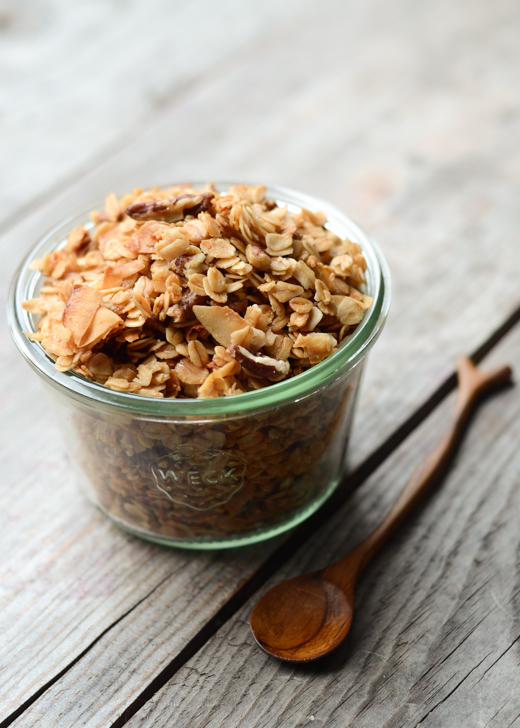 Waaaay back in 2009 I first posted about this recipe on Cooking for Seven. I had found the recipe on my then-online baking bible:
Joy of Baking
. For some reason Stephanie (the author of that website) decided to change the recipe she had online.
I felt very fortunate to have saved the original before it was moved.
And so I felt that I should share this recipe with ya'll again. It will forever be my favorite granola.
How to Make the Best Granola Recipe: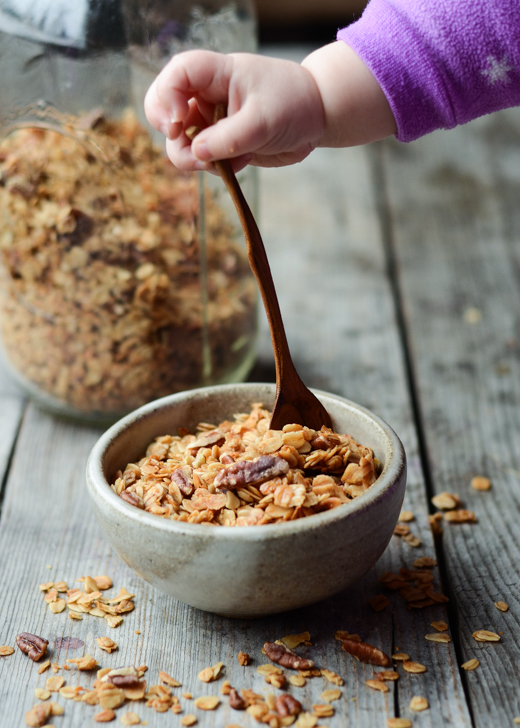 Equipment:
All you really need is a large mixing bowl, a wooden spoon, a small saucepan, and a baking sheet. Parchment paper makes cleanup really easy, but it isn't strictly necessary.
Ingredients:
You only need nine ingredients to make the best granola recipe:
Old fashioned rolled oats (don't use quick cooking oats)
Shredded or chipped desiccated coconut
1 cup of nuts of choice (pecans are my absolute favorite, but I've also used a combo of pecans and sliced almonds)
Unrefined sea salt
1/2 cup salted butter (if you use unsalted, increase the amount of unrefined salt)
A mix of honey and maple syrup (you can use all maple syrup or all honey, but a mix is the best)
Pure vanilla extract (don't use imitation unless you just love the flavor)
Dried fruit (I usually leave this out because it's not my jam, but feel free to include it if you like!)
Baking Method:
This granola recipe is baked low and slow for the best, most even browning. Make sure to stir it frequently as it bakes so you don't get dark patches and light patches.
It will seem kind of soft when it first comes out of the oven. But it will crisp up as it cools.
And in the style of
Top With Cinnamon
, I had to share a gif of Reuben pouring milk over the granola. I convinced him, still bleary-eyed from sleep, to help a food-blogger-girl out.
More Breakfast Recipes: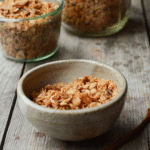 The Best Granola Recipe
A basic granola recipe that doesn't taste basic!
Ingredients
4

cups

old-fashioned rolled oats

1

cup

of shredded or chipped coconut

1

cup

nuts of choice

coarsely chopped (I love pecans)

1/4

teaspoon

real salt

1/2

cup

1 stick butter

1/4

cup

honey

1/4

cup

pure maple syrup

1/2

teaspoon

pure vanilla extract

1

cup

dried fruits

cranberries, cherries, apricots, raisins, dates, etc., optional (I usually leave these out)
Instructions
Preheat oven to 300 degrees F (150 C). Line a rimmed baking sheet with parchment paper or a silpat.

In a large bowl, mix together the oats, coconut, nuts, and salt.

In a small saucepan set over medium heat, melt the butter. Remove from heat and stir in the honey, maple syrup and vanilla. Pour this mixture over the dry ingredients and toss together, making sure all of the dry ingredients are evenly coated.

Spread onto the prepared baking sheet and baking in the preheated oven for 20-30 minutes, or until golden brown. Stir the granola every 10 minutes and rotate the pan halfway through baking.

Remove from oven and allow to cool in the pan on a wire rack. Once the granola is completely cool you may stir in the dried fruit. Store in an airtight container at room temperature, or in the refrigerator or freezer for longer storage.