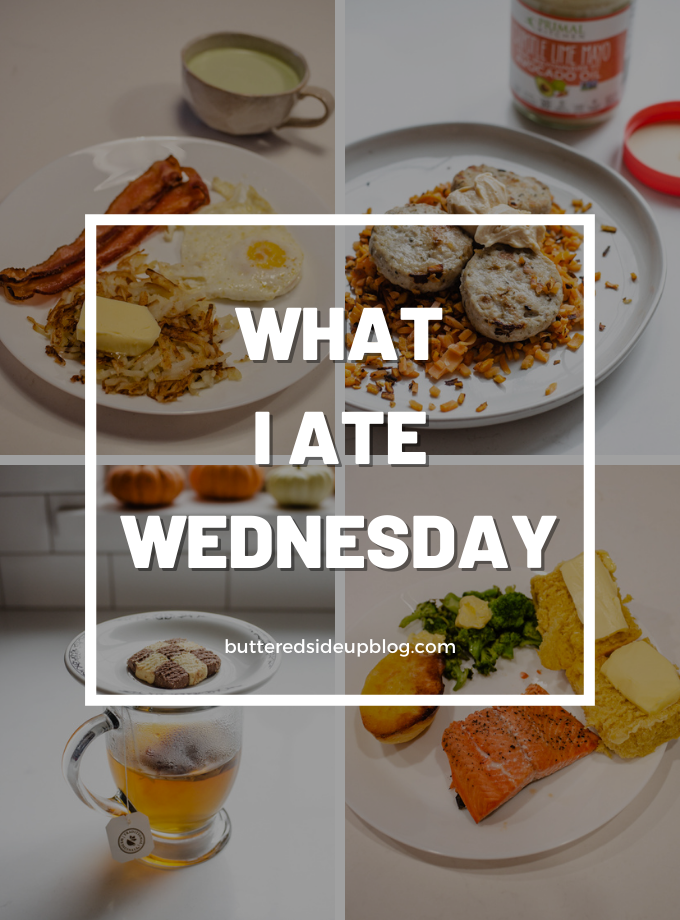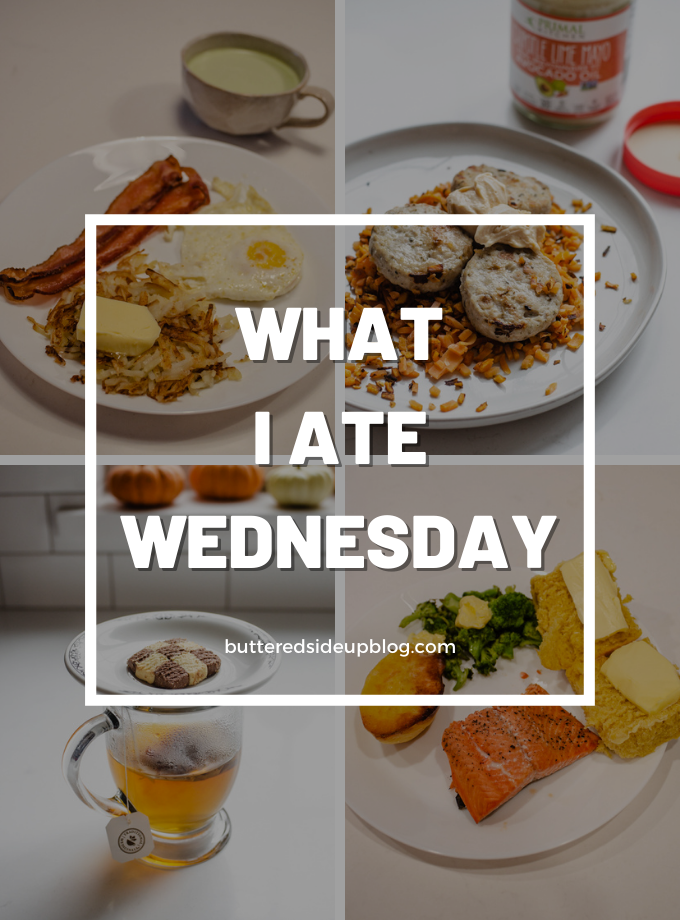 It's been a little while since I last shared a What I Ate Wednesday, and since I don't have a new recipe quite ready for you this week, I thought this would be perfect.
In case you're new hear, What I Ate Wednesday is my chronicles of what I ate in a day. I try to eat natural, whole foods as often as possible, but I also enjoy treats when I want to!
Balance is my goal. I guess you could call my style intuitive eating with a healthy focus?
You can click that link above to access the What I Ate Wednesday archives and binge on past WIAW posts!
Alright, let me show you everything I ate last week on Wednesday!
Here's a little vlog of my day:
Keep reading if you prefer text over video!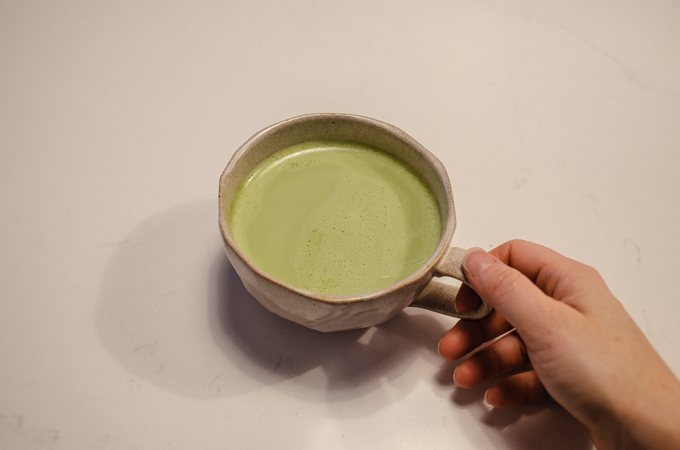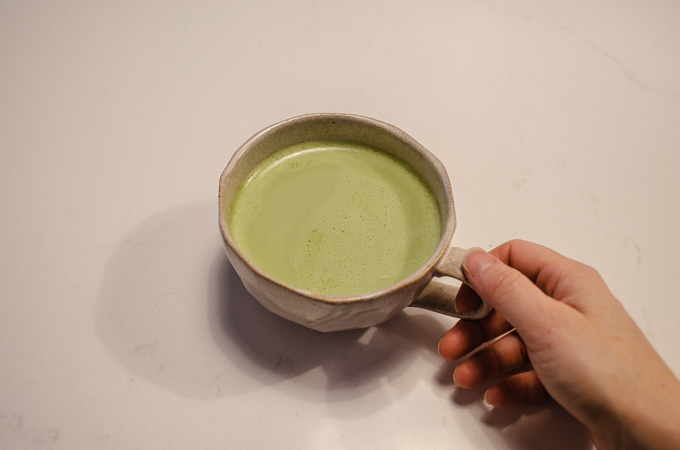 Breakfast
First thing nearly every morning, I make myself a matcha latte. Matcha has nearly as much caffeine as a cup of coffee, but it doesn't give me jitters.
Matcha is the best thing about my morning. Or at least one of the best things. 😉
Our milk wasn't cooperating (I think it was getting a bit old?), so I made myself some matcha with cream instead of frothed milk.
I also added a bit of homemade vanilla syrup to sweeten it up.
It was kind of lukewarm since I poured a bunch of cold cream into the hot matcha.
But at least I got my matcha fix.
In warmer weather I sometimes like to make myself an iced matcha instead.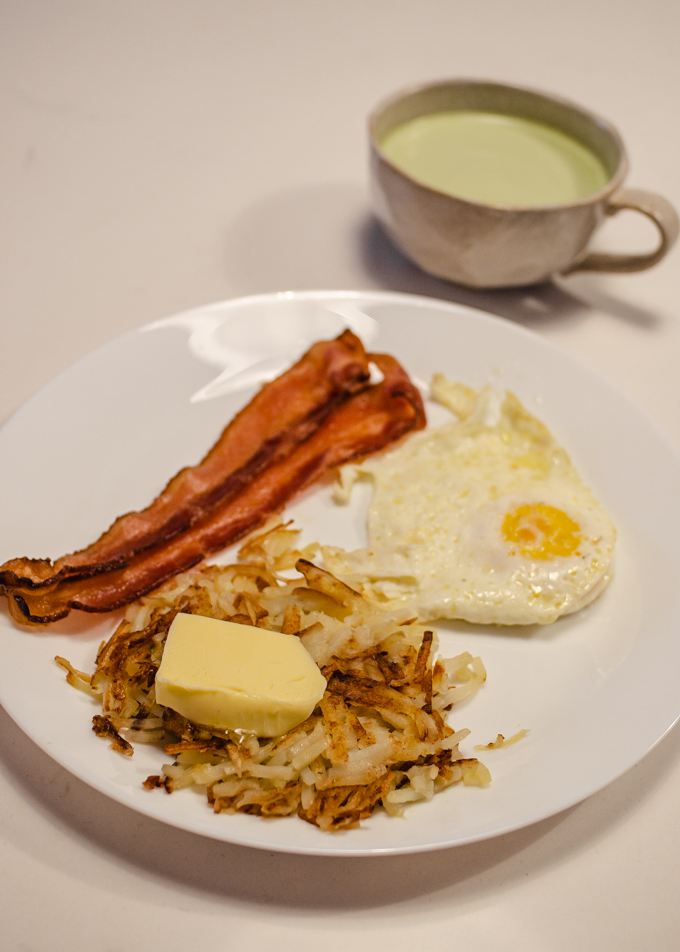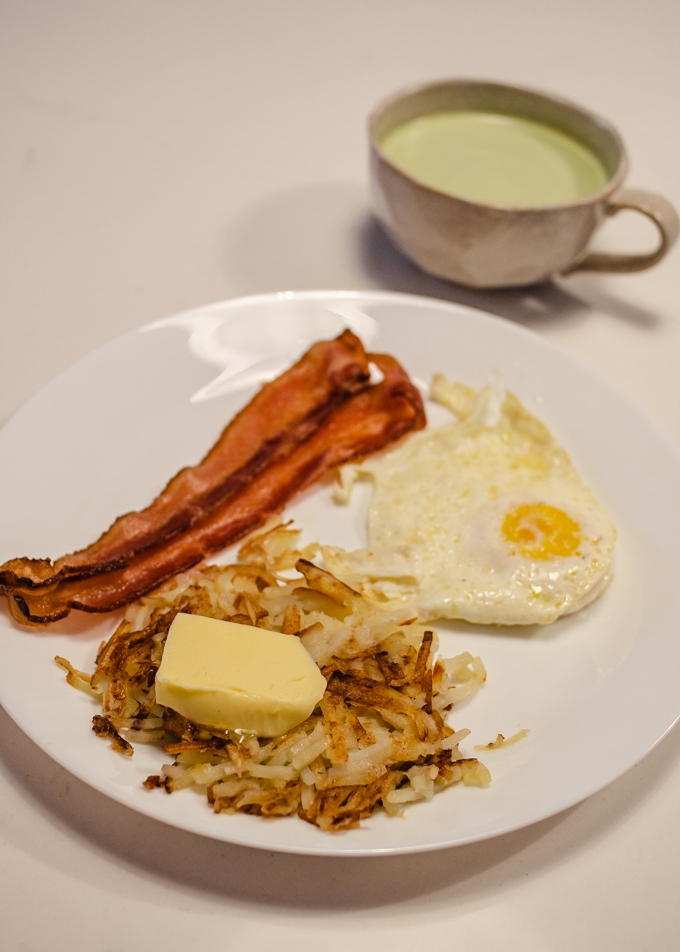 Reuben made us some fried eggs, bacon, and hash browns for breakfast.
He's been cooking us breakfast before he leaves for work lately.
If he leaves before the kids and I eat breakfast, he puts it in the warming drawer.
I don't normally have a morning snack, so the next meal is…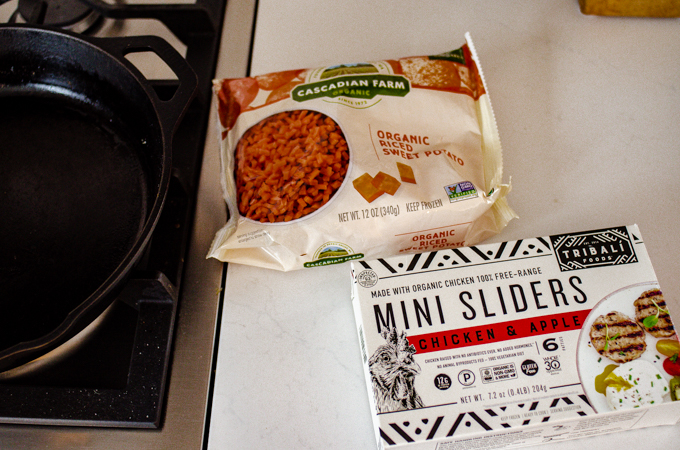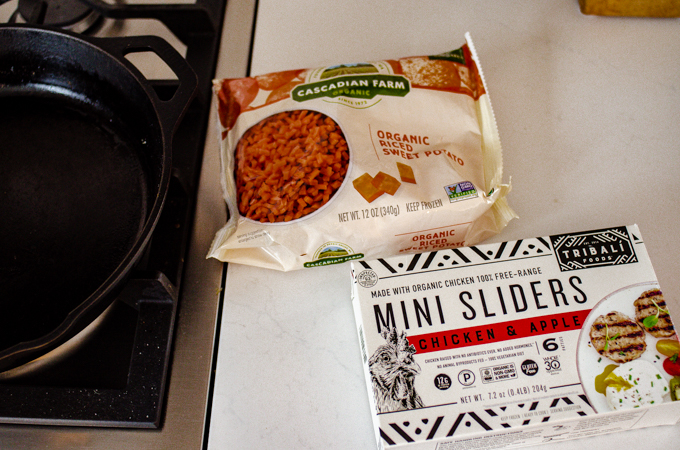 Lunch
I've been trying to incorporate more protein into my diet. 30 grams of protein per meal is my goal.
I found these mini chicken apple sliders at Walmart.
It's the brand Tribali.
I had some organic riced sweet potatoes in the freezer, and I figured they'd make a nice carby base.
I fried up the frozen sweet potatoes and sliders in a cast iron skillet.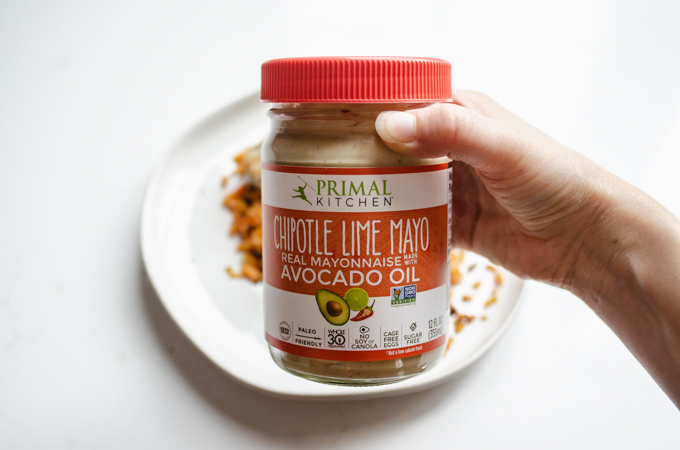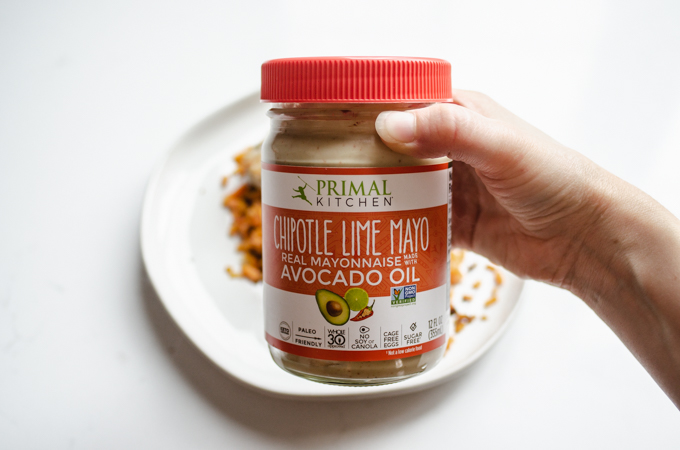 Then I put some Primal Kitchen Chipotle Lime Mayo on top.
I discovered this mayo kind of by accident.
It was on sale, so I gave it a shot.
Turns out it's actually yummy.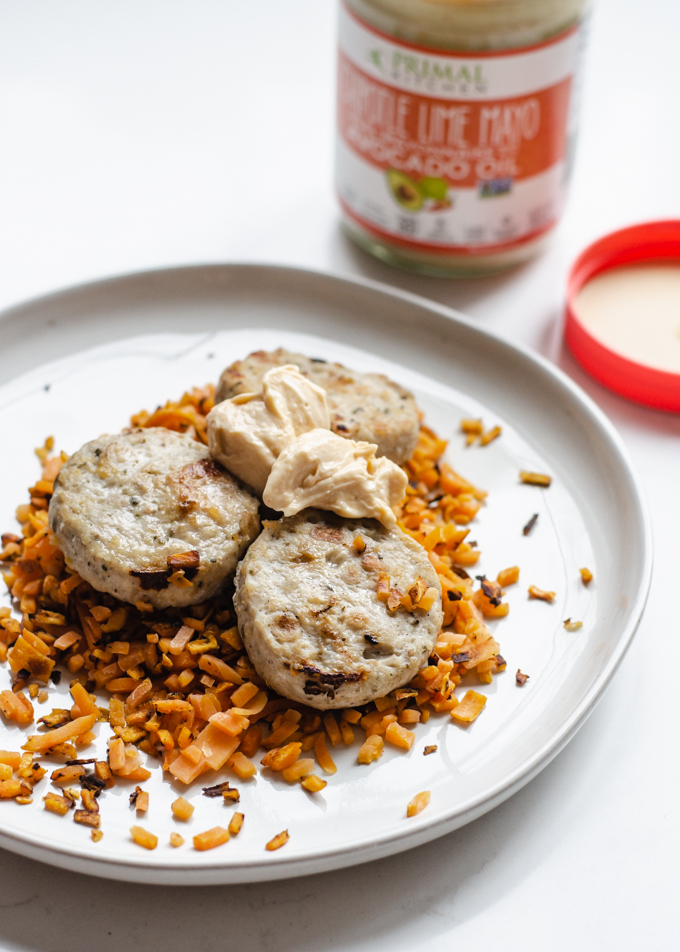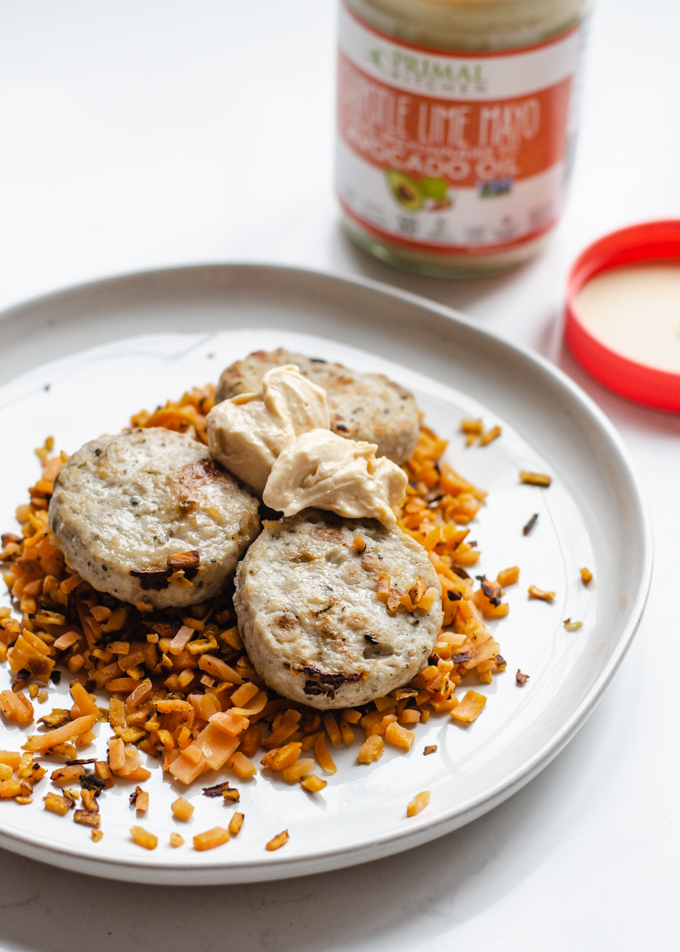 It may not look like a lot of food, but I'm proud of myself for finishing this off after a good sized breakfast.
Sometimes eating three regular meals a day feels like an accomplishment.
I've been struggling with having a healthy appetite lately. I don't know if it's stress or health related.
By the way, what do you like to do over your lunch break? Just focus on eating, or try to read a book?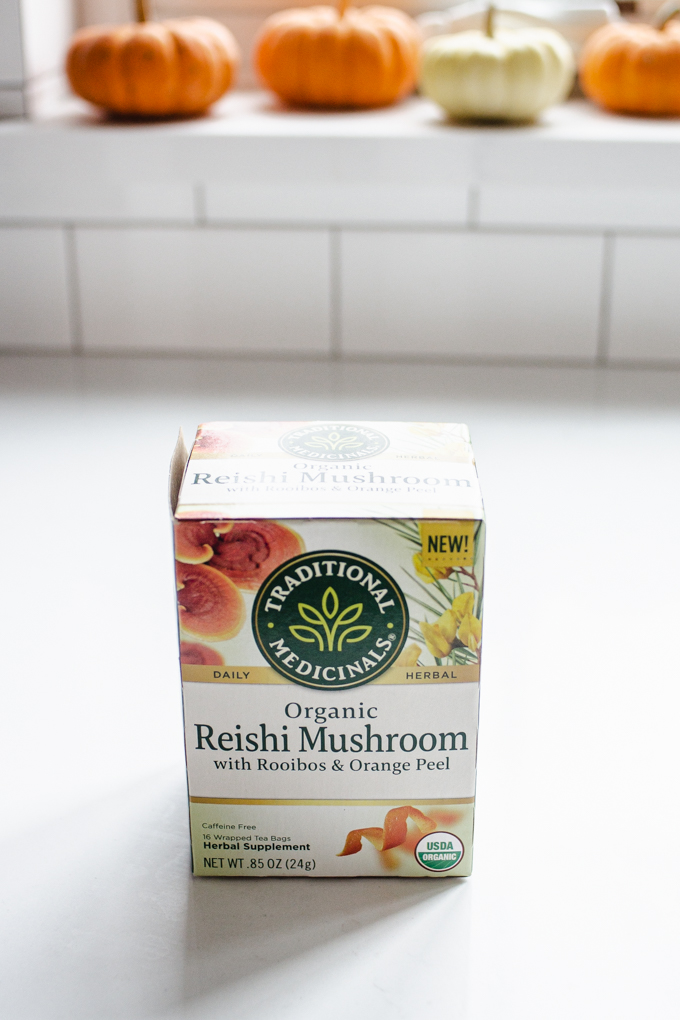 Snack
In the afternoon, I decided to make myself a snack.
I brewed myself a mug of this Traditional Medicinals Reishi mushroom rooibos & orange peel tea.
It isn't amazing, but it's caffeine free.
I've been trying to incorporate more mushrooms into my diet. I found this podcast episode by Wellness Mama really interesting on the subject of mushrooms.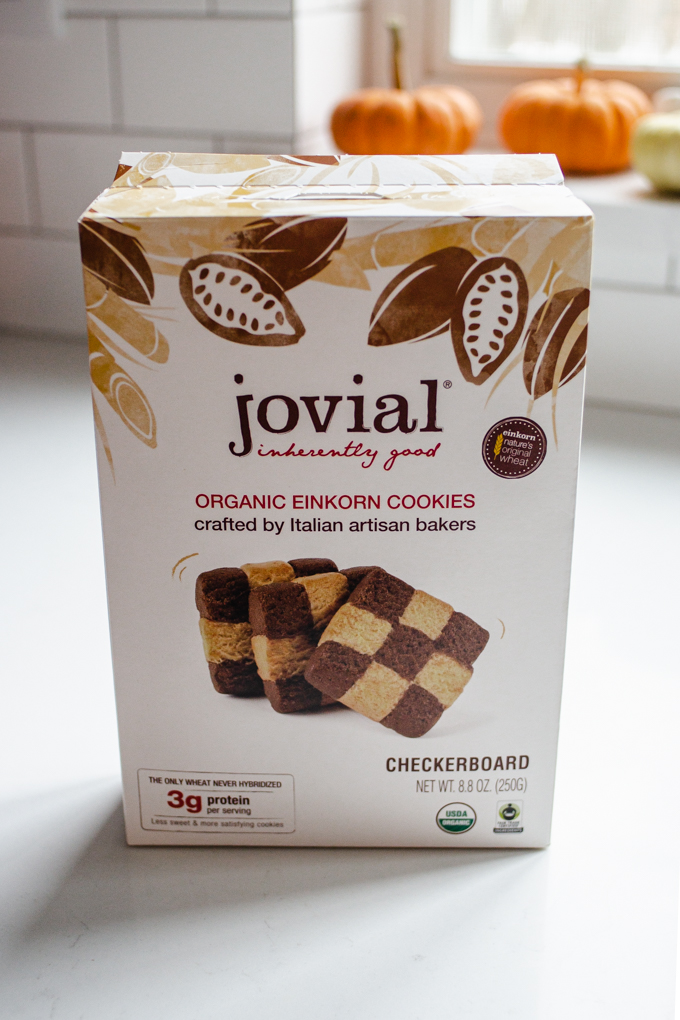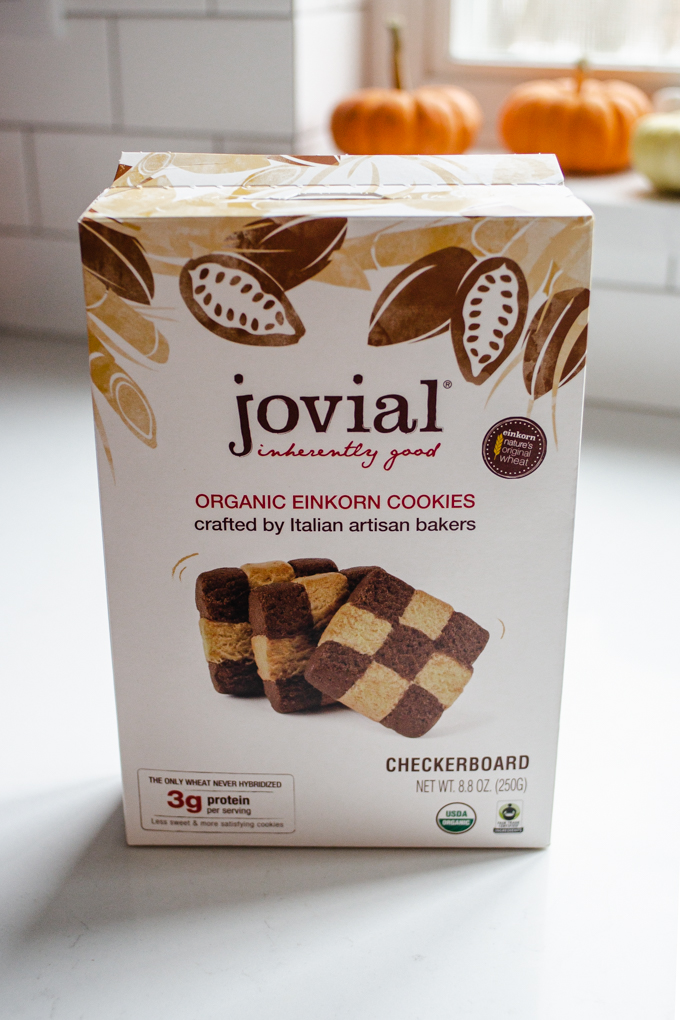 These einkorn checkerboard cookies from Jovial are the perfect afternoon snack.
They're just a little bit sweet, but definitely not sickeningly so.
Anya loves them.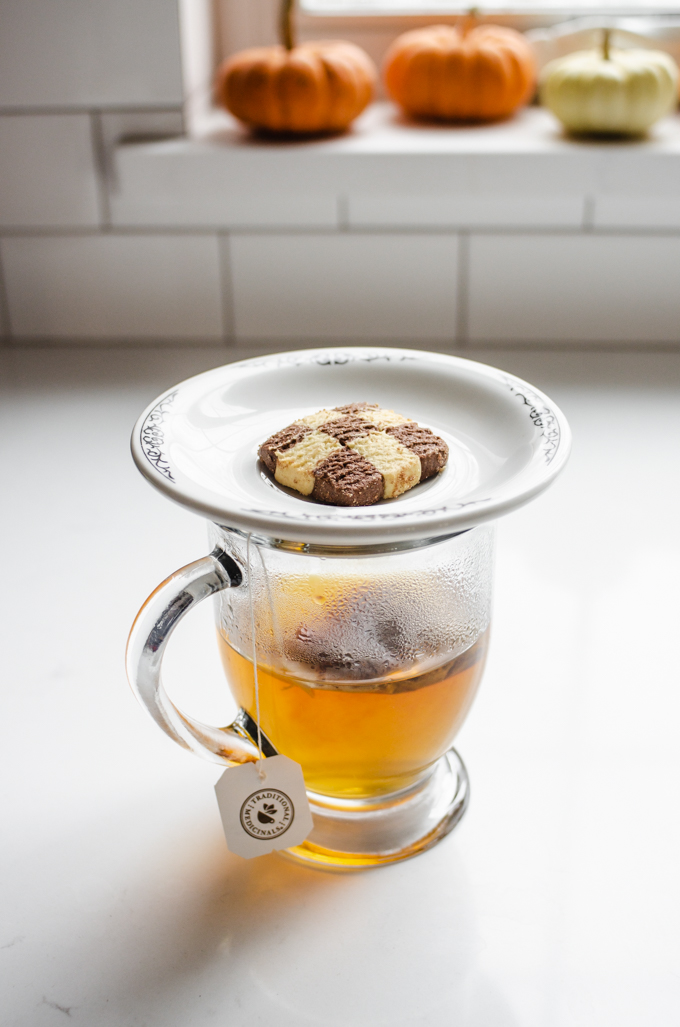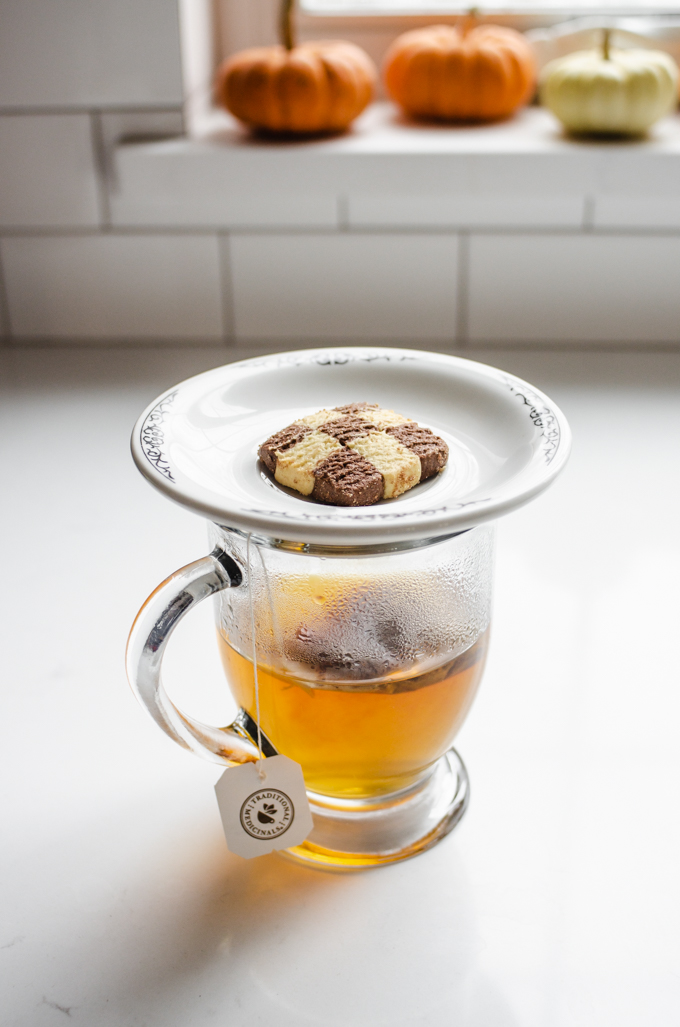 Here was my tea + cookie contraption. I put a plate on top of the hot tea, and cookie on top of that.
The idea was to warm up the cookie as the tea steeped.
It worked!
It's a fun way to prepare your afternoon tea + cookie.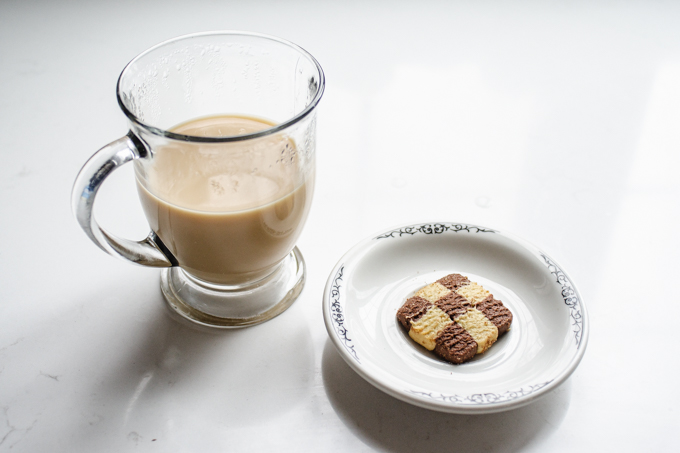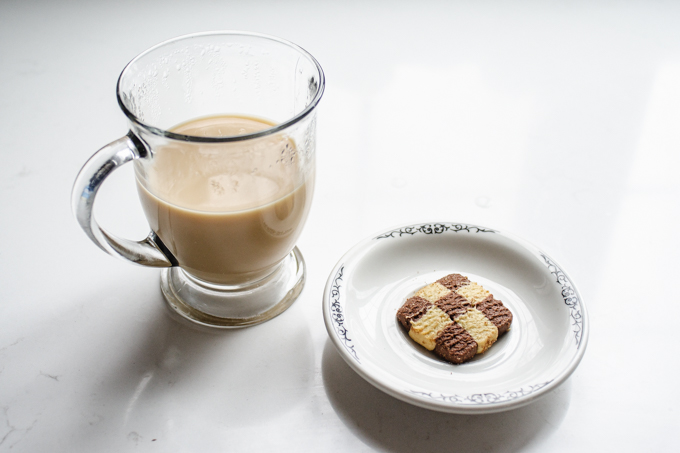 I added some cream into my tea as well. It just feels wrong to not put something fatty into tea!
Sometimes I like to add some honey or maple syrup as well, sometimes not.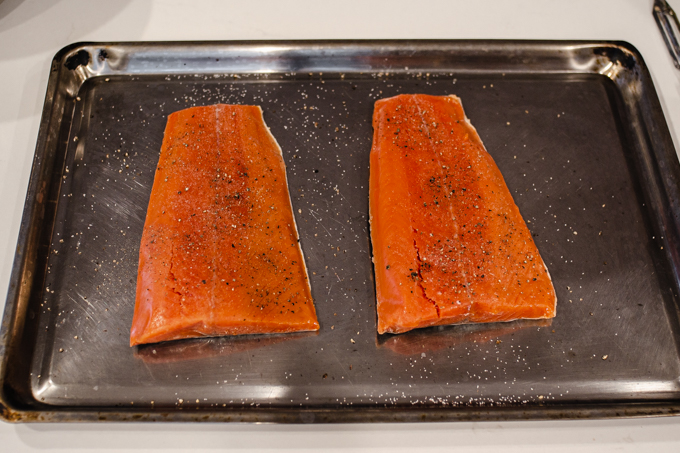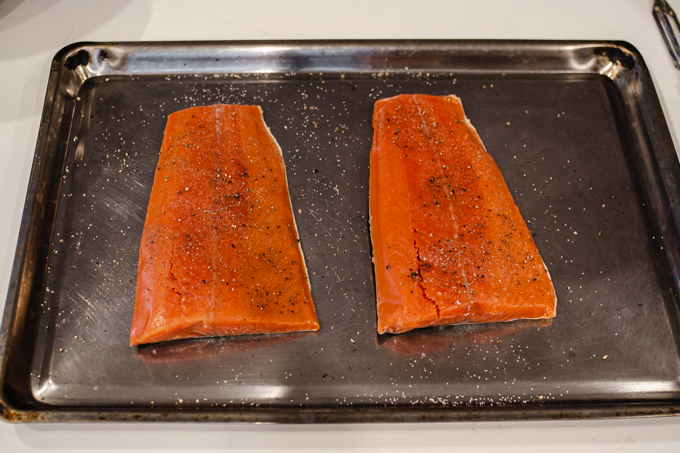 Supper
For supper, I made salmon, potatoes, and veggies.
I kept it simple and baked the salmon with salt and pepper.
If it's your first time making salmon, I recommend baking it!
I used my new probe thermometer to cook the salmon. 135° F was a little too long in my opinion.
But I think the salmon was less dry than I usually cook it. ?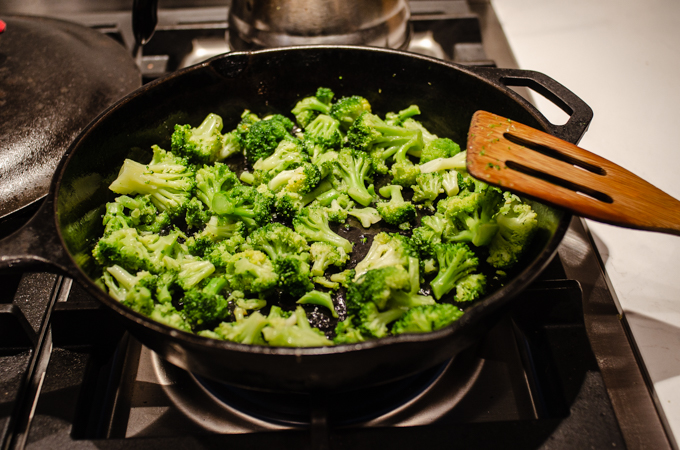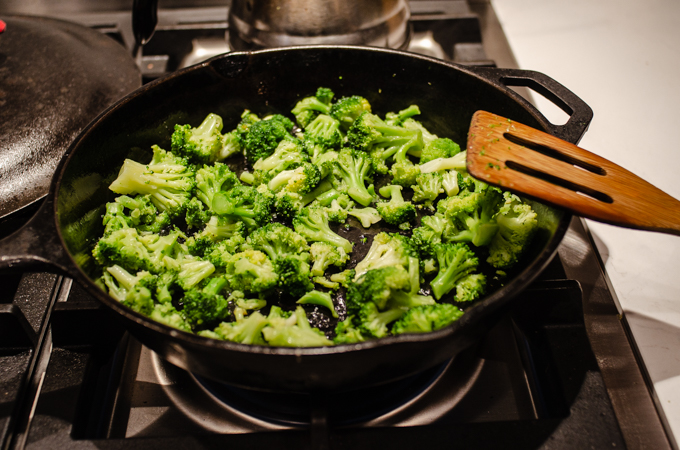 I pan fried some frozen broccoli in a cast iron skillet.
BTW, it's really good if you drizzle some extra virgin olive oil over the pan-fried broccoli.
You can also sprinkle on some garlic powder for extra flavor.
For another great side dish for baked salmon, make sure to check out my oven roasted brussels sprout recipe!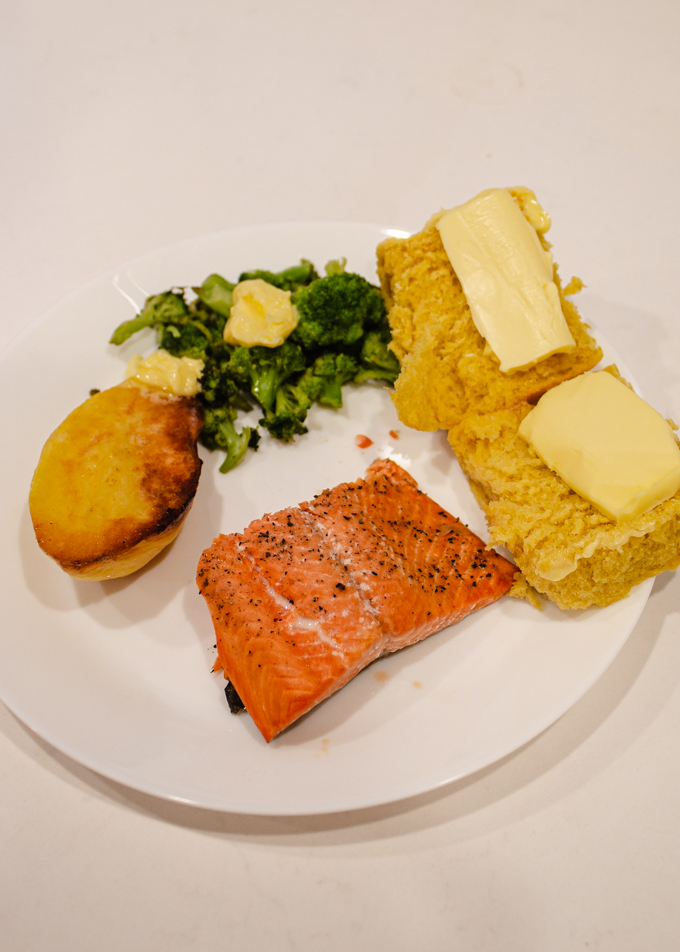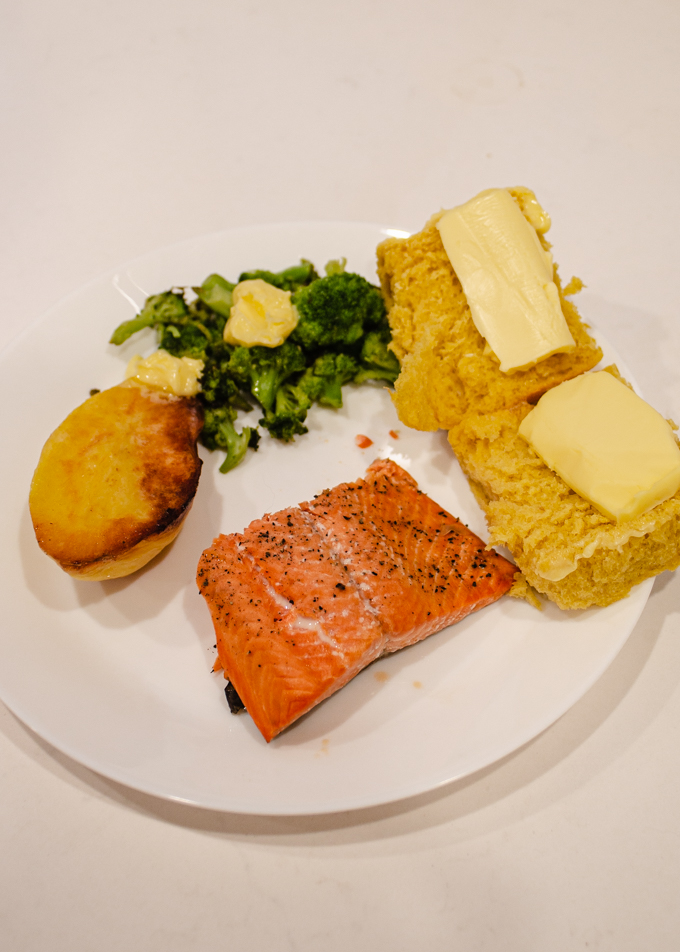 Then I served it all with some coconut oil roasted potatoes and pumpkin sourdough dinner rolls.
Yep, I'm working on the recipe for those dinner rolls.
Hopefully I can get it out soonish!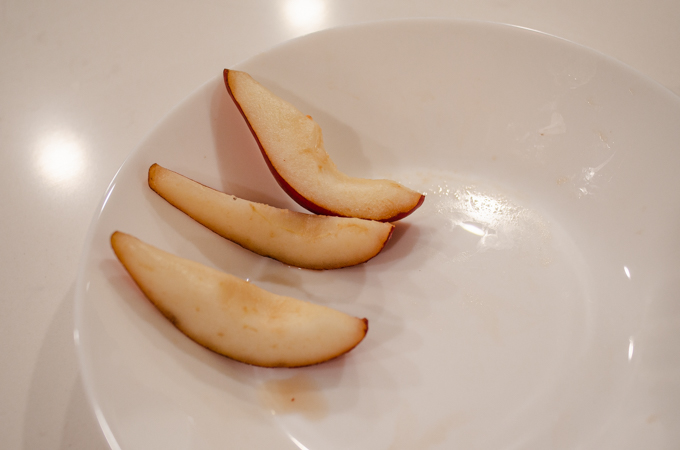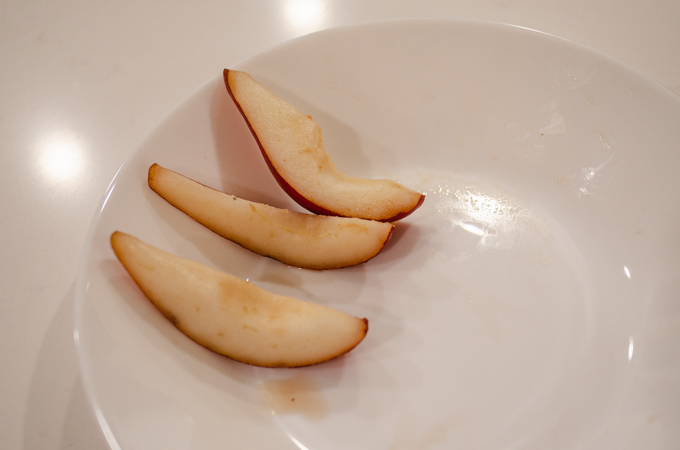 I also had a few slices of Starkrimson pears.
If you see Starkrimson pears at your grocery store, I definitely recommend giving them a try! They're one of my favorites.
So that's my full day of eats! I hope you enjoyed seeing everything I ate in a day!
Leave me a comment letting me know what your favorite afternoon snack is at the moment.
I'd love some new ideas!
Also, here are some previous What I Ate Wednesday posts for some more healthy foods inspiration!
And here are some healthy recipes for weeknight dinners:
Happy Wednesday!
xoxo
Erica