These easy snack board ideas are perfect for board game night, or just as a fun family snack!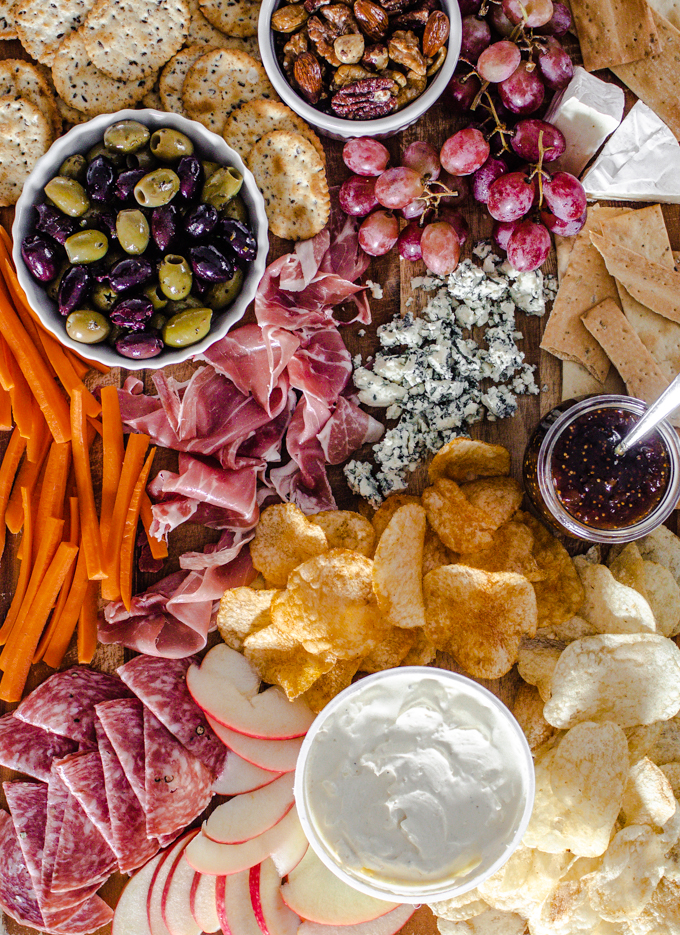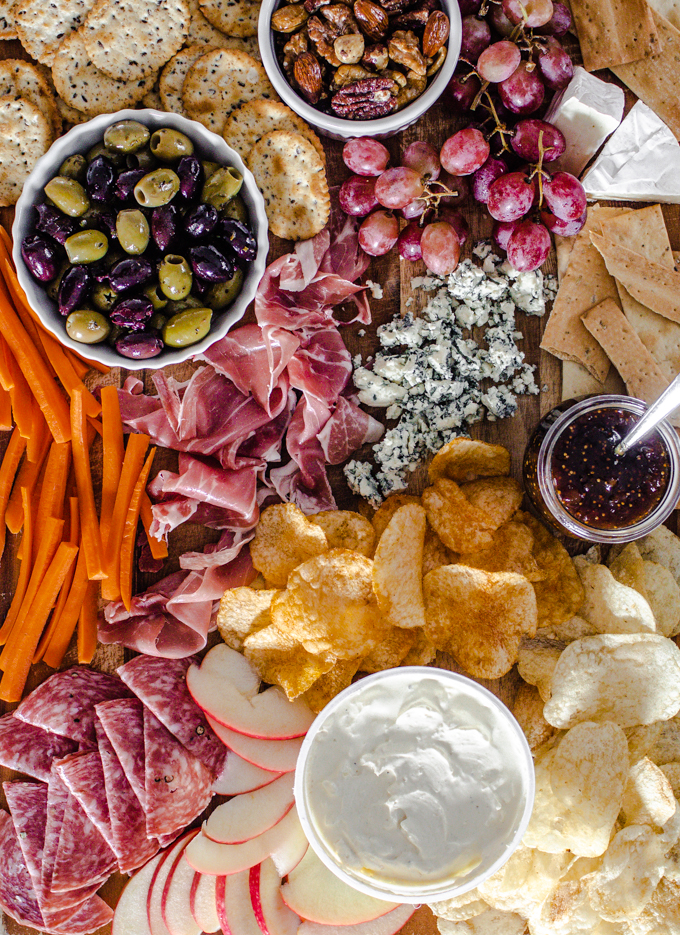 As a kid, we often had a meal that we called Smorgasbord. Yeah, I know that's not the proper term, but it's the one we used!
We would pull out all sorts of snack foods from the pantry and fridge, lay them out on a cutting board on our coffee table, and watch a movie while we ate.
It was one of my favorite meals.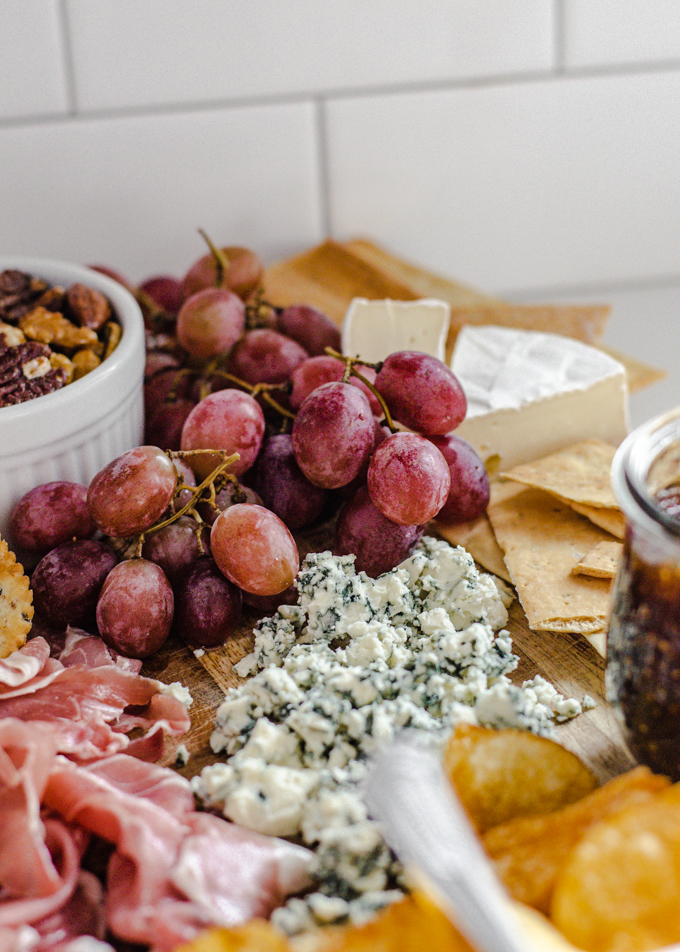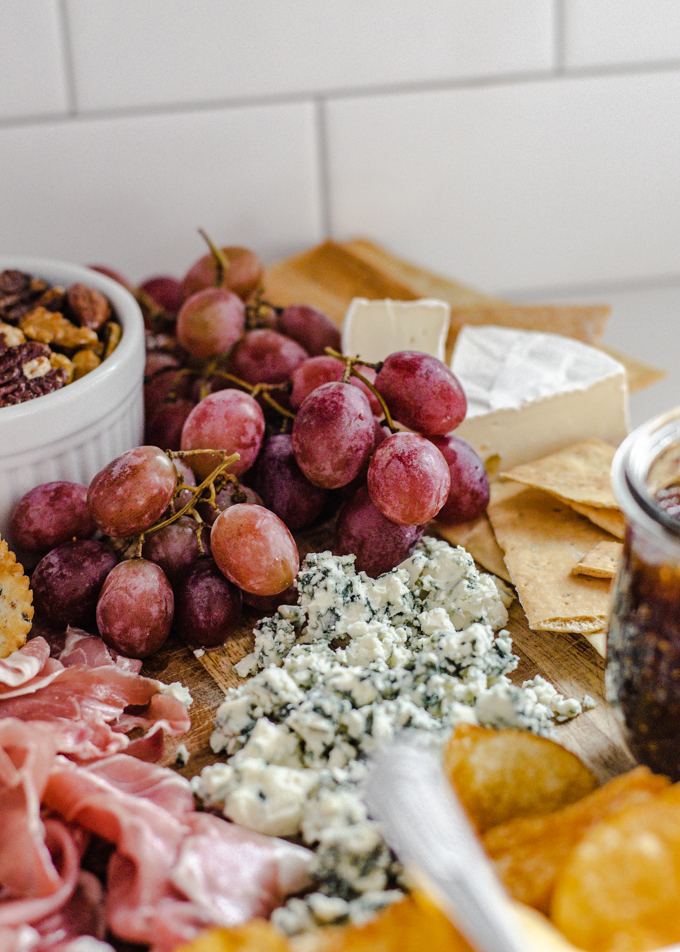 Today I'm going to show you how to make an easy snack board that's sure to please everyone in your family!
You can serve these as the snack for board game night, to bring to a party, or just as a fun family meal!
I think this would be awesome to serve as an appetizer before your Thanksgiving or Christmas dinner.
Okay, let me give you some inspiration!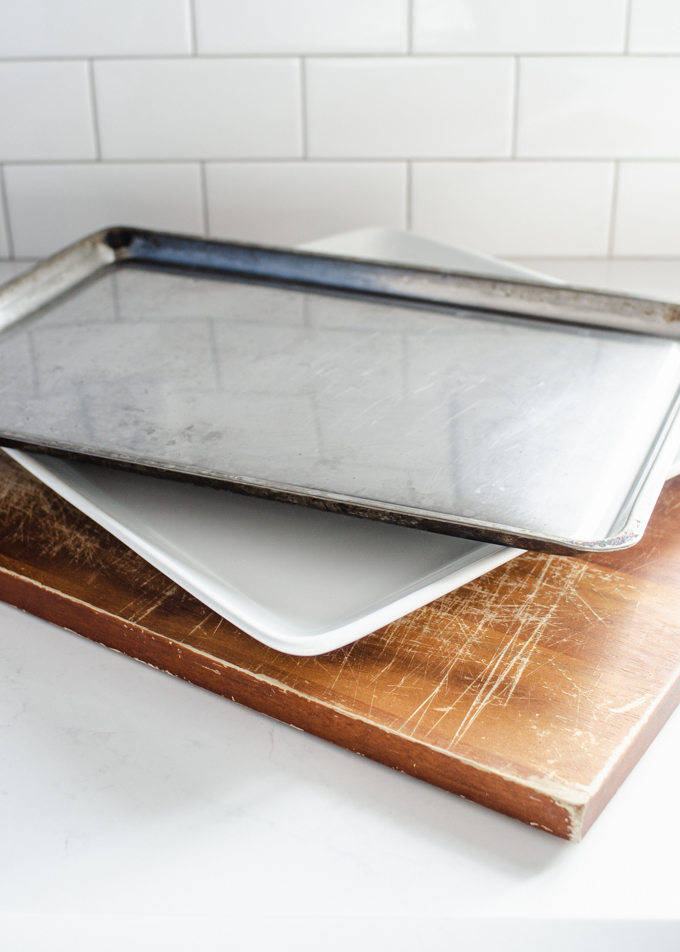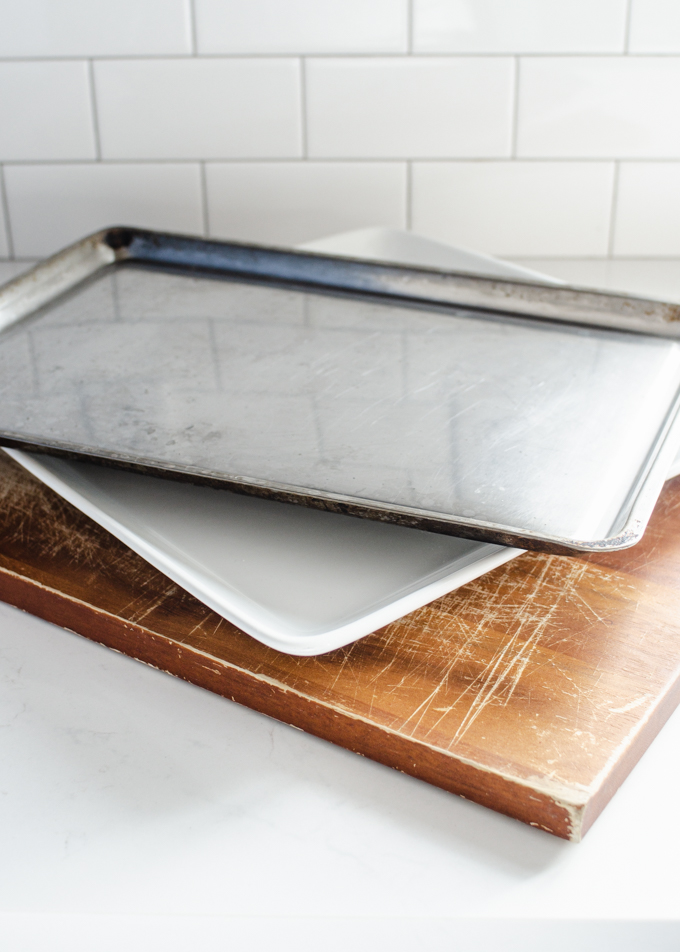 Choosing a Snack Platter:
First things first. Let's discuss the board or platter that you'll be putting your snacks on.
I like to use an oversized wooden cutting board. But you could also use a rimmed baking sheet, a giant plate, or a special wooden serving platter.
Use whatever you have on hand!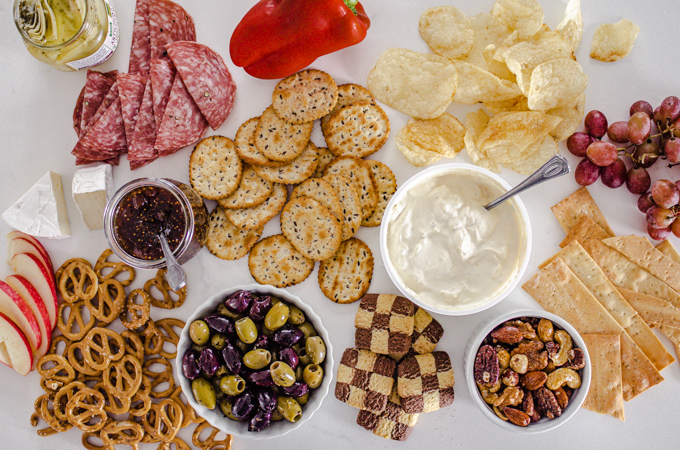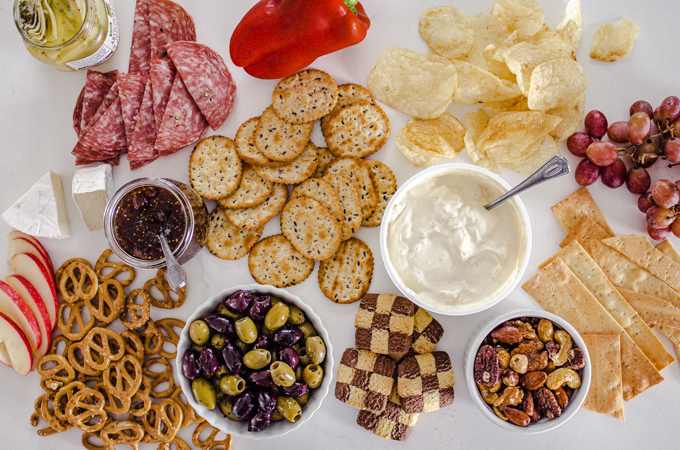 Choosing the Snacks:
While you're deciding which snacks to include in your snack platter, it's a good idea to keep the following guidelines in mind.
You don't have to include every single one of these items, but this is a really handy list for coming up with snack board ideas!
Write down all of the items that appeal to you and your family and you feel would go together well.
Something to Dip:
There's just something fun about scooping a delicious dip onto a chip. You could go for guacamole, hummus, cheeseball, salsa, or chip dip.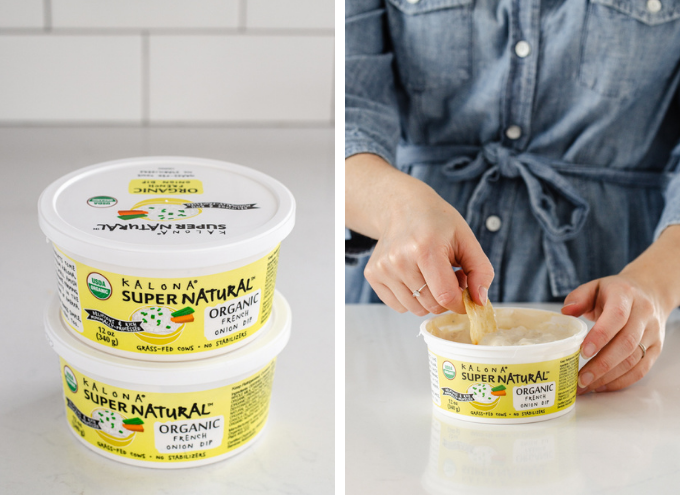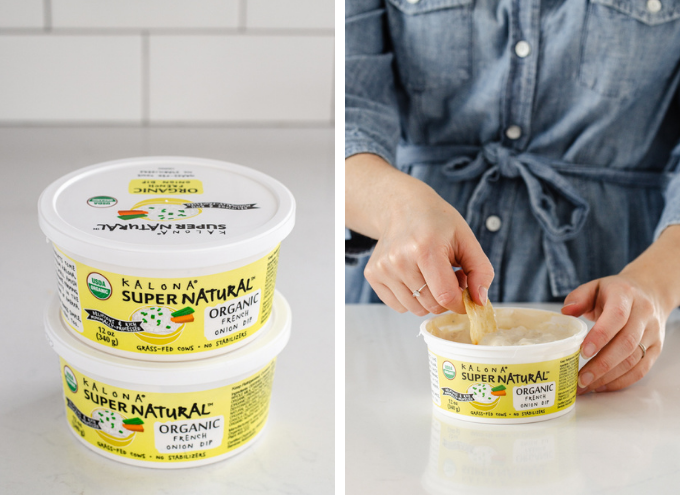 French onion dip is an all-time crowd pleaser, and for good reason.
That wonderful play of creamy and tangy is the perfect combination to get you going back for more.
In case you haven't heard, Kalona SuperNatural just came out with their brand new Organic French Onion Dip!
Y'all know I'm a fan of Kalona SuperNatural because they make some of the least processed dairy products on the market. Their French onion dip is made with certified organic, grass-fed milk, and is free of artificial colors, stabilizers, gums, pesticides, hormones, and antibiotics.
It's a great choice if you'd like to keep your snack board on the healthy side!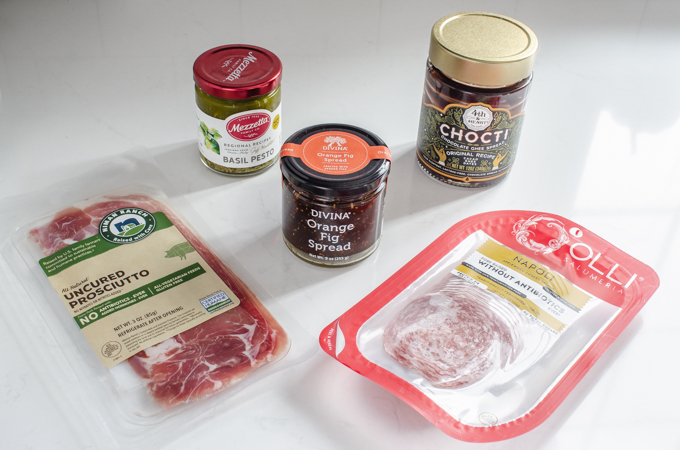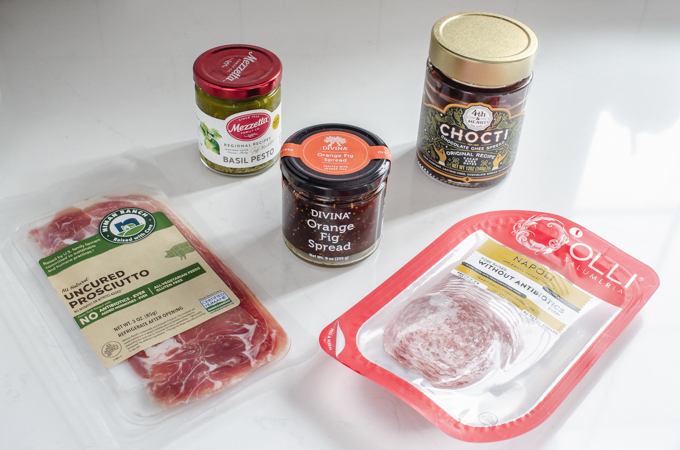 Something Meaty:
If you add in a meat, it can easily elevate a snack board into an entire meal.
You could use summer sausage, prosciutto, pepperoni, pastrami, salami, smoked salmon, etc.
Something to Spread:
Having that extra layer of flavor that you can spread onto a chip or cracker helps to keep everything cohesive. It also adds a nice texture element.
Fig jam is really nice because it lends sweetness, moisture, and a pleasant crunch!
Some other ideas would be pesto, pepper jelly, compound butter, nut butters, chocolate hazelnut spread, etc.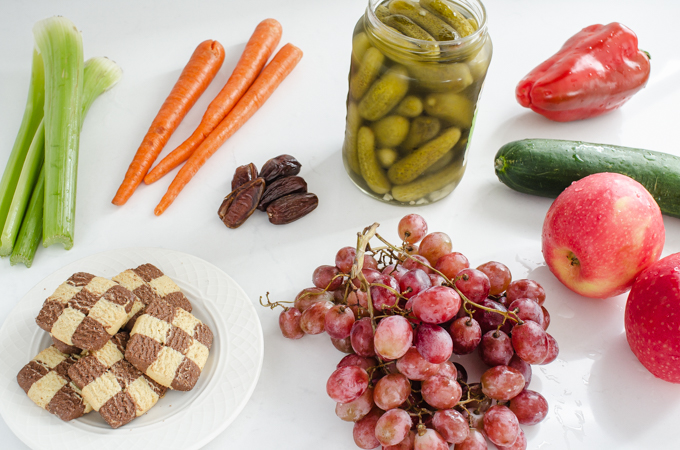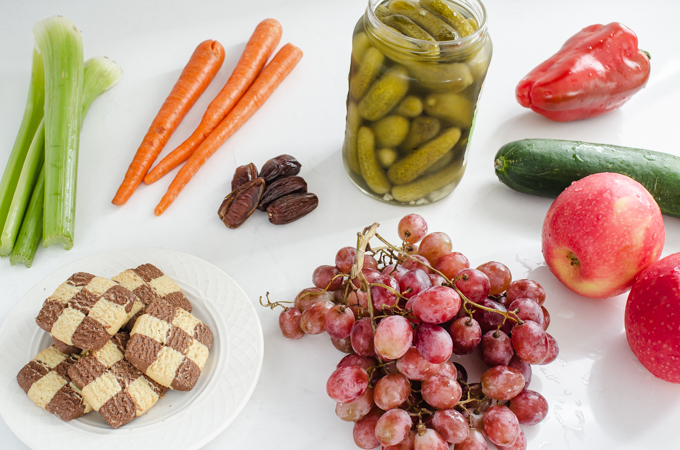 Something Fresh:
Things can get a bit heavy with all that cheese and meat. It's nice to include some fresh fruits and veggies to keeps things bright.
Sliced carrots, celery, peppers, cherry tomatoes, cucumbers, apples, pears, grapes, cherries, berries, oranges, peaches, and figs are all good choices.
Choose two veggies and two fruits, and you're good to go!
Something Sweet:
Another nice counterpoint to all the salty snacks is something sweet.
You could include some dark chocolate, shortbread cookies, graham crackers, or dried fruit as a break!
Something Sour:
Kind of like something sweet, something sour also helps to cut through rich, heavy snacks.
Dill pickles, lacto-fermented pickles, green olives, and kalamata olives are all nice choices.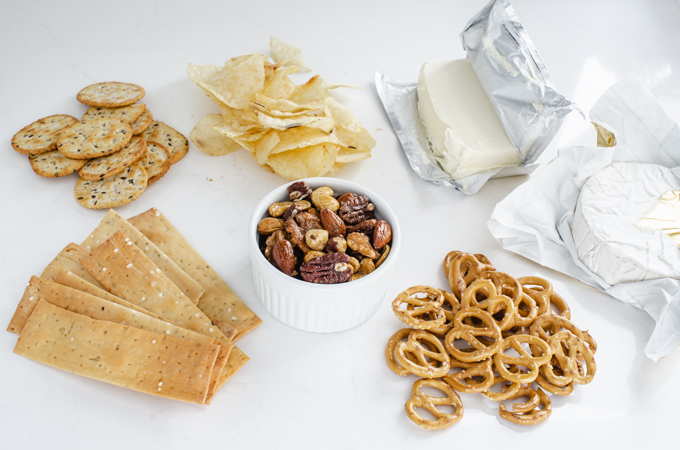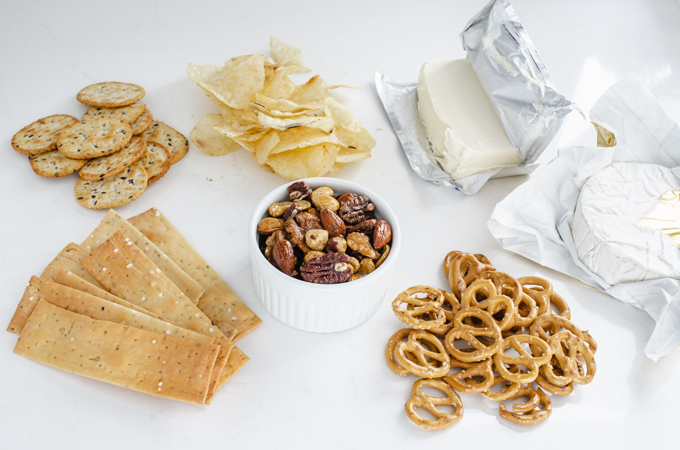 Something Crispy:
Besides flavors, it's good to consider including different textures as well.
Of course some snacks will serve more than one purpose. For example, apples are fresh, sweet, and crispy!
Other crispy snacks would include potato, pita, or corn chips, roasted nuts, popcorn, crackers, and pretzels.
Something Creamy:
Another texture to consider is creamy. Again, the French onion dip could cover something to dip as well as the creamy component.
Other ideas include cream cheese, goat cheese, brie cheese, apple dip, etc.
Something Carby:
We already covered a lot of carby snacks in the sweet and crispy sections. Other ideas would include breadsticks and slices of sourdough bread.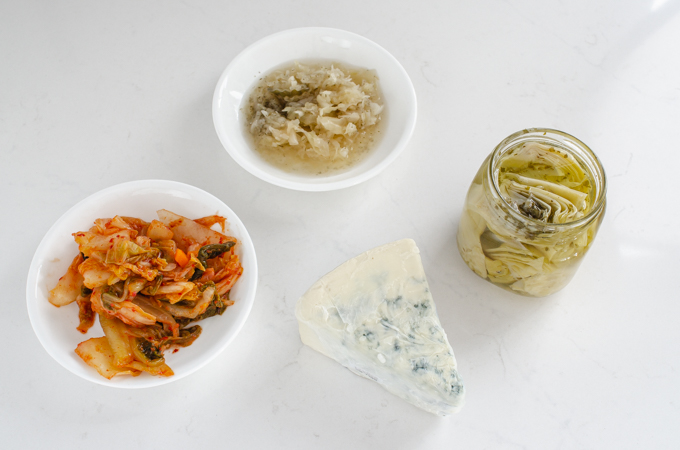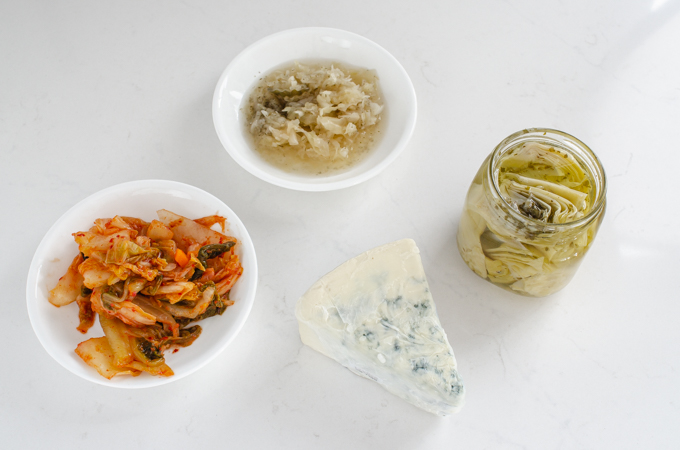 Something Funky:
It's fun to include something unexpected or funky.
Blue cheese, sauerkraut, artichoke hearts, and kimchi lend that weird-but-good element.
To sum up, here are the elements to consider when putting together a snack board:
Something…
To dip
Meaty
To spread
Fresh
Sweet
Sour
Crispy
Creamy
Carby
Funky
Arranging the Snack Board:
A beautifully arranged snack board is fun to put together, and fun to eat.
If beautiful presentation is your goal, think about making the snacks flow into each other.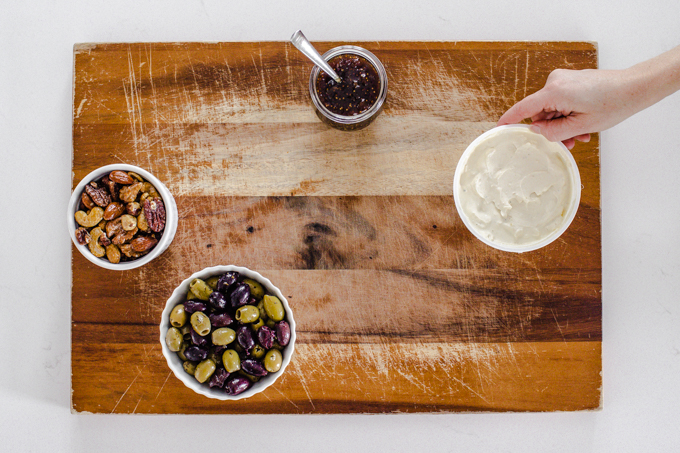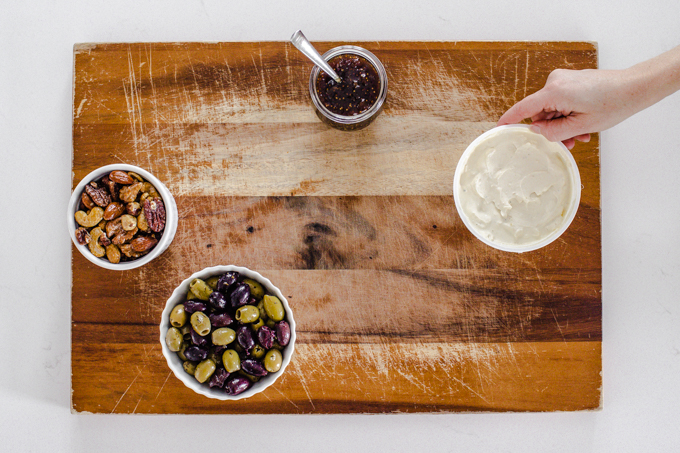 I like to arrange my containers first. So any chip dip, spreads, or bowls of nuts, olives, or pickles.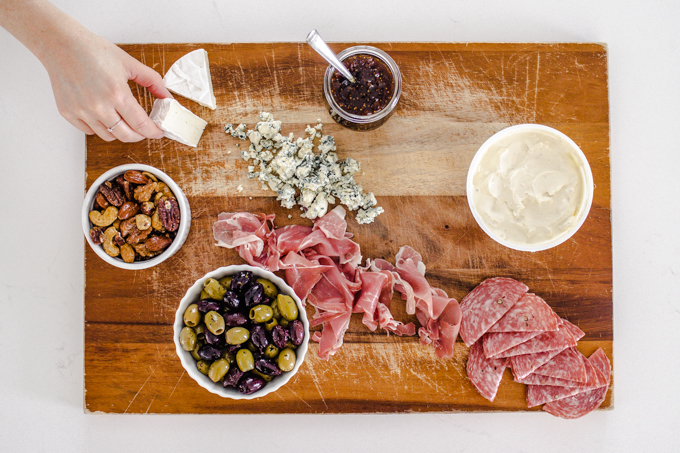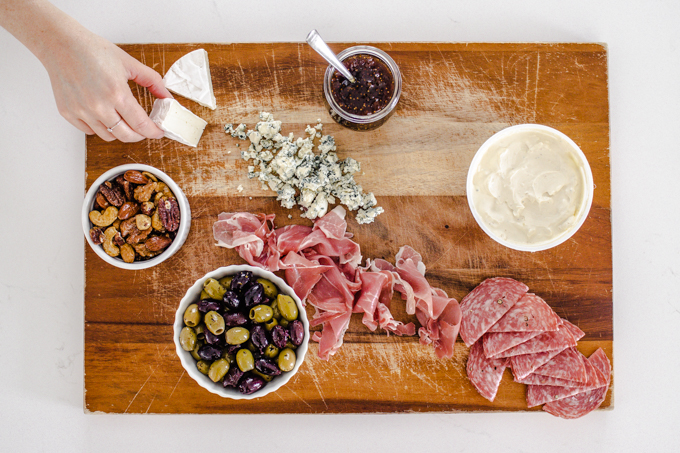 Next, arrange your cheese and meats.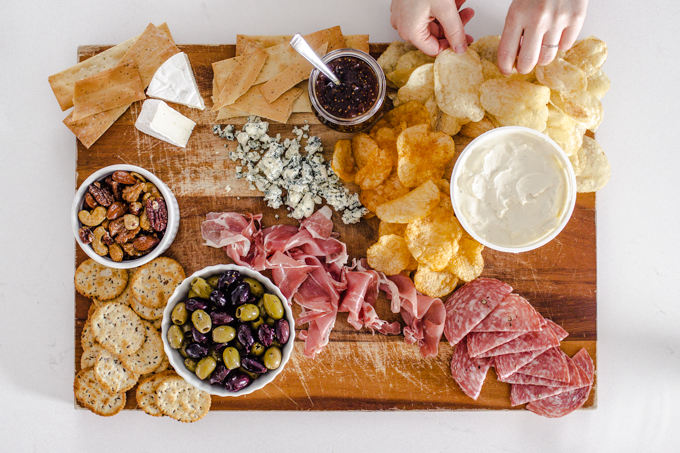 Put the chips next to the chip dip, and the crackers next to the cheeses.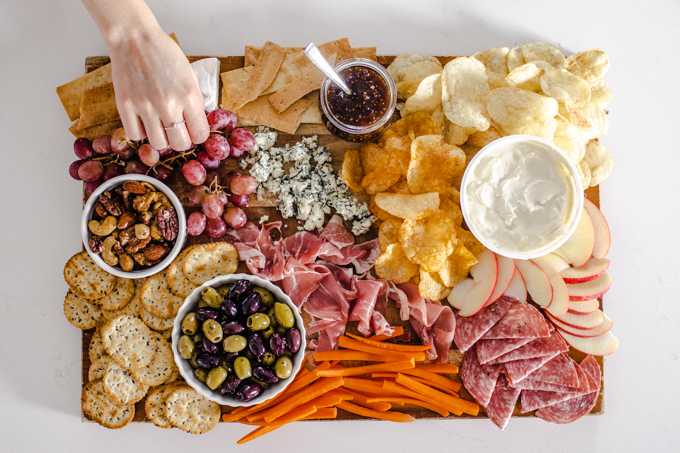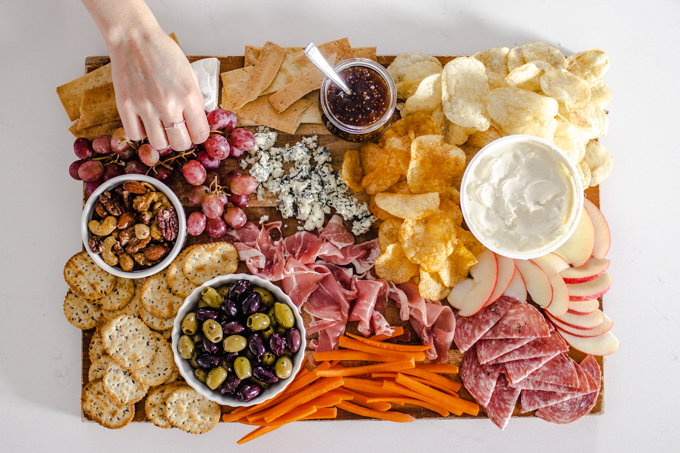 Now fill in with fresh vegetables and fruits.
I like to group similar items together when possible so they're easier to locate on the snack board.
Another cool way to present your snack platter is to stack everything in neat rows. This requires less planning; the final look is less rustic.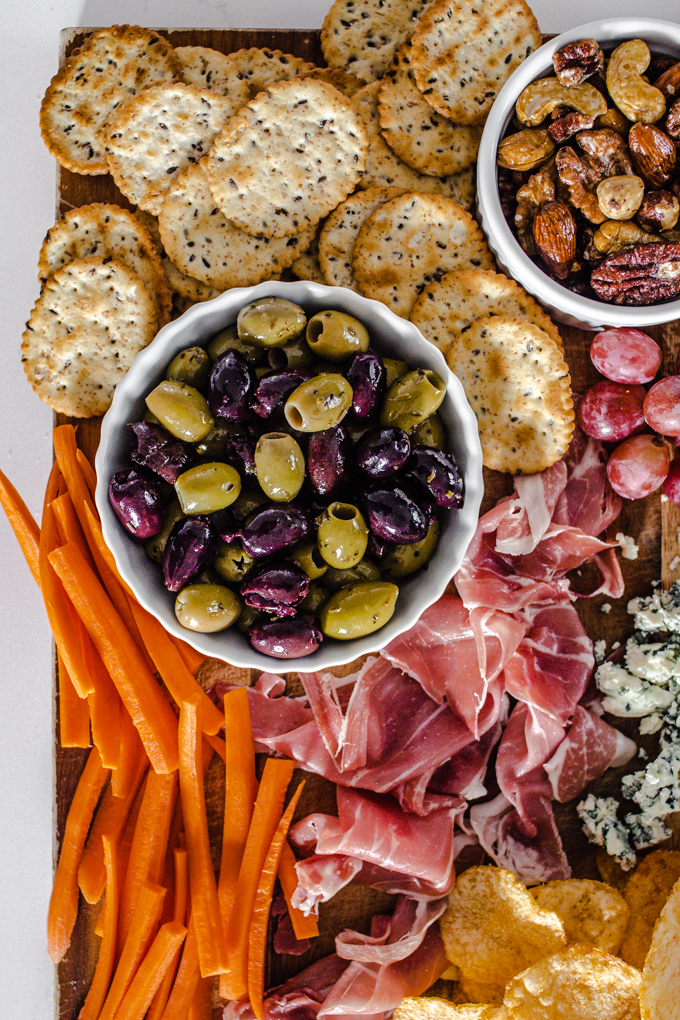 Of course you can just pile everything onto a platter helter-skelter if you're pushed for time.
Everything will taste the same, it will just be less impressive.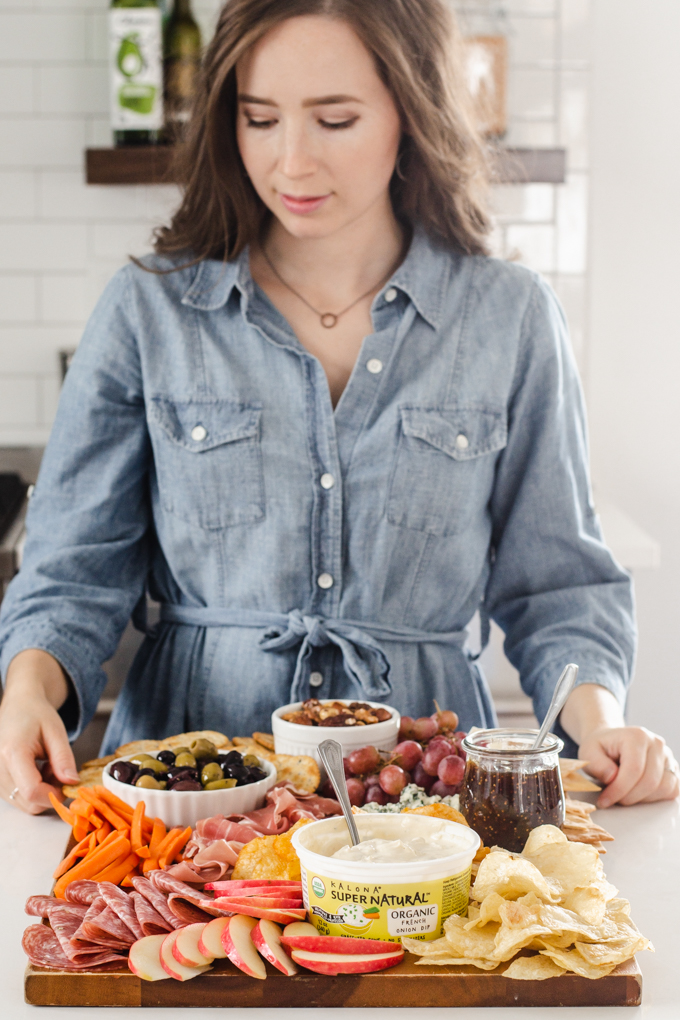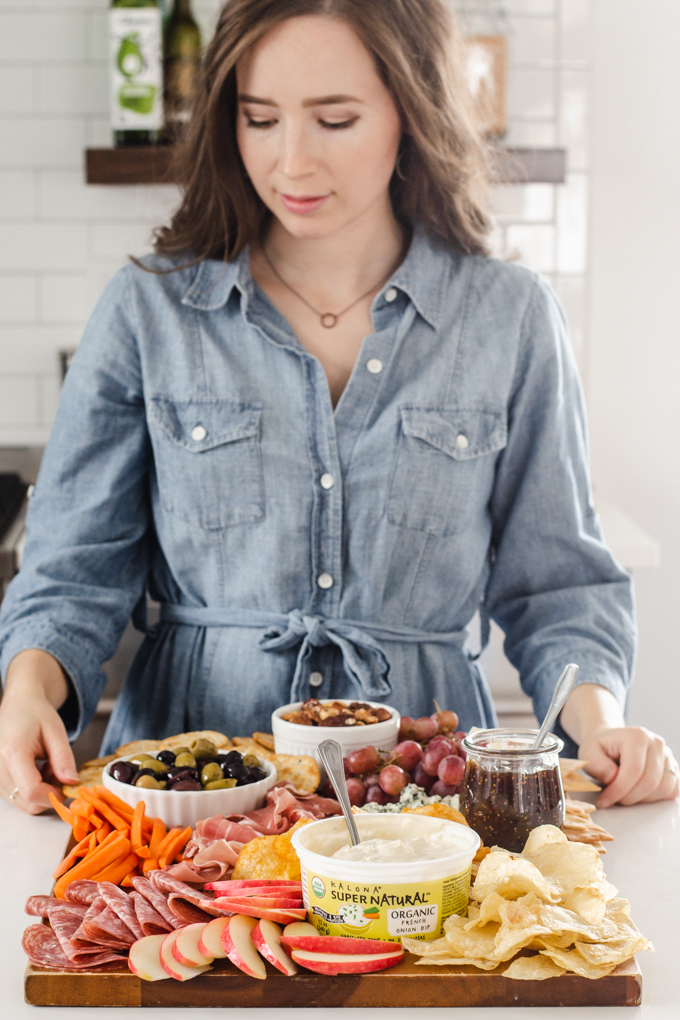 Snack Board Combination Ideas:
I put together two different snack platter combination ideas for y'all in case you're really stumped for what to include.
The first combination is the one pictured in this post!
Combination #1:
Kalona SuperNatural French onion dip
potato chips
BBQ potato chips
apple slices
grapes
carrot sticks
salami
prosciutto
brie cheese
blue cheese
fig jam
green and kalamata olives
maple roasted nuts
multigrain and plain crackers
Combination #2:
hummus
pita chips
pepper jelly
crackers
sliced carrots
cherry tomatoes
blood orange slices
blackberries
dates
pretzels
cream cheese
havarti cheese
smoked salmon
dill pickles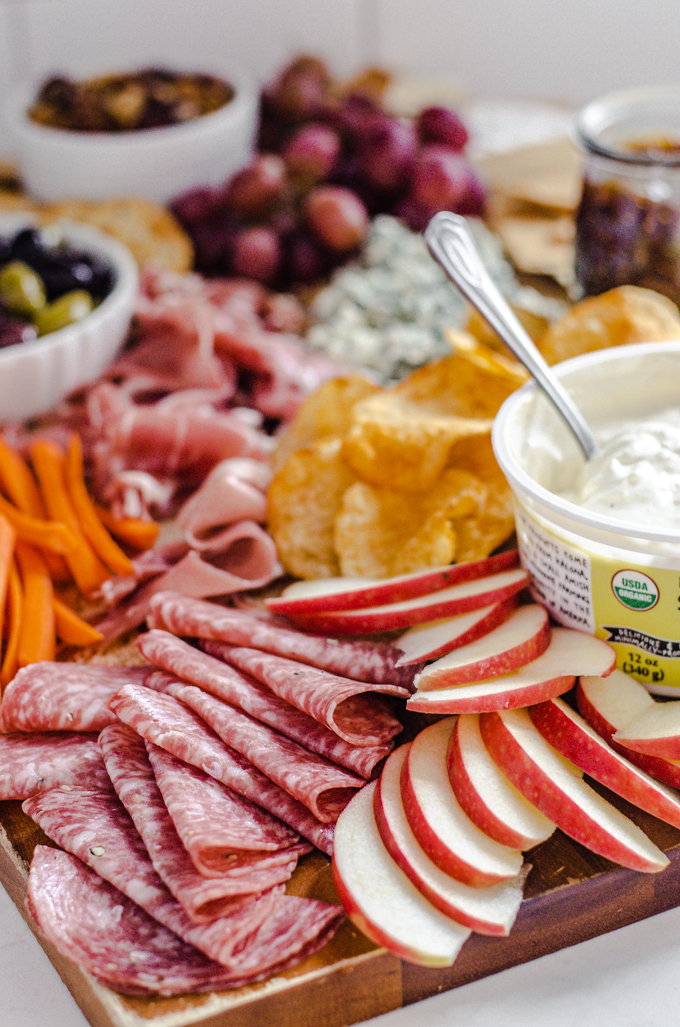 What is your must-have item on your snack board? Let me know in the comments! I love to hear what other people like to munch on.
Many thanks to the folks at Kalona SuperNatural for sponsoring this post!
More Snack/Appetizer Recipes:
Snack Board Idea
This snack board includes some healthy options, as well as some indulgent treats!
Ingredients
Kalona SuperNatural French Onion Dip

potato chips

BBQ potato chips

apple slices

grapes

carrot sticks

salami

prosciutto

brie cheese

blue cheese

fig jam

green and kalamata olives

maple roasted nuts

multigrain and plain crackers
Recipe Notes
Place the nuts and olives into small bowls.
Arrange the chip dip, fig spread, and bowls of olives and nuts on a large cutting board or platter.
Place the salami and prosciutto on the left side of the cutting board.
Put the cheeses in the upper right of the cutting board.
Put the chips next to the chip dip, and the crackers next to the cheeses.
Now fill in with the grapes, apples, and carrots.
Serve immediately.