This easy peach jam recipe is made without pectin, and only requires 3 ingredients! It's kind of like keeping a bit of summer in a jar.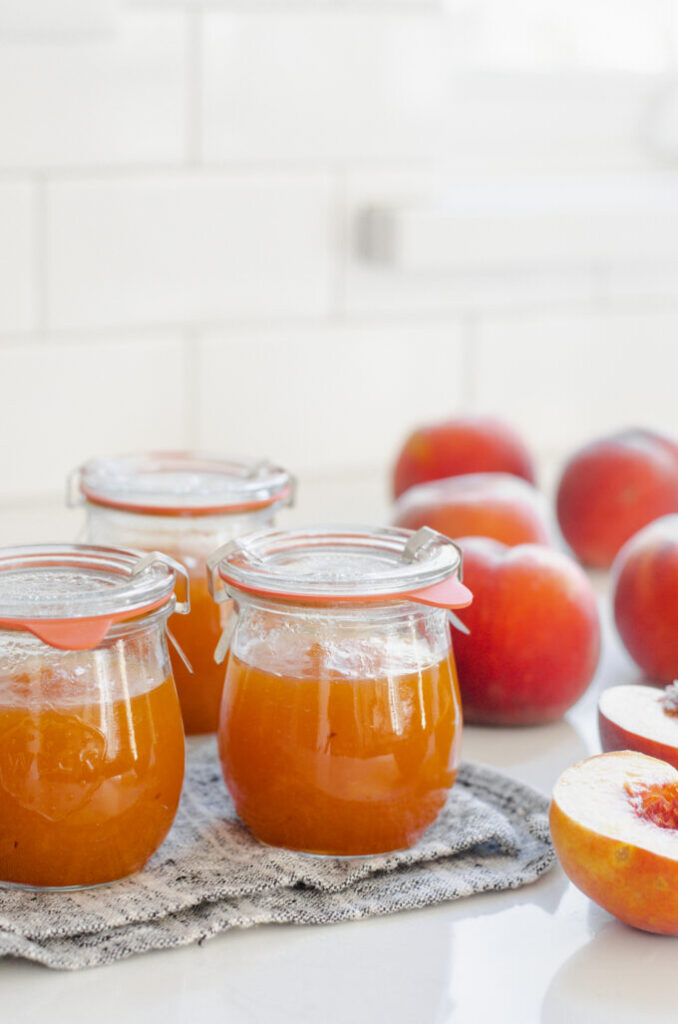 Homemade jam recipes may seem daunting.
But I'm here to let you know that it's actually quite easy to make peach jam at home!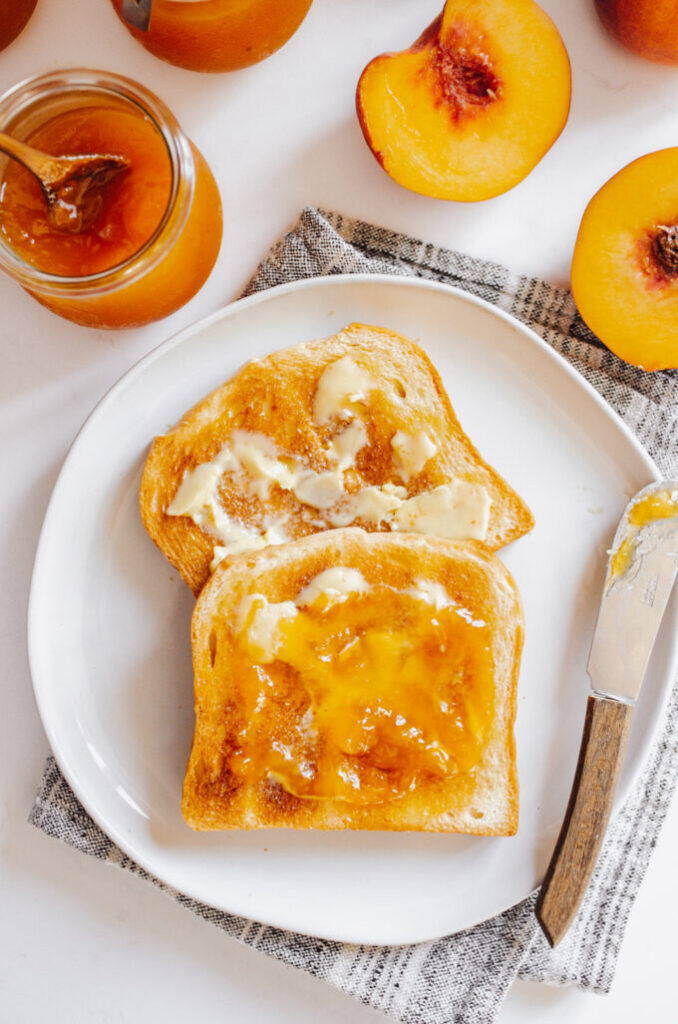 My easy peach jam recipe only calls for 3 simple ingredients, and is made without pectin!
This is the perfect way to enjoy part of the peach season even in the winter months.
Okay, follow my step by step photos to learn how to make this delicious peach jam!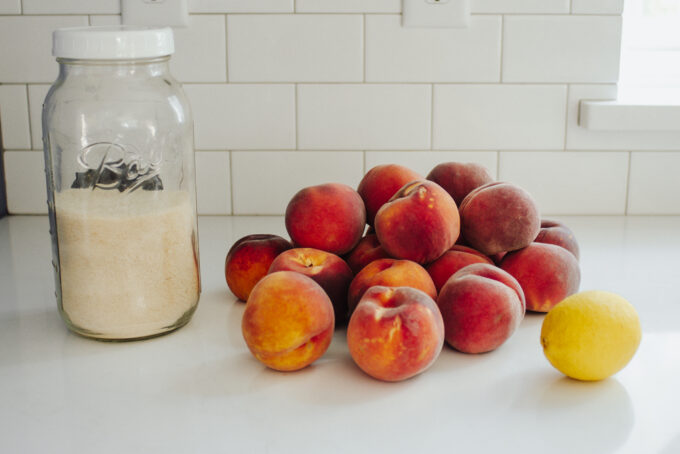 Ingredients:
Fresh Peaches: You'll need 6 pounds of peaches to make 8 jars. It's best if you use ripe peaches.
Sugar: I use organic cane sugar, but granulated white sugar will work as well. I haven't experimented with brown sugar, but I'm sure it would be lovely! The color wouldn't be as bright, though. I have two options for amounts of sugar: one with 3 cups of sugar, and one with 4 cups of sugar. I prefer less sugar, but you will want to use the higher amount if you are planning on using water bath canning for room temperature storage.
Lemon Juice: It best if you use freshly squeezed lemon juice. I don't use the lemon zest because I'm not looking for a super strong lemon flavor. But feel free to add that in as well if you prefer.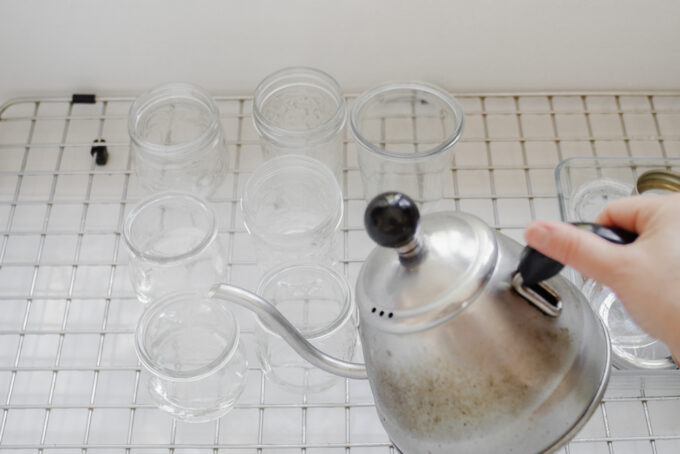 How to Make Peach Jam without Pectin:
Before you begin, sterilize your jars and lids. This can be done by running them through the dishwasher, or pouring boiling water over them.
Place the jars on a dish towel on your counter to have at the ready.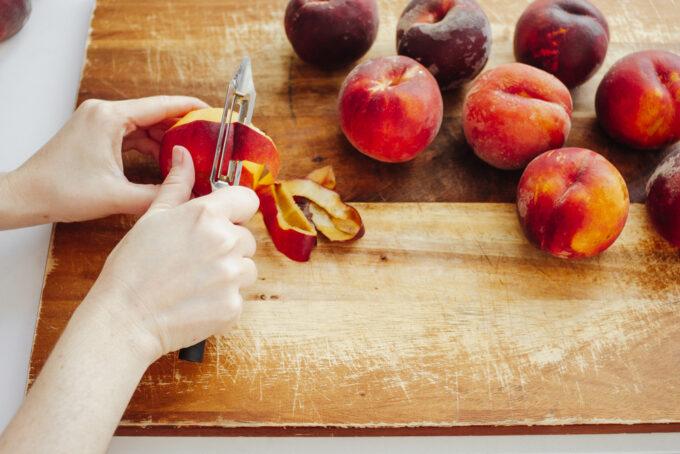 Preparing the Peaches
The next step is to peel, pit, and roughly chop your peaches.
Begin by peeling your peaches, of course!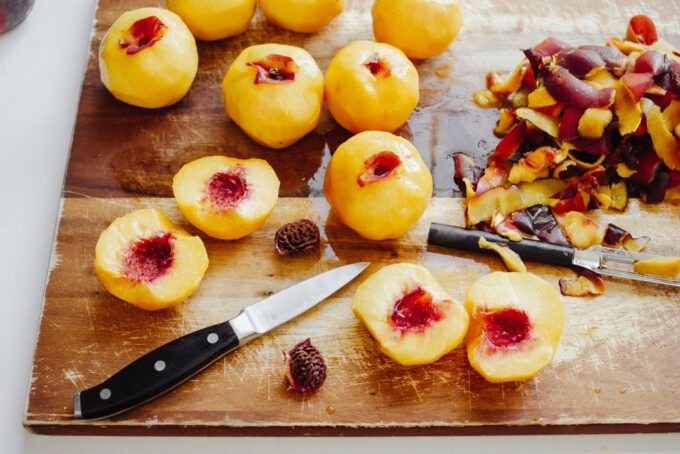 I like to use a paring knife to remove the pits if they're a bit stubborn, and a chef knife to chop the peaches.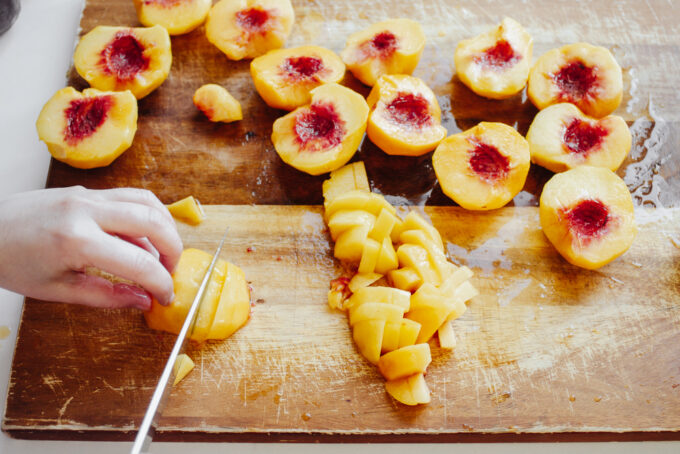 Finally, roughly chop the peaches.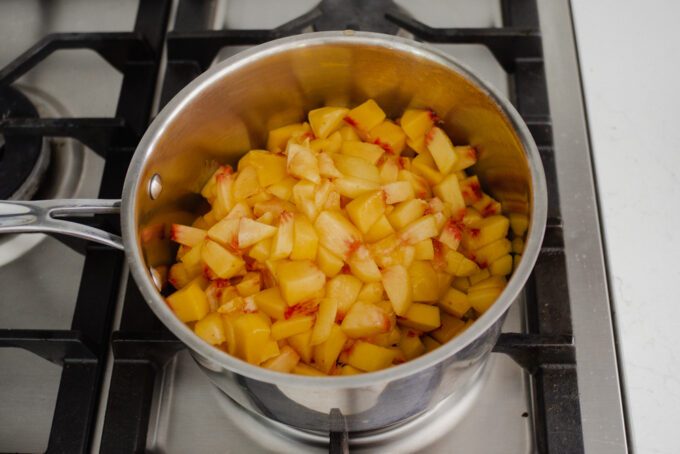 Cooking the Peaches
Now place the fresh fruit pieces into a large pot or saucepan.
Then add the sugar and lemon juice and stir well.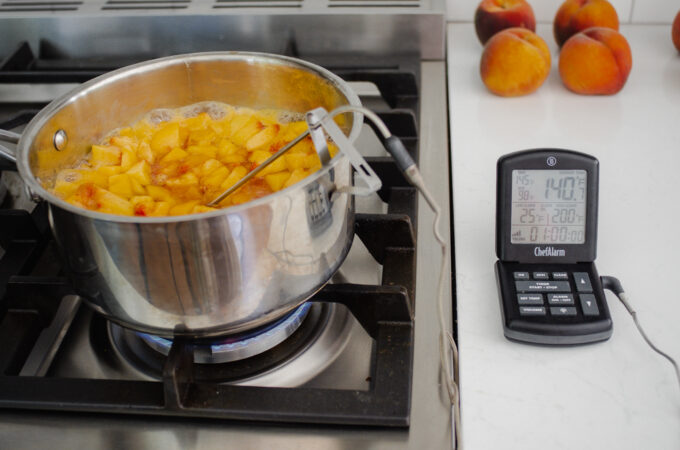 Bring the mixture to a boil over medium-high heat. Then reduce the heat to medium-low and boil/simmer until the mixture thickens and reaches about 212 F.
To test the thickness of the jam, drop a bit onto a cold plate. If it's too runny, you need to go longer. You'll know you've reached the right consistency when the jam isn't watery.
This whole process should take around half an hour or so. The cooking time with vary depending on how much jam you're making.
It may not come to a full rolling boil, but you want it to be simmering pretty vigorously.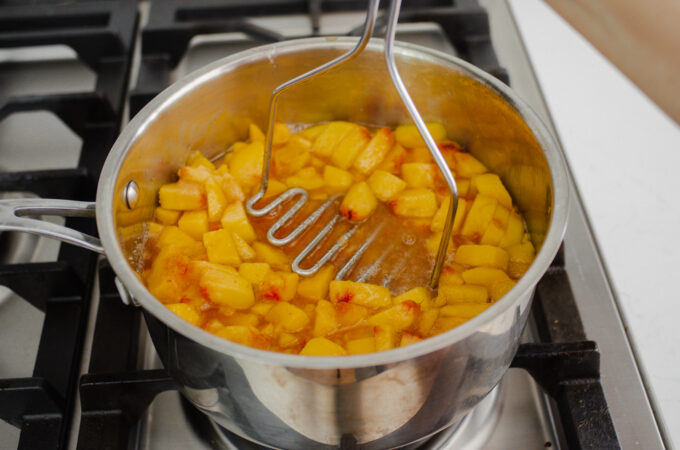 Mashing or Pureeing the Peaches
If you want your jam to still have a few pieces of peaches scattered throughout, the best way to accomplish this is with a potato masher.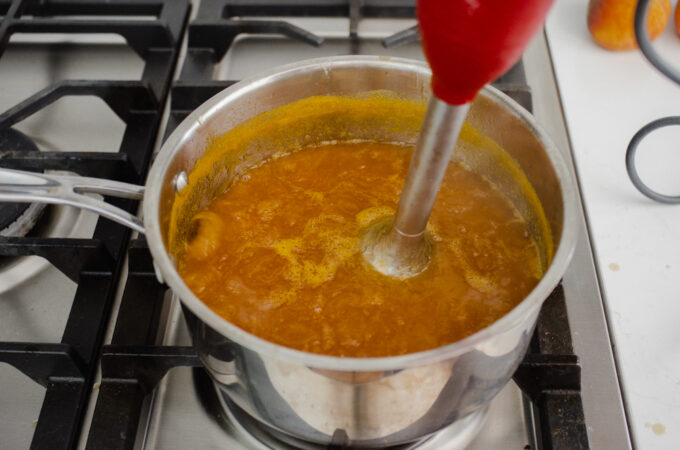 Or if you like a really smooth jam, you can use a stick blender, traditional blender, or food processor to get it really smooth.
To make it more like peach preserves, dice the peaches into the size you'd like them in the final preserves. Don't mash or puree.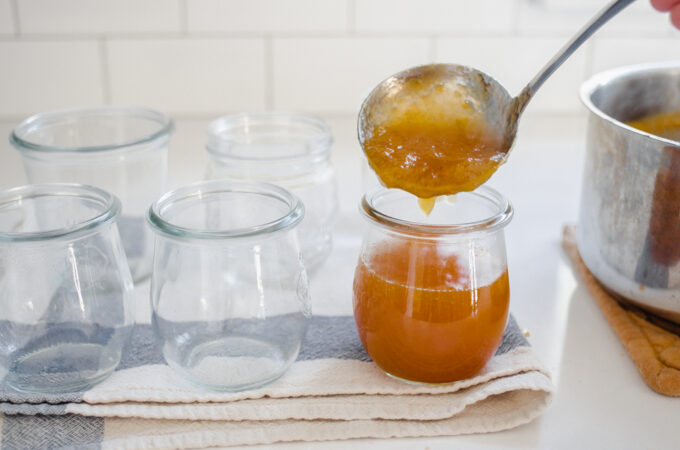 Placing the Jam in Jelly Jars
Now ladle the hot jam into the clean jars. Leave ¼ inch headspace if you're planning on canning, and about an inch of headspace if you're planning on freezing.
If you tap your jars on a dish towel, it will help to eliminate air bubbles.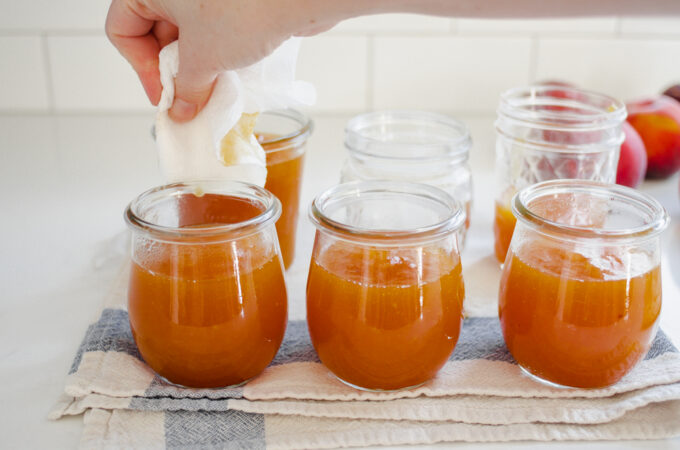 Next, wipe the rims clean.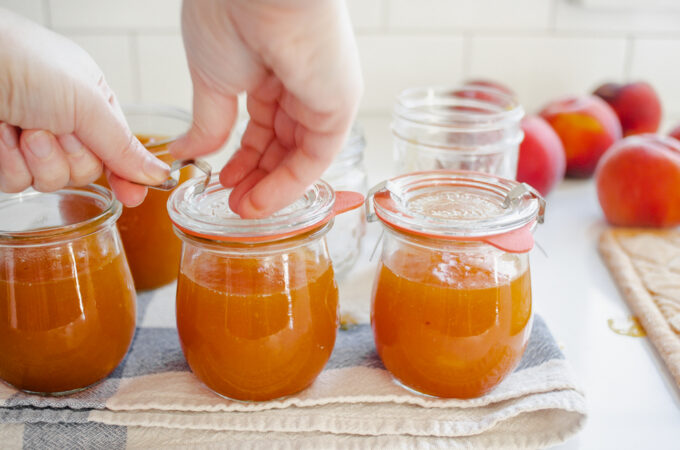 If you're using regular mason canning jars, place the lids on the jars, then screw bands securely on. Don't wrench on the bands, just make sure they're securely in place.
If you're using Weck jars, place the rubber seal on the lid. Lower onto the jar, and clamp down the metal clamps.
Water Bath Canning for Room Temperature Storage
Now you can use the water bath canning method to preserve this jam for room temperature storage. Or you can store it in the refrigerator or freezer.
If you use the water bath canner method, it's a good idea to use the higher sugar amount. Here's a great tutorial that demonstrates the water bath canning process.
Leave the jars out on the counter overnight. The next day, press down on the center of the lid. If it pops back up, it means it didn't seal properly. You'll have to store that jar in the fridge or freezer.
Peach Freezer Jam
And if you plan on storing the jam in the freezer, make sure to leave enough room in the jar to account for expansion during freezing. Otherwise your jars will crack!
I personally enjoy the flavor of "fresh" peach jam more than jam that has been processed in a canner. The flavors are usually more bright in my experience.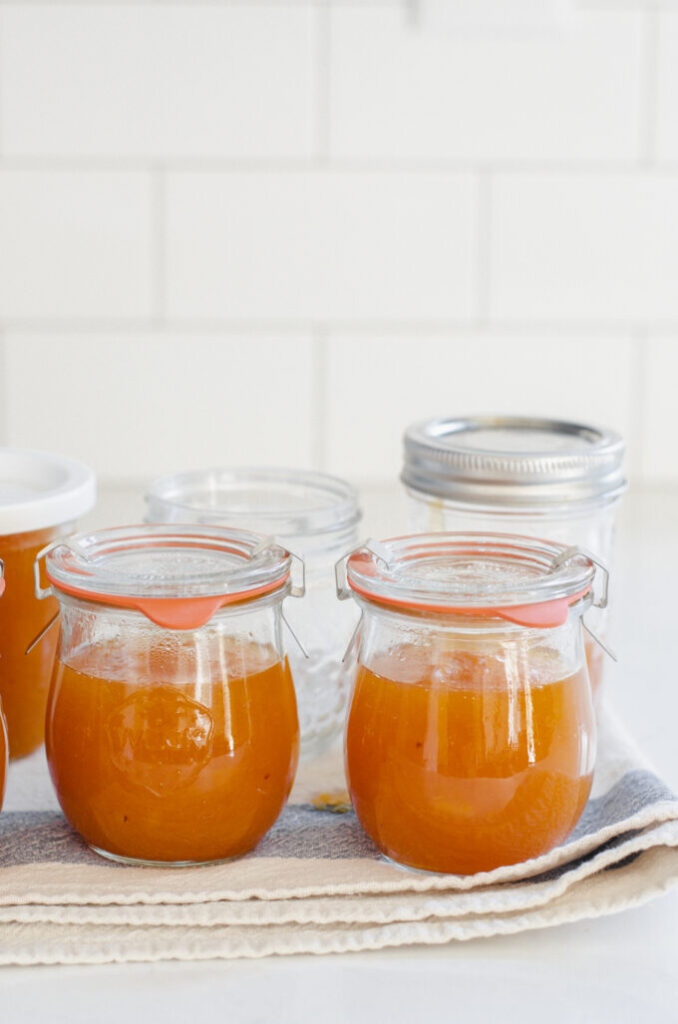 Look at those lovely jars of peach jam!
It really is the easiest jam I have ever made. All that's required is throwing all (three) of ingredients into a pot and boiling for about half an hour. Then just ladle the jam into jars and refrigerate.
And now, as we move into fall, I have a bit of summer preserved.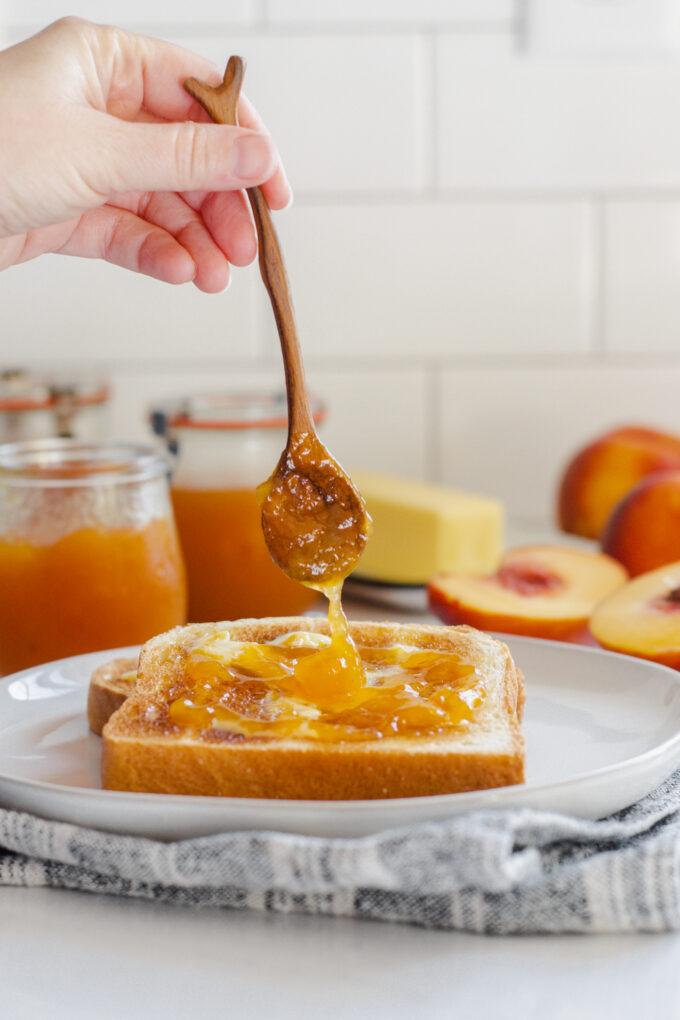 FAQ:
Are Peaches High in Pectin?
Peaches are actually classed as having low to medium natural pectin levels. But if you follow my instructions, you can still make peach jam without added pectin!
Can You Leave the Skin on Peaches for Jam?
Yes, you can totally leave the skins on. However, there may be a slight change in texture. You might want to puree your jam until completely smooth if you choose to leave the skins on.
How Do You Peel Peaches for Jam?
I just use a regular vegetable peeler. But you could also blanch the peaches and then the skins should easily slip off. I personally don't like going through the trouble of blanching the peaches. But if you have pounds and pounds of peaches to peel, it might be worth it.

Here's a video tutorial is case you learn better that way!
Ways to Use Peach Jam:
Here are some delicious ways to use your homemade peach jam:
Stir it into yogurt.
Spread it on toast or biscuits.
Serve with scones alongside Devonshire cream.
Spoon over ice cream.
Add to your peach smoothies to enhance the peach flavor.
More Homemade Recipes:
Recipe Card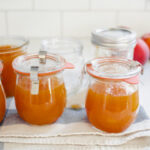 Easy Peach Jam Recipe
This simple peach jam recipe is made without pectin, and only 3 ingredients!
Ingredients
6

pounds

peaches

1/4

cup

freshly squeezed lemon juice

3-4

cups

cane sugar

(use the higher amount if canning)
Instructions
Peel and pit the peaches, roughly chop and place in a large pot. Add the lemon juice and mash them together with a potato masher to desired consistency (I don't like my jam too chunky).

Stir in the sugar and bring to a boil over medium heat. Continue to boil, stirring frequently, until the jam reaches about 210-220 degrees F (99-105 C) and thickens, about 25-30 minutes (or don't bother measuring the temperature and just boil the jam until it looks good). You can test the thickness by dropping a little bit of jam onto a cold plate.

Ladle the jam into sterilized jars, wipe the rims clean, screw on the lids, and either cool and refrigerate/freeze or process in a boiling water bath for 10 minutes. Leave 1/4 inch headspace for canning, 1 inch for freezing.
Recipe Notes
recipe adapted from from HGTV Gardens
Here's a tutorial if you've never done the waterbath canning method before.