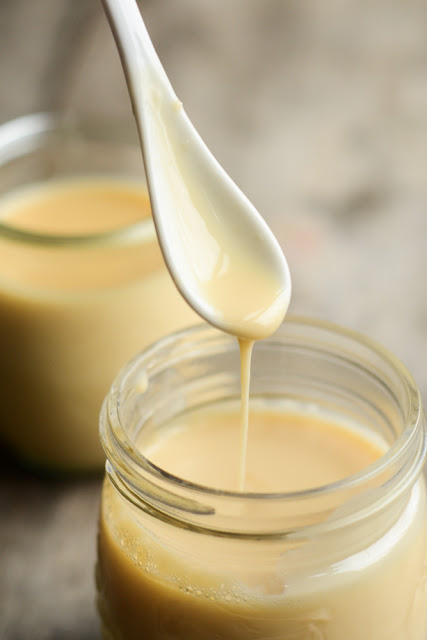 Make your own homemade sweetened condensed milk and you'll know exactly what goes into it!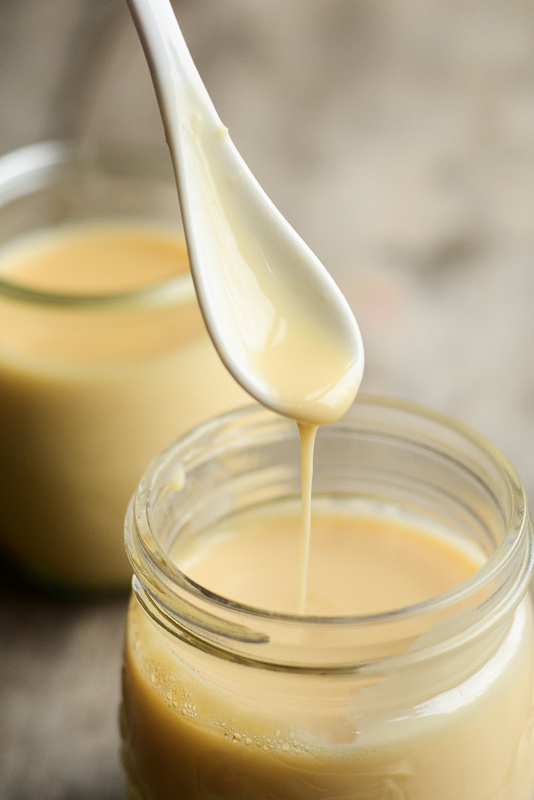 So why would anyone want to go to the trouble of making their own homemade sweetened condensed milk? After all, there are only two ingredients in a can of store-bought SCM: milk and sugar. Pretty harmless, no?
Not so fast.
True, it's probably less detrimental to your health than most canned food. But it's still not all that healthy. Here's why:
1) You don't know the origin of the milk. It most likely came from cows fed GMO feed, raised in confinement and given hormones.
2) The sugar, unless it is specifically stated as cane sugar, is most likely from GMO sugar beets. 95% of sugar beet crops in the US were GMO in 2010 (source).
3) Most cans are lined with BPA to stop corrosion.
Besides, it's kind of fun to make! Yes, you do need to keep an eye on the stove for 2 hours, but you only need to stir it every 15 minutes or so.
What do you think? Are you concerned about consuming canned food? Do you care about GMOs?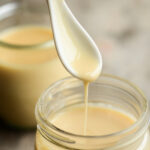 Homemade Sweetened Condensed Milk
This homemade sweetened condensed milk recipe calls for just 3 ingredients and some time on the stove!
Total Time
2
hours
5
minutes
Ingredients
1

liter

of whole milk

3/4 - 1

cup

sugar

I used cane sugar, of course

1

tablespoon

butter to thicken milk

I forgot this, and it still turned out fine
Instructions
1) Place the milk and sugar in a heavy-bottomed saucepan and bring to a simmer. Turn heat down to low and simmer for 2 hours or until the milk is reduced by about half. Stir every 15 minutes or so to keep the milk from burning.

2) Strain through a fine-mesh sieve if desired and stir in the butter. Store in the refrigerator until needed.