This homemade pizza sauce is super easy, made with tomato paste, and very tasty. It's flavored with dried spices and a bit of red wine!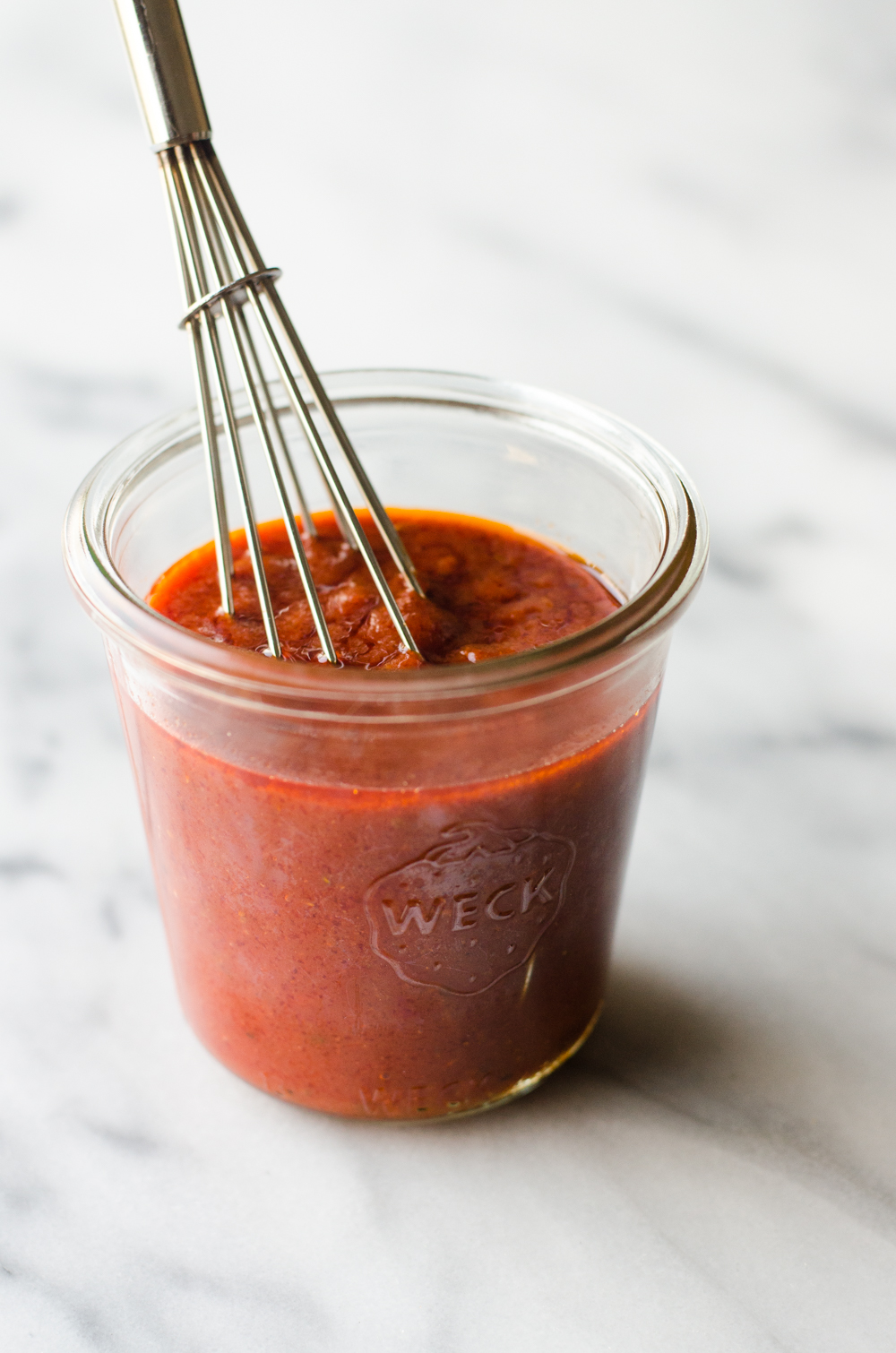 Growing up, I actually didn't really like homemade pizza. My mom would make it with green peppers, which I despised at the time. I remember stealthily slipping a slimy green pepper onto the carpeted dining room floor, hoping that no one would notice. I can't recall if I was caught in my heinous crime.
Ingredients for Homemade Pizza Sauce with Tomato Paste: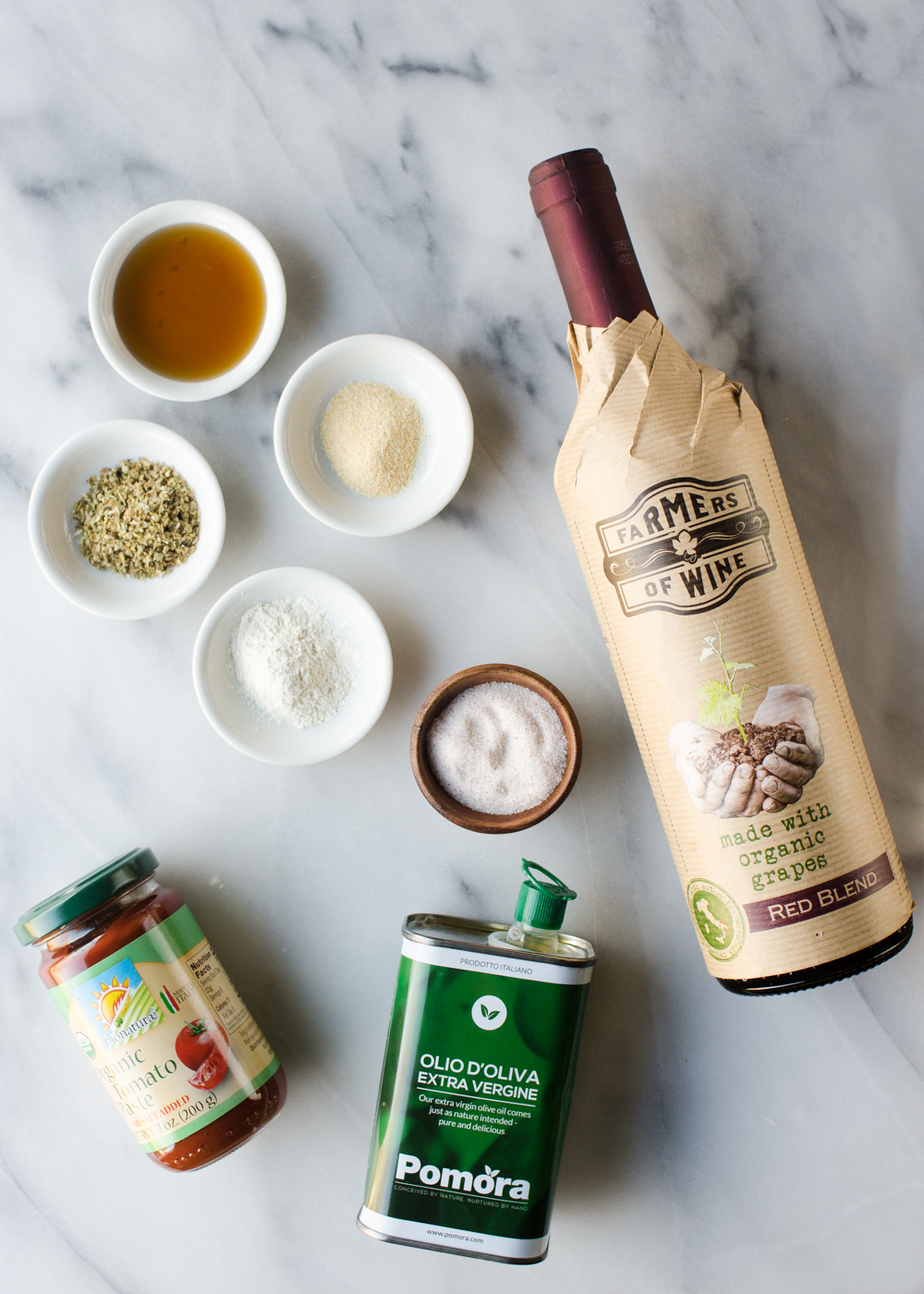 As a teen, I became obsessed with recreating my family's favorite junk food with more healthy ingredients. I decided to tackle frozen pizza.
So of course I came up with my own pizza sauce. I wasn't aware that you could purchase healthy-ish pizza sauce. And besides, my mom wouldn't have stood for buying it.
How to Make Pizza Sauce with Tomato Paste: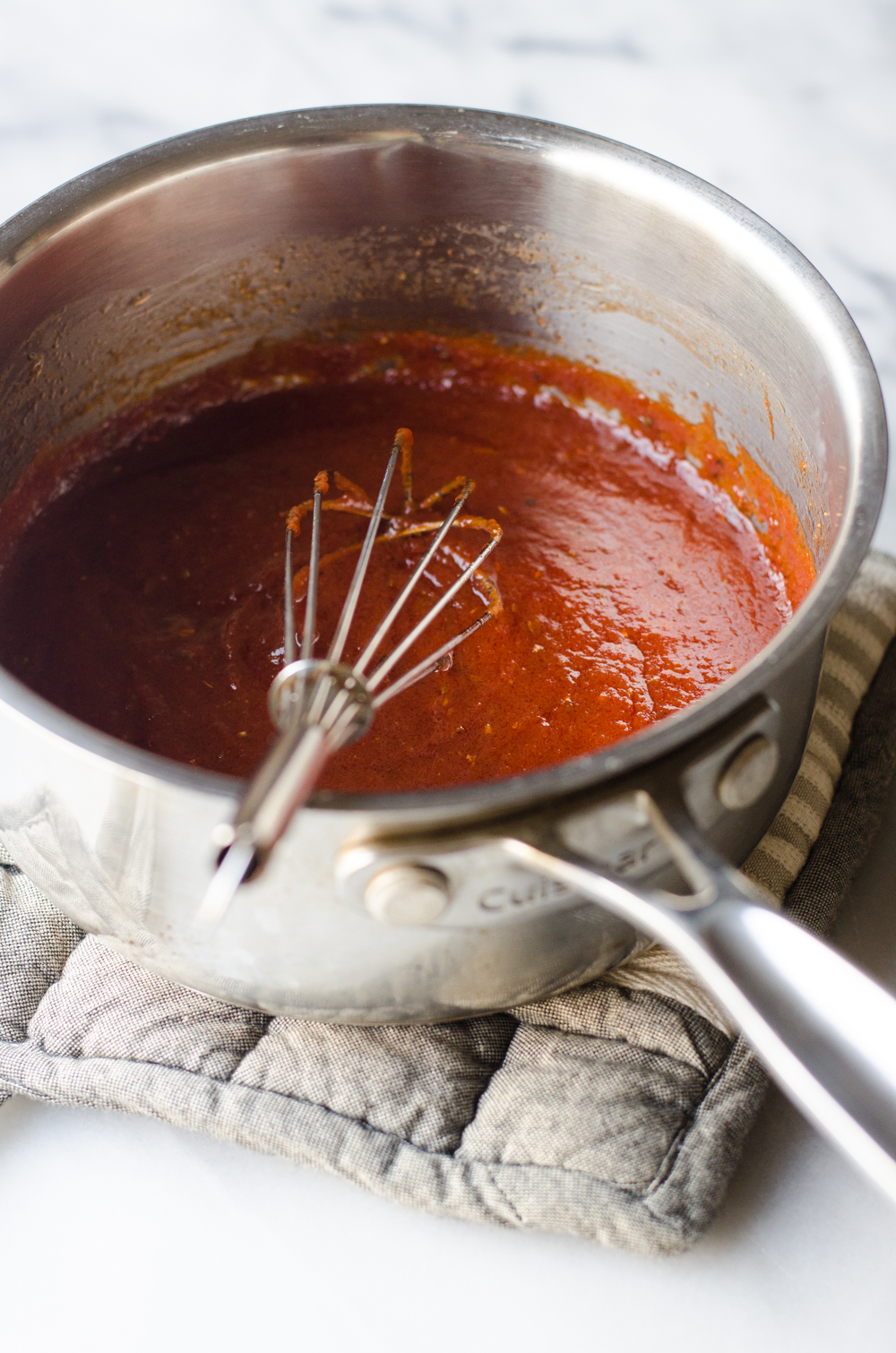 Luckily for me, I hit on the perfect flavors the first time I made it. And I made it again and again. Homemade pizza became a regular occurrence in our house once more.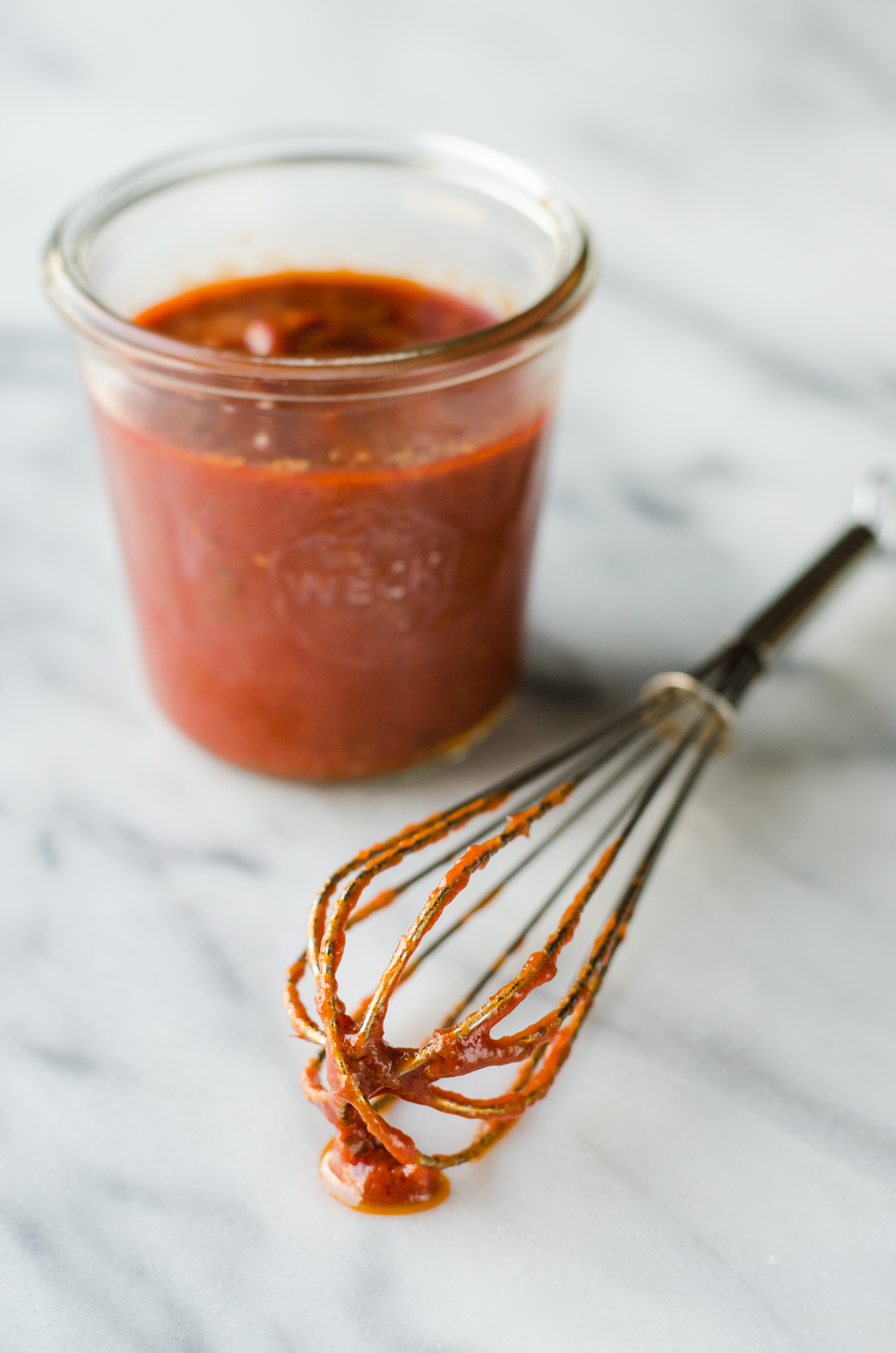 NOTES:
The thing that makes this pizza sauce so quick and easy is that it utilizes some power ingredients: Tomato paste is already reduced and thick, so you don't need to boil tomato sauce endlessly to get it to the right consistency. I contains dried instead of fresh herbs so there's no need to chop anything. At all. Can I get a lazy-girl (or time-strapped-girl) amen?!
I also added red wine for a really lovely flavor. It's definitely optional if you don't consume alcohol (or don't have any on hand), but it is nice. I think of it kind of like the vanilla extract of pizza sauce – just a bit to give it flavor.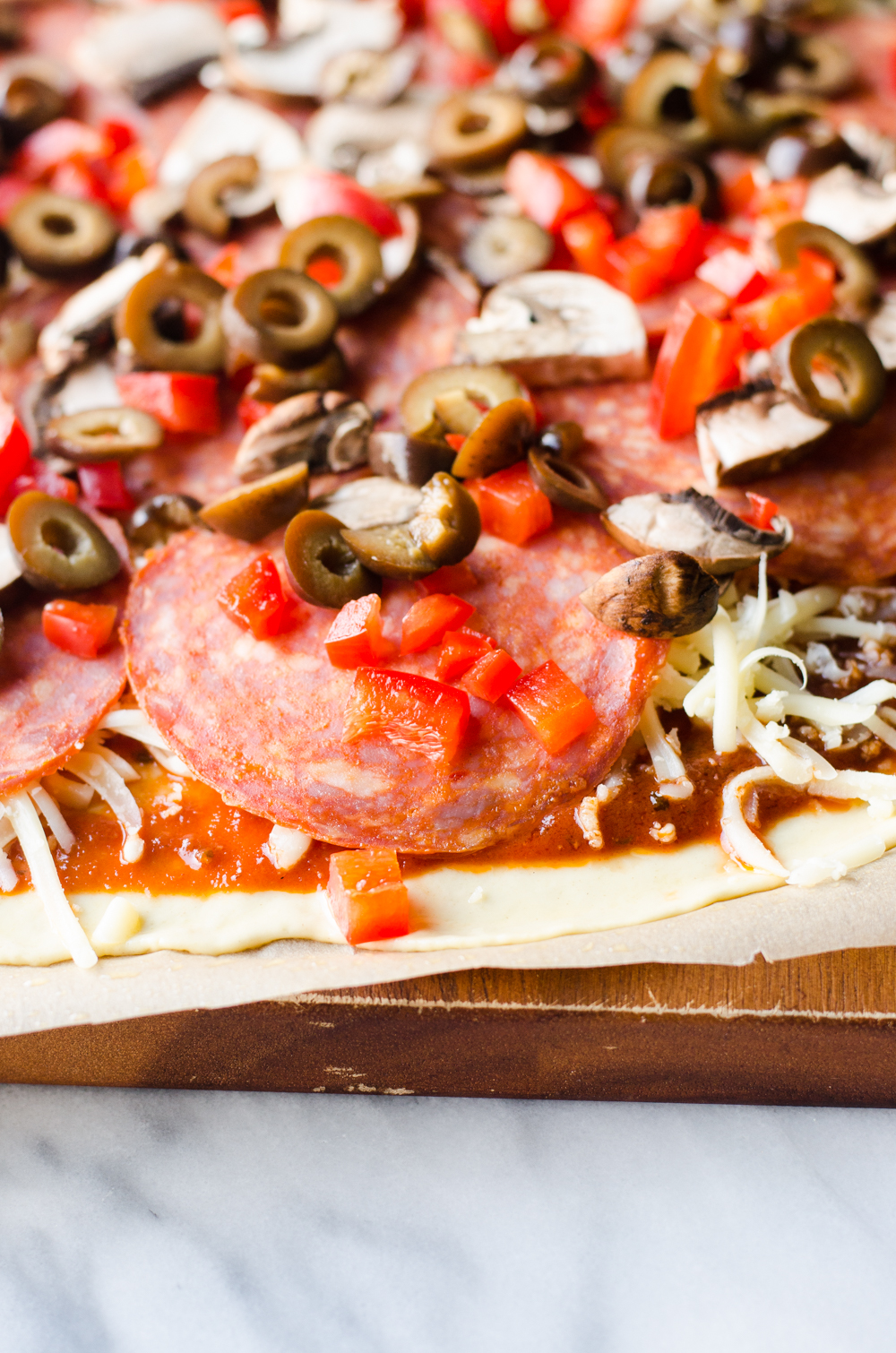 I'll bet that you have the majority of these ingredients in your pantry right now, or you can make a few subs. If you don't have maple syrup, use cane sugar instead. No wine? Sub more water. No onion or garlic powder? You can saute up fresh onion and garlic if you have it on hand (and don't mind a bit of chopping).
Just make sure to taste it and make it your own. Add more sweetness, a bit of spice, a bit of salt, whatever you think it needs!
More Pizza Recipes: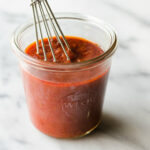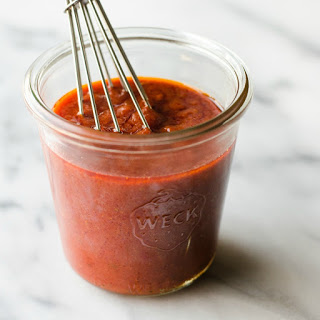 Easy Homemade Pizza Sauce with Tomato Paste
This homemade pizza sauce is so easy and has less than 10 ingredients!
Ingredients
1/4

cups

+ 2 tablespoons organic tomato paste

2

tablespoons

extra virgin olive oil

2

teaspoons

dried oregano

1

teaspoon

garlic powder

1

teaspoon

onion powder

1/2

teaspoon

real salt

1

tablespoon

+ 1 teaspoon maple syrup

1

tablespoon

+ 1-2 tablespoons red wine

1/4

cup

water
Instructions
Whisk together all ingredients in a small saucepan. Heat over medium heat, whisking occasionally, until bubbly and warm. Remove from heat. Store any leftover in the refrigerator.