Einkorn pizza dough is pretty easy to make, but it takes a few tricks to get it right.

This post contains affiliate links. If you click on a link and make a purchase, I will earn a small commission. Thank you for your support!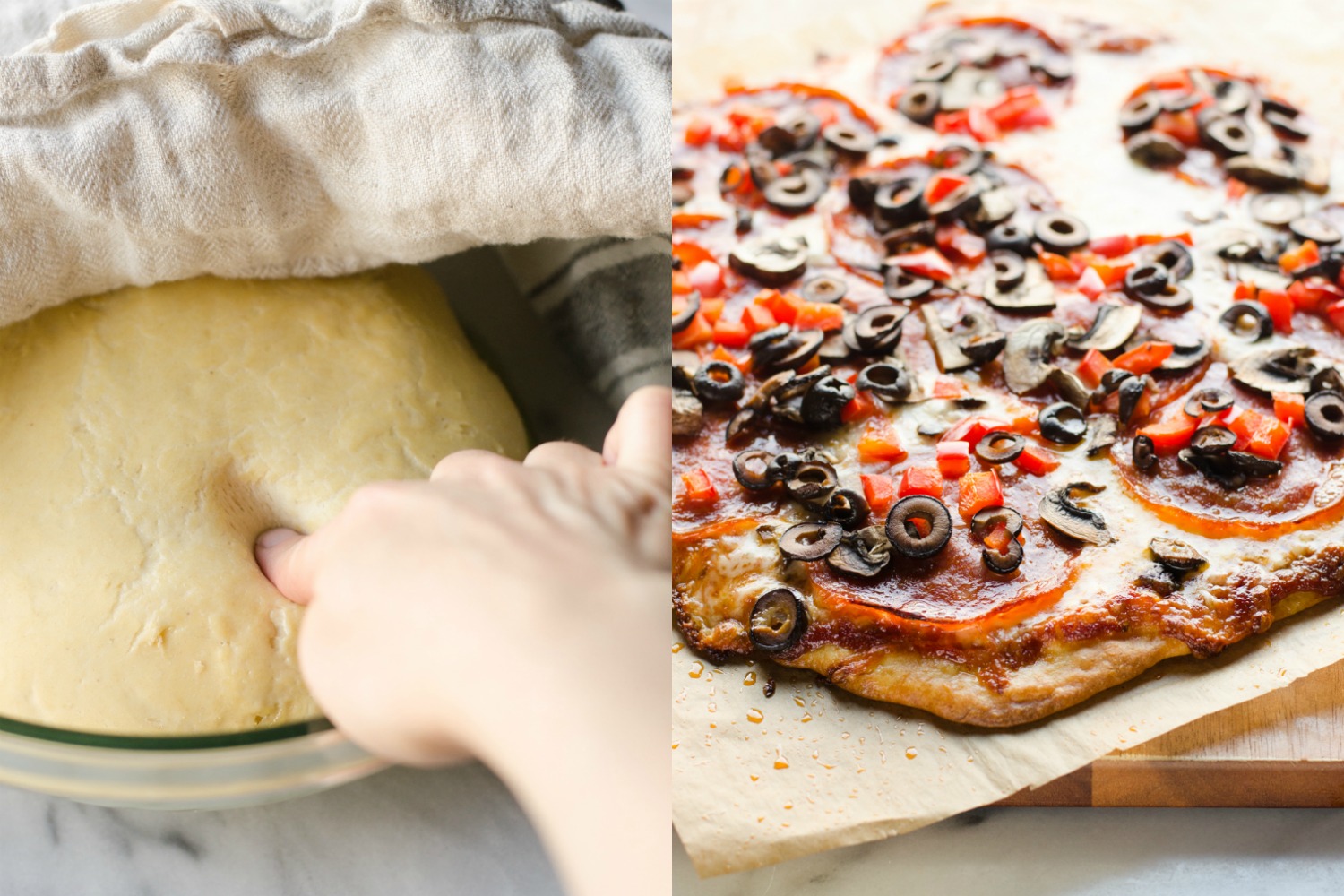 Before I tell you all about this lovely einkorn pizza dough, I have GOT to talk to you guys about my poison ivy…
A little background:
All along the border of the woods where we live the poison ivy is prolific. It has been a thorn in my side ever since my kids were old enough to run around outside and play. This year, Reuben decided to attempt to kill it off so we could have a larger yard. He tore up the ground and I helped him level it off in preparation for planting grass. I bragged about how I had done a LOT of yard work growing up (it was my dad's "thing" to have a nice lawn).
The next day, a couple of itchy bumps appeared on my wrist. Ah well, I thought. A few little patches won't be much of a bother. But then, oh THEN: it spread. On my arms, legs, neck, and even in my EAR! Reuben had it pretty bad as well. He even got it on his face.
We were pretty miserable for several days. SO. MUCH. ITCHING.
If you know of any natural (AKA no Roundup) way of getting rid of poison ivy, LET ME KNOW!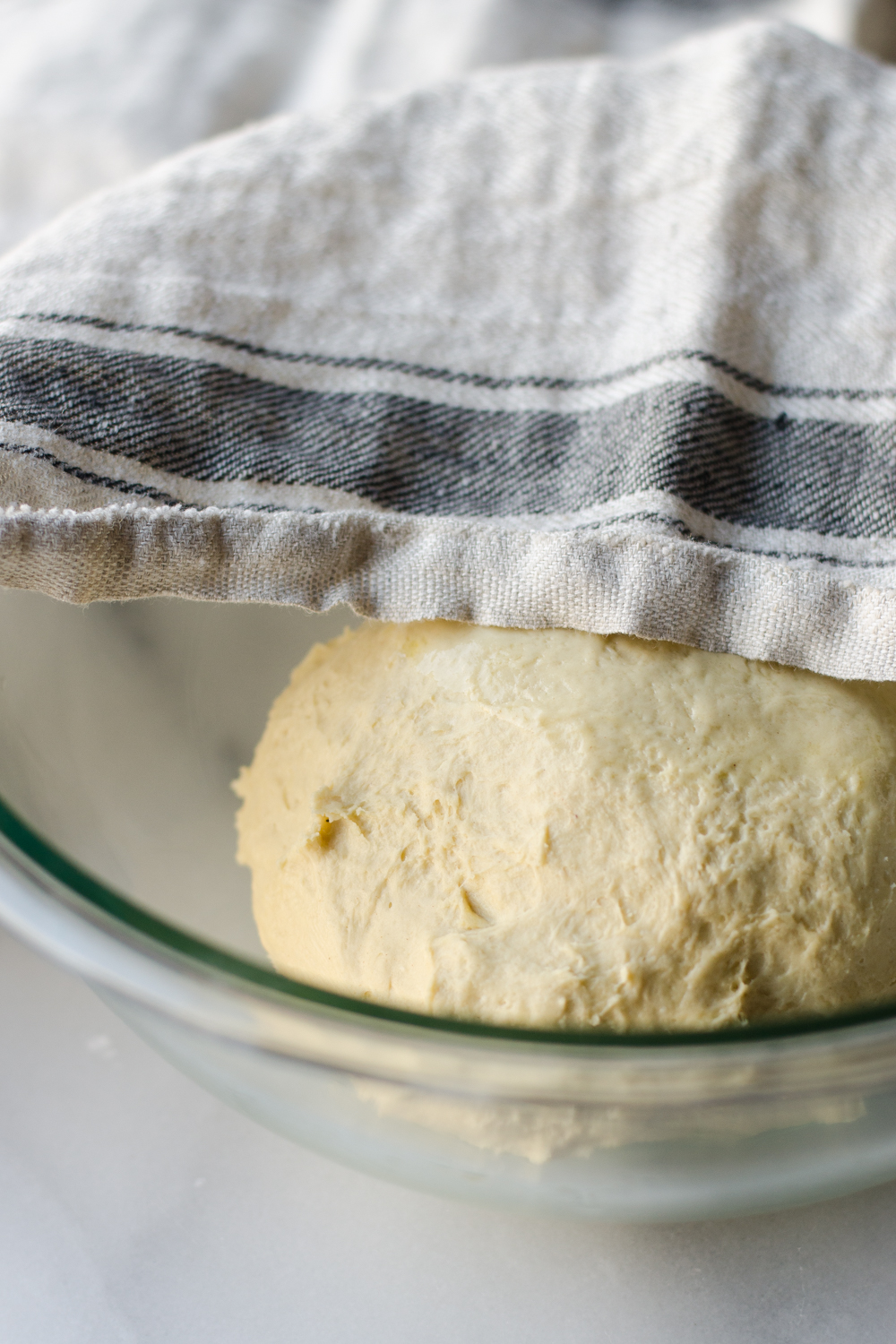 Anyway. About this einkorn pizza dough:
Einkorn can be a little tricky to work with. It absorbs liquids more slowly than regular wheat flour. It likes a nice, looooong resting time. And it doesn't necessarily like to be kneaded a lot.
If you have the time, you can let the dough rise twice before using it. If you're like me and rarely have the time, just letting the dough rise until doubled is sufficient.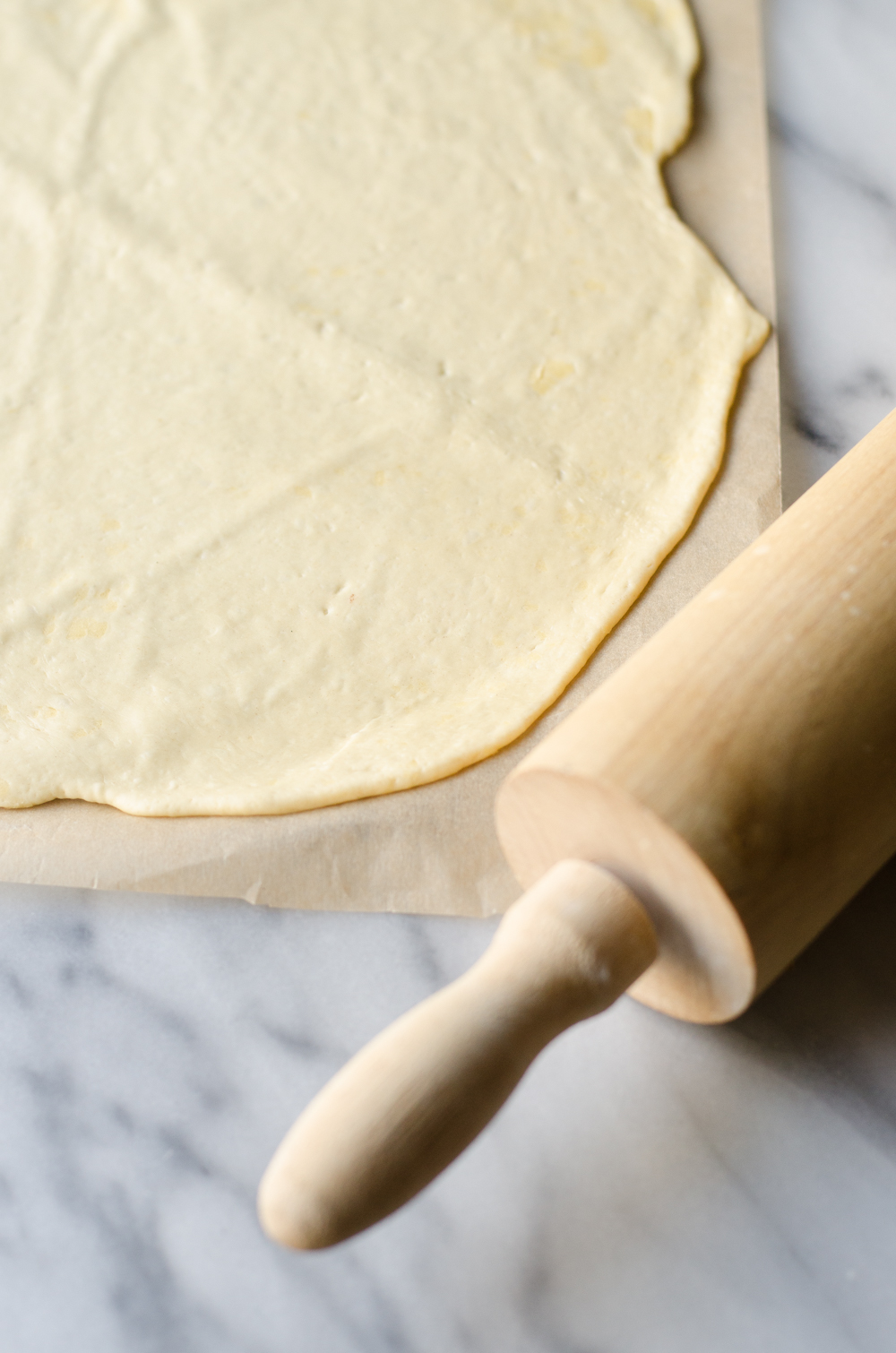 I highly, highly recommend three things when making pizza at home:
1.) Roll your pizza dough out on parchment paper. It's a lot less messy than trying to deal with cornmeal, trust me.
2.) Rub your dough with olive oil or butter before adding the sauce. This give the crust a wonderful flavor and helps to keep it from getting soggy.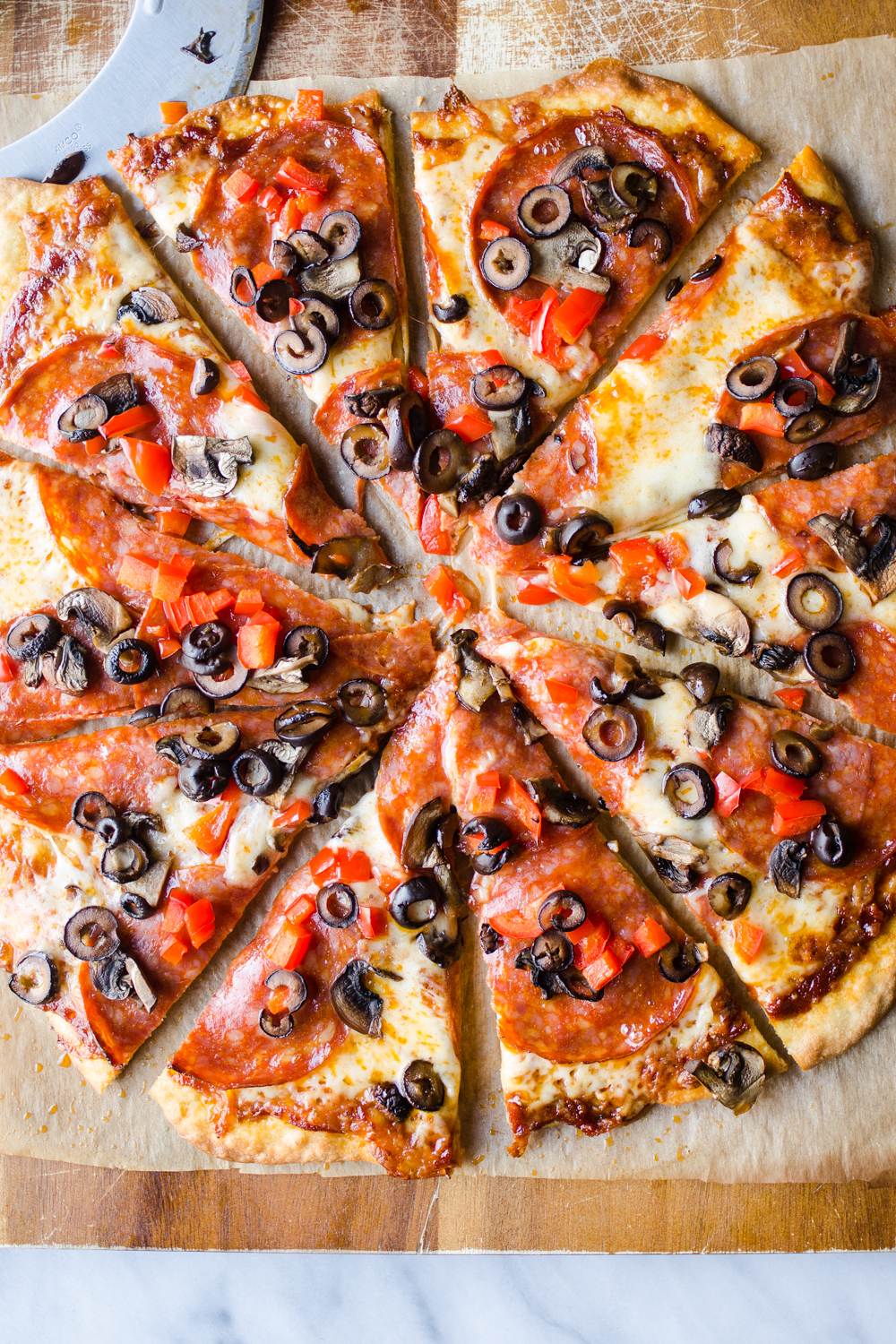 3.) Use a pizza stone to cook your pizza. Cooking your pizza on a stone in a very hot oven gives it a wonderful flavor. James actually broke mine, so I've been using my All-Clad baking sheet
to cook my pizza until I can decide on a new stone.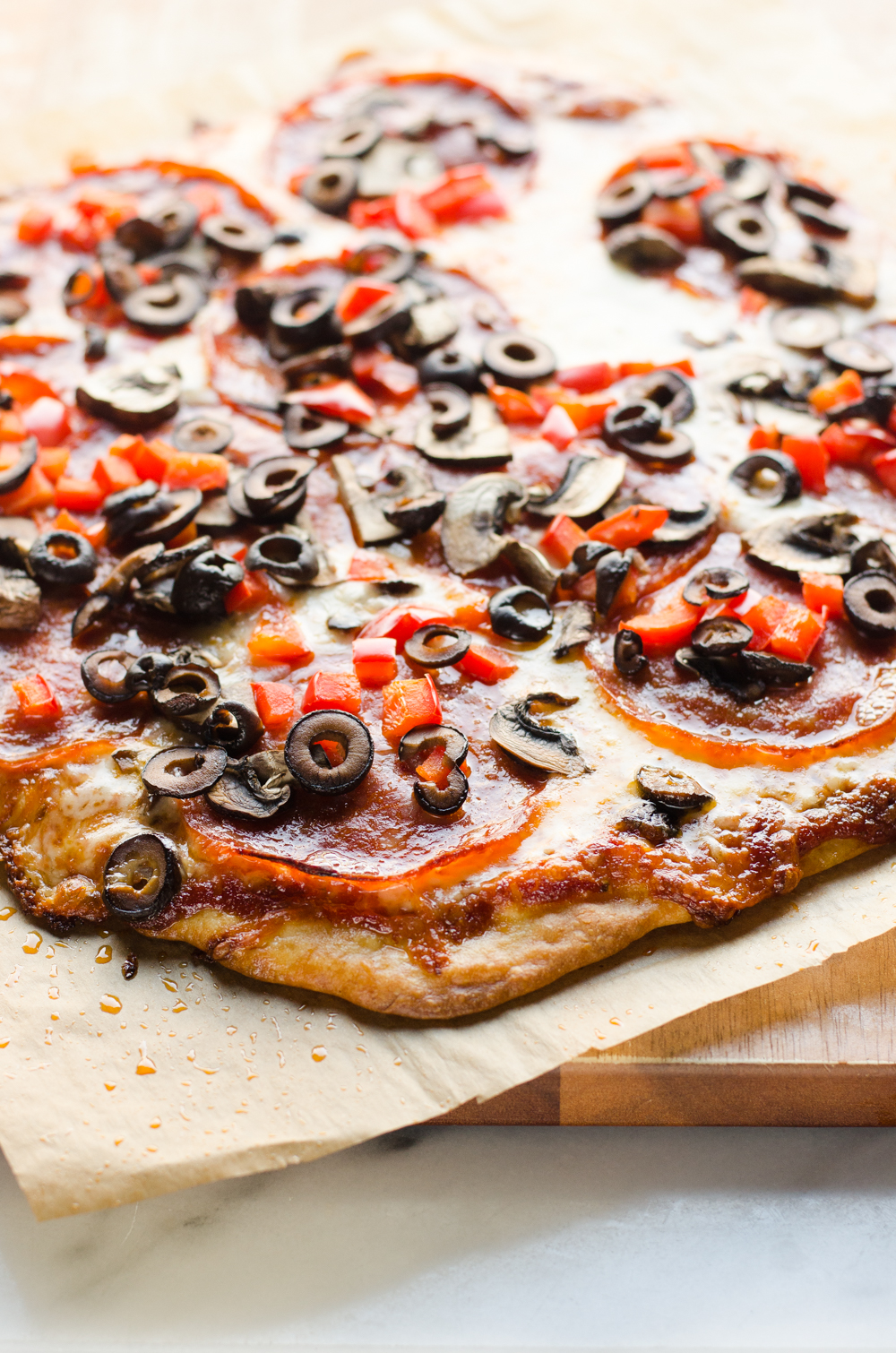 I hope you give this einkorn pizza dough a try! Top it with homemade pizza sauce, freshly shredded mozzarella, natural pepperoni, red bell peppers, and black olives
. Mmmmm…
I might have to share my recipe for a breakfast pizza someday…it's dynamite.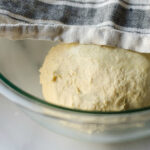 Einkorn Pizza Dough Recipe
Einkorn pizza dough is pretty easy to make, but it takes a few tricks to get it right.
Cook Time
2
hours
30
minutes
Total Time
2
hours
40
minutes
Ingredients
1

cup

warm

not hot water,

1 1/4

teaspoons

active dry yeast

look out: other yeasts contain additives!,

1

teaspoon

real salt

3 1/2

cups

all-purpose einkorn flour

2

tablespoons

extra virgin olive oil
Instructions
In the bowl of a stand mixer (or large mixing bowl), dissolve the yeast in the warm water. Allow to "proof" for 5 minutes, or until yeast is foamy.

Add the flour, salt, and olive oil. Using the dough attachment (or a wooden spoon if doing by hand), mix just until the dough comes together into a ball. Add more flour if necessary if the dough is really sticky.

Oil a large bowl and transfer the dough ball to the bowl, turning to coat with oil. Cover with a clean dish towel and allow to rise in a warm spot until doubled, about 1 1/2-2 hours. You can speed up the process by turning your oven to 200, cancelling, and placing the dough in the oven to rise. Remove dough from oven and preheat to 500 degrees with a stone or heavy baking sheet inside.

Gently deflate the dough and divide in half. Roll one half out on a sheet of parchment paper to about a 13-inch circle. Rub the dough with olive oil or butter and top as desired.

Transfer the pizza, parchment paper and all, to the preheated stone/cookie sheet. Bake for about 10 minutes, or until the crust is deep golden brown on the bottom and any cheese is melted and bubbly.
Recipe Notes
**Note: A reader made this recipe and had trouble getting the yeast to activate properly. Some types of yeast need sugar to fully activate. If you have this problem, try adding 1/4 teaspoon of sugar or honey to the yeast/water mixture when activating.
Adapted from Jovial