This homemade cooked eggnog recipe is made without alcohol or raw eggs, perfect for serving to kids or grown-ups that don't drink!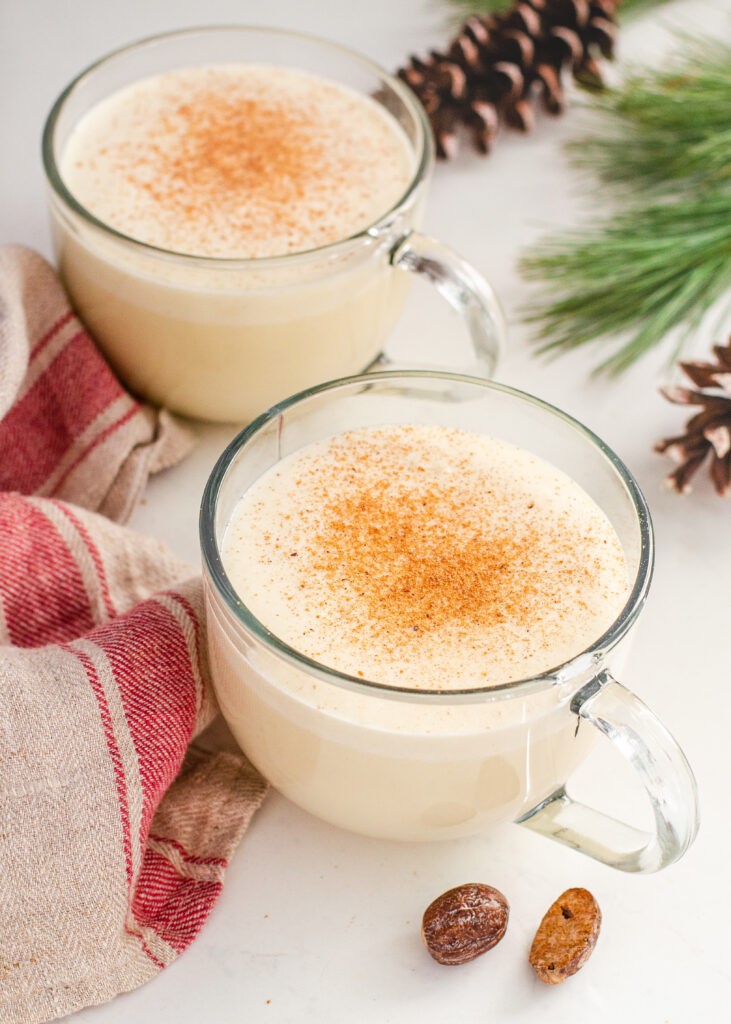 Our family has always enjoyed a good cup of eggnog during the Christmas season. Mom would carefully pour out a small portion and add a bit of milk to make it less rich. We kids would savor the little we got and agree that any more would be too much.
These days I prefer to make my own eggnog. I know exactly which ingredients go into it. And it is such fun to make.
This homemade eggnog recipe has you cook the eggs in a custard base. That way you don't have to worry about making anyone sick with uncooked eggs!
I'm usually not too squeamish about eating raw eggs, but serving them to other people makes me a little more nervous about food safety. I'm especially warry with pregnant women and young children.
Also, this recipe is alcohol free, so it's completely kid-friendly! Trust me, kids will adore it.
Make some this holiday season and your family will be overjoyed.
Okay, let me show you how to make this non-alcoholic eggnog recipe!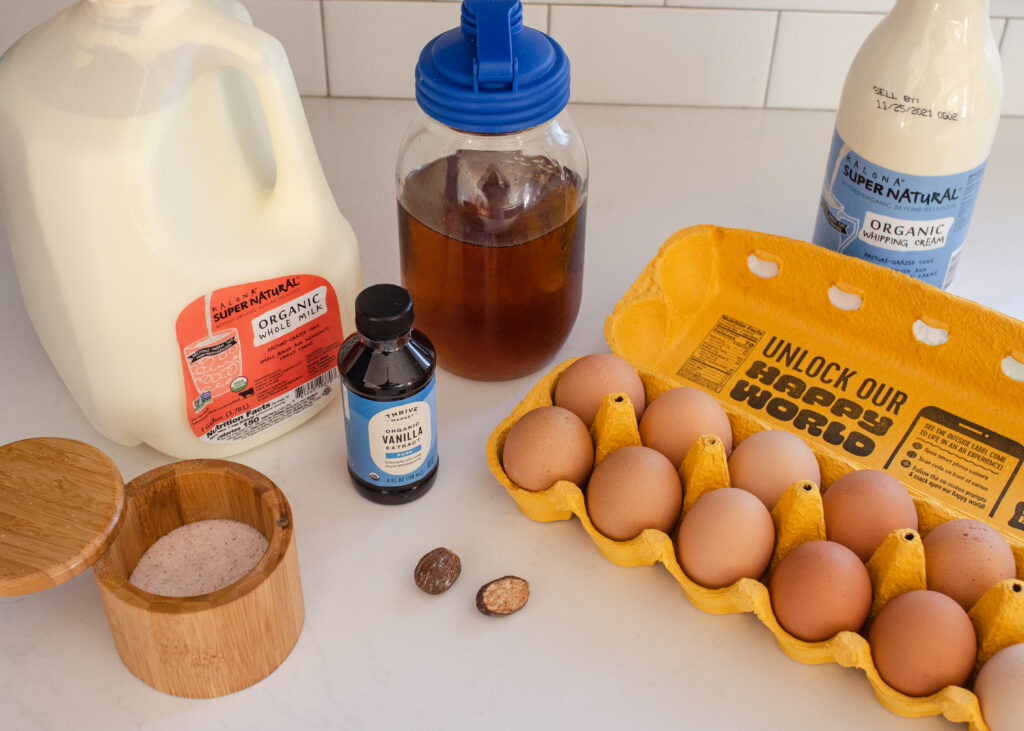 Note: Some links are affiliate. All opinions are 100% my own. If you click a link and make a purchase, I'll receive a small commission. This has zero impact on the price you pay, and helps Buttered Side Up out!
Ingredients:
Eggs: Don't be shocked when you learn that this recipe calls for 12 whole eggs! You'll be using both the egg yolks and egg whites, so there's no need to worry about using up extras of one or the other.
Maple Syrup: I like to sweeten this eggnog with maple syrup, but feel free to substitute granulated sugar if you prefer.
Salt: Of course you need to add a little bit of salt to bring out all of the other flavors.
Whole Milk: I like to use whole milk to ensure that the final product is nice and rich and creamy.
Vanilla Extract: If you use regular vanilla extract, there will be a tiny bit of alcohol from that. But it's really not much alcohol, and you can always purchase alcohol-free vanilla extract!
Nutmeg: I really like to use freshly grated nutmeg. The flavor is just different than pre-ground nutmeg. But if that's all you have on hand, go ahead and use that! It will still be yummy.
Heavy Cream: Here's my secret ingredient for making homemade eggnog incredibly rich. You can use either heavy whipping cream or regular whipping cream. You'll be whipping this to soft peaks and folding it in just before serving. Oh yes.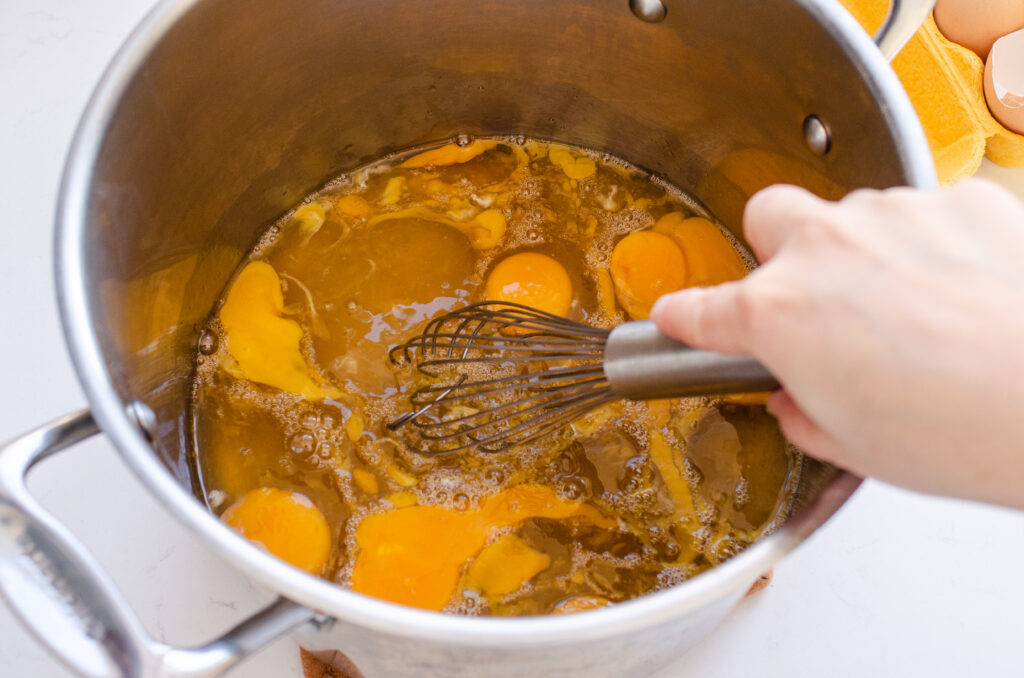 How to Make Eggnog Without Alcohol:
First, you're going to make the custard base.
Place the eggs, maple syrup (or sugar), and salt in a large stock pot. Whisk well.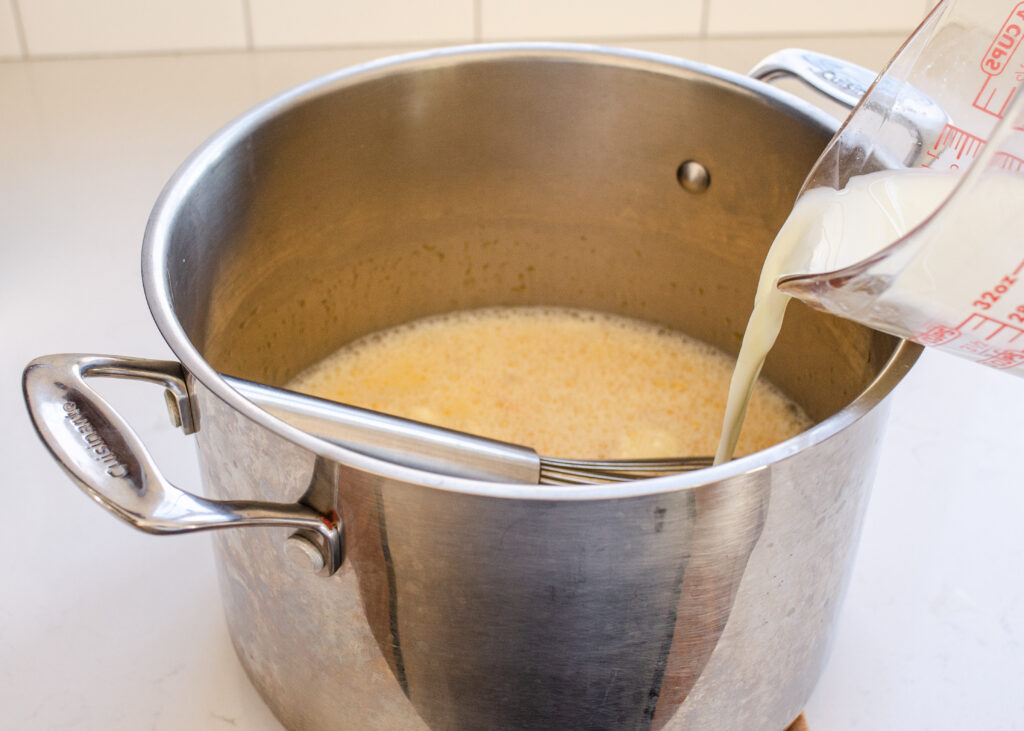 Now gradually stir in half of the milk.
You'll see why you only add half later…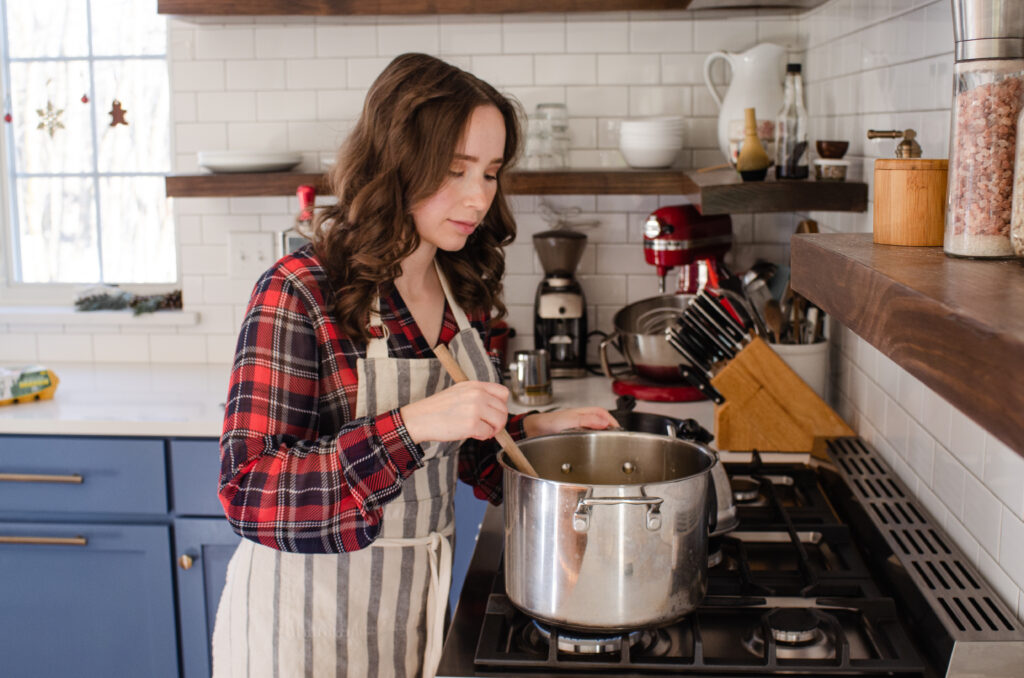 Transfer the pot to the stove and cook over low heat, stirring constantly (or at least nearly constantly), for about 25 minutes.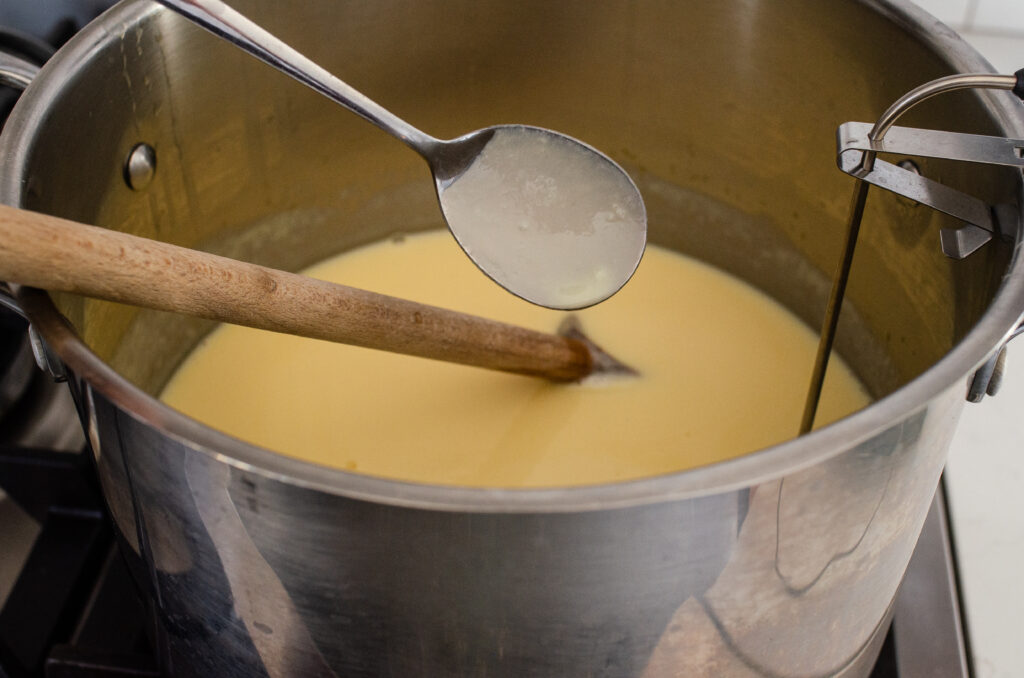 To test for doneness, dip a spoon into the custard. If it coats the back of the spoon, you're good to go! You can use a wooden spoon or a stainless steel one. It won't be a super thick texture, but you'll definitely be able to feel that it has thickened.
The mixture should reach about 170 -175 degrees F (76-79 degrees C), but don't go above that.
If you go over that temperature, you might have scrambled eggnog on your hands.
Don't ask me how I know that.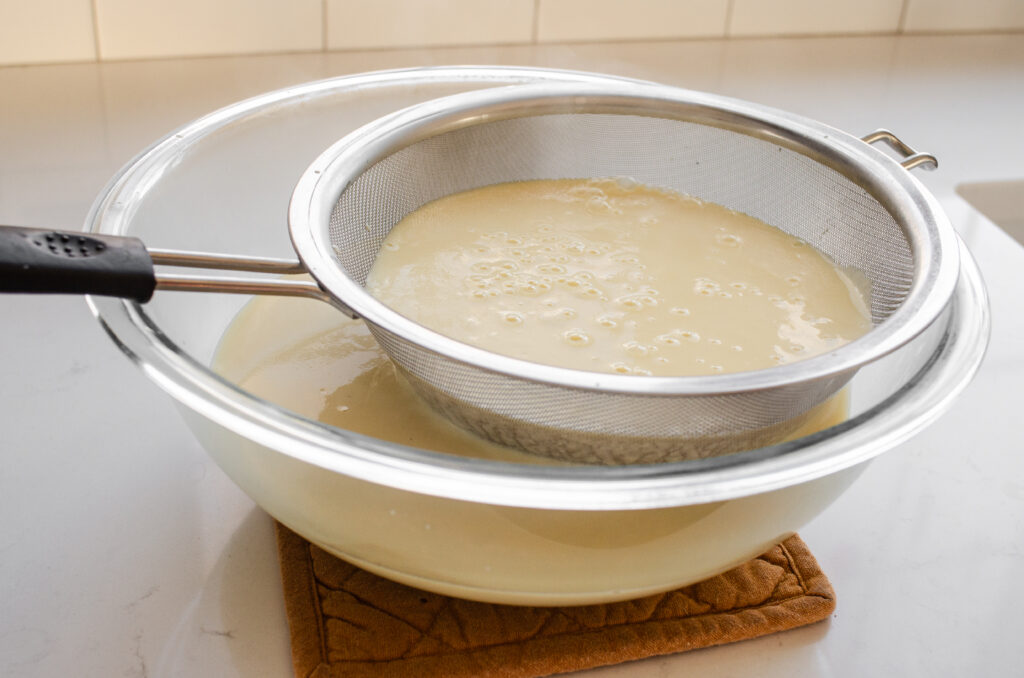 Straining:
I like to pour the cooked custard through a fine strainer/sieve into a large heat-proof mixing bowl.
That way if you were a little lax on the stirring, the sieve with catch any lumps.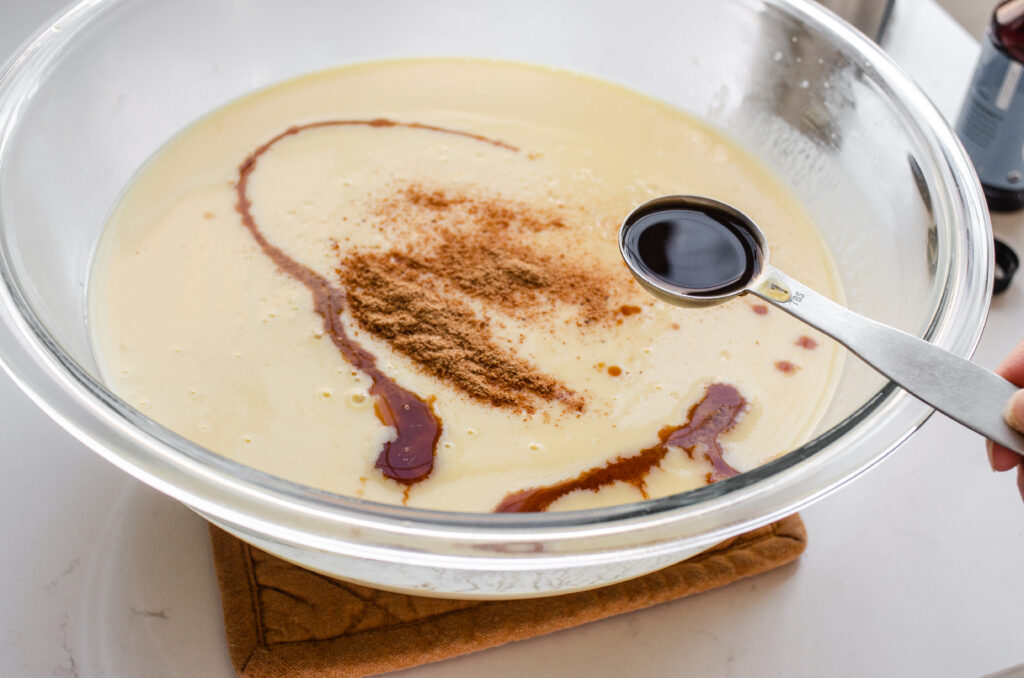 Adding the Vanilla/Milk & Cooling:
Stir in the vanilla extract…
…and the remaining milk.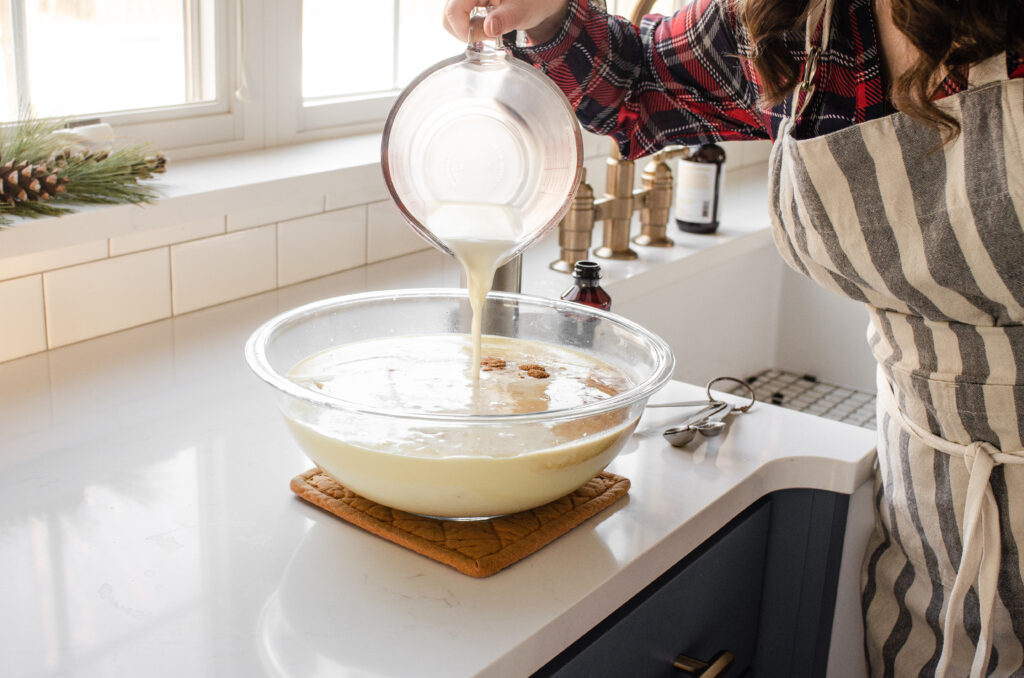 Adding half of the milk later helps the mixture to cool down faster.
Cool to room temperature, and then chill in the refrigerator until completely cold, about 3 hours.
I don't find it necessary to press plastic wrap on the surface.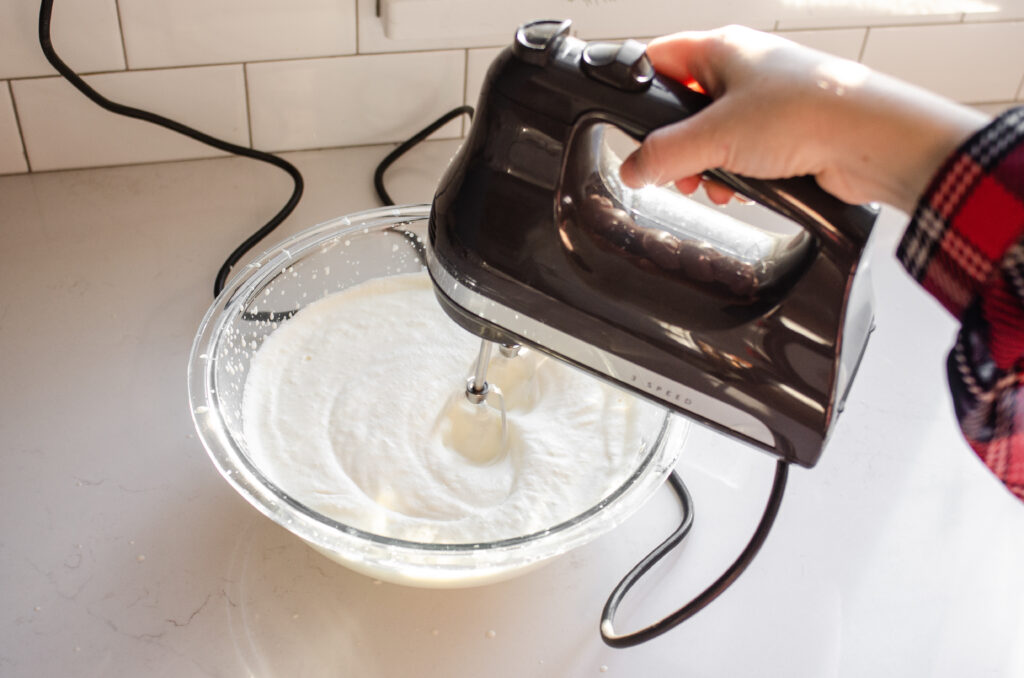 Whipping the Cream:
Here's where it gets good.
Just before serving the eggnog, beat 2 cups of whipping cream until soft peaks form.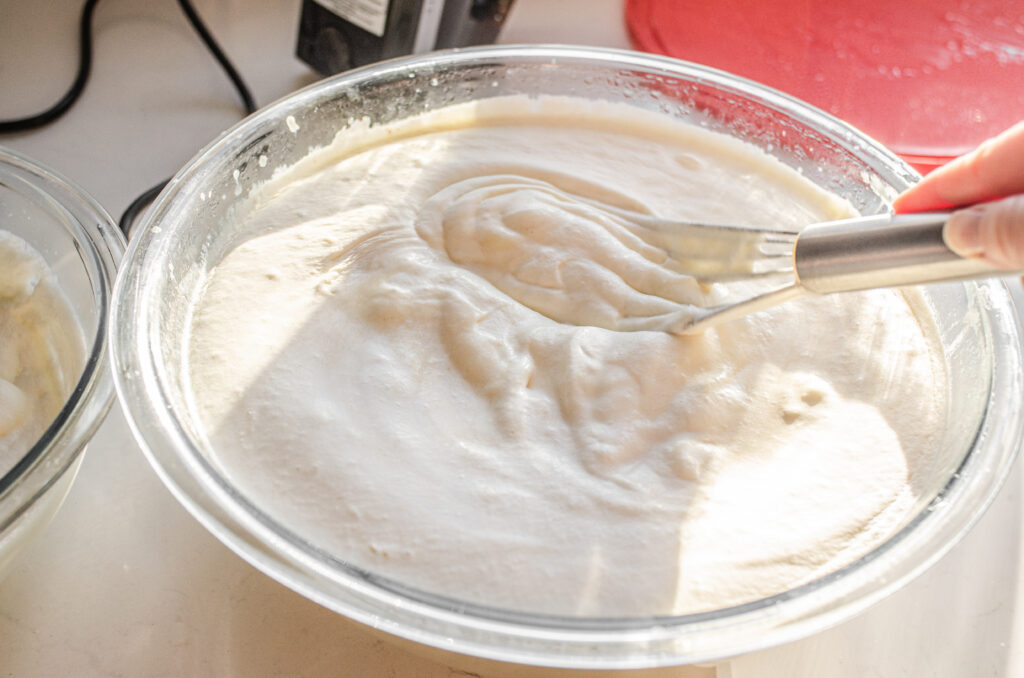 Fold the lightly whipped cream into the cooled eggnog custard. I think using a flat whisk works best for this.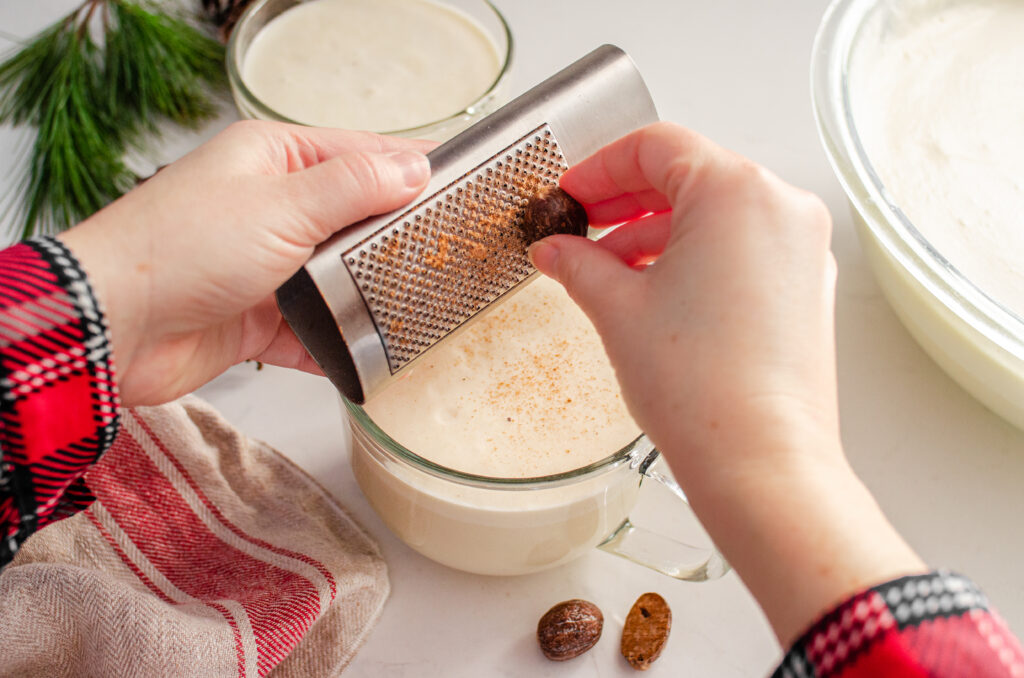 Serving Eggnog Without Alcohol:
You can serve this either in a pitcher, or in a large bowl with a ladle.
You'll probably want to use a small cup since this is so rich.
I highly recommending grating extra nutmeg on top.
If you're feeling extra decadent, you can also top this off with extra whipped cream.
This recipe makes about 16 cups of eggnog, or 32 half-cup servings. It's quite rich, so the half-cup serving seems reasonable to me. But if you or your guests are avid eggnog fans, you may need plan for fewer servings per recipe.
Also, feel free to half or quarter the ingredients if you plan on serving fewer people.
Storage:
Store any leftovers in an airtight container in the refrigerator for up to 3 days.
You can make this a few days in advance to save time later.
Variations:
You can add a little bit of rum flavoring/extract if you'd like it taste more like the ones you get from grocery stores.
You can also add other spices such as cinnamon and cloves.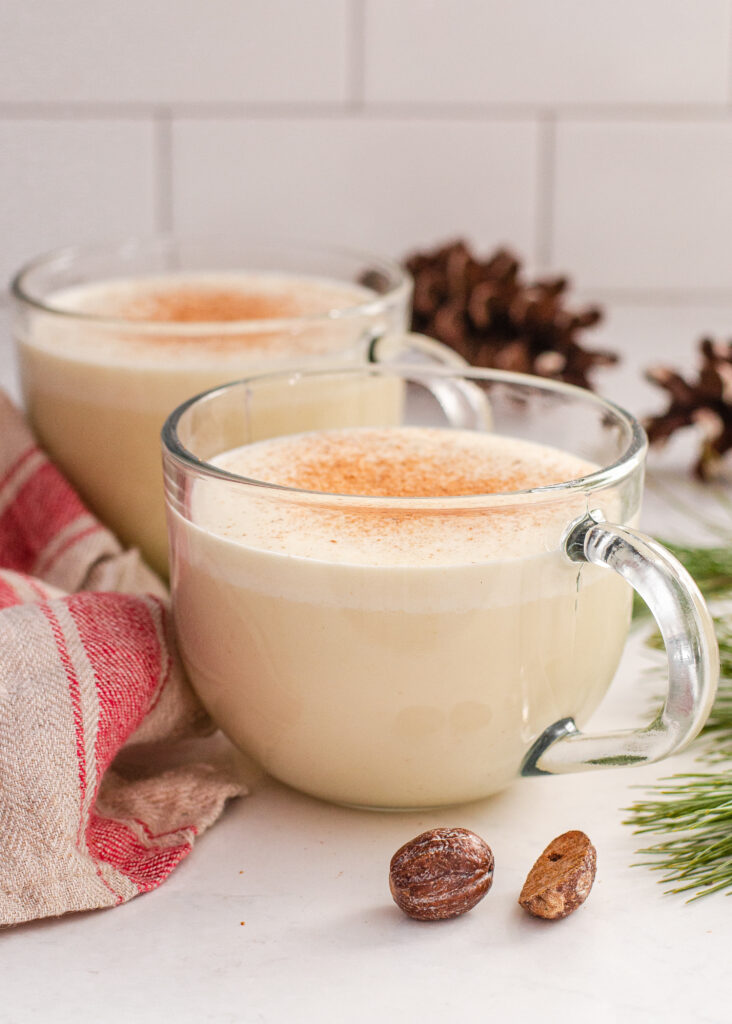 What Does Eggnog Taste Like?
Eggnog tastes kind of like drinkable vanilla pudding with the lovely spiciness from the nutmeg.
It's rich and flavorful. Such a treat!
How Long Does Eggnog Last?
Homemade eggnog will last about 3 days in the refrigerator. You could stretch it to 4-5 days, but that's pushing it. For store-bought eggnog, you'll just have to go by the expiration dates on the cartons.
Is Eggnog Gluten Free?
This homemade eggnog recipe is completely gluten free. Most store-bought eggnog should be gluten free as well, but you'll want to check the ingredients for each brand. Gluten-containing ingredients can sometimes hide in a long list, so make sure to read carefully!
By the way, it is VERY important, if you have an instant read thermometer, that you make sure it is set to Fahrenheit instead of Celsius. I once bumped the button by accident and made "scrambled eggnog." Oops. Reuben at it anyway – he's crazy about eggnog (and not wasting ingredients).
Video Tutorial
Here's a video tutorial in case you learn better that way!
More Eggnog Recipes:
More Homemade Drink Recipes:
More Holiday Treats: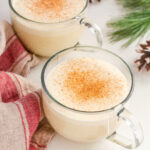 Homemade Eggnog
Homemade eggnog with cooked eggs!
Ingredients
12

large eggs

1 1/2

cups

maple syrup

or granulated sugar

1/2

teaspoon

salt

2

quarts

8 cups whole milk

2

tablespoons

vanilla extract

1

teaspoon

freshly grated nutmeg + more for garnish

2

cups

heavy whipping cream
Instructions
1) In heavy 4 quart saucepan, off heat, whisk the eggs, maple syrup, and salt until well blended. Gradually stir in half of the milk.

2) Cook over low hear, stirring constantly, until mixture thickens and coats the back of a spoon, about 25 minutes

(mixture should be about 170 – 175 degrees F). Do not boil.

3) Pour custard in a large bowl. Stir in vanilla extract, 1 Tsp. ground nutmeg and remaining milk. Cover and refrigerate until well chilled, about 3 hours.

4) Just before serving, in a medium bowl, beat whipping cream until soft peaks form. With wire whisk, gently fold whipped cream into custard mixture.

Serve with extra whipped cream on top (optional) and a sprinkle of freshly grated nutmeg (not optional).

Store in the refrigerator up to 3 days.

Makes about 16 cups or 32 – 1/2 cup servings
Recipe Notes
Adapted from a recipe from a friend.