This easy Buckeye Candy Recipe is made without shortening, so there's no need to run to the store to buy special ingredients!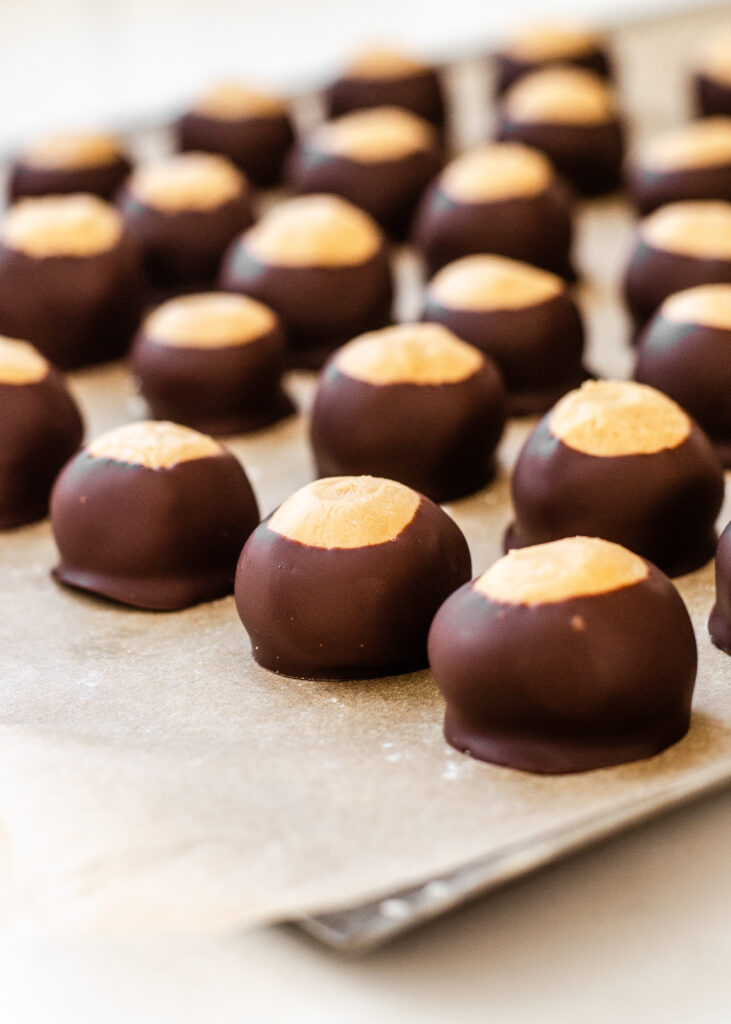 Have you ever tried buckeye candies before? They're delicious little peanut butter balls that are dipped in chocolate.
Today I'm going to share my easy buckeye recipe without shortening! It's made with just a few simple ingredients that you probably already have in your pantry.
You can even get your children involved for some good times to remember in years to come.
Why Are They Called Buckeyes?
Peanut butter buckeyes are named after the nut or seed of the same name. They come from the Ohio buckeye tree, which is the state tree of Ohio. And they're actually toxic to humans.
Buckeye nuts are round, dark brown in color, with a lighter colored spot, like these chocolate peanut butter balls!
Are Buckeyes Cookies or Candy?
Ah, the debate. I would personally classify buckeyes as candy since they are similar to Reese's peanut butter cups. But they are rolled out kind of like a cookie.
Which do you call them: cookies or candies? Let me know in the comments!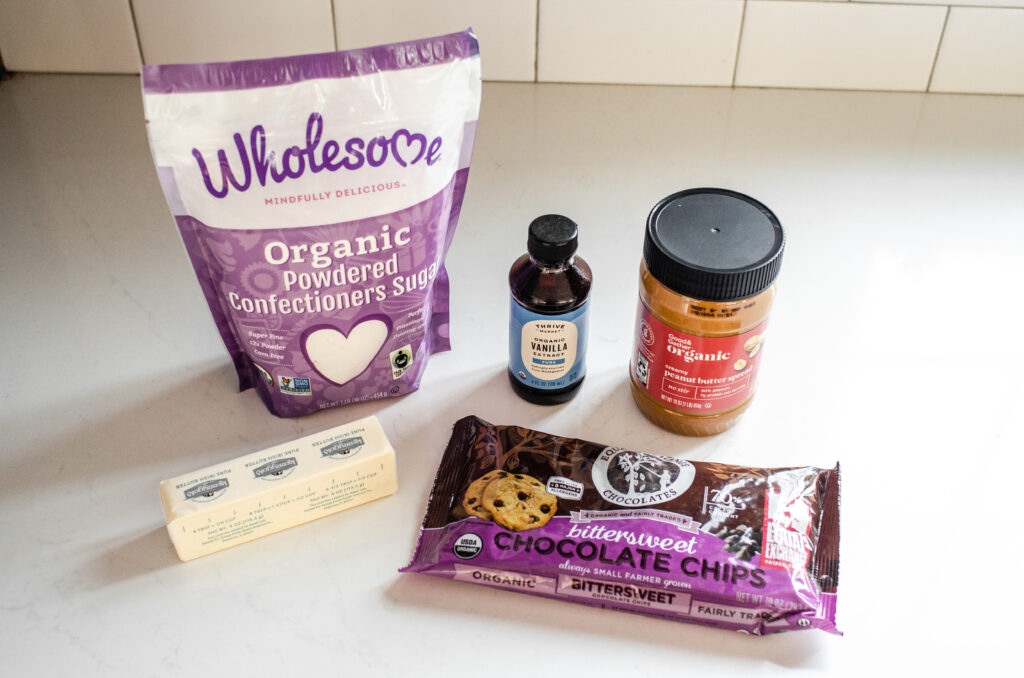 Note: Some links are affiliate. All opinions are my own. If you click a link and make a purchase, I will earn a small commission. This has zero impact on the price you pay, and helps Buttered Side Up out!
What Are the Ingredients for Buckeyes?
Can you believe that these buckeyes are made with just 5 ingredients?! Here they are:
Peanut Butter: You're going to want a very smooth peanut butter, so sadly most natural peanut butter (that you have to stir) won't work here. I was very happy to find some organic, no-stir peanut butter at Target! The texture is wonderful. You could also substitute almond butter if you can find one that is no-stir. Maranatha and Justin's both make one, I believe.
I don't recommend using crunchy peanut butter since that could make rolling the balls more difficult.
Butter: You know me: I like to use grass-fed butter because the flavor is so dang good. I also suggest using salted butter, otherwise you'll need to add some extra salt.
Powdered Sugar/Confectioners' Sugar: This is what makes the peanut butter "dough" dry enough to roll out. I experimented to see how little powdered sugar I could get away with, and 2 cups per cup of peanut butter was the lowest I could go and still roll out the dough comfortably. For a less-sweet version, you can decrease the sugar to 1 1/2 cups and add 3/4 cup of collagen peptides. The dough will be a little more gritty with the collagen, but this is a great lower-sugar, higher-protein option!
Vanilla Extract: This is an optional ingredient, but it does add an extra layer of flavor.
Chocolate Chips: If you use dark chocolate chips, you can cut back on the sweetness even more. I like Equal Exchange bittersweet chocolate chips, but you can use semisweet chocolate chips if you prefer. You could experiment with milk chocolate, but it may end up softer than you'd like.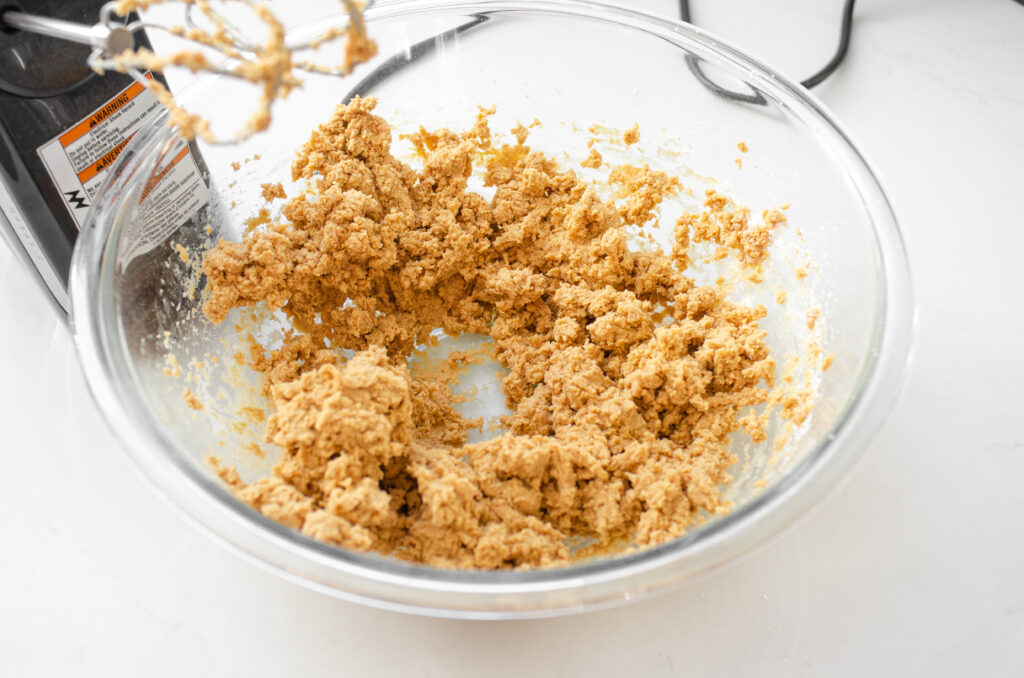 How to Make Peanut Butter Buckeyes Without Shortening:
Start by beating 1/2 cup butter and 1 cup peanut butter together in a large bowl until smooth with an electric mixer. This can also be done by hand, but it will obviously take more effort to get everything smooth.
Sift the powdered sugar on top and beat until smooth.
You want the dough to be fairly dry. Otherwise it will stick to your hands.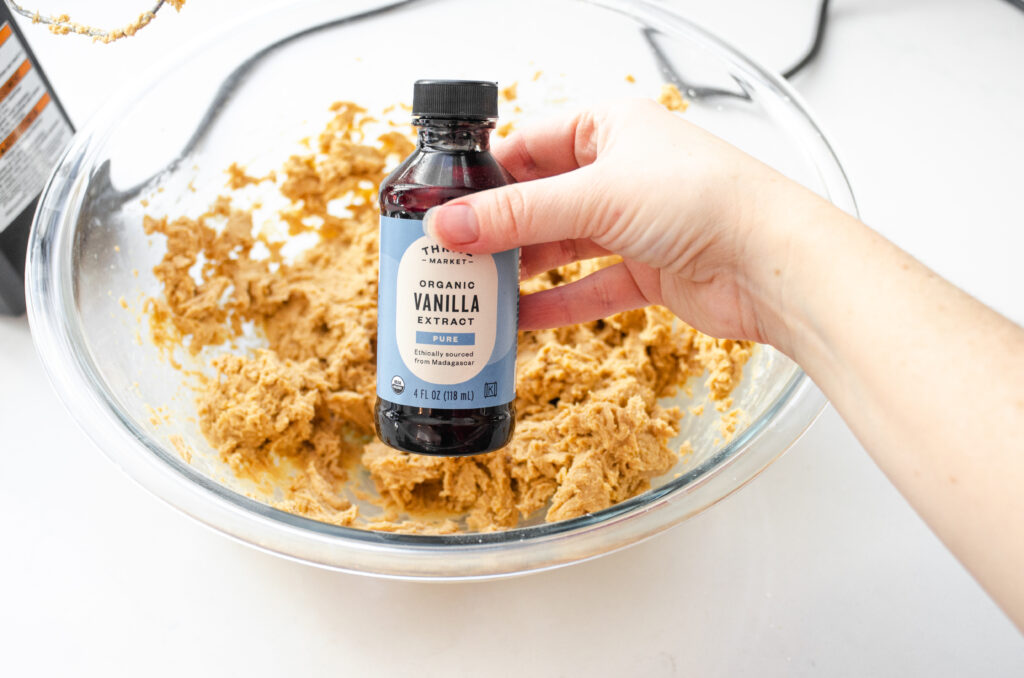 Add the vanilla extract to the peanut butter mixture and beat again.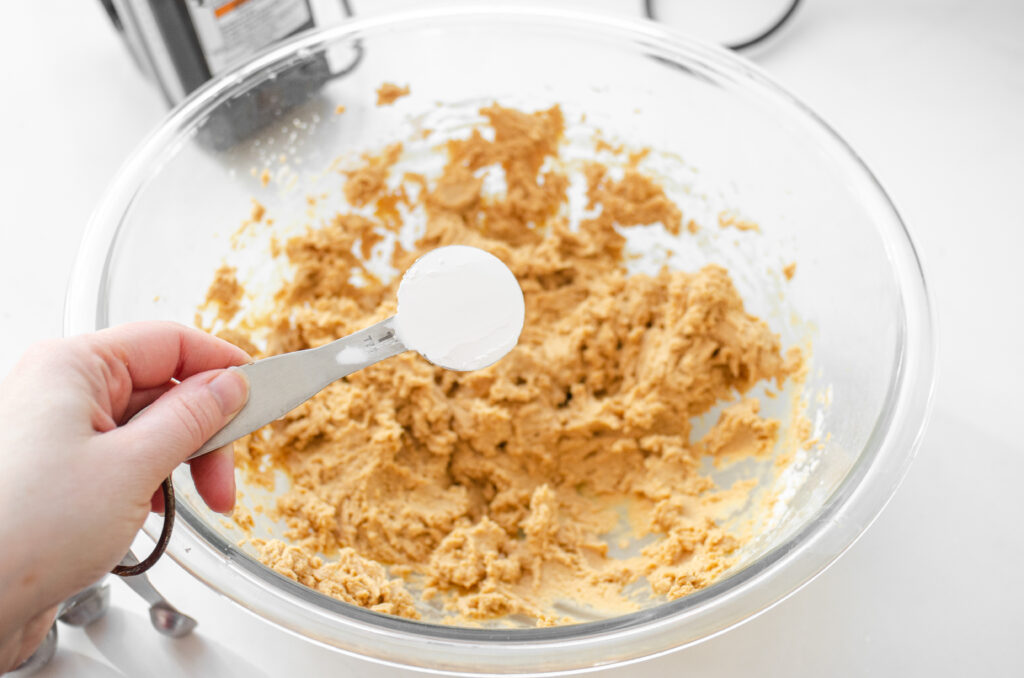 You may find that you need to add a little extra powdered sugar after adding the vanilla extract since it adds a little extra liquid.
Add the powdered sugar 1 tablespoon at a time until you get a roll-able dough.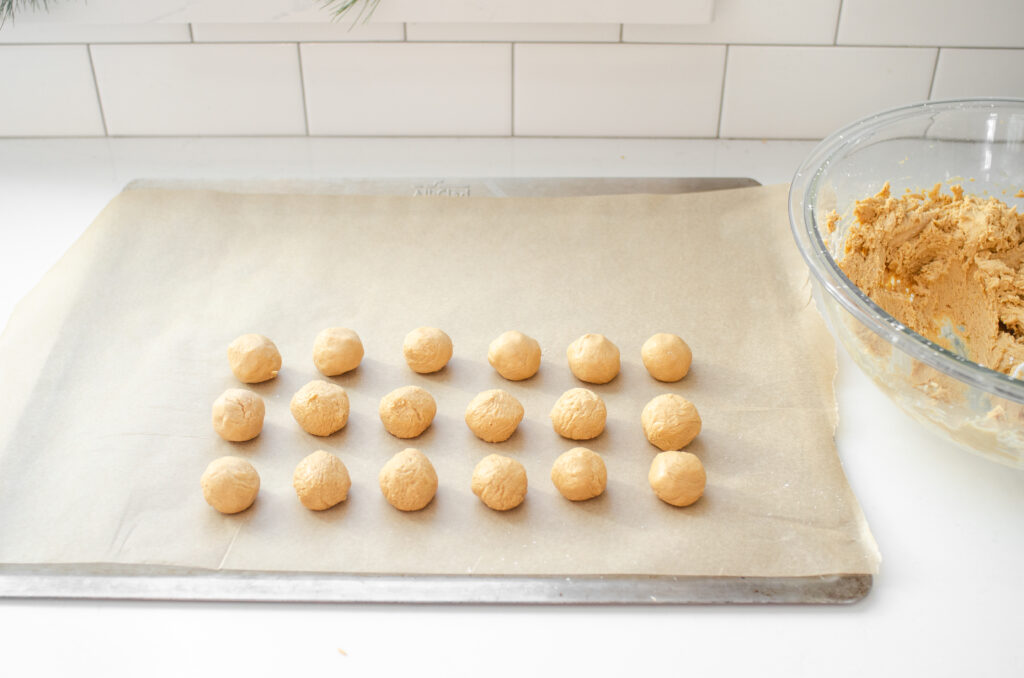 Rolling the Peanut Butter Balls
Roll the peanut butter dough out into balls and place them on a parchment lined cookie sheet. You could also use wax paper to line the baking sheet, but I find that parchment works just fine.
Note: wax paper is coated with food-safe paraffin wax, so if you're trying to avoid paraffin, it's a good idea to use parchment paper instead. This is my favorite brand of unbleached parchment paper.
You can use a teaspoon measure if you'd like to make even sizes. A level teaspoon will make a small, bite-sized buckeye. A rounded teaspoon will make a more generous size, about 1-inch balls or a little less.
You could also use a small cookie scoop to portion out the balls.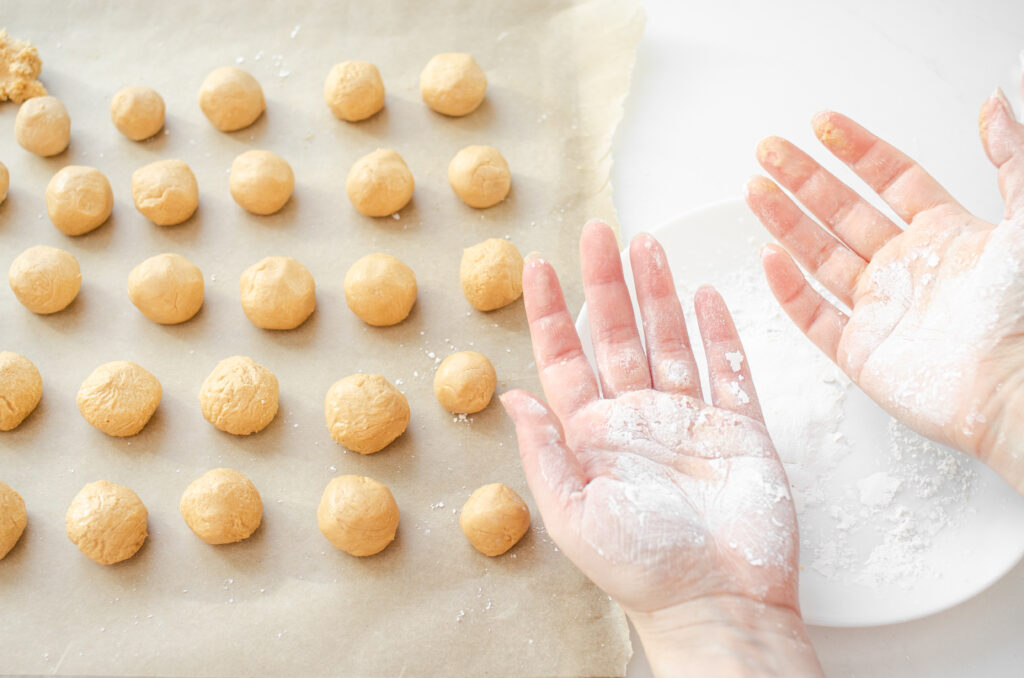 If you find that the dough is sticking to your hands, you can dust them with powdered sugar.
I like to put some powdered sugar on a plate, and then push my palms into it.
Chilling
After you've rolled out all of the balls, place the baking sheet into the freezer for 20 minutes to get the balls to firm up.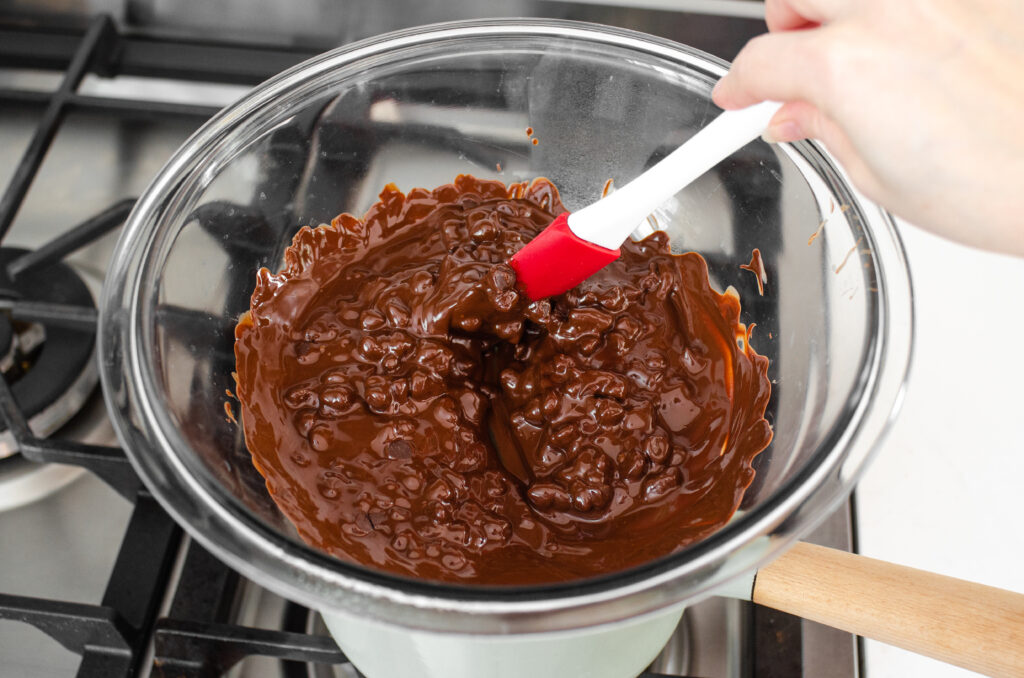 Melting the Chocolate Chips without Shortening
Meanwhile, while the peanut butter balls are chilling, melt the chocolate chips.
Place a medium bowl that's heat-proof over a pan of simmering water over low heat. Or, if you own one, you can use a double boiler.
Pour the chocolate chips in the heat-proof bowl (or the top of the double boiler). Stir frequently as the chocolate melts, until it's nearly completely melted.
I experimented with adding a tablespoon of butter to the chocolate while melting it. The chocolate seemed thicker with the butter, so if you like a thicker chocolate coating that would be a good option. Also, the chocolate seemed softer with the butter.
Remove from heat and give it a few more stirs until the chocolate is completely melted and smooth.
NOTE: You can also microwave the chocolate chips in 30 second intervals, stirring often. I haven't personally tried this method since I don't own a microwave.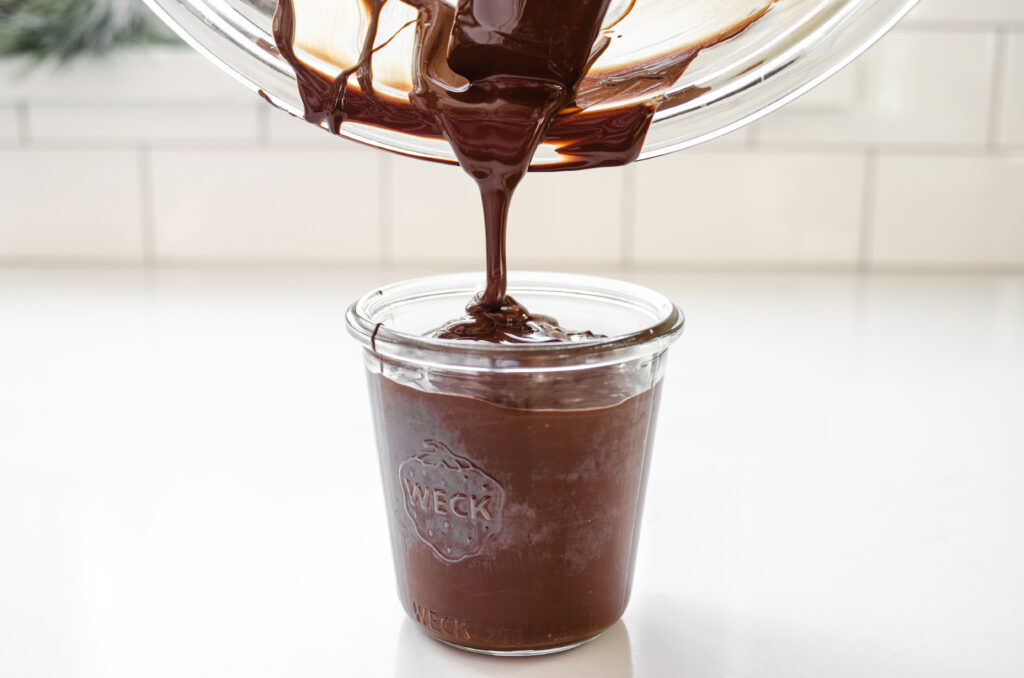 Pour the chocolate into a glass or jar.
Putting the chocolate in a taller container helps to get all of the buckeyes evenly coated with the chocolate.
You can just use the bowl that you melted the chocolate in, but you might have trouble getting the last few buckeyes coated with chocolate.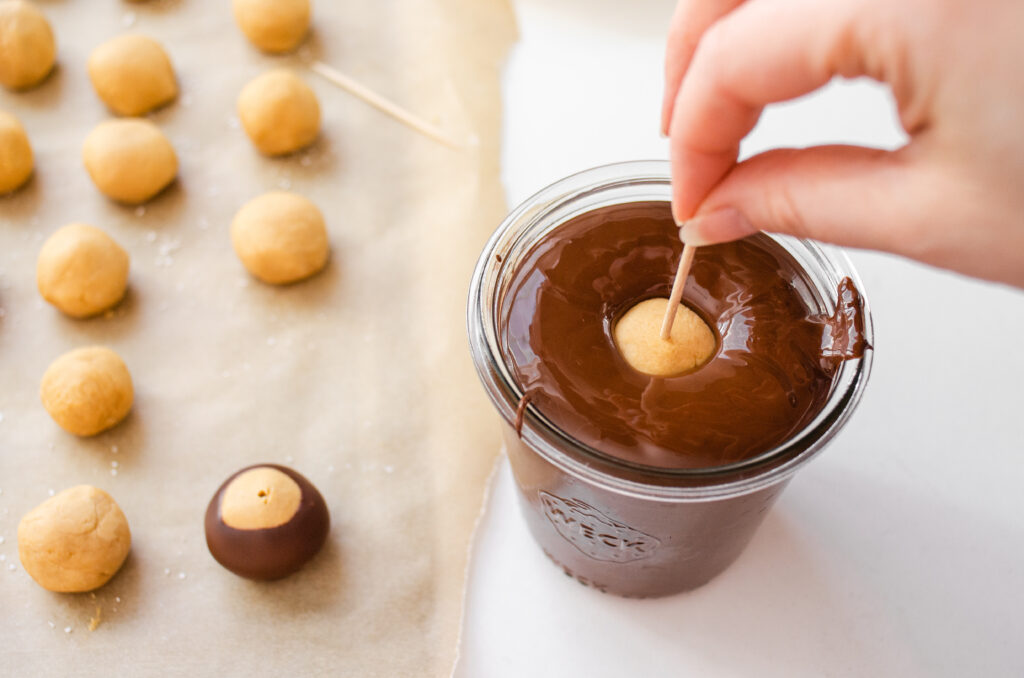 Dipping the Buckeyes
Stick a toothpick into one of the balls and carefully lower it into the melted chocolate.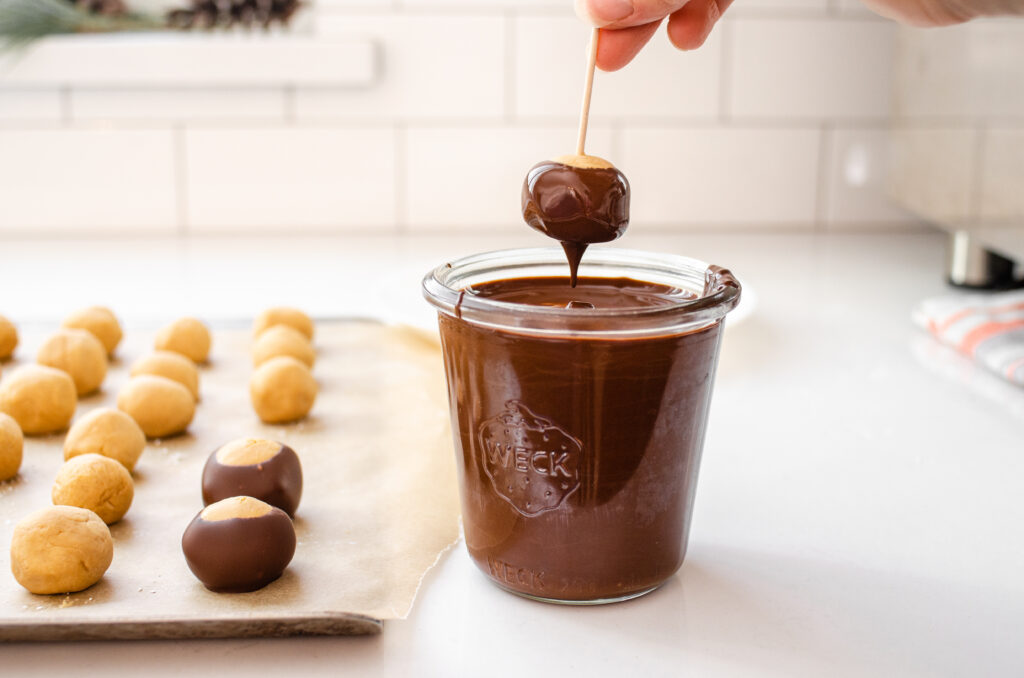 Let some of the excess chocolate drip back into the glass.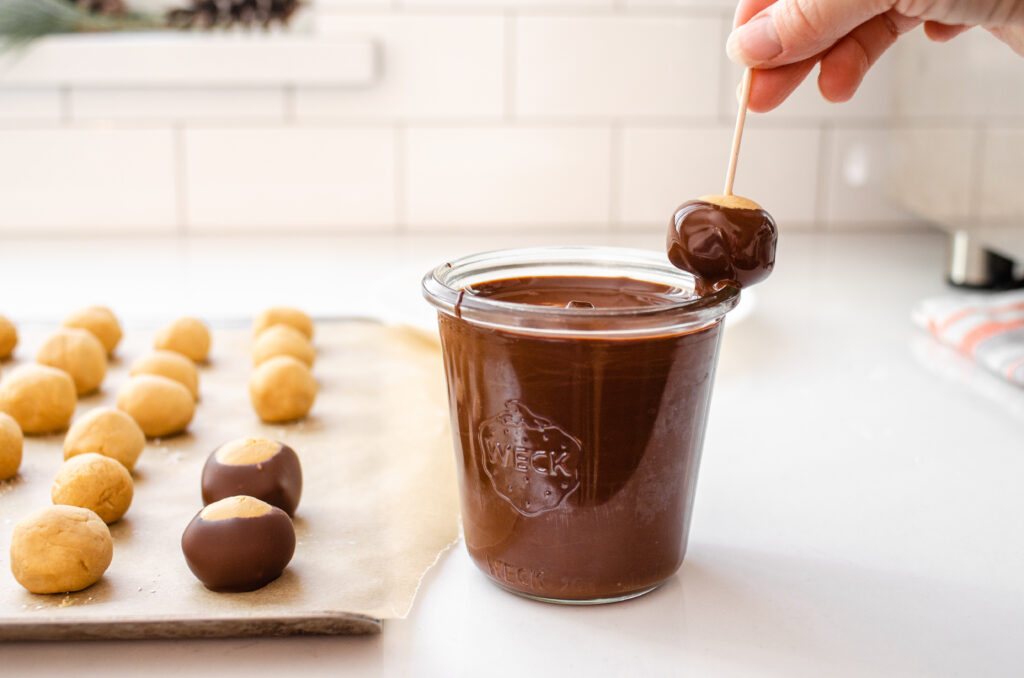 You can also very carefully wipe a bit of the chocolate off of the bottom of the buckeyes.
Just make sure that you don't dip into the peanut butter part. That will make your chocolate messy, and deform the peanut butter balls.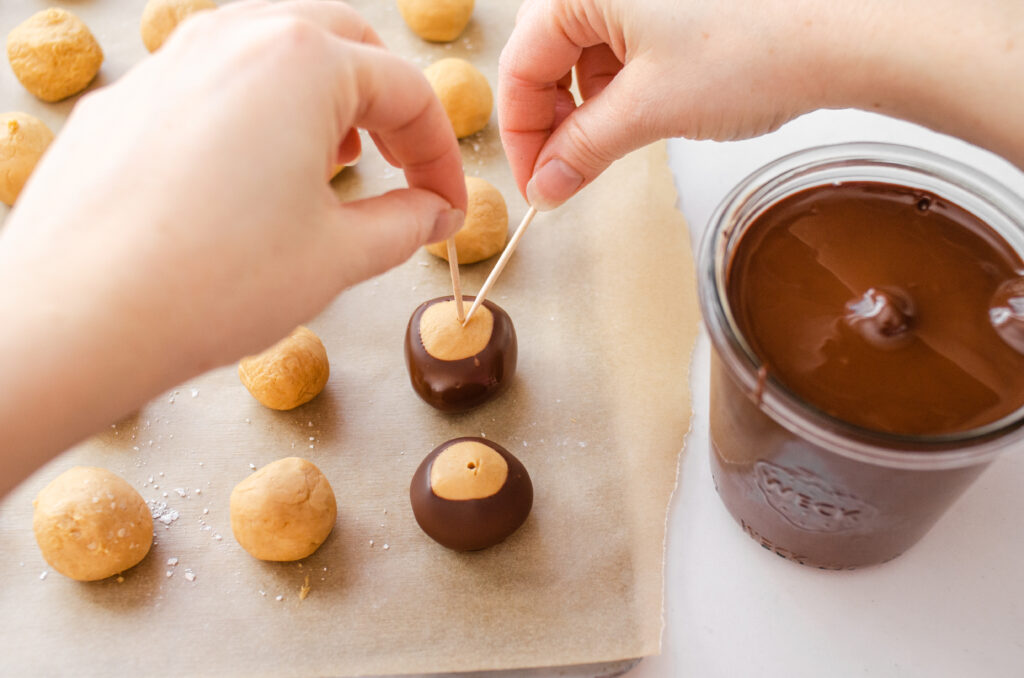 Using a second toothpick to hold the buckeye down, gently remove the first toothpick.
Repeat with remaining peanut butter balls.
Quick note: You can spread any leftover chocolate onto parchment paper and let it harden for a yummy snack. Or you can put the melted chocolate in a mug, top with hot milk, and stir until smooth for some delicious hot chocolate.
You can smooth over the holes on the top of each ball with a toothpick…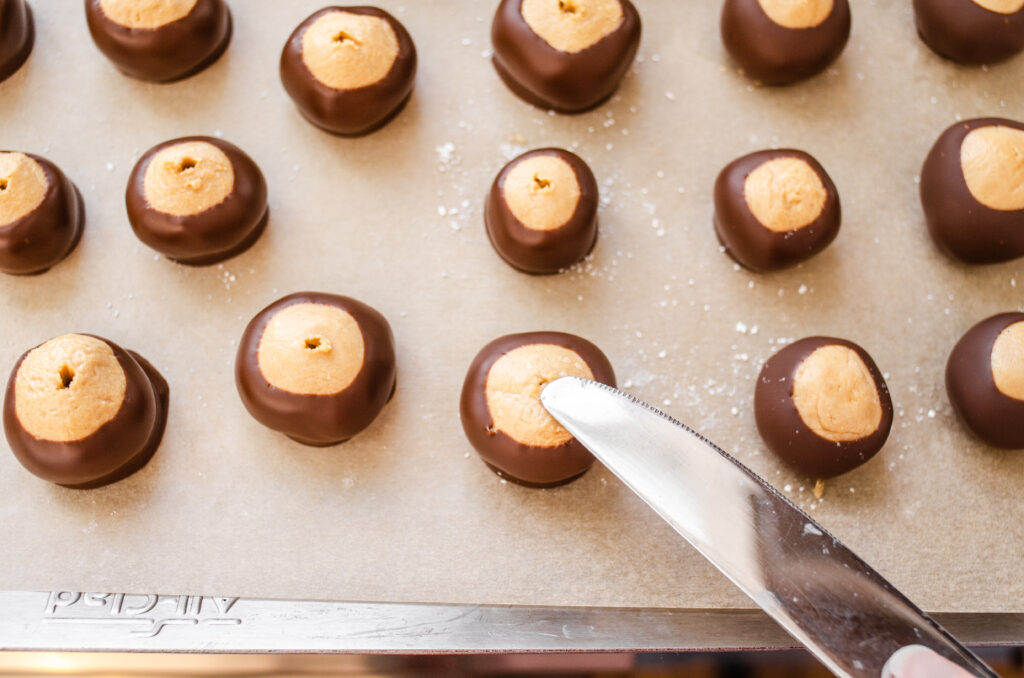 …or with a knife.
You can also just use a wet finger to smooth over the hole on top of the buckeye.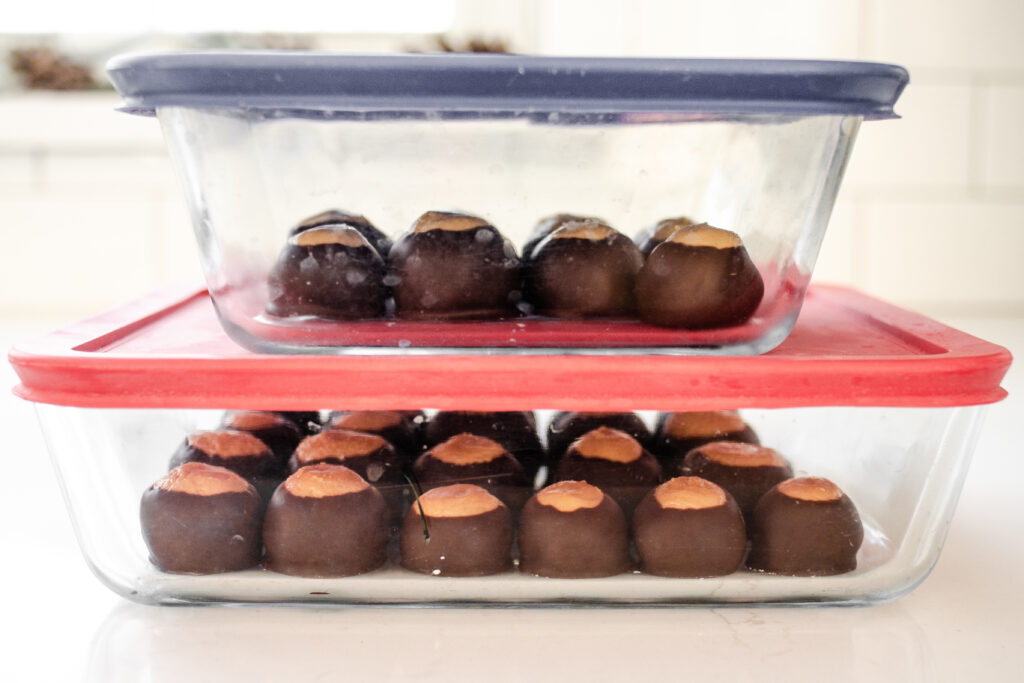 Second Chilling
Place the finished chocolate peanut butter balls back into the freezer for 20 more minutes.
Now the chocolate will be firm enough for you to transfer the buckeyes to an airtight container for storage.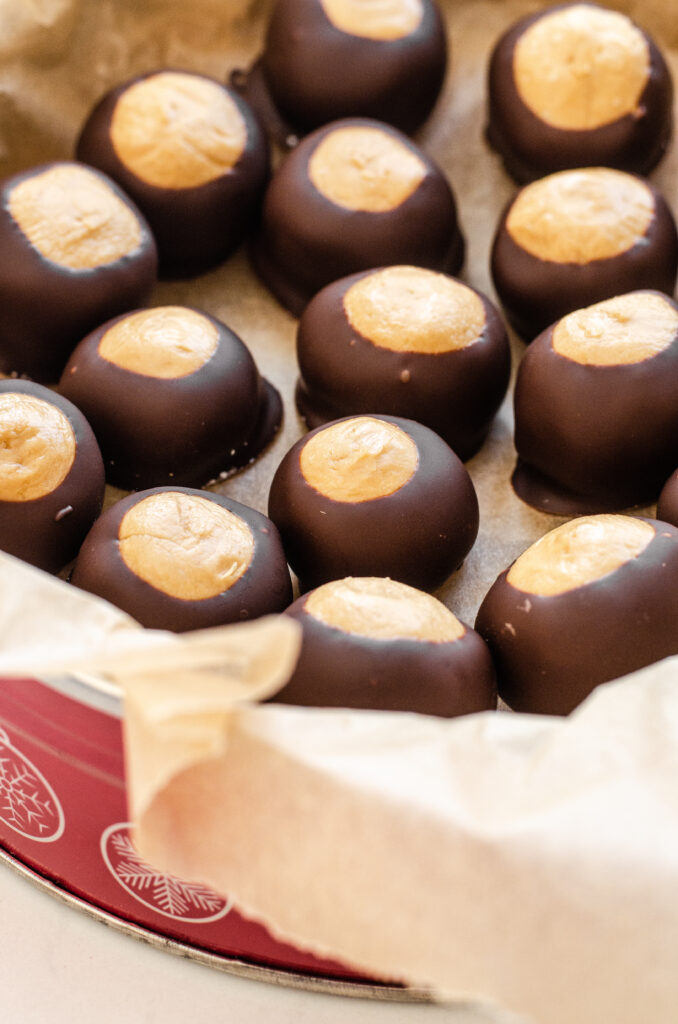 Do Buckeyes Need to Be Refrigerated?
Buckeyes don't need to be immediately refrigerated. But since they contain butter you'll need to refrigerate them eventually.
You can keep them at room temperature for a day or two, but after that they may start to go off.
How Long Do Buckeyes Last?
Buckeyes will last a couple of days at room temperature, at least a week or two in the refrigerator, and a month of two in the freezer. Make sure they're in an airtight container, and tightly wrapped if you keep them in the freezer.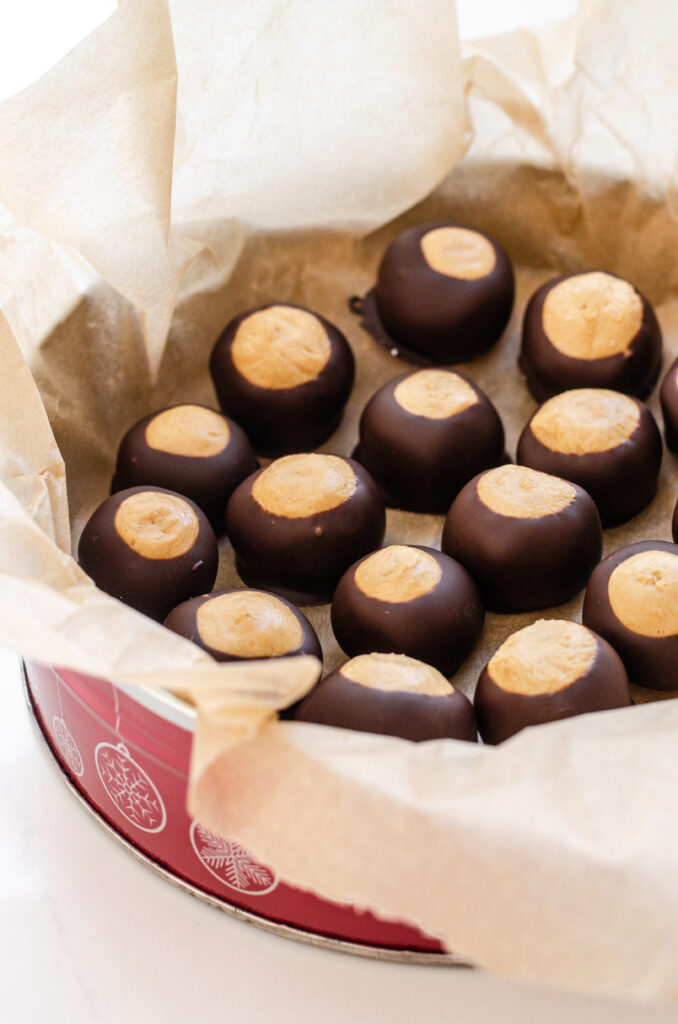 So there's my peanut butter buckeyes recipe made without shortening!
If you learn better by watching, make sure to check out the video below:
Video Tutorial:
More Holiday/Christmas Treats:
Buckeye Recipe without Shortening
These simple and easy peanut butter buckeyes are made without shortening!
Total Time
1
hour
20
minutes
Ingredients
1

cup

smooth peanut butter

(not natural)

½

cup

butter

softened

2

cups

powdered sugar

(more as needed, see note)

¾

tsp

pure vanilla extract

1 ¾

cup

chocolate chips

(bittersweet or semisweet)
Instructions
In a large bowl, beat the peanut butter and butter together until smooth with a hand mixer. Sift the powdered sugar on top and beat again. Add the vanilla extract and beat until smooth. The dough should be fairly dry for rolling out. Add more powdered sugar as needed to achieve the right consistency.

Line a baking sheet with parchment paper. Roll the peanut butter dough out into balls that are about ½ to 1-inch in diameter. You can use a small cookie scoop or teaspoon to portion out the dough. Place the balls in the freezer for 20 minutes to harden.

Meanwhile, melt the chocolate chips in a heat-proof bowl set over simmering water (or use a double boiler if you own one). Pour the melted chocolate into a glass or jar for dipping.

Using a toothpick inserted in the top of the peanut butter balls, dip each one into the chocolate until about ⅔-¾ covered. Allow the excess chocolate to drip back into the glass, and carefully scrape some of the chocolate from the bottom off on the side of the glass. Return the ball to the baking sheet. Repeat with remaining balls.

You can smooth over the holes on the tops of the balls with a toothpick, knife, or wet finger.

Return the balls to the freezer for 20 minutes. Remove from baking sheet to an airtight container. Store in the refrigerator for at least a week, and in the freezer for a month or two.
Recipe Notes
You can make a slightly less sweet, higher protein version by reducing the powdered sugar to 1

½

cups and adding

¾ cup of collagen peptides. You might need to chill the dough before rolling.

If you find that the peanut butter balls are sticking to your hands, you can dip your hands in powdered sugar.