This Hearty Pasta Sauce from Scratch is easy to make but so yummy!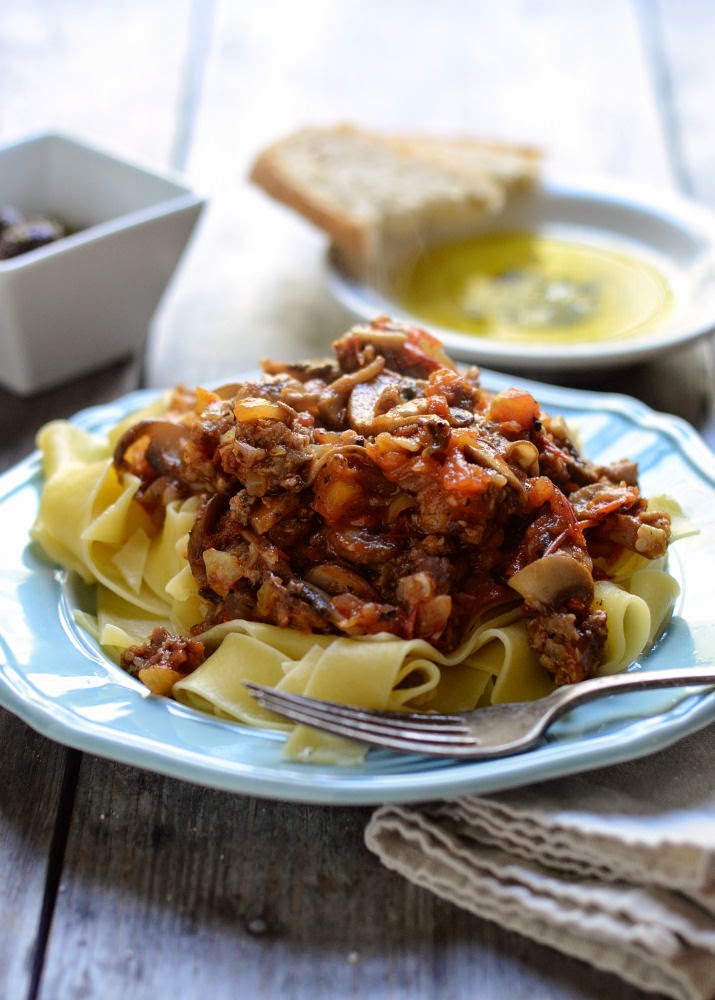 Pasta sauce is one of those things that's just hard to mess up. As long as you start with good ingredients, you're sure to end with something delicious.
While at the farmers market the other day, I was inspired by seeing all the fresh tomatoes to make a pasta sauce from scratch. I purchased a pepper and onion to accompany it.
Another day, at our local health food store, I selected a bunch of vine tomatoes and a box of crimini mushrooms. Plus I had half a pound of grass-fed Italian sausage (also purchased at the farmers market) in the refrigerator to use up.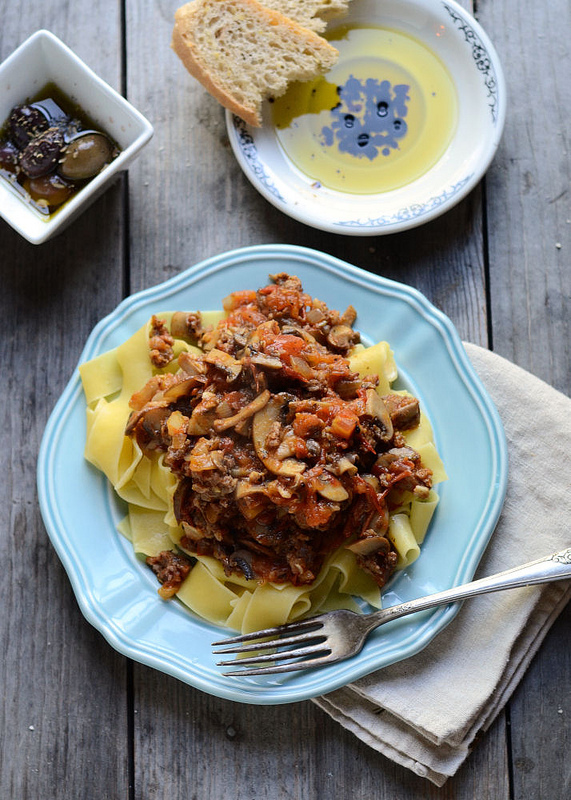 Once I got home I put Helen down for her nap and started prepping my ingredients. It's almost therapeutic for me to chop vegetables without interruption.
I added the ingredients one by one to the pot and slowly cooked them together.
The blend of all the fresh ingredients in this made for an awesome sauce (yes, I did that on purpose). Reuben heartily approved.
How to Make Pasta Sauce From Scratch: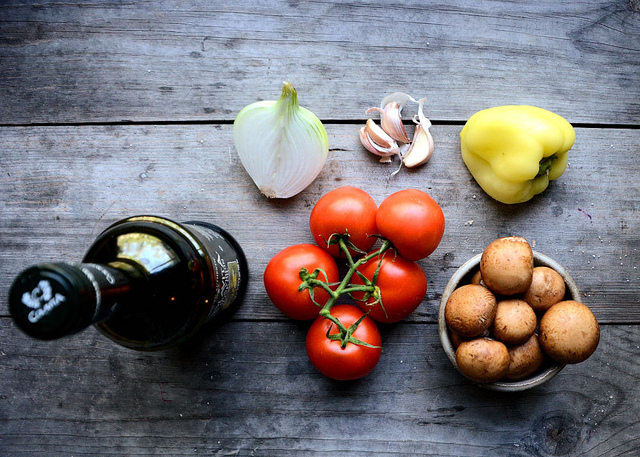 Equipment:
All you need is a large pan (an enameled Dutch oven works really well), a cutting board, and a sharp knife or two. A pairing knife is handy for coring peppers and tomatoes, a serrated knife if great for cutting tomatoes, and a chef's knife is good for general chopping.
Ingredients:
When you cook pasta sauce from scratch, make sure you add your own personal touch. There's just something satisfying about making a dish your own.
If you like your sausage with a kick, by all means use spicy Italian instead of mild! Or if you don't care for mushrooms, leave them out! Through in whatever produce you have in the fridge. Experiment!

More Pasta Recipes: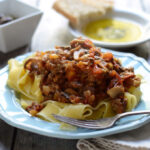 Hearty Pasta Sauce
Ingredients
1/2

lb.

mild Italian sausage

3

tablespoons

extra virgin olive oil

divided

1

tablespoon

butter

1/2

medium onion

diced small

1

small box crimini

baby bella mushrooms, thinly sliced

1

bell pepper

thinly sliced

salt and pepper to taste

4

medium cloves garlic

minced

6

vine tomatoes

about 1 bunch, diced medium

1

teaspoon

dried oregano

2

teaspoons

dried basil

1

tablespoon

cane sugar

your favorite pasta

I used wide egg noodles
Instructions
1) Cook the sausage until no longer pink.

2) In a Dutch oven, heat 2 tablespoons olive oil and the butter over medium heat. Once the butter is melted, add the onion, lower the heat, and cook until beginning to soften, about 5 minutes. Add the bell pepper and cook until the onions are almost transparent, about 3 more minutes. Add the mushrooms and cook until everything is nice and soft. Add the garlic and salt and pepper to taste and cook for 2 more minutes.

3) Add the tomatoes, oregano, basil, sugar and remaining tablespoon of olive oil. Increase heat to medium and bring to a boil. Simmer until the sauce has thickened, about 20 minutes. Add the cooked sausage and stir to combine.

4) Meanwhile, as the sauce is simmering, bring a pot of water to boil. Add salt and stir in your pasta. Cook to desired firmness (I like mine a little past al dente). Serve with lots of sauce and a sprinkling of parmesan. Enjoy!