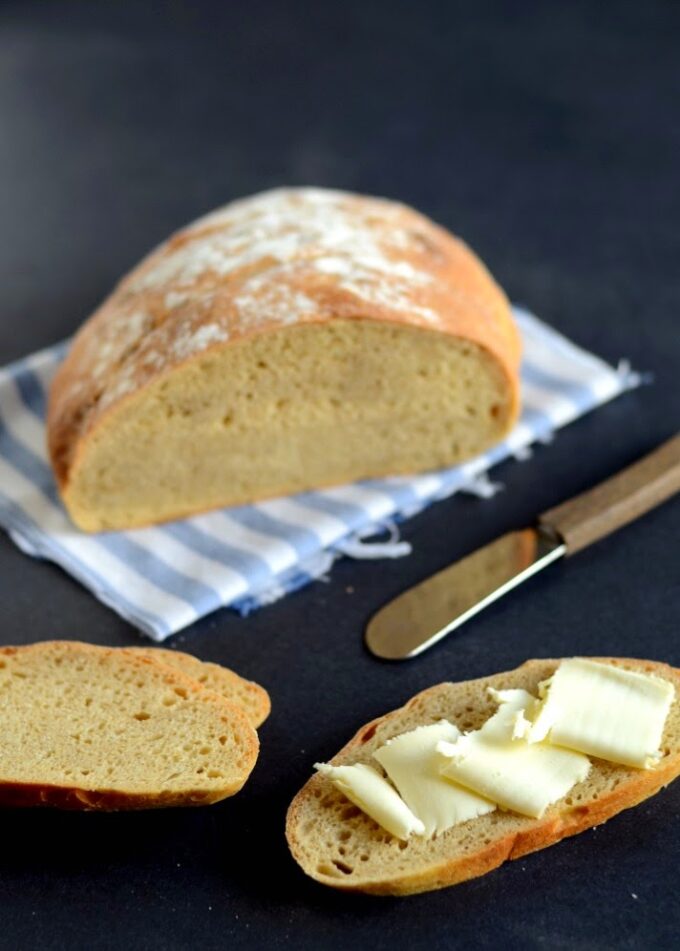 This post originally appeared on Cooking for Seven on March 29, 2012.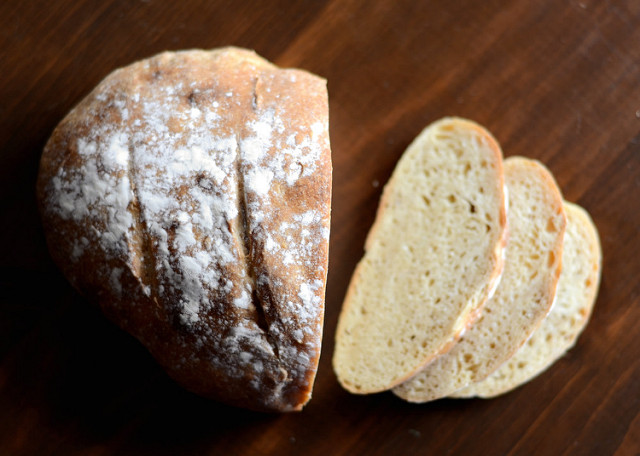 So I saw lots of people raving about how awesome no-knead bread is. Super easy and delicious.
"Yeah, right," I thought. "You have to knead bread for ages to get a good crumb." Boy, was I wrong.
Faced with having to knead bread by hand (horrors!) since we can't afford a stand mixer just yet, I decided to give no-knead bread a try. After all,
Hannah
had made it and loved it. It had to be okay.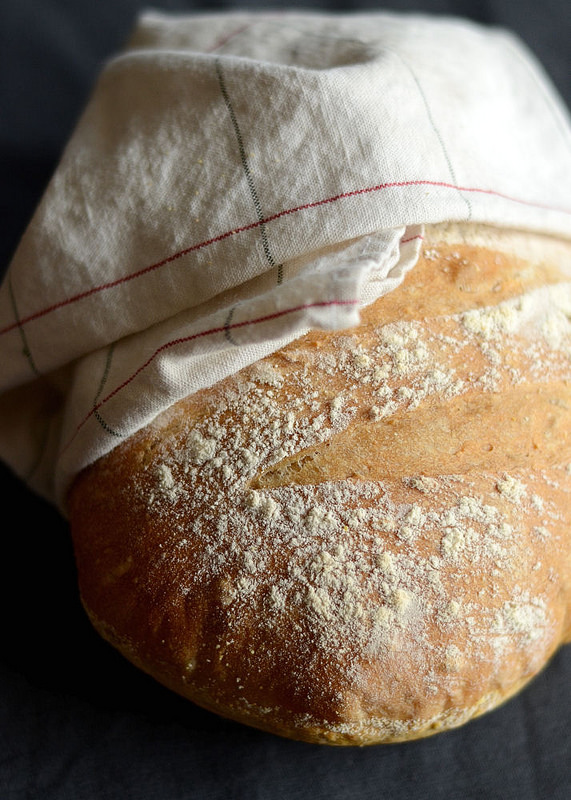 It's more than okay. WAY more than okay. The crust is crunchy and the inside is soft, light and flavorful. And it takes about 5 minutes to mix up. In all honesty, I would make bread much less often if it weren't for this recipe. Downside? Well, there's no more excuse for buying store-bought bread when you can make it so easily.
Think you can't possibly tackle making bread at home? Give this recipe a try. You'll be so happy you did.
Notes:
Not only is this bread so quick & easy to throw together (you literally just dump all the ingredients in a bowl & mix it a bit with a big spoon), but it's also very versatile. I have made this with sour milk in place of water and whole wheat flour in place of some of the white with awesome results.
If you must, you can skip the steaming step. The last couple of times I made this bread I forgot that part with no ill effects. But I highly recommend steaming for the best crust.
I really like shaping the dough into a boule, but you can also shape it into logs or braids.
3 cups of lukewarm water
1 1/2 tablespoons active dry yeast
1 1/2 tablespoons coarse salt
6 1/2 cups all-purpose flour
1) Place the water, yeast and salt in a very large mixing bowl. Dump in the flour and mix with a wooden spoon until everything is nice and moist. And you're done mixing!
2) Cover the bowl loosely and let sit until it has risen and deflated a little. Now your dough is ready to be baked or stored in the refrigerator until ready to use.
3) To bake the bread: (If the dough is coming from the refrigerator, let it come to room temp before continuing) Wet your hands with water to prevent your hands from sticking and grab a piece of dough (I usually make half a recipe and use all the dough for one loaf, but you can make smaller loaves if you wish). Form it into a boule by pulling the sides of the dough towards the underside of the dough ball and rotating the dough until you get a roundish shape with a smooth surface. You can also shape the dough into logs or braids.
4) Transfer the dough to a piece of parchment paper (recommended) or a cornmeal-dusted cutting board. Let the dough rest and rise for about 40 minutes.
5) About 20 minutes before you're ready to bake the bread, put a cast iron skillet or pizza stone on the center rack of the oven and place a roasting pan (I use a 13×9-inch pan) on the bottom rack of the oven. Preheat the oven to 450° F.
6) Dust some flour over the top of your risen loaf and cut a few slashes into the top about 1/4-inch deep. Transfer dough onto the skillet or pizza stone, quickly pour 1 cup of hot tap water into the broiler pan and shut the oven door to keep the steam inside. Bake for 30-40 minutes or until the crust is nice and brown. Cool completely before cutting. You may manage to wait that long…I never have.