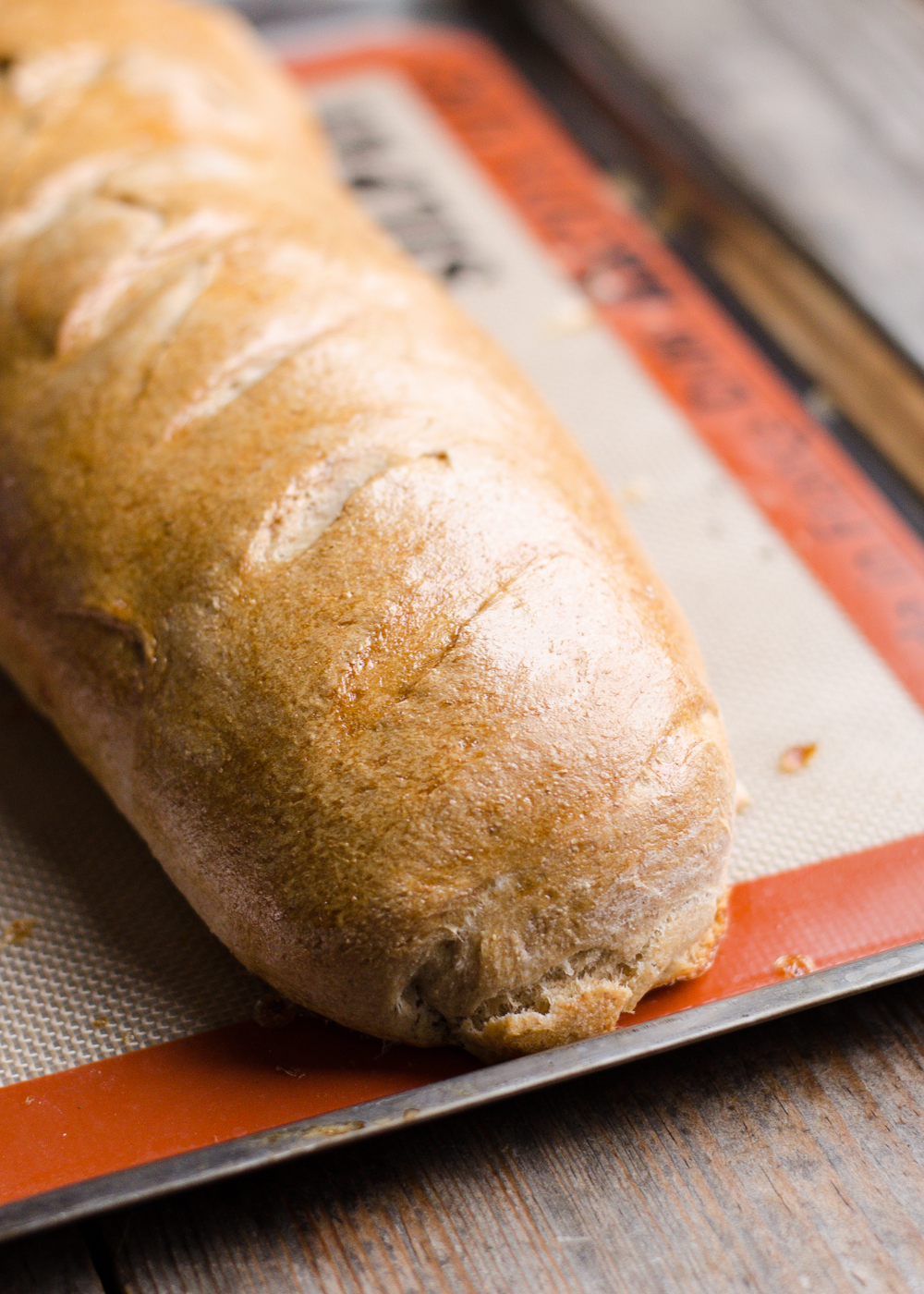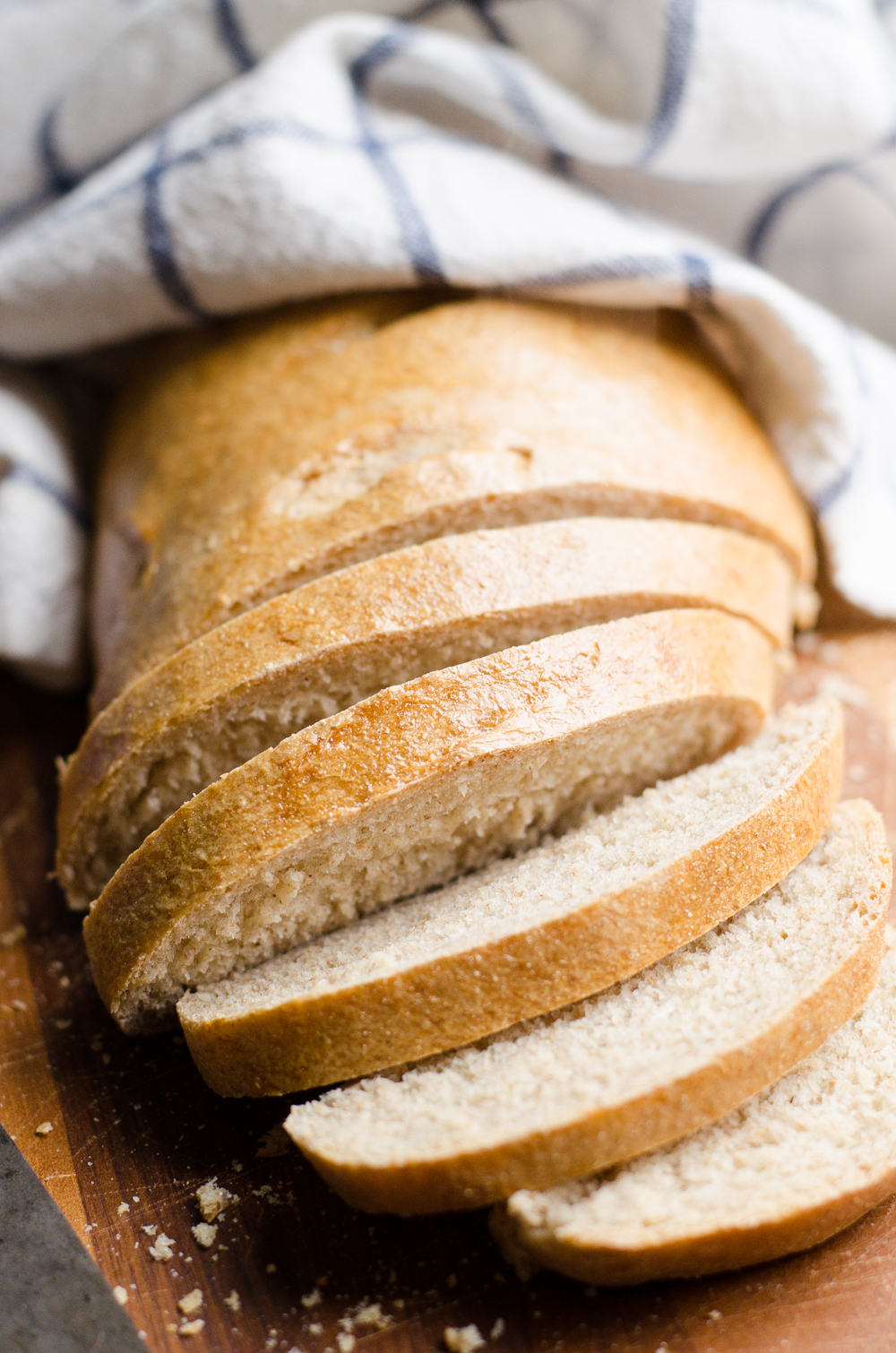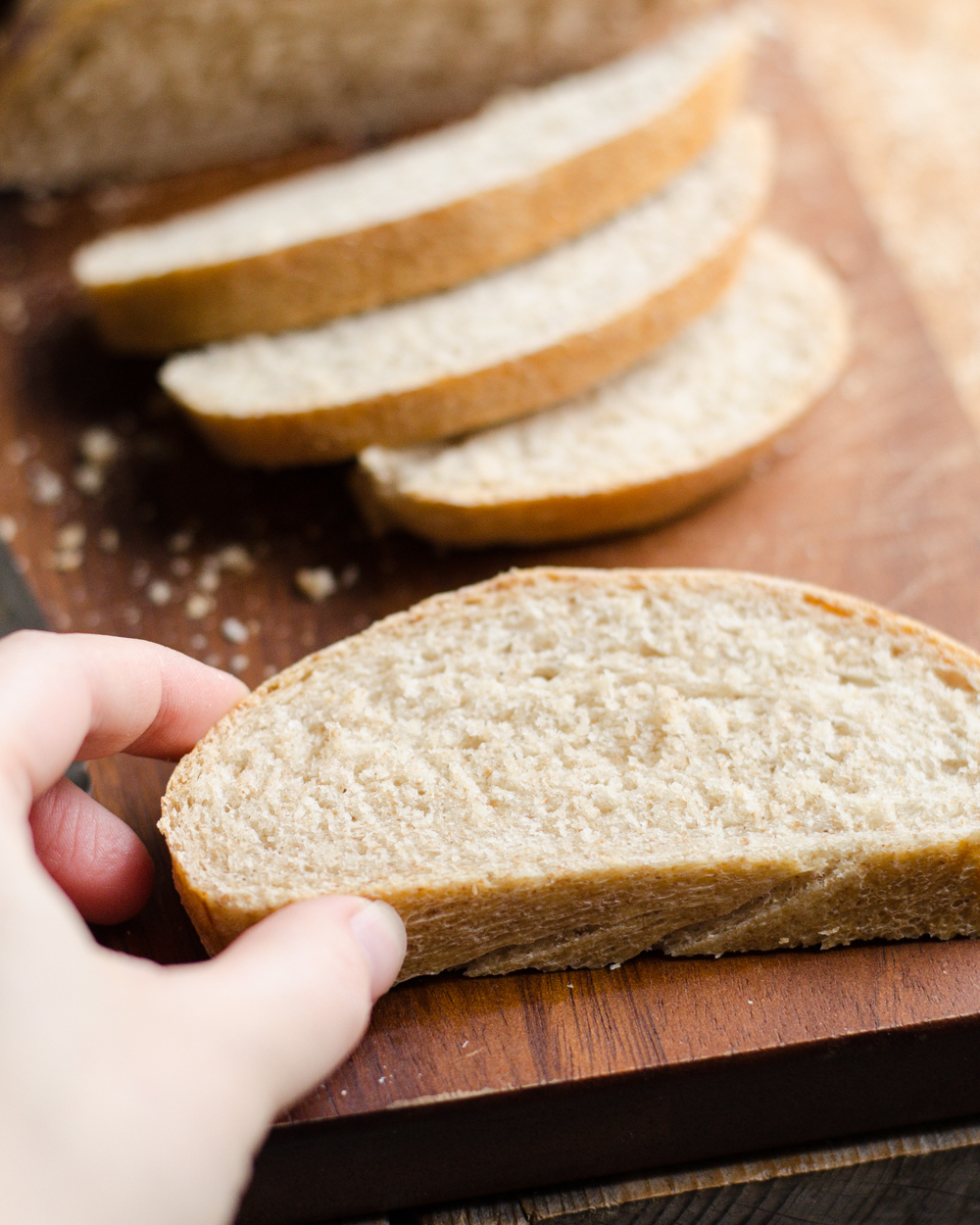 When my sisters and I
took a girls' trip to the cities
, one of the best food experiences of the weekend was the fresh bread from the Italian restaurant we visited on Saturday night. There's just something about bread warm from the oven. I kind of wish I could have made my meal off of just that.
Last week, being out of many pantry staples, we decided to do a grocery run. We weren't feeling like driving down town to the local health food store, so we did all of our shopping at Walmart and Target. After we finished browsing the produce section at Walmart, Reuben took a stroll through the bakery section.
"Surely he's not going to buy bread here!" I thought. We were all out, but I was hoping to make some. Bread is so easy to make at home. To my relief he walked on through.
The next day I decided to make fresh bread. I remembered that amazing bread from our trip, and decided on French bread. I got started fairly early in the morning, so we were able to have it with lunch. It was delicious warm from the oven. It was excellent toasted the next morning as well.
Note: I called this "transitional" whole wheat French bread because it's made with part white, part wheat flour. You could definitely up the amount of whole wheat flour if you like, but the bread won't be as light.
You can also double the ingredients to make 2 loaves.
Whole Wheat French Bread
adapted from King Arthur Flour | makes 1 loaf |
PRINT
Ingredients:
2 1/2 cups organic all-purpose flour
1 cup (5.5 ounces) hard red wheat
2 1/4 teaspoons active dry yeast
1 1/4 cups water
1 1/2 teaspoons sugar
1 1/2 teaspoons salt
1 tablespoon butter
1 egg white, mixed with 1 tablespoon water
Directions:
In a medium bowl, stir together the all-purpose and whole wheat flours. In a large bowl, whisk together 1 1/2 cups of the flour mixture with the yeast. Set aside.
In a medium saucepan, warm the water, sugar, salt, and butter to 115-120 degrees F. If it gets too warm set aside to cool a bit. Pour the water mixture into the flour/yeast mixture and mix with a wooden spoon for a minute. Add remaining flour to make a soft, somewhat sticky dough.
Scoop the dough onto a floured surface and knead until smooth, about 6 minutes. Pour a bit of olive oil into a bowl, add the dough, turn once to coat with oil, and cover and let rise until it doubles in size, about an hour.
Gently punch the dough down. Roll into a rectangle a bit shorter than your baking sheet. Roll up the dough cinnamon-roll style, making sure to seal the dough at each turn. Seal the ends. Transfer to a parchment or silpat-lined baking sheet. Cut slits into the top of the dough. Cover and allow to rise until doubled, about 45-60 minutes.
15 minutes before the dough is finished rising, preheat your oven to 375 degrees F. Prepare the egg wash. Brush the top of the dough with the wash. Bake in preheated oven for 20 minutes. Remove from oven and brush the top with the egg wash again. Return to oven and bake for another 15-25 minutes, or until the crust is golden brown. Cool on wire rack before slicing (if you can wait that long).