Thank you Bob's Red Mill for sponsoring this post. Create a care package for a loved one today and don't forget to include some baked goods made with Bob's Red Mill products!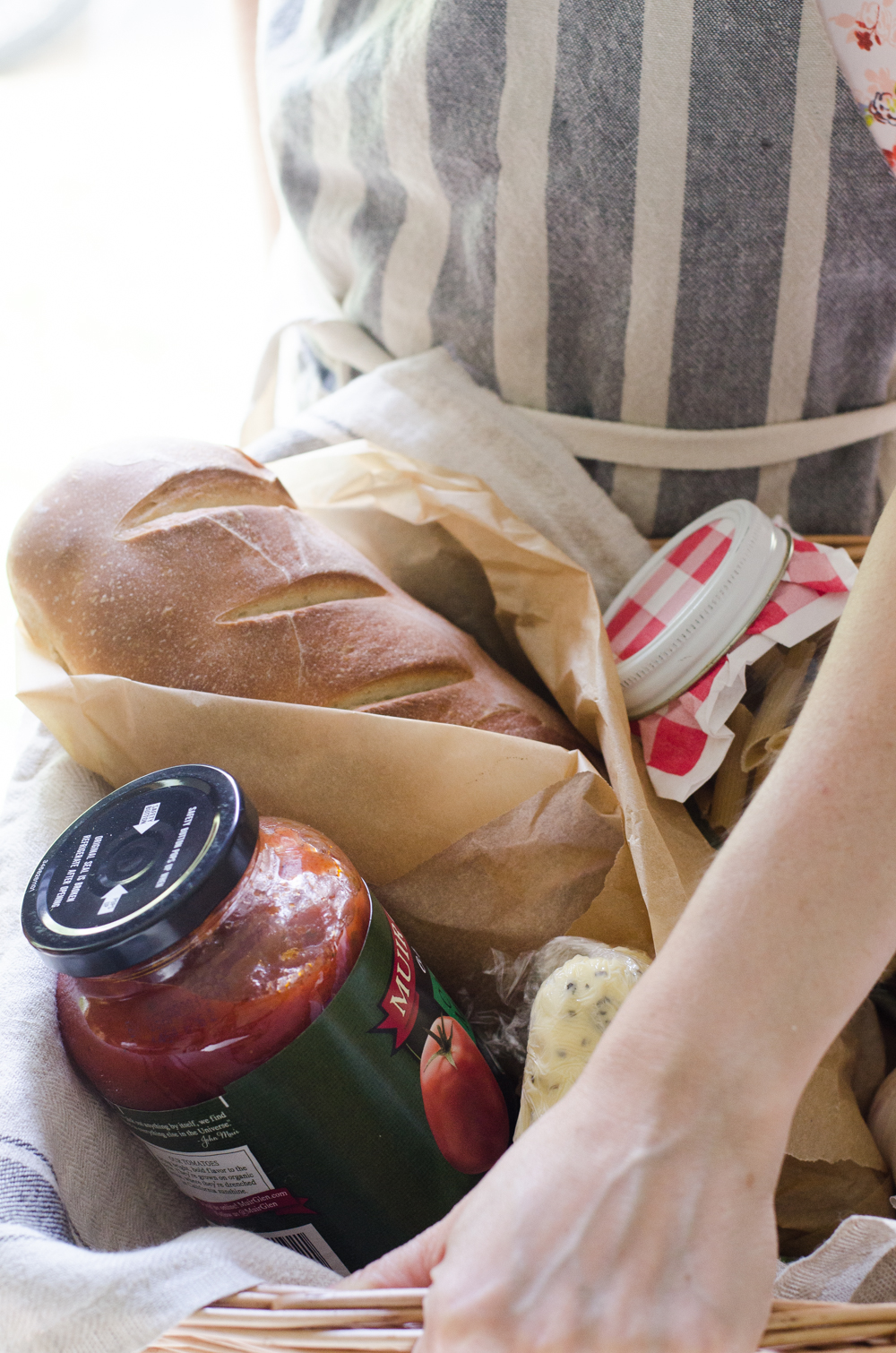 There's just something about bringing a care package to a loved one that makes you feel happy. The knowledge that you've made someone's evening that much easier is so satisfying. So when Bob's Red Mill gave me the challenge to create a gift basket for someone special, of course I jumped at the idea!
I decided to make a spaghetti dinner care package for my little sister. Not only does she take care of her little girl (who's not quite a year old) all day long, she also volunteers at a local pregnancy care center once a week. As anyone that has ever cared for a baby knows, just existing is a full-time job! She definitely deserves a break from cooking supper.
A delicious, fresh-from-the-oven treat is the perfect addition to a gift basket. One of the most enduring ways to show that you care about someone is to bake something special for them. Baking requires time, skill and love. It's a way of saying, "I appreciate you enough to give of my energy," without uttering a word.
But let's get into the knitty-gritty of how I put this basket together…
To make the bread, of course I started with organic flour. I personally avoid pesticides, so I definitely prefer to use organic when baking for others as well.
I love that Bob's Red Mill flours are milled from premium-quality ingredients. Some organic flours contain added synthetic vitamins and minerals. No thank you! Bob's Red Mill Organic Unbleached All-Purpose Flour contains just one ingredient: Organic hard red wheat!

Now on to the overnight French bread: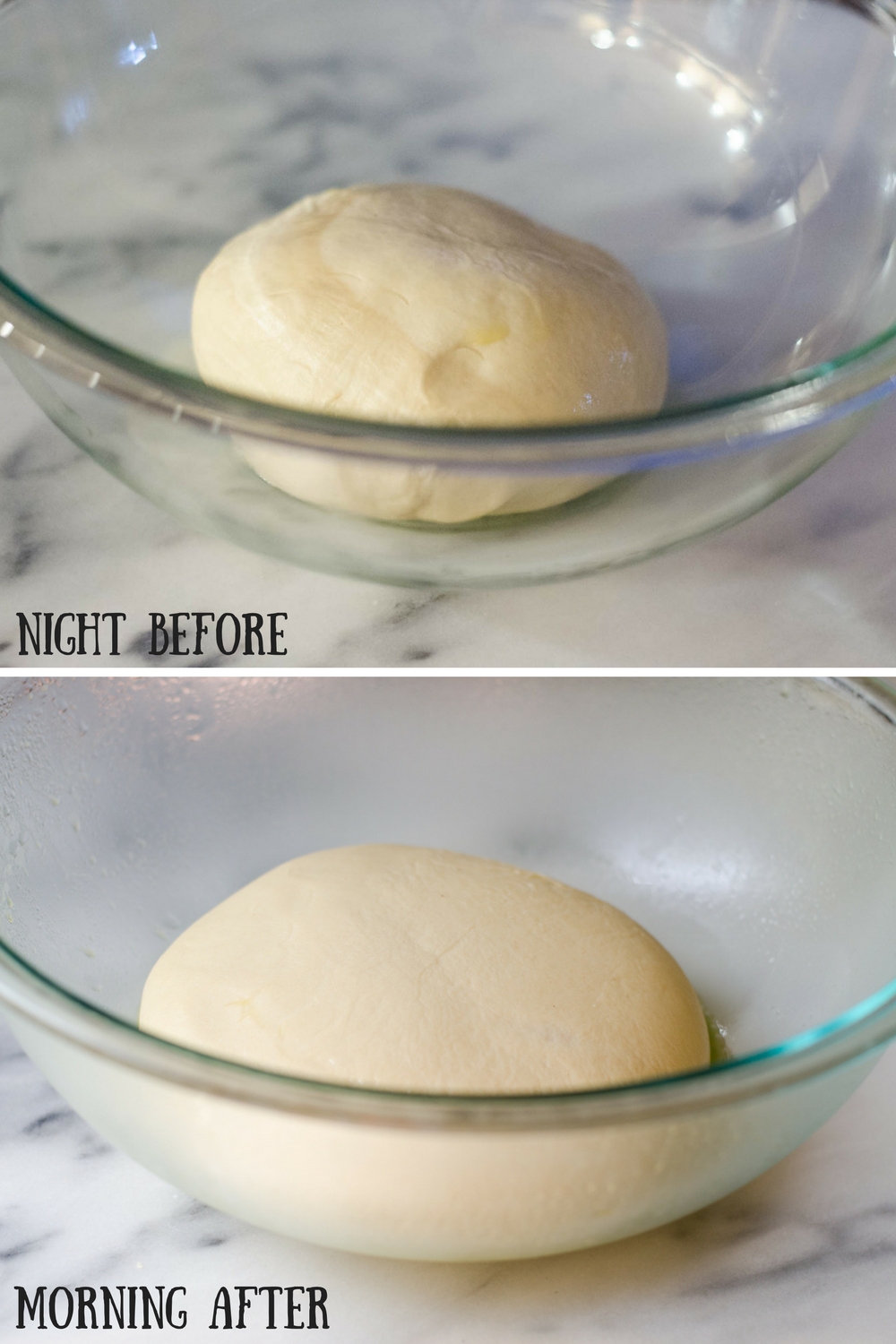 I have made this recipe multiple times. I love it because it requires less commitment than regular bread. Because the dough has its first rise in the refrigerator overnight, you don't have to spend all day waiting for it to do its things. Perfect for bringing freshly baked bread to a get-together!
Simply let the dough sit at room temperature for 30 minutes to take off the chill, shape into a loaf, let rise for about an hour, and bake! That's only an hour and a half versus the 3-4 hours it would require if you started from scratch.

The way you shape this dough is important. You want to create some surface tension. To do this, shape the dough into a long log. Then, gently press the dough under using the edge of your hands. Repeat until the top of the dough is nice and taught. Cover and let rise.
About 45 minutes into the rising time, turn your oven on to 425 degrees F.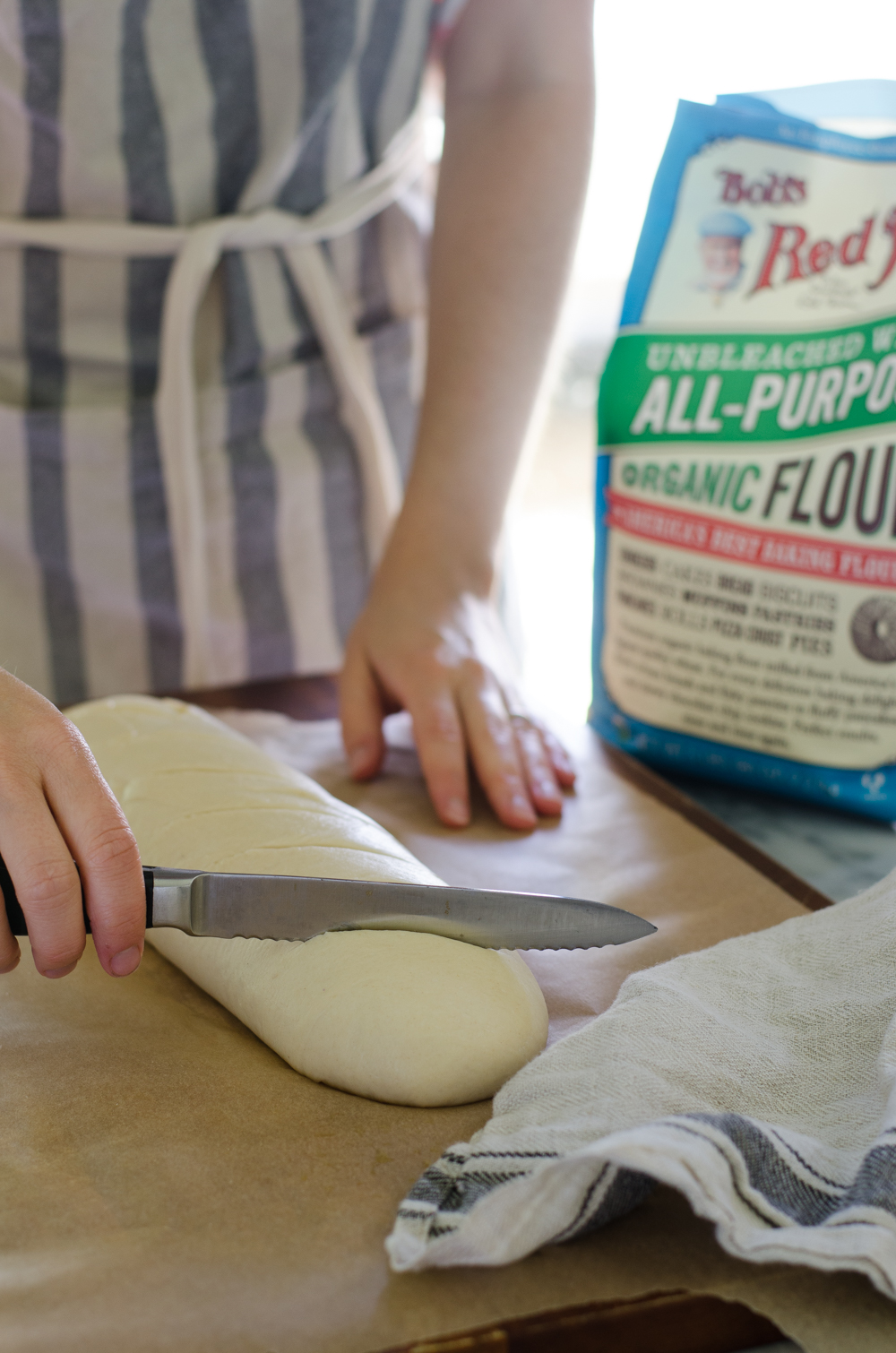 Another important step: scoring the dough! Once the dough is nice and puffy, gently slash it with a sharp knife. This allows the dough to rise evenly in the oven.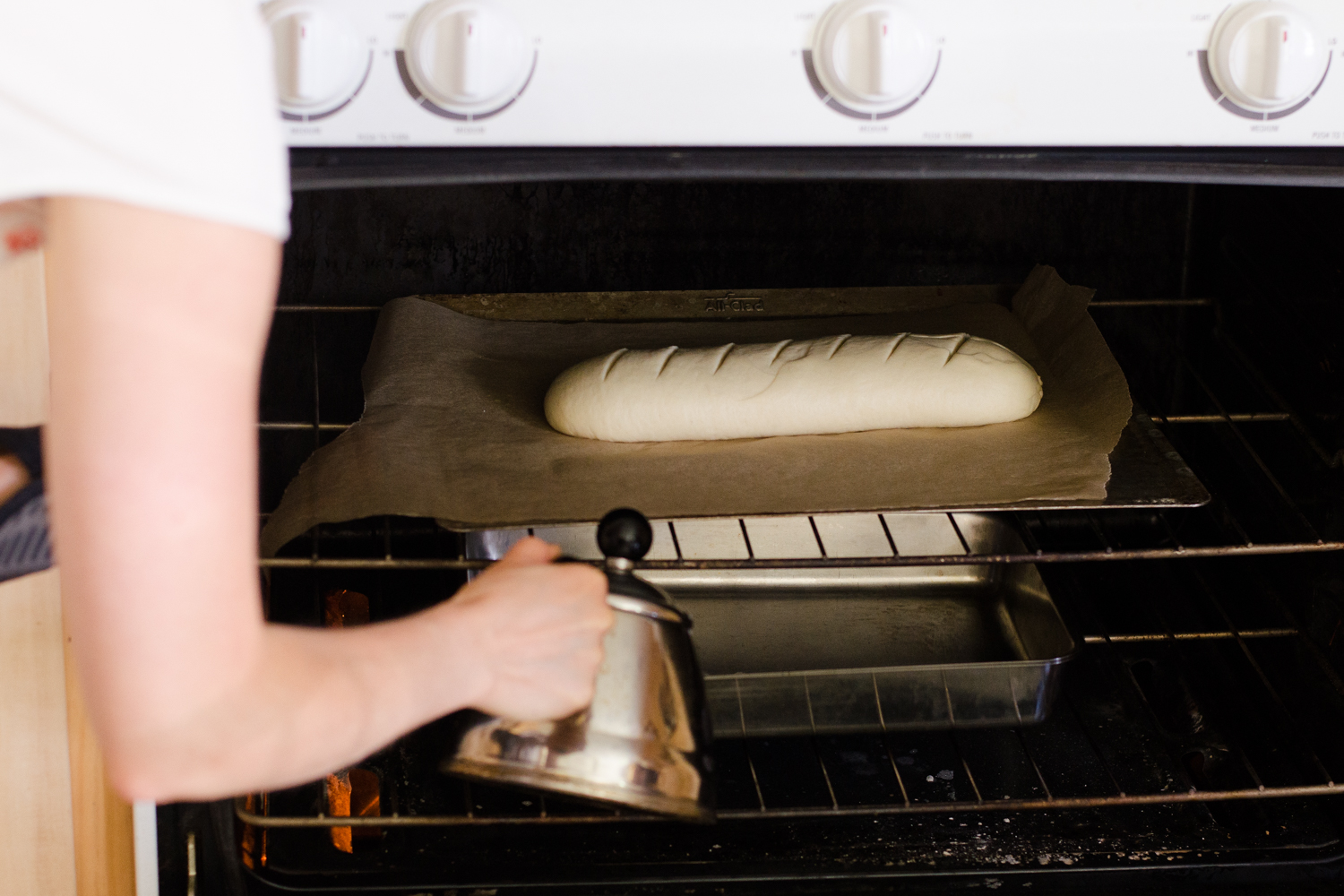 You also want to preheat a heavy baking sheet or pizza stone in the oven. Place a metal baking pan under the baking sheet as well.
Transfer your dough to the preheated baking sheet/stone, pour water into the baking pan underneath, and quickly shut the door of the oven.
Don't open the door for the first 15 minutes at least! Otherwise you'll let out all that lovely steam you worked so hard to get.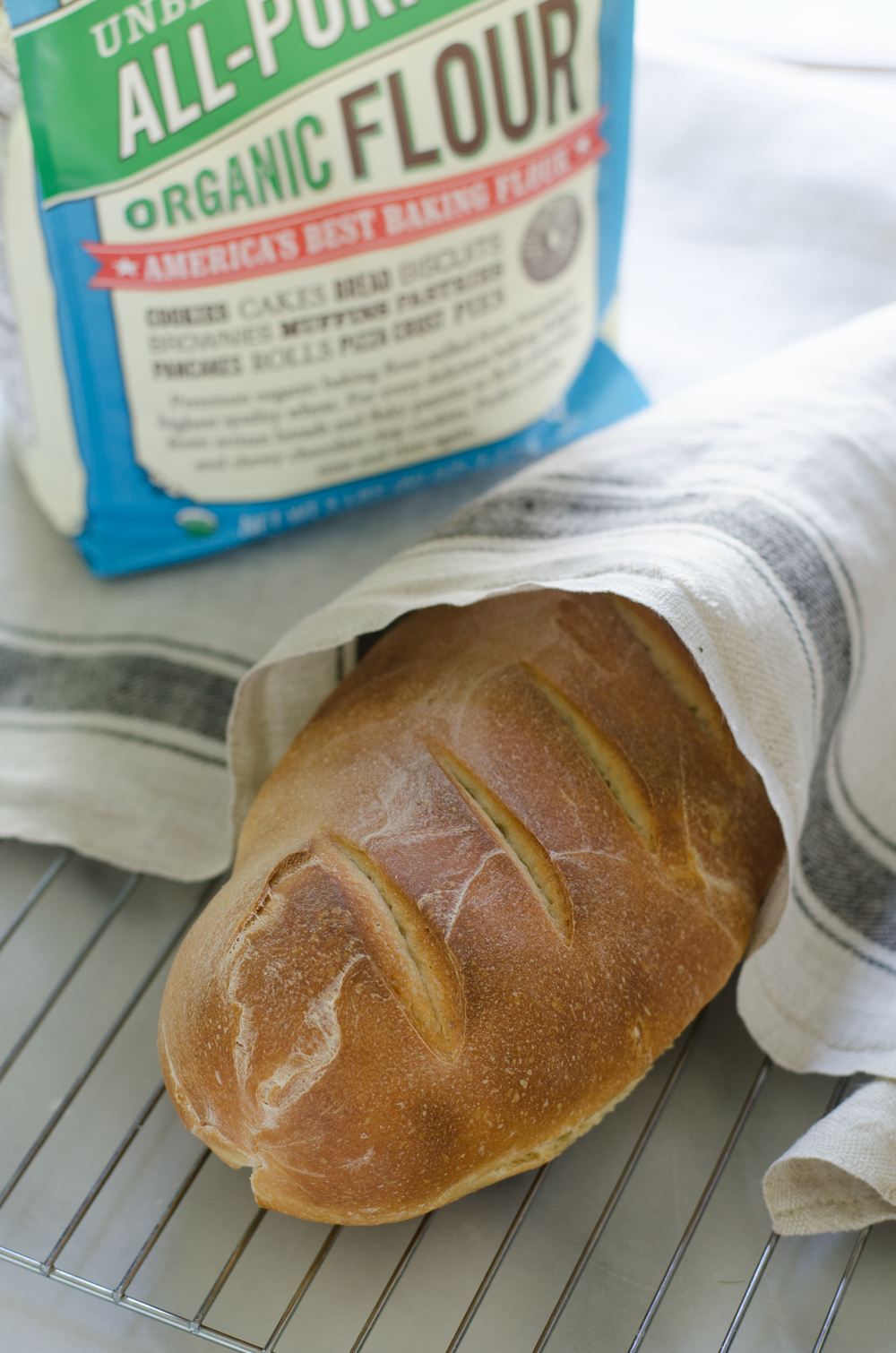 When the bread is deep brown and crusty, it's ready to take out!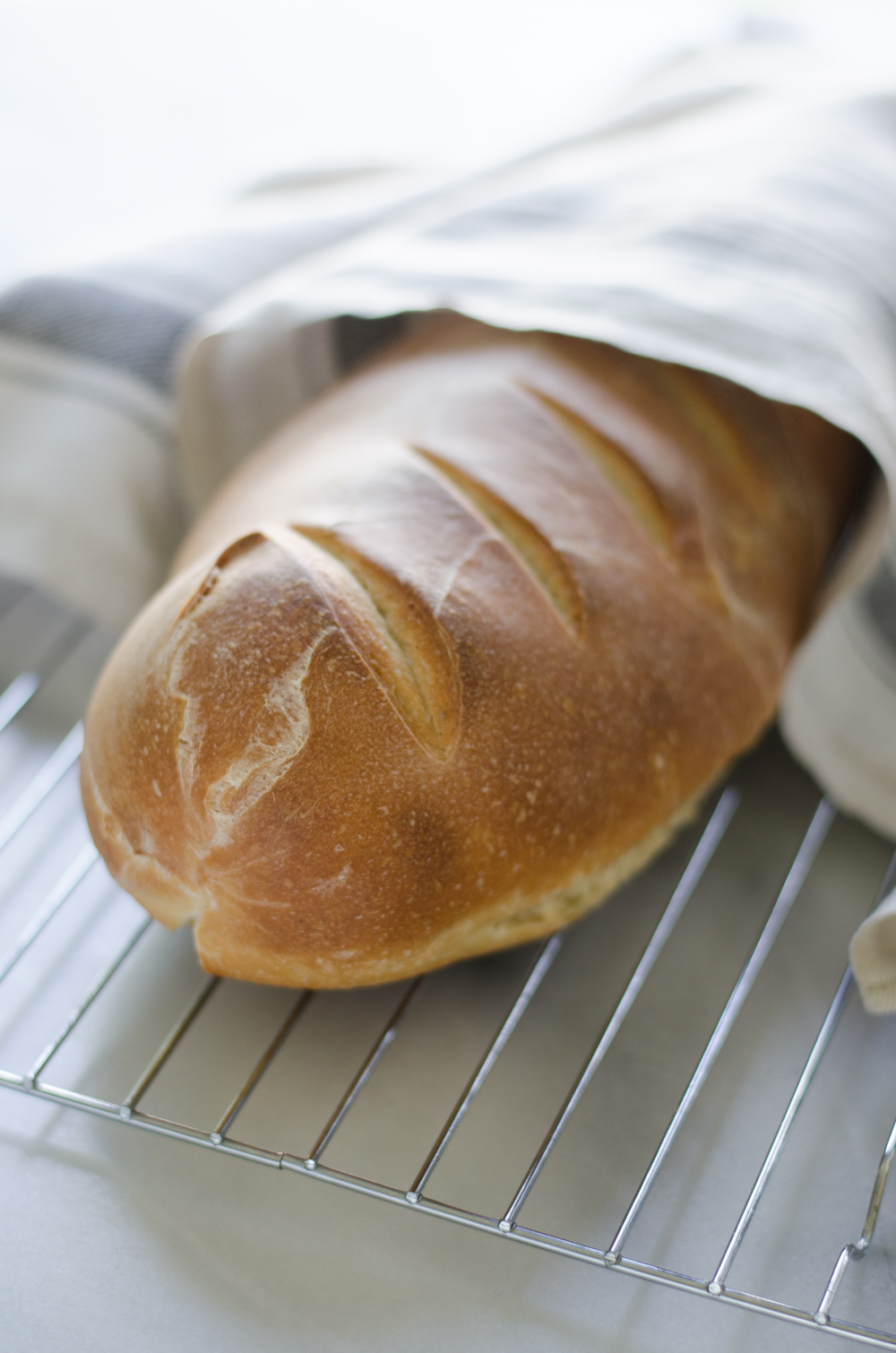 Don't you want a slice spread with butter? Mmmm…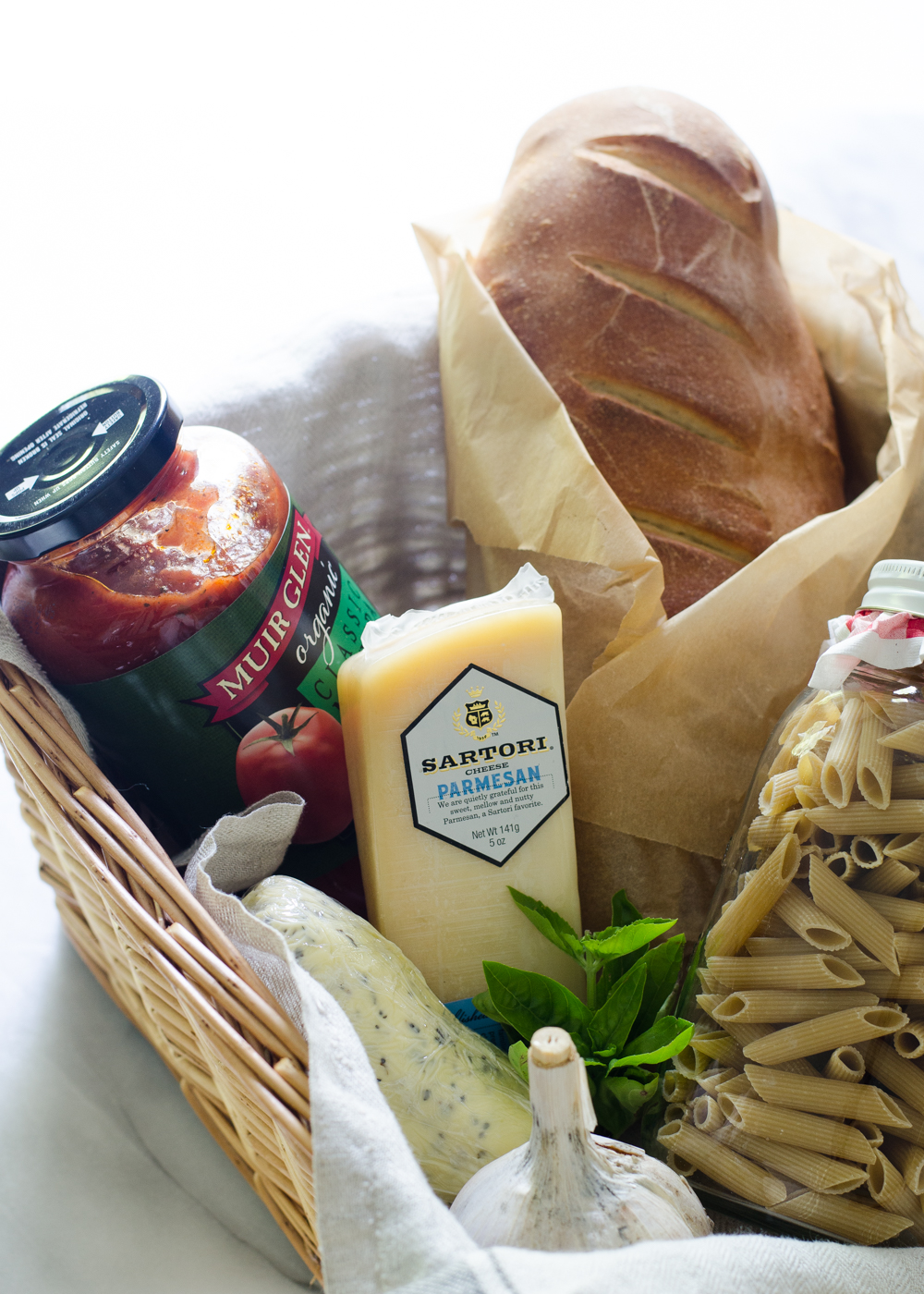 Along with a freshly baked loaf of bread, I included a jar of organic pasta sauce, a wedge of parmesan cheese, compound butter (I added basil, oregano, and garlic), einkorn pasta, and fresh basil and garlic. I lined the basket with a linen dish towel for a rustic feel.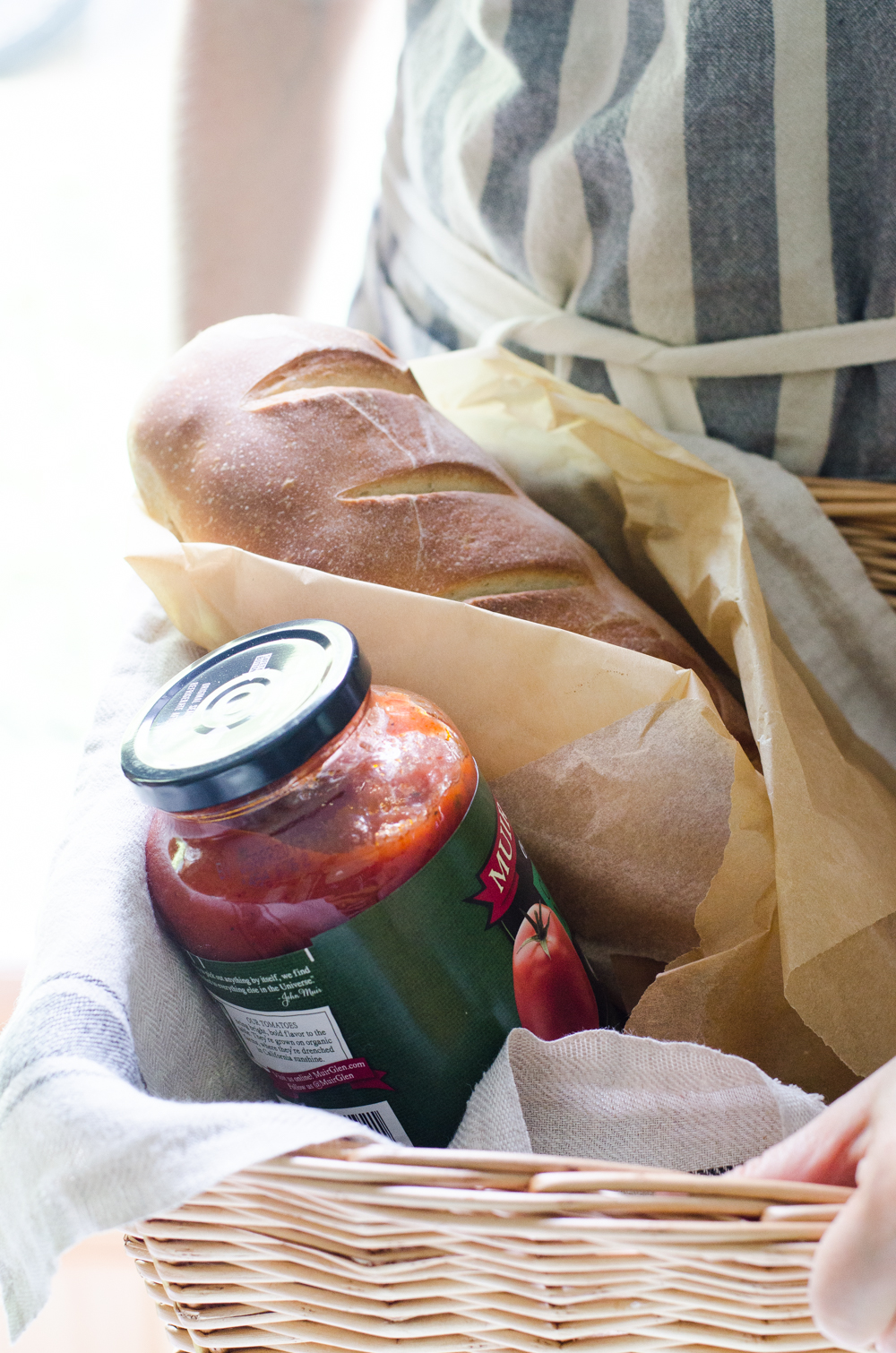 NOTES:
You can also store the unbaked dough in the freezer for emergencies. Simply thaw at room temperature for a few hours, or overnight in the refrigerator.
If the recipient of your care package can't use it right away, you can instruct them to freeze the bread and butter. Then they can just pull them out of the freezer on the morning of the day they want to use it!
Thank you so much to Bob's Red Mill for sponsoring this post! If you'd like to try out some Bob's Red Mill flour for yourself, make sure to use this coupon!
P.S. – My sister said that her husband thought that the bread was store-bought. Not sure if I should be offended or flattered. ? JK JK ?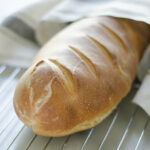 Overnight French Bread
Fresh bread for lunch is totally doable with a slow rise in the refrigerator overnight!
Prep Time
11
hours
40
minutes
Ingredients
1

package

active dry yeast

(about 2 1/4 tsp)

1

cup

warm water

(no more than 110 degrees F)

1

tbsp

+ 1 tsp organic cane sugar

2

tbsp

extra virgin olive oil

3 to 3 1/2

cups

Bob's Red Mill organic all-purpose flour

divided

1 1/2

tsp

unrefined sea salt
Instructions



Whisk the yeast into the water with 1/4 teaspoon of the sugar. Let sit for 5 minutes.

Add the yeast mixture, remaining sugar, olive oil, 2 cups of the flour, and salt to the bowl of a stand mixer fitted with the paddle attachment. Beat on low speed until everything is moistened. Switch to the dough hook and knead for 8 minutes, adding enough extra flour to make a soft but smooth dough. You just want the dough to clear the sides of the bowl. Don't add too much flour!

Transfer the dough to an large, oiled bowl and turn to coat with the oil. Cover tightly and place in the refrigerator overnight, or 8-12 hours.

The next morning, let the dough sit at room temp for 30 minutes to take off the chill.

Form the dough into a long log. Place on a piece of parchment paper on top of a wooden cutting board or pizza peel. Using the edge of your hands, tuck the sides of the dough under again and again. This forms surface tension on the dough. Cover and let rise for 1 hour.

45 minutes into the rising time, preheat your oven to 425 degrees F. Place a heavy baking sheet or pizza stone in the oven to preheat. Place a metal baking pan underneath the baking sheet. Have a kettle of water on hand.

Transfer the risen dough, parchment paper and all, onto the preheated baking sheet/pizza stone. Pour about 1-2 cups of water into the baking pan underneath the bread and quickly shut the oven door. Don't open the oven door for the next 15 minutes at least (otherwise you'll let the steam escape).

Bake for 20-25 minutes, or until the crust is deep golden brown. Remove from oven and place on a wire cooling rack to cool completely.
I was selected for this opportunity as a member of CLEVER and the content and opinions expressed here are all my own.