Learn how to make this iconic shortcrust cookie at home with my easy Speculoos cookie recipe! Add these to your cookie tray this holiday season for a wonderful treat!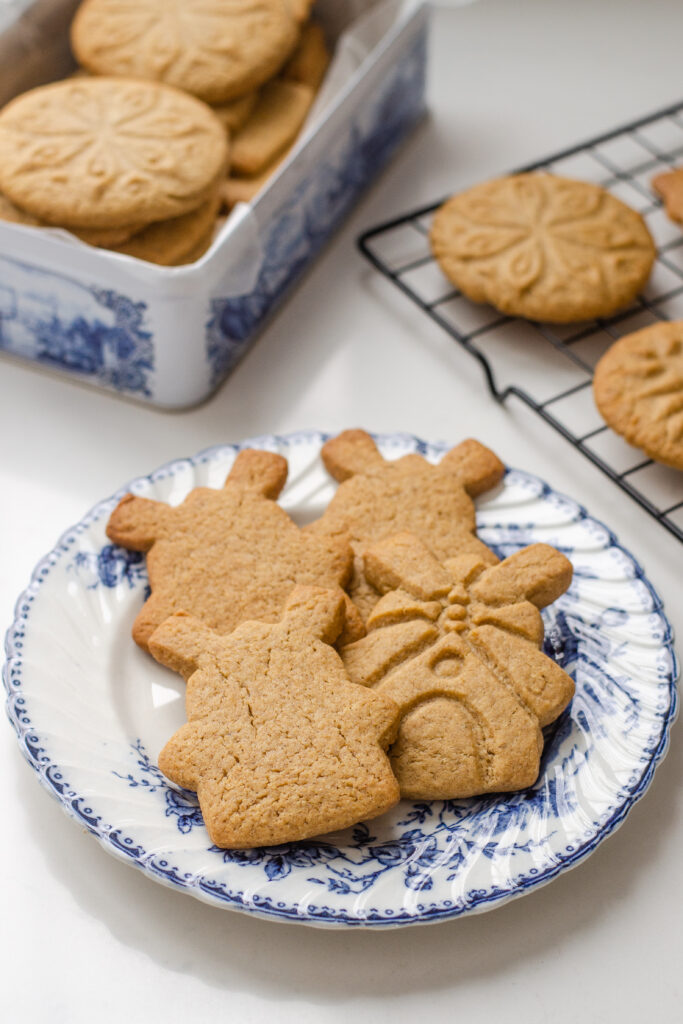 This fall my sisters and I took a trip to Minneapolis/St. Paul. We stopped at a charming Scandinavian bakery for lunch, and they were selling tins of Speculaas cookies imported from "Holland."
I was planning on recreating those crispy spiced cookies, so I purchased a tin and brought it home.
What I found when I tried them was a delicious, somewhat spicy cookie that was perfect to accompany my matcha.
So I got to work testing my homemade version of these Belgian spice cookies, and came up with this delicious treat!
Okay, let me show you how to make them!
Here's a video tutorial in case you learn better that way. The written tutorial and recipe card are below!
Speculoos vs Speculaas
A quick word about…wording!
Traditionally, Speculaas cookies are made with more spices than Speculoos. So while Speculaas cookies include several different spices, Speculoos cookies usually only contain cinnamon. They were a more affordable version than Speculaas.
Also, Speculaas come from the Netherlands, whereas Speculoos are from Belgium. These are also known as Dutch Windmill Cookies, but they can be made into any shape you like!
These days, Speculaas and Speculoos can be used interchangeably.
A very popular brand of Speculoos is Biscoff cookies. You can find them at most grocery stores.
I've included several spices in my Speculoos recipe, but you can leave out all but the cinnamon for a more traditional version.
Think of my recipe as a hybrid between Speculaas and Speculoos!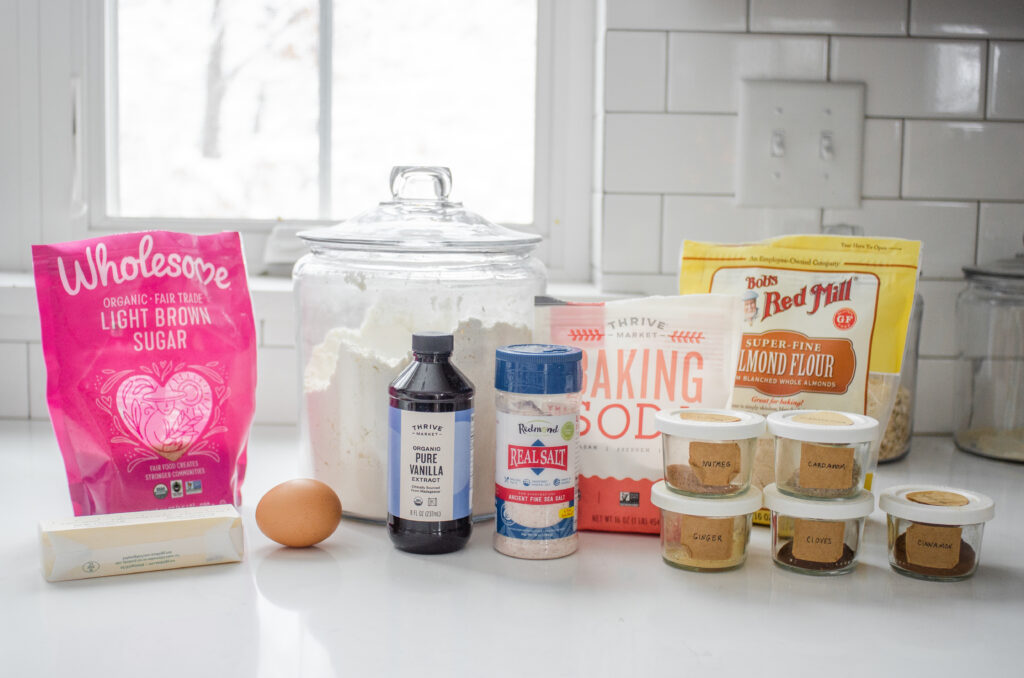 Note: Some links are affiliate. All opinions are my own. If you click a link and make a purchase, I will earn a small commission. This has zero impact on the price you pay, and it helps Buttered Side Up Out! Thank you!
Ingredients:
Here's everything you'll need to make these homemade Speculoos cookies:
Butter: I use salted Kerrygold butter because I adore the flavor. If you prefer a less salty cookie, you can opt for unsalted butter.
Light Brown Sugar: Traditionally, speculoos cookies are made with Belgian "candi sugar" or "candi sugar syrup." However, that isn't readily available in the US, so I used light brown sugar to develop this recipe. For a stronger flavor, you could use dark brown sugar instead.
Egg: I use organic/pasture raised eggs whenever possible.
Vanilla Extract: This isn't a strictly necessary ingredient, but I love the flavor it imparts.
All-purpose Flour: I use organic all purpose flour, but any AP flour should do as well.
Almond Flour: This adds a little something extra to the texture. It's a lovely addition in my opinion. Target has it for a decent price.
Baking Soda: This aids in the browning of the cookies.
Salt: I use unrefined sea salt. Again, I like a cookie with a good amount of salt. You may find that the amount I include is too much for your personal tastes, in which case you can reduce the salt by a little.
Cinnamon: As I mentioned above, the traditional cookies are made with just cinnamon and no other spices. Also, cassia cinnamon instead of true cinnamon was used. But you can definitely use whatever cinnamon you have on hand!
Nutmeg
Cloves
Ginger
Cardamom
You can also add white pepper to the spice blend. I don't prefer the taste of white pepper, so I left it out. But you can add a pinch if you like!
Also, the amount of spices you use is totally up to you! Use less spices if you prefer a lightly flavored Speculoos cookie, or more if you want it extra spicy!
How To Make Speculoos Cookies at Home: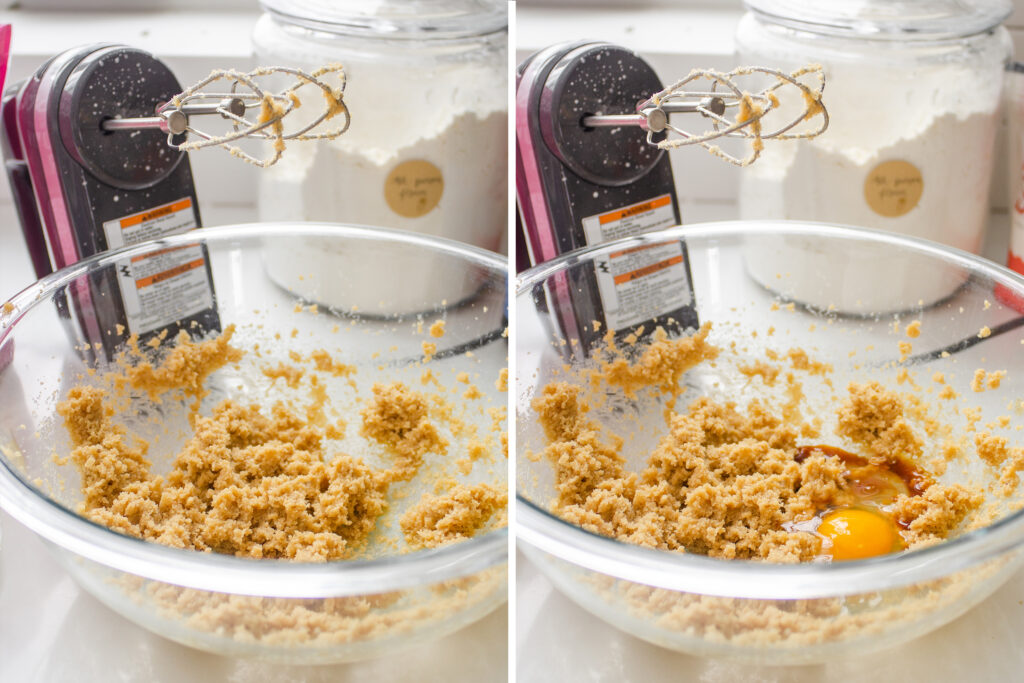 Start by creaming together the butter and brown sugar with a hand mixer until light and fluffy. You don't have to go too crazy here, but you want to make sure the butter and sugar are thoroughly mixed.
You'll want to do this in a large bowl since this is where the final cookie dough will be mixed.
Next, add the egg and vanilla extract and beat again until well combined.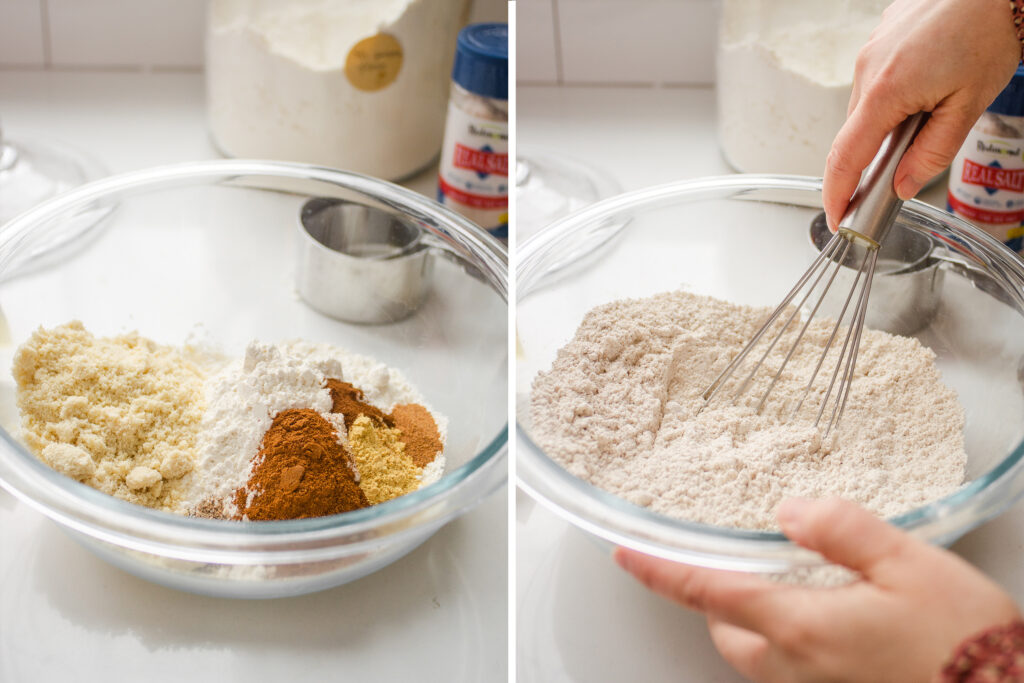 In a separate medium bowl, whisk together the dry ingredients until thoroughly combined.
You don't need to sift the ingredients together, but make sure to take care if your baking soda is particularly clumpy.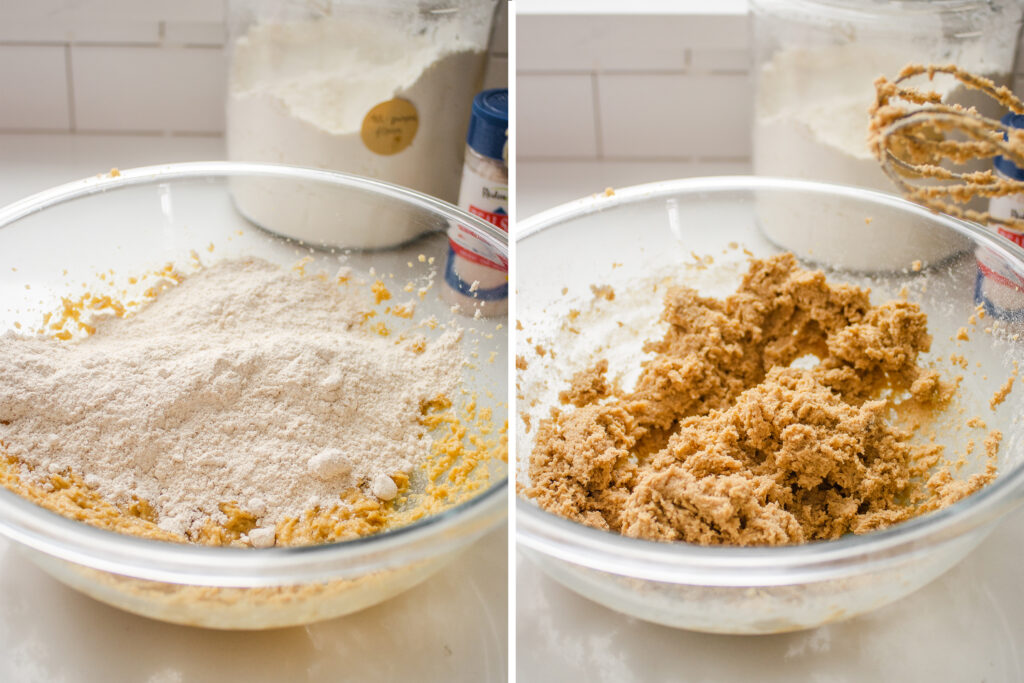 Next, add the flour mixture to the butter/sugar mixture.
Finally, beat with the hand mixer until a dough forms.
The dough will start out kind of dry, but if you keep mixing, it will come together.
I'm guessing this could also be done in a food processor, but I haven't personally tested that method.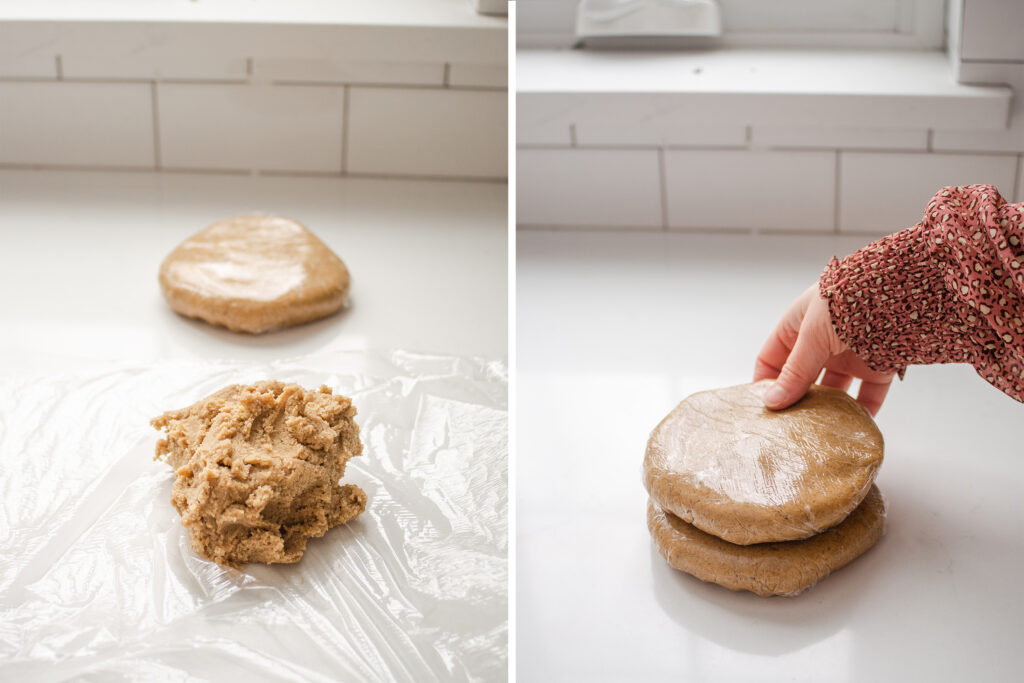 Divide the dough in half and place on two sheets of plastic wrap.
Form the speculoos dough into discs, and wrap well in the plastic wrap. Then place it in the refrigerator to chill for at least ?? hours, and up to 24 hours.
This dough is pretty easy to work with, but it needs to be chilled before rolling out to prevent massive sticking.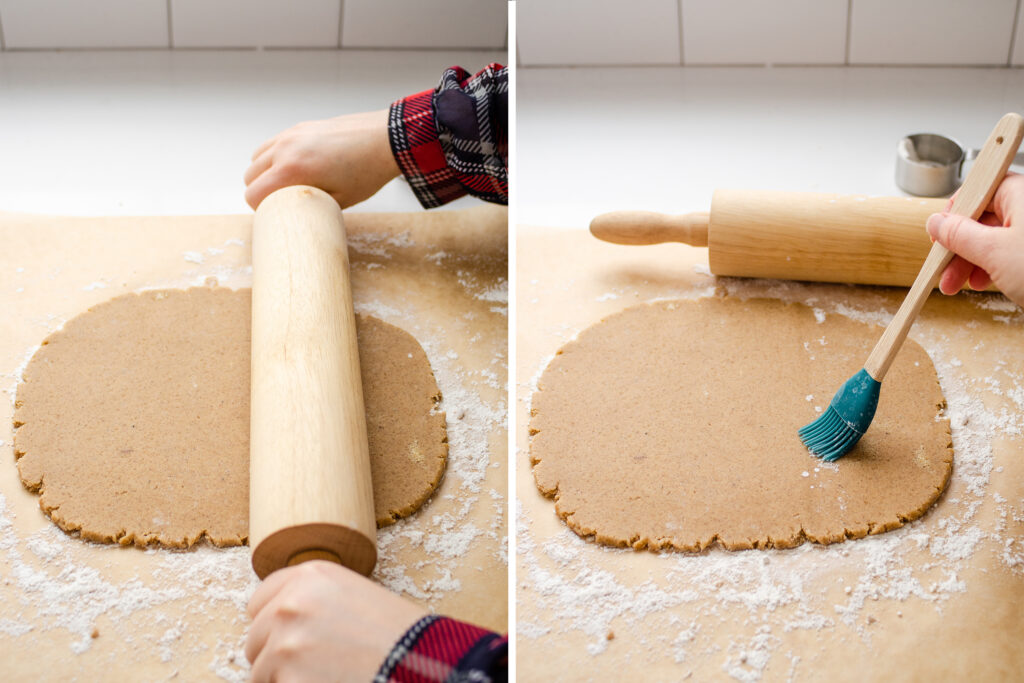 After the dough has been properly chilled, roll it out on a floured sheet of parchment paper. I know flouring parchment paper seems a bit extra, but you will be glad you did it, trust me!
Roll the dough out to around ⅛ to ¼-inch thick. It's really up to you how thick you'd like to roll out the dough. The can simply adjust the baking time to achieve your desired doneness. More on that later on!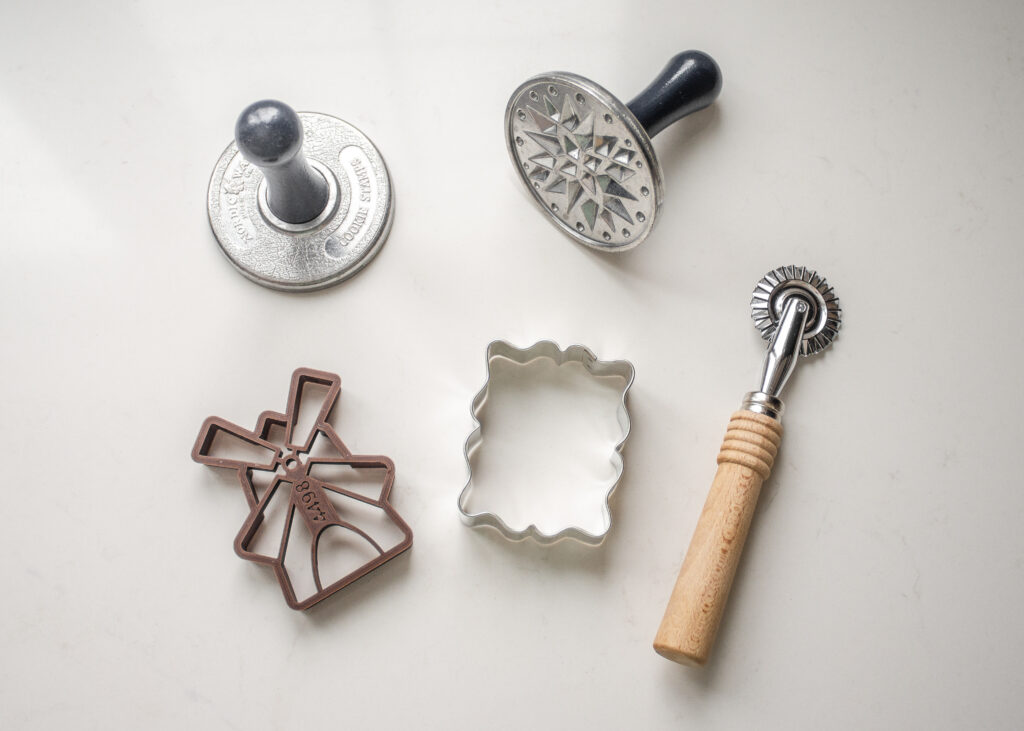 How to Form Speculoos Cookies
Now it's time for you to choose your method of forming the speculoos cookies!
The traditional way to form these is with a cookie mold, AKA springerle mold, which is a wooden mold that you squish the dough into to form it.
You can purchase these wooden speculoos molds on Etsy, Amazon, or this specialty website. You can even purchase molds in the shape of St. Nicholas if you want to make these for St. Nicholas' Day.
But they are not necessary to make these cookies at home!
There are several ways to do this: Cookie stamps, a windmill cookie cutter, a pasta cutters wheel, an embossed rolling pin (special rolling pins that leave a design on the surface of the cookie dough), etc.
I'll demonstrate several of these methods below: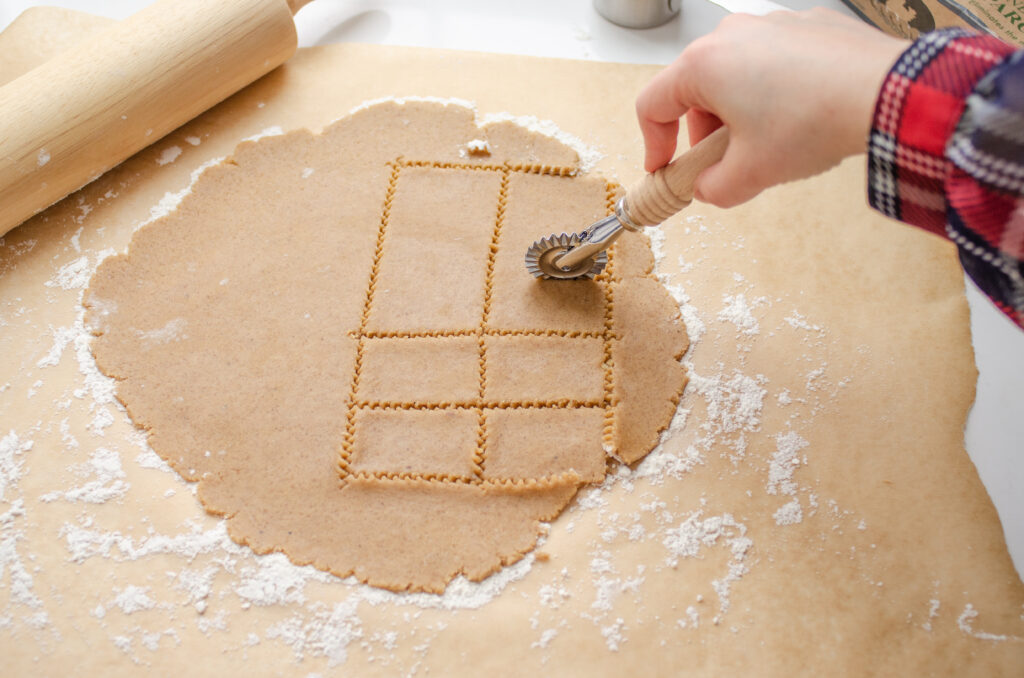 Pasta Cutter Wheel:
This is probably the easiest method of forming these sepculoos cookies.
Simply roll the dough out to your desired thickness, and then cut out rectangles of the dough.
I got my pasta cutter wheel on Amazon (it's made in Italy!).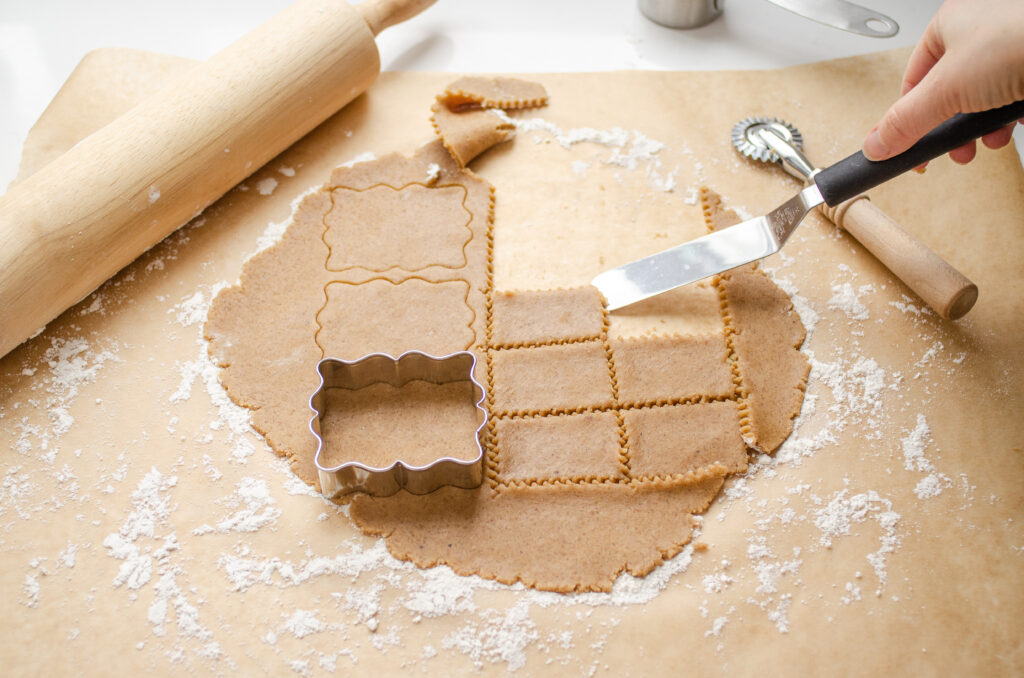 Regular Cookie Cutter
The second easiest method of forming these cookies is to use a regular cookie cutter.
I liked these scalloped rectangle cookie cutters that I found on Amazon (made in the USA!).
By the way, if you find that the cookie dough is sticking to the parchment paper, you can use an offset spatula to get them free.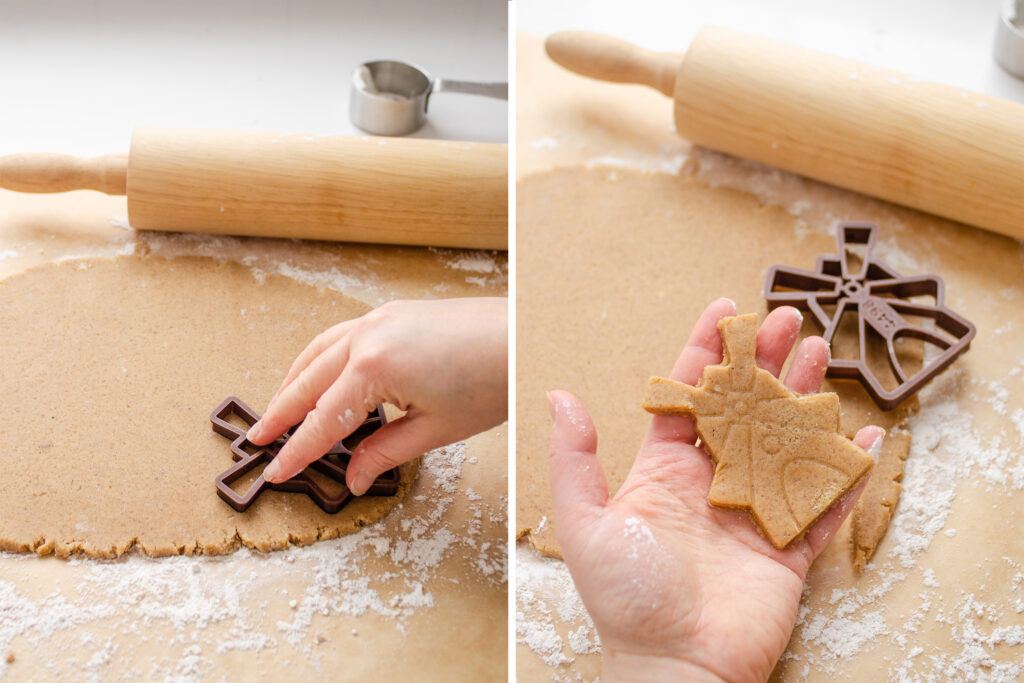 3D Cookie Cutter
Next, you can use a cookie cutter that embosses the top of the cookie dough for a more 3D, cookie mold effect.
The downside of this type of cookie cutter is you have to have the dough at a certain thickness for the design to show up on the top. So if you're okay with a thicker speculoos cookie, you can go for this type of cutter.
I found mine on Amazon. It's 3D printed and made in the USA.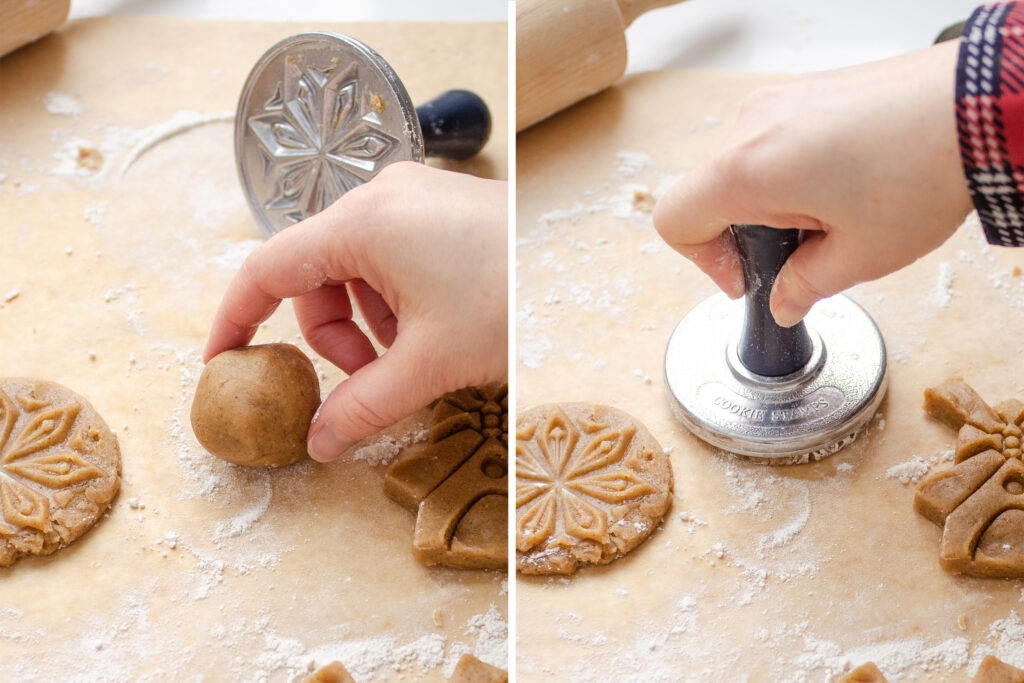 How to Use a Cookie Stamp
Finally, you can use a cookie stamp to for these Speculoos cookies. I bought the "Starry Night" set from Nordic Ware. They're made in the USA!
To use it to form a cookie, you'll first want to chill the cookie stamp in the refrigerator.
Next, roll a piece of dough into a ball.
Then, use the cookie stamp to flatten the dough ball.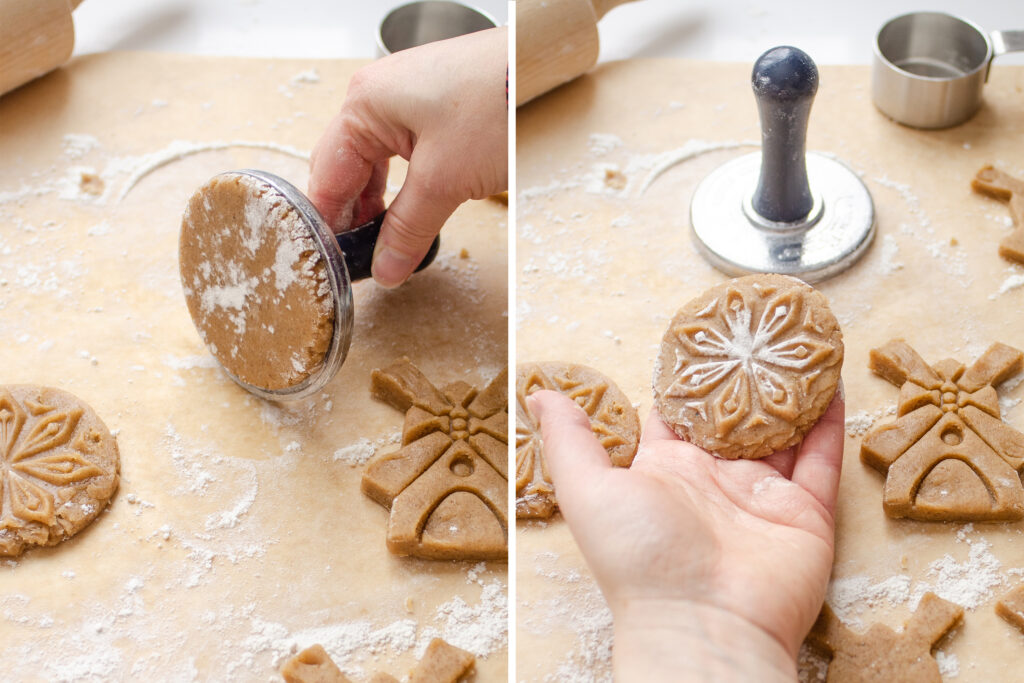 Carefully remove the stamped dough, and there you have a beautifully formed cookie!
If you find that the dough is sticking to the mold, you can either tip the mold in flour before stamping, or roll the dough ball in flour.
Then you can brush the excess flour off of the dough before baking.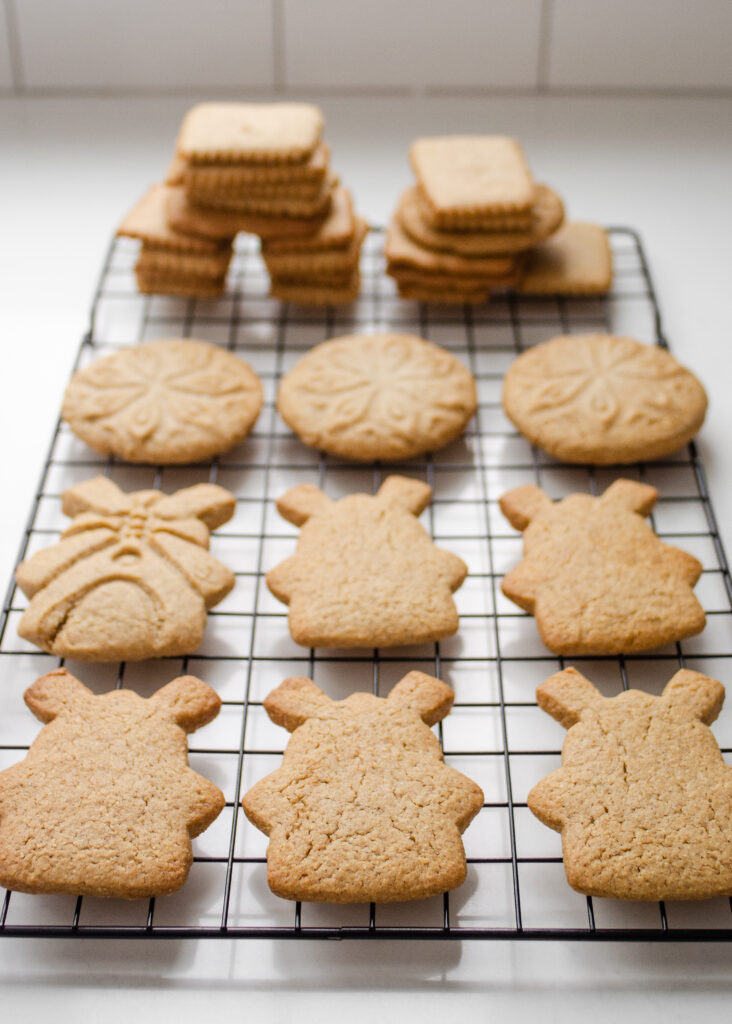 Baking Time:
Transfer the formed cookies to a parchment lined baking sheet.
Bake the cookies in a preheated 350 degree Fahrenheit oven for 10-15 minutes, or until they turn golden brown at the edges.
Now here again, you can use a bit of personal judgment to decide how long to bake these. If you like really crispy spice cookies, you can go a little longer. If you prefer a softer cookie, cook just until the edges are golden.
Transfer the baked cookies to a wire cooling rack and cool completely before storing.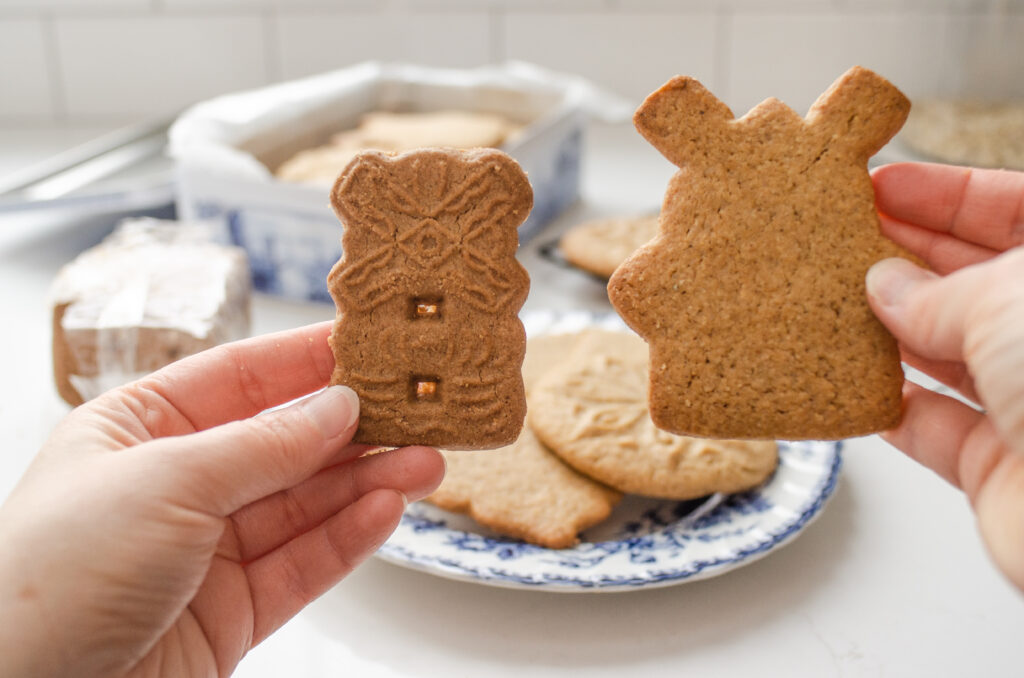 Here's a side-by-side comparison of the cookies I bought vs. my homemade version.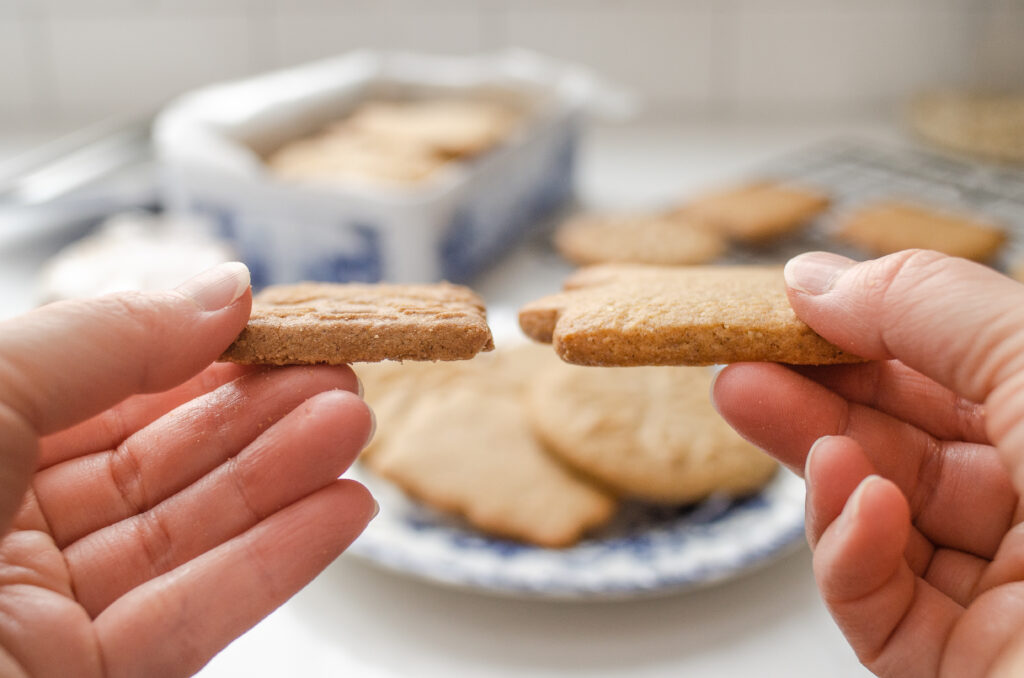 And here's a side view of the two cookies. I think they turned out quite similar!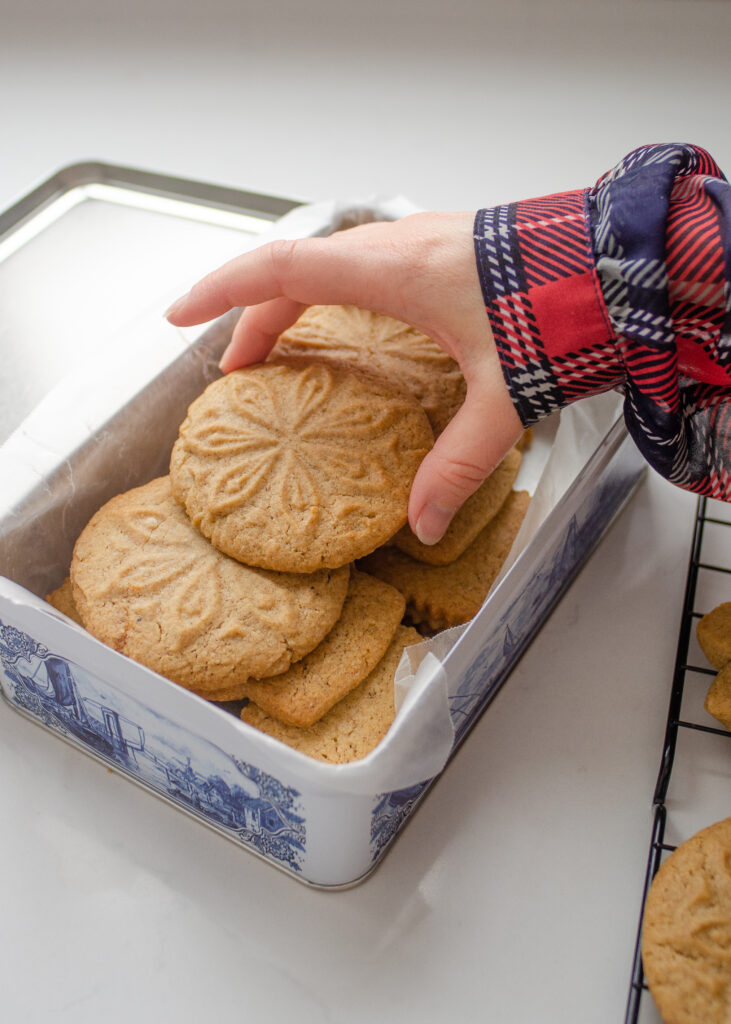 Storing:
Once the cookies are completely cooled, transfer them to an airtight container for storage.
You could store them in a cookie jar for a few days, but for longer storage it would probably be best to keep them in an airtight container.
Now the cool thing about these cookies is they actually get better with age!
The spices actually become more intense as these cookies sit for a few days.
You can store these at room temperature for several weeks. So these would be great to make at the beginning of December for enjoying throughout the month!
These would also make wonderful gifts since they store so well.
You can find recipes around the internet for homemade speculoos cookie butter if you'd like to try your hand at that!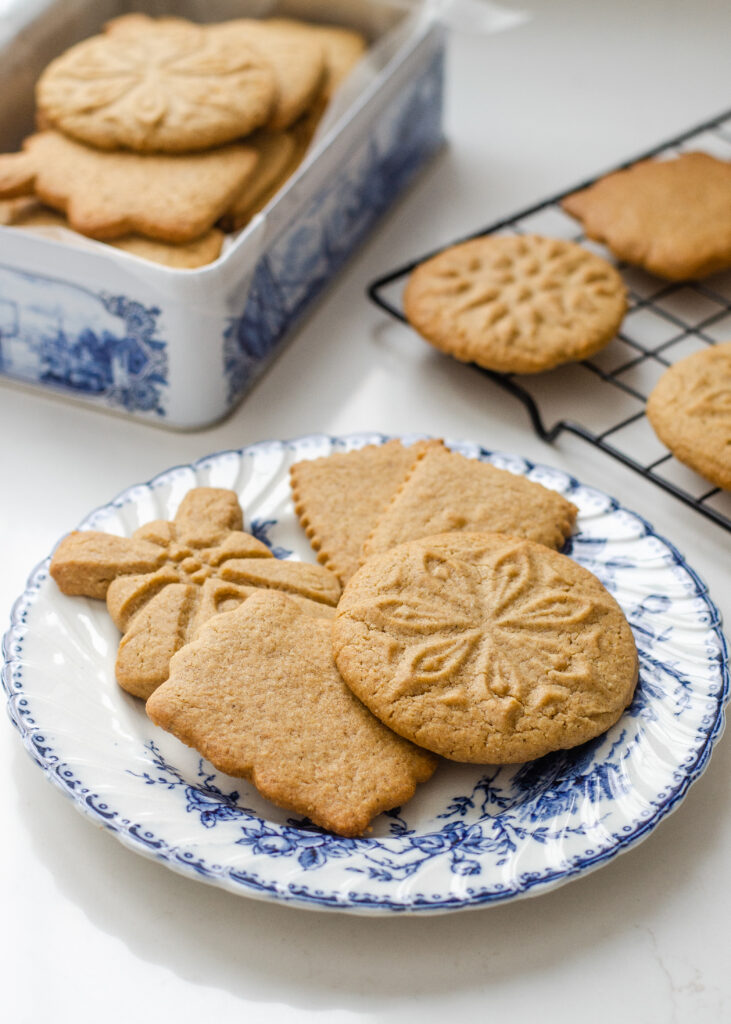 Speculoos Origin:
While it doesn't seem certain where the word Speculoos comes from, people have speculated (ha!) that it comes from the Latin word for mirror, "speculum." This would make sense because when you press the dough into the mold and then remove it, it's the mirror image of what you see looking at the mold.
Others point out that the Dutch word for spice, specerij, is similar to Speculoos.
Another theory is that it could come from the Latin expression "speculātor," which could refer to St. Nicholas.
More Cookie and Christmas Recipes:
So that's my Speculoos cookie recipe! Here are some more Christmas treats to give you some ideas!
Recipe Card
Yield: 24 (see note)
Speculoos Cookie Recipe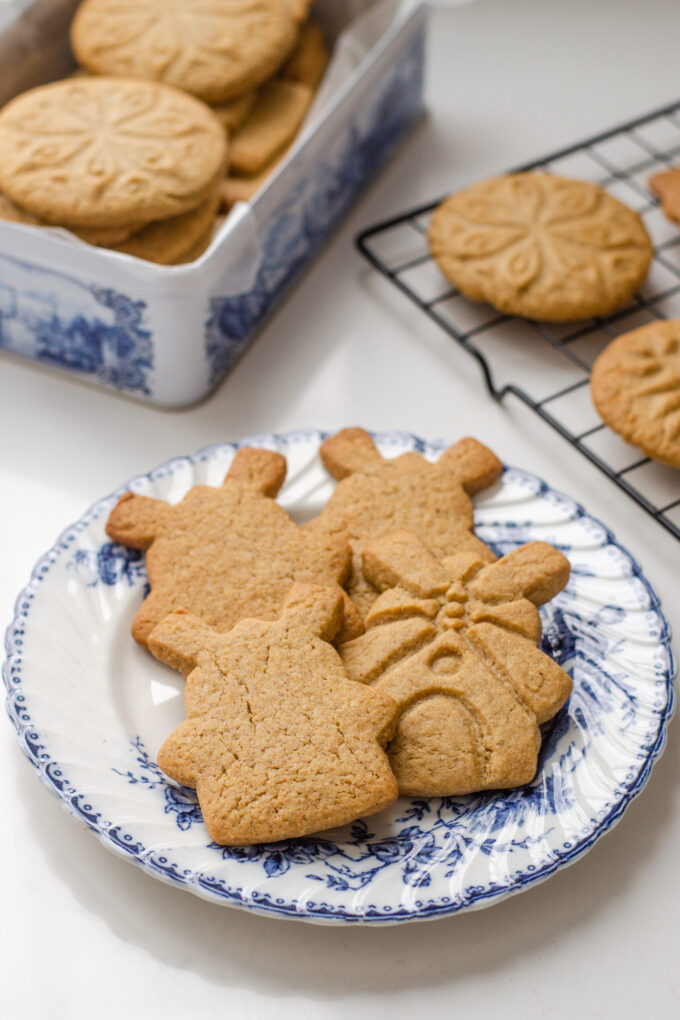 These Belgian spice cookies are delicious treat around Christmas/the holidays!
Total Time
2 hours
35 minutes
Ingredients
1 stick (1/2 cup) butter, softened
3/4 cup packed light brown sugar
1 large egg
2 teaspoons vanilla extract
1 1/2 cups all-purpose flour
1/2 cup almond flour
1/2 teaspoon unrefined sea salt
1/4 teaspoon baking soda
2 teaspoons cinnamon (see note)
1 teaspoon ground ginger
1/2 teaspoon ground nutmeg
1/4 teaspoon cloves
1/4 teaspoon cardamom
Instructions
In a large bowl, cream together the butter and sugar with a hand mixer until light and fluffy. Add the vanilla and egg and mix.
In a separate medium bowl, whisk together the AP flour, almond flour, salt, baking soda, cinnamon, ginger, nutmeg, cloves, and cardamom.
Add the dry ingredients to the butter mixture and slowly beat with the hand mixer until a dough forms. It may start out dry and crumbly, but eventually it will come together.
For the dough into 2 discs, wrap in plastic wrap, and chill in the refrigerator for at least 1 hour, and up to 24 hours.
After the dough has chilled, preheat your oven to 350 degrees Fahrenheit (177 Celsius). Place the oven rack in the center of the oven. Line 2 baking sheets with parchment paper.
Roll the dough out on a floured sheet of parchment paper to about 1/8 to 1/4 inch thick. Cut to desired shapes. Alternately, you could use a cookie mold or a cookie stamp to shape the cookies.
Transfer to the parchment lined baking sheets. Bake the cookies, 1 baking sheet at a time, until the edges are golden, about 10-15 minutes. Transfer to a wire cooling rack and allow to cool completely.
Store at room temperature in an airtight container for 1-4 weeks.
Notes
Write additional notesThe amount of cookies you get will depend on how thick or thin you roll them.
Speculoos cookies traditionally only contain cinnamon. Leave out the other spices if you wish.
Recommended Products
As an Amazon Associate and member of other affiliate programs, I earn from qualifying purchases.
Nutrition Information:
Yield:
24
Serving Size:
1
Amount Per Serving:
Calories:

69
Total Fat:

1g
Saturated Fat:

0g
Trans Fat:

0g
Unsaturated Fat:

1g
Cholesterol:

8mg
Sodium:

62mg
Carbohydrates:

12g
Fiber:

1g
Sugar:

6g
Protein:

2g