This raspberry clafoutis is a delicious dessert OR breakfast option!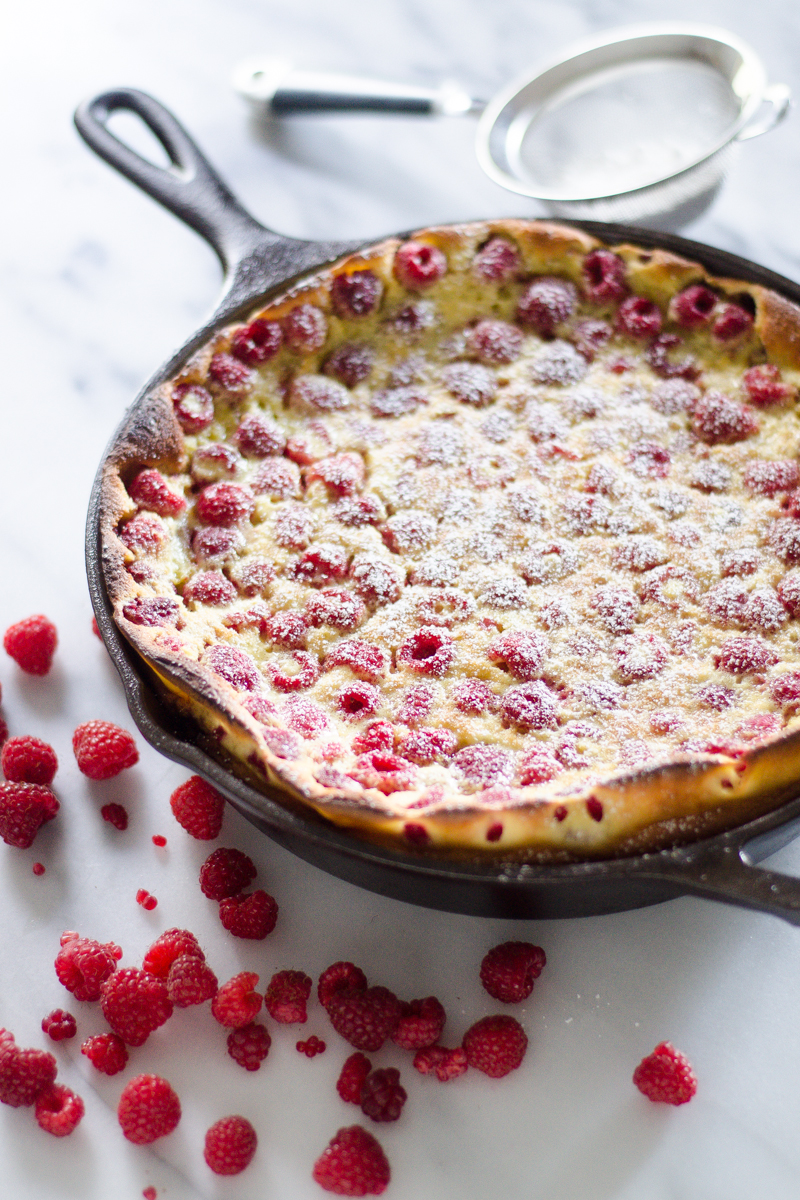 I have seen clafoutis recipes floating around the internet and in cookbooks for years. But I never made one. Probably partly because I had no idea what one was, and partly because I had no clue how to pronounce it.
The other day I had a bucket of raspberries (picked fresh from Reuben's family's garden) that I wanted to turn into a delicious baked something. I decided to consult my cookbooks. There in my copy of Honey and Jam was a recipe for raspberry clafoutis. It called for 3 cups of raspberries. And when I took the time to actually read the recipe, I realized how easy it would be to make.
It bakes into a lovely, eggy, custardy dessert.
Let me show you how to make it!
What is a Raspberry Clafoutis?
Clafoutis is a French dessert that consists of an eggy, German pancake-like base with fruit dotted all over it.
It's basically a German pancake (AKA oven pancake) that's thicker and sweeter.
Traditionally it's made with cherries, but you can really use just about any fruit instead.
So a raspberry clafoutis is just one that's made with raspberries!
What Does Clafoutis Taste Like?
If you've ever had a German pancake, it tastes a lot like that, but sweeter. It's also reminiscent of choux pastry. Eggy and carby at the same time.
How to Pronounce Clafoutis
From my research, you pronounce clafoutis "klah-foo-TEE." The emphasis is on the last syllable.
Sometimes, when I'm feeling silly, I pronounce it "klah-FOO-tis." I don't know how I came by that pronunciation.
Ingredients:
You only need a few ingredients that you probably already have on hand to make this raspberry clafoutis:
fresh raspberries
whole milk (please don't use low-fat!)
melted butter
organic sugar
pure vanilla extract
eggs
salt
whole wheat pastry flour (you can sub all-purpose)
zest of a lemon, or lemon flavor (this keeps the flavors fresh and bright!)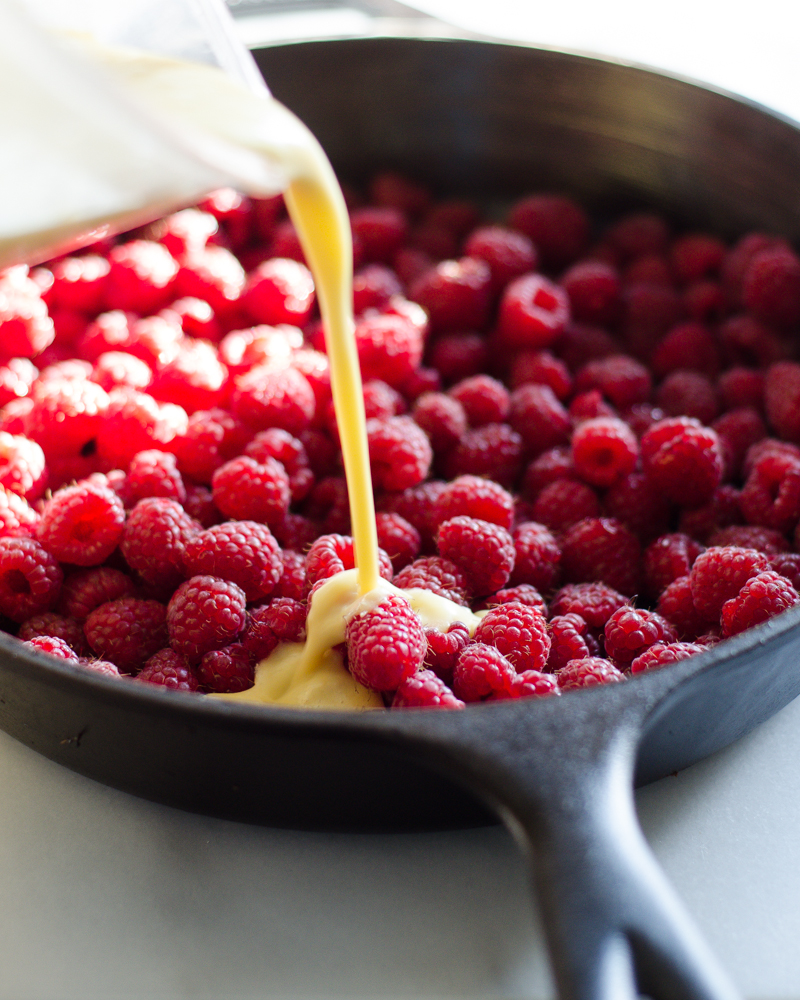 How to Make Clafoutis:
You start by placing your berries in the bottom of a cast iron skillet.
You can use a baking dish instead if you don't own a cast iron skillet.
Then you blend together eggs, milk, flour, and flavorings in a blender or food processor.
And then you pour the batter on top of the berries in the pan.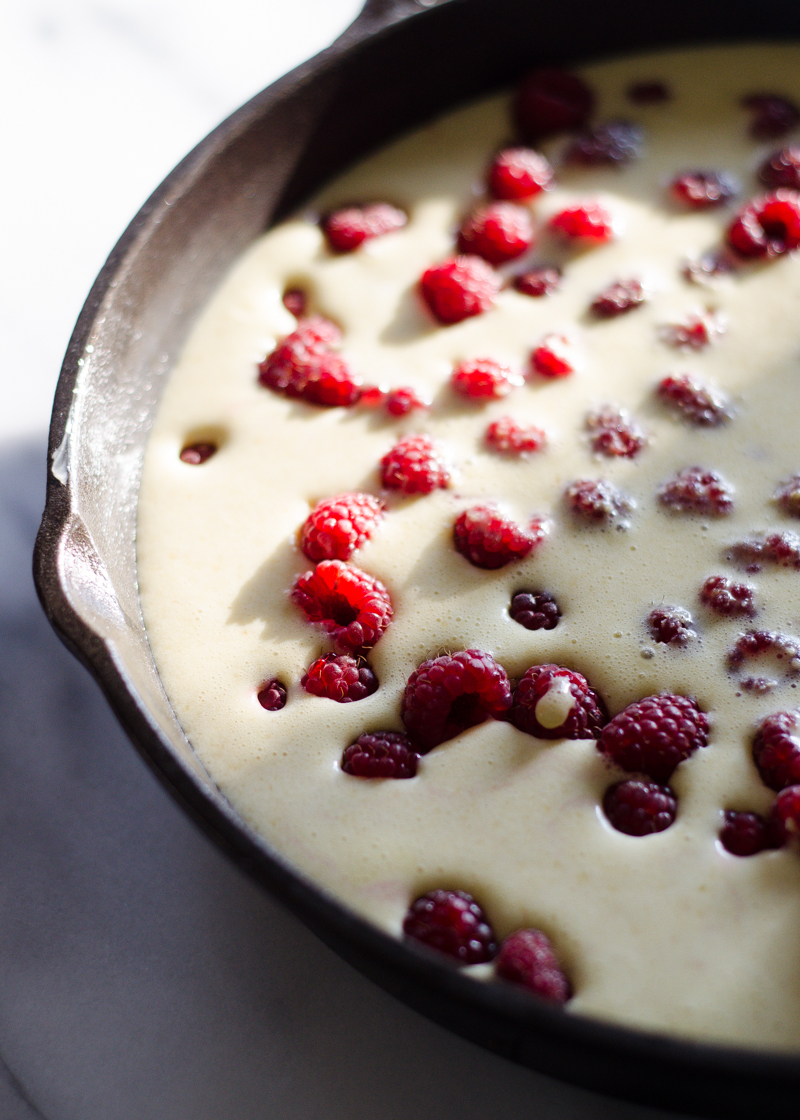 This raspberry clafoutis a wonderful thing to throw together on a slow morning.
It comes together so simply, so there's no need for extensive braining early in the morning.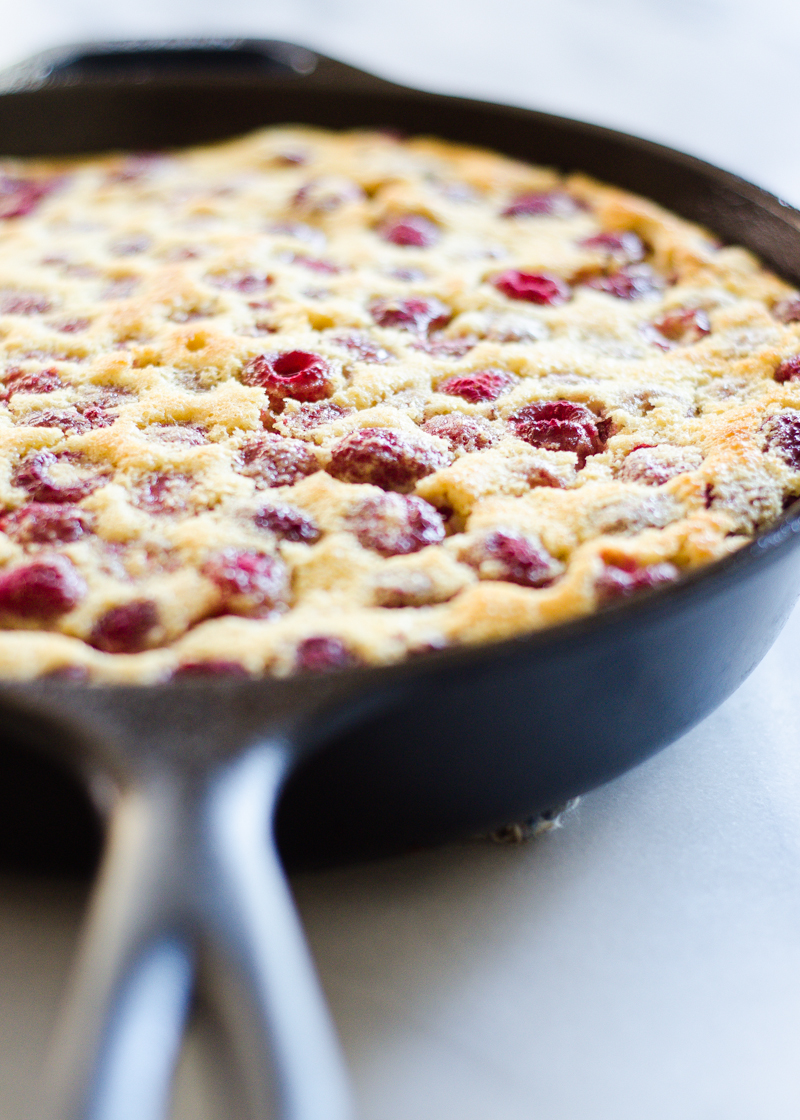 How Do You Know When Clafoutis is Done?
A clafoutis is done when it's golden, puffy, and a toothpick inserted in the middle comes out clean.
It will also start to come away from the edge of the pan.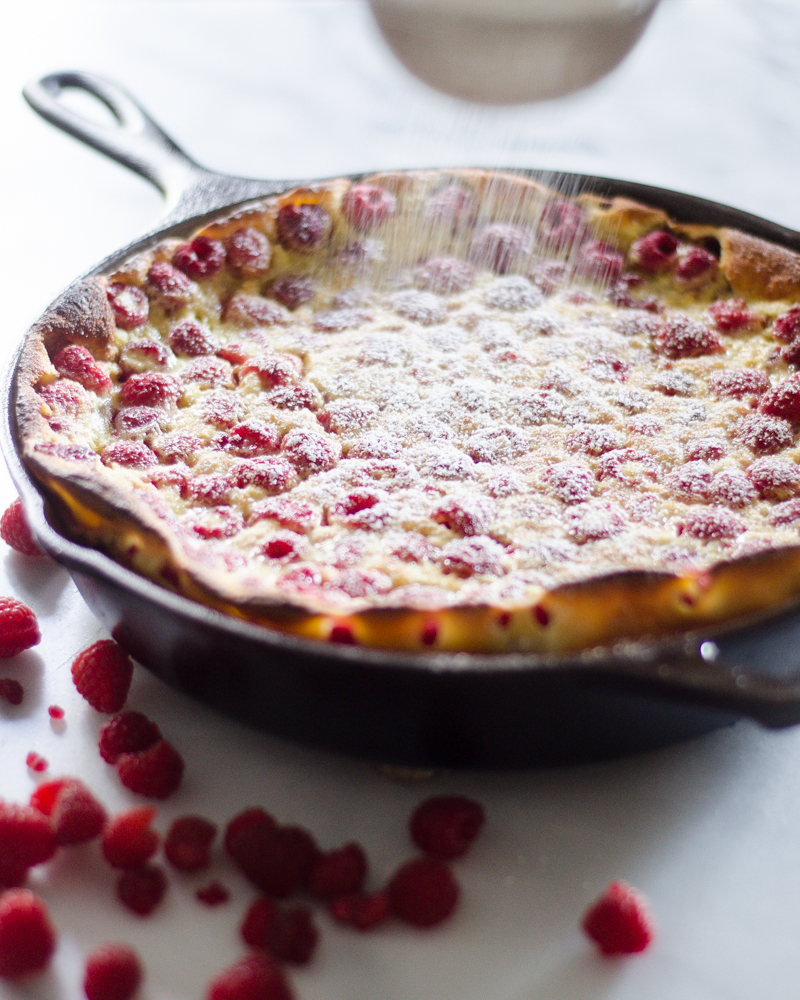 How to Serve Raspberry Clafoutis
You can serve a clafoutis warm with ice cream or whipping cream and a dusting of powdered sugar.
Since this particular clafoutis is made with raspberries, the powdered sugar on top can be a nice counterpoint to the tartness of the berries.
Can Clafoutis Be Served Cold?
If you're trying to impress guests, I would say no. But I have enjoyed it cold for breakfast with some heavy cream. You may find that it gets a little tough when it's cold, though.
Now I want to try out clafoutis with other fruits: pears, apples, blueberries…there are so many options! I love that you can make this a seasonal dessert by substituting whatever fruit happens to be in-season when you make it.
BTW, I've really been enjoying Hannah's cookbook, Honey and Jam. So far I've made this raspberry clafoutis and an Apple Cider Doughnut Cake. Both have been quite flavorful. I really like that she breaks the recipes into seasons so you can easily find inspiration for seasonal baked goods.
I can't wait to try more of the recipes!
Note:
My sister and I and Helen LOVED this clafoutis. My sister's husband wasn't too keen on it (he doesn't like oven puff pancakes and this reminded him of it), and my husband thought it was a bit tart with the raspberries. I personally liked that it wasn't so sweet. You can always make it sweeter with a dusting of powdered sugar.
Popular Dessert Recipes: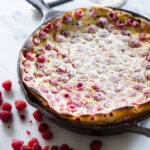 Raspberry Clafoutis
A clafoutis made with raspberries instead of cherries.
Ingredients
3

cups

fresh raspberries

1

cup

whole milk

2

tablespoons

butter,

melted

1/2

cup

organic sugar

1

teaspoon

pure vanilla extract

4

large eggs

1

large pinch of salt

3/4

cup

whole wheat pastry flour

zest of a lemon,

or 1 teaspoon lemon flavor

Powdered sugar, whipping cream, or ice cream,

for serving, optional
Instructions
Preheat oven to 400 degrees F (205 C). Butter a 10-inch cast iron skillet. Pour the raspberries into the skillet.

Place the milk, butter, sugar, vanilla, eggs, salt, flour, and lemon zest in a blender or food processor. Blend until smooth. Pour over the raspberries.

Bake in preheated oven for 35-40 minutes, or until a toothpick comes out clean. Serve warm with cream or ice cream and a dusting of powdered sugar.
Recipe Notes
The original recipe called for an oven temperature of 450 F. This makes for a puffier clafoutis (see first and last photos), but I found that the edges tended to burn before the center set. I prefer the lower temperature.
Adapted from Honey and Jam