I originally published this post three years ago on June 8, 2011, three days before our wedding. Wow. All the feels.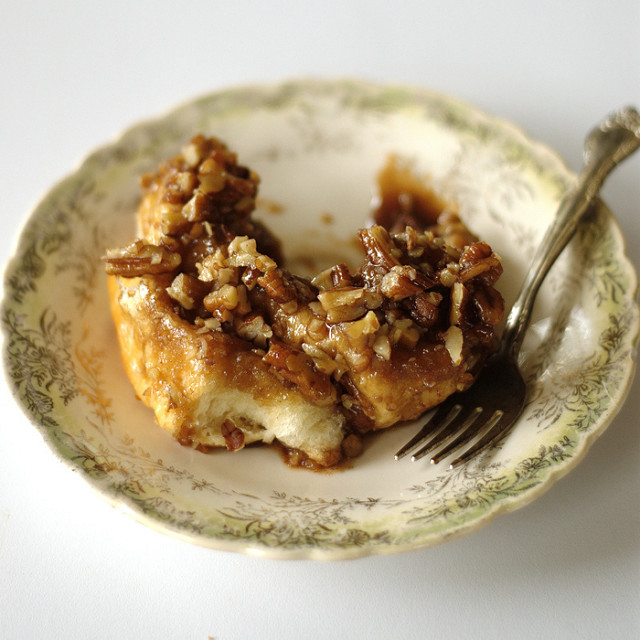 These last few days of being single (yay!), I have been reflecting a bit on my life at home. Until now, it hasn't really hit me that I'm leaving – entering a wonderful, new life with my husband-to-be. Apparently it hit my mom as well…we had a crying-and-hugging-fest today.
Cooking for Seven has been such a great creative outlet for me over the years (Did I really start this blog almost three years ago? How time flies…), and a bit of a challenge. Thank you all for your encouragement, tips, praise, and corrections (thank you for being honest!). It is my intention to continue sharing recipes with you after I'm married…my future mother-in-law instructs me to continue "cooking for seven" — my fiance eats a lot! 🙂
But I must say goodbye for a little while as I am getting married this weekend! Until we meet again, here is a scrumptious recipe for Maple Pecan Sticky Buns.
Maple Pecan Sticky Buns
Ingredients:
For the dough:
2 1/2 cups all-purpose flour
1 cup whole wheat flour
2 teaspoon instant yeast
3 tablespoons maple sugar, granulated sugar, or sweetener of choice
1 1/4 teaspoons salt
1 – 1 1/2 cup milk, scalded and cooled
1 large egg, lightly beaten
1 teaspoon vanilla extract
2 tablespoons soft butter
For the filling:
3/4 cups pecans, finely chopped
1/2 cup (packed) golden brown sugar
2 teaspoons ground cinnamon
soft butter for spreading on dough
For the syrup:
1/2 cup pure maple syrup
4 1/2 tablespoons (1 stick plus 1 tablespoon) unsalted butter
1/2 cup (packed) golden brown sugar
1/2 cup pecans, coarsely chopped
Direction:
For the dough:
1) Mix and knead together all the dough ingredients in a stand mixer, bread machine, or by hand to form a smooth, soft dough. Add more milk or water if the dough seems too stiff.
2) Place in a greased bowl. Cover with a towel. Set in a warm place and let raise until almost doubled, about 1 to 1 1/2 hours.
For the filling:
Mix together all the filling ingredients thoroughly in a small bowl.
For the syrup:
Butter a 13 x 9 x 2-inch glass baking dish. Combine maple syrup and butter in heavy medium skillet. Stir over medium heat until butter melts. Remove from heat. Mix in brown sugar. Pour syrup into prepared dish; tilt to coat of bottom of dish evenly. Sprinkle the pecans; cool
To assemble and bake:
1) Roll out dough on a lightly greased counter to an 11 x 20 inch rectangle. Spread the soft butter all over the dough, leaving a narrow strip free of butter along one long edge. Sprinkle with filling ingredients.
2) Starting with the buttered long edge, roll up the dough and pinch the edges to secure. Cut dough with a sharp, serrated knife into 1-inch rolls. Place in prepared baking dish. It's okay to crown the buns a bit.
3) Cover and let raise until quite puffy, about 45 minutes to 1 1/4 hours. Preheat oven to 375° F.
4) Bake buns uncovered until tops are golden brown and syrup bubbles thickly, reversing dishes halfway through baking, about 25 minutes. Remove from oven and immediately invert onto a baking sheet. Cool for 5 minutes. Serve warm with lots of butter. (Can be made ahead. Cool buns completely. Wrap buns tightly with foil on baking sheet. Freeze up to 2 weeks. Bake frozen buns covered 375°F until heated through, about 15 minutes.)
Makes approximately 14 buns