Mix up a jar of this cucumber lemon mint water recipe to enjoy on a hot summer day, or throughout the year to stay hydrated! The fresh ingredients in this "spa water" will keep you sipping all day.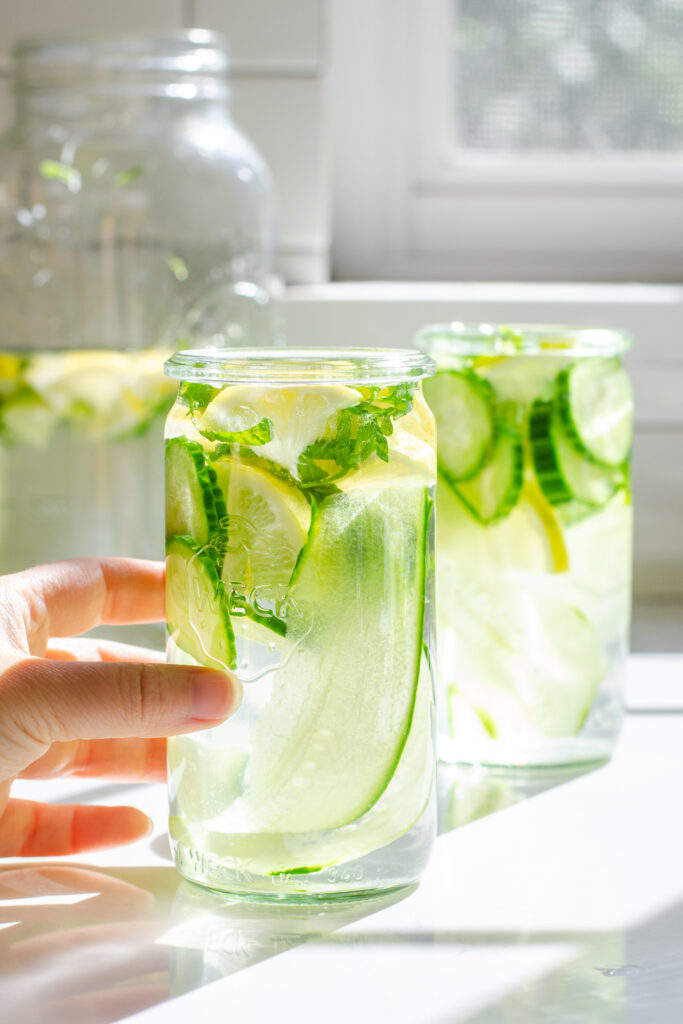 If you struggle to stay properly hydrated because you aren't motivated to drink plain, boring water…I have a suggestion!
Have you tried infused water?
Adding tasty fresh vegetables and herbs will massively improve the flavor of water, and thus encourage you to increase your water intake!
Now I'm going to be completely transparent and let you know that some health benefit claims have been overblown when it comes to this delicious drink.
I'll go over the actual health benefits, as well as some myths to think about at the end of this post.
Okay, but first let me show you how to make it!
Here's a quick video demonstration in case you learn better that way! The written tutorial is below.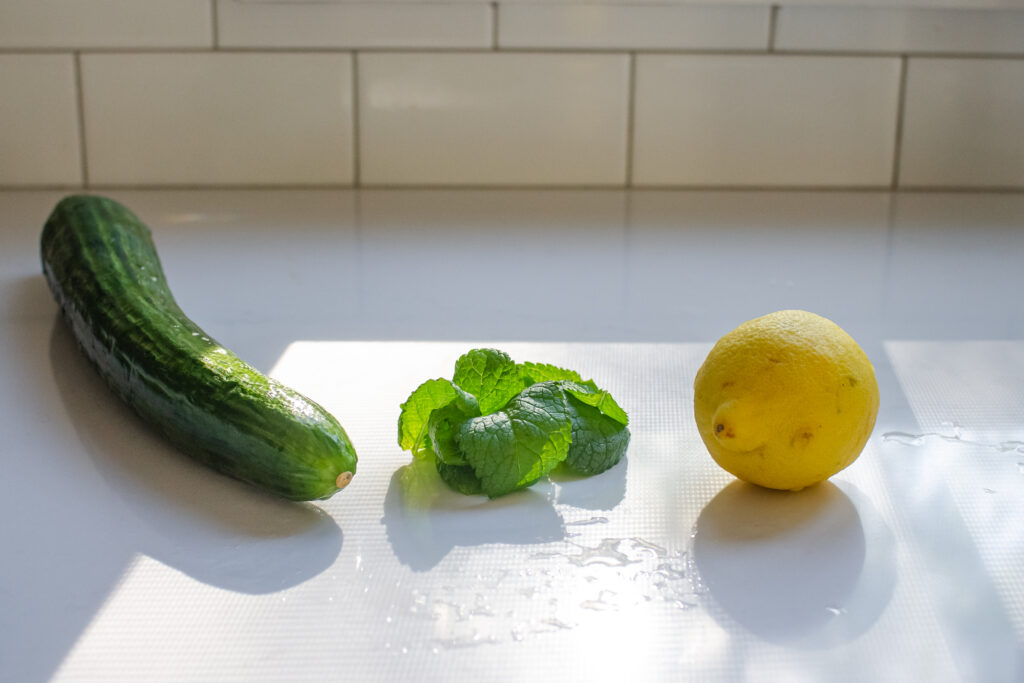 Ingredients
Here's everything you'll need to make this refreshing drink:
Cucumber: You could use an English cucumber, snacking cucumbers, or regular cucumbers. I'm partial to the English cucumbers. Of course it's dependent on the particular grower and cucumber, but English cucumbers may have a sweeter taste than other varieties. Since you won't be peeling the cucumber, I suggest purchasing organic if possible.
Lemon: Again, since you'll be infusing your water with the unpeeled lemon, I suggest purchasing organic, fresh lemons. You could also wash the lemon really well and just squeeze in the lemon juice if you can't get your hands on organic lemons at your local grocery store.
Fresh Mint Leaves: I absolutely love the fresh flavor that the mint imparts. This isn't completely necessary, but it really enhances the drink in my opinion.
Water: This is pretty self explanatory! However, your final drink will only be as good as your water. If your tap water has an off flavor, it's best to opt for filtered water instead. You could also reduce the water amount and then top off the final drink with carbonated water for a fizzy drink! You can use cold water or room temperature water – it doesn't matter!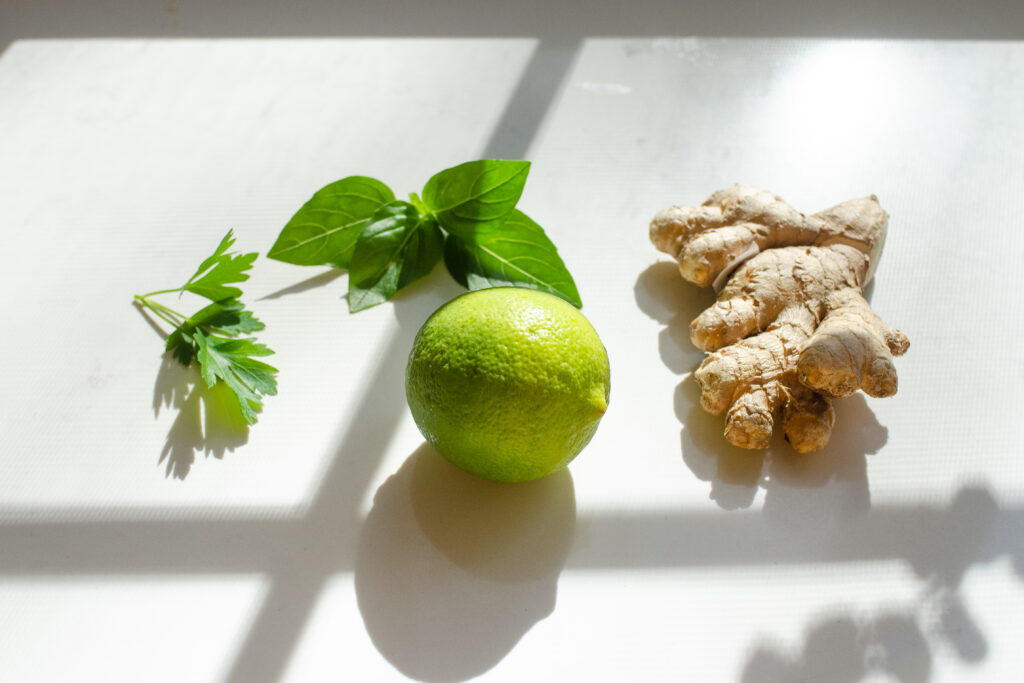 Variations:
Now you don't have to stick to just the ingredients listed above. Here are some ideas for mixing up your flavored water:
Ginger: For a little kick of heat and a little extra support for your immune system, you could add a few slices of fresh ginger.
Different Herbs: Don't feel like mint is the only herb that you can use here! You could mix it up with basil, parsley, cilantro, etc.
Different Citrus: For a totally different vibe, you could substitute lime, grapefruit, or even orange slices for the lemon.
Fresh Fruit: You could always pop in some fresh strawberry slices, blueberries, raspberries, peaches, etc.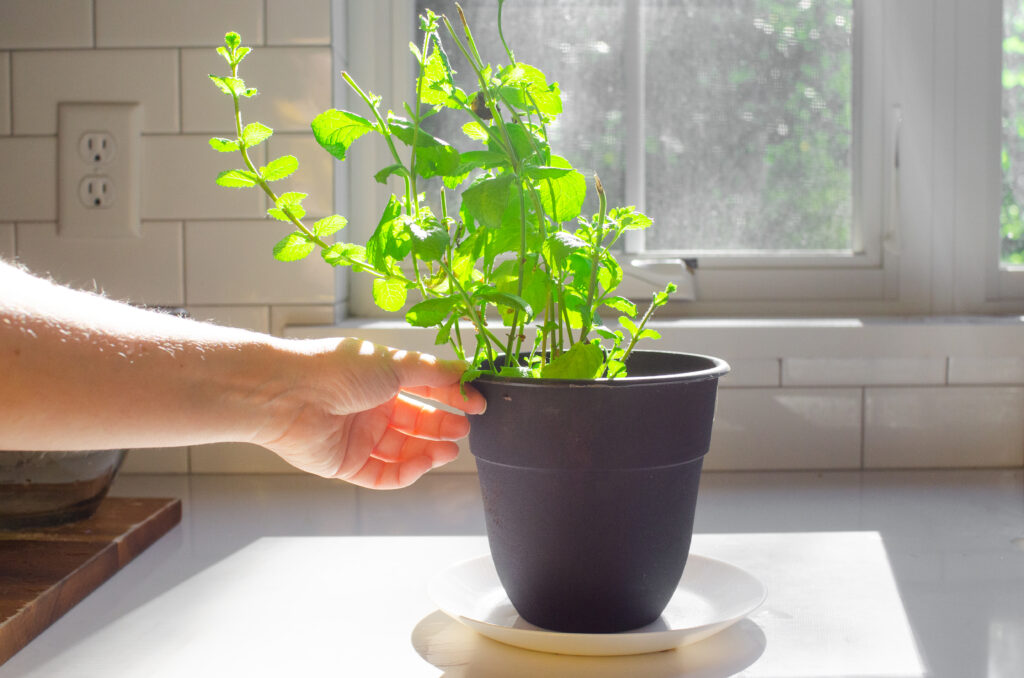 Here's a quick tip: Instead of purchasing those little clam shells of fresh herbs, buy a whole plant instead!
They're often times around the same price as buying the cut leaves, and they last longer and keep giving you fresh herbs!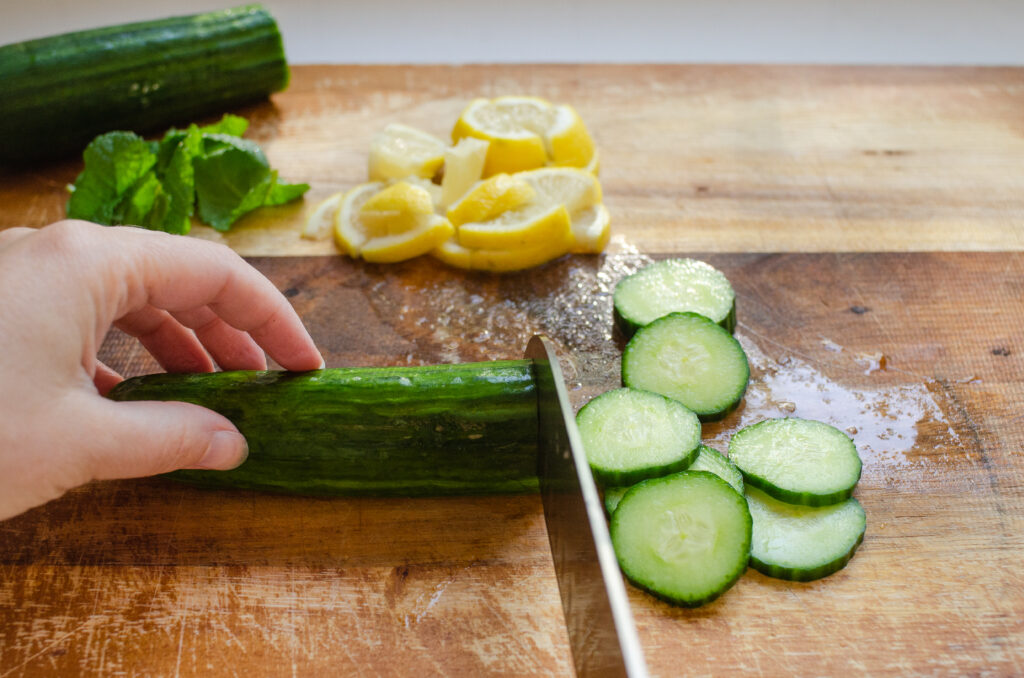 How to Make Cucumber Lemon Mint Water:
Start by slicing the lemon and cucumber.
If you just plop whole lemons and cucumbers into the water, they won't impart very much flavor!
Give the mint leaves a rough chop as well.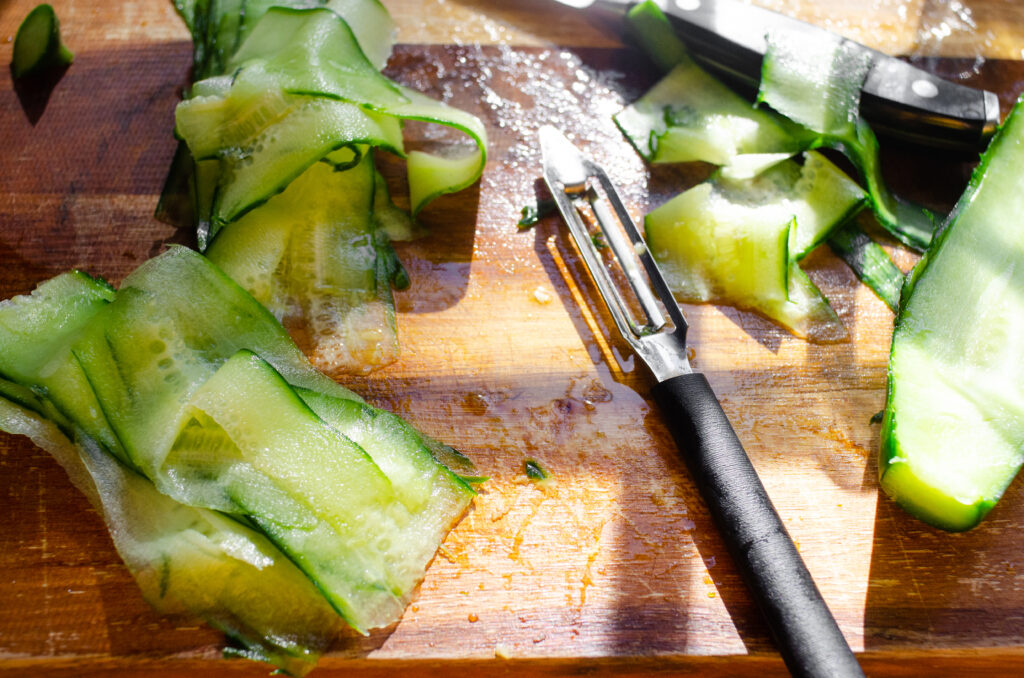 You could also make long strips of cucumber with a vegetable peeler instead of slicing them.
This is all for aesthetics: it doesn't really matter which way you slice it (ha!). Though it will probably make the water taste more strongly of cucumbers since you're essentially slicing them more thinly.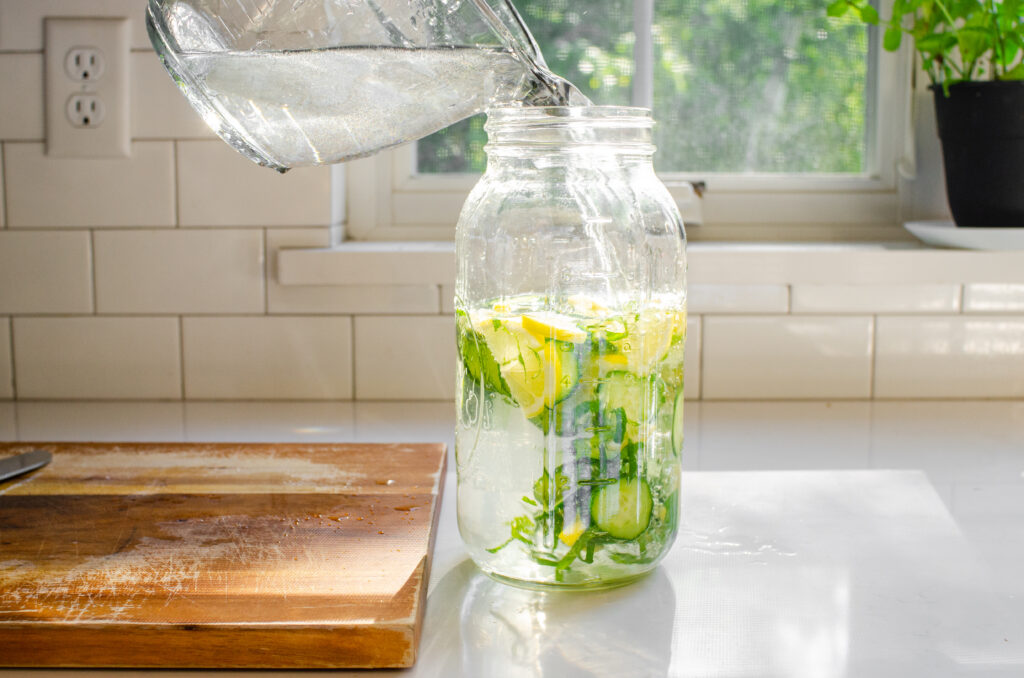 Infusion Time:
Now it's time to start the infusion process!
Place the cucumber slices, lemon slices, and chopped mint leaves in a half gallon jar or large pitcher.
You could also divide the ingredients between two quart sized mason jars.
Pour water on top to fill the container.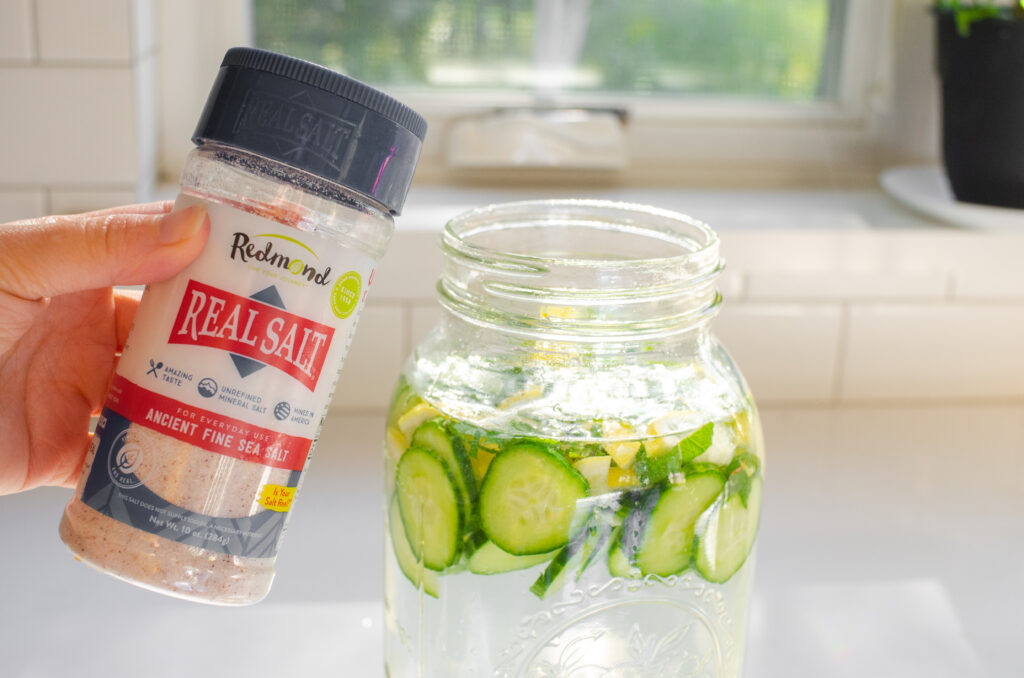 Now at this point you could also add in a few shakes (or a pinch) of unrefined sea salt.
This will enhance the flavor and also help to replenish electrolytes!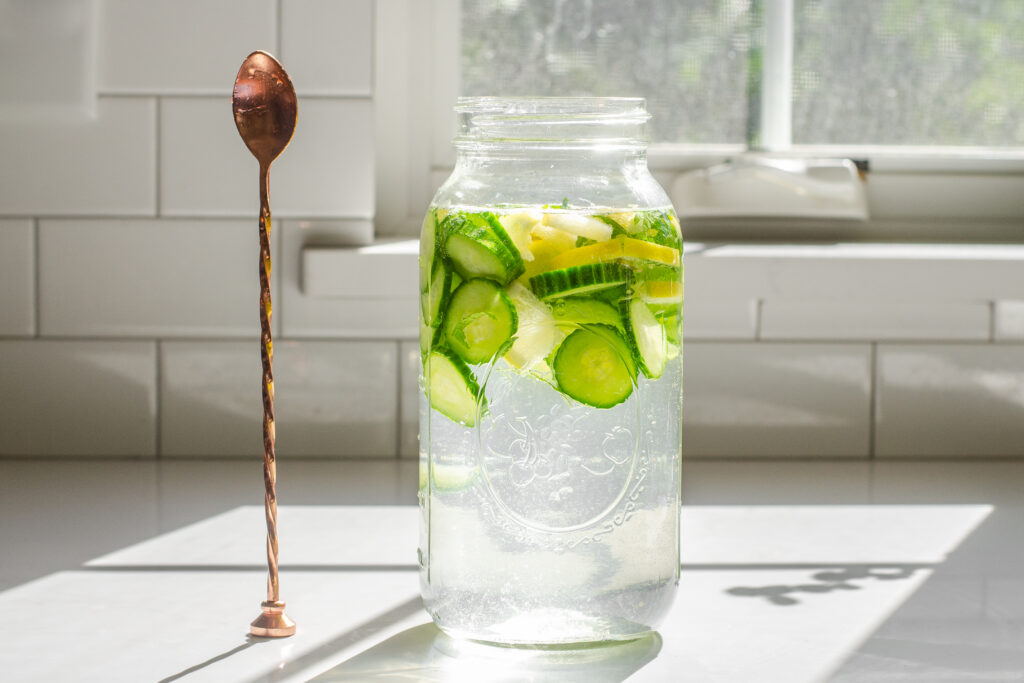 Give everything a good stir with a stir stick or long wooden spoon.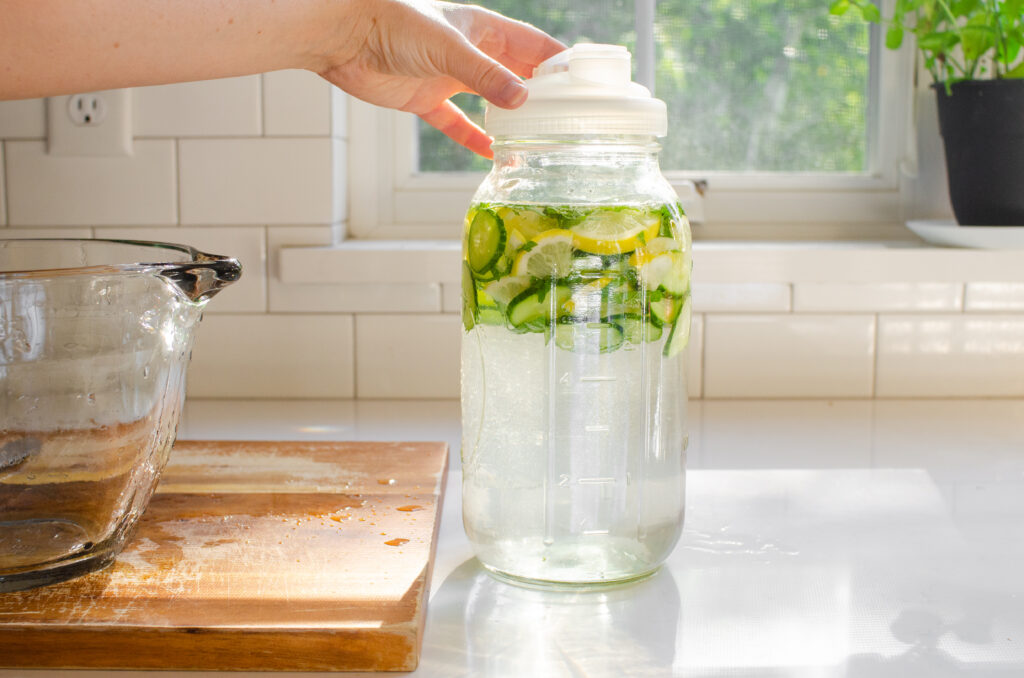 You could also put a lid on and give it a good shake.
Either way, place a lid on the jar and put in the refrigerator.
Allow the cucumber lemon water to infuse for at least 1 hour, or up to 8 hours (overnight).
Of course the lemon and cucumber flavor will be stronger if you allow it to infuse longer, but it will still be quite good at the 1 hour mark!
I like to use this pouring mason jar lid because it makes everything easier to decant!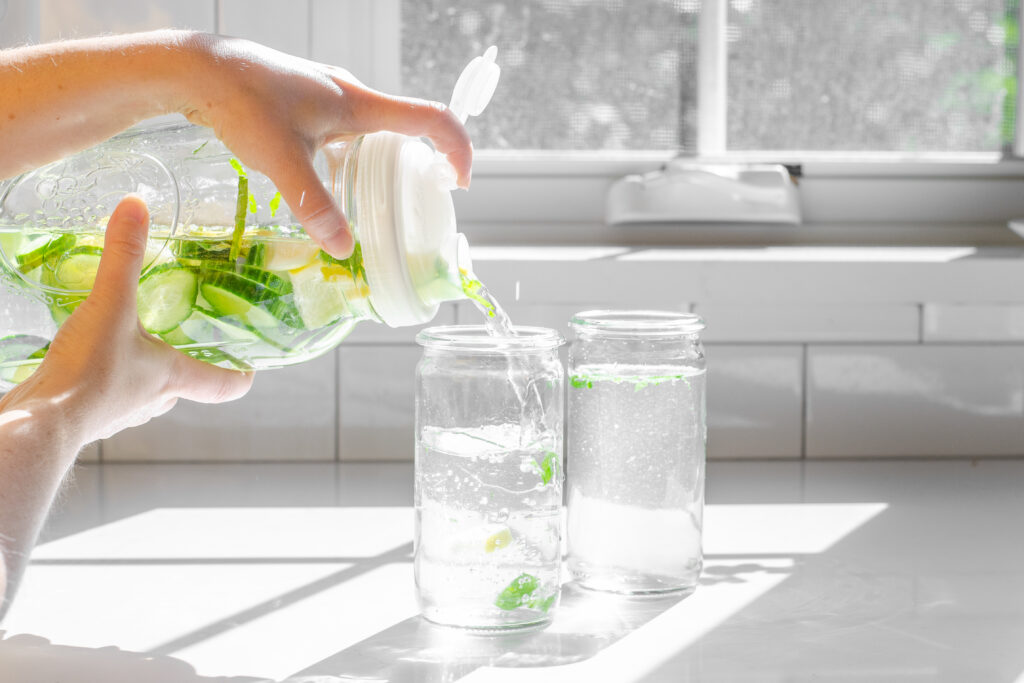 Serving:
Now after the water has infused, you can either just pour it into glasses, or strain everything out.
If you use a pouring lid it will filter out the largest chunks of cucumber and lemon, but some smaller pieces and mint leaves will get into your glasses of water.
You could also purchase a straining pouring lid, or just pour the water through a fine strainer into a new jar.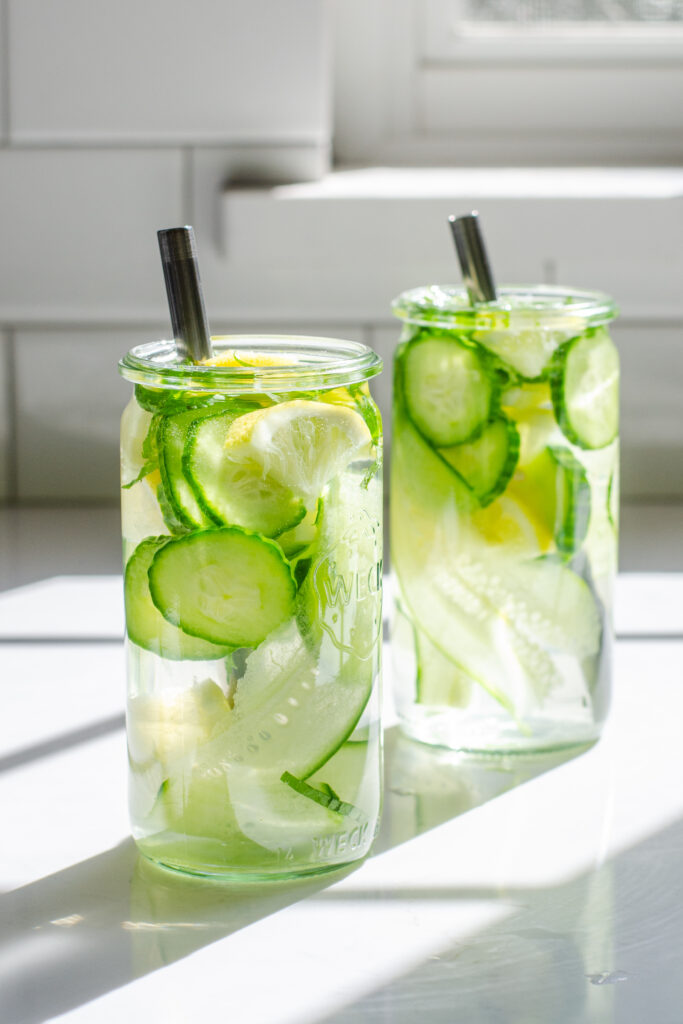 Or you could put some of the cucumber and lemon slices into the drinking glasses for presentation.
It does look pretty rad.
And what a delicious way to stay hydrated!
Health Benefits of Cucumber Water:
Okay, let's go over some of the health benefits of this cucumber lemon mint water!
Really the main benefit is the hydration. When your drink tastes good, you're going to actually want to, you know, drink it! Getting enough water throughout your day according to your activity level will help you to feel better and improve digestion.
Staying hydrated can help to improve your mood and cognitive function.
Also, especially if you add the sea salt, you'll be getting some electrolyte replacement as well.
The lemon, cucumber, and mint all contain minerals, antioxidants, and vitamins as well, such as Vitamin C. But since you're only infusing the water, not consuming the whole vegetable or herb, the amount of those nutrients that end up in the final water probably isn't hugely significant.
So you won't be getting 100% of your daily value of vitamins and minerals just by drinking this lemon cucumber water.
But, if you replace sugar drinks with this cucumber water, you may find that you avoid sugar crashes throughout the day. And your teeth might thank you as well.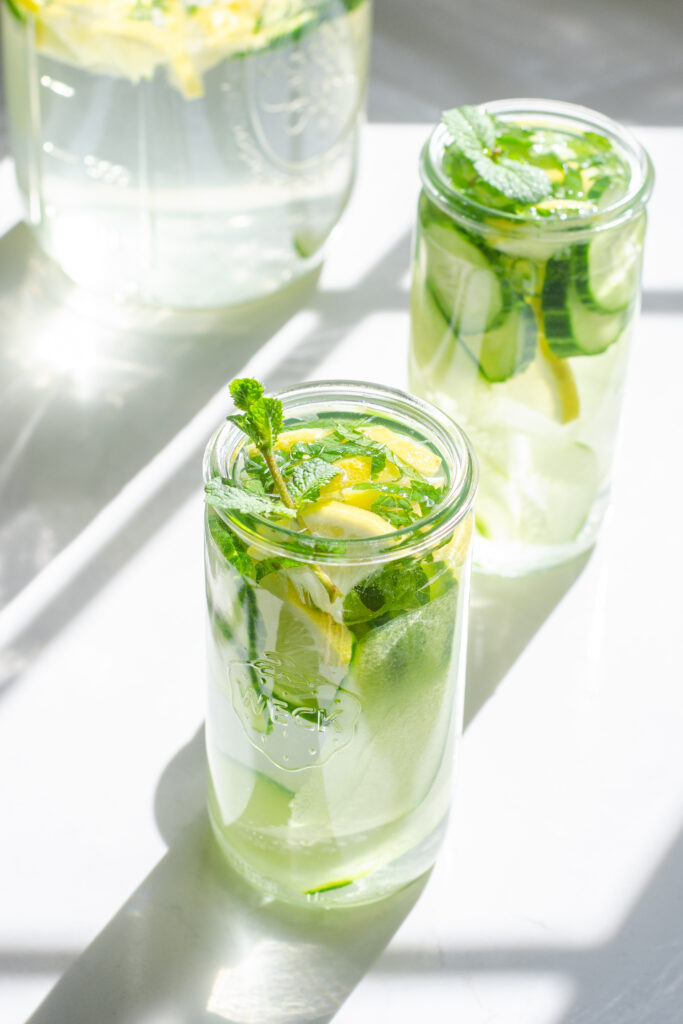 Myths:
Now some will make claims that this cucumber infused water contains some pretty outrageous health benefits. These include detoxification, healthy skin, immune boosting properties, weight loss, etc.
In reality, the true benefits are the ones I outlined above. Beyond that, I'm sure you'll get a small amount of other benefits as well! But be wary of crazy claims that it's going to radically change your health.
You could read this article that goes more into detail about the myths of "detox water."
How Long Does Lemon Cucumber Mint Water Last?
If you leave the vegetables and herbs in the water, it will last for about a day in the refrigerator. After that, you'll need to be very watchful for any mold growth.
If you carefully strain out the cucumbers and other ingredients, you should be safe to drink the infused water for 2-4 days.
You could also freeze the water in ice cube trays for longer term storage. The ice cubes could be used to cool other drinks as well.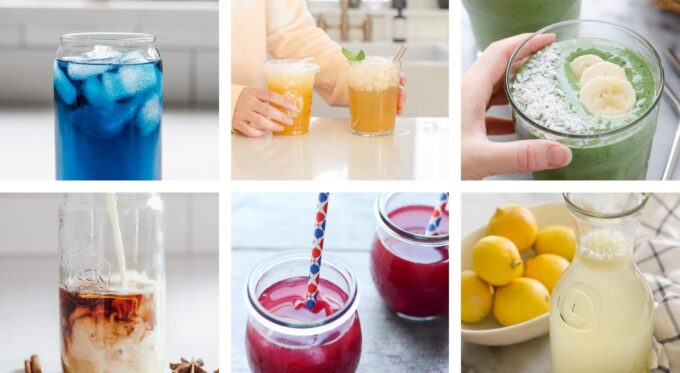 More Refreshing Drinks:
Recipe Card
Yield: 8 Cups
Cucumber Lemon Mint Water Recipe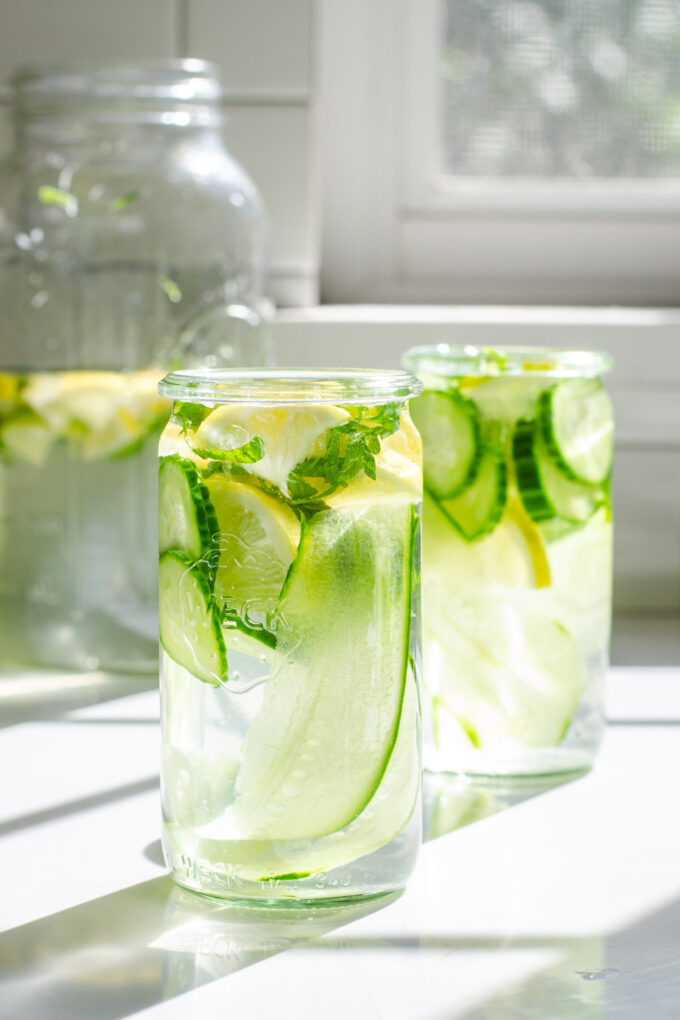 Make a big batch of this refreshing drink to stay hydrated and replace electorlyes!
Total Time
1 hour
5 minutes
Ingredients
1/2 English Cucumber
1/2 Large Lemon (or 1 small)
10 fresh mint leaves
8 cups good quality water
Instructions
Wash all of the produce well. Slice the cucumber and lemon. Chop the mint leaves.
Place the chopped produce in a half gallon jar or large pitcher. Pour the water to fill the container.
Refrigerate the jar/pitcher for at least 1 hour, and up to 8 hours/overnight.
Either strain out the fruit/vegetables, or pour them right into your drinking glass.
Notes
The water will last longer if you strain out the cucumber, lemon, and mint.
See the post above for suggestions for other flavor combinations!
Recommended Products
As an Amazon Associate and member of other affiliate programs, I earn from qualifying purchases.
Nutrition Information:
Yield:
8
Serving Size:
1
Amount Per Serving:
Calories:

10
Total Fat:

0g
Saturated Fat:

0g
Trans Fat:

0g
Unsaturated Fat:

0g
Cholesterol:

0mg
Sodium:

14mg
Carbohydrates:

2g
Fiber:

1g
Sugar:

0g
Protein:

1g