25 Sugar Free Snack Ideas for when the sugar monster rears its ugly head…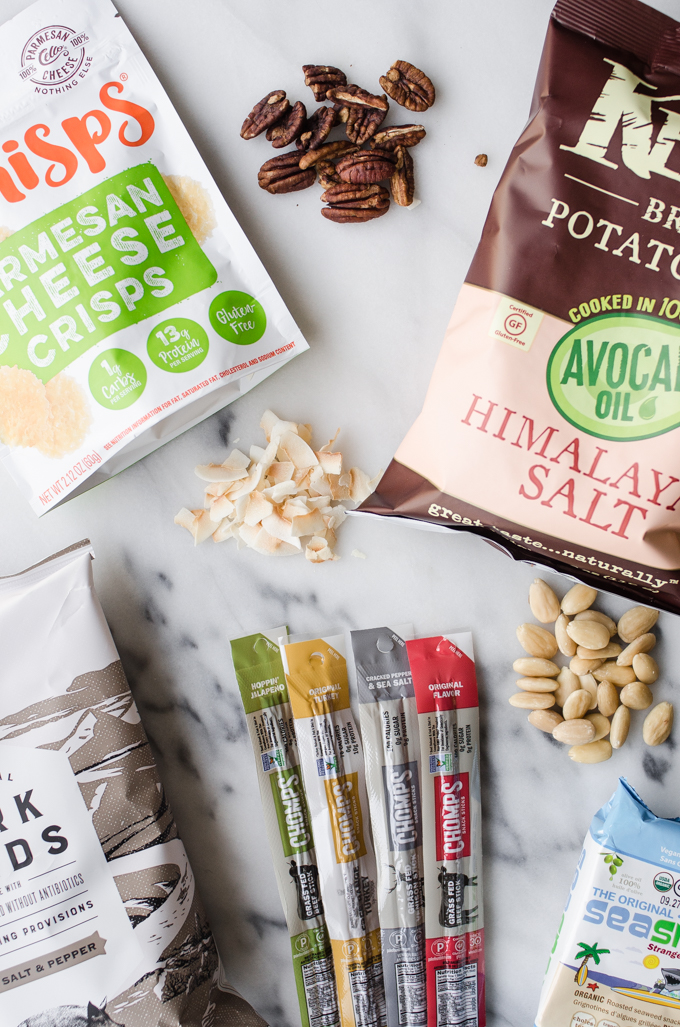 When doing a sugar cleanse, one of the hardest things for me to give up is sweet snacks. I love dark chocolate and the occasional bowl of breakfast cereal (yes, I know it's SO BAD).
But if you have a pantry and fridge that's stocked with lots of sugar free snack options, you'll but much less temped to reach for the candy bag.
Here are 25 sugar free snack ideas for y'all!
1) Pickles
I don't know about you, but sometimes when I *think* I'm hungry, I'm just bored. Pickles are a low-calorie snack that satisfies the munchies. Bonus points if you get fermented pickles for a probiotic boost.
Olives are great for when you want something that contains a little more calories and some fat. And they're so yummy! This is the brand of olives I get most often, but these these olives are more affordable and delicious.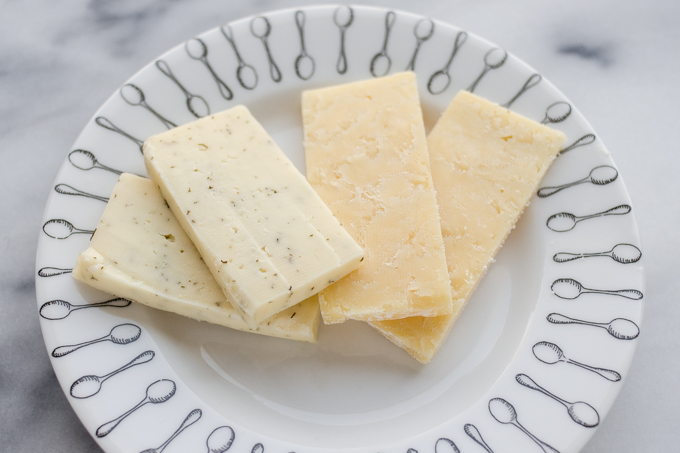 3 Cheese
Cheese is great for those times when you actually are hungry. It's calorie dense and makes you feel satiated quickly. Buying good-quality here is important – it just isn't as fun to snack on mediocre cheese!
You could either make them yourself or buy them!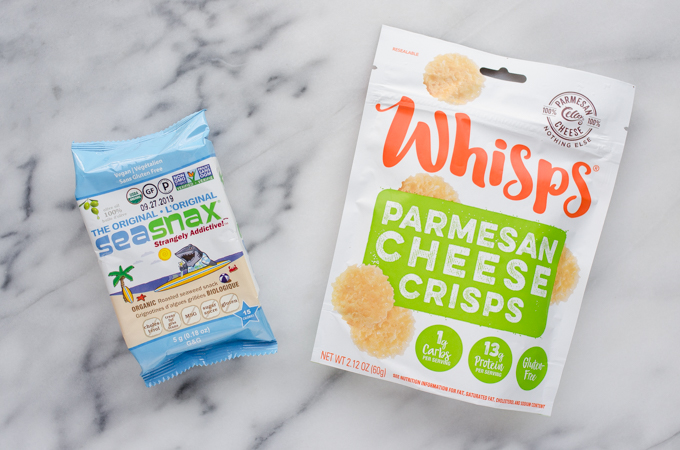 Snacking on seaweed might seem weird, but it's actually really good! If you're a sushi fan, it's a must-try. My favorite brand is SeaSnax since they use extra virgin olive oil, unlike many other brands that use cheaper oils.
These were what got me through the first trimester nausea. ?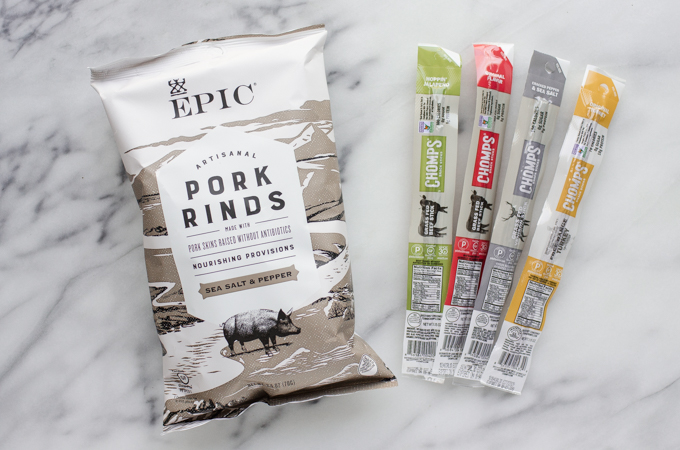 These are actually yummy with cheese! My favorite kind that I've tried so far is the Epic Sea Salt & Pepper, but their plain sea salt is good as well.
Watch out – a lot of jerky contains a good amount of added sugar. Look for ones without it, like these Chomps meat sticks.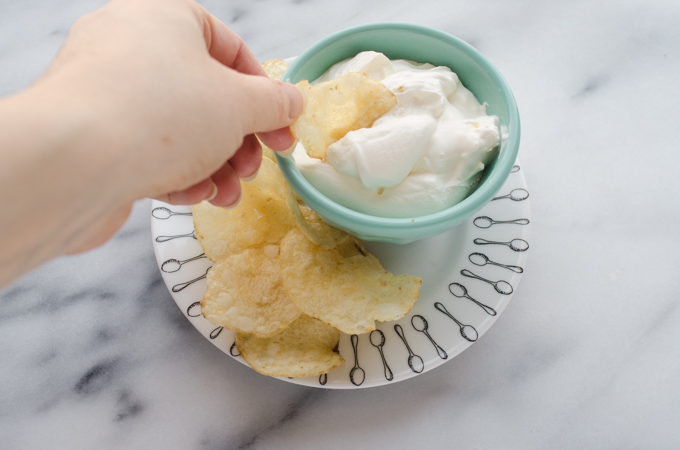 9 Potato Chips + Sour Cream
It's surprising how good this is! Of course it's even better if you make the sour cream into a Sour Cream and Onion Dip, but if you're in a rush, plain sour cream is pretty amazing! This is also yummy with sweet potato chips.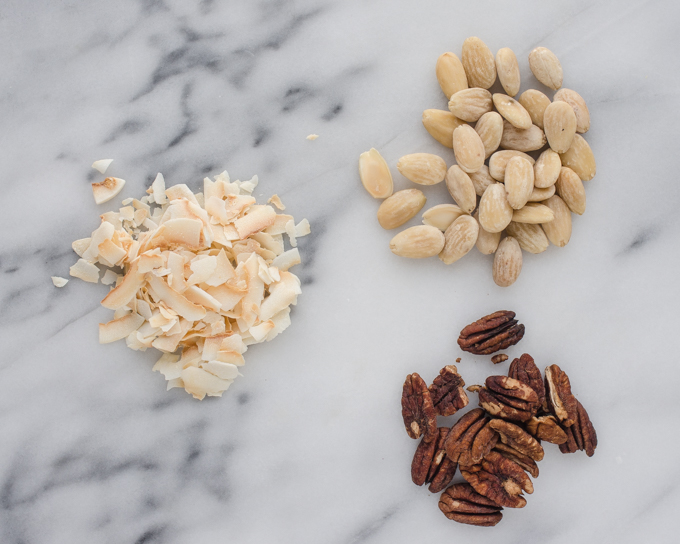 You can get non-toasted if you prefer, but I like the nutty flavor of toasted coconut chips. These can sometimes contain added sugar, so look at the ingredient list before buying!
Nuts are another great snack for satisfying you quickly. But they're better for you if you soak and dehydrate them first, as I described in THIS post.
12 Apples and Peanut Butter
I know, this is so classic. But for good reason: it's delicious! It's a great combo of sweet and savory.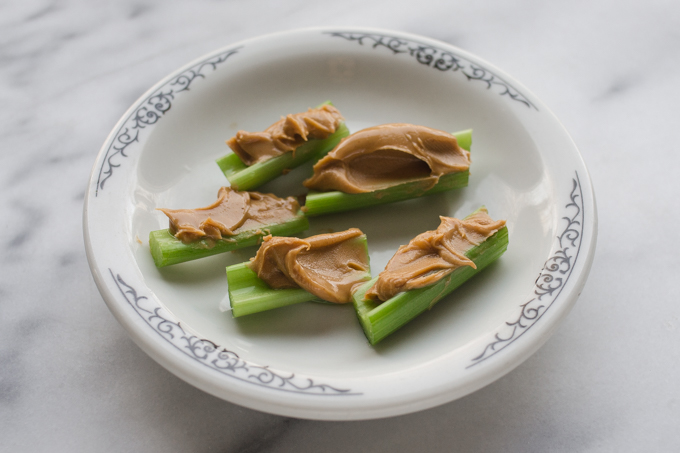 13 Celery and Peanut Butter
We ate this a lot growing up! Just make sure you find a sugar-free peanut butter!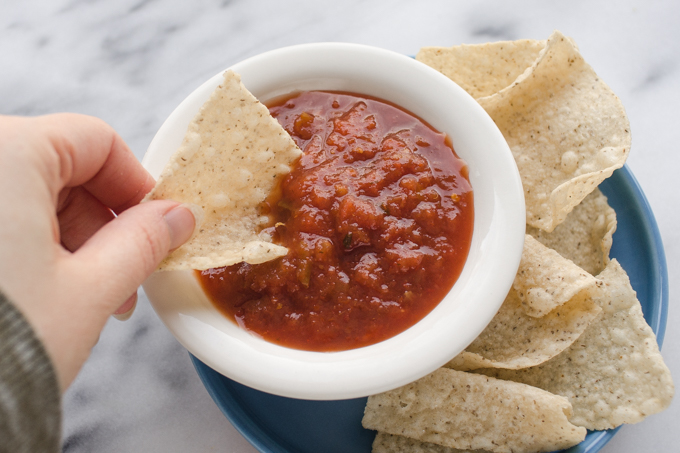 14 Tortilla Chips + Salsa
I like these Siete lime chips + this Late July medium salsa. Yum!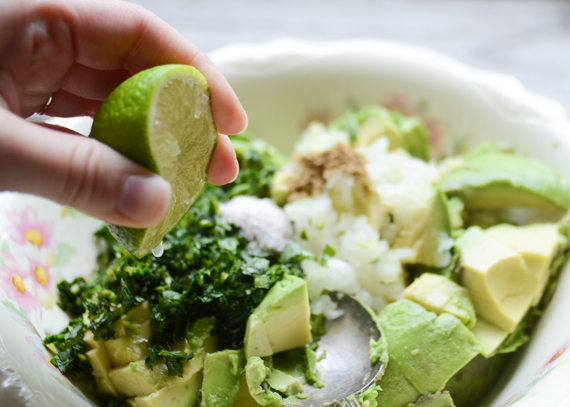 15 Tortilla Chips + Guacamole
Or for a more filling sugar free snack idea, pair tortilla chips with guacamole! Here is my recipe for Homemade Guacamole.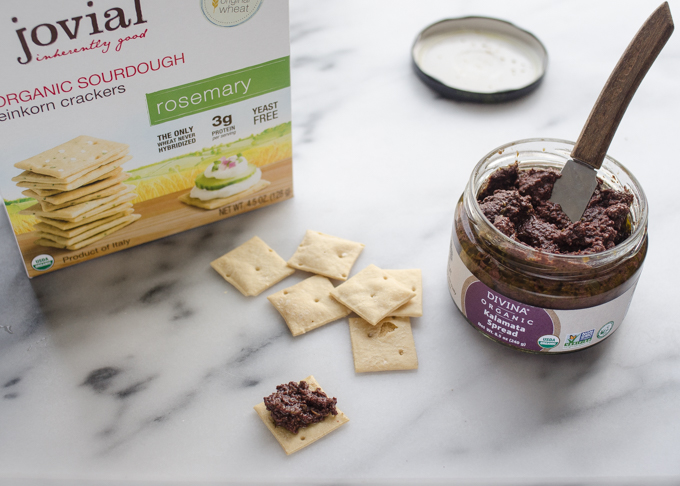 16 Crackers + Kalamata Olive Spread
So quick and easy – just spread crackers with this Divina Organic Kalamata Spread. These Jovial sourdough crackers are my favorite, and these ones from Simple Mills are awesome as well if you eat gluten free.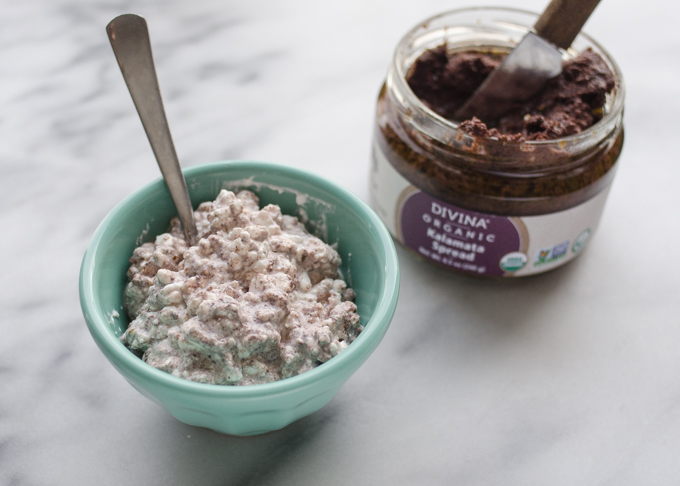 17 Cottage Cheese + Kalamata Olive Spread
I know this might sound a little weird, but don't knock it 'til you've tried it! Just be careful not to add TOO much of the spread since it's quite salty and cottage cheese is salty as well.
18 Cottage Cheese + Fruit
Another classic combo is cottage cheese + fruit. Instead of buying the pre-mixed fruit cups, just toss some berries or stone fruit into cottage cheese. Easy peasy.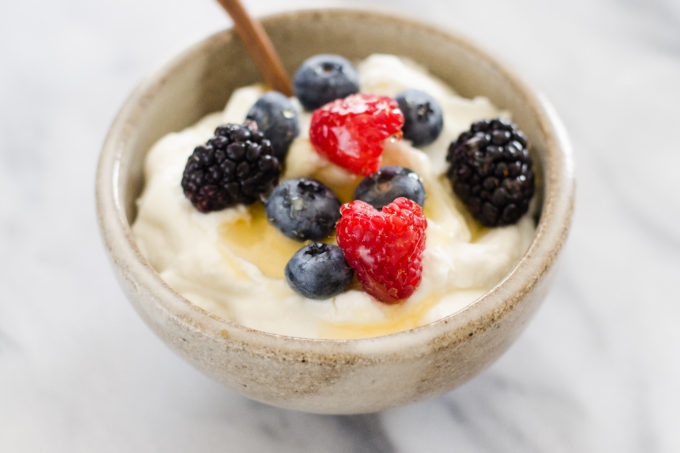 19 Yogurt + Berries
If you don't care for cottage cheese, no worries! Greek yogurt + berries is a delicious sugar free snack idea. Here I added a drizzle of honey, but just leave it off for a no-added-sugar treat! And get my recipe for homemade yogurt + Greek yogurt on The Pioneer Woman's blog HERE.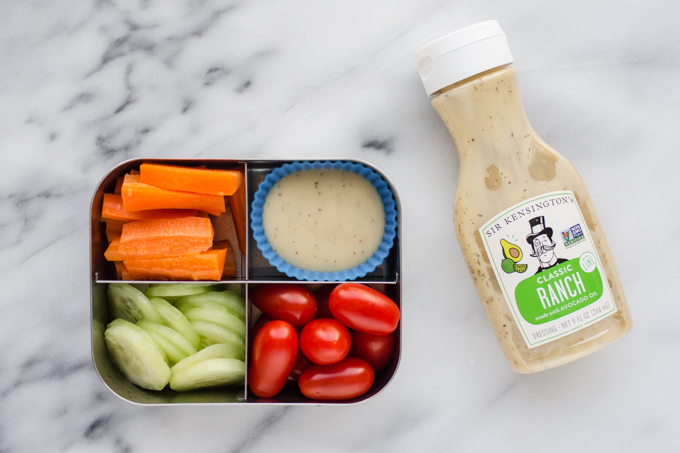 20 Veggies + Ranch
I think this combo gets overlooked when you're searching for a healthy snack. The key is to find a good quality ranch dressing without a bunch of additives. This one from Sir Kensington's is pretty clean and has a kick of lime flavor!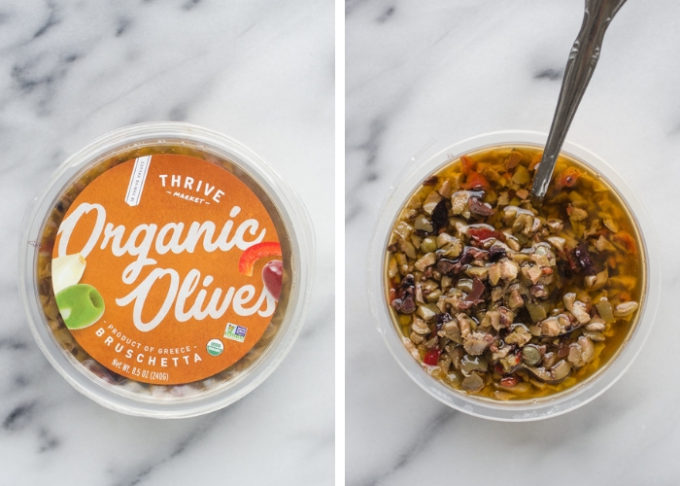 21 Bruchetta Olives on Buttered Toast
This little mix of olives and capers from Thrive Market is yummy on buttered sourdough toast!
Need I say more? Get the recipe HERE.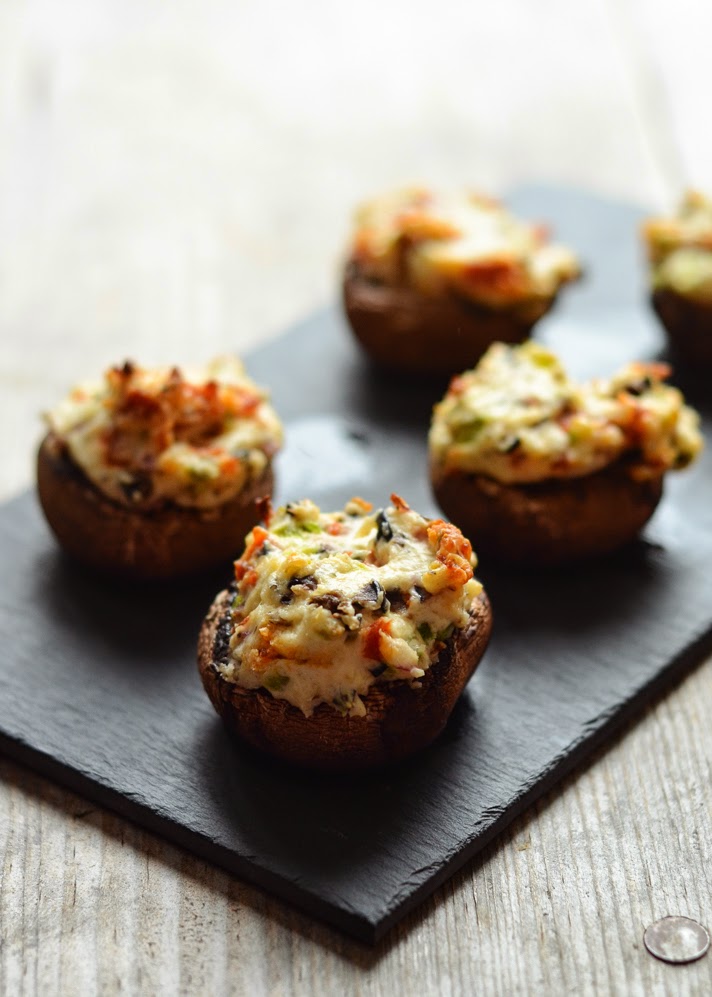 For when the pizza cravings hit. Recipe is HERE.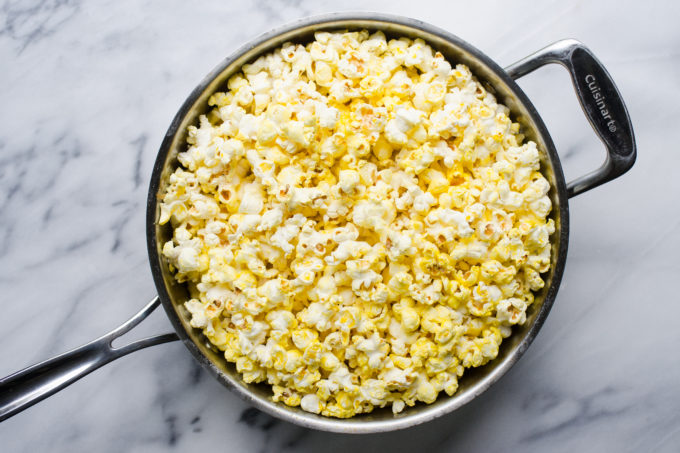 Buttered popcorn = LIFE. Okay, I'm exaggerating. But it is delicious! You can get my recipe + tutorial for stovetop popcorn over on The Pioneer Woman's blog HERE.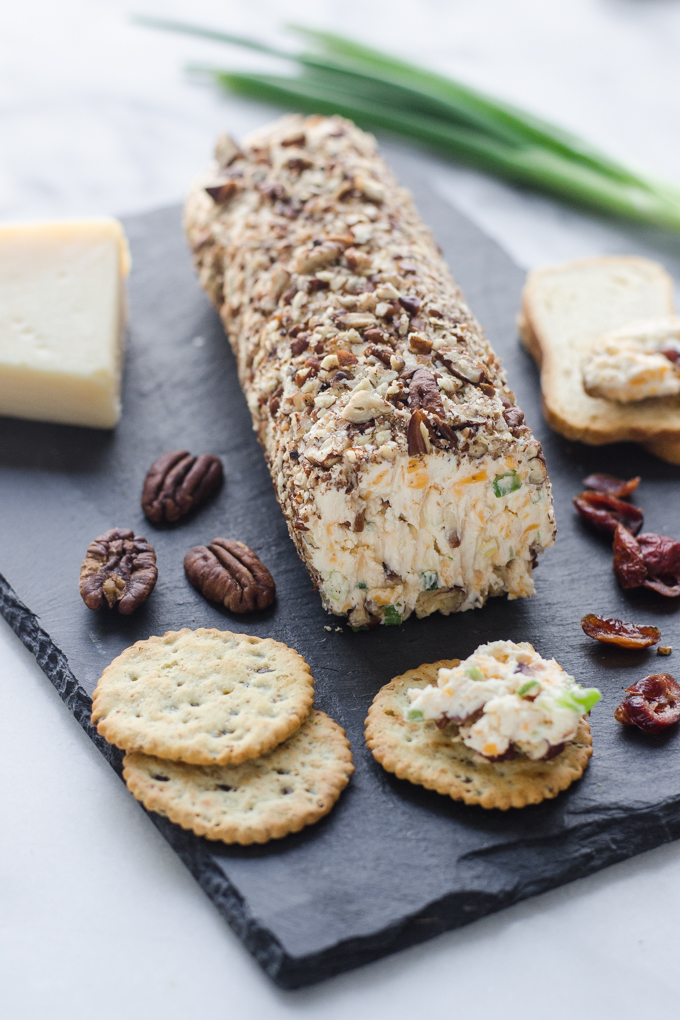 Just leave out the cranberries in my Cranberry Pecan Cheeseball, and you've got yourself one delicious sugar-free treat. Make sure your crackers are sugar free as well!
So there you have it: 25 sugar free snack ideas. If you have any go-to sugar free snack ideas of your own, make sure to leave them in the comments! I'm always looking for new healthy snack options.