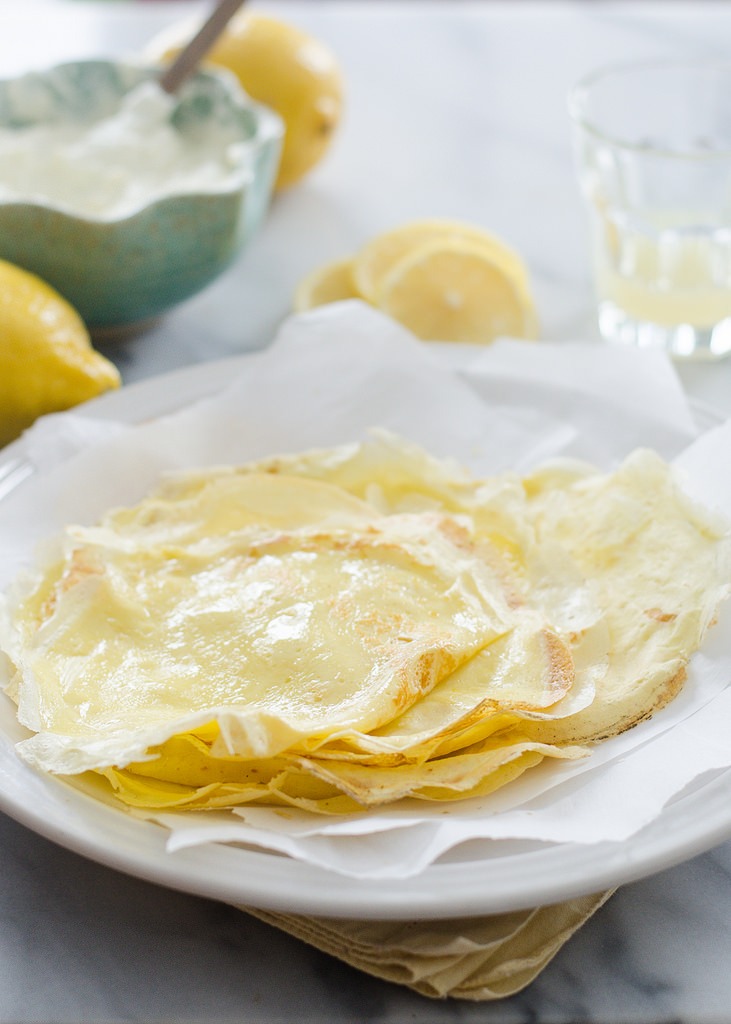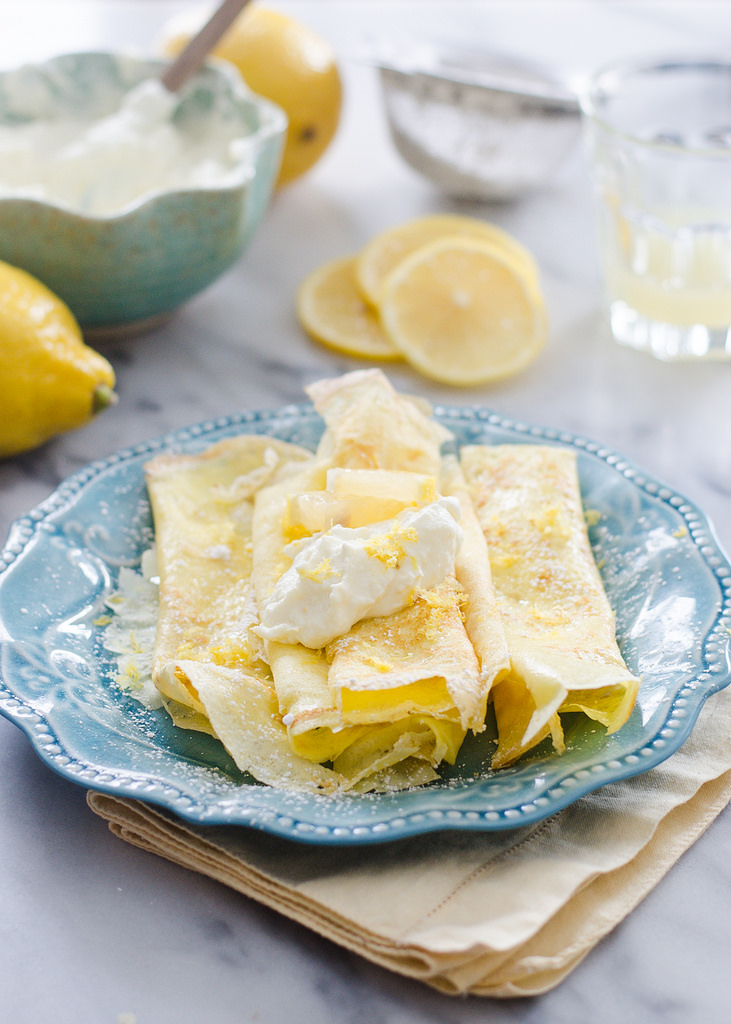 For some reason I've come to associate lemons with the start of January. They're tangy and fresh, kind of like the beginning of the year. You get a crisp, clean start.
I haven't made any huge goals for this year yet. I'll be giving birth in February, so I kind of feel like that will be a new start. One of my main goals will be to stay healthy for a quicker postpartum recovery.
But I ramble.
About these crepes.
I love the bright flavor that the lemon brings to them. The whipped ricotta adds a rich element, and the graininess of the cheese adds an interesting texture.
I think these would be wonderful served at a brunch. They're also a really amazing snack. Or dessert.
Note: I really liked the whipped ricotta, and actually used it as a filling instead of a topping. If you plan on doing that, you should definitely double the whipped ricotta ingredients.
Also, this recipe may seem long, but these crepes are actually quite easy to make – it just takes a lot of words to describe the process.
What are your plans/goals for the new year?
Lemon Crepes with Whipped Ricotta
Ingredients:
For the crepe batter:
1/3 cup organic all-purpose flour
pinch of real salt
1 teaspoon organic lemon zest
2 large eggs
1 large egg yolk
3/4 cup whole milk
1 teaspoon butter, melted, plus extra for frying the crepes
For the whipped ricotta topping:
1/2 cup ricotta cheese
1 teaspoon powdered sugar
3/4 teaspoon lemon juice
zest of 1 organic lemon
1/4 cup whipping cream
Lemon zest, juice, wedges, and powdered sugar, for topping
Directions:
For the crepe batter:
In a medium bowl, whisk together the flour, salt, and lemon zest. Whisk in the eggs + yolk until smooth. Gradually pour in the milk, whisking, until well mixed. Whisk in the melted butter. Cover and refrigerate for at least 30 minutes, and up to 48 hours.
For the whipped ricotta topping:
Whisk together the ricotta, powdered sugar, and lemon juice + zest until smooth. In a medium bowl, whip the cream until medium peaks form. Gently fold into the other ingredients.
To fry the crepes:
Preheat oven to 200 degrees F (95 C).
Take the batter out of the fridge and give it a whisk.
Heat an 8-inch cast iron skillet or crepe pan over medium-low heat. Add a dab of butter. Once it melts, pour in a small amount of the crepe batter; a small ladle works well for this. Tilt the pan so the batter evenly covers the entire bottom of the pan. Cook just until the crepe begins to get some color, about 1-3 minutes. Use an offset spatula to loosen the edges of the crepe, lift it, and use your hands to flip. Cook until second side begins to get golden, about a minute.
Transfer crepe to an oven-safe plate and place in preheated oven, covering with parchment paper. Repeat with remaining batter.
To assemble:
Give each crepe a generous dusting of powdered sugar and a sprinkling of lemon juice. Roll it up and serve with the whipped ricotta on top, or spread the whipped ricotta on each crepe before rolling. Serve with an extra dusting of powdered sugar and some lemon zest. Garnish with lemon wedges if desired.