In this natural/organic grocery haul, I share everything I bought for a week's worth of cook (and then some!).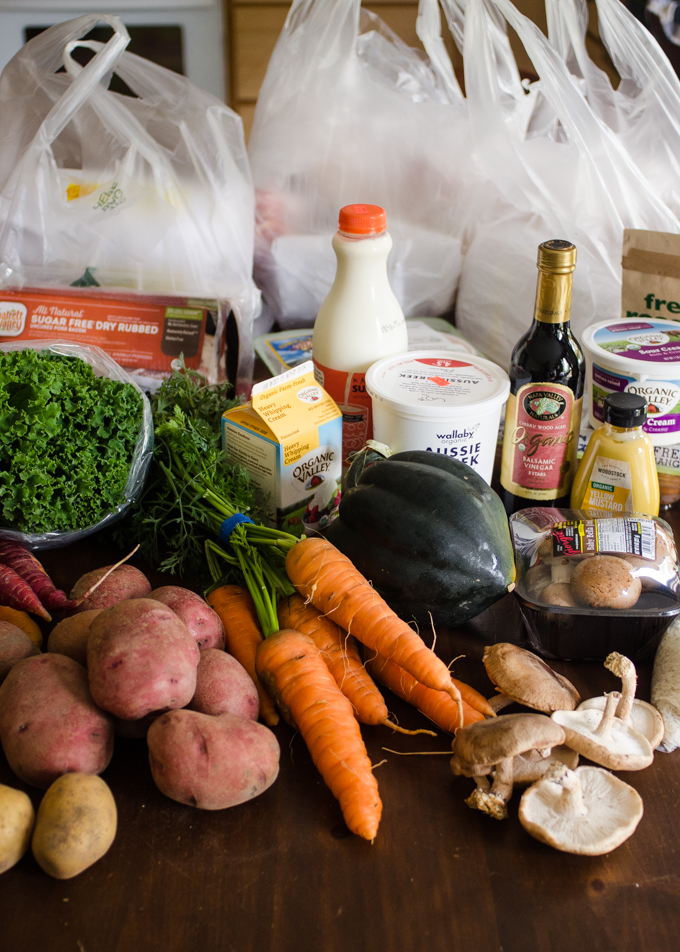 Last Saturday I did a brave thing: I did the grocery shopping with the kids. BY MYSELF.
I remember now why I don't usually attempt this. Keeping track of one small child while you shop is totally doable. But when you have to divide your attention in half…it's not so pretty. Heaven help us when the baby comes!
But Reuben was working, and I was determined to go to the farmers market. So I took the kids out in the 30-some degree weather. It's probably not something I'll attempt again soon, but look at all the lovely produce I got!
Natural/Organic Grocery Haul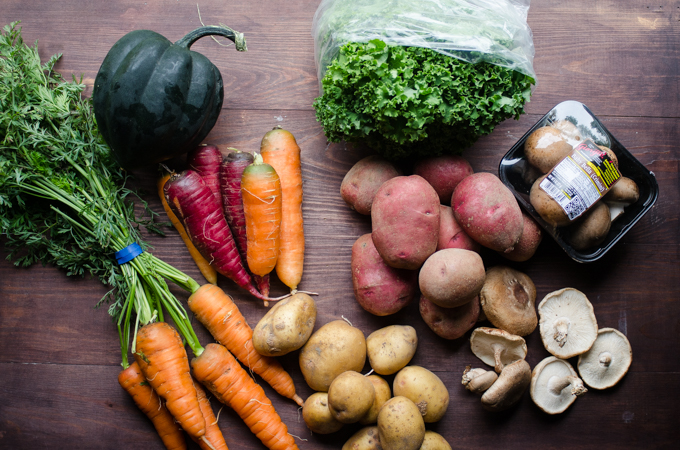 Produce:
All but the mushrooms I got from the farmers market: carrots, acorn squash, kale, red and yellow potatoes, shiitake and baby bella mushrooms.
I asked the farmers selling the colorful carrots and potatoes if they sprayed their crops (as you do when making decisions about which vendor to buy from at the farmers market). "With water," he replied sarcastically. Turns out they only use organically approved pesticides when needed, and they hand-pick bugs off of their produce. They had the best price for produce at the market. Their potatoes were slightly more expensive than what I can get at the health food store, but the quality is so much better!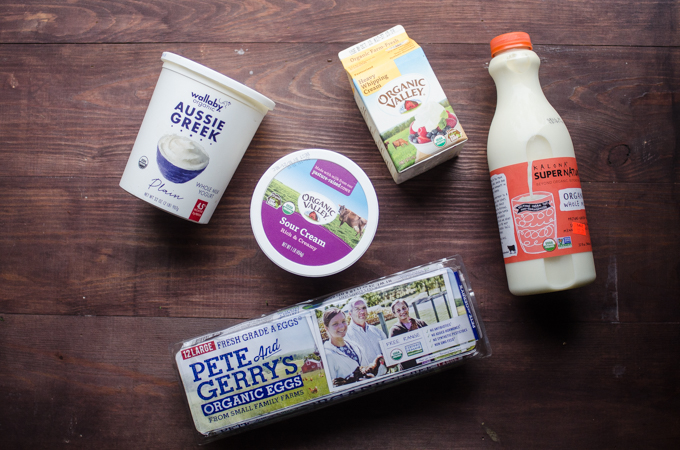 Dairy/Eggs:
Wallaby organic full-fat Greek yogurt (it was close dated and on sale), organic valley sour cream and heavy whipping cream, Kalona Supernatural whole milk (it was on sale and it's my favorite), and organic eggs. I've only recently started buying this brand, and so far I've been impressed with the quality of the eggs!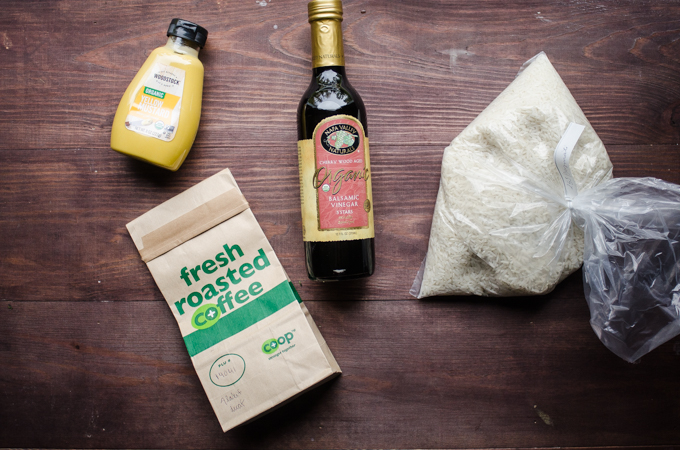 Pantry Staples:
Woodstock organic yellow mustard, Napa Valley Naturals organic balsamic vinegar, organic Basmati rice, and organic decaf coffee (I got it so I could make a pumpkin spice latte).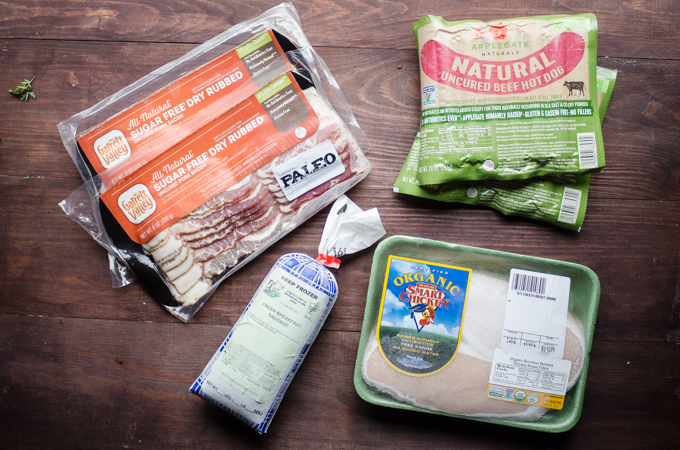 Meat:
Garret Valley sugar free bacon (it's my favorite besides their organic version), Applegate grass-fed hot dogs (they were on sale so I got a couple to store in the freezer for emergencies), organic chicken breasts, and local pork breakfast sausage.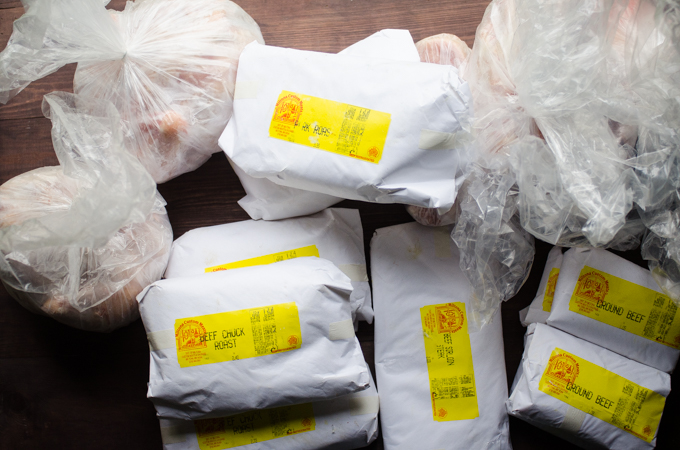 I also got quite a bit of meat from the farmers market. It's not certified organic or anything. But the farmer tells me that the cows are mostly on grass, and only get grain when he wants them to follow him. The chicken and pork are "natural" as well. I got a few beef roasts, a sirloin steak, and ground beef. For chicken I got 2 whole chickens and some backs to make chicken broth. I also got a couple of pork roasts.
I thought it might be interesting for you guys to see my meal plan to get an idea of what I cook with the food that I buy:
Our Meal Plan for the Week:
Breakfasts:
Lunches:
Leftovers
Possibly sushi?
Suppers:
As you can see, I usually only plan 2-3 things for breakfasts and lunches and rotate them throughout the week. I also only plan 5 meals because we usually eat at someone else's home 1 night a week, and Sundays are always up in the air.
Anyway, that's my grocery haul! Reuben had to stop and pick up some salmon, cheese, and eggs because I didn't buy quite enough food, apparently. ?
What are some meals that you're making this week?
You can check out my previous grocery hauls HERE.