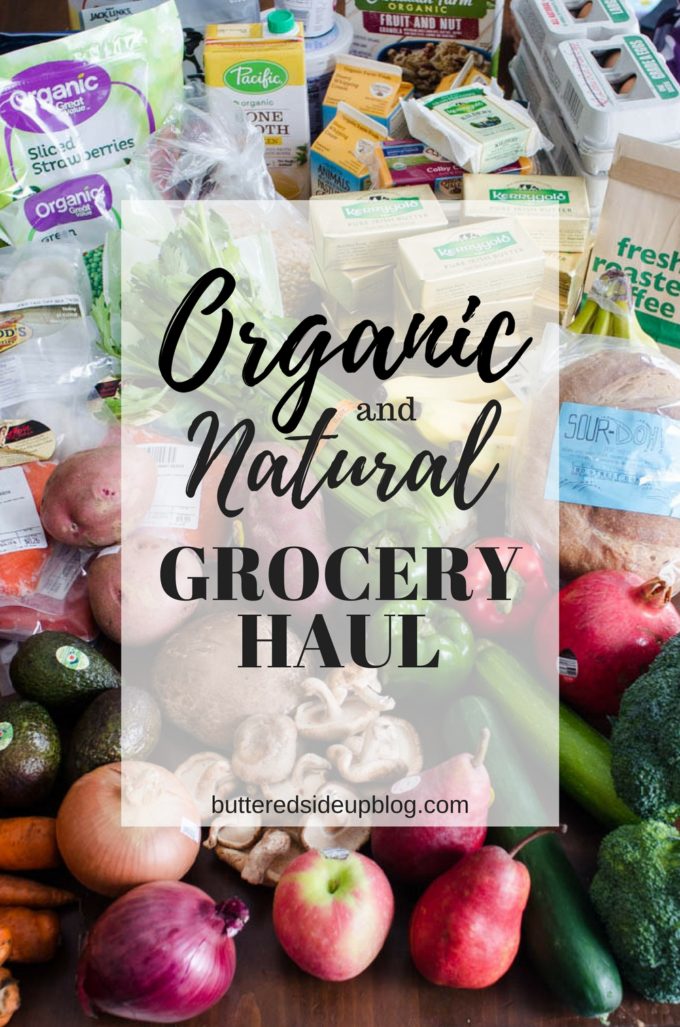 You guys loved my last organic/natural grocery haul, so I figured I'd better keep it up! This week I'm also going to be showing you some of the meals that I cooked with the groceries that we bought. And I'll share the total price that we paid for the groceries in the comments!
Organic/Natural Grocery Haul

Fruit
The frozen strawberries, bananas, and pomegranate were from Walmart, and the cranberries, pears, and apple were from the health food store (HFS).
Vegetables
The frozen peas were from Walmart, and peppers, avocados, potatoes, sweet potato, onions, celery, carrots, portabello and shiitake mushrooms, cucumber, zucchini, and broccoli were from the HFS.
Dairy
The Kerrygold butter, Kerrygold Kildery cheese, Greek Gods Indulgent yogurt cups, and Great Value (duh!) yogurt were from Walmart, and the cream, Colby cheese, and Organic Valley Grassmilk yogurt were from the HFS.
When I was putting the Kerrygold butter into my cart, Reuben scoffed and said, "You don't know how to buy butter." And proceeded to put about twice as much butter in the cart.
Meat and Eggs
This week we got eggs, salmon, and shrimp, all from the HFS. If you remember from my last grocery haul, we got an 1/8th of a cow, so we have quite a bit of beef in our freezer to use up.
Grains
We were all out of popcorn, so we had to stock up. I bought a loaf of sourdough bread for making my Cranberry Sourdough Stuffing. And Reuben was about to buy Post Great Grains cereal from Walmart, but I convinced him to put it back by promising to make him granola. I would have bought organic rolled oats, but all they had were regular at Walmart.

Miscellaneous
HFS: Reuben got some pre-made granola, and I got some coffee and chicken broth for recipe testing. Walmart: Reuben got some beef jerkey for his lunches, and I got some pecans to make granola.
BTW, the granola was really really good. I basically made my all-time favorite granola recipe, but I soaked the nuts in water + salt and the oats in water + lemon juice and dehydrated them in the oven before making the recipe as usual.
Now I'd like to show you some of the meals I made with the groceries I bought:
Breakfasts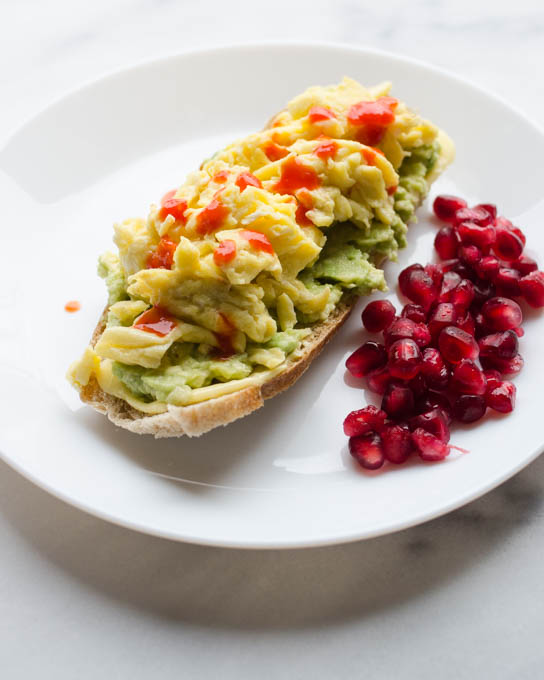 We had leftover sourdough bread from the Cranberry Sourdough Stuffing, so we had avocado toast for a couple of breakfasts and a lunch. I spread the toast with Kerrygold butter and the avocado (mixed with salt + lemon juice) and topped with scrambled eggs and hot sauce (I left off the hot sauce for the kids). Then I served it with a side of pomegranate arils.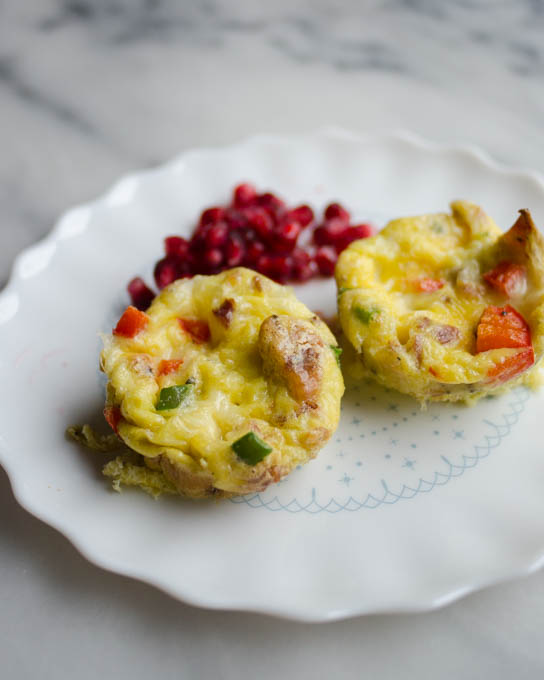 I tried something new this week: Egg Muffins! Jim called them egg cupcakes. I filled them with peppers, cheese, and bacon and seasoned them with onion powder and salt. They were delicious, but next time I'm definitely going to line the muffin tins with papers – they stuck to the pan badly!
We also had a couple of breakfasts of my Roasted Veggie Breakfast Bowls. Those are my favorite. 🙂
Suppers
I apologize for the horrible lighting in these photos – winter in northern Minnesota is just the pits for food photography!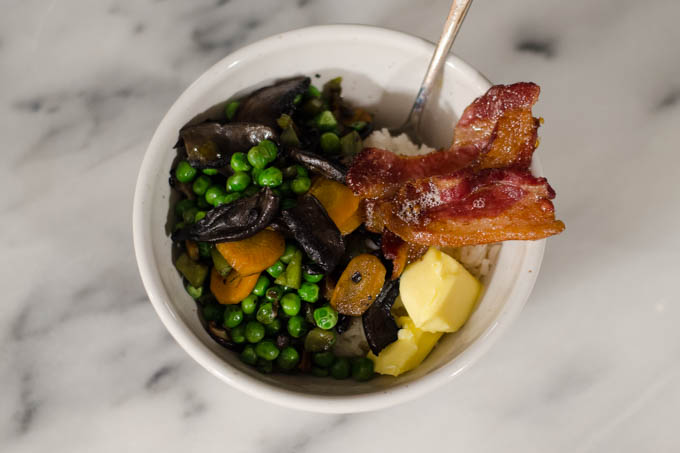 Monday: We had some leftover rice in the refrigerator that I wanted to use up, so I made a quick stir-fry with the portobello and shiitake mushrooms, carrots, peppers, and frozen peas. I served it with bacon and butter. That was the night that my stove quit working, so we didn't eat until about 8:30. We were all very hungry!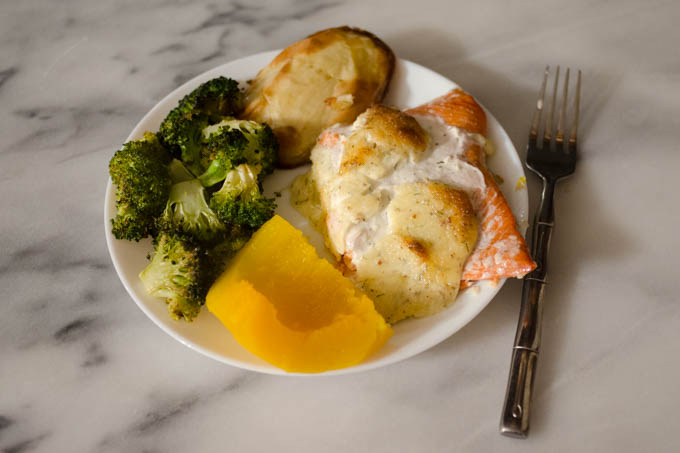 Tuesday: I wasn't feeling very well, so a quick and easy supper sounded good to me. We had mayo salmon, roasted carrots and broccoli, and boiled squash. Topped with butter, of course!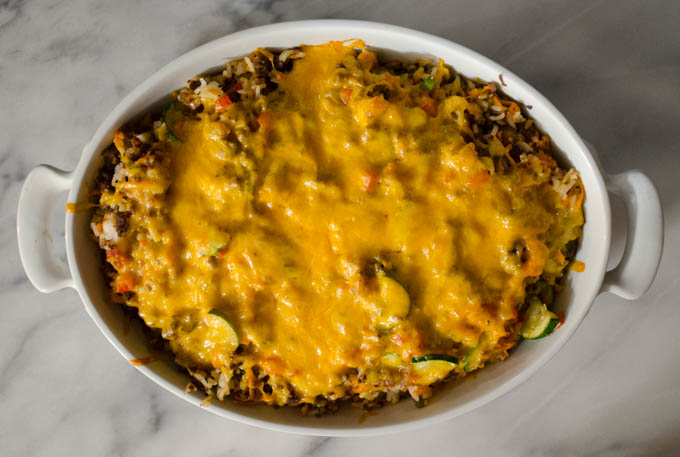 Wednesday: I made one of my all-time favorite recipes: Stuffed Pepper Casserole!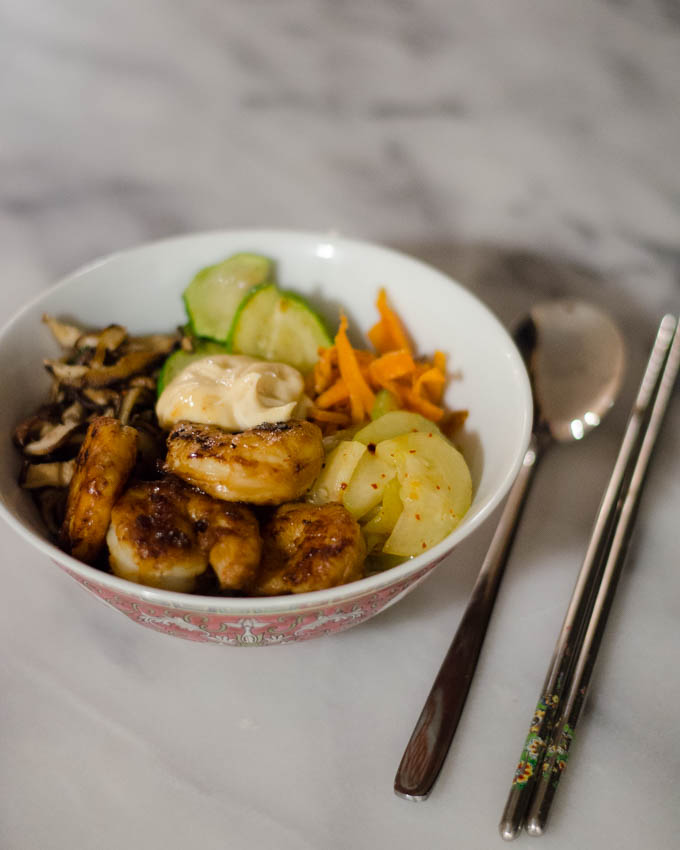 Thursday: We had another of my favorites: Spicy Korean-Inspired Shrimp Rice Bowls!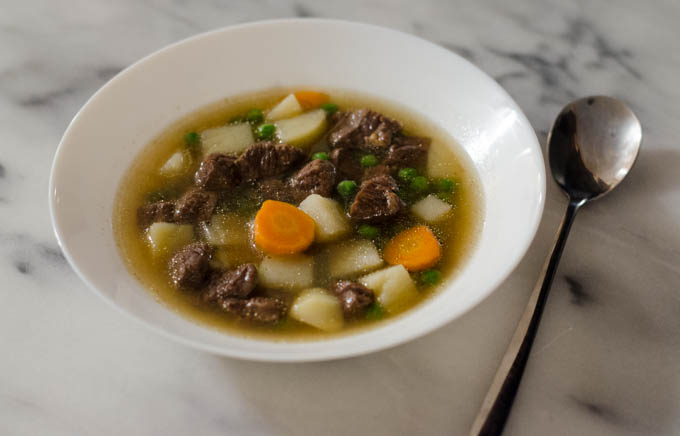 Friday: Beef Stew! This wasn't the most amazing beef stew I've ever made – I should have thickened the broth a bit and added more salt. But it was nourishing! I brought some of it to my sister who was recovering from being sick.
So that's all the groceries that we bought for the week, plus some of the meals we ate! Again, I'll have the total of what we spent in the comments. 🙂
xoxo
Erica