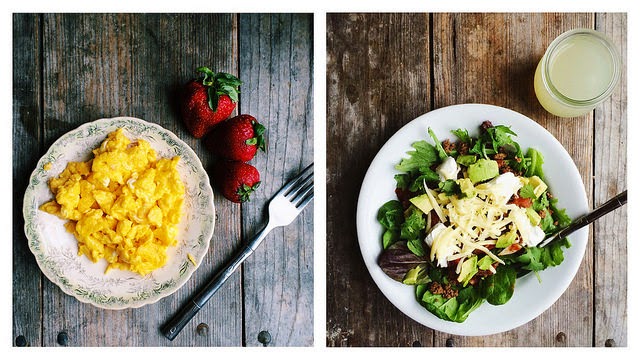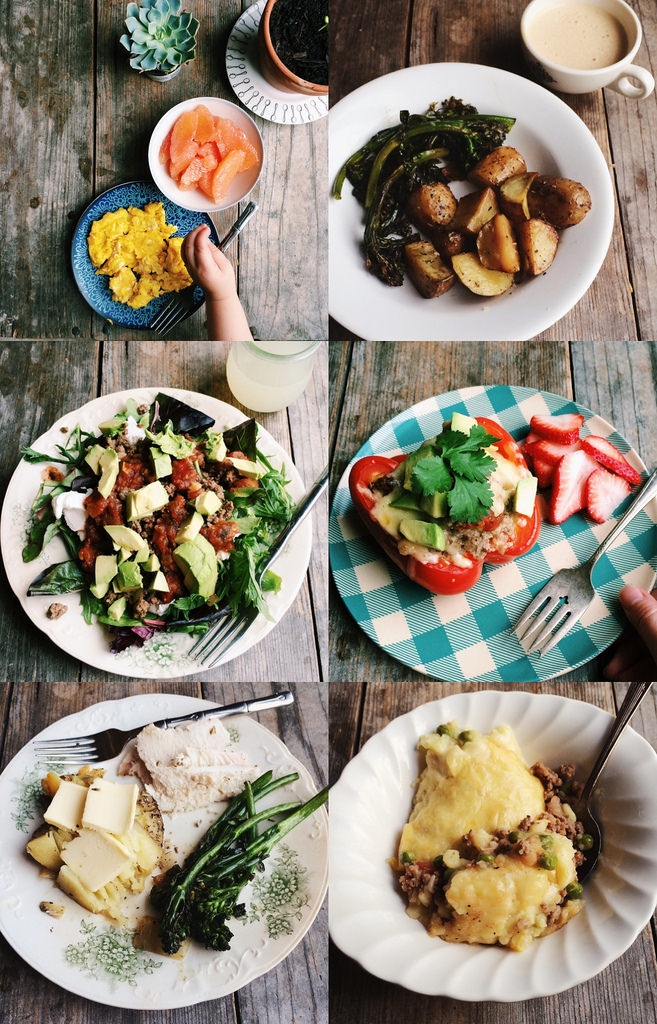 I made it through Week 2 of my Whole 30!
As I mentioned in my
previous post
, I am not following the Whole 30
as prescribed by the original creators
. I'm allowing myself to "cheat" when I'm out and about or when I'm at someone else's house. Also, I'm trying to cut back on dairy (not drink 2 glasses of milk a day) instead of giving it up completely. I personally think that dairy can be a perfectly healthy food if you aren't allergic and it's organic/local/grass-fed.
I'll let you now how I'm liking eating this way, but first let me show you my meals from last week: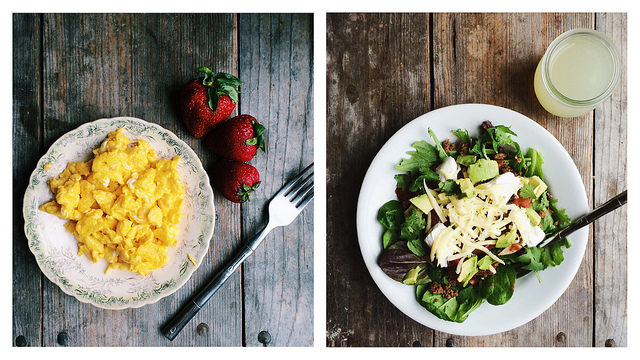 DAY 8:
Breakfast: The usual: scramble with fruit!
Supper: Taco salad. I "cheated" by using sour cream and cheese. I also had homemade water kefir to drink.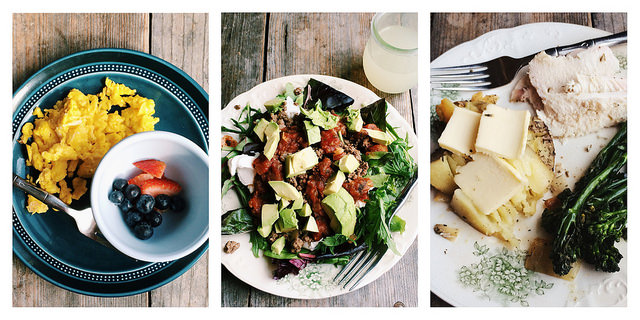 DAY 9:
Breakfast: Scramble with blueberries and strawberries.
Lunch: Leftover taco salad and water kefir. This was seriously the biggest salad I've ever plated for myself.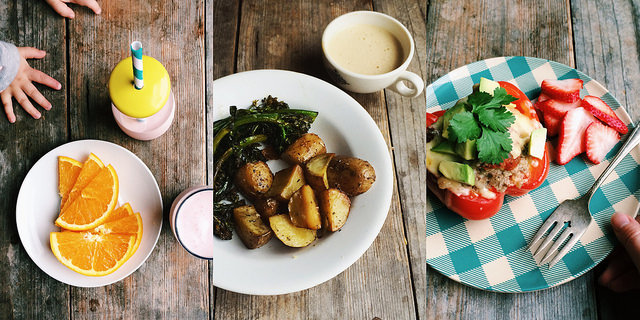 DAY 10:
Breakfast: strawberry + coconut smoothie (I "cheated" by using some cream) and orange slices.
Lunch: Leftover potatoes and baby broccoli with
Bulletproof-style coffee
(I used butter, and cream instead of coconut oil).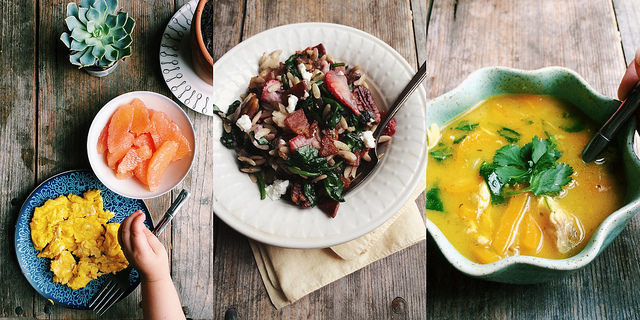 Breakfast: Another scramble with grapefruit.
Lunch: Secret salad (this was for an upcoming guest post). It was a cheat meal because it contained orzo and cheese.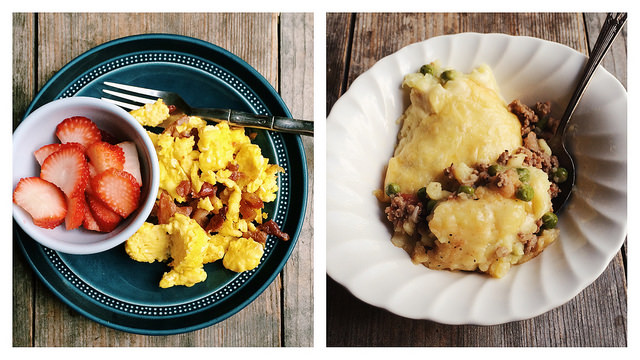 DAY 12:
Breakfast: Scramble (with bacon!) and strawberries.
Lunch: Leftover curry soup.
Supper:
Shepherd's Pie
(another sort-of cheat because it had cheese on top). I left out the wine, used grass-fed beef instead of lamb, and
homemade chicken broth
instead of gravy powder.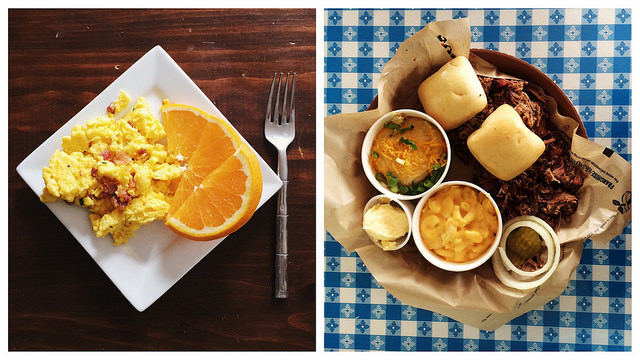 DAY 13:
Breakfast: Scramble with bacon and orange slices.
Lunch: We were out shopping, so we ate at Dickey's BBQ. We got the 2-meat plate with two portions of beef brisket and sides of baked potato casserole and mac & cheese. I was a good girl and didn't eat any of the mac & cheese and only took one small bite of a bun.
Supper: Leftover shepherd's pie.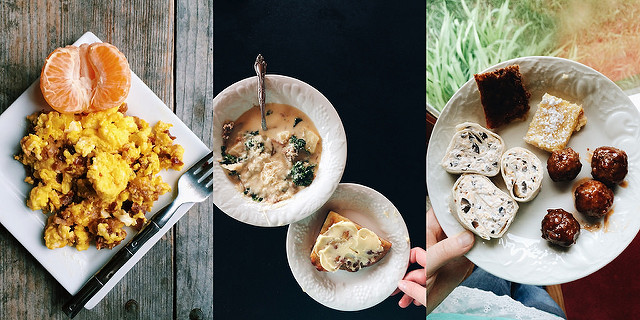 DAY 14 (Cheat Day):
Breakfast: Scramble with bacon and cheese (made by Reuben) and orange.
Lunch: Zuppa Toscana (potato, sausage and kale soup made by my sister from scratch) and homemade focaccia.
Supper: Tortilla roll-up sandwiches, meatballs, pecan pie bars, and lemon bars.
Besides the cheats mentioned above, Reuben convinced me to eat a piece of buttered popcorn and a salt-and-vinegar potato chip.
HOW I'M FEELING ON MY WHOLE 30
* My sugar cravings are really down. I was really missing it the first few days of my Whole 30. I had to eat dates to get by.
* I found that I was on the verge of a headache for a few days. I'm wondering if that has to do with the exercise I'm doing, or my body adjusting to less sugar, or not eating enough for lunch.
* I've also noticed that I seem to have less energy.
* I'm getting into the swing of cooking so many different meals. It's actually a lot easier than how I normally cook, because I have everything planned out and all of my ingredients bought. The most important thing is to remember to take meat out of the freezer to thaw.
* One thing I really miss is the fun of food. I tend to get excited about my food, but when I'm restricted it takes the fun out of it for me. It's not a moment-by-moment struggle, but I definitely long for a latte or a piece of chocolate…
* Added on 5/18/15: I forgot to mention that before I began the Whole 30 I had a bit of acne, which has cleared up now!
And just like that I'm halfway through! I'm interested to see how I feel in the next two weeks. I'll keep you posted.