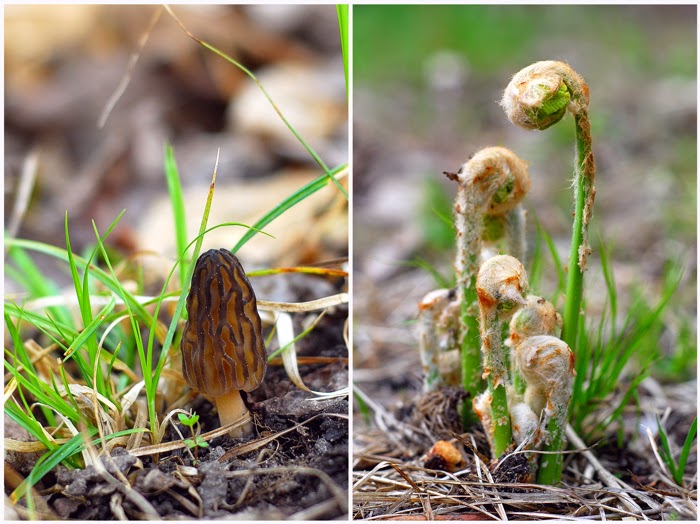 This post was first published on May 7, 2010 on Cooking for Seven. I always considered it some of my best work, so of course I wanted to share it here on Buttered Side Up. I also included the original comments because there was some good conversation and suggestions for cooking morels…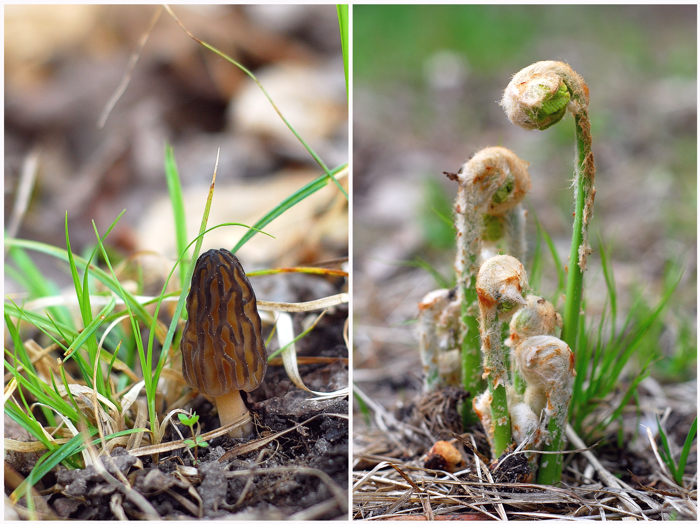 Each spring, around the time of opening fishing, when the ferns begin to pop up, we head out with our mesh gathering bags to hunt for morel mushrooms. We have a special spot down the road that is nearly guaranteed to give us a few of these delectable little fungi.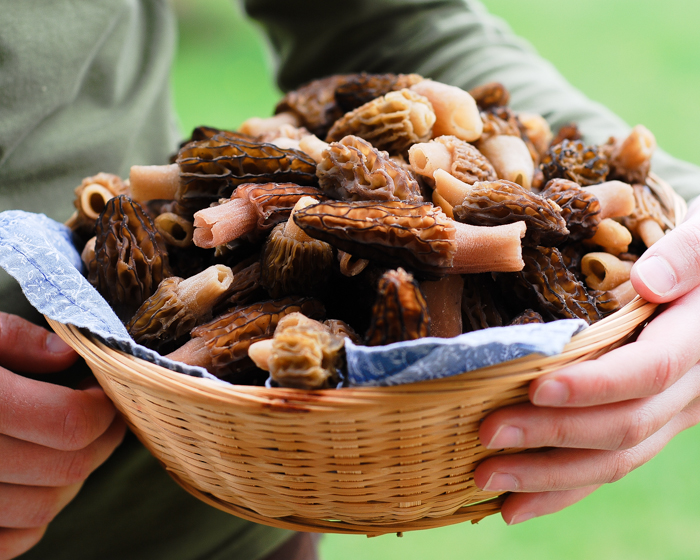 Yesterday, about an hour before supper, I decided it was high time we visited our secret hunting ground. We spent about half an hour of careful search & brought home enough mushrooms to complement our dinner.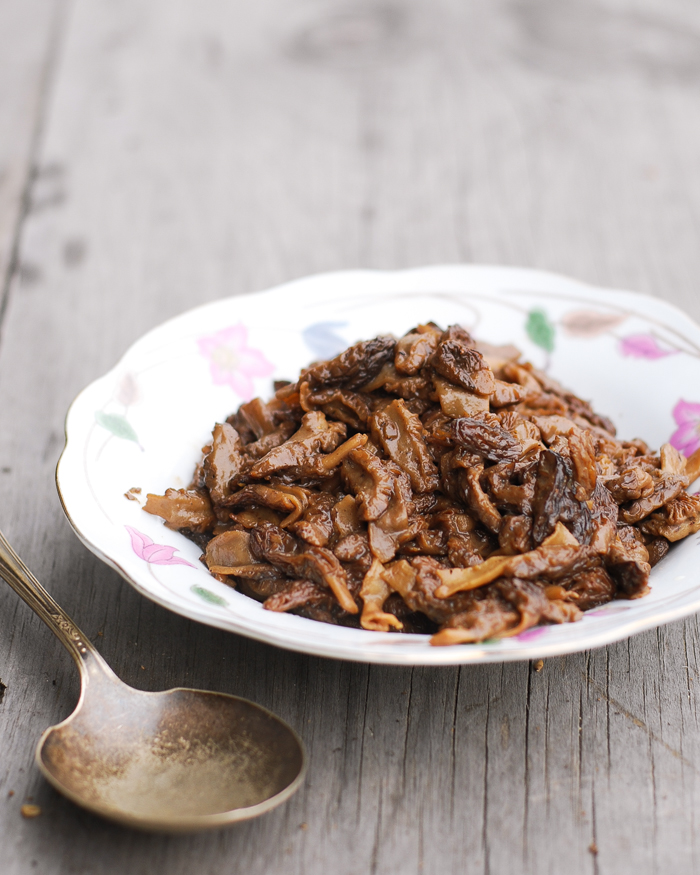 So if you find yourself with a few of these precious mushrooms, please: eat them plain, cooked in butter & seasoned with salt and pepper. Don't put them in a soup or pasta dish. They are far too good by themselves. Or with bleu cheese. Yes — Bleu Cheese!
TO COOK MOREL MUSHROOMS
Ingredients:
Butter
Morel Mushroom
Salt & Freshly Ground Black Pepper
Directions:
1) Cut the mushrooms in half lengthwise & remove any dirt or bugs.
2) In a medium skillet, melt a generous amount of butter. Add the mushroom & season with salt & pepper to taste. The mushrooms with release their "juices" and the skillet will become saucy.
3) Cook until most of the liquid is gone & the mushrooms begin to darken. Transfer to a serving bowl and eat/devour immediately.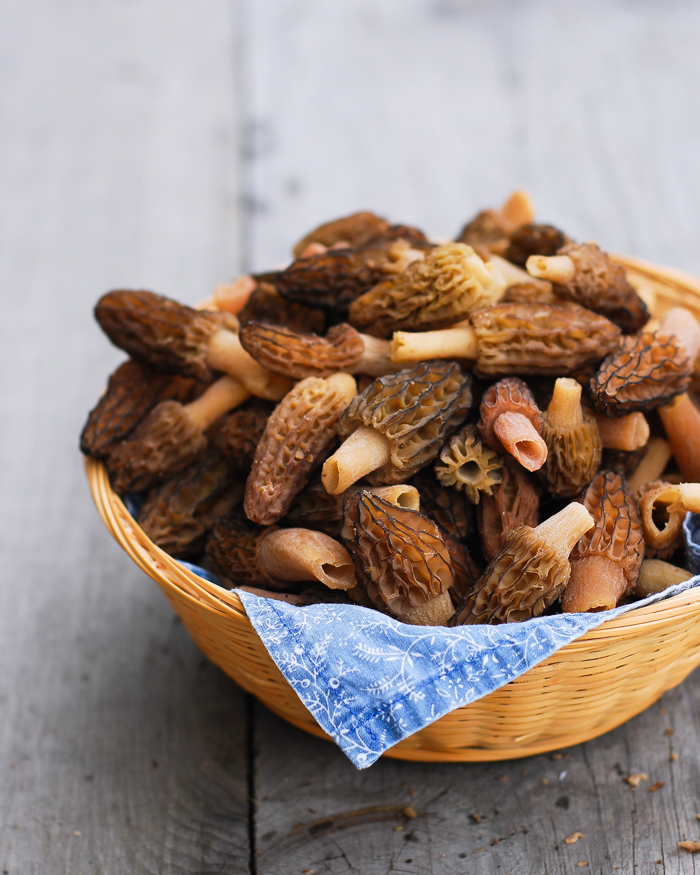 Miranda says:
Hey there! I also discovered your blog through Tastespotting. I bought some morels from the grocery store recently (at $40 a pound!) and read that I should cut them in half, soak them, and then rinse them. I rinsed them pretty thoroughly to remove all of the sand and dirt, but when I took a bite of the cooked morels, they were still realllly gritty. I was so bummed and had to throw them out. Any help would be awesome!


May 10, 2010 at 6:33 pm
Thank you all for your very kind words.
Jessy:
No I have never tried puffballs, but I think I've heard they're good.
Jim:
Hmmm…dipped in cornmeal & fried sounds delicious.
Miranda:
We've had that happen to us as well. Your mushroom were probably not harvested correctly. Dad makes sure we break the mushrooms off above the ground so we don't get any dirt. Other than rinsing them really well, I don't know what you could do to get rid of that grit.
Elizabeth says:
May 11, 2010 at 9:05 am
Jessy, my grandpa tells stories of eating puffballs when he was a boy. At that time, his father was ill and money was super-tight around the farm – puffballs were free and filling. He says his mother fried them up in butter, much like you would eggplant. Just be sure the puffballs are nice and young when you pick them – if there's any tinge of yellow to the flesh, you're too late.
Elizabeth says:
May 15, 2010 at 7:32 pm
Stunning! I wish that I was so lucky to have a secret spot with mushrooms. I adore mushrooms.
November 21, 2010 at 9:14 am
Beautiful pictures, how I would like to get in on that bowl of morels. now that its so cold, its hard to imagine going out to pick mushrooms. Thought you might be interested in this video I did on morels
http://bit.ly/8Yrcby
-there's another about chantarelles too, have you picked them before? soooo good. thanks for your work.
daniel
ashleyenfrance says:
In France these precious mushrooms are 30€ a kilo, so precious indeed. Also, another good way of eatting them is to cook them with butter, garlic, and parsley. Then add sea salt at the end.