Click to see my previous Organic/Natural Grocery Hauls!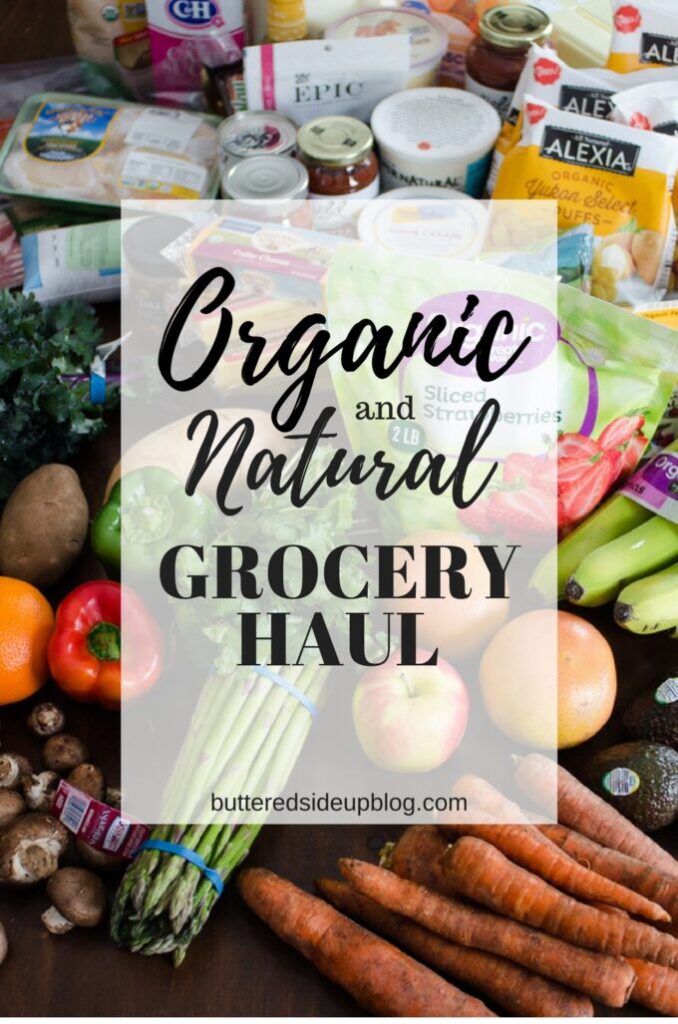 So, how's Sugar Free January going for all of you that are participating? I'm feeling great, besides FINALLY succumbing to the cold that's going around. I need to be more on it with my cod liver oil/emu oil/vitamin D supplements. I had a bit of a sugar craving attack last week, but I made it to the other side and it subsided. I did make a couple of accidental/planned "cheats", but they were pretty minor. I'll talk more about them in another post.
But on to this organic/natural grocery haul!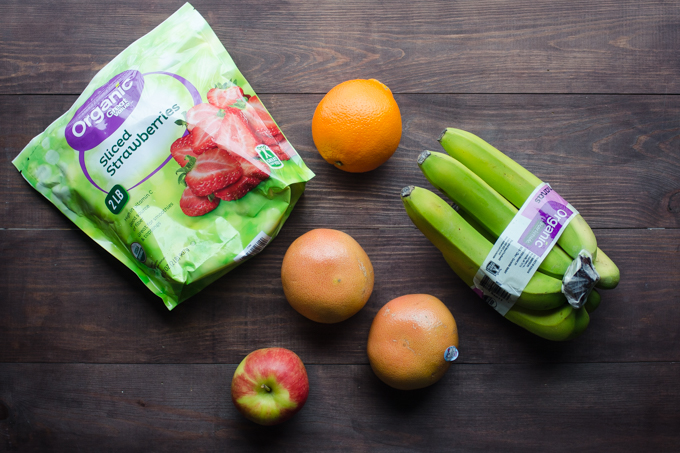 Fruit:
The organic frozen strawberries and bananas and conventional grapefruit were from Walmart, and the organic apple and orange were from our local health food store (HFS). I'm okay with buying non-organic grapefruit because it's on the Clean 15 list.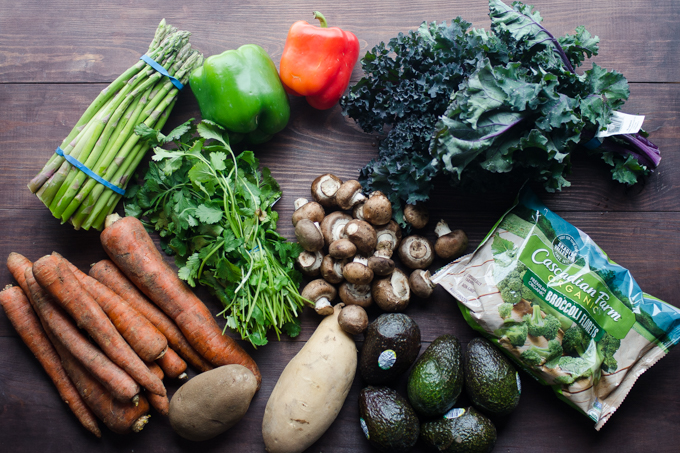 Vegetables:
Everything was from the HFS: Asparagus (can't remember if it was organic or not, but it's also on the Clean 15), local carrots, and the rest was organic: bell peppers, kale, frozen broccoli, avocados, crimini mushrooms, sweet potato, russet potato, and cilantro.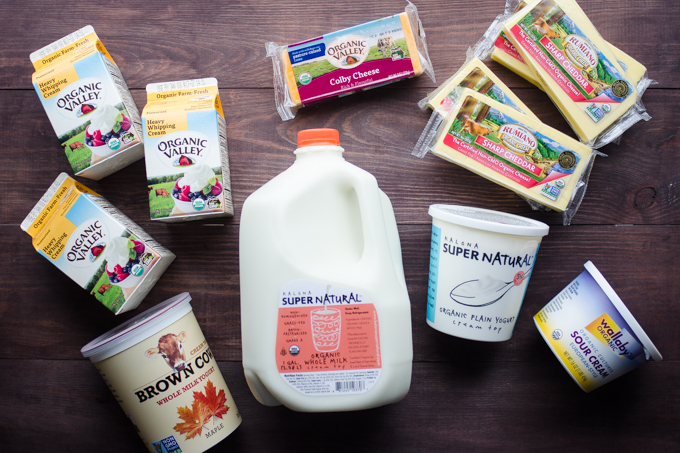 Dairy:
All from the HFS: Brown Cow maple yogurt (for Reuben), and the rest organic: Organic Valley heavy cream (the non-ultra-pasteurized version), Organic Valley Colby cheese, Rumiano sharp cheddar (4 packages), Wallaby organic sour cream (the best sour cream I have found!), Kalona Super Natural plain yogurt, and Kalona whole milk (best milk I have found – it's grass-fed, non-homogenized, and gently pasteurized).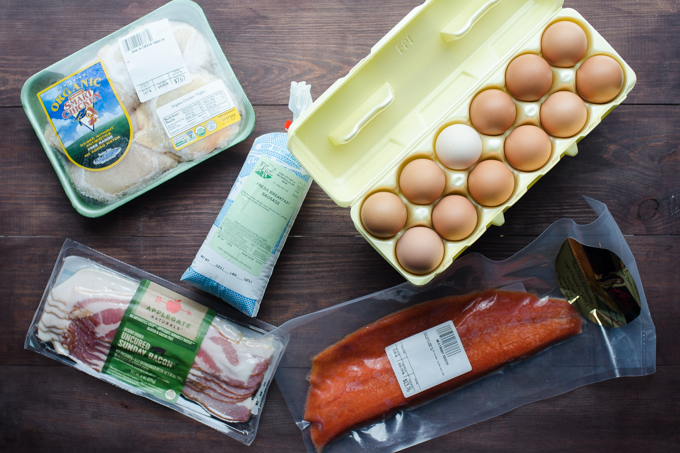 Meat/Eggs:
Organic chicken thighs, local breakfast sausage (sugar free!), local eggs, wild-caught salmon, and Applegate Naturals uncured Sunday bacon. This bacon does contain sugar, but it was the best I could find, and it's less than 2%, so I'm okay with it. I was hoping to buy this brand instead, but our HFS stopped carrying it for some reason! And it was my favorite bacon! Boo!
Pantry Items:
I bought some pantry items that contain sugar for a post. Don't worry, I won't be eating them until after my Sugar Free January! The Organic salsa and Thai Kitchen peanut sauce were from Walmart. The rest was from the HFS: Primal Kitchen honey mustard avocado oil dressing, Field Day black olives, and the rest was organic: red pepper stuffed green olives, Field Day tomato basil pasta sauce, Field Day pizza sauce, and Annie's Naturals honey mustard.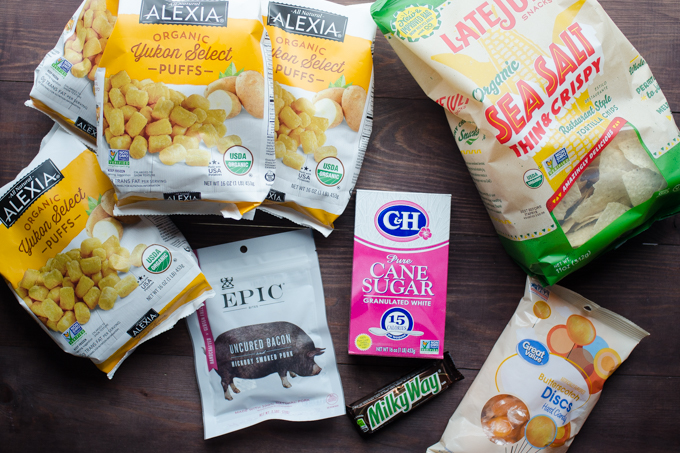 "Junk" Food
Finally, some "junk" food. Do you guys know how much it hurt me to buy candy and sugar?! But I needed it for a post.
The Epic uncured bacon and organic Alexia tater tots and Late July tortilla chips were from the HFS and the cane sugar, "butterscotch discs," and Milky Way candy bar were from Walmart. I'm thinking I'll save the hard candy for next Christmas and make stained glass windows for gingerbread houses from them? They were only 98 cents, so it wasn't a big loss. Reuben ate the candy bar in his lunch, and said that it was sickeningly sweet. I might gift the sugar to someone who will use it. 🙂
So that's what we bought for groceries last week! We spent a grand total of $214.34. But, to put it into perspective, we only spent a little over $100 the previous week. Our bill was so high because I had to buy some specialty items for blog posts.
Reuben and I have decided to set ourselves a monthly grocery budget in 2018. We're in the very beginning stages of planning for a house, so we need to be mindful about our spending. Our goal is to only spend $800/month on groceries, or around $200 per week. Since we went over $200 last week, I made sure we spent less this week. I think it will all even out and hopefully we'll stay under budget! We have NEVER kept a budget before, so this is all new to us. 🙂
Do you keep a budget for your groceries, or do you just wing it?