This One-Pot Shrimp and Coconut Rice is Thai-inspired and so comforting!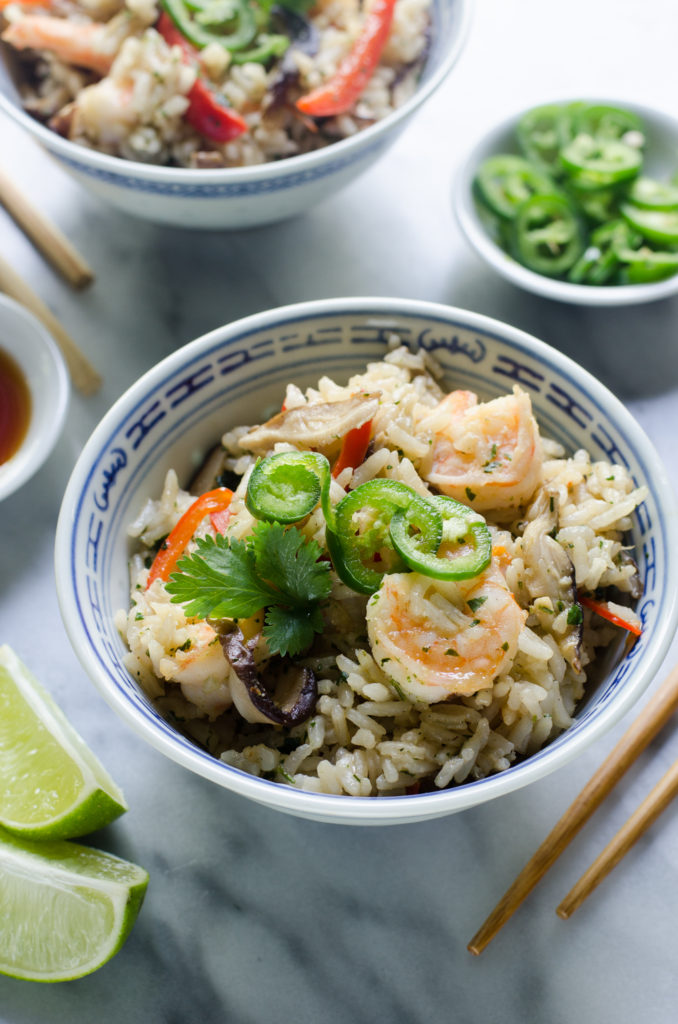 My older sister has a signature dish makes with chicken, coconut milk, shiitake mushrooms, and cilantro. Well, sorry sister: I stole your idea and put my own spin on it!
This One-Pot Shrimp and Coconut Rice is so comforting and so fresh at the same time. The flavors are Thai-inspired, one of my favorite cuisines.
Best part: it's a one-pot meal! It seriously cuts back on the time doing dishes after supper. Score!
Go grab the recipe for this One-Pot Shrimp and Coconut Rice over on The Pioneer Woman's blog.
And now for a bit of Life Lately:
We went to see The Last Jedi! I actually convinced Reuben to come along (he is not a fan of the new Star Wars movies). I decided to do a bit of cosplay and dress up kind of like Leia on Hoth in Empire Strikes Back. Thoughts on the movie: I really liked some parts, and really didn't like others. Email me if you want to discuss. 😀
It has been SO. COLD. here in northern Minnesota lately. Not like I should be surprised or anything. This is what it's like in January every year. But the older I get, the more I dislike the sub-zero temperatures.
Ah, the saga of our stove continues. Every year when the temps dip into the 20s and 30s below zero, our gas line freezes and the gas won't flow into our stove. We have to take a blowtorch outside and thaw the gas thingy (Reuben explains it to me in terms I can understand: it looks like the Millennium Falcon). It makes me grumpy to have to shove my feet into boots and put on a hat and coat first thing in the morning before I can cook breakfast for the kids. #firstworldproblems
I seriously don't know how we would survive without space heaters! Our house in set up with off-peak or "ripple" heat, which means that the electric company shuts off the heat whenever it wants. It's cheaper than regular heat, but I would never choose to have it in my house. The cold house doesn't bother me as much as the hot water heater. It's really frustrating to not be able to take a shower, wash towels, or do the dishes when there's no hot water. But what doesn't kill you makes you stronger, eh?
Okay, I'm done complaining about the cold.
One of the perks of living in the frozen north is the wildlife. This rabbit came right up to our window and started munching on some dead hollyhock leaves. He sat there for quite a while. It was pretty cute.
Have you guys seen all the Google Arts & Culture photos floating around? Basically, you download the app, take a picture of yourself, and Google matches up your face with old artwork. This one was a 59% match for me. I think our eyebrows are pretty similar! On fleek, am I right?
Here's another one. My little sister got the same match!
Also, it was my birthday yesterday! We didn't really do anything to celebrate, partly because…
WE ARE GOING TO FLORIDA! This is a big deal for me. I'll be checking off two things from my bucket list: fly in an airplane, and ride in a convertible. I've been wanting to do those two things for YEARS.
If you have any tips for noob flyers, please share in the comments! We're kind of nervous about all of it.
I have a few posts planned for when I'm gone, so there shouldn't be an interruption of posts. Unless James decides not to take his naps the next few of days…
xoxo
Erica