In this post I'm sharing some fun restaurants in Minneapolis that my sisters and I visited on our recent girls' trip!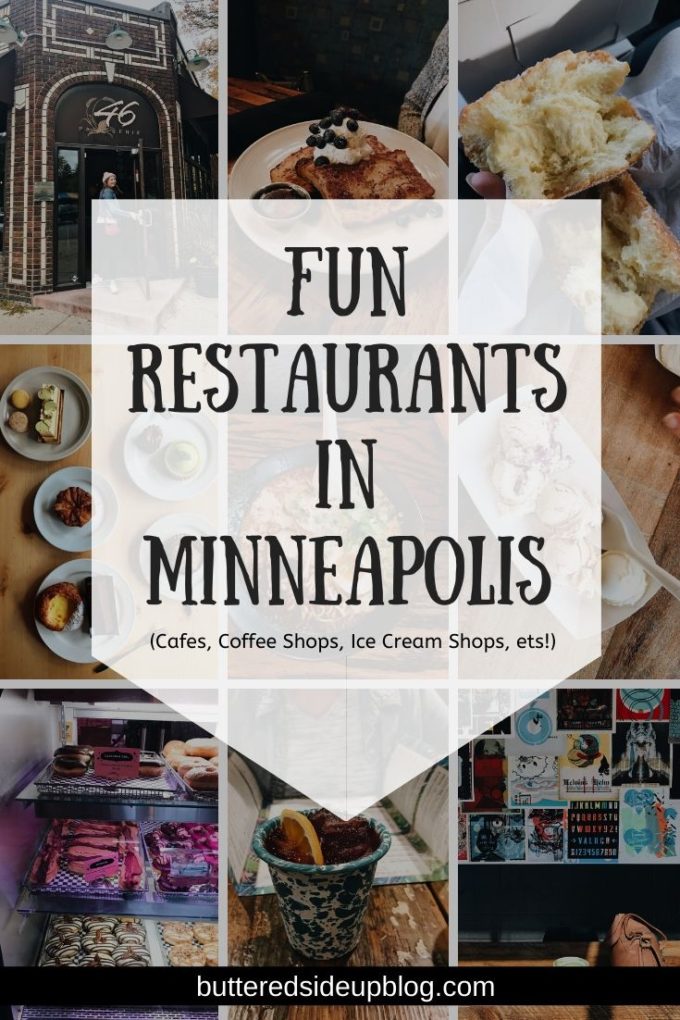 Back in October, my sisters and I took a trip to the cities (that's what we northern Minnesotans call the Minneapolis/St. Paul area). We stayed in a fun modern farmhouse-style airbnb, (use my referral link to get $40 off your first home booking), got massages, and (of course!) visited some awesomely fun restaurants in Minneapolis. Our food experience was really top notch this trip.
To make things easier to understand, my older sister's name is Janna, and my younger sister's name is Amanda. That's how I'll refer to them from here on out!
Here's where and what we ate on our trip:
Fun Restaurants in Minneapolis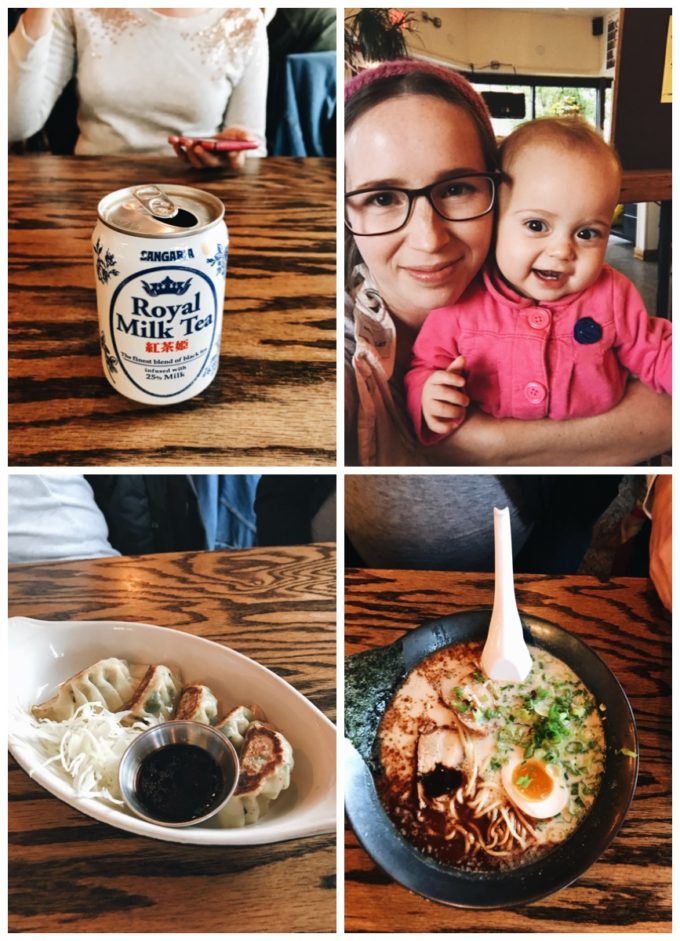 Our first night in the cities we decided we wanted ramen. We chose Ramen Kazama, partly because it seemed more upscale than other ramen joints we researched. Looking at the website, we were under the impression that a bowl of ramen would set you back at least $20 if you got all the toppings. We were pleasantly surprised to learn that the toppings were included in the base price, and it's only extra if you order EXTRA toppings. Woohoo!
Janna got a Royal Milk Tea, which is basically sweetened black tea with milk. It was surprisingly really good! I'm going to have to try to recreate it at home, and possibly share a recipe with ya'll.
Janna also ordered a side of gyoza, which was yummy! We got two orders of the tonkotsu ramen (I shared it with Amanada and we left off the bamboo shoots since we thought it would cost extra). Wow. The egg noodles were so good, and I've never had a tonkotsu broth that was that milky! If I went again I would order extra pork and egg if I were sharing it.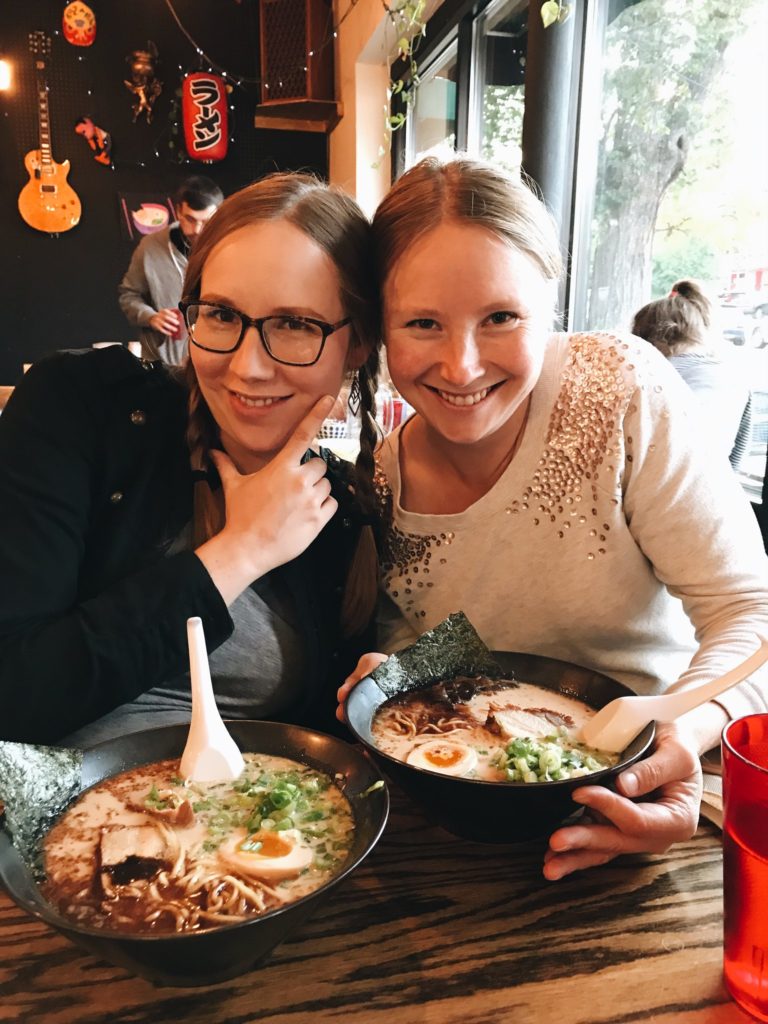 As you can tell, we enjoyed ourselves very much.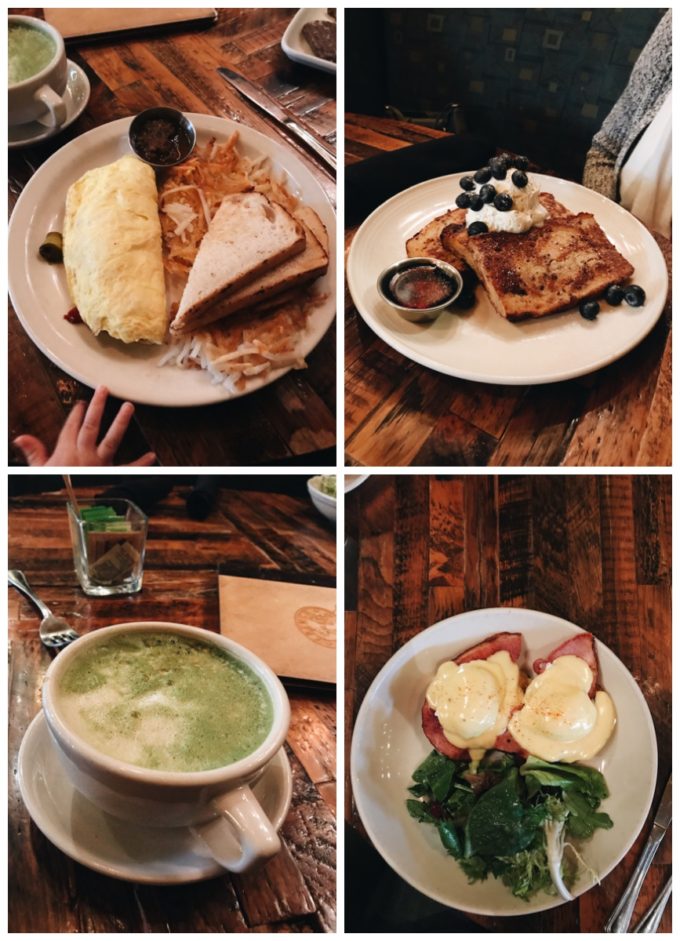 French Meadow Cafe (2610 Lyndale Avenue S. Minneapolis, MN 55408)
Since we had a fabulous food experience at French Meadow Cafe before, we decided to go again for brunch the next day. My breakfast wasn't as stellar as last time since I was trying to be a "good girl" and make a healthier choice since we were planning on indulging for lunch (see below). I got the omelette of the day which was made with asparagus. It was served with a side of hashbrowns, sourdough toast, and salsa. Good, but not amazing.
I also ordered a matcha latte, but I think the waitress was confused by my request. She brought me a coffee latte with matcha mixed in. I think a dirty matcha latte could be a good idea, but the flavor of the coffee overwhelmed the matcha completely.
Janna got the french toast which was topped with whipped cream and blueberries. Now that was fantastic.
Amanda ordered the eggs benedict. I didn't personally try it, but she really enjoyed it.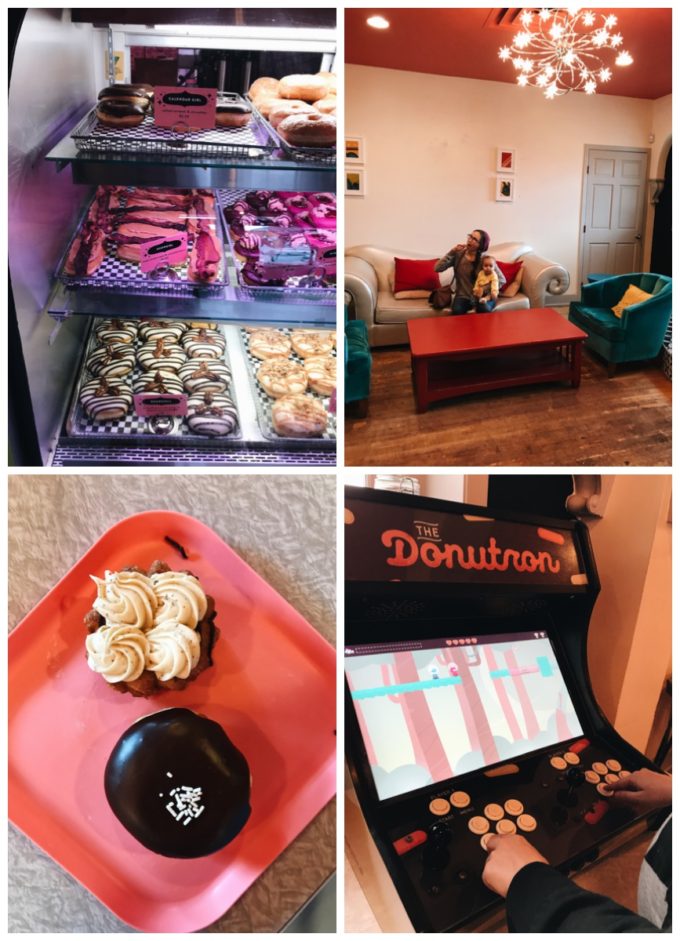 Glam Doll Donuts (2605 Nicollet Ave S Minneapolis, MN 55408)
For lunch we got doughnuts!
We went to a fun place called Glamdoll Doughnuts. It was decorated very retro. You got your doughnuts on a pink plastic tray, and went and sat down at little tables (couches and chairs were also available). They also had a free "Donutron" arcade game set up.
Amanda and I shared an espresso cream cheese-frosted and a custard-filled, chocolate-dipped doughnut. I need to try to recreate that espresso cream cheese one!
BT-Dubs: Some of the doughnut names are double entendres, so if that sort of thing offends you this place isn't for you!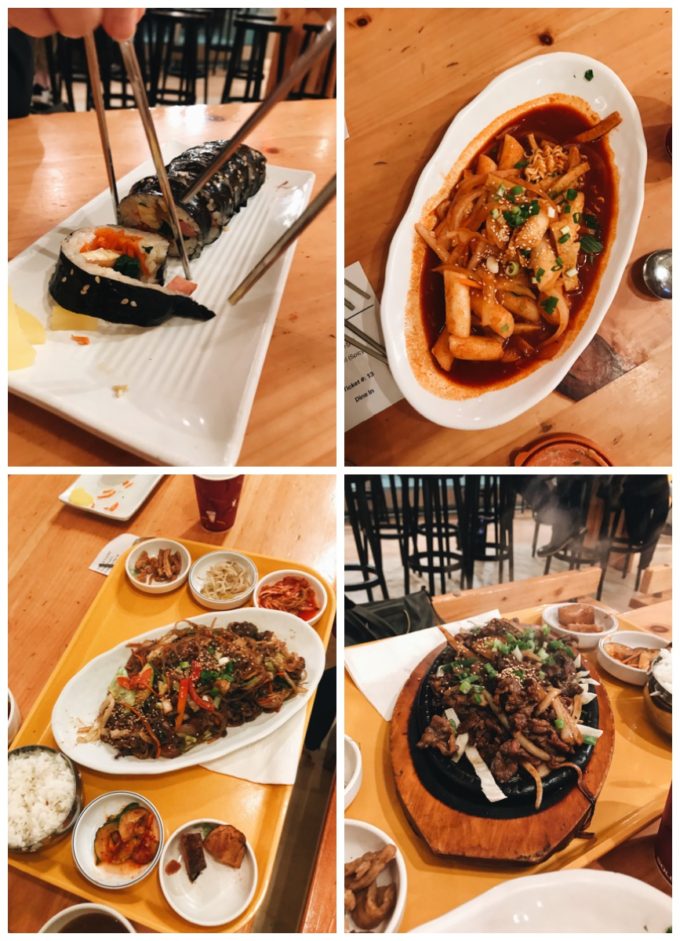 Kbop Bistro (425 13th Ave SE, Minneapolis, MN 55414)
This is my favorite Korean restaurant I've ever visited. The atmosphere is really fun, the portions are large, the price is right, and the food is delicious! We seriously over-ordered here – we didn't realize how much food we would get!
Janna got the Kim Bap (김밥 – Korean sushi roll), which was flavorful and yummy. I ordered the DukBokki (떡볶이 – spicy rice cake and fish cake), which came in a sauce with ramen noodles. That was so much fun to eat! Amanda got the Beef Bulgogi (소불고기 – thin slices of marinated beef, served on sizzling cast iron skillet), which was also amazing. Janna also got an order of Japchae (잡채 – stir-fried glass noodles with beef and veggies), which was so so good. If I go again, that's what I'm ordering.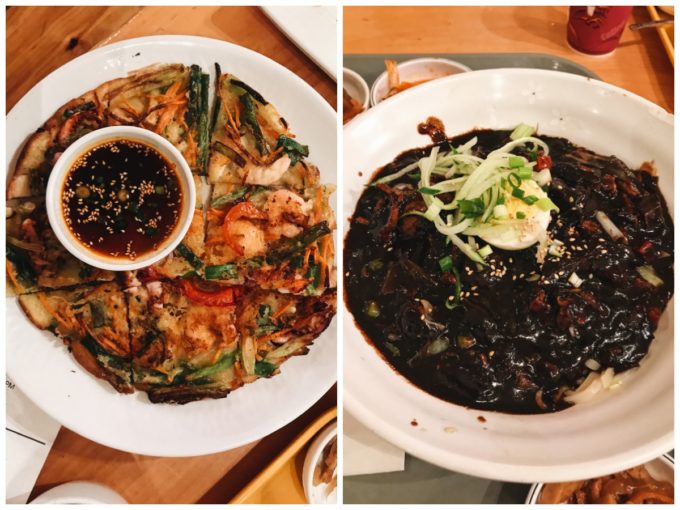 Janna also ordered a Haemul Pajeon (해물파전 – seafood pancake), which was very fun to eat. It had squid! I also ordered Ja Jang Myeon (짜장면 – noodles with meat, potatoes and black bean paste). I really wanted to taste it because I've seen characters in Kdramas eating it. It was pretty mild with a takeout flavor (if you know what I mean). Yummy, but not a flavor explosion. It would be good for someone that doesn't like spicy food.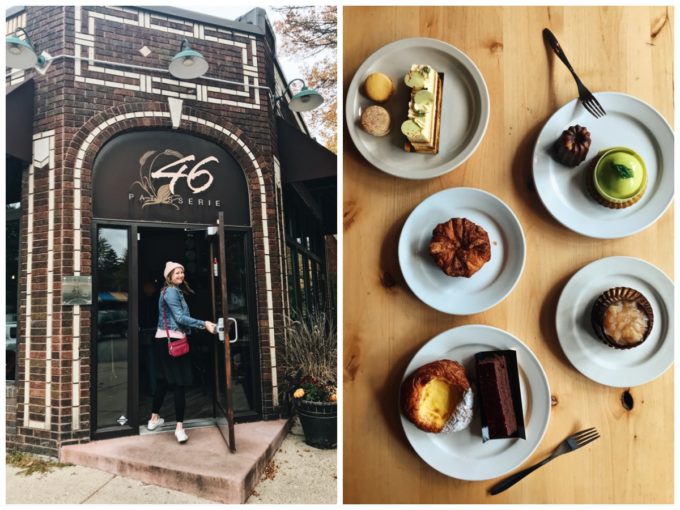 Patisserie 46 (4552 Grand Ave South Minneapolis, MN 55419)
The next day we ate leftovers for breakfast. For lunch we headed to Patisserie 46! Another dessert-for-lunch situation, which I wasn't mad about at all.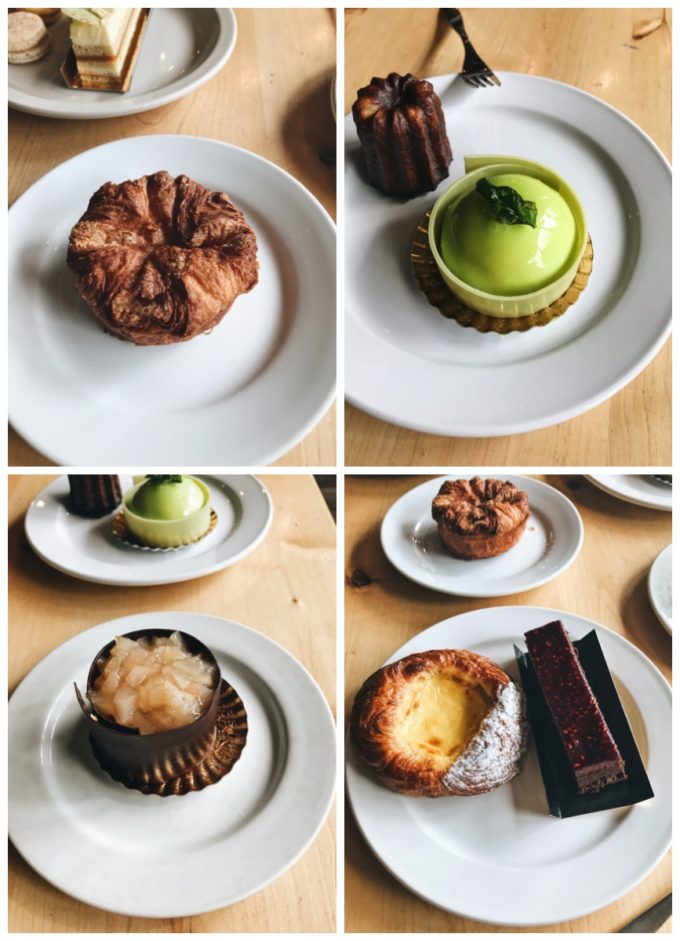 I ordered a Kouign-amann (pronounced queen-ah-mahn) because I had heard Amanda raving about it. To be honest, I looked at it and thought that it wouldn't be that good. I was wrong! It was probably my favorite thing that we ordered. So buttery!
Janna got a super interesting basil custard cake wrapped in white chocolate. I've never had anything quite like that before. I need to use basil in desserts! She also got a little rum-flavored cake. Amanda ordered a flan Danish – it was eggy and flaky and not too sweet at all. She also got the raspberry dark chocolate cake – yummy! Janna also ordered a pear cake wrapped in chocolate. It was good but not out-of-this-world amazing.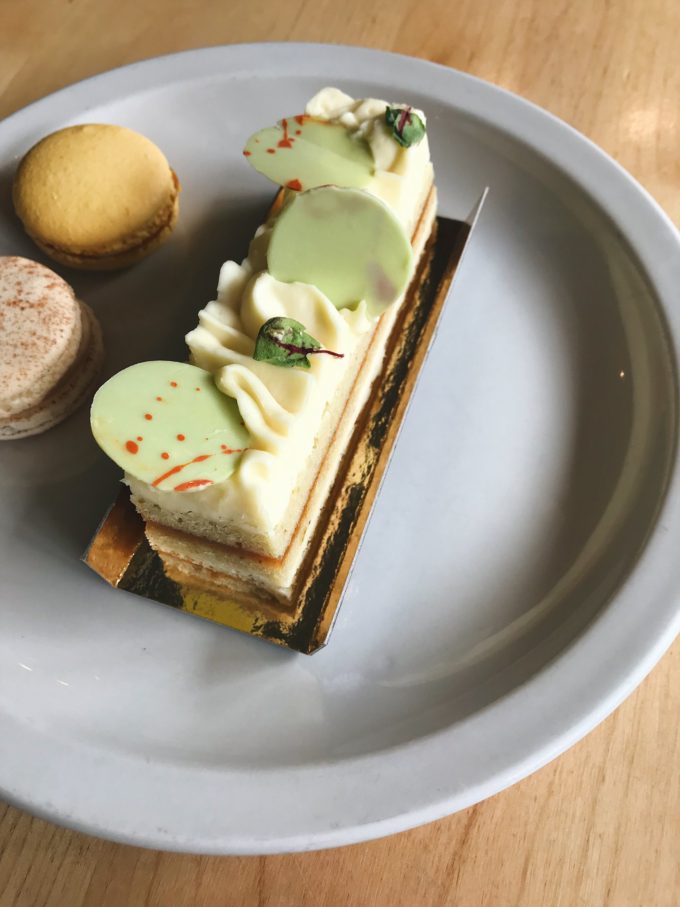 I also got a pistachio cake with stone fruit jam/puree? – it was quite mildly flavored, but not sickeningly sweet. I also got two macarons: one chai-flavored, and one passionfruit-flavored. Both were delicious.
After Patisserie 46, we were in the mood for coffee/matcha. Janna just happened to find a highly-rated little coffee shop while looking around the map. I loved the decor/vibe.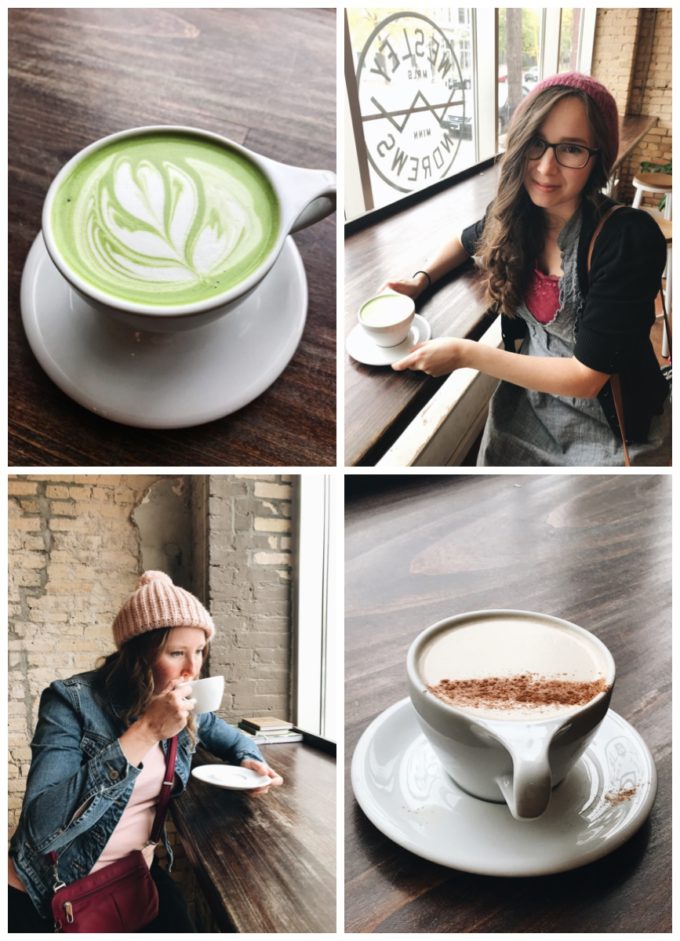 I ordered a matcha latte (they offered hot or cold). It was the best matcha latte I'd ever had at a coffee shop up to that point. Simple, really good quality matcha (not bitter at all), and it tasted like the ones I make at home! I was very impressed. Janna ordered a breve (I tasted it and it was quite good), and Amanda got a chai tea breve (which I tasted as well – it was spicy and flavorful!).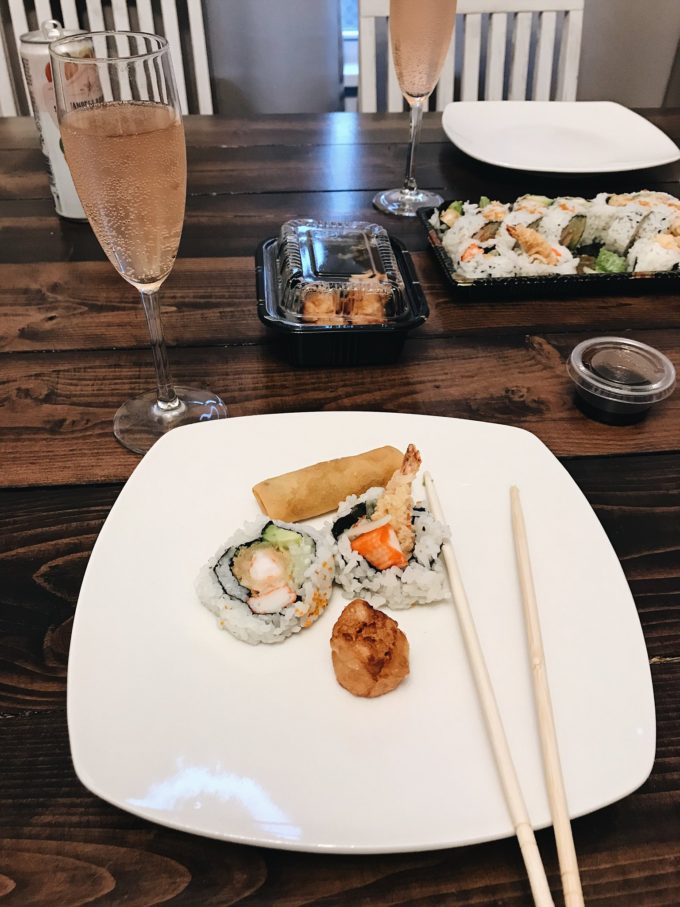 That evening we ordered in sushi, egg rolls, dumplings, and yaki udon (for Amanda since she can't eat sushi since she's pregnant). It was yummy, but not amazing. The sushi we got at Wholefoods on our way home was better, sadly.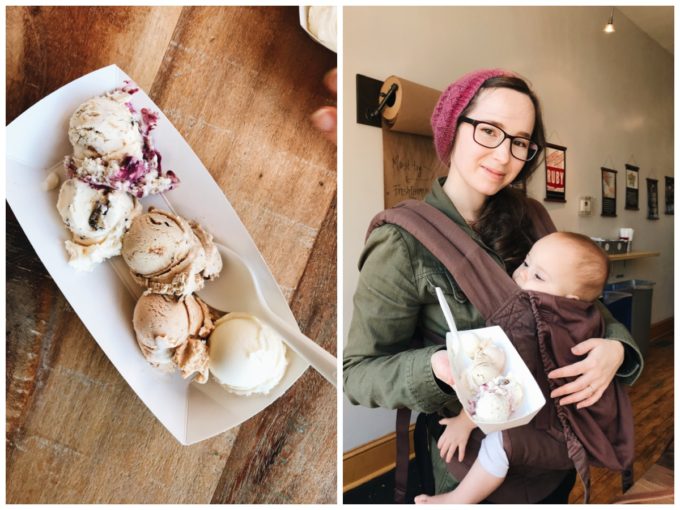 Pumphouse Creamery (4754 Chicago Avenue South Minneapolis, Minn 55407)
Continuing with our dessert-for-lunch theme, we ate at Pumphouse Creamery the next day. I got the black raspberry, malted milk, coffee almond, farmers market pumpkin, and salted lemon olive oil flavors. The black raspberry, malted milk, and salted lemon olive oil were my favorite flavors. The coffee almond and pumpkin were good as well, just not as strongly flavored.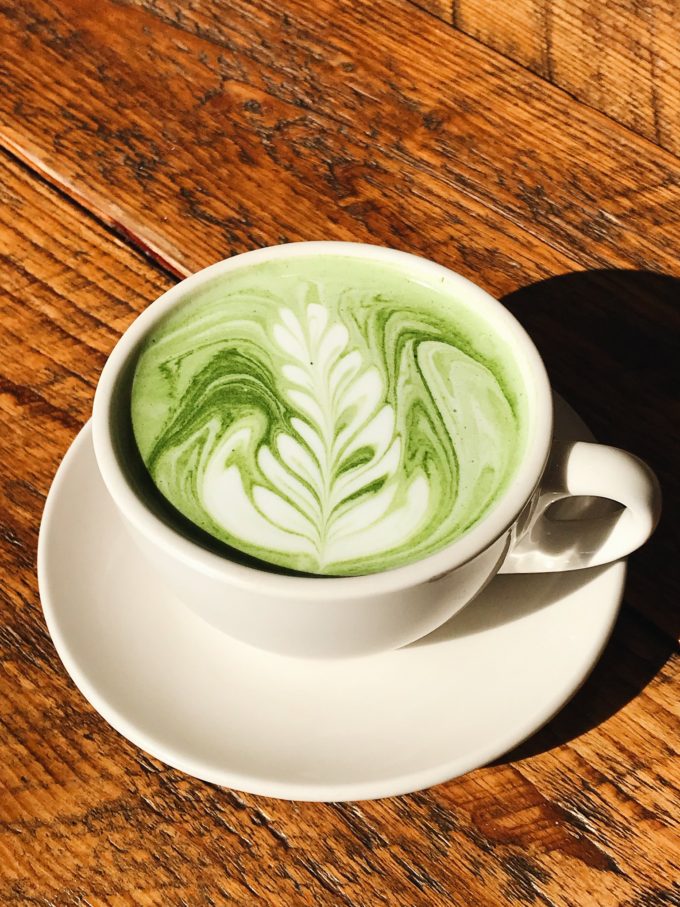 Dogwood Coffee Co. (3001 Hennepin Avenue South Minneapolis, MN 55408)
After Pumphouse we did some shopping, and stopped by Dogwood Coffee Co. (the uptown location). The matcha latte I got there tied with Wesley Andrews for the best one I've had at a coffee shop. It was sweetened with honey!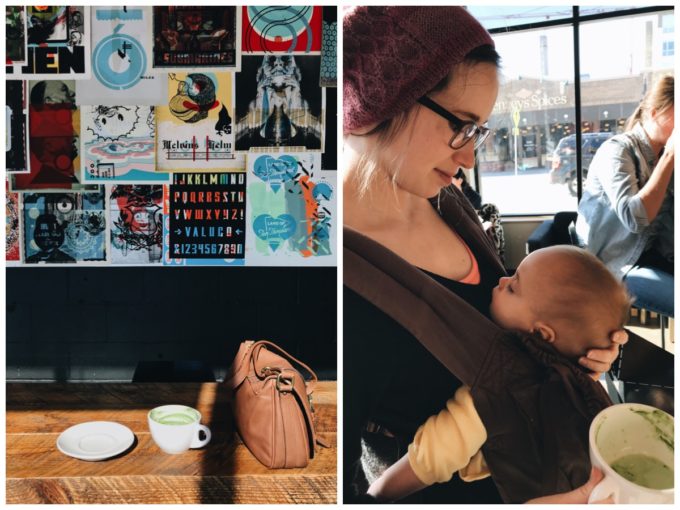 The cafe had a retro vibe.
Anya fell asleep in the baby carrier while I drank my matcha. It melted my heart.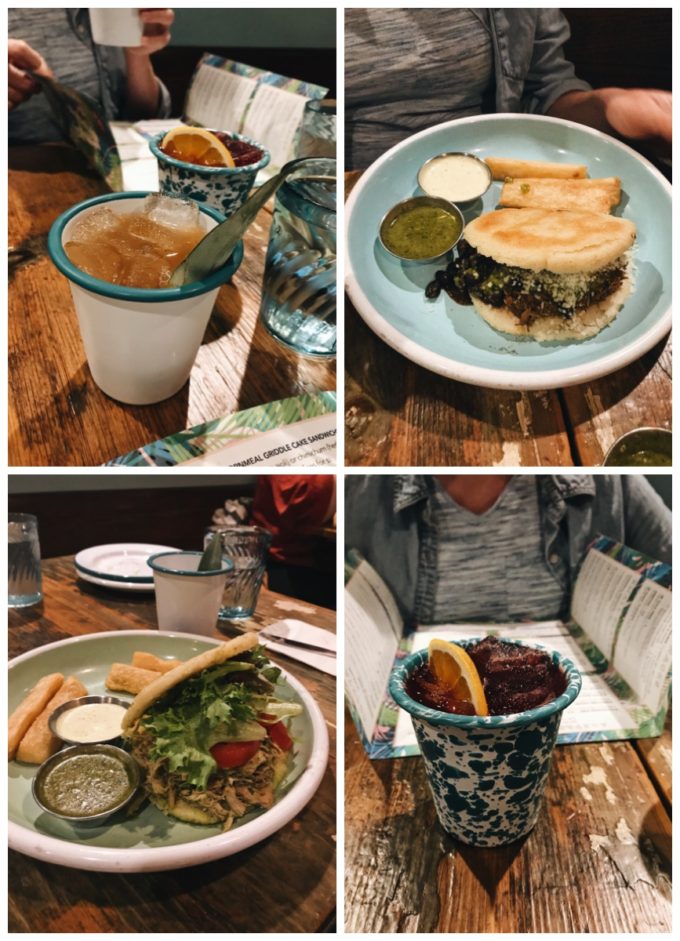 Hola Arepa (3501 Nicollet Avenue Minneapolis, MN 55408)
For supper, we went to Hola Arepa! Ever since Melissa (The Faux Martha) talked about it and Lindsay from Pinch of Yum recreated their arepas, I wanted to go. They had really fun mocktails. Janna got the beef arepa, and Amanda got the chicken. I had some of both, and I preferred the beef. But they were both delicious!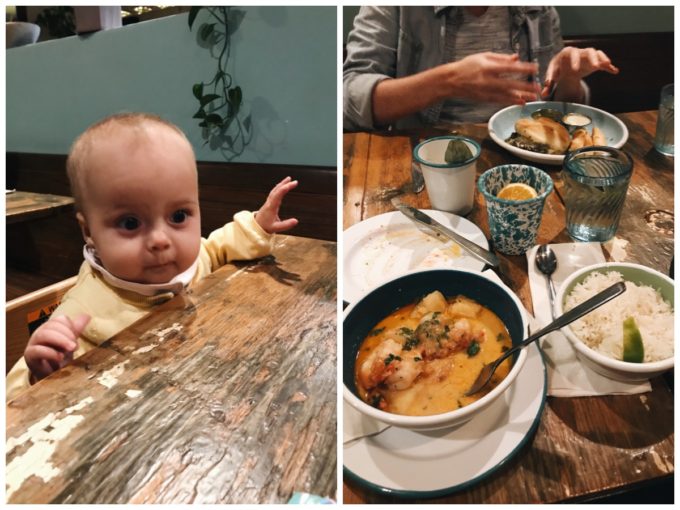 I got the coconut shrimp soup. It was really good, but I kind of wish I would have gotten an arepa instead since that's what Hola Arepa is known for.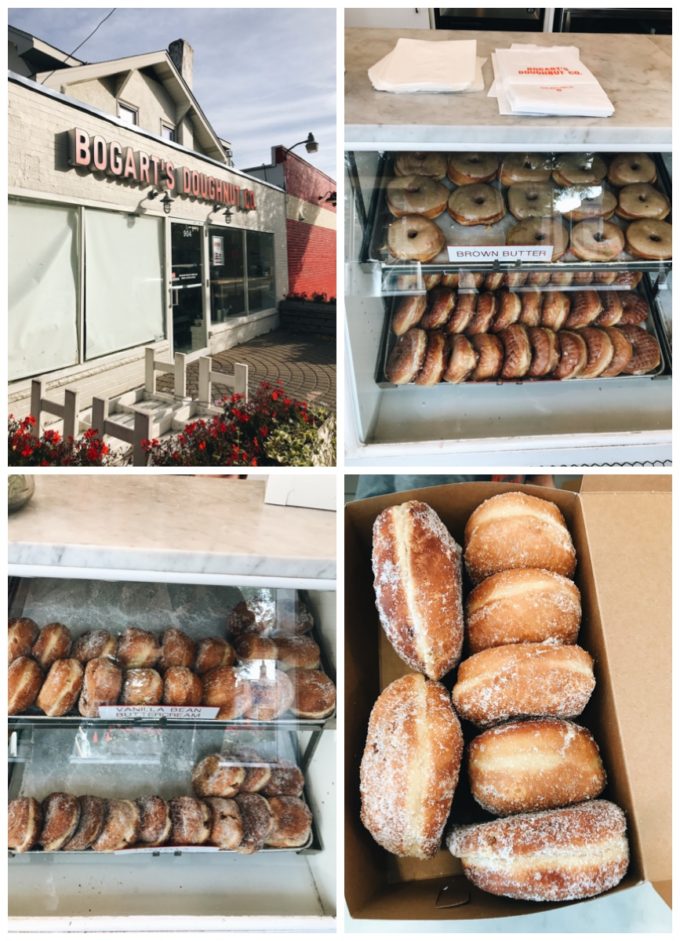 Bogart's Doughnut Co. (904 West 36th Street, Minneapolis, MN 55408)
We tried our very best to get Bogart's to door dash to our airbnb. But it just wouldn't work! Not sure if it was the app, or if all the dashers were taken…? In any case, we had to go to the actual store. We ordered a dozen doughnuts. But we didn't realize that a Bogart's Dozen is 14! So we got 2 free. We got mostly the vanilla buttercream filled, a few Nutella filled, and a couple of the brown butter doughnuts.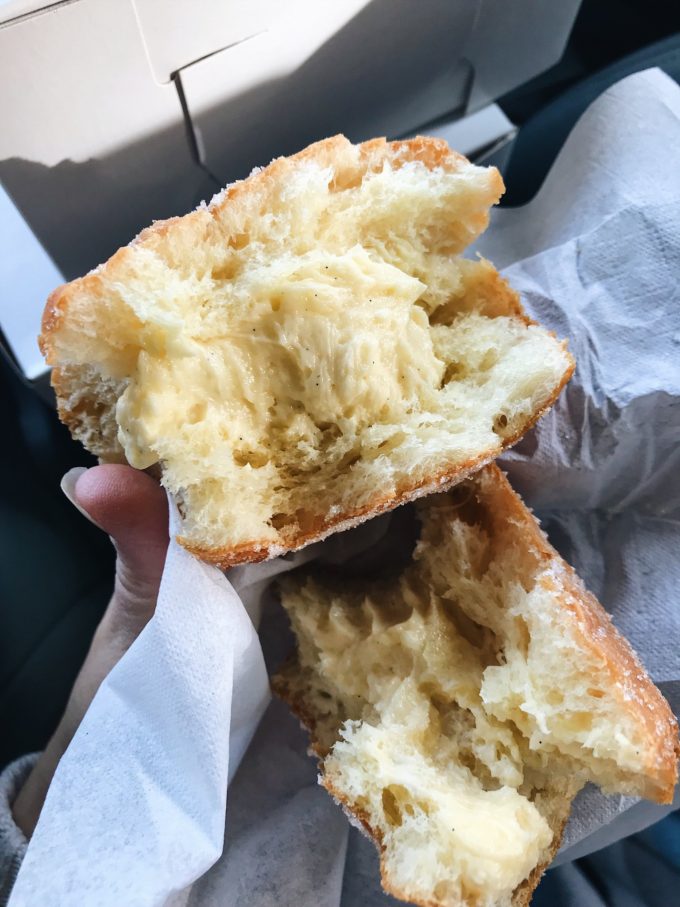 Oh my. I was not expecting these to be as incredible as they were. I thought they would be filled with a custard, but it was more like a cross between a custard and a buttercream! You definitely got the vanilla flavor. And the bread part of the doughnut was amazing as well – so yeasty! I really wish we would have gotten more of the brown butter doughnuts. They were seriously SO GOOD. That frosting! I've got to try to recreate it. I could have passed on the Nutella filled ones personally in favor of the other flavors. But if you're a huge Nutella fan I think you'd really like them.
So those are some fun restaurants in Minneapolis that we visited on our trip!
Which Minneapolis/St. Paul restaurants do I need to put on my wish list for next time?!
Here's my other posts about restaurants we've visited in the cities: