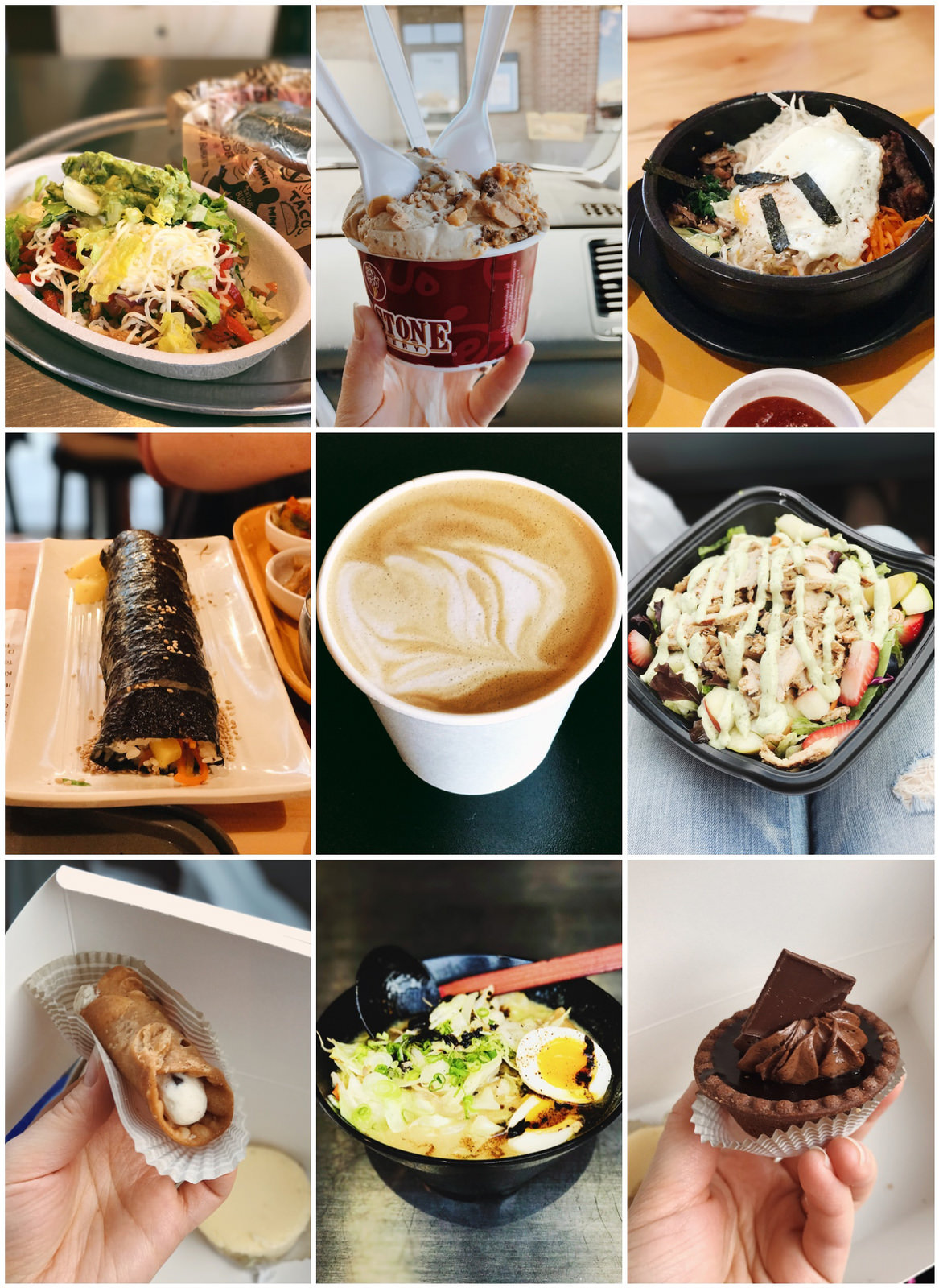 Last weekend we took a shopping trip to the cities (that's what we Minnesotans call Minneapolis and St. Paul). It was our consolation vacation for not being able to go to Florida this fall (womp womp).
We went with my two sisters and their little families. Because it was a fairly large group, there were some *ahem* differences of opinion as to where we should eat. So we decided that the boys would choose some meals, and we girls would choose others.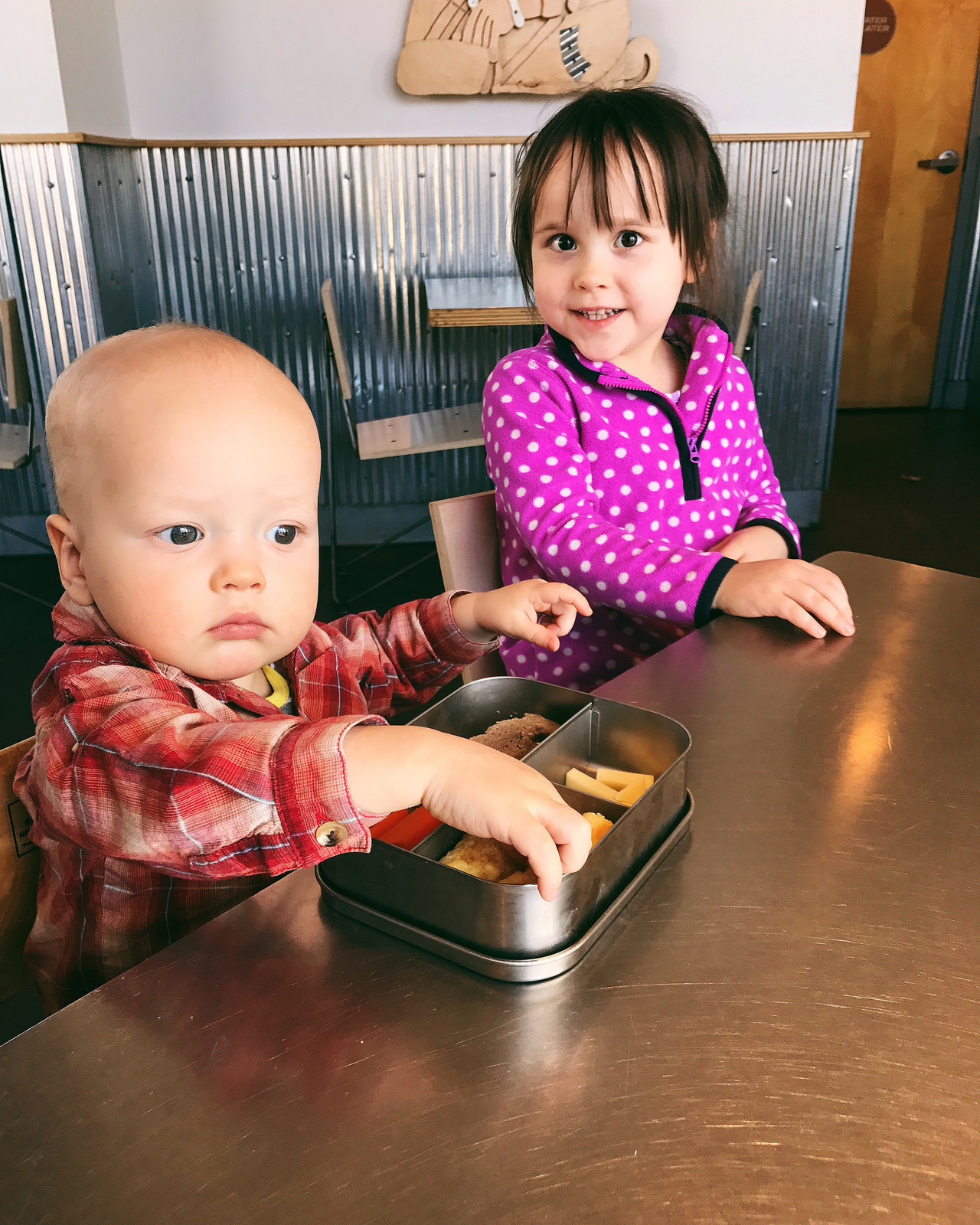 For our first meal, Reuben chose Chipotle. I'm still not feeding James grains, so I packed all his food for the weekend beforehand. Here he was eating rolled-up eggs, cooked carrot sticks, a homemade banana bread + butter sandwich, and cheese slices. I packed it in my LunchBots stainless steel container
. (Affiliate link)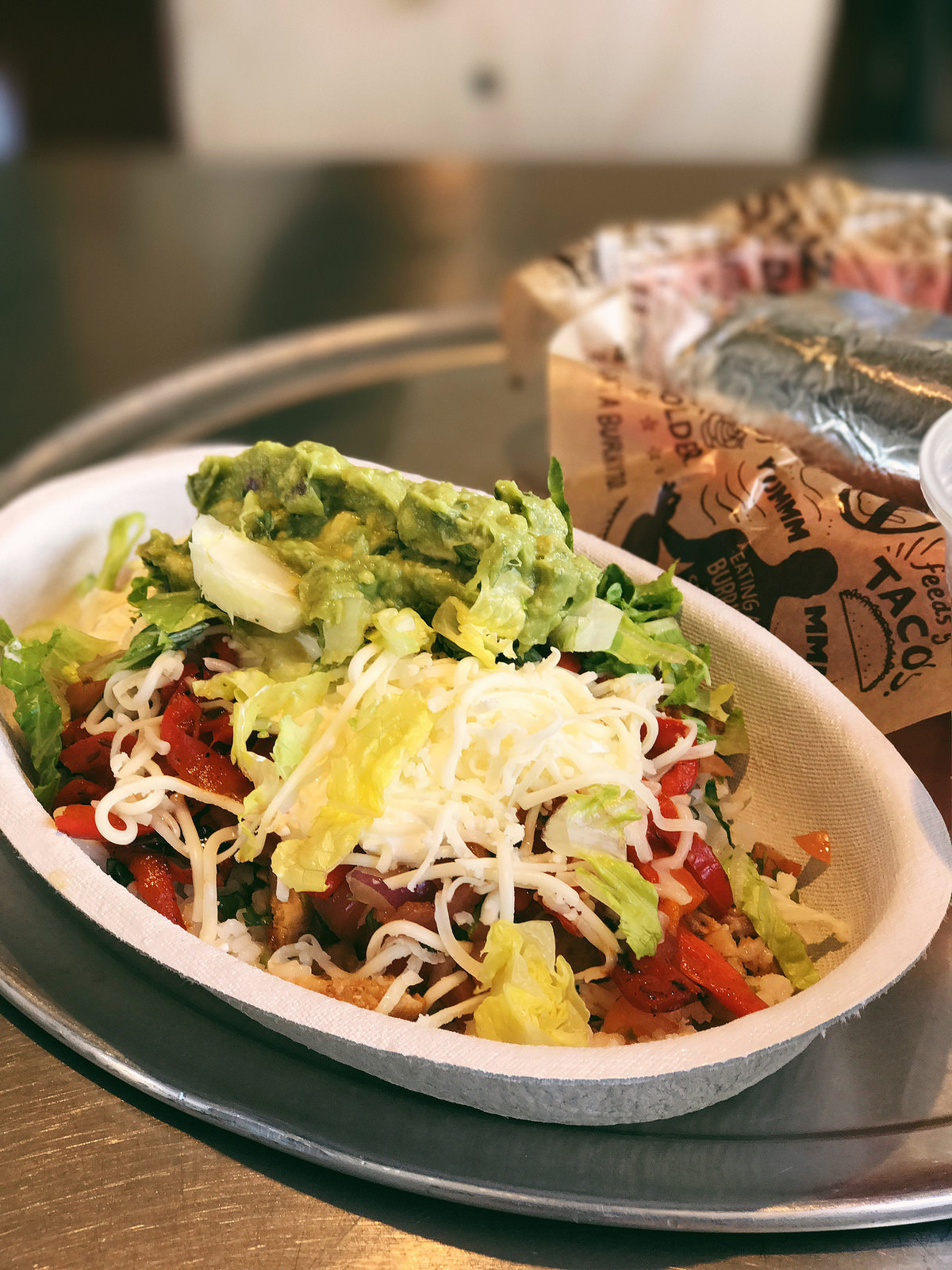 I ordered the burrito bowl with white rice, chicken, fajita veggies, fresh salsa, cheese, sour cream, lettuce, and guacamole. Helen and I weren't able to finish it.
I'm pretty impressed with the ingredients Chipotle uses. Of course they aren't organic, but they're transparent about which menu items contain GMO ingredients, and they don't use funky chemicals in their food. You can see what goes into their food here.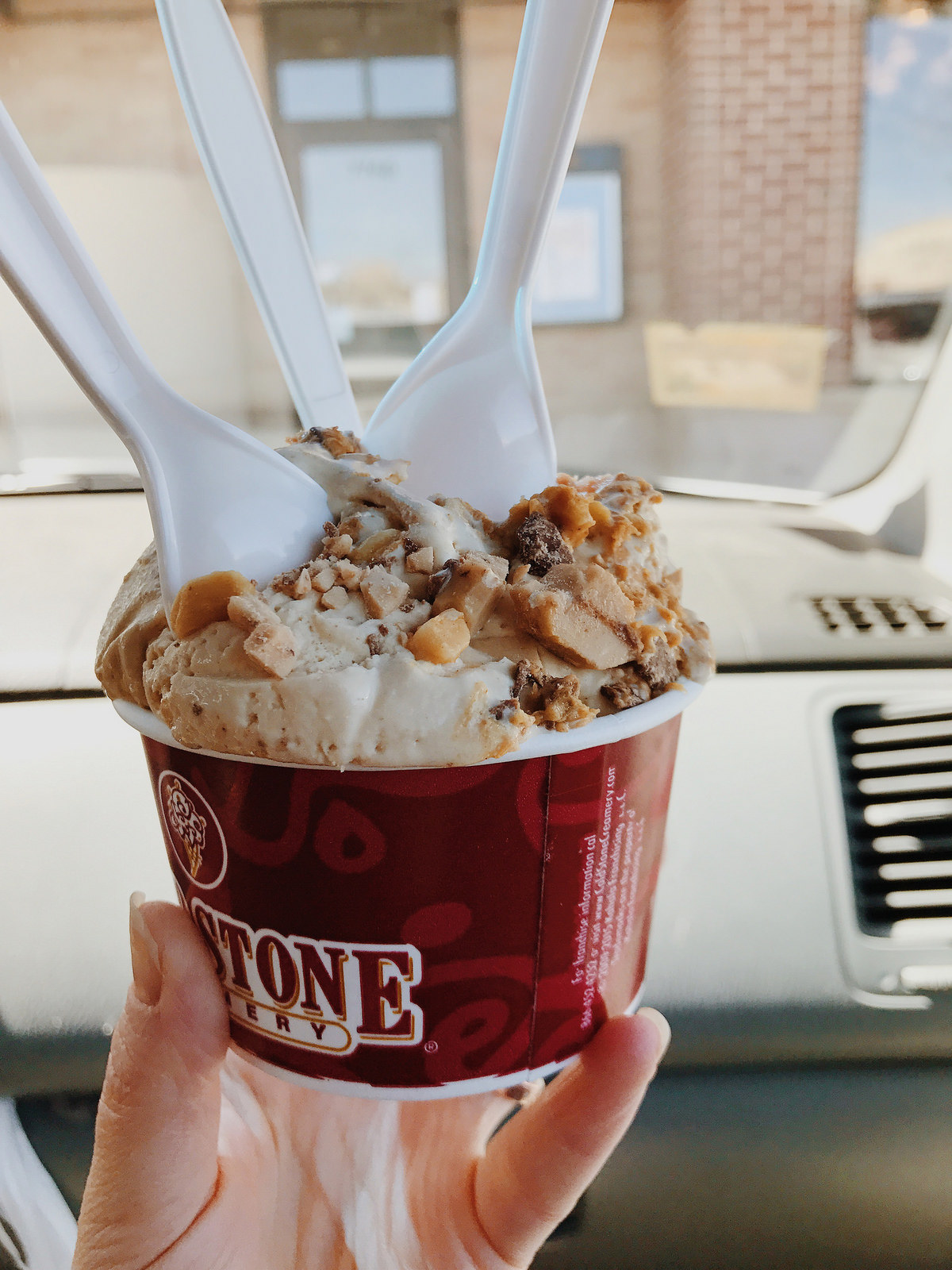 GUILTY PLEASURE ALERT: There was a Coldstone right across the street from Chipotle, so of course I just *had* to go. Right?! I got Coffee Lovers Only but I had the lady replace the caramel with peanut butter. This was probably the best thing I ate all weekend. So incredibly good.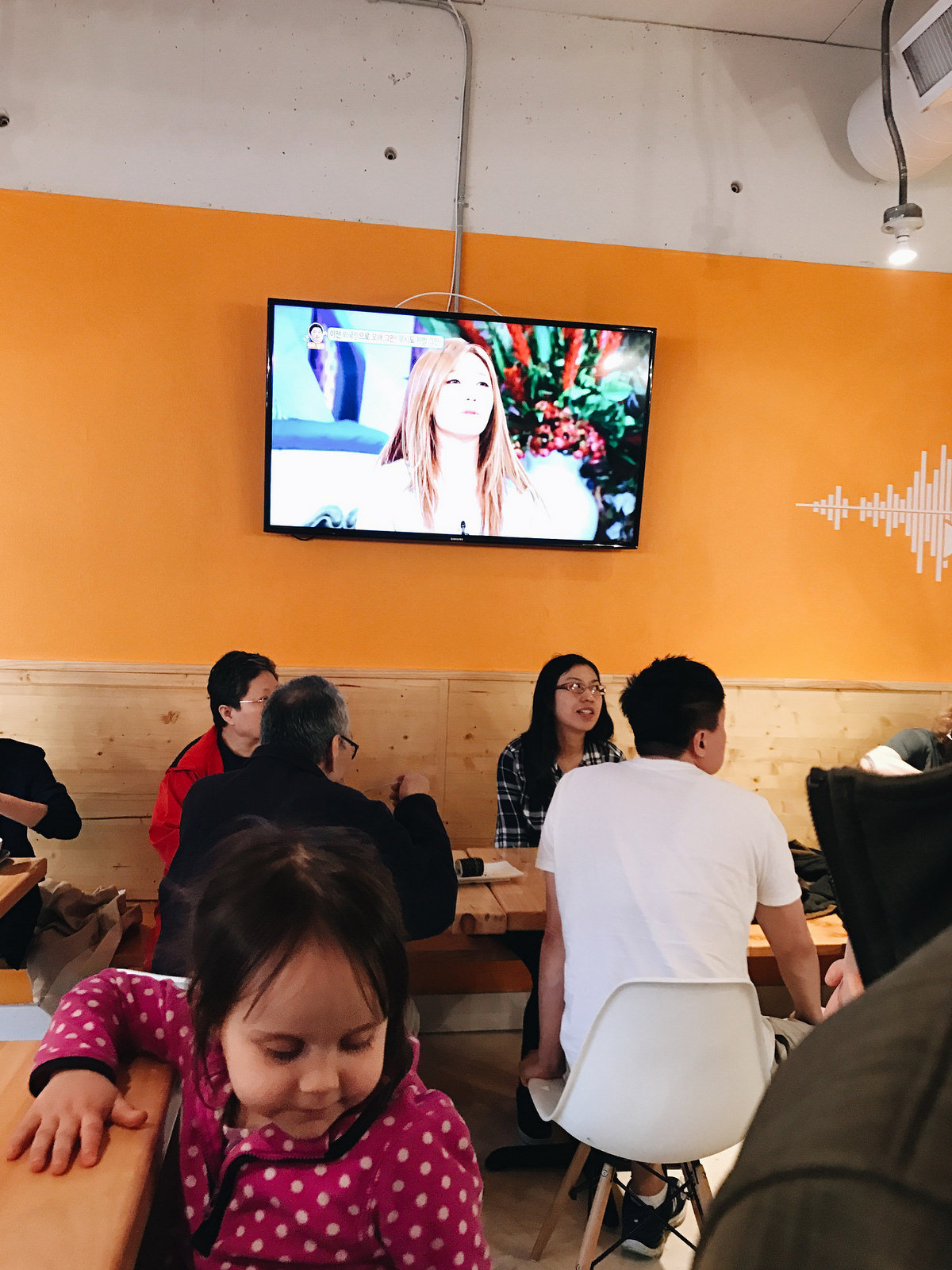 For supper on Friday, I chose Kbop Korean Bistro. It had good reviews and HELLO! Korean food!
After we ordered our food, we realized that it was packed and there wasn't going to be any room for us to sit down. Thankfully a kind Asian gentleman (whom Reuben claims was Lee Min Ho) came up to us and let us have his spot. Crisis averted!
I thought it was funny how they were playing Kpop music videos and a Korean game show on the TVs. You can see a video I took for my Instagram stories HERE.
P.S. – make sure to follow me on Instagram and watch my stories!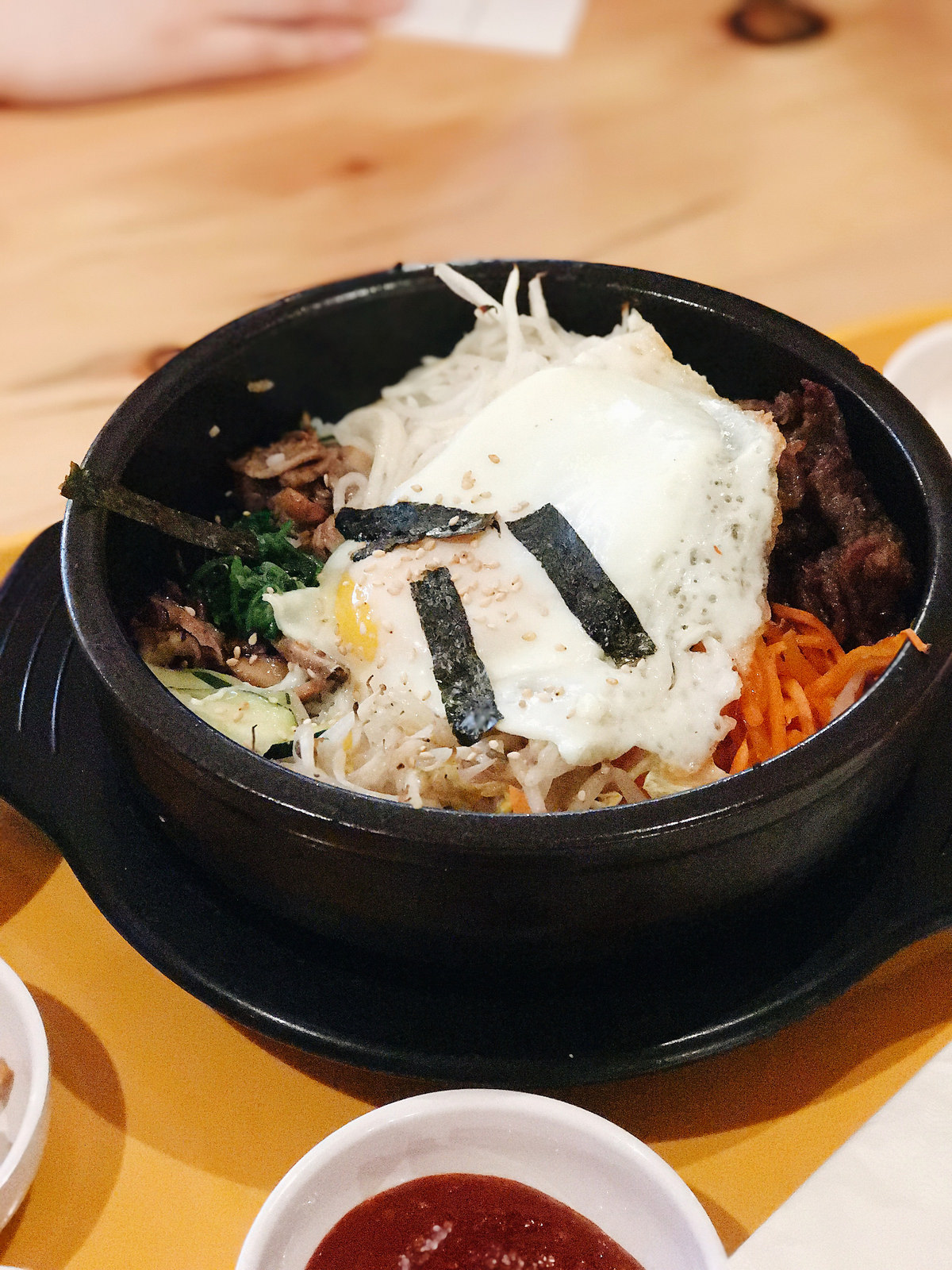 I got their Dolsot Bibimbap which is basically a Korean rice bowl (bibimbap) that's heated up in the bowl so that the rice gets a bit crispy on the bottom. It tasted quite a bit like the bibimbap that I make, except the meat was sweeter.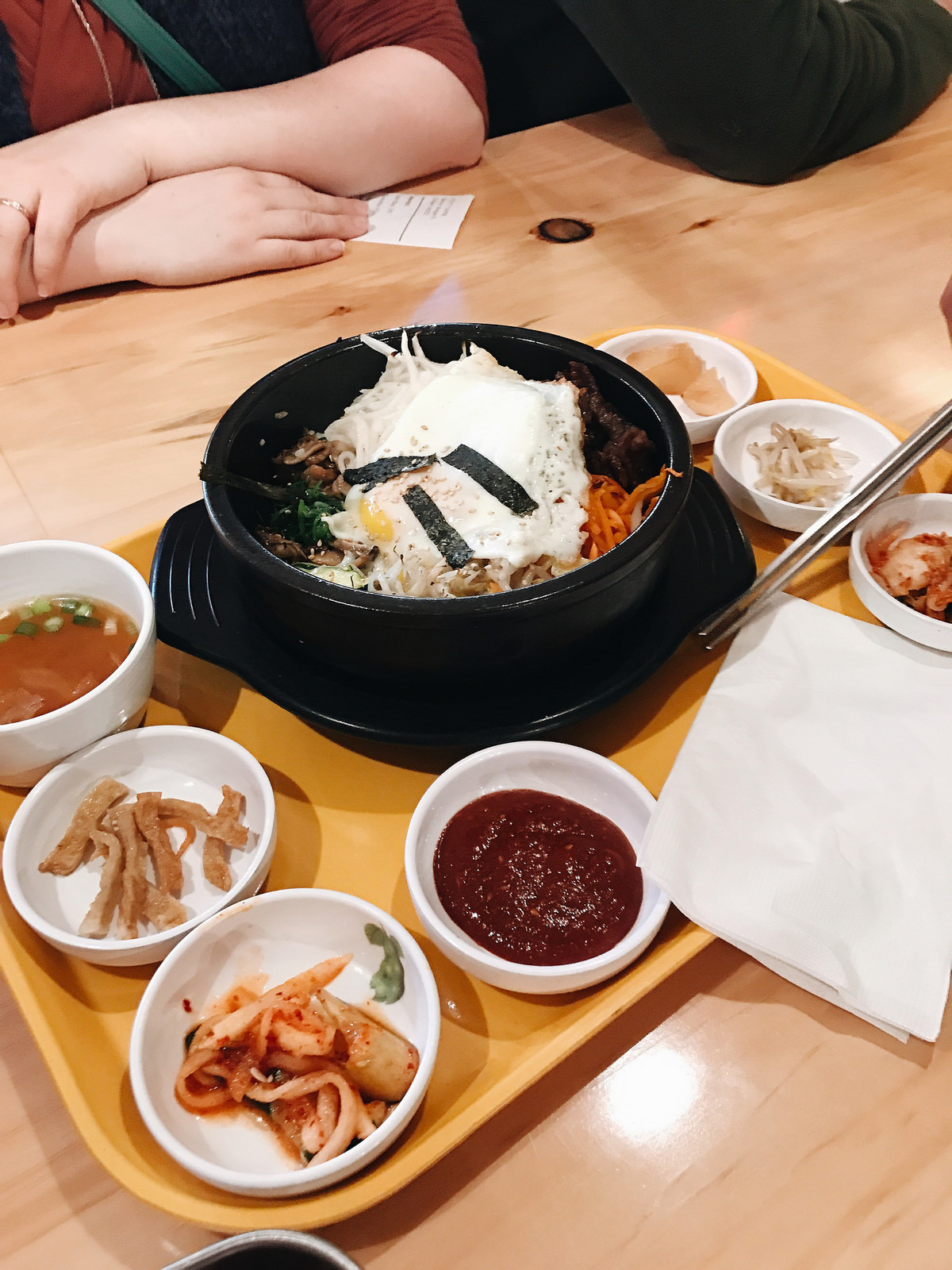 All the banchan (AKA side dishes)! I was happy that the spicy cucumber salad tasted a lot like mine, and the kimchi tasted almost exactly like the one Reuben's mom makes.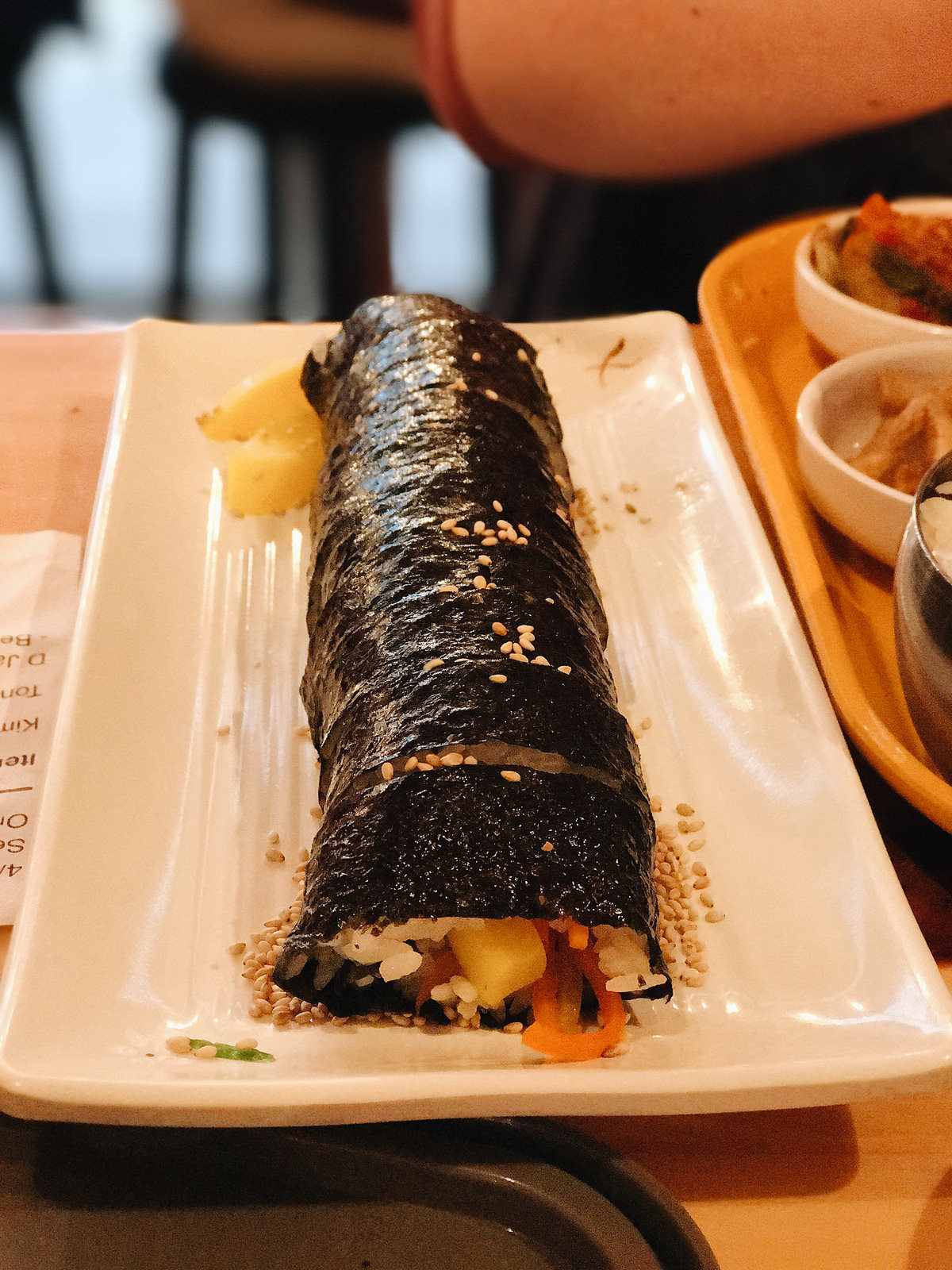 I also ordered kimbap (Korean sushi). Yummy! This was Helen's favorite. And this was actually my sister's roll because we gobbled ours down before I could take a picture.
James was SO crazy at this restaurant. Reuben resorted to feeding him spicy rice (his first restaurant food!) to keep him quiet. And Helen decided to burst into tears when I got water and failed to place it in front of her plate. Ah, the joys of sit-down restaurants with kids…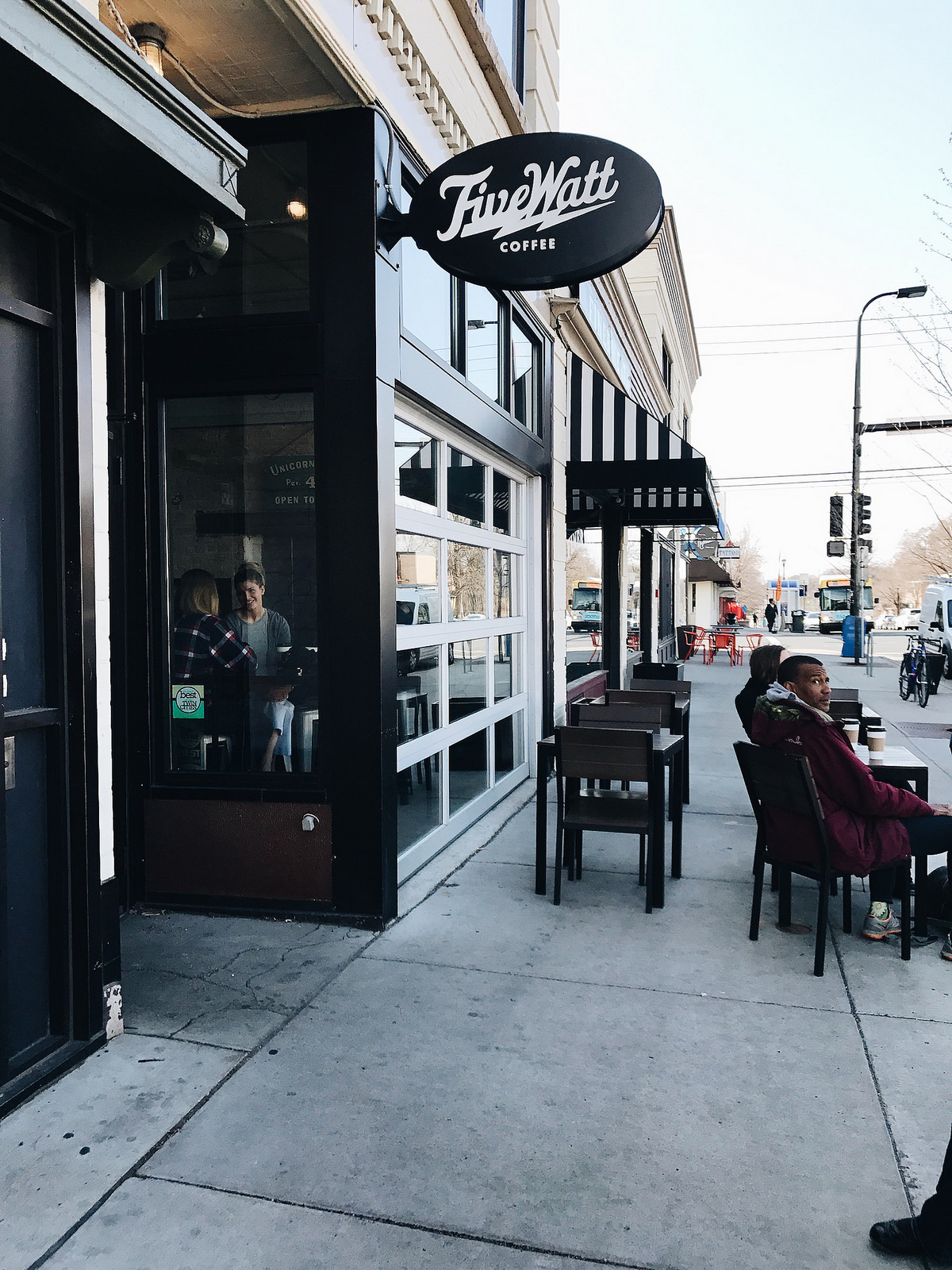 We had both of our breakfasts at the Airbnb house that we rented (Side note: the house was pretty decent, but the neighborhood was a bit…sketchy?). We picked up some eggs, sausage, fruit, milk, and bread at Whole Foods and Trader Joe's and cooked it up in the kitchen. It was nice to not have to rush out of the house in the morning.
After breakfast on Saturday, we convinced the boys to take us to Five Watt Coffee. It's one of the highest rated coffee shops in the Twin Cities.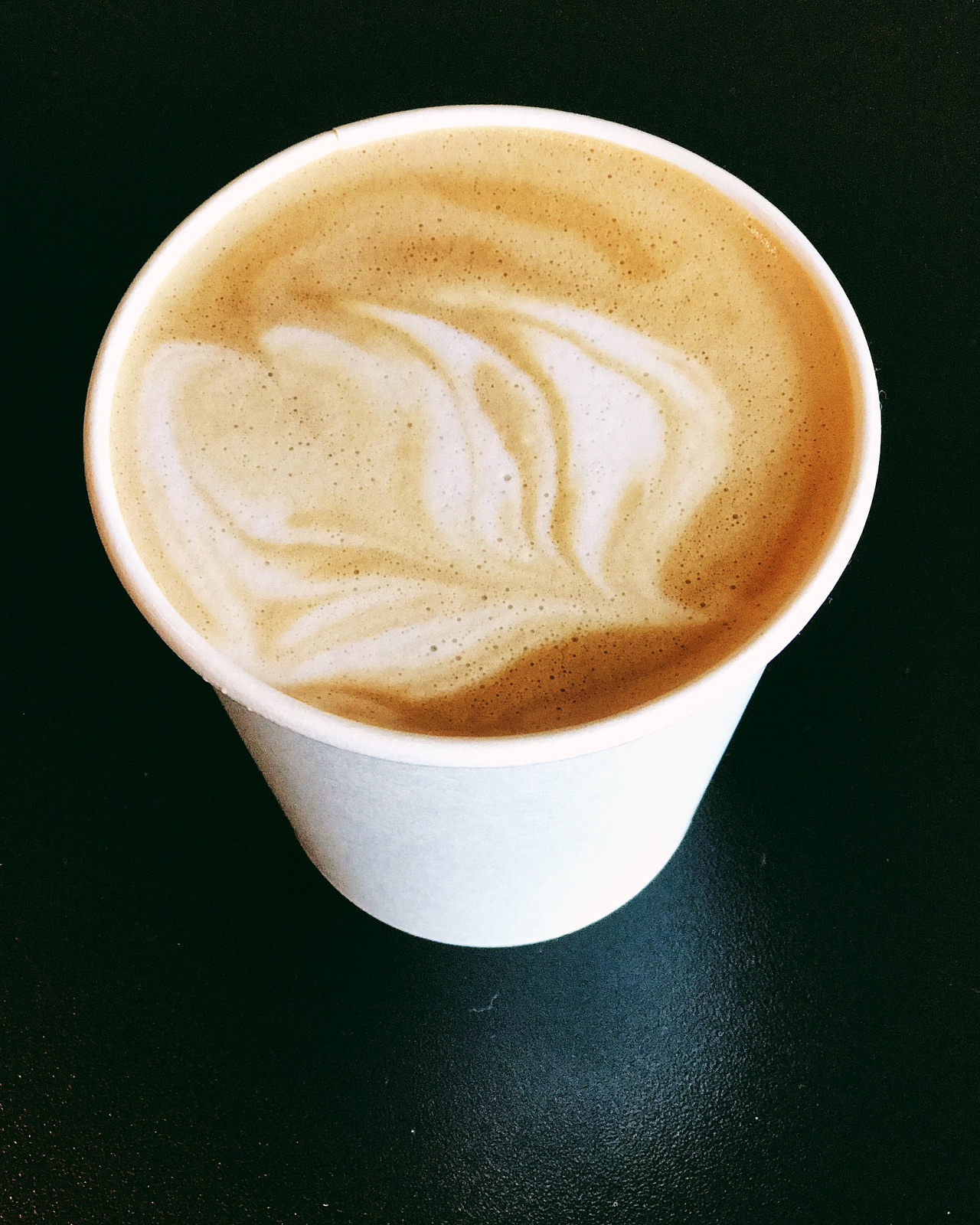 I got my usual: a vanilla breve. I watched the barista working, and it did my heart good to see that they were using the $10/gallon milk that I spied for sale at Whole Foods. The breve was great, though a tad sweeter than I like (I sometimes drink my latte/breve without sweetener). I was a bit disappointed to hear the baristas swearing to each other. Classy.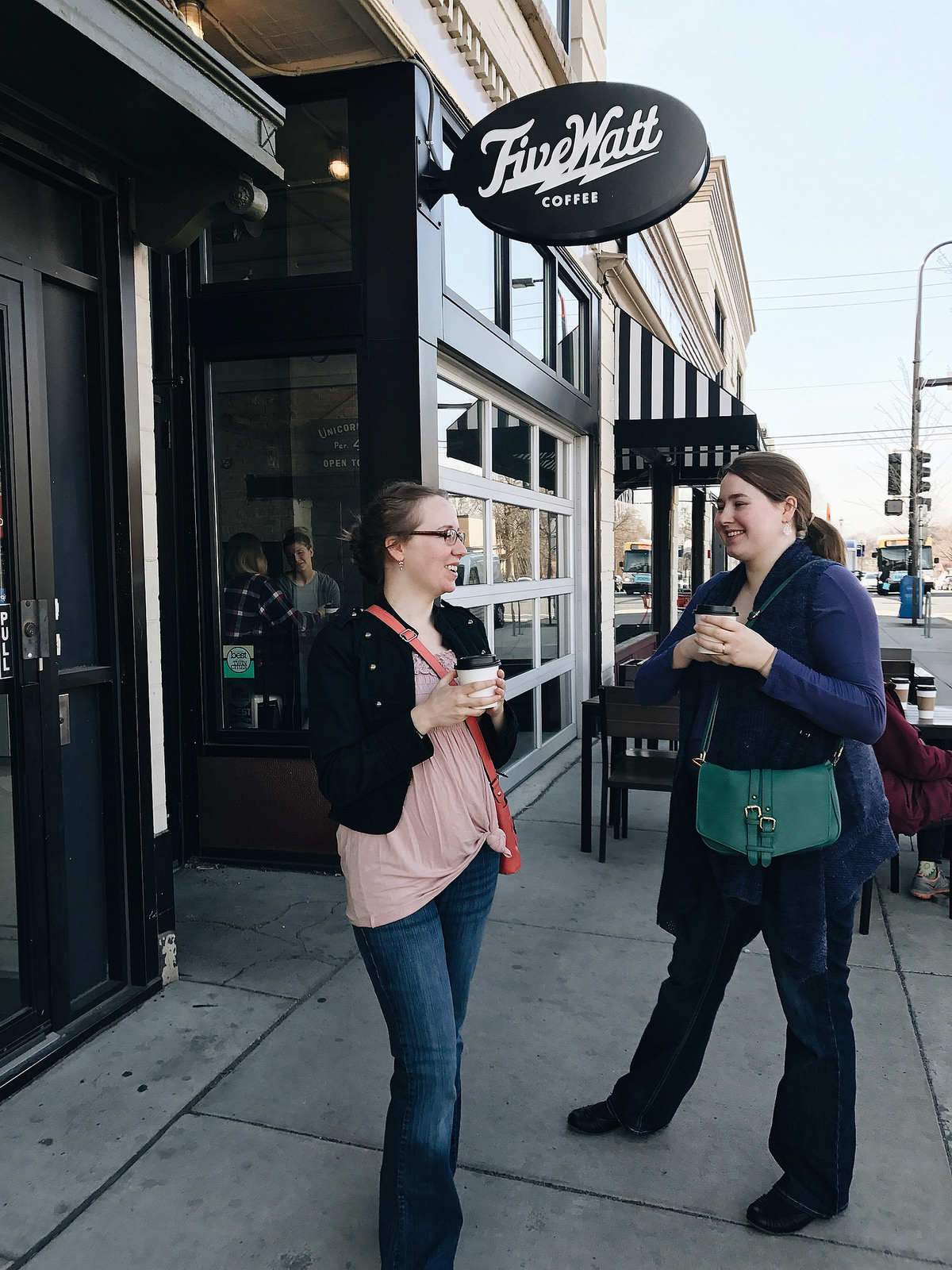 My fabulous sisters. ?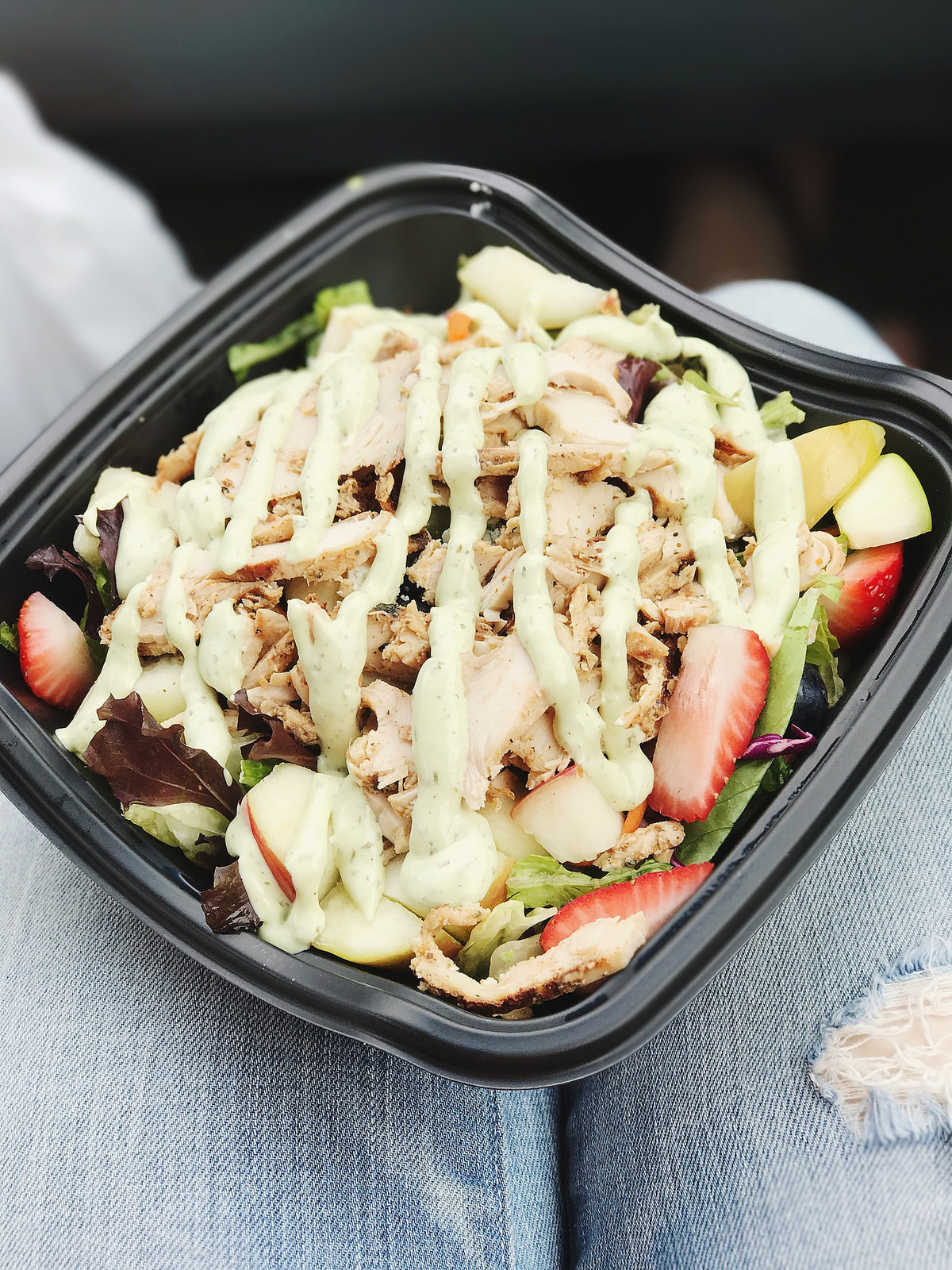 After doing some thrift shopping, it was time for lunch! Our cousin Sam really wanted to eat at Red Lobster, but we convinced him to go for fast food instead (I had promised to make his cheesy biscuits and cinnamon bread sticks as compensation for not choosing a sit-down restaurant for lunch).
We went to Chick-fil-A instead. This was my first time eating there, and I ordered a salad. I'm just not a chicken sandwich kind of girl. I got the grilled market salad with avocado-lime-ranch dressing. It was a pretty decent salad, actually! It had quite a few berries, which impressed me. But I think my choice of dressing was unfortunate. Should have gone with the Chick-fil-A guy's suggestion of apple cider vinaigrette.
After lunch I stopped by West Elm to pick up some food props.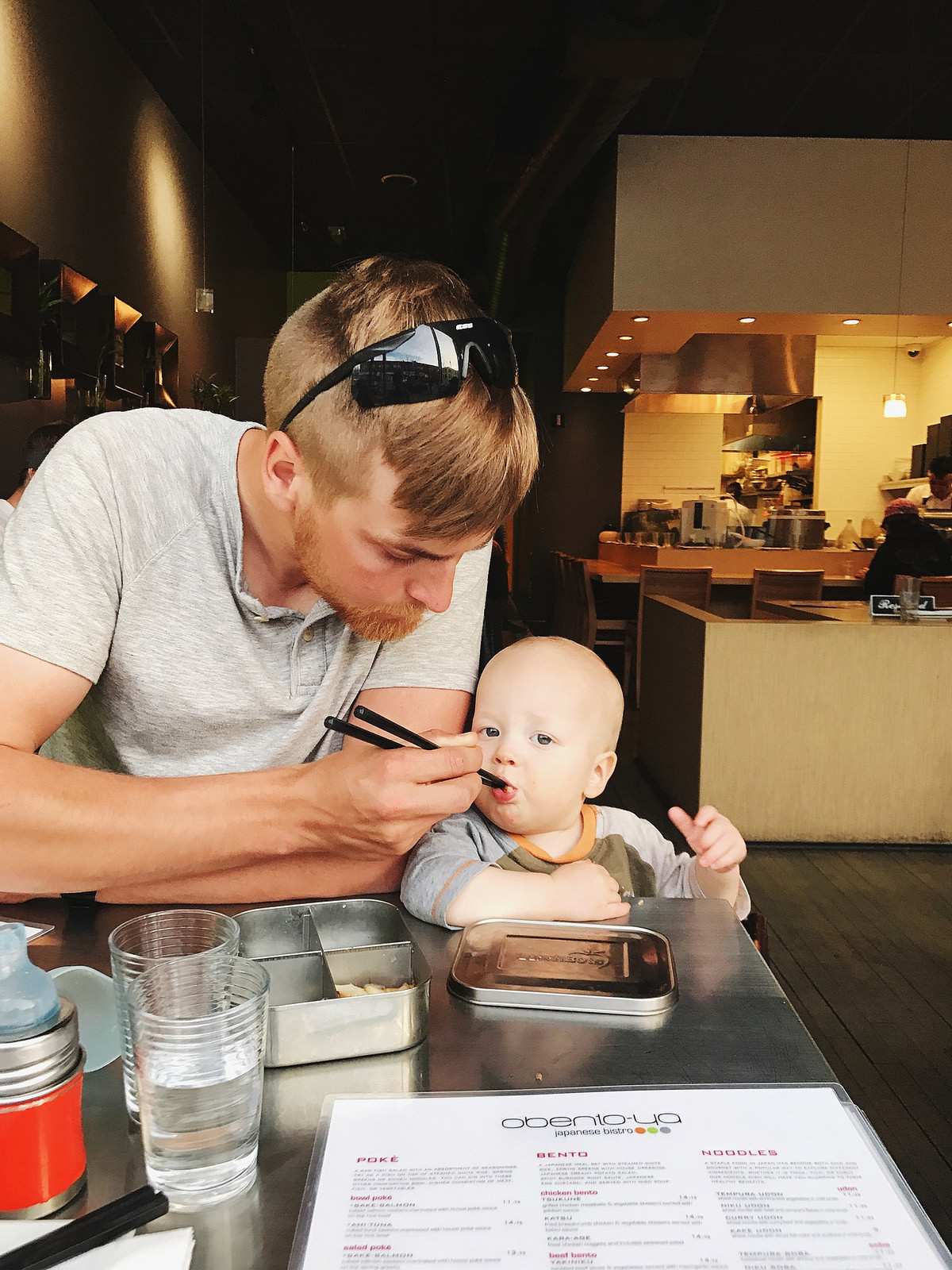 For supper, my sister Amanda chose a Japanese restaurant called Obento-Ya. They didn't provide forks unless you asked for them, so Reuben resorted to using chopsticks to feed James.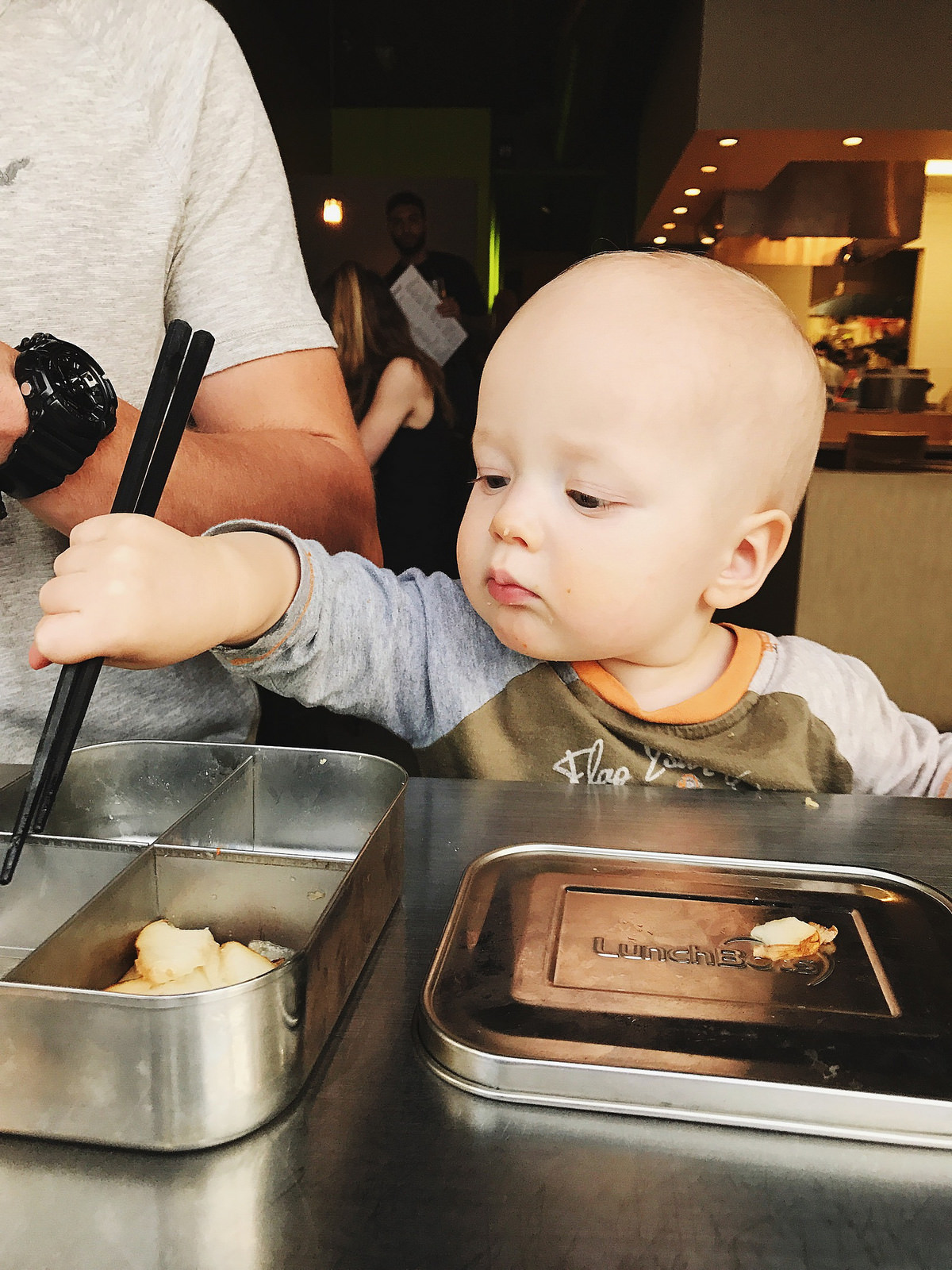 James was determined to learn how to use chopsticks. ?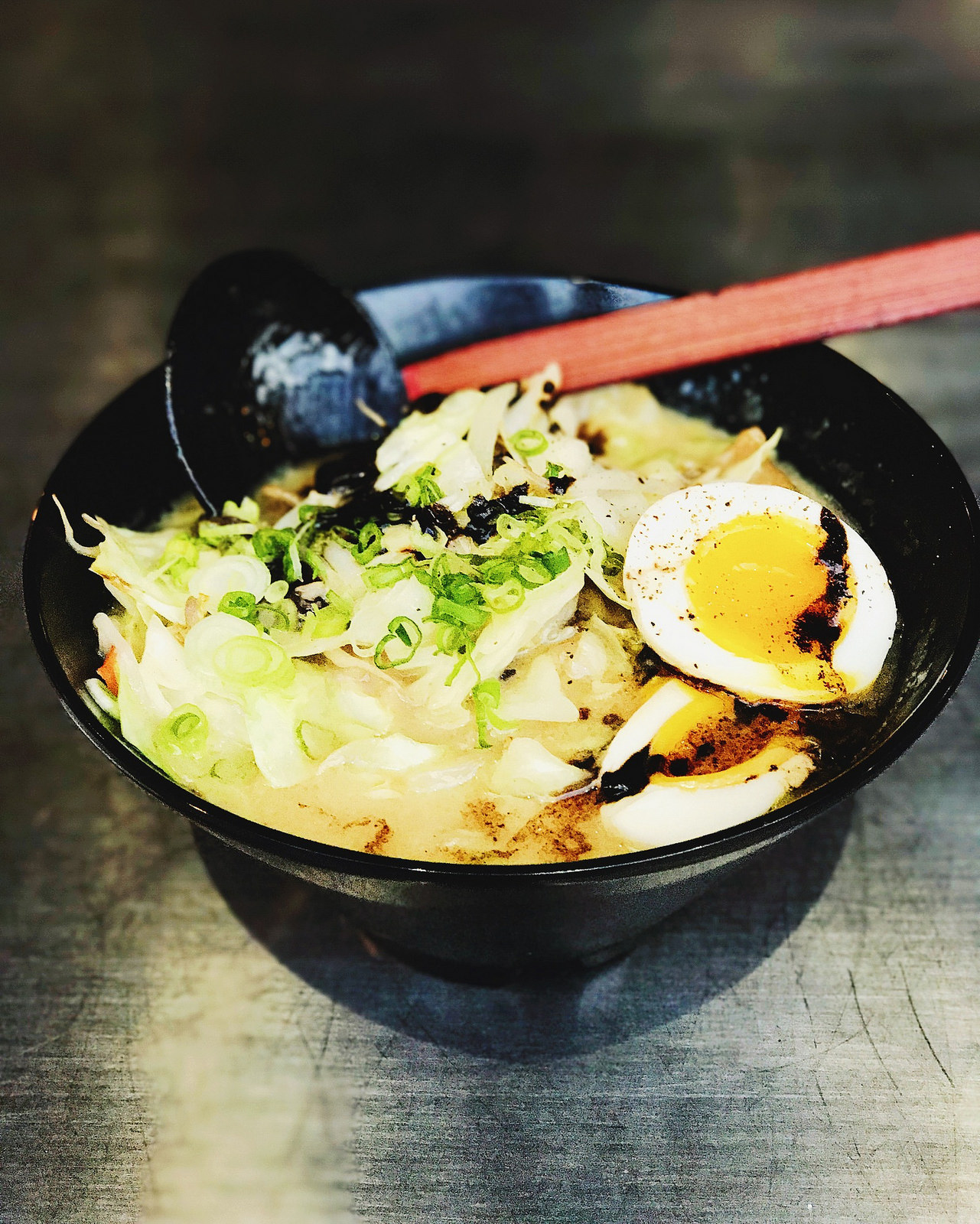 I ordered the tonkotsu (pork broth) ramen with blackened garlic oil. It had wonderful flavor, but it was under-salted in my opinion.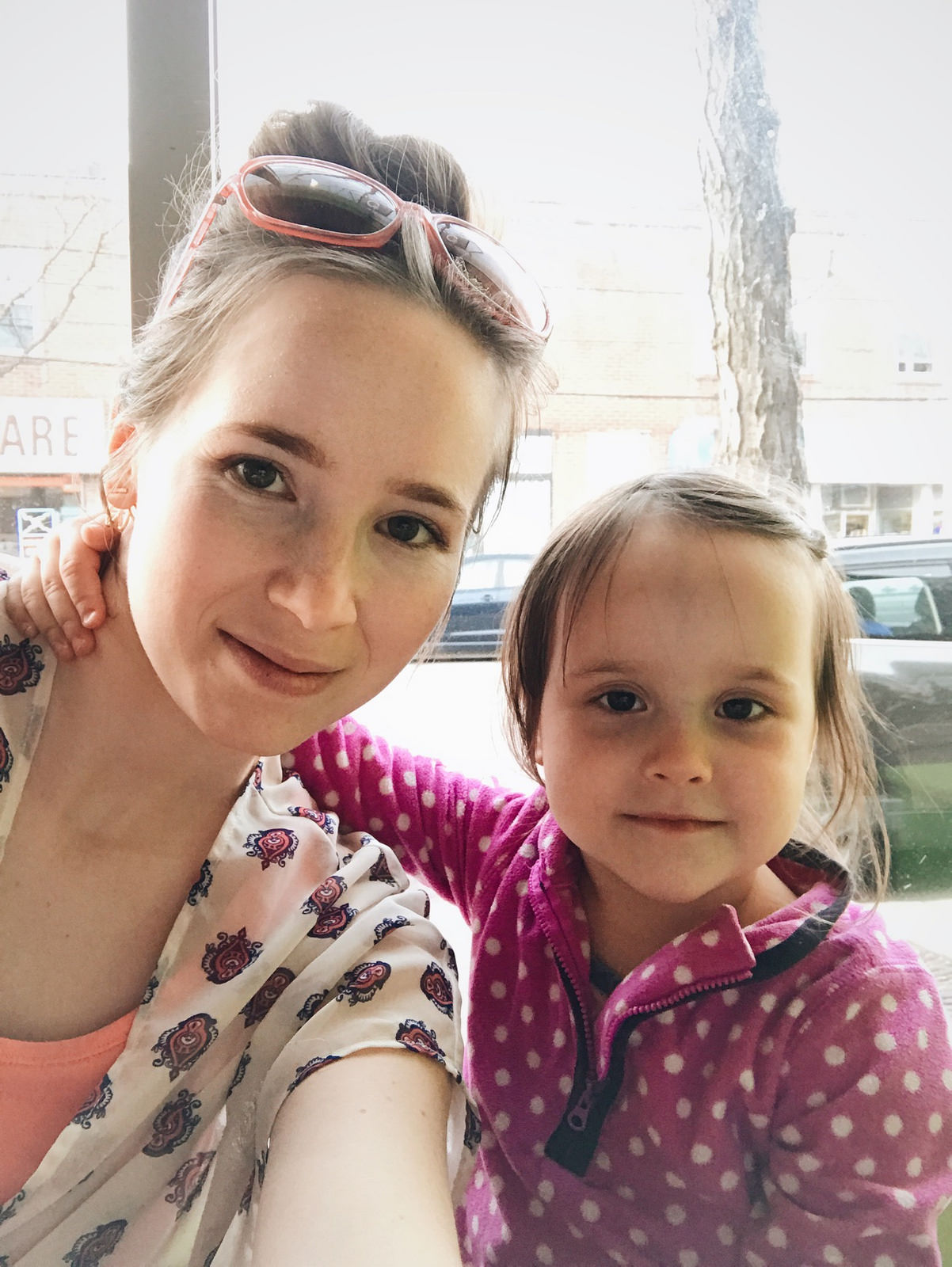 I also ordered some onigiri (rice balls, or pyramids in this case), which were also very under-seasoned.
All of this would have been nothing if it wasn't for the fact that James went berserk. We had to take turns holding him outside the restaurant to keep him from whining. Blah. ?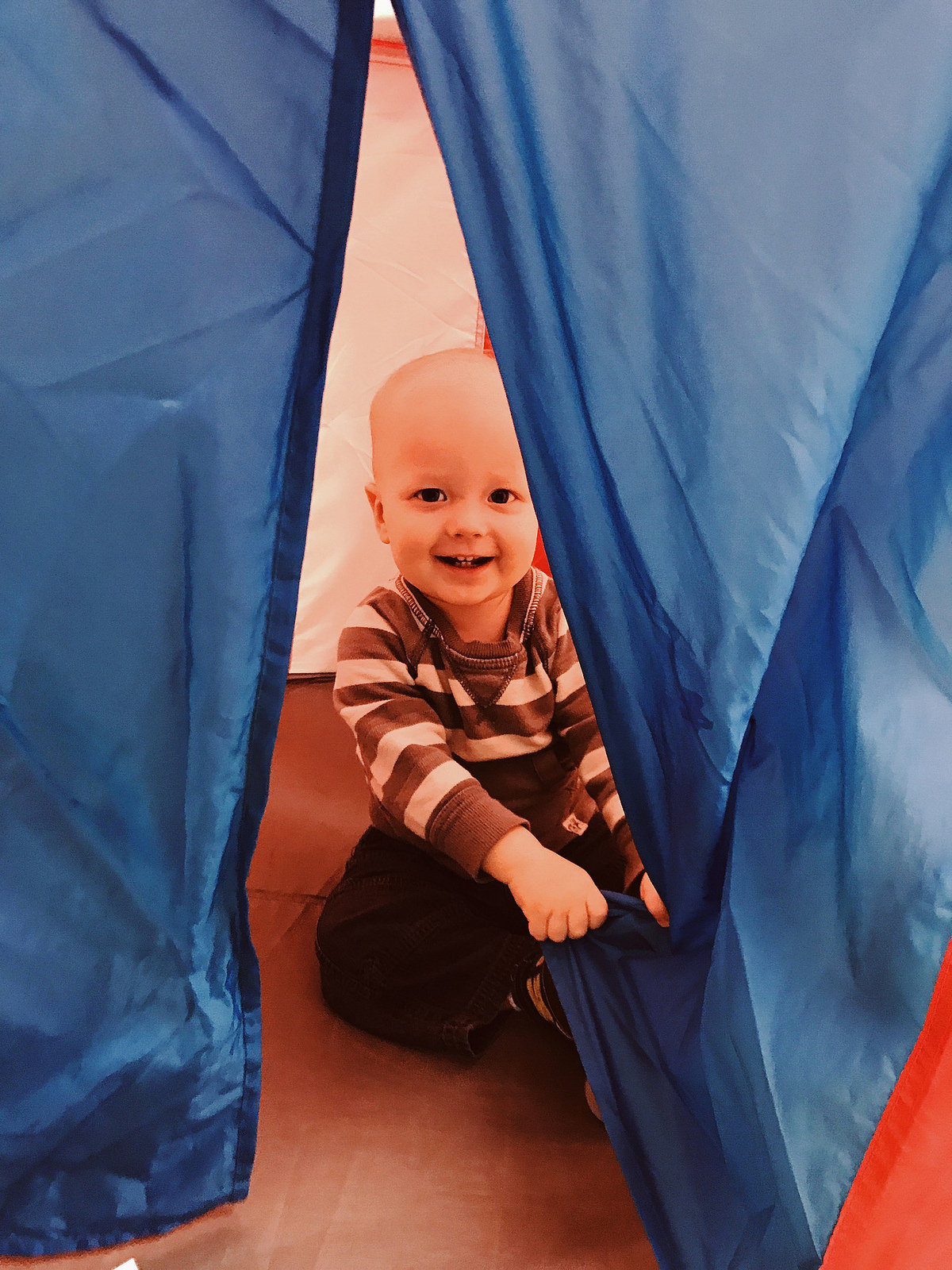 The next day we ate breakfast at the house again, packed our bags, and headed to IKEA. We had to take a break at the kid section to let James and Helen run off some steam.
Afterwards we went to REI (which is super close to IKEA), then headed to St. Paul to eat at Cossetta (which my sister Katelyn chose). Cossetta is basically an Italian subway. You take a tray and order either a sub sandwich, salad, pasta entree, or pizza. It's yummy, but a bit expensive for what you get in my opinion. And it was SO busy.
I got the Chicken Marsala with mostaccioli con ricotta and a breadstick. Then I went back and ordered a pizza slice for the road. We also went into their little bakery and got a few treats which I'll show you in a minute.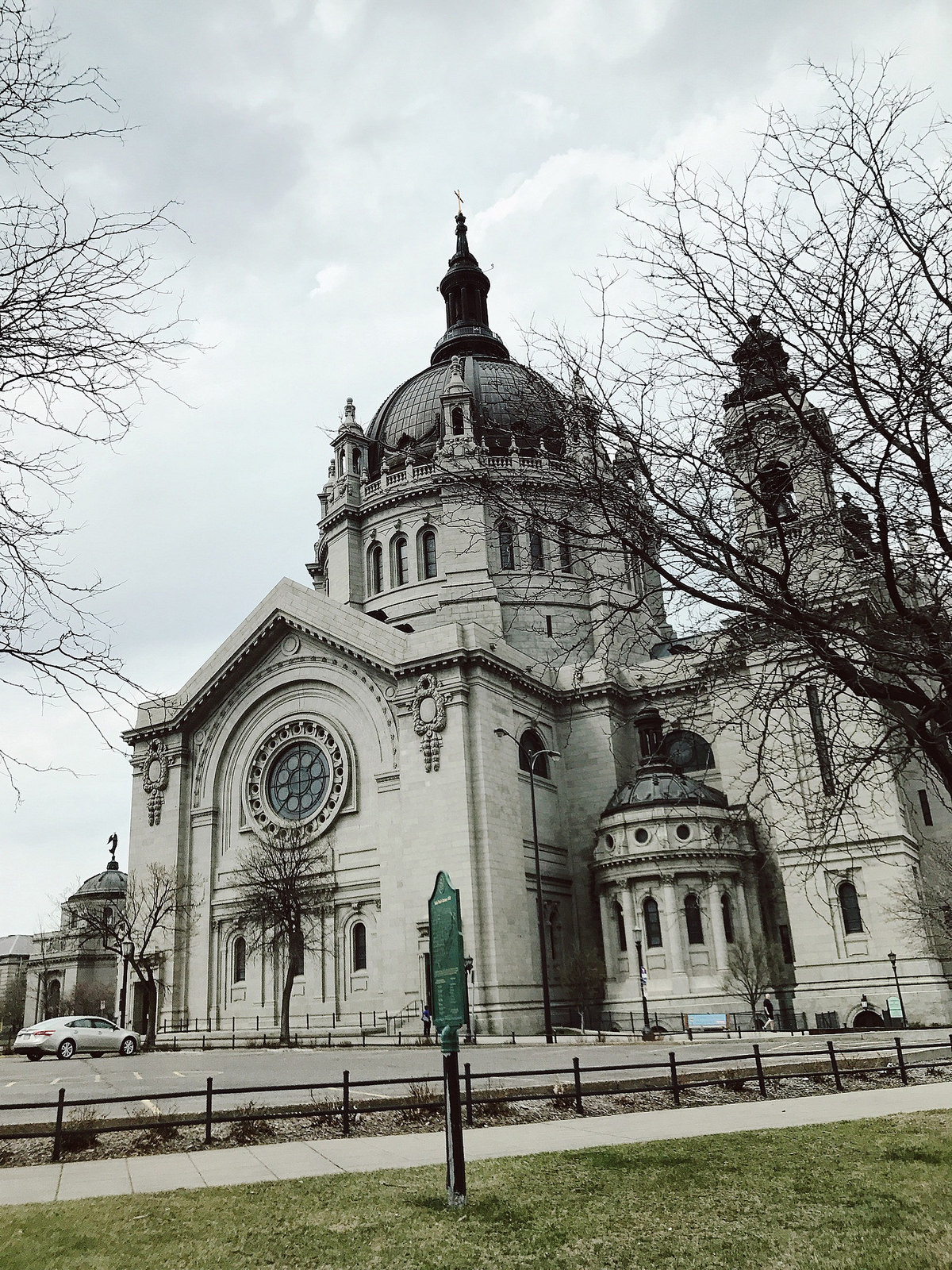 We drove around the fancy district of St. Paul and looked at all the pretty old Victorian houses. Pictured here is the St. Paul Cathedral.
I was also able to convince Reuben to let me go to Anthropologie for a few minutes where I picked up a couple of gifts.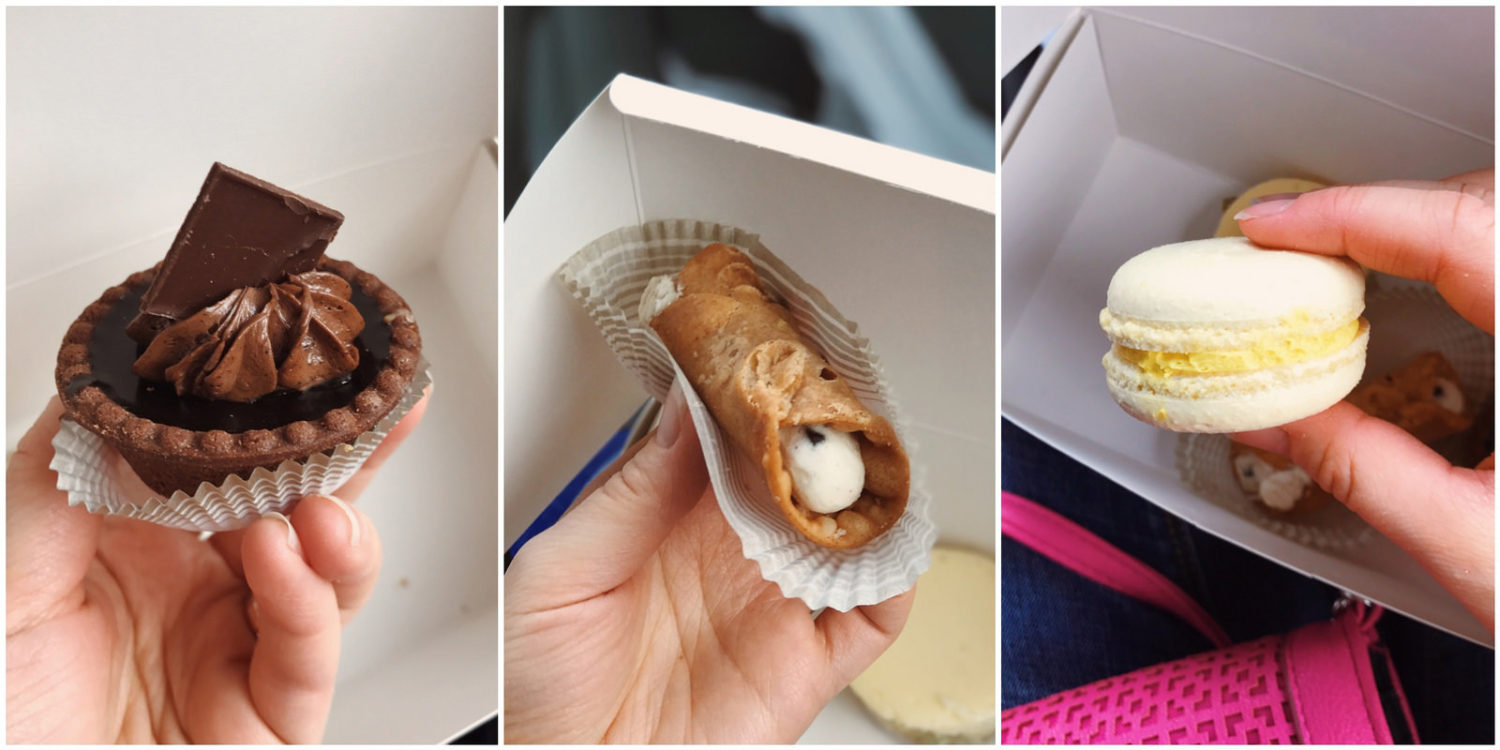 On the ride home, I broke out the treats from Cosetta. From left to right: Peanut butter tart, cannoli, and lemon macaron. The peanut butter tart was my favorite, and the macaron was Reuben's. I might have to try to recreate it. I also got a mini cheesecake, but it wasn't anything special – too fluffy.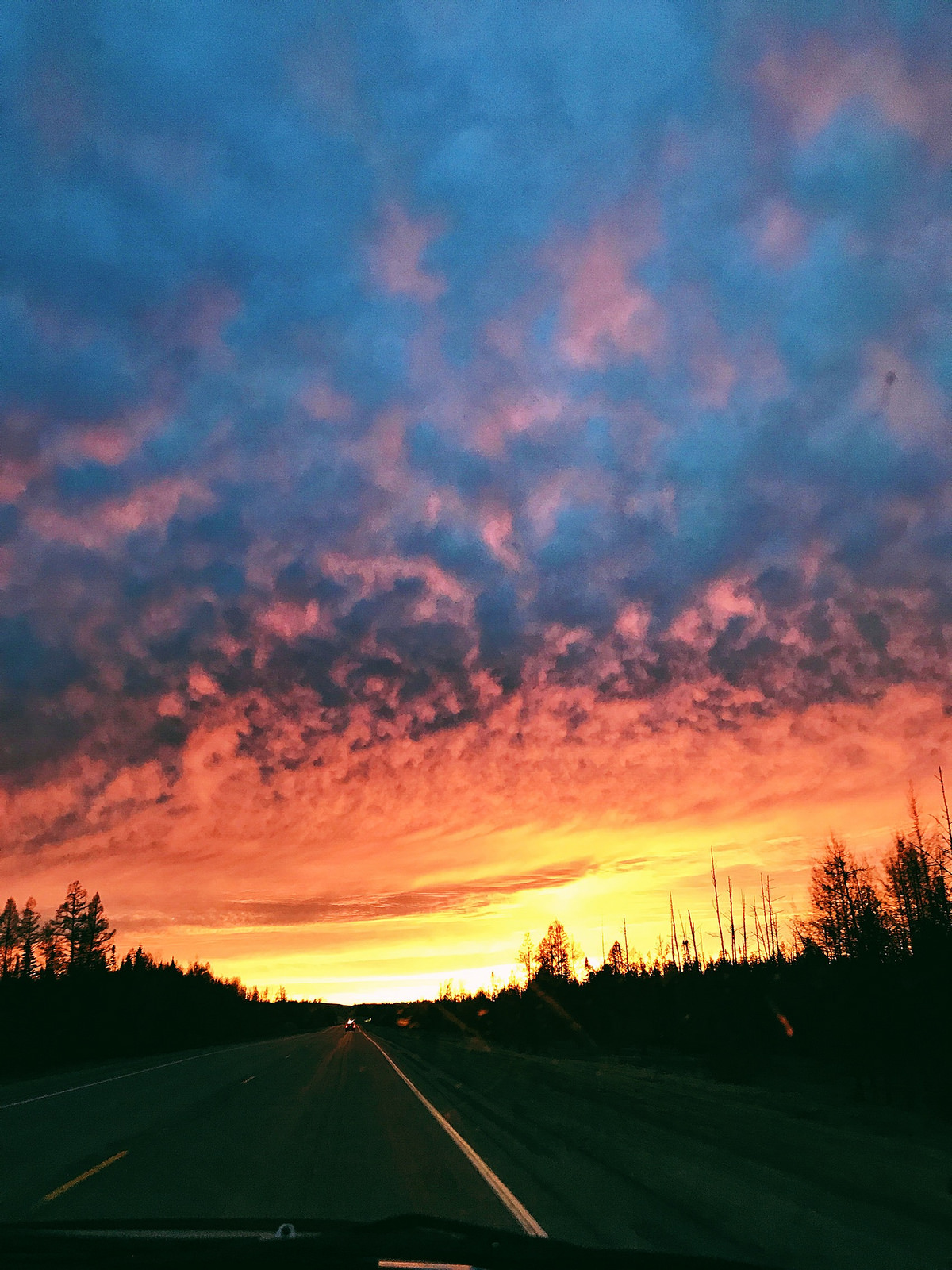 We also witnessed a glorious sunset on the road home.
All in all it was a fun trip, but very exhausting with two small children.
xoxo
Erica
NOTE: Some links are affiliate. All opinions are my own. If you click on a link and make a purchase, I'll earn a small commission. This has zero impact on the price you pay, and it helps to keep Buttered Side Up running. Thank you for your support!