This Ethical Christmas Gift Guide 2019 gives you fair trade gift ideas for health nuts, hostesses, beauty lovers, kids or babies, and stocking stuffers!


Something that has become important to me over the years is choosing to buy ethical/fair trade whenever possible. I'm definitely not perfect in this. And there are some things that are nearly impossible to find Made in the USA or Ethical (for example, electronics are difficult, and buying used is one workaround).
Today I'm sharing my ethical Christmas gift guide for 2019. I'm including the country of origin whenever possible!
So without further ado, here's some gift inspiration for you:
Ethical Christmas Gift Guide for the Health Nut: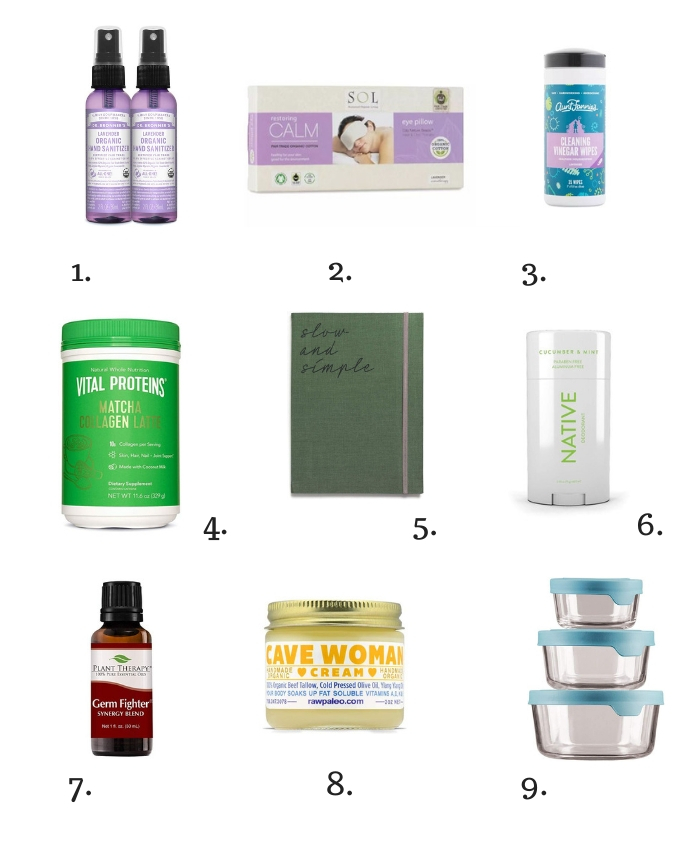 1 Dr. Bronner's Organic Hand Sanitizer Spray – There's no need to use those toxic hand sanitizers. This one is 99.9% effective against germs! Fair Trade ingredients.
2 SOL (Sustained Organic Living) Cotton Eye Pillow – I know it might seem funny to have an eye pillow on a gift guide for health nuts, but sleep is vital to your health, folks! Fair trade and assembled in the USA.
3 Aunt Fannie's Cleaning Vinegar Wipes – Lavender – Skip the toxic cleaning wipes and buy these vinegar-based ones instead! Made in the USA.
4 Vital Proteins Matcha Collagen Latte – Made in the USA. The matcha is from Japan.
5. "Slow and Simple" Journal – Again, a journal may seem like a strange thing to include for a health nut. But mental health is so important, and journaling can really help to de-stress. Made in South Korea.
6. Native Cucumber Mint Deodorant – This is the best natural deodorant I've ever used. It doesn't stain my pits, and it smells amazing. A word of caution: you'd want to know someone really well and know that they wouldn't be offended if you gave the deodorant. If you know what I mean. Made in the USA.
7. Plant Therapy Germ Fighter Essential Oil Blend – Perfect for diffusing to keep winter germs at bay.
8. Cave Woman Cream – Made with just 3 natural ingredients: 100% organic beef tallow, organic cold pressed olive oil, therapeutic grade ylang ylang essential oil. Made in the USA.
9. Anchor Hocking TrueSeal Glass Food Storage Containers – Glass is a healthier option for storing food. Made in the USA.
Gift Ideas For the Hostess: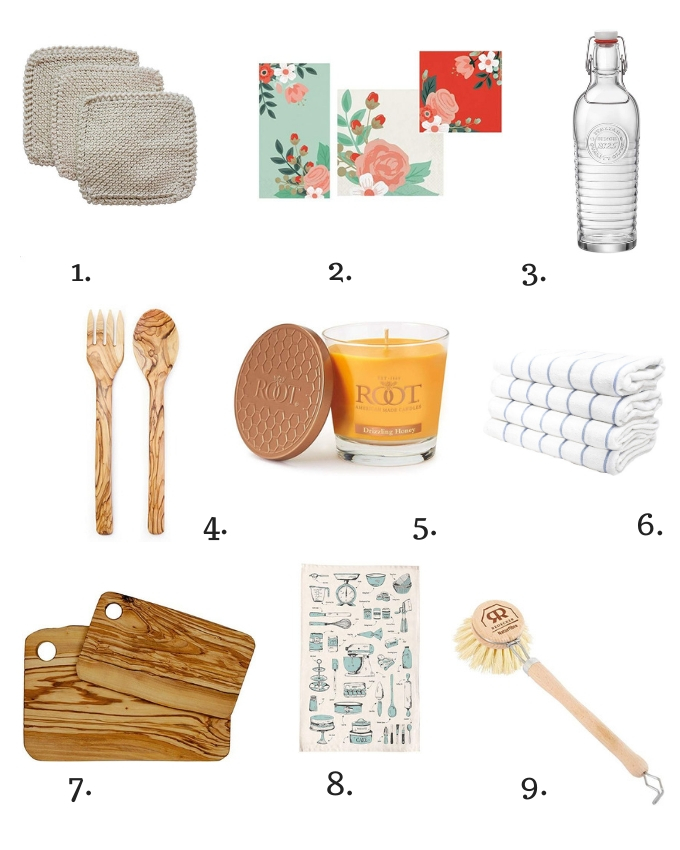 1 Organic Cotton Scrub Cloths – These are hand knit by women in a small village outside Calcutta, India. Fair Trade.
2 Floral Paper Napkin Set – Made in the USA with water based dyes.
3 Bormioli Rocco Italian Glass Pitcher – Made in Italy.
4 Olive Wood Salad Server Set – Handmade in Jordan by disadvantaged women and men. Fair Trade.
5 Root Candles Honeycomb Beeswax Blend Candle – Natural and made in the USA.
6 Blue Striped Towels – These are actually meant to be beach towels, but I think they would be lovely bath towels as well! Made in the USA.
7 Solid Natural Olive Wood Reversible Chopping Board – These look so pretty! Made in Italy.
8 Baking Delight Tea Towel – Screen printed and hand sewn in Lincolnshire, England.
9 Dish Brush with Untreated Beechwood Handle – So pretty and made in Germany!
Ethical Christmas Gift Guide For the Tea or Coffee Lover: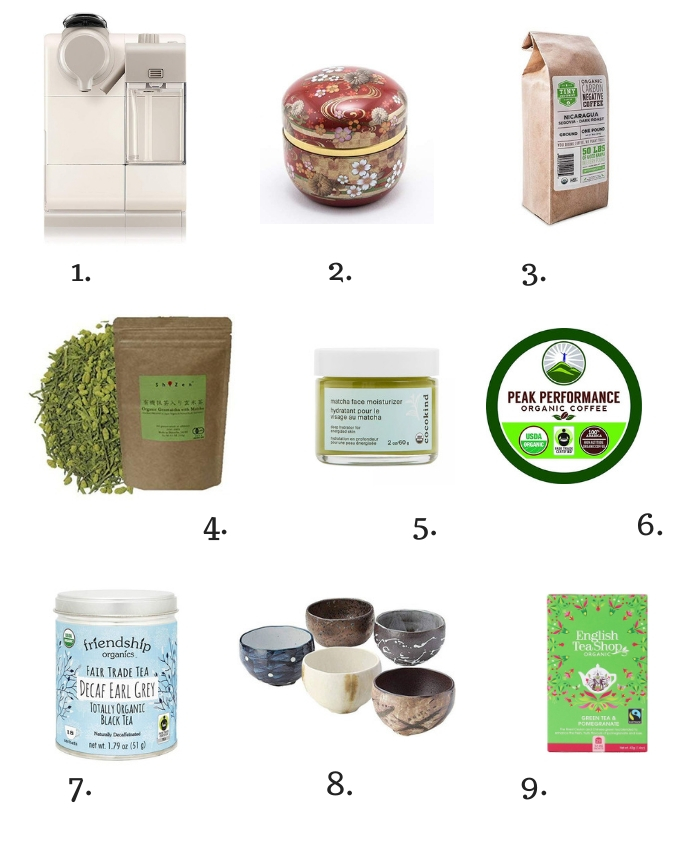 1 Nespresso Lattissima Touch Espresso Machine with Milk Frother – For those that love a latte, but have a busy lifestyle. Made in Italy.
2 Sakura Loose Tea Container – What a pretty way to store your loose leaf tea! Made in Japan.
3 Tiny Footprint Coffee – 100% Fair Trade, Organic, Shade-Grown Arabica Coffee.
4 Organic Genmaicha Green Tea – My sister bought this for me, and I loved it! Made in Japan.
5 Cocokind Organic Matcha Face Moisturizer – The true matcha lover wants to moisturize their face with it as well as drink it. ? Fair trade.
6 Peak Performance Organic Coffee Pods/K Cups – For the person on your list that's in love with their Keurig. Fair Trade.
7 Friendship Organics Decaf Earl Grey Tea – Naturally decaffeinated black tea (100% organic) with the purest organic bergamot oil imported directly from Southern Italy. Fair trade.
8 Matcha Bowl Set – So pretty! You could split these up and give them to several tea loving friends. Made in Japan.
9 English Tea Shop Organic Green Tea Pomegranate – "An aromatic infusion of zesty ripe pomegranate, sweet rose petals and Fairtrade green tea."
Gift Ideas For the Beauty Lover: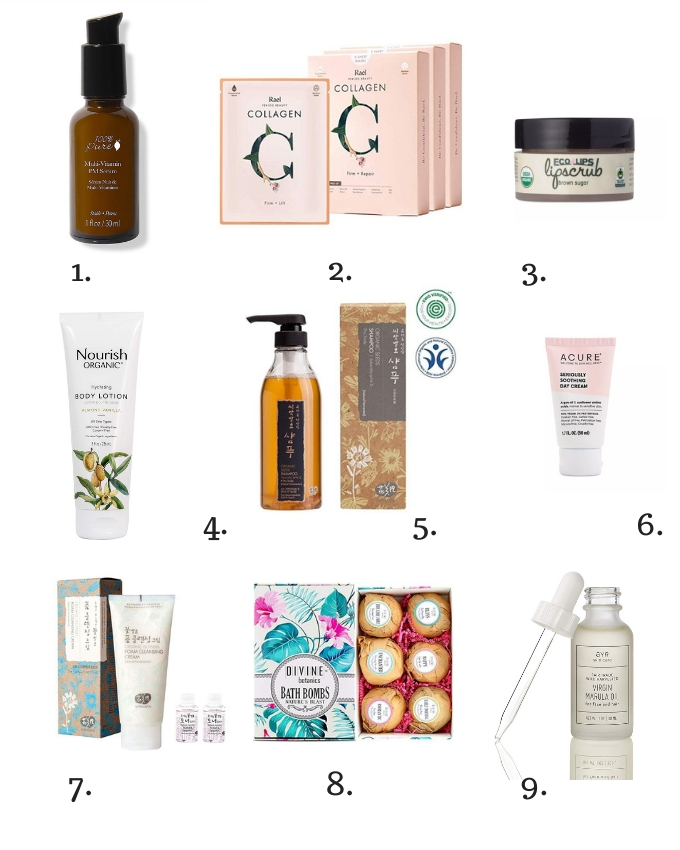 1 100% PURE Multi-Vitamin PM Serum – Definitely a splurge – I own this and it's lasted me for quite a while. Made in the USA with globally sourced ingredients.
2 Rael Youth Island Face Mask Sheet With Collagen – I recently purchased these and have been enjoying them! Made in Korea.
3 Eco Lips Brown Sugar Lip Scrub – For combating cracked winter lips! Fair trade.
4 Nourish Organic Body Lotion – This is what I'm using to stave off itchy winter skin. I love the smell! It does take a bit of rubbing to get it to absorb, JSYK. Made in the USA with domestic and globally sourced ingredients.
5 Whamisa Organic Seeds Mild Acidic Hair Shampoo – This one is EWG verified and made in Korea.
6 ACURE Seriously Soothing Day Cream – Another one that I recently purchased. It's quite hydrating, so it would be awesome for someone with dry skin, but not oily skin. Made in the USA with domestic and global ingredients.
7 Whamisa Organic Flower Foam Cleansing Cream -Helps to balance your skin's pH. Made in Korea.
8 Essential Oils Lush Bath Bombs – Perfect for encouraging self care! Made in the USA.
9 Ayr Skin Care Organic Marula Oil – I've been using argan oil and avocado oil to cleanse my face for years, but I'm thinking I'll switch to marula oil! Wild harvested and fair trade.
Ethical Christmas Gift Guide for Kids or Babies: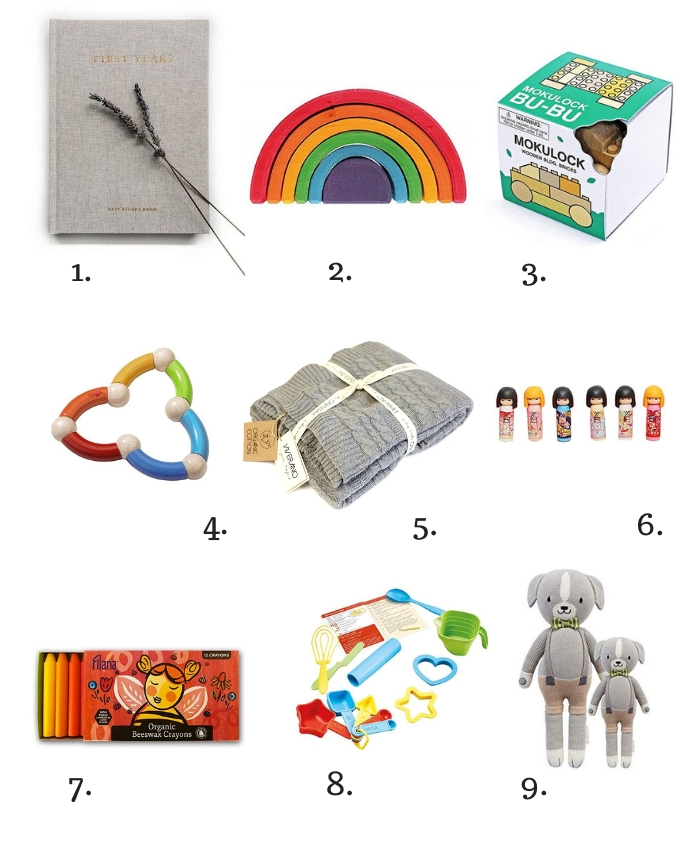 1 The Minimalist Baby Book – "Filled with unique prompts, journal entries, spaces for photos and quick fill-in charts. There's a place to remember each birthday, funny quotes and more." Made in the USA with recycled paper.
2 Grimm's 6-Piece Rainbow Stacker – "Handcrafted in Europe by German company Grimm's Spiel & Holz Design using wood and certified non-toxic, water based colors."
3 Mokulock – These are basically wooden LEGO. Made in Japan.
4 HABA Color Snake Clutching Toy – BPA and phthalate-free, water-based, solvent-free lacquers. Made in Germany.
5 Viverano 100% Organic Cotton Throw Cable Knit Blanket – Made in India in a GOTS and fair trade certified facility.
6 Iwako Kokeshi Doll Japanese Eraser -These are adorable! Made in Japan.
7 Organic Beeswax Crayons – Made with certified organic beeswax. Made in the USA.
8 Green Toys Bake by Shape Toy Set – Great for the kid that's into baking! Made in the USA from 100% recycled plastic.
9 CUDDLE + KIND Noah The Dog Hand-Knit Doll – How cute are these dog stuffed animals? This same brand also makes girl animals. Fair trade.
Ethical Stocking Stuffer Ideas: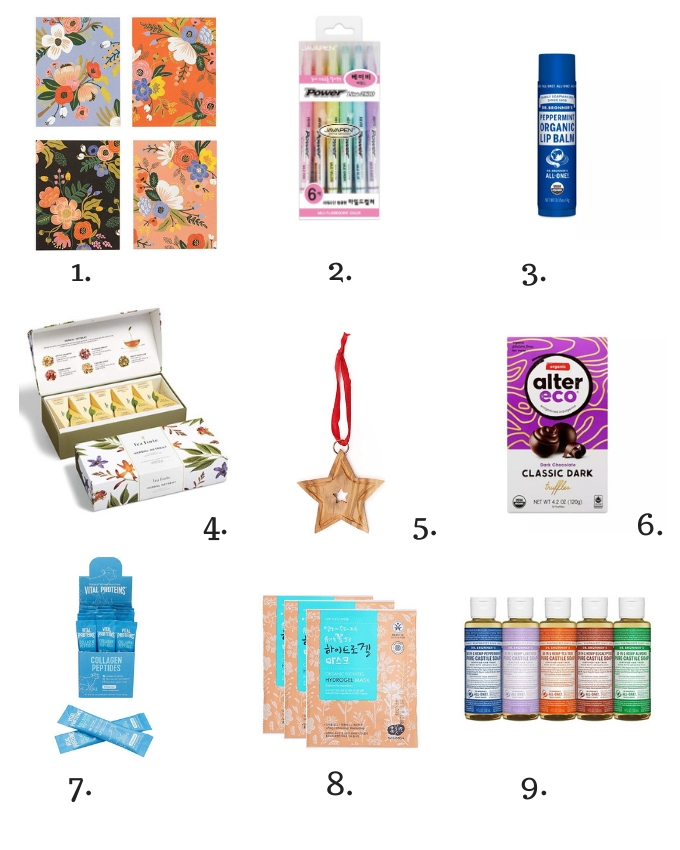 1 Lively Floral Assorted Notecards by Rifle Paper Co. – Give the entire pack to one person, or split between a few people. Made in the USA.
2 JAVAPEN rainbow pastel Highlighter brush Chisel Tip Pens – Love the pastel colors! Made in Korea.
3 Dr. Bronner's Peppermint Organic Lip Balm – This is my personal favorite lip balm. Fair trade.
4 Tea Forte Herbal Retreat Petite Tea Sampler – Love the little individual pyramid boxes! Fair trade.
5 Olive Wood Star Christmas Ornament – Fair trade. This particular ornament is currently unavailable on Amazon, but check out their other ornaments!
6 Alter Eco Dark Chocolate Truffles – Fair trade.
7 Vital Proteins Hydrolyzed Collagen on The go – Great for rounding out your gifts! Made in the USA.
8 Whamisa Organic Hydrogel Facial Mask – EWG verified. Made in Korea.
9 Dr. Bronner's 4 Ounce Sampler – Perfect for frequent travelers! Fair trade.
So that's my Ethical Christmas Gift Guide 2019. I hope it gave you lots of good ideas!
I'm super curious: What's on your Christmas list this year?
My Previous Gift Guides: