Christmas Gift Guide
So, do you have everyone on your Christmas shopping list crossed off? Or are you freaking out a bit because you don't know what on EARTH to get those last few people?
I've got you covered.
In my 2017 Christmas Gift Guide, I've got something for the beginner cook, the health enthusiast, the tea/coffee lover, and that person that already has everything (or so they think).
Many of the things on this list were made in Germany/Italy/France/Japan/America, as noted.
On to the list!
Note: Items marked with an * are items that I personally own and love.
For the Beginner Cook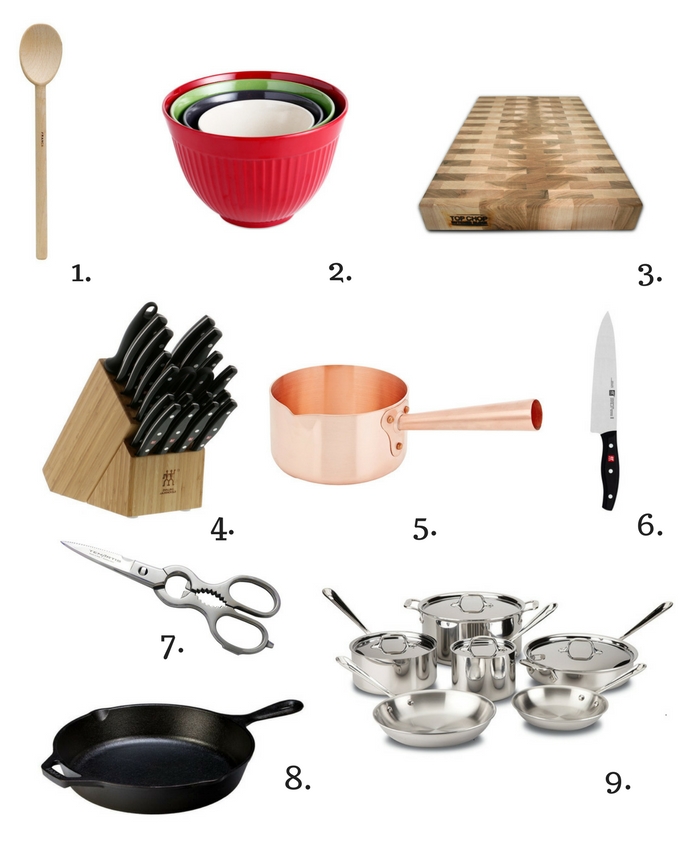 1 *Wooden spoon made in France
| 2 Mixing Bowl Set | 3 Top Chop Butcher Block Cutting Board made in USA
| 4 Henckels 19-Piece Knife Block Set made in Germany
| 5 Mauviel Copper Saucepan made in France
| 6 Henckels Chef's Knife made in Germany
| 7 Kitchen scissor made in Italy
| 8 *Lodge10-1/4-Inch Cast Iron Skillet made in USA
|9 All-Clad stainless steel pot set made in USA
For the Health Enthusiast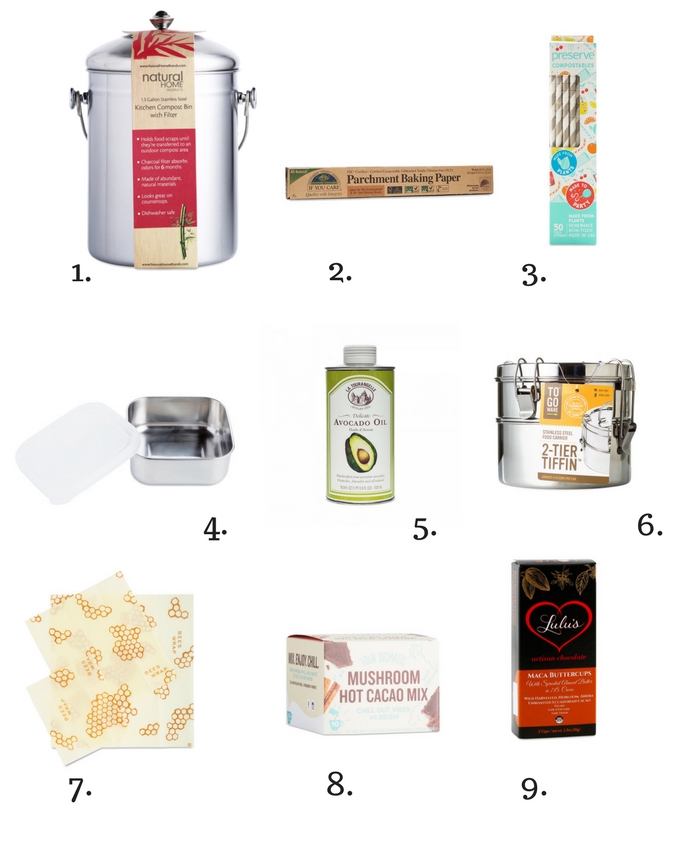 1 Stainless Steel Compost Bin | 2 *Unbleached Parchment Paper | 3 Compostable Straws | 4 *Stainless Steel Storage Container | 5 Avocado Oil | 6 Stainless Steel Lunch Box | 7 *Beeswrap Beeswax Coated Food Wrap | 8 Mushroom Hot Cacao Mix |9 Lulu's Maca Buttercups
For the Tea/Coffee Lover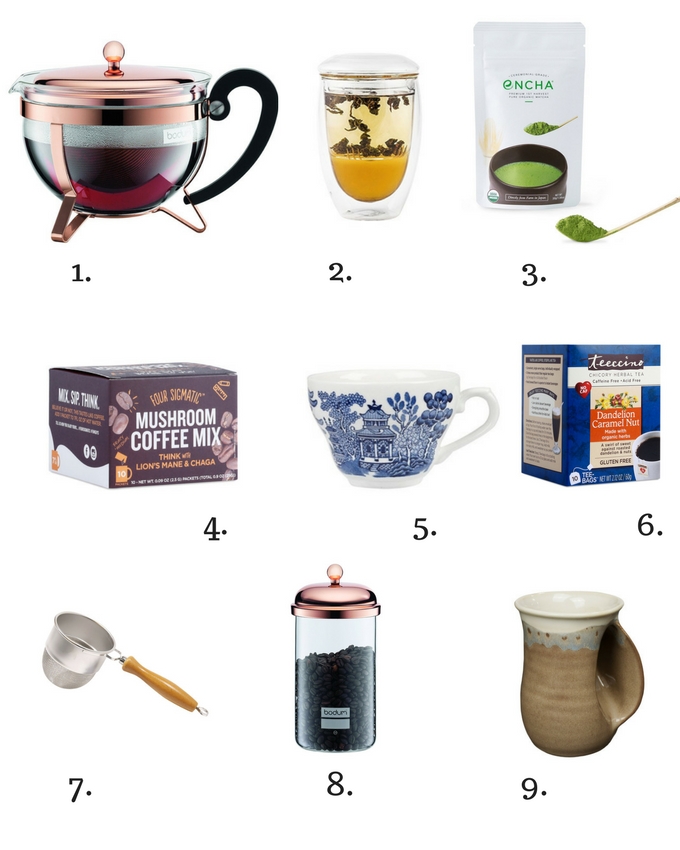 1 Bodum Copper Teapot made in Portugal
| 2 Tea Infuser Cup
| 3 *Encha Organic Matcha made in Japan
| 4 Mushroom Coffee Mix | 5 Churchill Blue Willow Fine China Tea Cup made in England
| 6 *Teaccino Caramel Nut Coffee Substitute | 7 Tea Strainer made in Japan
| 8 Bodum Copper Coffee Bean Storage Container made in Portugal
| 9 Handwarmer Mug made in Oregon (USA)
For That Person That Already Has Everything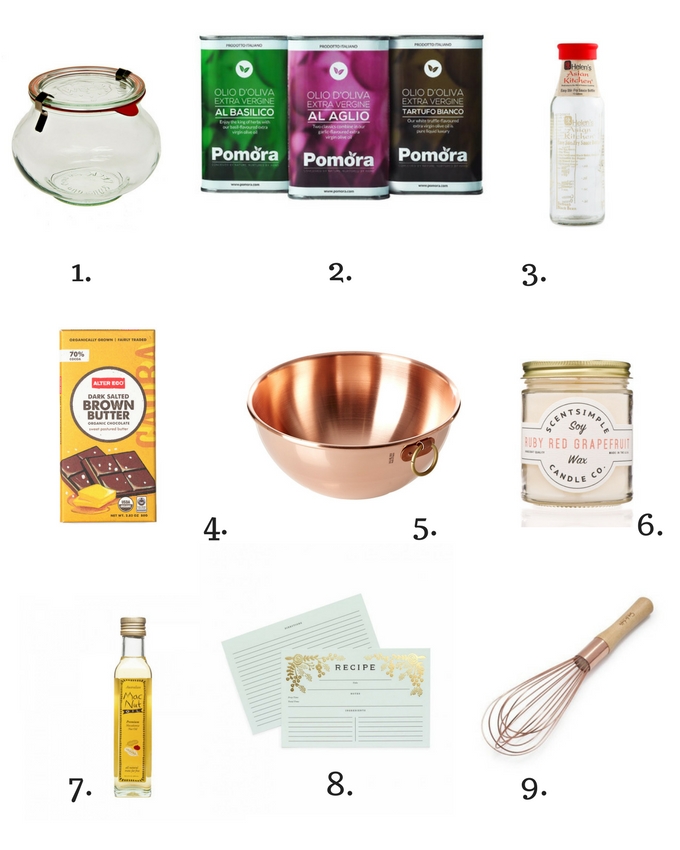 1 Weck Deco Jar
| 2 *Adopt an Olive Tree with Pomora Olive Oil | 3 Easy Stir-Fry Sauce Measuring Bottle | 4 *Organic Fair Trade Brown Butter Dark Chocolate | 5 Copper Mixing Bowl made in France
| 6 Grapefruit Scented Candle mad in USA
| 7 Macadamia Nut Oil | 8 Golden Foil Recipe Cards by Rifle Paper Co. made in USA
| 9 Copper and Wood Whisk made in USA
So there's my 2017 Christmas Gift Guide! I hope it gave you some inspiration so you can finish up your Christmas shopping!
xoxo
Erica
Check out my previous Gift Guides.