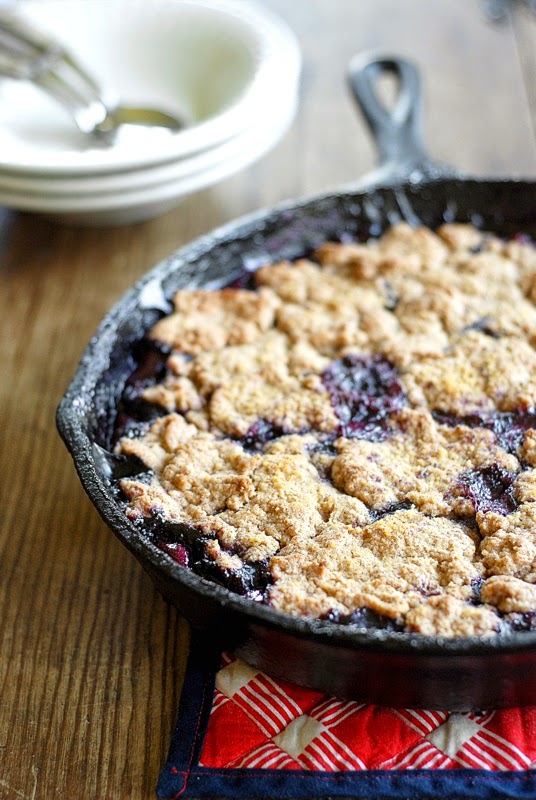 This post was originally published on August 13, 2010 (yep, almost 4 years ago!) on Cooking for Seven. I was ever so proud of my photos.

I made this again recently and remembered why I liked it so much. I used sprouted flour for the topping this time around and it was still yummy. And I melted the butter instead of cutting it in – I'm lazy like that. I also baked it in a deep dish pie pan, which was pretty.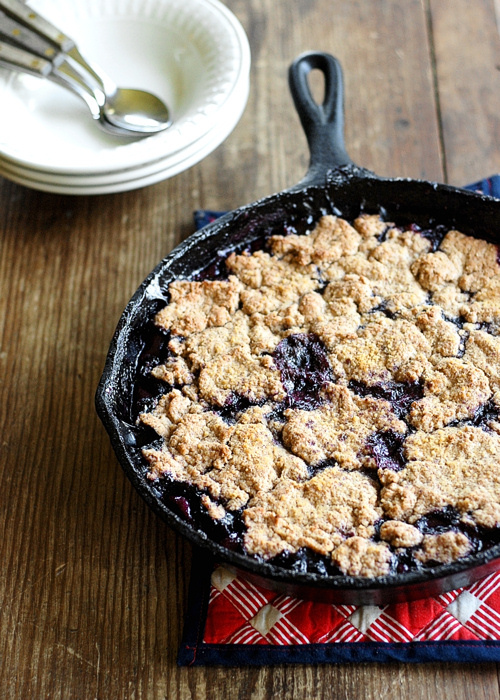 Have I told you about this cobbler? It is wonderful. Easy, fast, delicious. My dad likes it better than blueberry pie. The first time we made it he said, "You need to USE this recipe." And so we have.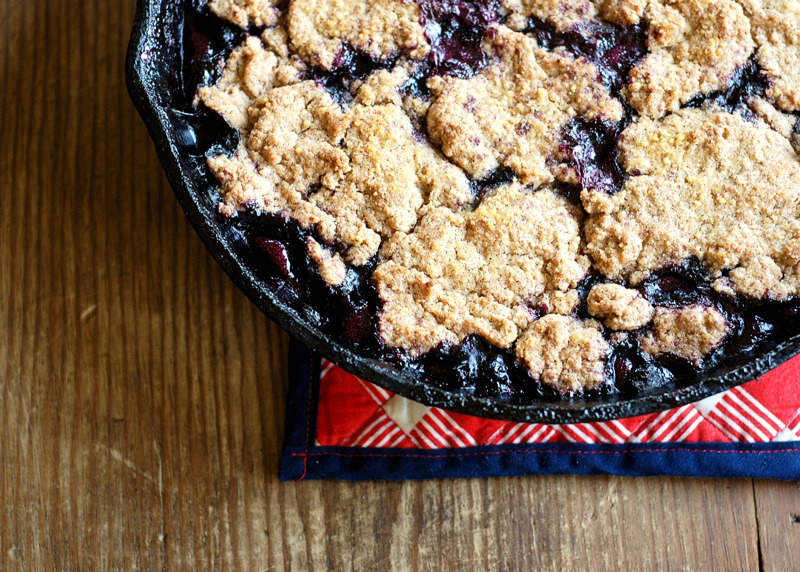 The construction of the topping was new to me: Cut the butter into the dry ingredients, then add boiling water. The result is a tender, tasty topping. And it's so much easier than pie dough.
Notes: The original recipe calls for blackberries. Blueberries make a wonderful substitute, but I like to add more than the recipe calls for. Of course I substituted whole wheat for AP flour and maple sugar for granulated.
Blueberry Cobbler
For the dough:
1 1/2 (6 ounces) whole wheat pastry flour
1/2 cup maple sugar, demerara, rapadura, or sucanat
1 1/2 teaspoons baking powder
1/2 teaspoon salt
1 teaspoon cinnamon
9 tablespoons cold butter, cut into pieces
1/3 cup boiling water
For the filling:
2 tablespoons corn starch
1/4 cup cold water
1 tablespoon lemon juice
4-6 cups fresh blueberries
1/2 cup maple sugar, demerara, rapadura, or sucanat
Directions:
1) Preheat oven to 400 degrees.
2) For the dough: Mix the flour, sweetener of choice, baking powder, salt, and cinnamon in a large mixing bowl. Cut in the butter until you have a coarse, crumbly mixture. Pour in the boiling water and stir together until all of the dough is wet. Set aside.
3) For the berries: Dissolve the cornstarch in the cold water in a medium bowl. Add the lemon juice, berries, and sweetener of choice. Mix together well.
4) Transfer berries to a 10 inch cast iron pan.
Heat mixture over medium heat until boiling, stirring frequently. Remove from heat.
5) Drop spoonfuls of dough over the berry mixture and place the cast iron pan on a foil lined cookie sheet and place in the oven. Bake for 20-25 minutes, until the dough is golden brown and the berries are thick and bubbly.
Note: If you don't have a cast iron pan, you can bring the berries to a boil in a sauce pan and bake in a 9×9 baking dish.
Makes approximately 6-8 servings.