This shop has been compensated by Collective Bias, Inc. and its advertiser. All opinions are mine alone. #MyGo2Pen #CollectiveBias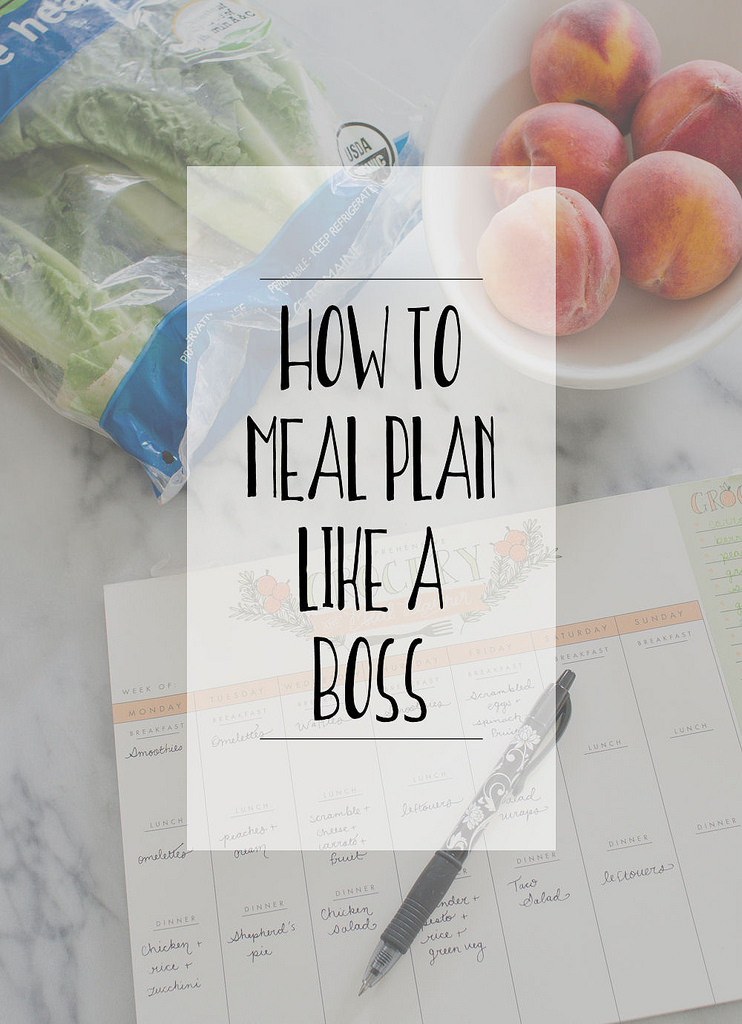 It took me several years into married life to start meal planning. My mom never planned out her meals, so I just wasn't into it. I had a fly-by-the-seat-of-my-pants kind of shopping/cooking plan. That can work great for some people, but I found that I was wasting food and I'd often be at a loss as to what to make for supper.
Then I decided it was time to change. I've been meal planning regularly for over a year now, and I LOVE it.
Yes, it takes time to plan out your meals each week. But when you have a plan, you won't be staring at your kitchen at 4:00, wondering what to have and hoping supper will magically make itself.
Here are my 10 tips to help you meal plan like a boss to save money and reduce waste: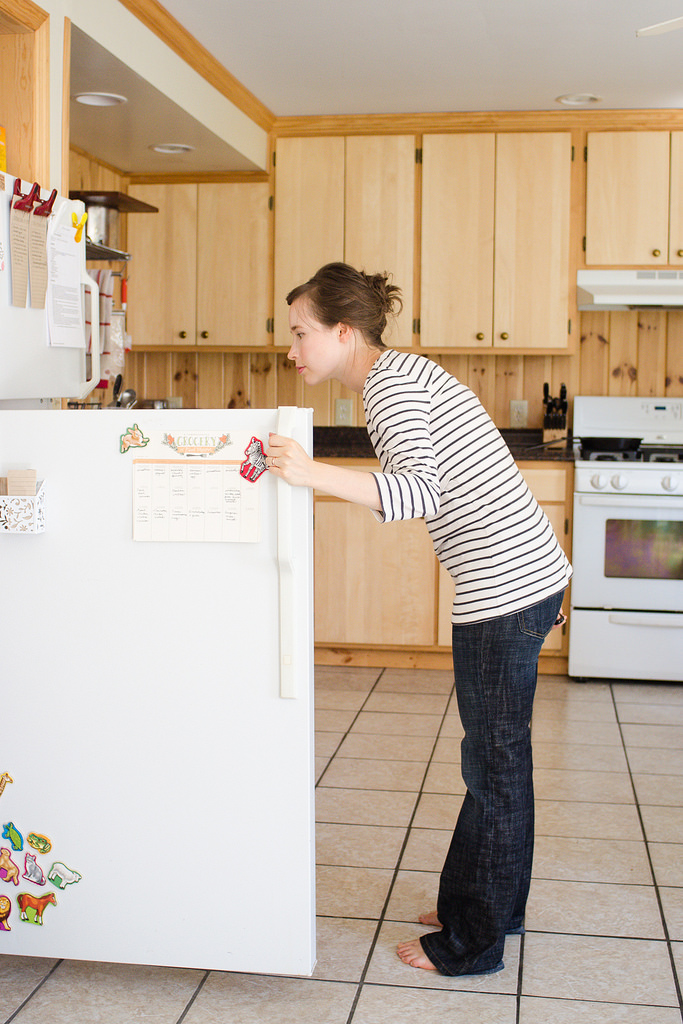 1) SHOP YOUR PANTRY AND FRIDGE

Before you write out your meal plan for the week, take a look into your pantry, fridge, and freezer. Choose 2-3 things to build some meals off of. For example: Do you have salmon in your freezer? Plan to make Salmon en Papillote for one of your suppers. Got spaghetti and pasta sauce in your pantry? Plan to make Hearty Pasta Sauce for a supper.
Not only will this reduce this week's grocery bill, it will keep you from wasting food when you have to throw it out when it goes bad.
2) PLAN ONLY THE NUMBER OF MEALS YOU WILL EAT

I actually only plan for 4 meals each week (plus the leftover meal). We always eat with family on Sundays, and there's usually one more day a week where we eat at someone else's house or go out to eat. If you plan too many meals, food will go to waste (especially delicate produce!).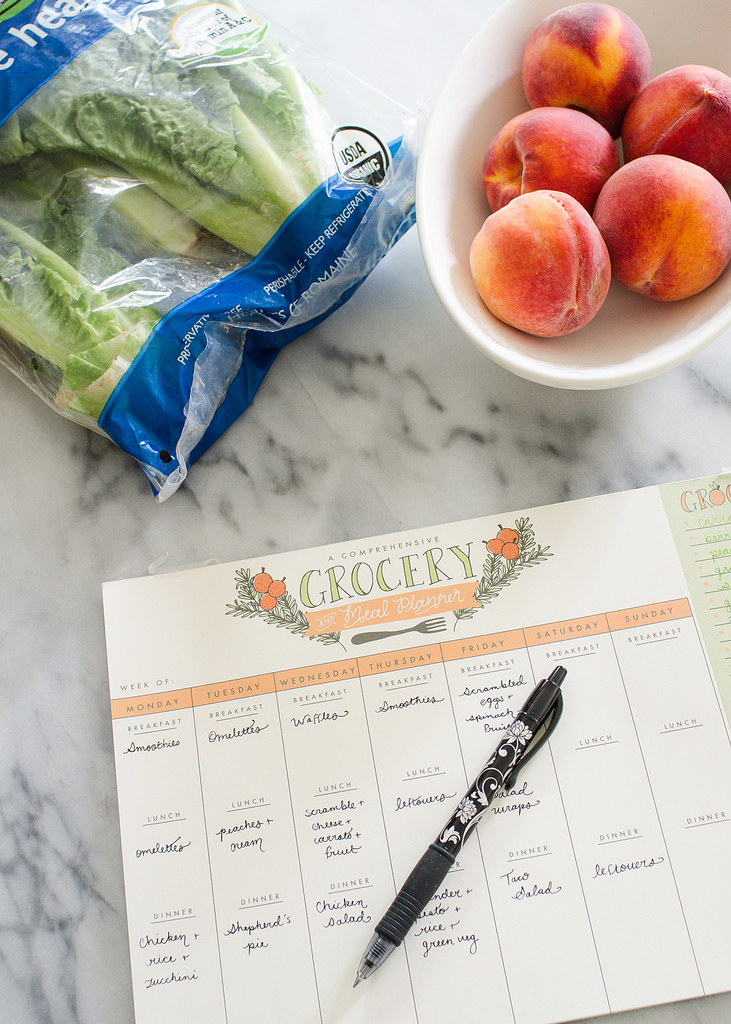 3) PLAN YOUR MEALS TO USE UP INGREDIENTS

There are some things that our little family can't eat up in one meal: we just can't use an entire head of lettuce. So I plan to use it for at least two meals in a week.
For example, I plan to make chicken salad for one meal, and taco salad for another.
4) PLAN FOR A LEFTOVER/CLEAN OUT THE FRIDGE MEAL

We usually have enough leftovers every week to make a meal out of it. I like to plan one of my meals as a leftover meal so this food doesn't go to waste. You can also plan a "clean out the fridge" meal where you have to eat up whatever is left from the week's grocery haul. It's a great challenge!
Alternatively, you can plan to eat any leftovers for lunches.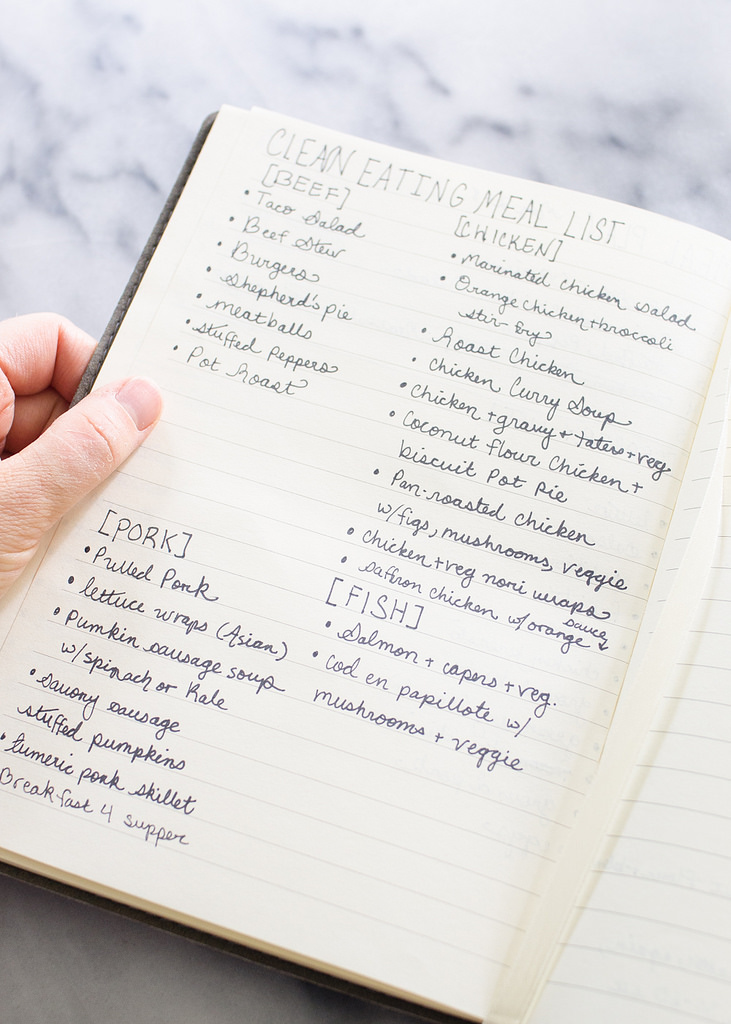 5) HAVE A LIST OF FAVORITE MEALS

Sometimes (most of the time, if I'm honest), I draw a complete blank when I sit down to map out my meals for the week. Having a list of your favorite meals really simplifies the process. All I have to do is glance over my list and select which meals sound good to me that week.

6) START A PINTEREST BOARD WITH MEALS TO TRY

It's great to have your list of favorite meals, but they can get boring if you never try something new. I like to have a secret Pinterest board with recipes I think we'd enjoy (for inspiration, check out my "What's For Supper" board). Each week I try to choose one new recipe. Then, if it's a huge success, I can add it to my favorite meals list.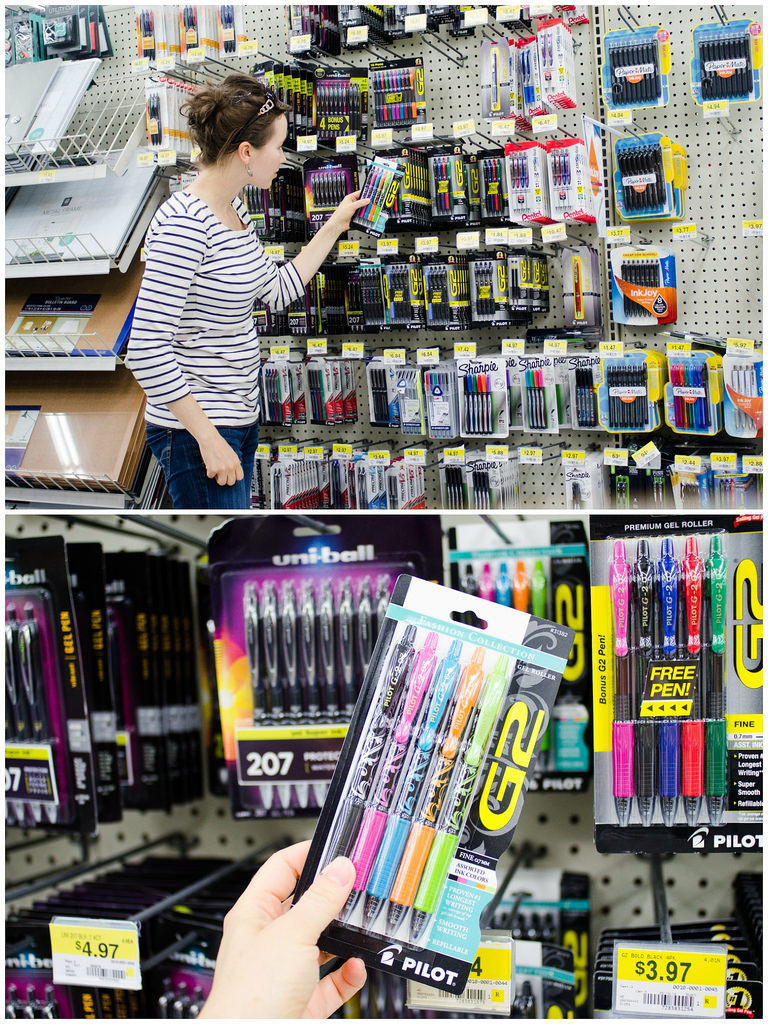 7) INVEST IN FUN/PRETTY MEAL PLANNING SUPPLIES

I don't know about you, but having fun/pretty supplies motivates me to actually do my meal planning. Buying my meal planning pad (with the rip-off list) is what really pushed me to meal plan regularly.
Good pens are a MUST for me. But I'm always losing them! I picked up some new ones at Walmart the other day. I'm enjoying these Pilot G2 pens (I've been a sucker for gel pens since I was a kid). I like the pretty designs on their fashion collection pens, but you can choose from different collections (premium or metallics, for example), 4 point sizes and 15 colors.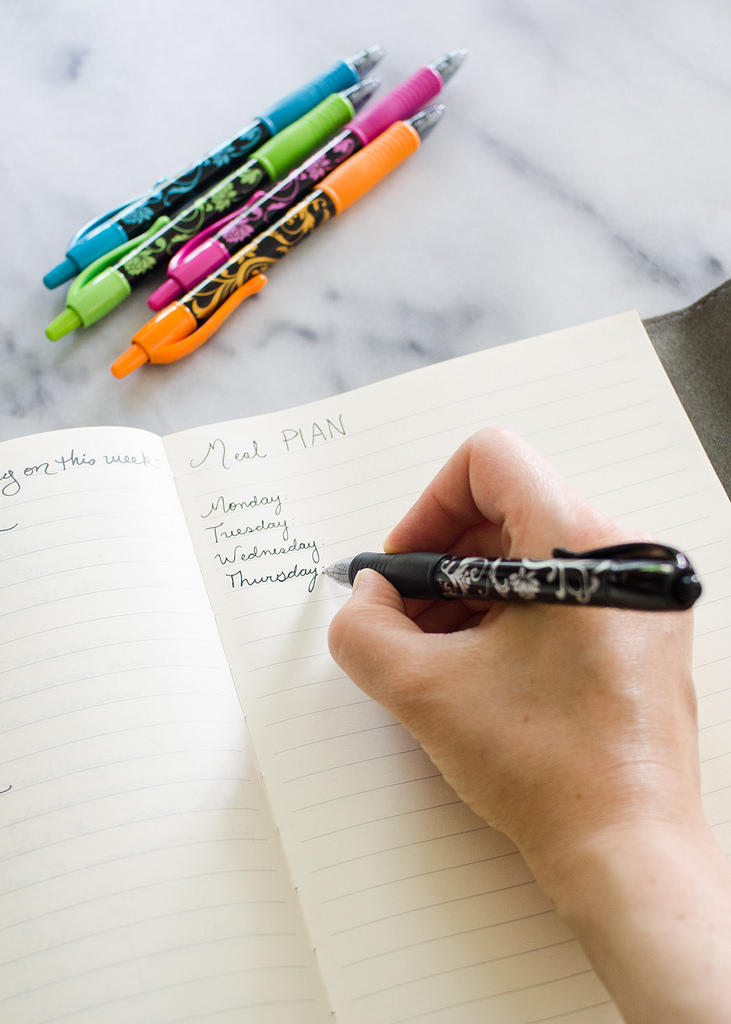 8) WRITE A ROUGH DRAFT OF YOUR MEAL LIST FIRST

I like to scribble down my meal list in my notebook before writing out the final plan. This way I can make adjustments and my final draft won't be all messy. I also write out my grocery list as I think of ingredients I need.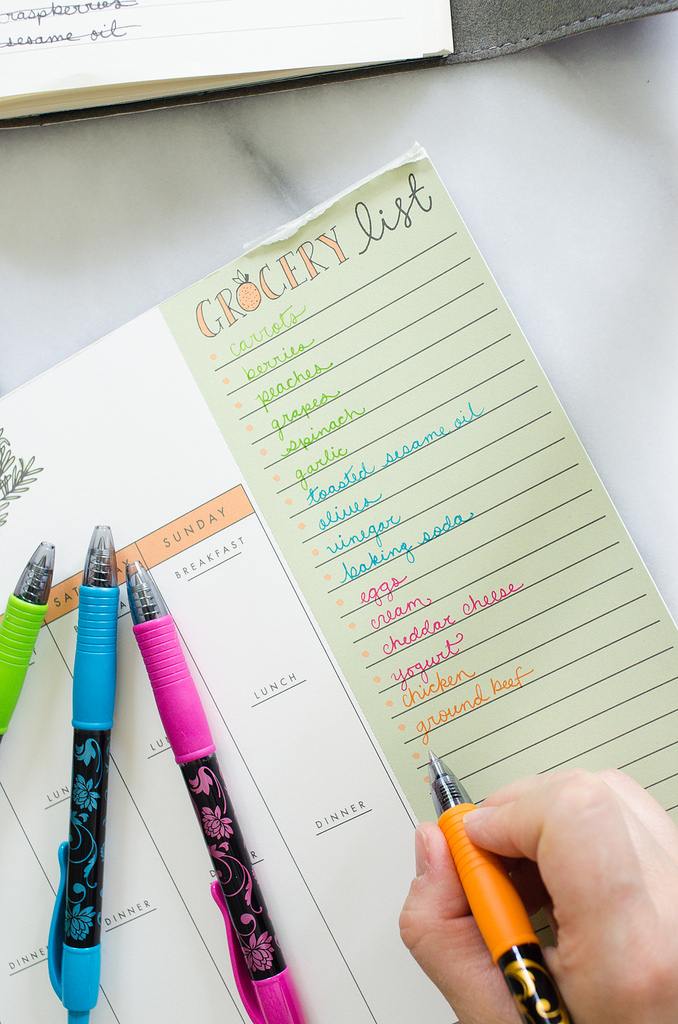 9) COLOR CODE YOUR GROCERY LIST BY FOOD TYPE

Once I have my meal plan finalized and my list of groceries written out, I like to go back and make a more organized grocery list. It's a great idea to color coordinate your list by types of food. For example, green for produce, blue for pantry items, pink for dairy products, orange for meat, etc. You can do whatever colors make sense to you.
Color coordinating your list makes it easy to see if you have everything in a category so you can move on to the next section of the store.
Which brings me to tip #10:
10) ARRANGE YOUR LIST BY WHERE FOOD IS LOCATED IN THE STORE

Instead of having a random list of products to buy, it's MUCH more convenient to have your list arranged by where things are located in your store. That way you are less likely to forget something on your list.
For example, most stores have the produce section first. Put all of the fresh fruits and veggies at the top of your list.


So those are my top 10 tips for meal planning. If you have any more tips, make sure to share in the comments.
Happy meal planning!
By the way, if you're interested in the pens I used in this post, you can save $0.75 on any ONE 4-pack (or larger) of G2 Gel Ink pens with this coupon.