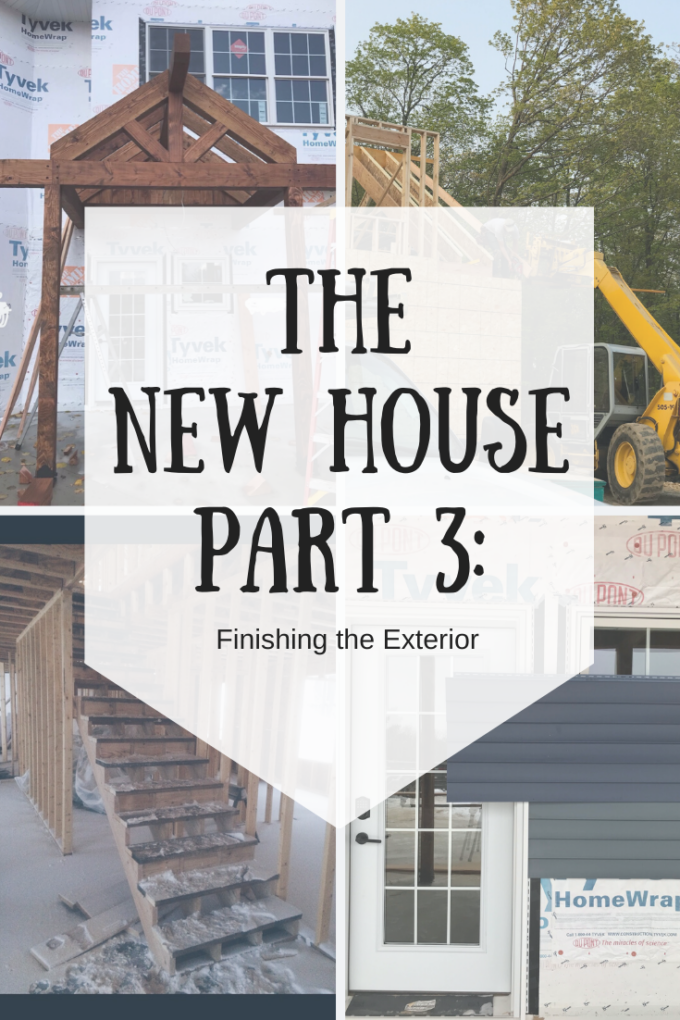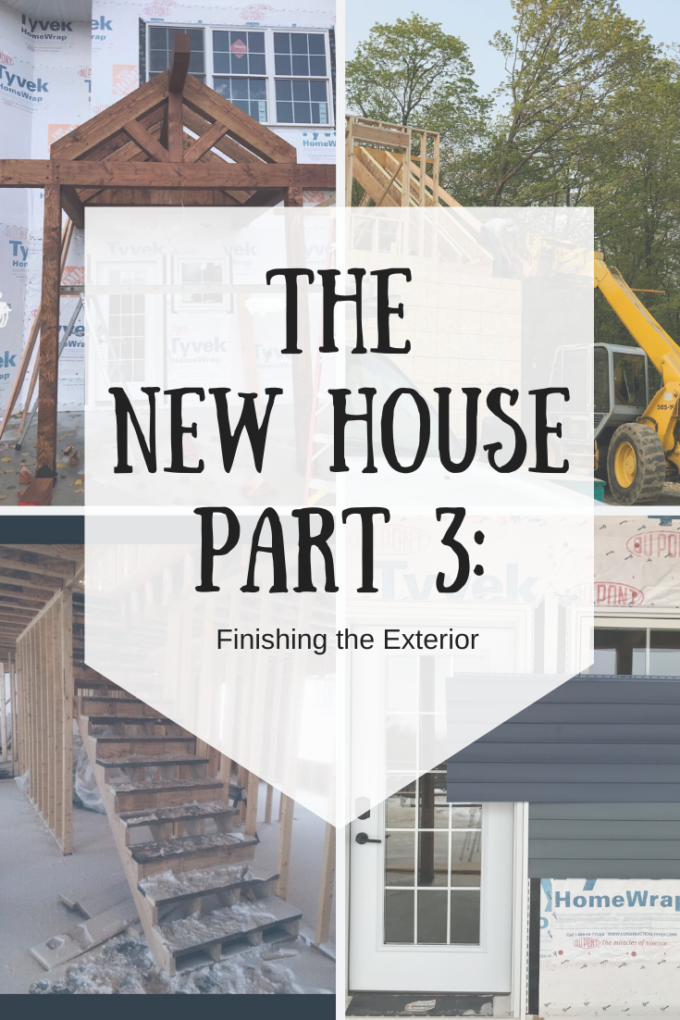 This is part 3 of my New House series. You can read Part 1 here, and Part 2 here.
When we left off last time, the foundation was poured and the first floor walls were up. This was January 2019. I was pregnant at the time, due in February, and we thought we would be moving into the new house shortly after I gave birth. Ha.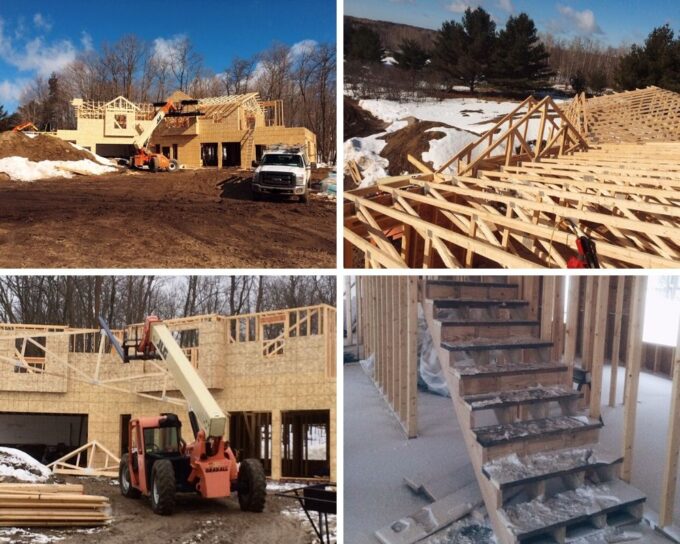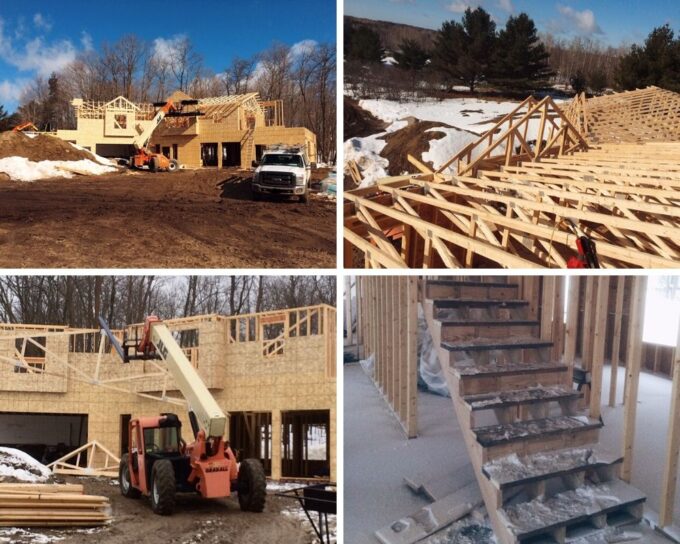 Well, I gave birth and work on the house slowed.
In march, Reuben set the floor trusses for the second story. As you can see, the house was not weather proof, and plenty of snow got inside. This stressed me out because I didn't want the house to have water damage. It all worked out in the end, though.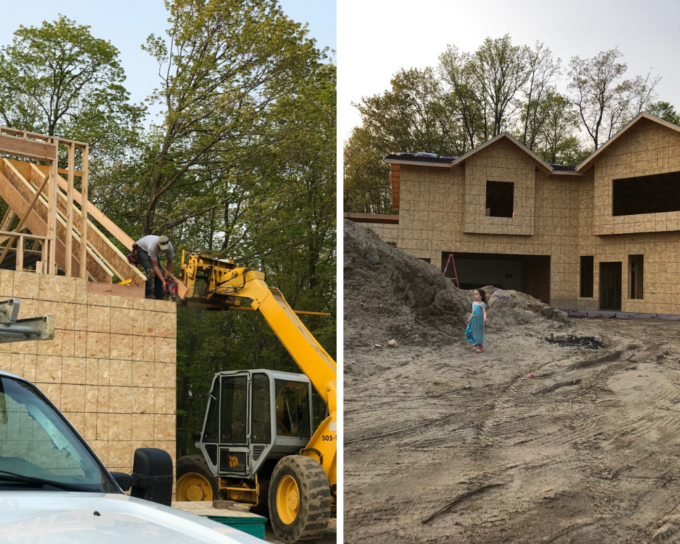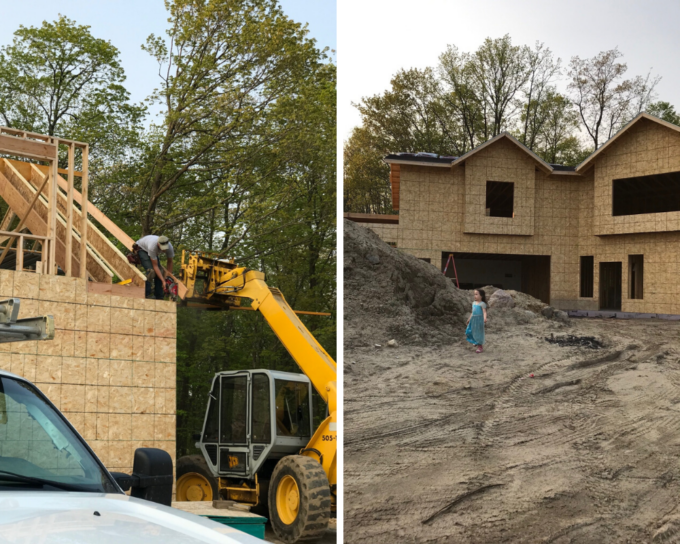 May 28, 2019
Reuben had started hand framing part of the roof. This had to be done because I didn't want the roof to have the same pitch all the way across. I'm really happy with how it looks, but it meant more time, work, and money.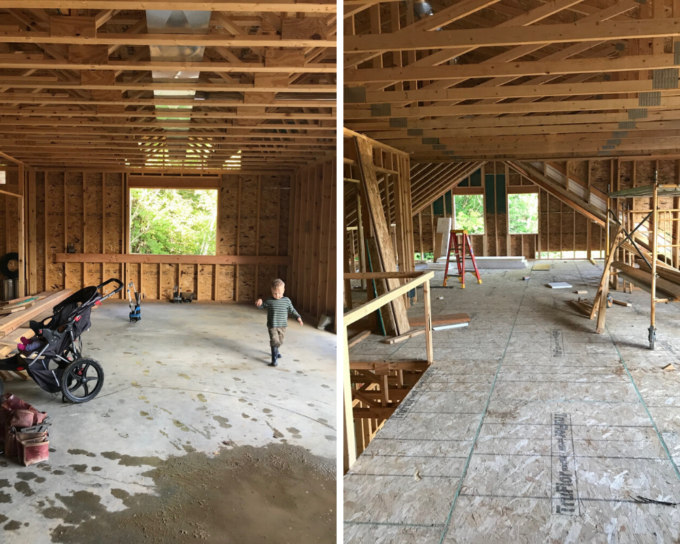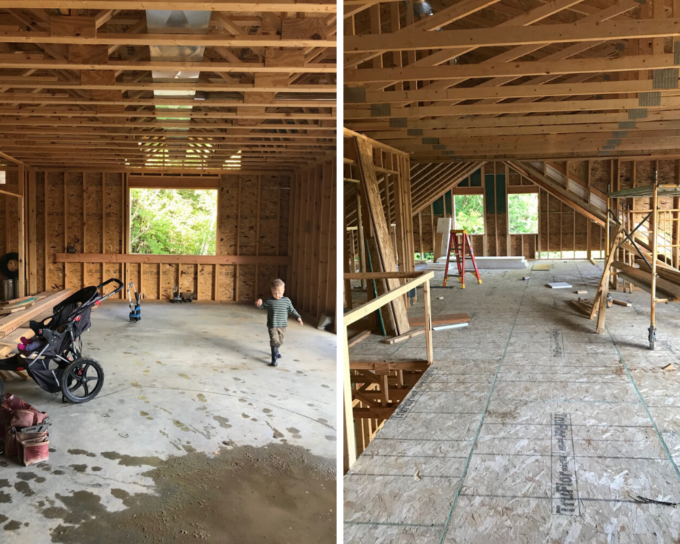 July 10, 2019
As you can see, water could still get in through the window and door openings.
On July 13, we did the walkthrough with the electrician. We basically walked through the whole house and told him where we wanted lights, outlets, etc. That was stressful because I felt like I was making decisions that would affect my life for a long time, and I didn't even know exactly what I wanted yet. Did I want the master bathroom vanity outlet placed right above the vanity, or just next to it?! I had to make a bunch of little decision like that all at once. ?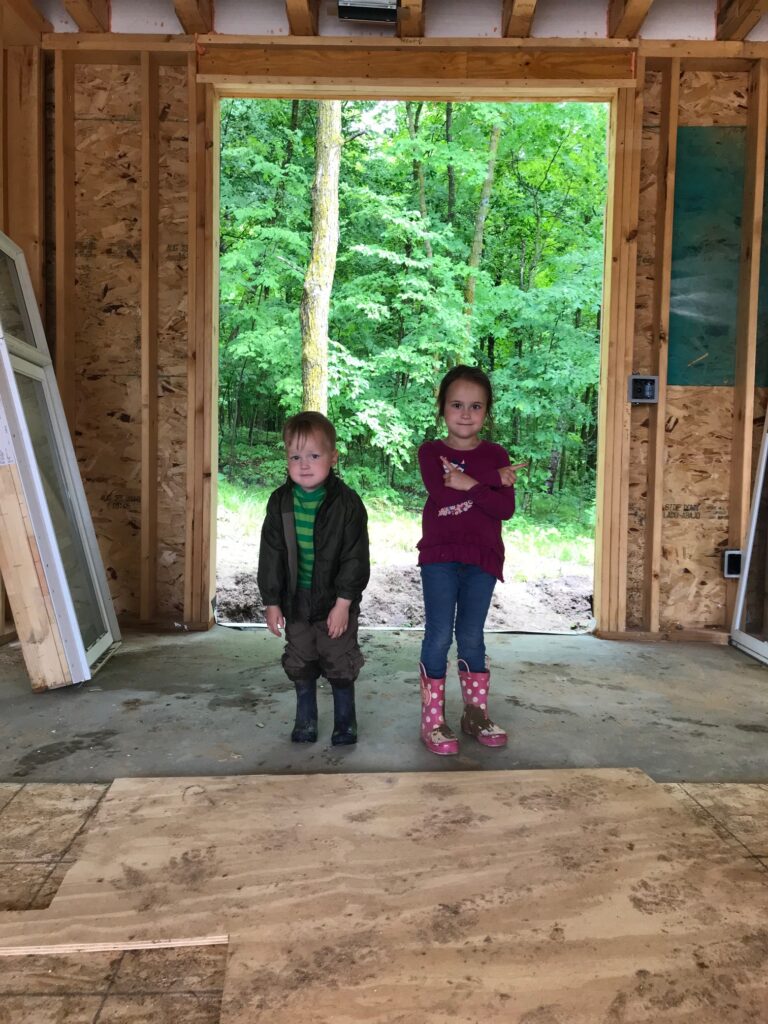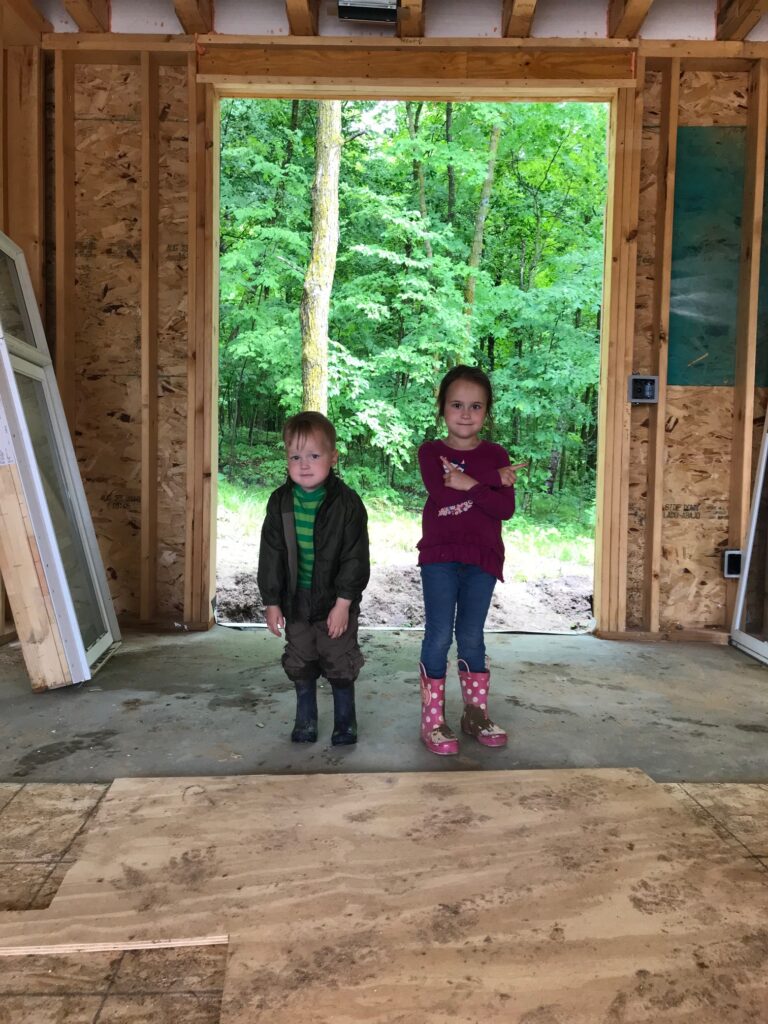 July 22, 2019
Little rascals. ? They loved going over to the new place to explore and play.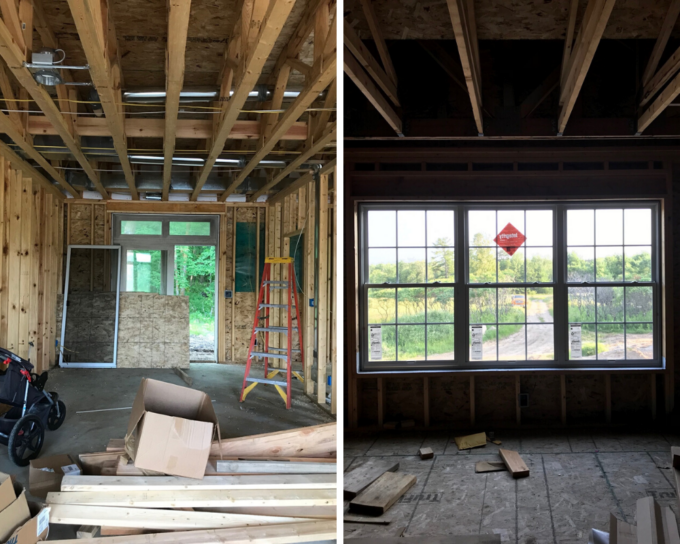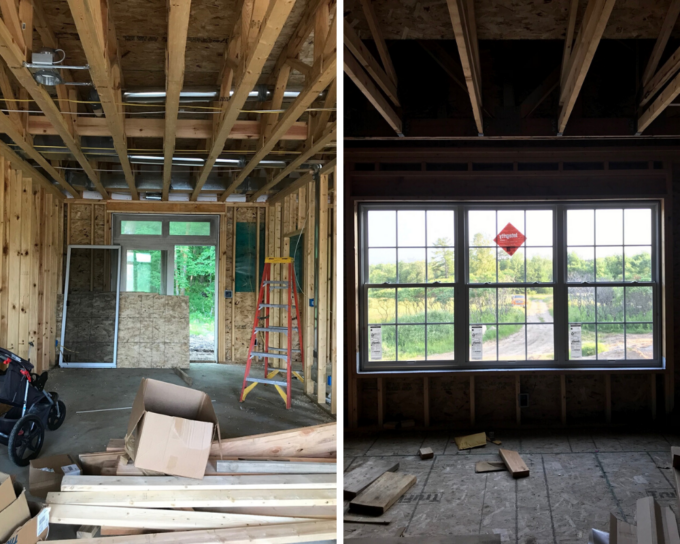 The windows started going in! It made it feel like we were really moving towards having the exterior finished once the windows went in.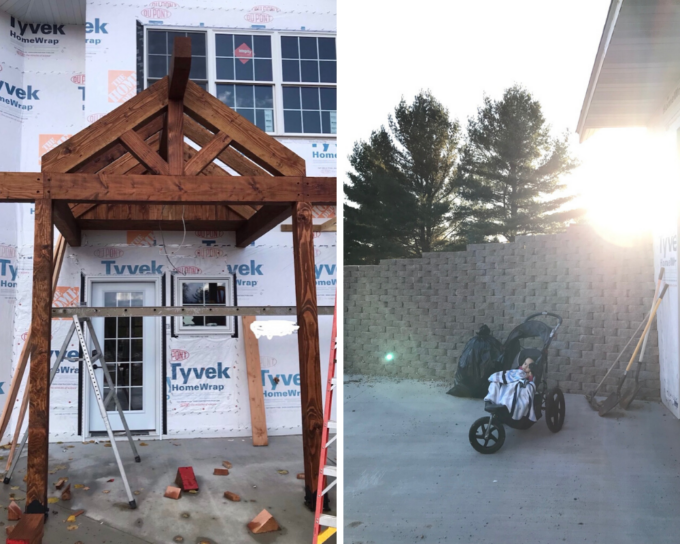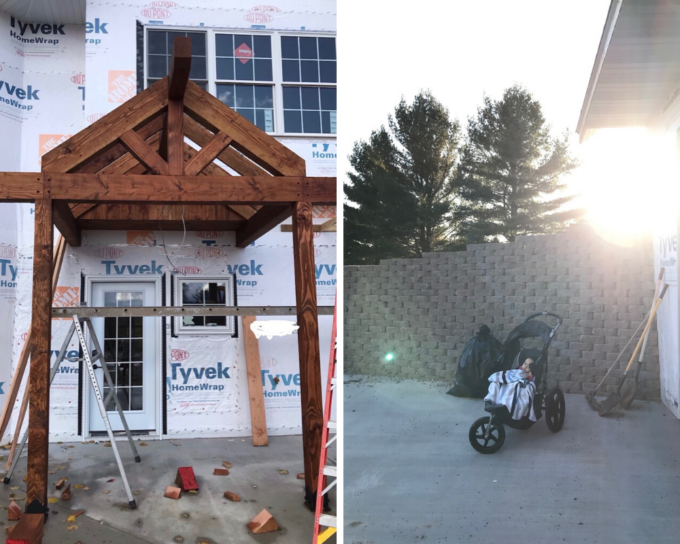 October 6 & 8, 2019
Reuben started framing the porch dormer. I think it turned out looking so so good.
We had such a hard time deciding on a stain color for the beams. We finally went with Sherwin-Williams SuperDeck in the color Canyon Brown. The color turned out a little more red than I wanted (this was probably because we use douglas fir for the beams), but I'm pretty happy with it.
Side note: Reuben reacted badly to the stain and broke out in hives. Make sure to wear a mask and stain in a well-ventilated area, kids! I kind of wish I would have gone with a less-toxic version of the stain like one from Ecos. But what's done is done!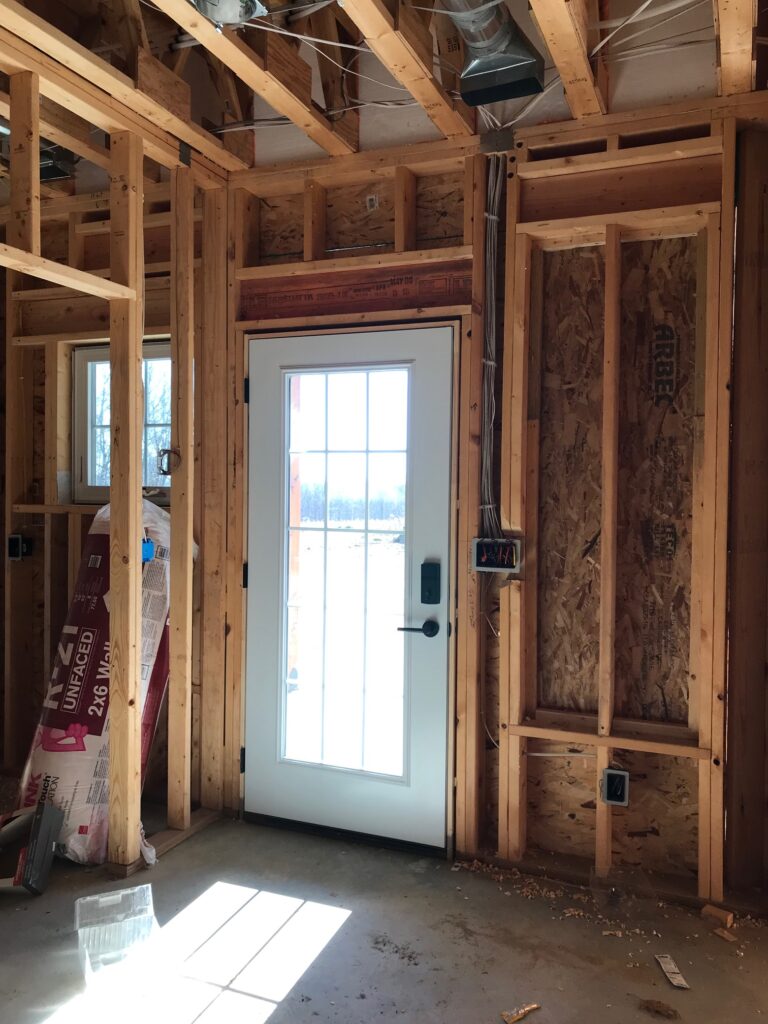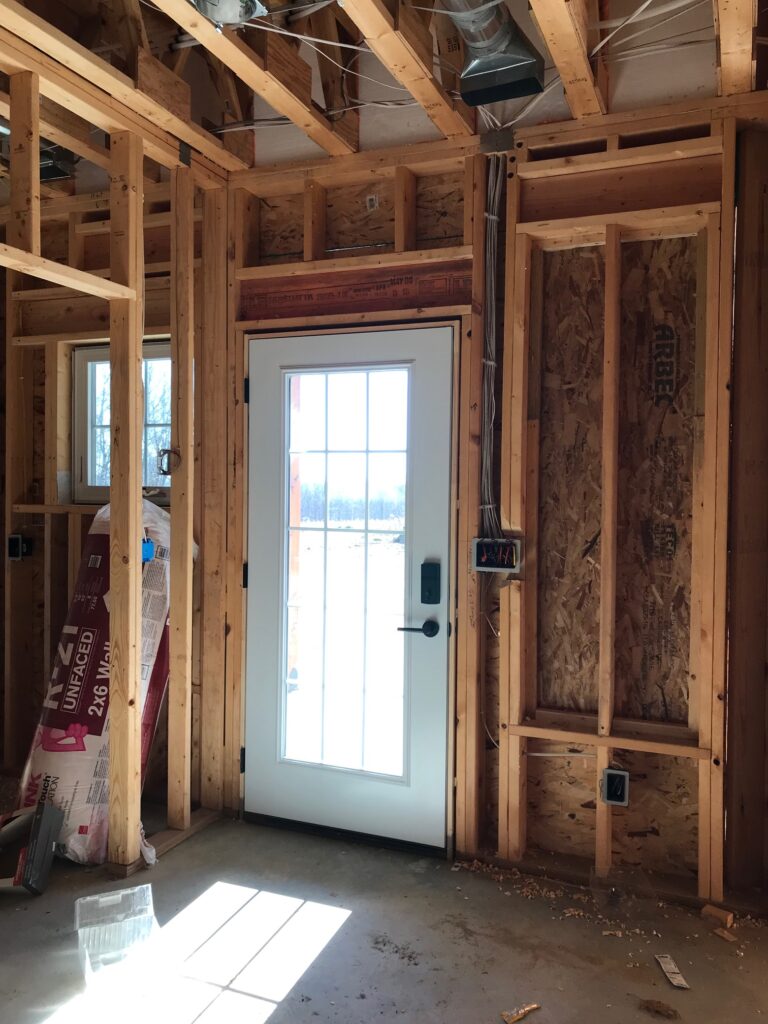 November 13, 2019
We finally had a front door! I went for a mostly glass front door to let in more natural light in the entryway.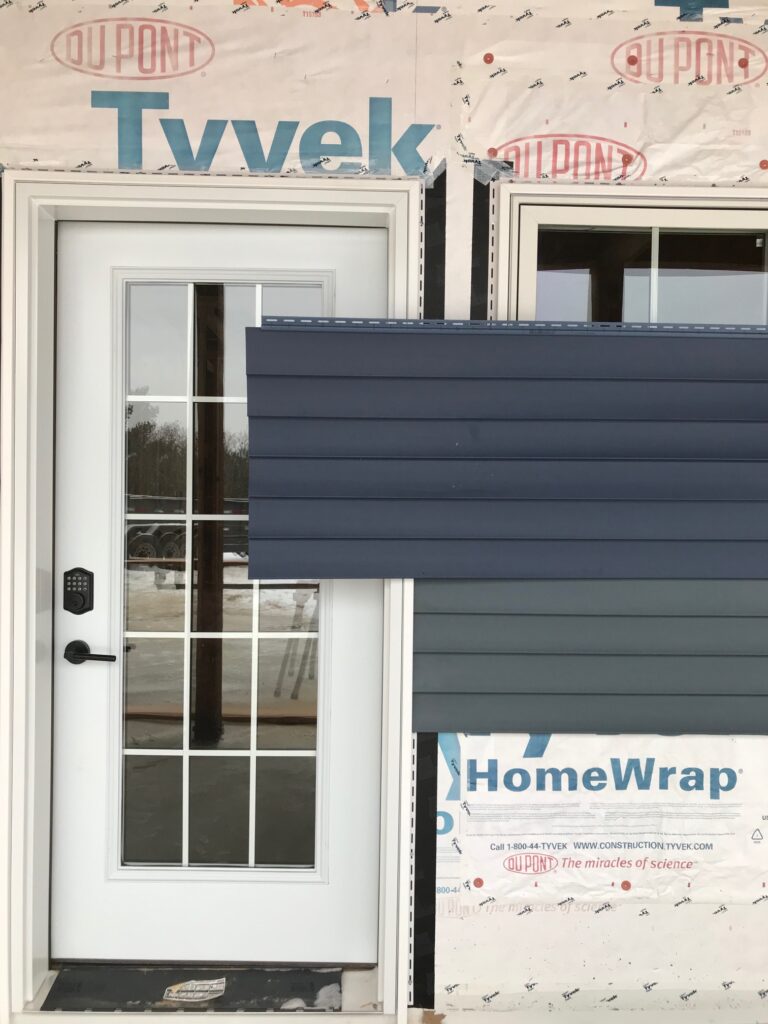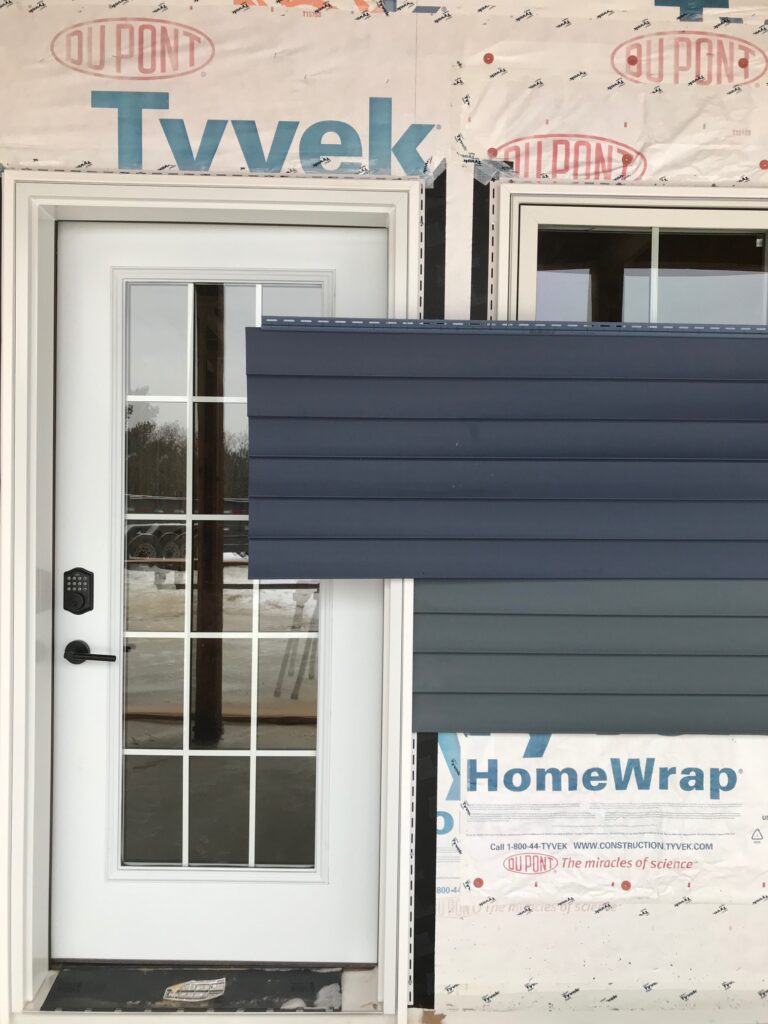 A big decision I had to make was the color of the siding. I knew I wanted a dark blue color.
We had decided on CertainTeed Pacific Blue vinyl siding.. But then we saw a sample of Midnight Blue next to it, and realized that Pacific Blue is quite green. So we put both color options on the exterior next to the front door. I took pictures in different lights, and even put a poll on Instagram to see what other people thought.
We finally settled on the Midnight Blue, partly because it was on sale. ?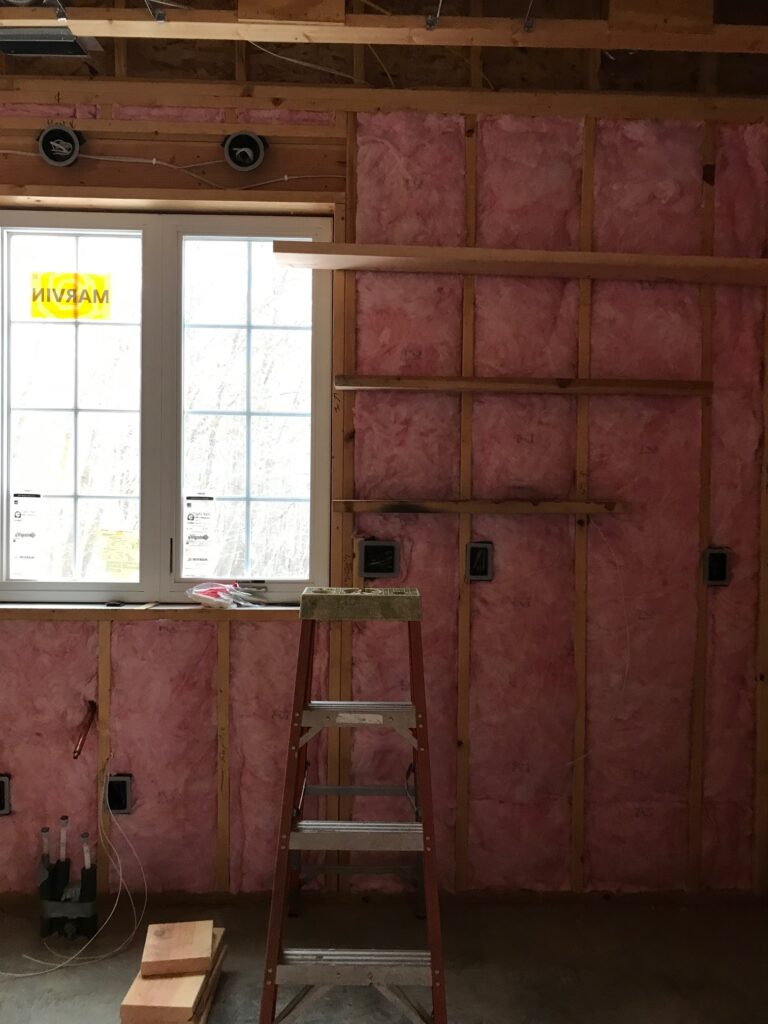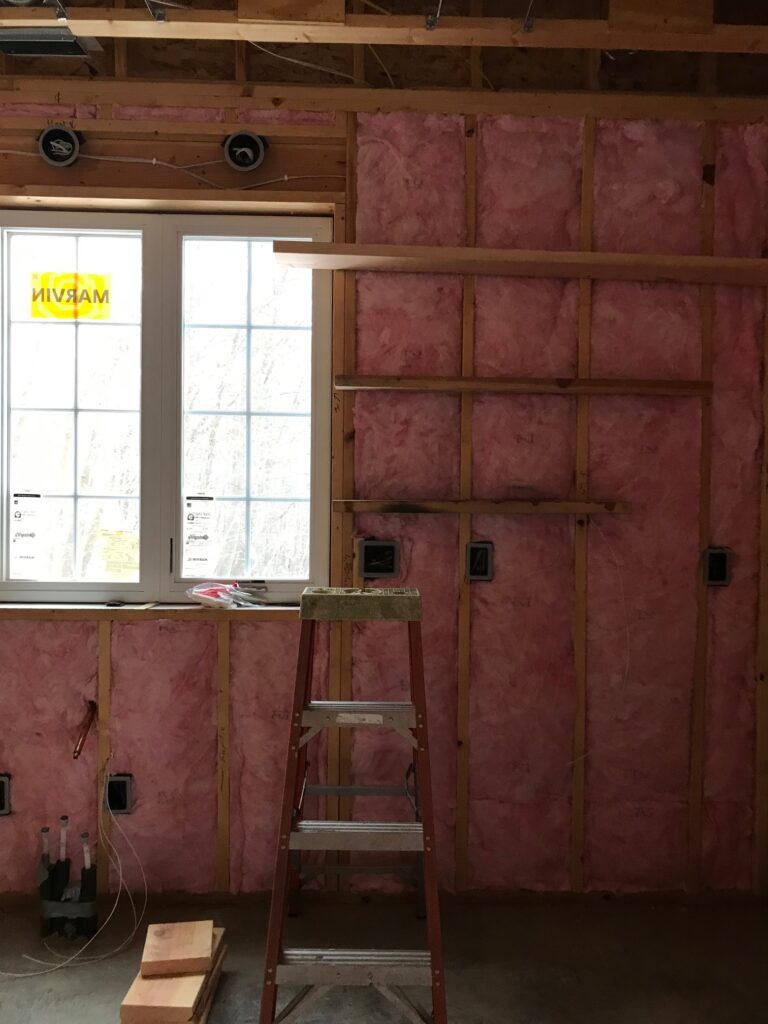 Another decision that I felt I had to make before I was able to fully think it through: open shelving placement. Reuben had to put backing underneath the drywall to have something sturdy to anchor the shelves to. I quickly did some Pinterest research and came up with a plan. It felt rushed, but I'm happy with my decision now.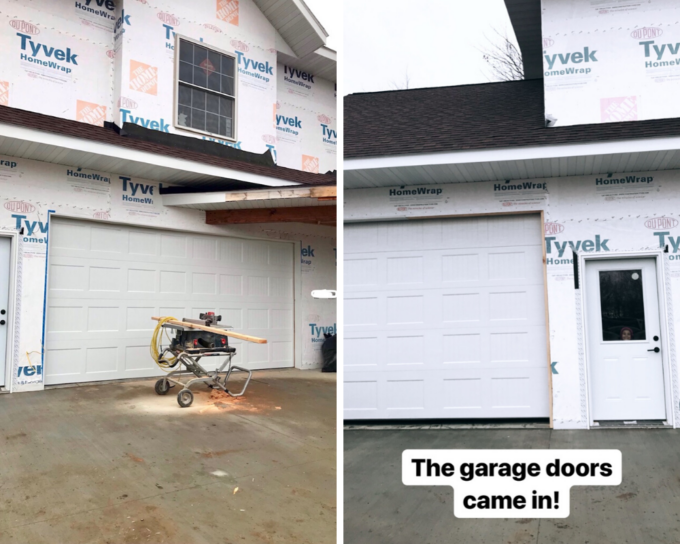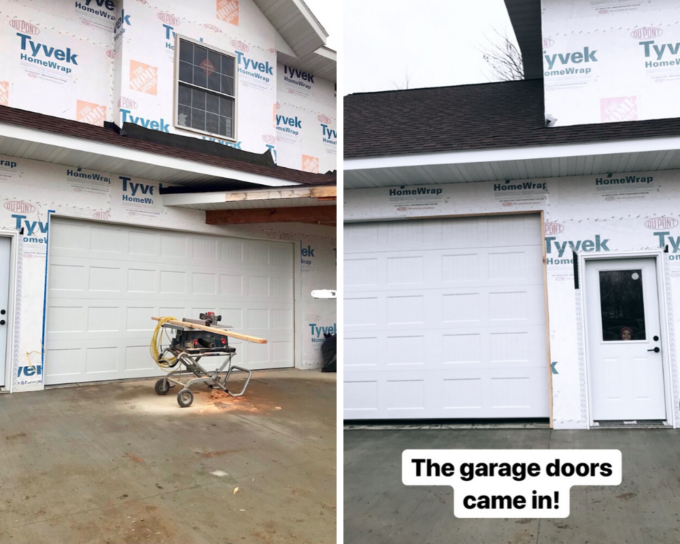 November 19, 2019
We finally had garage doors! That made it really feel like the house was ready for the upcoming winter.
I decided to go with garage doors without windows. We had two different heights for our garage doors, and I felt that the different window heights would look odd. Maybe I was overthinking it, but it saved money anyway. ??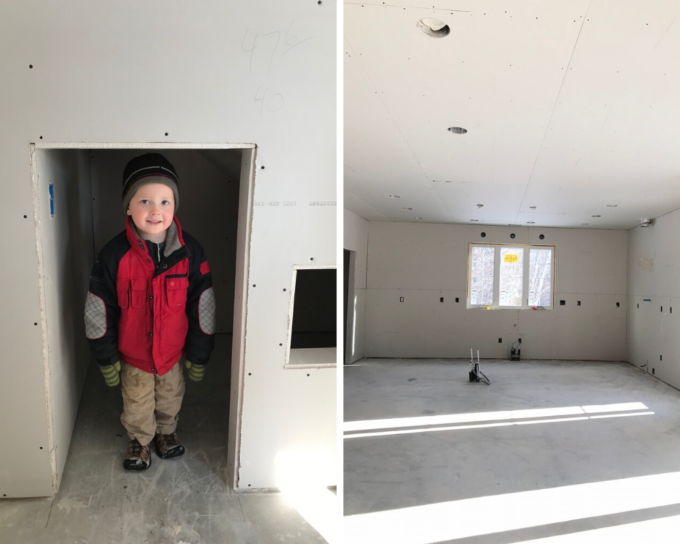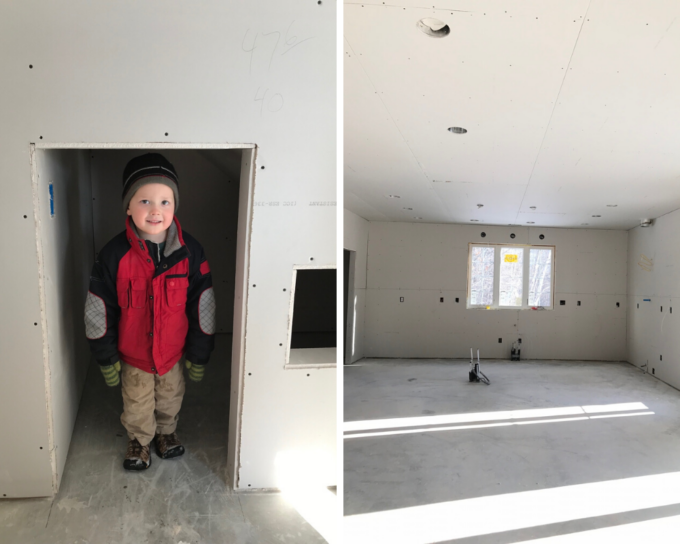 December 16, 2019
The drywall was hung! This was a really exciting step for me because it made it easier for me to get a feel for the space.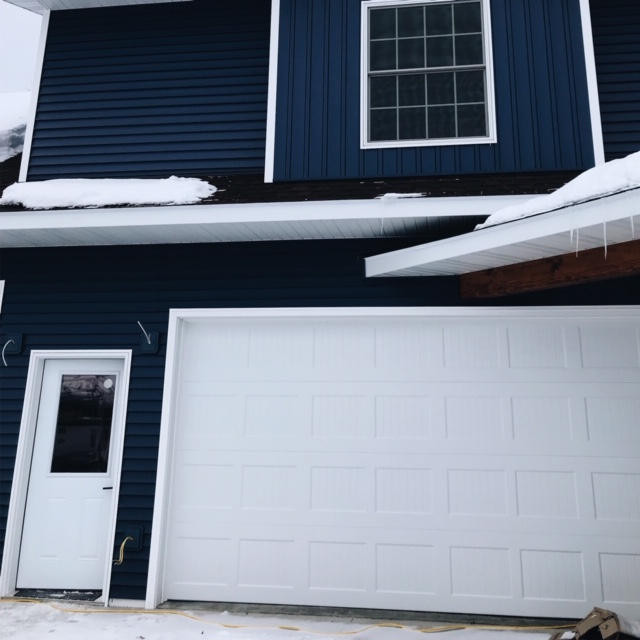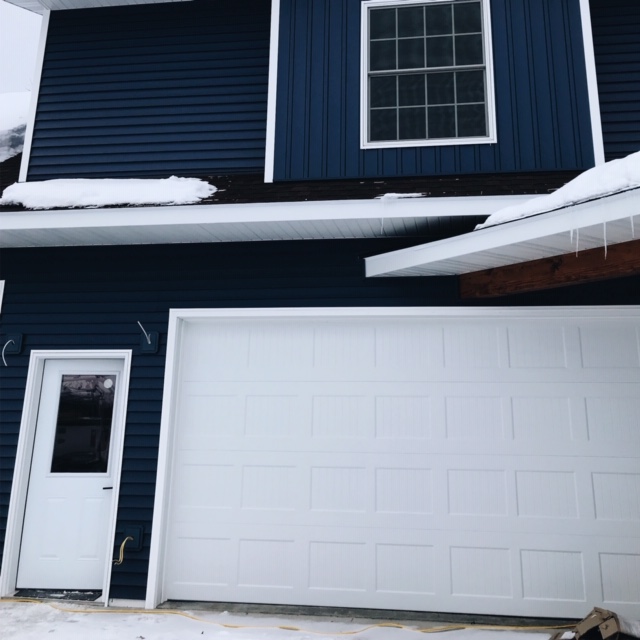 January 9, 2020
The siding was finally on. It really made the exterior feel finished.
We still had so much work to do, but finishing up the outside felt like a major accomplishment.
I haven't decided yet what post I'll share next…maybe I'll talk about our Craigslist kitchen, or all the ways we were able to save money, or our choices of paint colors, countertops, etc.
Which would you be most interested in reading about next?
Follow my blog with Bloglovin