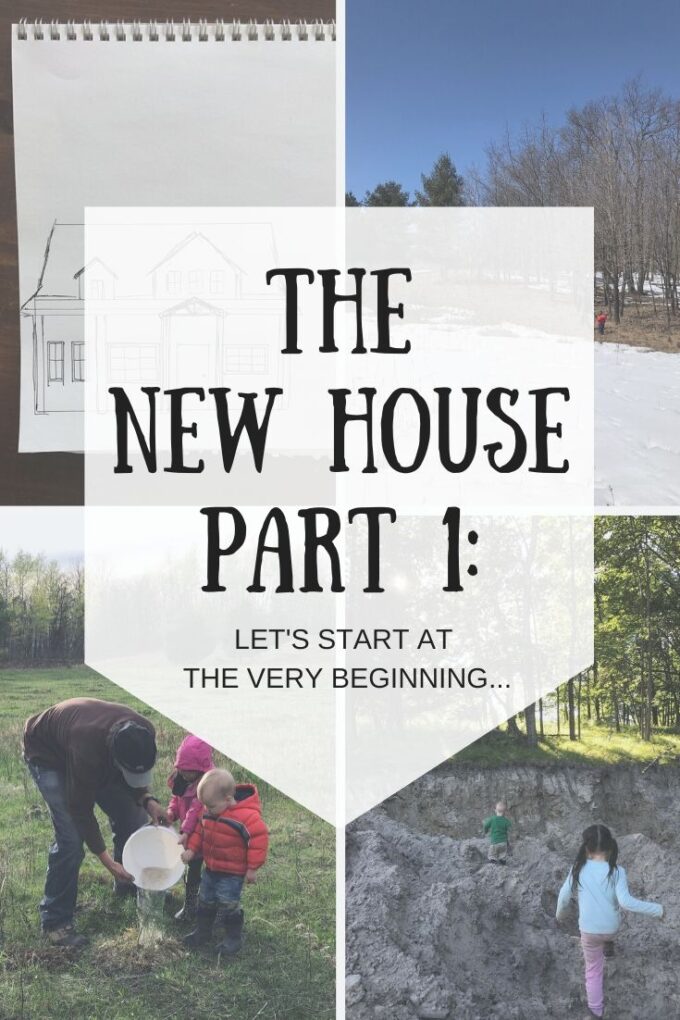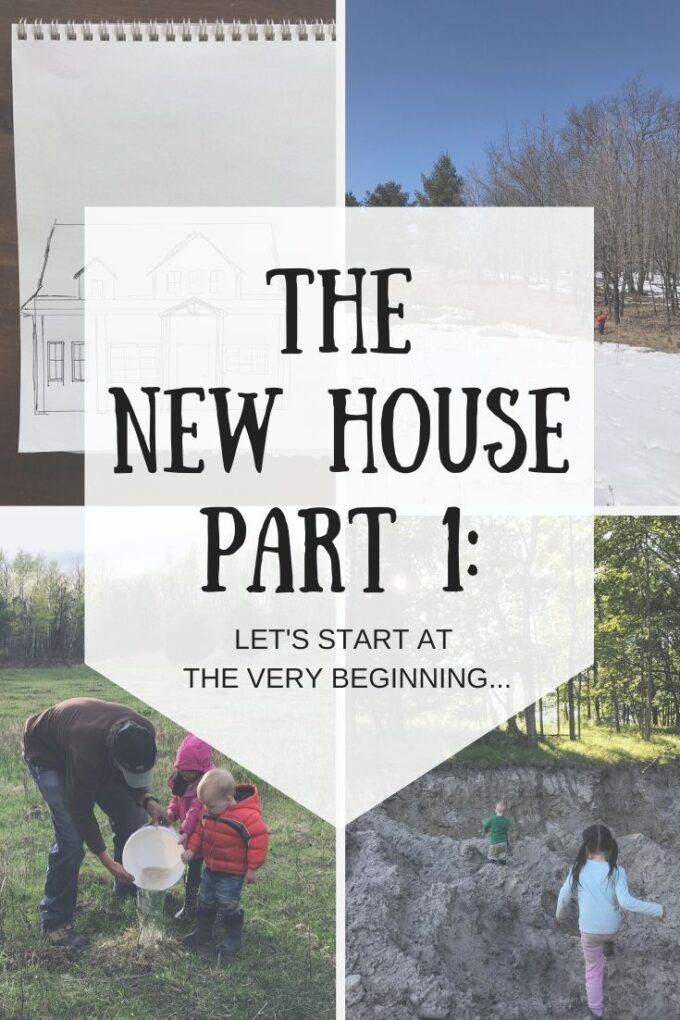 I know I've shared here and there about our house building project. We're actually really close to being able to move in. But I thought it would be fun to start from the beginning and take you on our journey of designing and constructing our first house!
A little back story: We've been living in a small basement apartment (about the size of a mobile home) for nearly 9 years. It's the only place we've called home since we got married. It's a 2 bedroom, 1 (small) bath, and it was starting to feel very cramped <—– (an understatement).
I knew I didn't want to spend too many more years here because I don't want Helen and James to share a bedroom forever. So the process of deciding on new housing options began!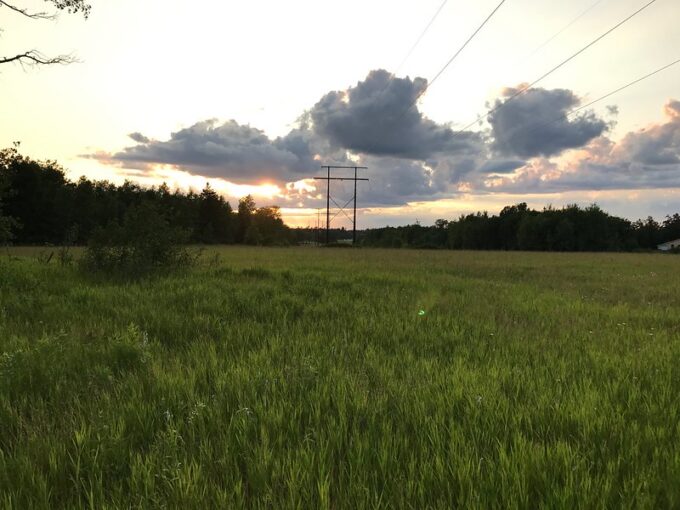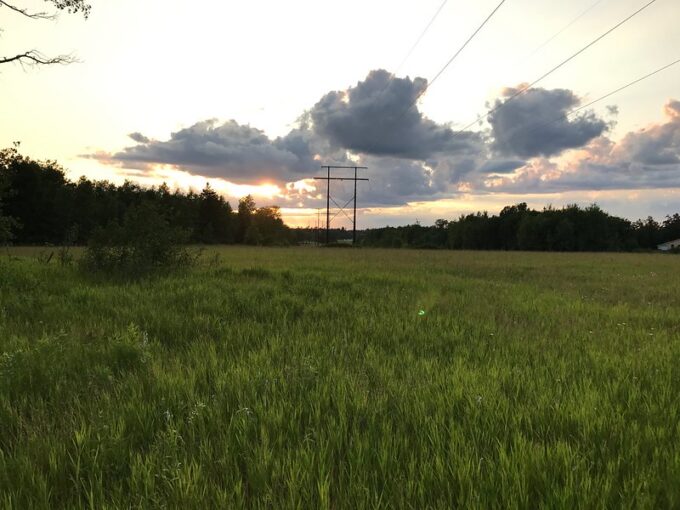 It started almost three years ago.
We decided that we had two options:
One was to buy a cheap in-between fixer-upper house that would get us by. The plan would be to sell or rent it in 10-15 years when we had enough saved up to build our dream home.
The second option was to buy land, and build a house in stages. We could put a mobile home on the land to get us by until we could build.
I searched Craigslist and Zillow for any homes that would meet our criteria: 3 bedroom, at least 5 acres of land, and outside of town, but not more than 15 miles out of town. It was very difficult to find anything that met all of those requirements in our price range.
Then I found a 40 acre piece of land just outside of town that had a rundown farm-style house on it. The land was very pretty, and we thought that we just *might* be able to fix the old farm house up to be livable. We were fairly serious about making an offer.
Reuben had his dad look at the land to get his opinion. And then his dad made a suggestion: why not just build on his land?
That was a new thought. That would allow us to build our forever home right away instead of waiting 10-15 years. The more we thought about it, the more we liked the idea.
I did have to do a bit of soul searching. The thought of building just down the road from where we currently live wasn't super appealing at first. It just didn't feel like we would be forging ahead into a new life. But other than the psychological aspect, everything else made a lot of sense.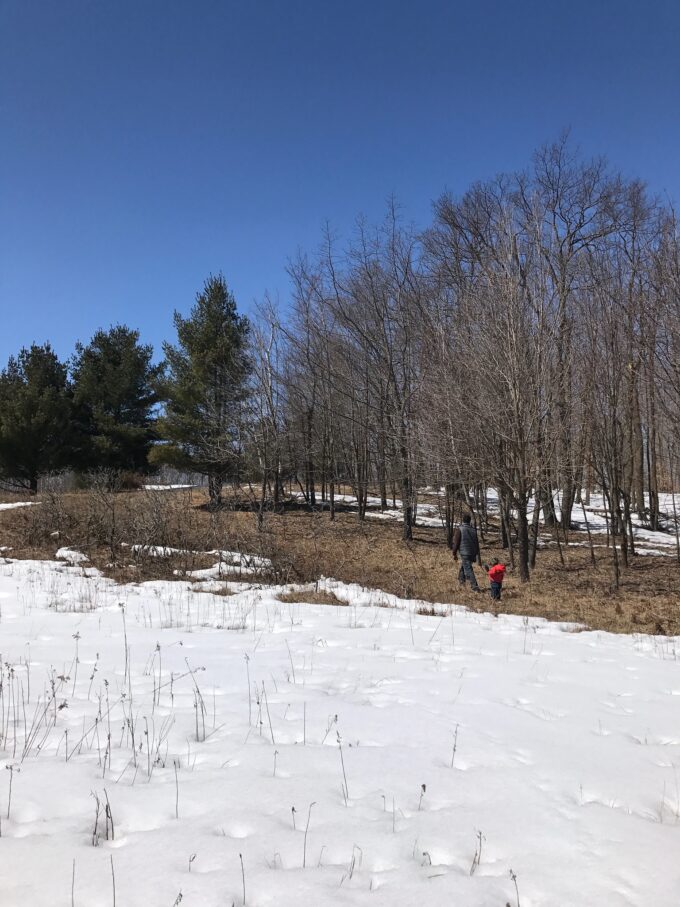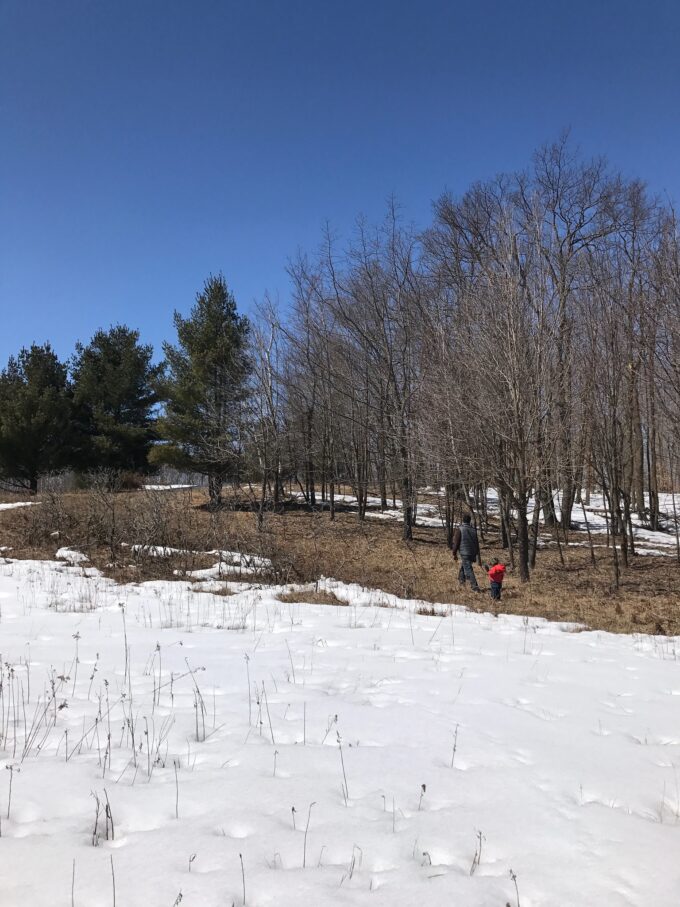 So Reuben scouted out a plot of land that he thought would be good for building. I originally wanted the house to be back in the woods. But it turns out with the lay of the land, that wasn't the best option.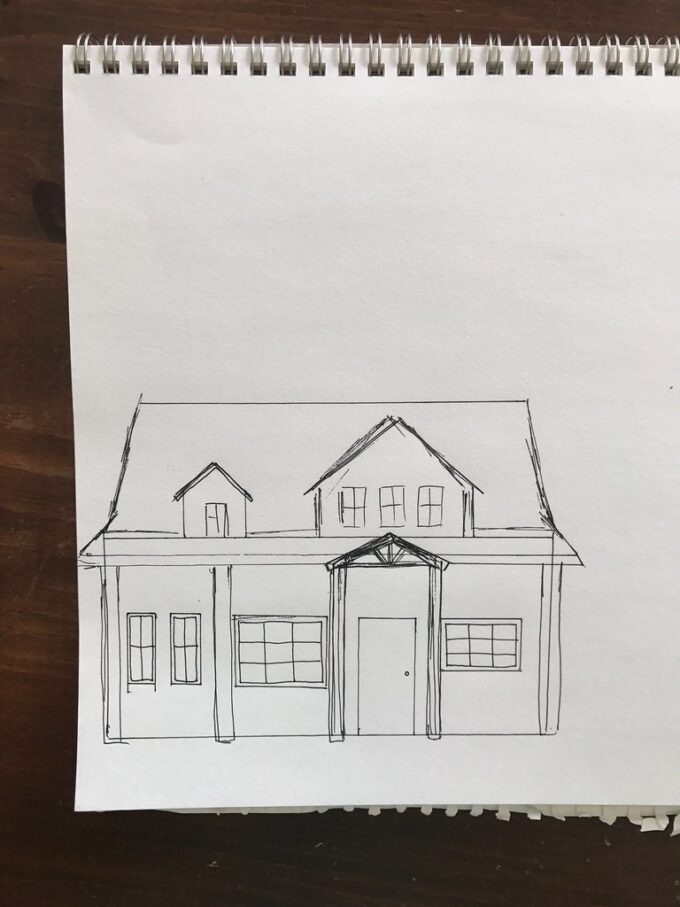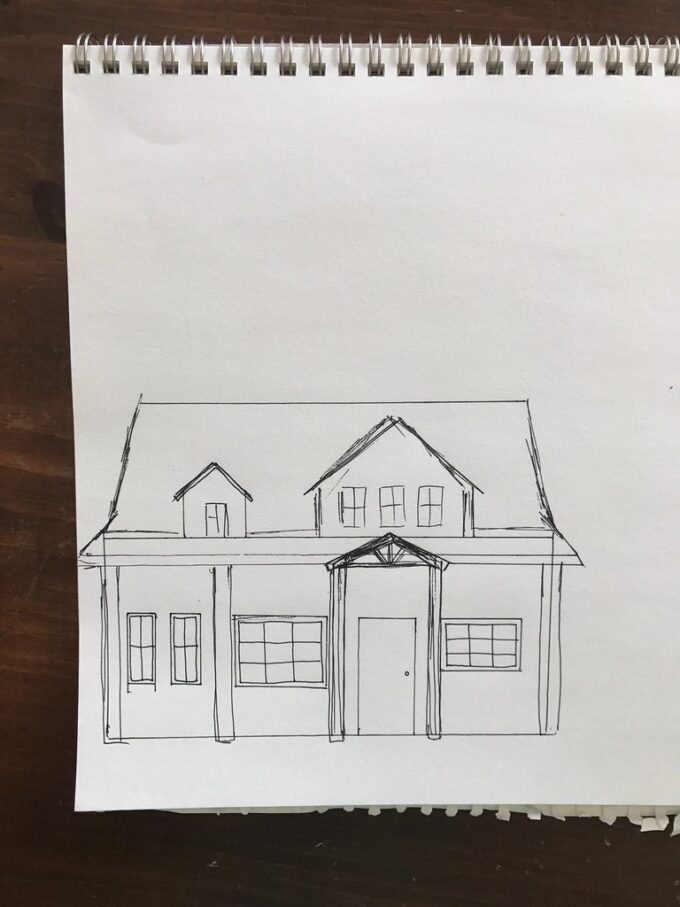 We also started to draw up house plans. We went through many different versions until we came up with one we both liked.
And then Reuben's dad pointed out that it wouldn't work with the way the land was sloped. ?
So we scrapped everything and worked it all out again until we were satisfied. We weren't happy with it until about July 2018 or so.
This was a sketch from the early stages.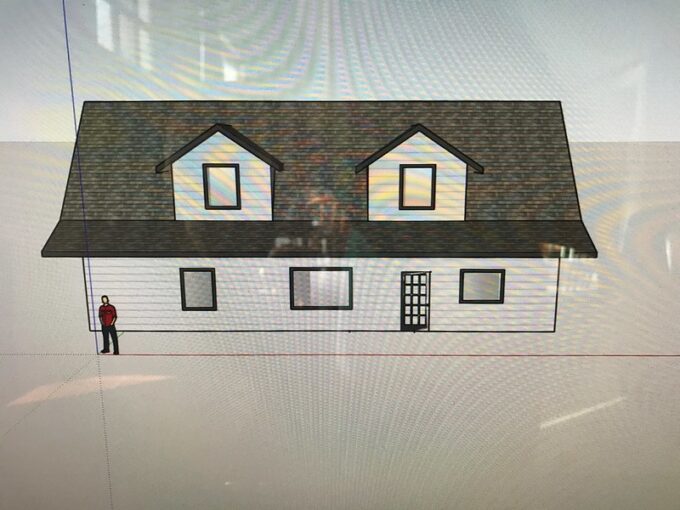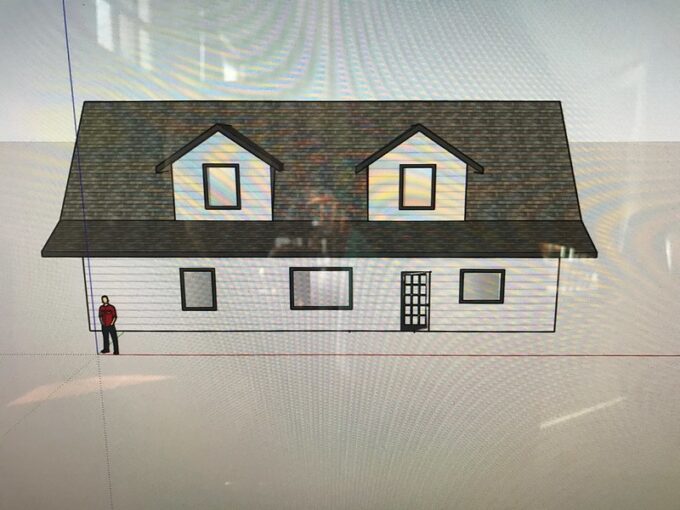 I also convinced Reuben to do a rough version in Sketchup so I could get a better picture in my head of what the house would look like. It went through several more stages after this before we settled on the final design (more on that in an upcoming post).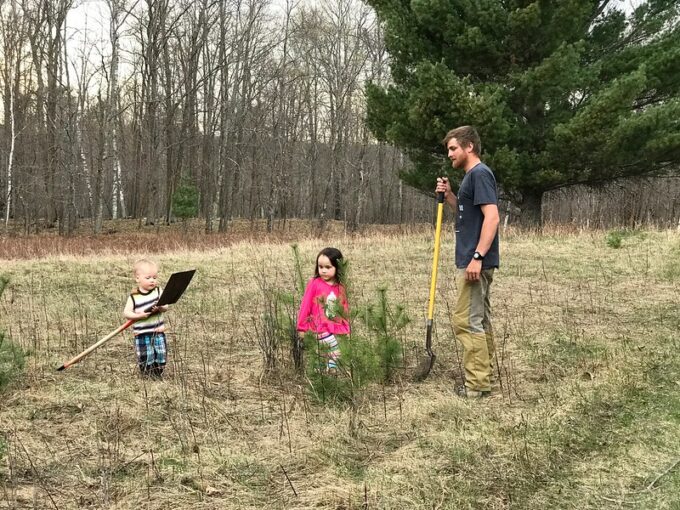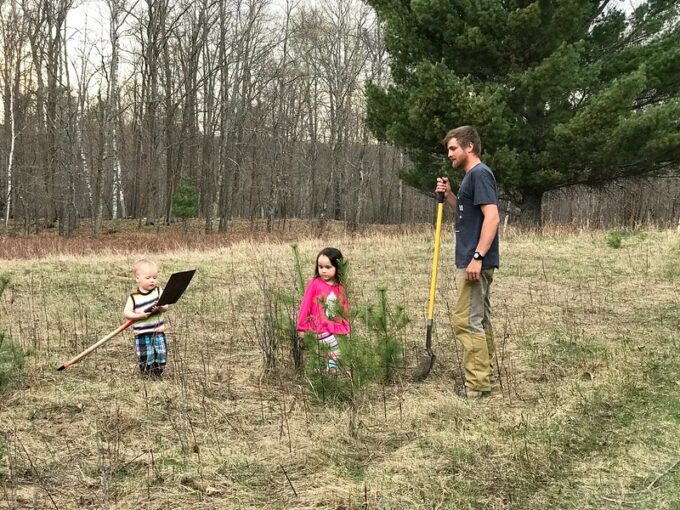 Something that's important to me is privacy. So we (and by "we" I mean Reuben) dug up some little pine trees and transplanted them along the edge of the land to give us a little more shelter.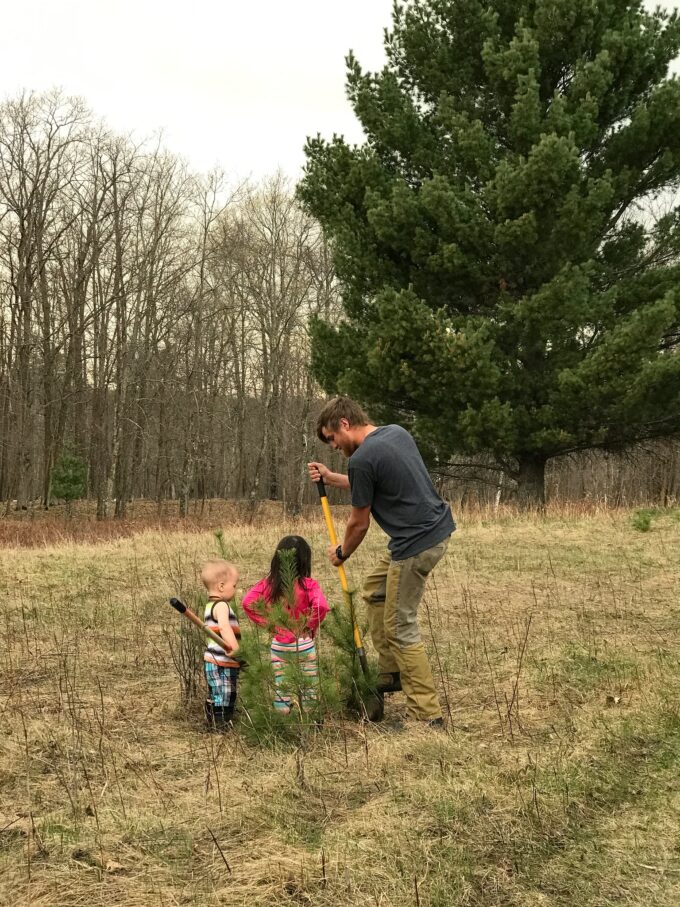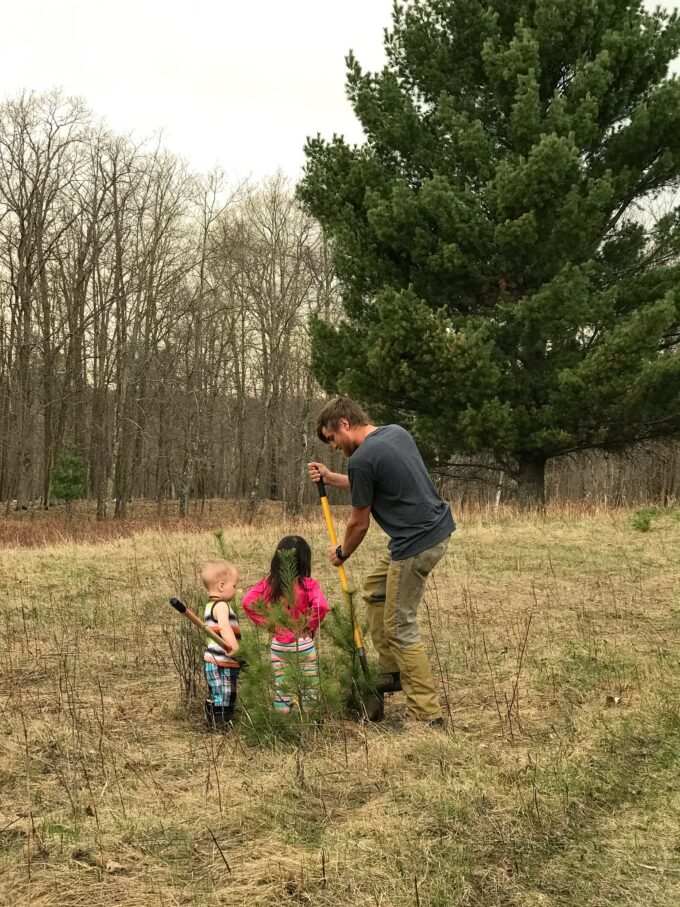 I was still very much in my fatigue crash, so all I could do was watch and take pictures.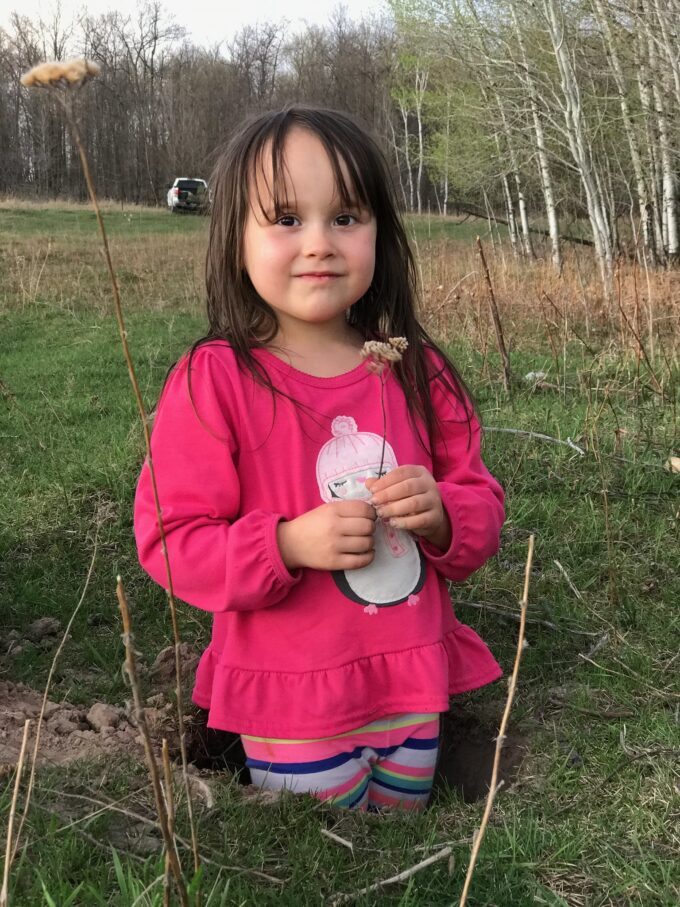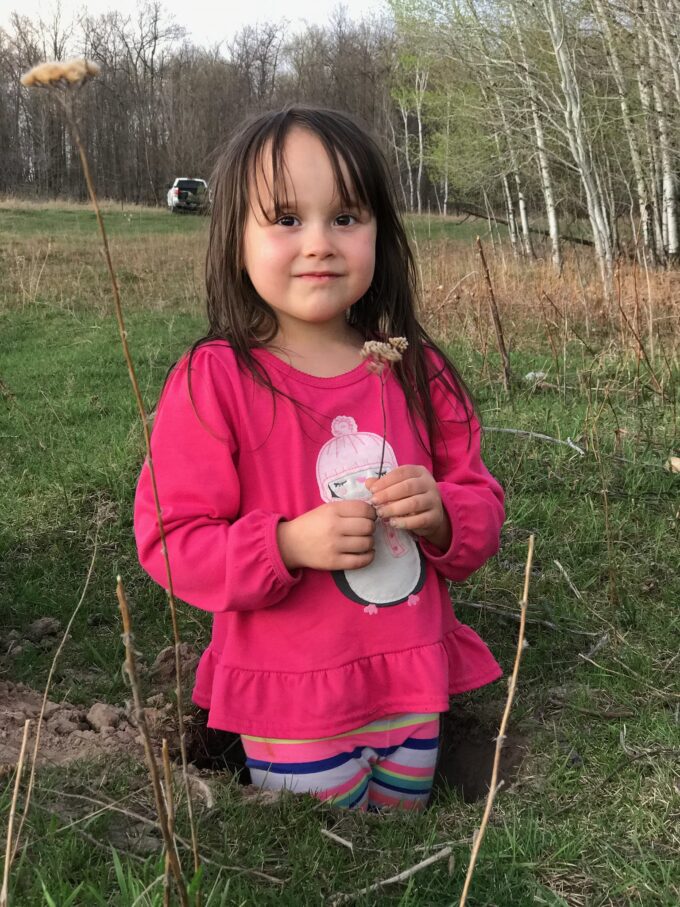 Standing in one of the holes destined for a little pine tree. ?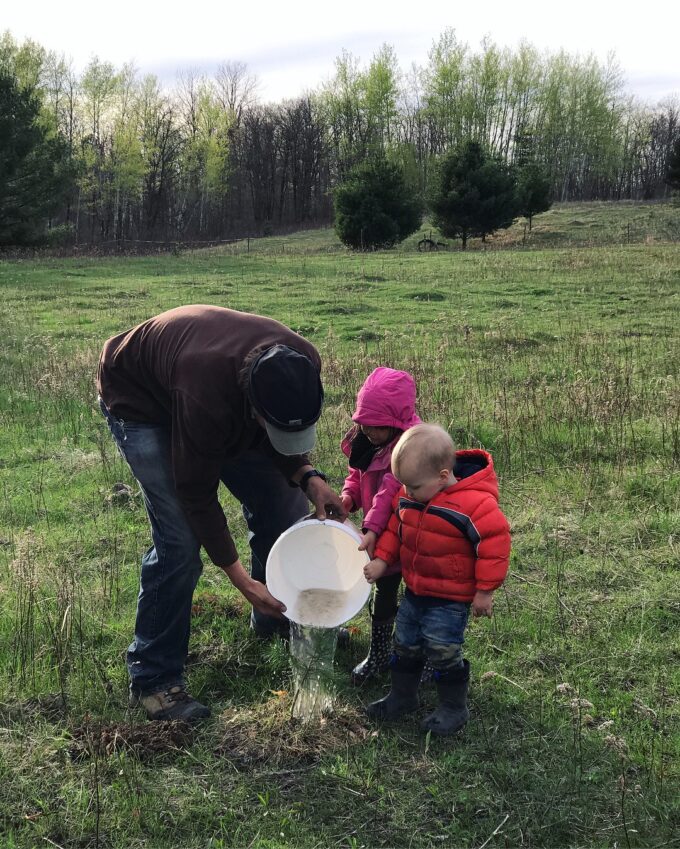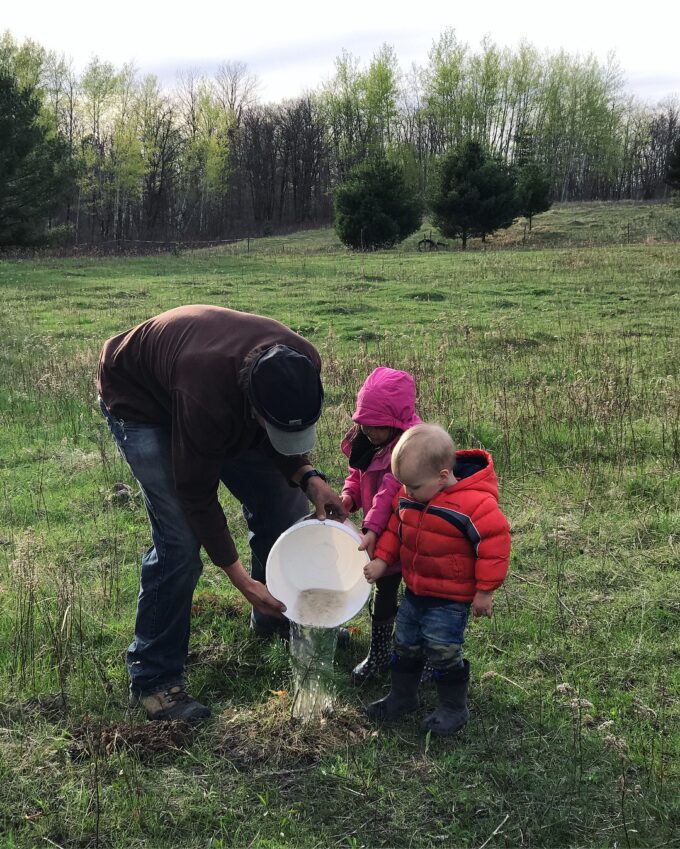 We also watered the little pines to begin with to give them a good chance of surviving.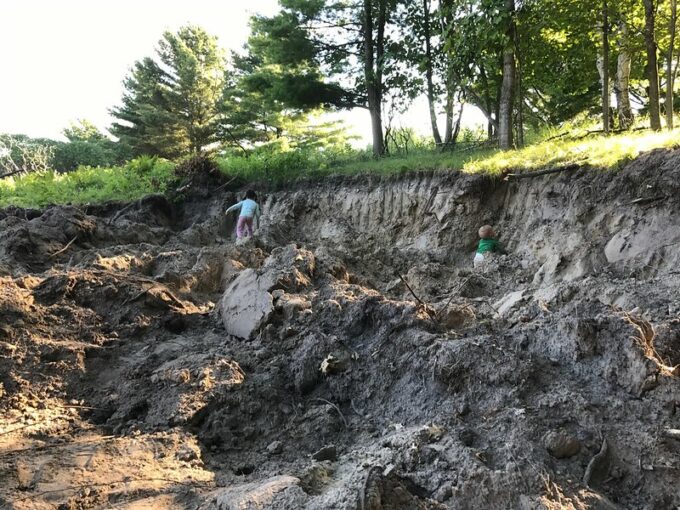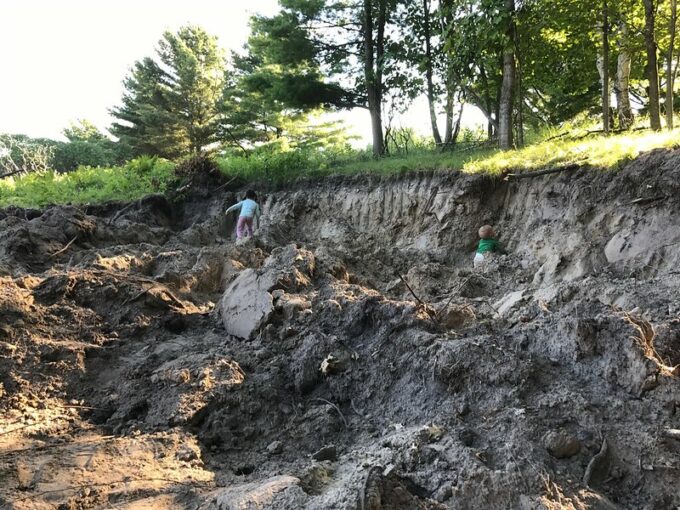 In July, we broke ground!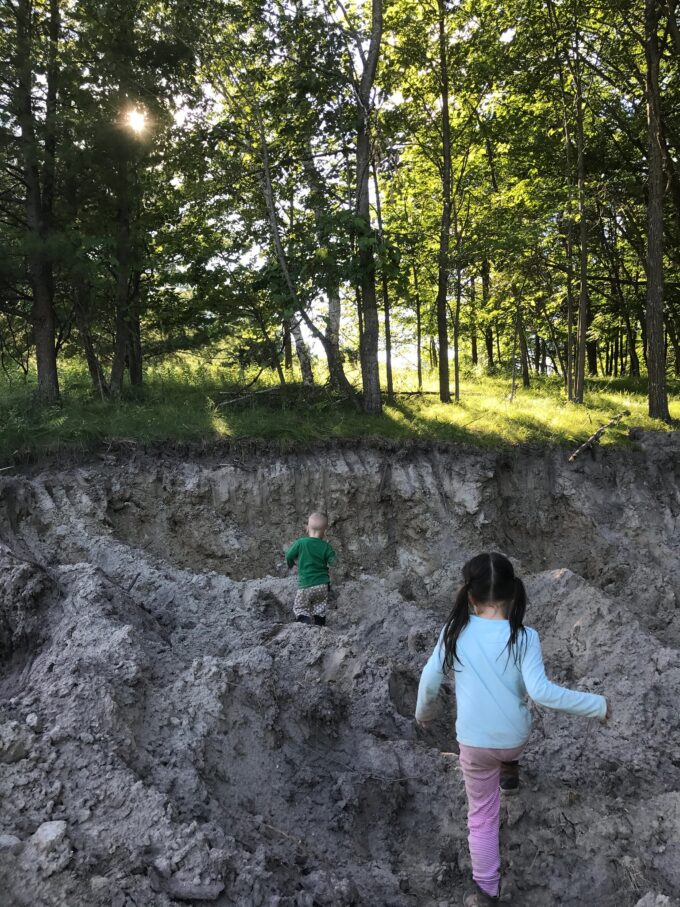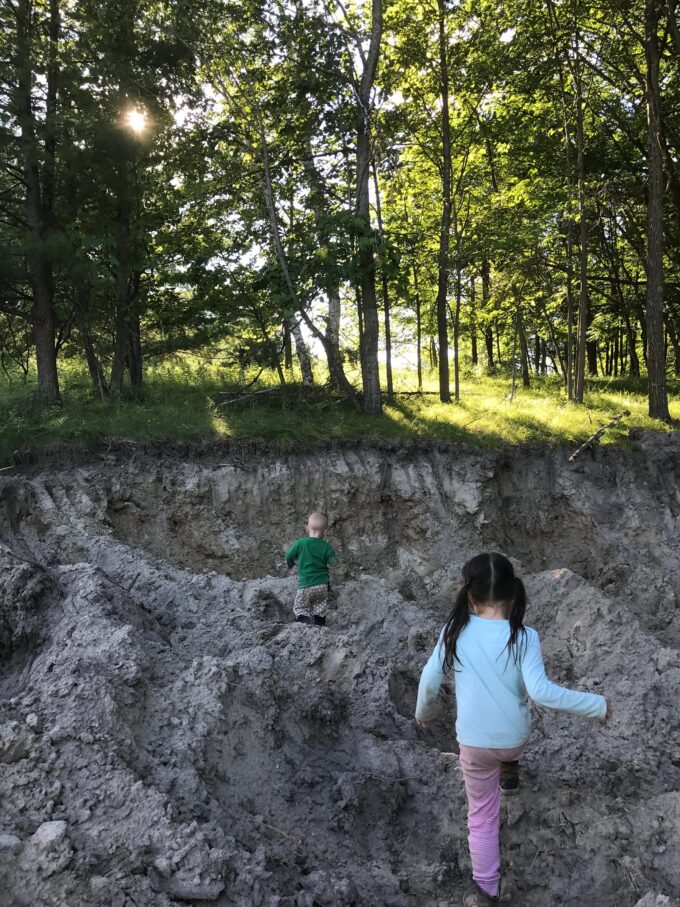 The kids loved playing on the dirt mounds. It brought me back to my childhood when my mom and dad built their forever home.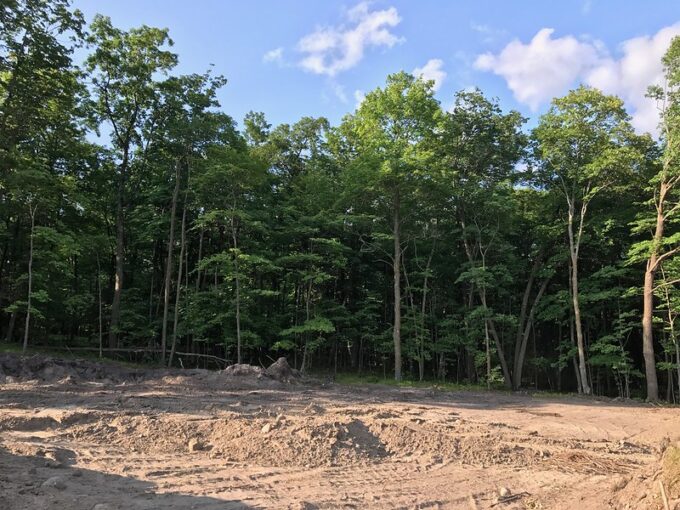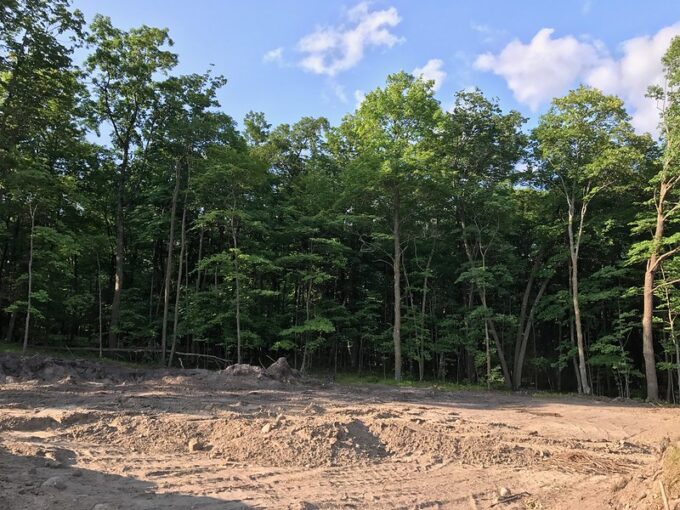 July 26: Making progress! We seriously underestimated the amount of time and work it would take to get the ground level and ready to pour concrete. Someone once told me that houses take twice as long as you think and cost twice as much to build. Boy were they right…
To be continued!