These deviled eggs are made with bacon and seasoned just right!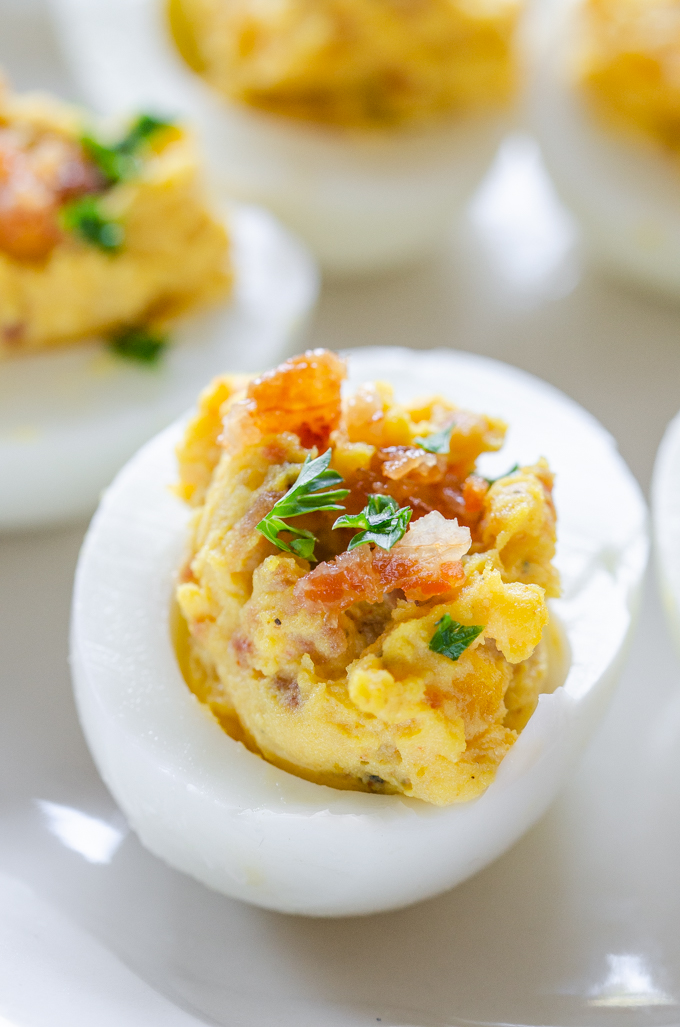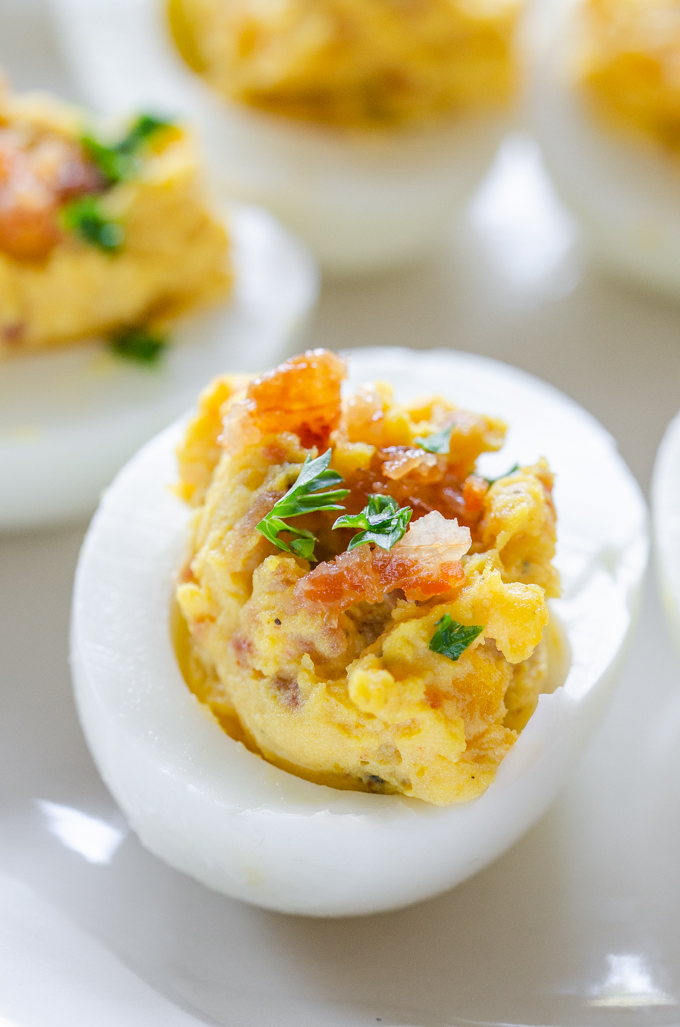 When I was a little girl, one of the first things I was allowed to cook all by myself was deviled eggs. I had so much fun adding a little of this, a little of that, and seeing what flavor combos I liked the best.
You could say it was my first foray into recipe development.
So creating this recipe for deviled eggs was quite nostalgic. It brought me back to when I was 9 years old and had a broken leg. Even that injury couldn't keep me from my deviled egg concoctions. I probably bossed my younger sisters around, telling them which ingredients to bring me in my wheelchair. ?
Anyway, let's make some leveled-up deviled eggs (because adding bacon to anything levels it up, amiright?).
Ingredients: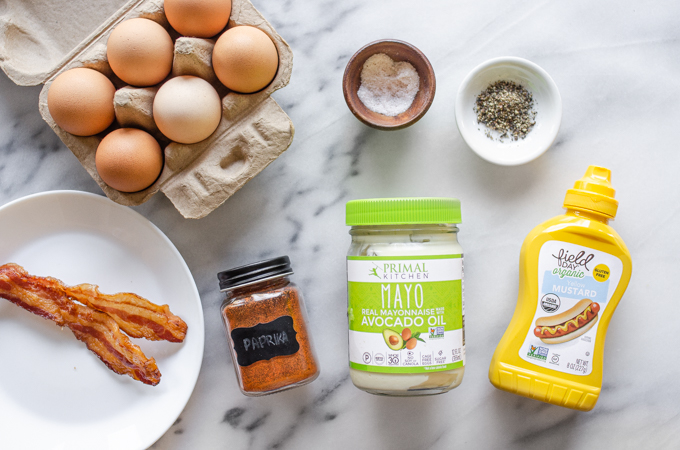 Okay, here's everything you'll need: eggs (duh), salt, pepper, mustard, mayo, paprika, and bacon. My go-to bacon ATM is Garrett Valley.
How To Make Deviled Eggs with Bacon: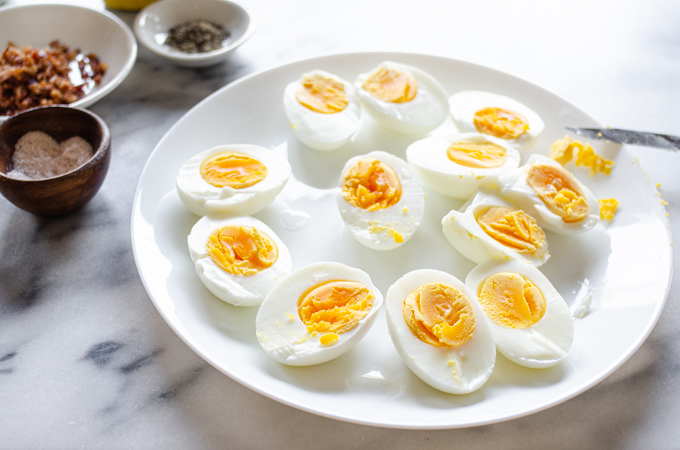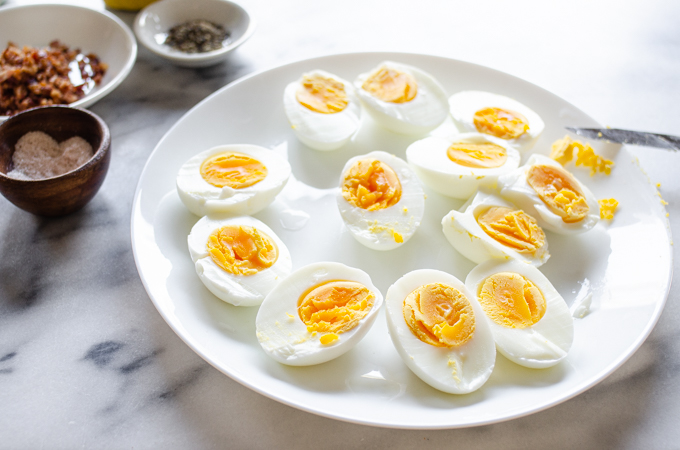 First things first: you need to hard boil your eggs. That doesn't mean that you cook them to death until the whites are rubbery and the yolks are dry as dust. No. A ten minute egg is juuuust perfect. Refer to my How to Make Perfect Soft Boiled Eggs post for the how-to, or watch the video below.
Slice the eggs in half the long way.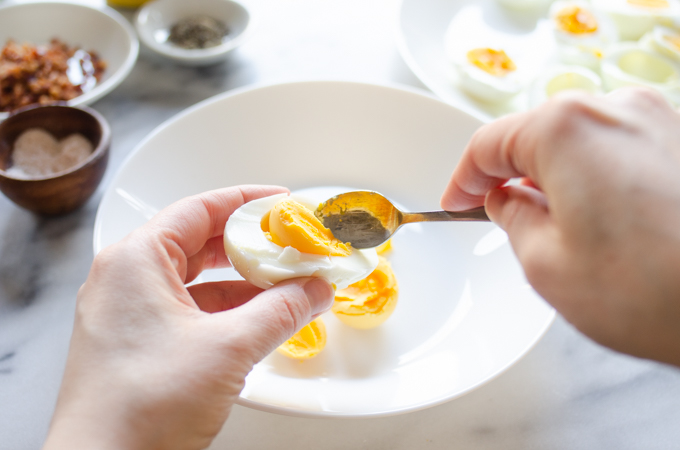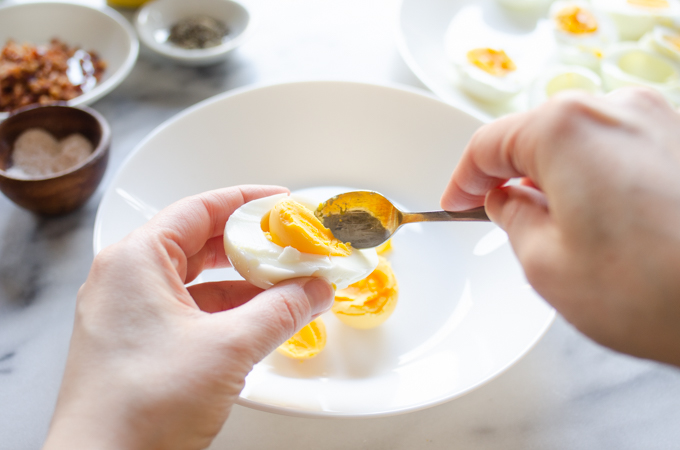 Using a small spoon, scoop the yolks out into a bowl.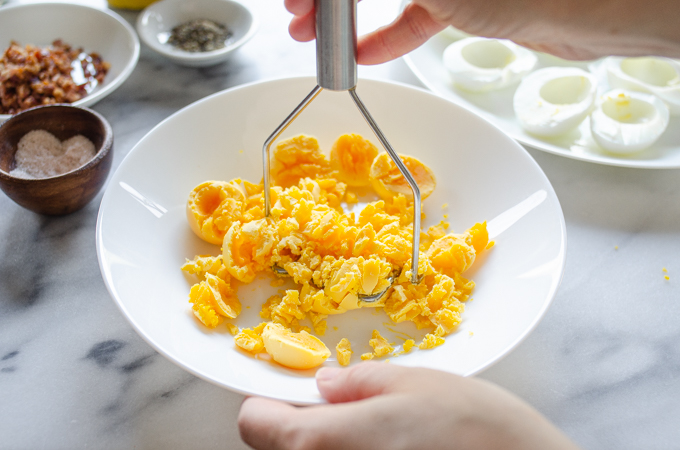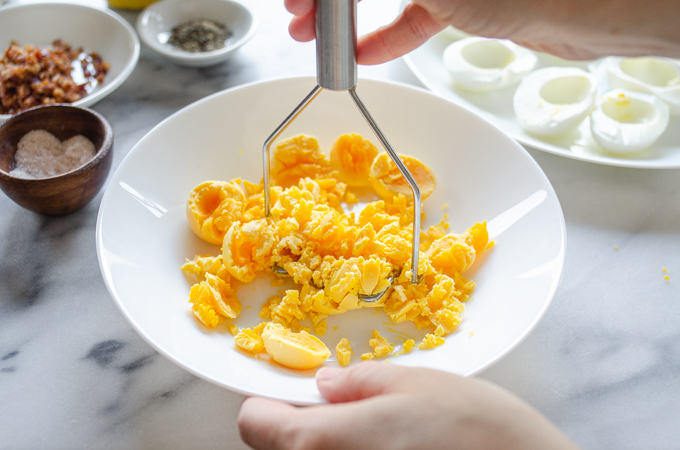 Lightly mash the yolks. I like to use a mini potato masher for this, but you could also use a fork.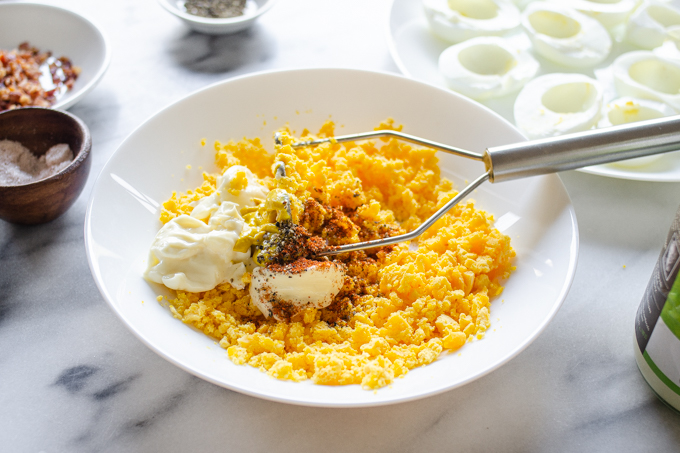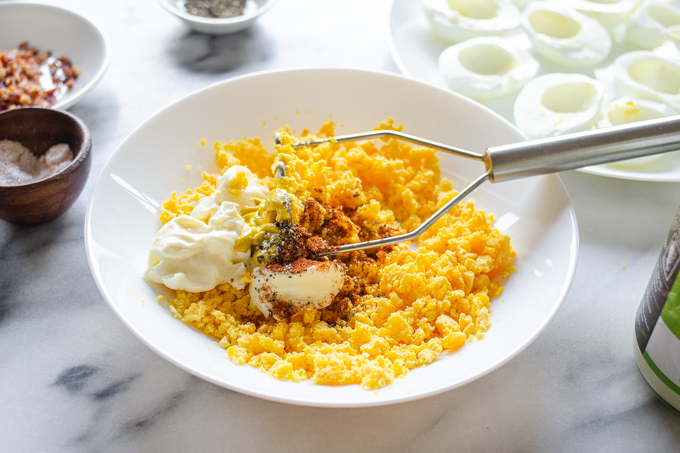 Next, add the mayo, mustard, salt, pepper, and paprika.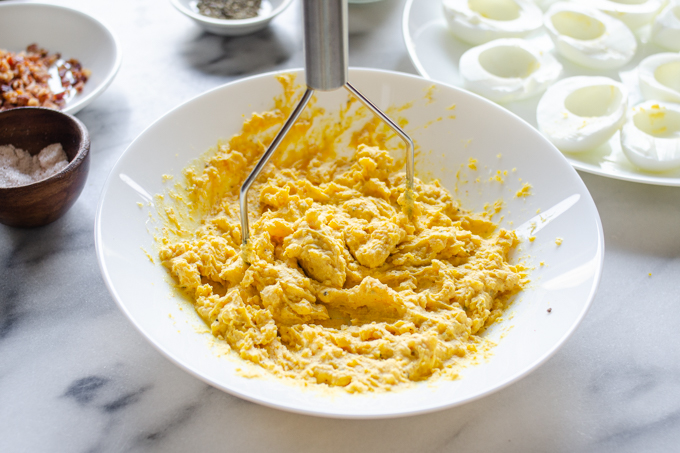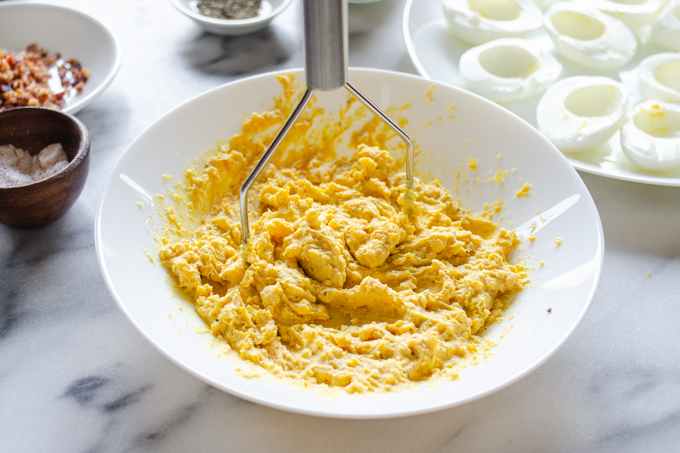 Mash the mixture once again until it's nice and smooth.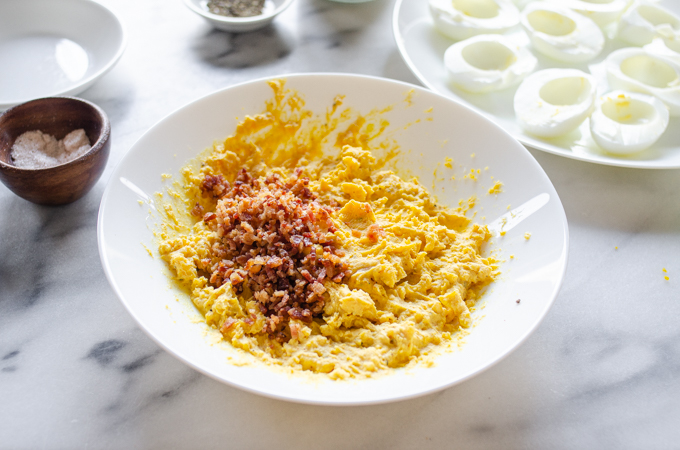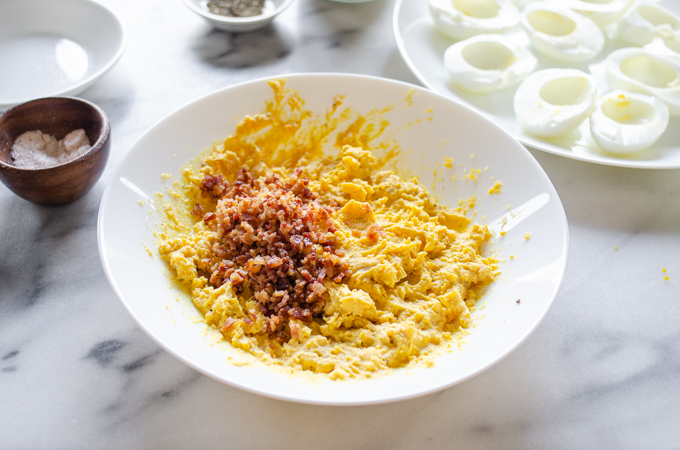 Finely chop the bacon and add it to the mixture.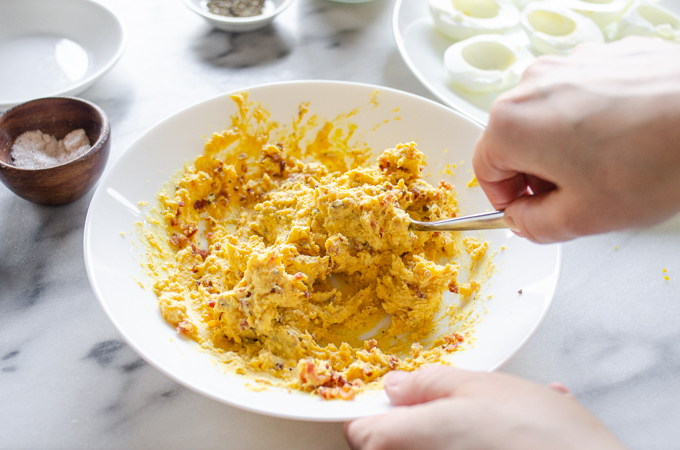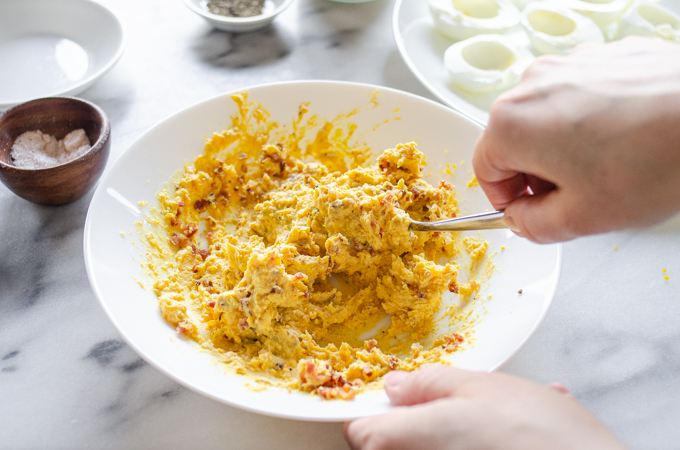 Stir until everything is well combined. Now give it a taste to make sure you have the seasoning right.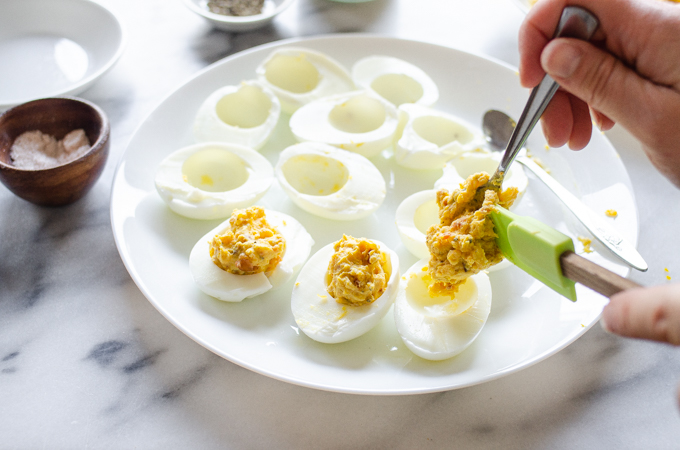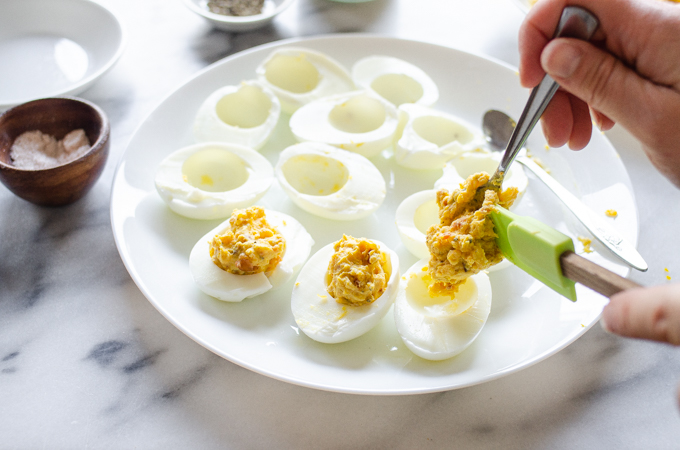 Spoon the mixture into the hollowed-out egg whites. I find that it's easiest to do this with a small spoon. If you're an over-achiever you could even pipe the filling into the egg whites. ?‍♀️
Serving Deviled Eggs with Bacon: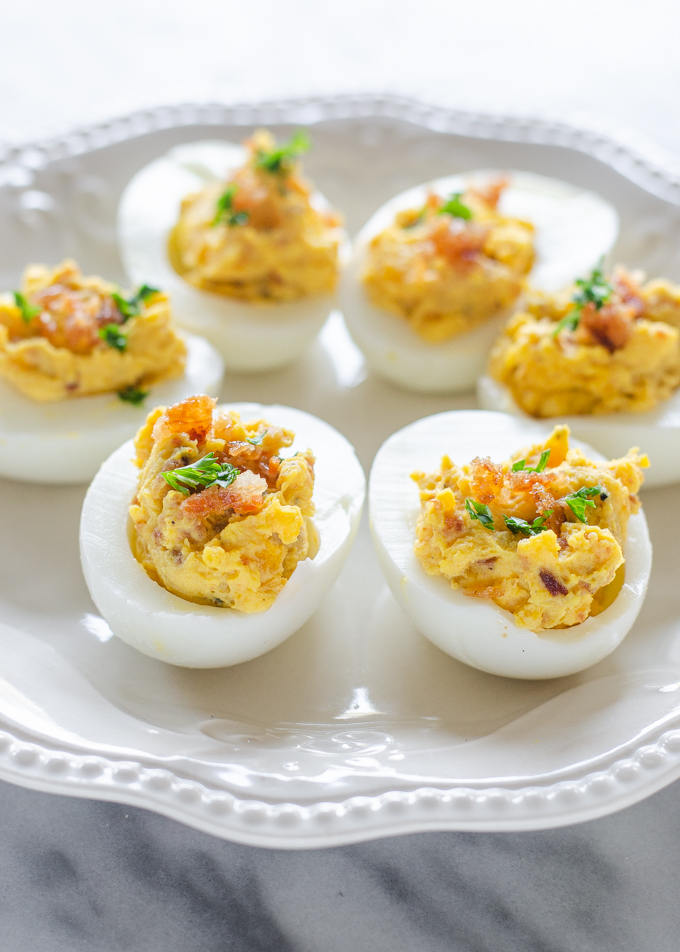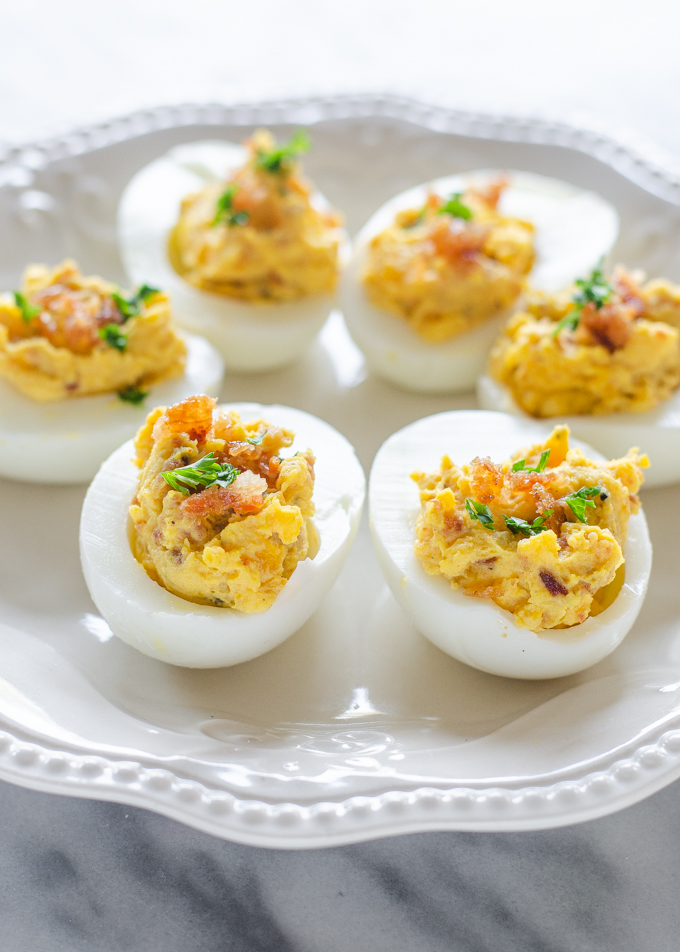 And if you're REALLY an over-achiever, you could even sprinkle extra bacon and some parsley on top. To make it look all fancy.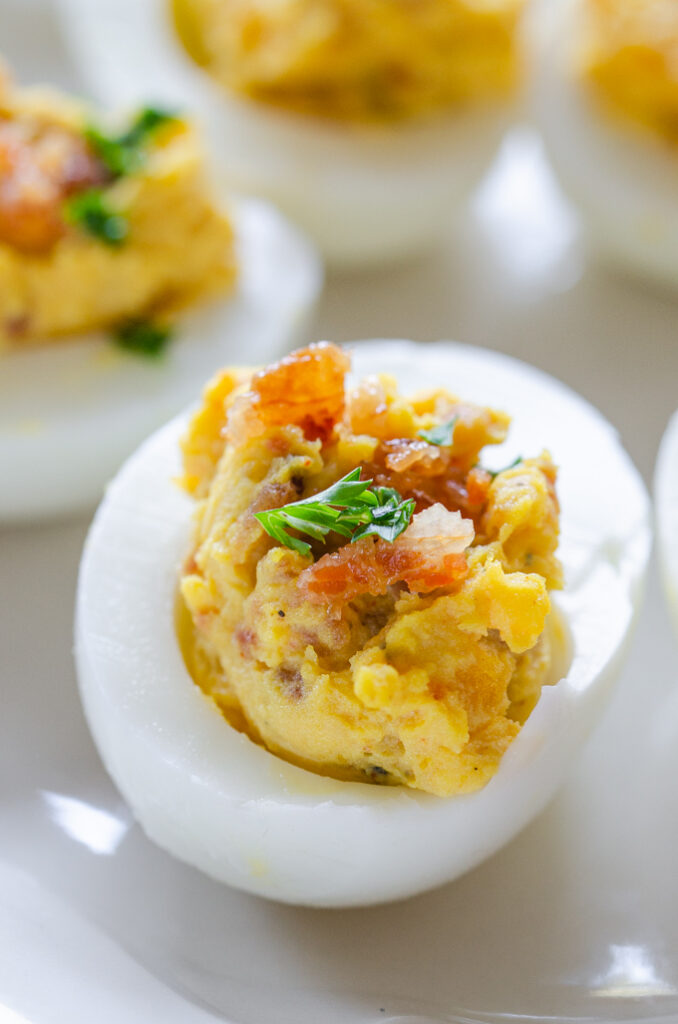 NOTES:
It's a good idea to wait to salt the mixture until everything else is mixed in. Your bacon or mayonnaise might be super salty. So if you salt the mixture first, you might end up making it way too salty.
If you accidentally go overboard on the saltiness, try adding a pinch of sugar to balance it out.
My filling is on the drier side. If you prefer a "wetter" deviled egg filling, simply add more mayo!
If you'd like to make these KETO friendly, made sure to use mayo, mustard, and bacon that doesn't contain sugar.
You can make deviled eggs a few hours in advance, but the filling might dry out a bit on top and change color. I would suggest making up the filling, pressing plastic wrap on top and storing in an airtight container in the refrigerator. Then wait to fill the eggs until just before serving.
Here's a video tutorial for you: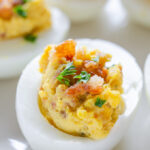 Deviled Eggs with Bacon
This deviled egg recipe gets leveled up with the addition of bacon!
Ingredients
6

eggs,

preferably pastured

3

tbsp

mayonnaise

2

tsp

mustard

1/4

tsp

freshly ground black pepper

1/4

tsp

paprika

2

slices

bacon,

cooked and finely chopped

1

pinch

unrefined sea salt,

to taste
Instructions
Bring a pot of water to a boil. Lower the cold eggs into the water carefully with a spoon. Cover the pot and set a timer for 10 minutes. Remove from heat, pour out the water, and run cold water over the eggs until the water remains cool. Let sit for 10 minutes. Peel the eggs, making sure to rinse off any bits of shell.

Slice the eggs in half. Scoop out the yolks into a bowl. Mash the yolks lightly with a potato masher or fork.

Add the mayonnaise, mustard, black pepper, and paprika. Mash until smooth. Stir in the bacon. Taste and add salt as needed.

Fill the egg whites with the yolk mixture. Serve immediately.